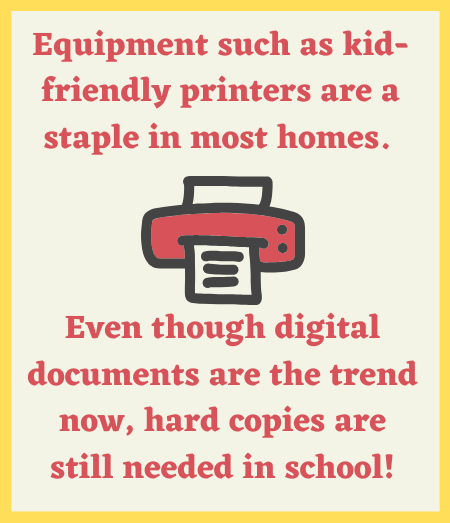 With increasing technology use, more schools are going paperless. Kids today, smart as they are, exhibit proficiency in the use of cloud storage. They understand how communication works through technology, including emails and social media for research as they do their homework.
Several sites like Pinterest and Etsy are a haven for budding artists, providing inspiration or offering platforms for kids to showcase their craftsmanship. In an era that exposes kids to technology, kids start honing graphic design expertise at the tender age of 10!
Quick Peeks at our Best Printers for Kids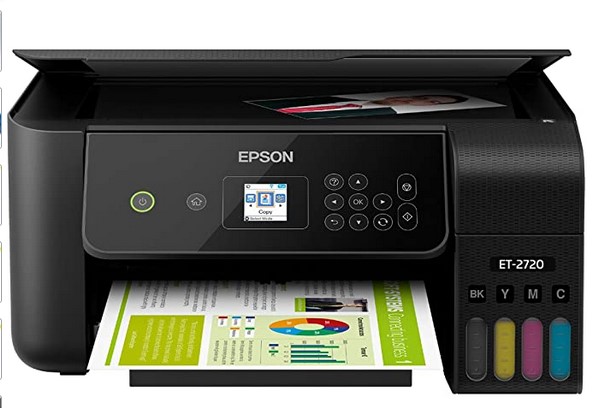 Epson EcoTank ET-2720 Wireless Color All-in-One Supertank Printer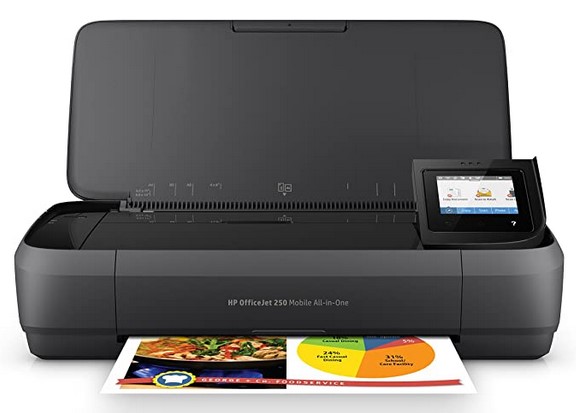 HP OfficeJet 250 All-in-One Portable Printer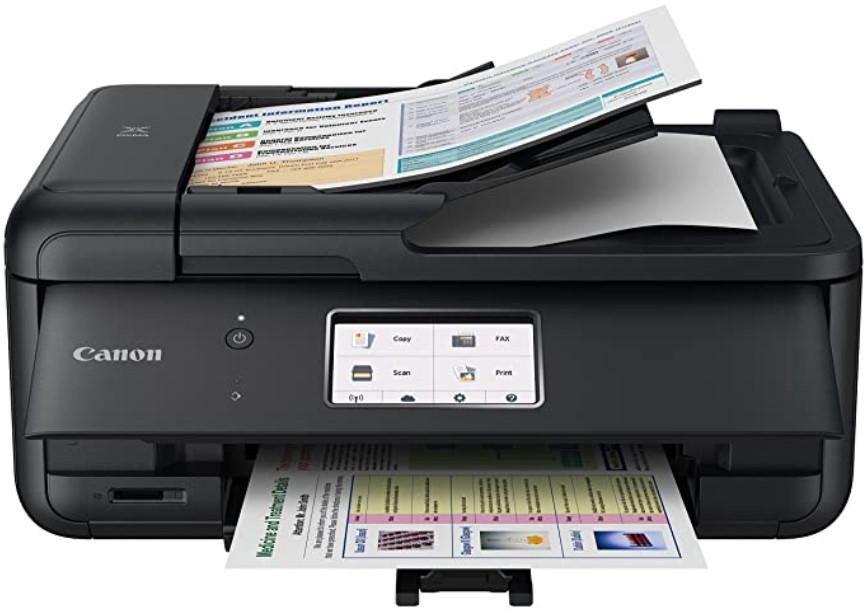 Canon PIXMA TR8520 Wireless All In One Printer
Technology is also a means to engage children to learn using a different tool. It's essential to have all the necessary equipment ready for them to get their tasks done efficiently, safely, and productively.
Equipment such as all-in-one and easy to use printers are a staple in most homes because these adapt quickly to the increasing demands of technology today. They have been around long enough to prove their usefulness for school purposes.

Check out our "Things to Consider" section!
If you're thinking about buying printers that your kids can efficiently operate on their own, you've come to the right place! Here are five all-in-one AND easy to use printers that we believe will fit your needs!
---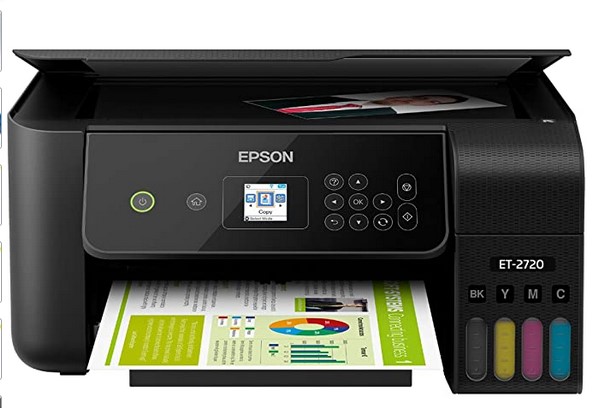 Make every print count with the Epson EcoTank ET-2720 Wireless Color All-in-One Supertank Printer. This printer is cartridge-free with a long print mileage. Each set comes with two years' worth of ink so kids can keep printing for up to 4500 pages! You also get to save up to 80 percent in individual cartridge purchases too.
Using the EcoFit ink bottles, these easy to use printers are kid-friendly and can be refilled with ease on their own. Kids can sit back, relax, and wirelessly connect the printer to their smart devices.
So, when it comes to capturing thoughts and ideas online, they can easily send images, texts, or screenshots to the device through voice-activated print or Wi-Fi direct. Kids can expect clean outputs with every print.
This printer can also print borderless photos, so they get the best resolutions from photos searched online or drawings created from an editing tool, making it one of the best photo printers for kids. This also comes with a 2-year limited registration EPSON warranty.
From a brand name you can trust, this Epson all in one printer will keep the kids happy without the frustration! Get it at Amazon!
2. HP OfficeJet 250 All-in-One Portable Printer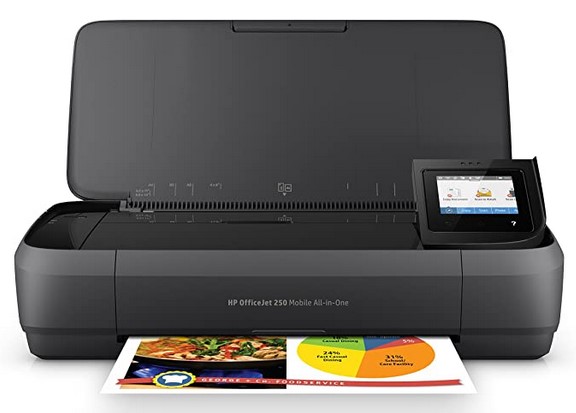 The HP OfficeJet 250 All-in-One Portable Printer is a print-easy device for kids. This magnificent device is built for easy scanning, printing, and copying. Equipped with wireless technology, adults and kids can get their tasks done faster.
With paperless homework now a rising trend, kids simply log on to their school's online portal and download the files they need, and print their homework using this portable printer. It's also a convenient way to get them to engage in arts using technology.
The printed images are amazingly clean and vibrant! Aside from borderless printing of up to 5 X 7, it can also accommodate 4 X 7 high-resolution photo printing! Its high-quality photo capabilities make this printer another one of the best photo printers for kids!
Expect a seamless connection with any Bluetooth-enabled device. Take out the hassle of manual printing, scanning, and copy by downloading the HP Ai0 remote or HP ePrint connected to the printer.
If your kids are using their mobile devices to connect, make sure to get them within a 5 feet radius from the printer. It's also faster to send through data in this printer using the Wi-Fi direct.
The easy to use printer and scanner has a built-in rechargeable battery that provides portability and long-lasting power. The fast-charge feature allows you to quickly charge the battery in one sitting and still get longer power mileage.
This is a kid-friendly, easy-to-use, all-in-one printer with minimum disruptions and outstanding results.
If you're in the market for a quality all in one printer, check out the HP OFFICEJET 250 ALL-IN-ONE PORTABLE PRINTER! Buy it at Amazon.com today!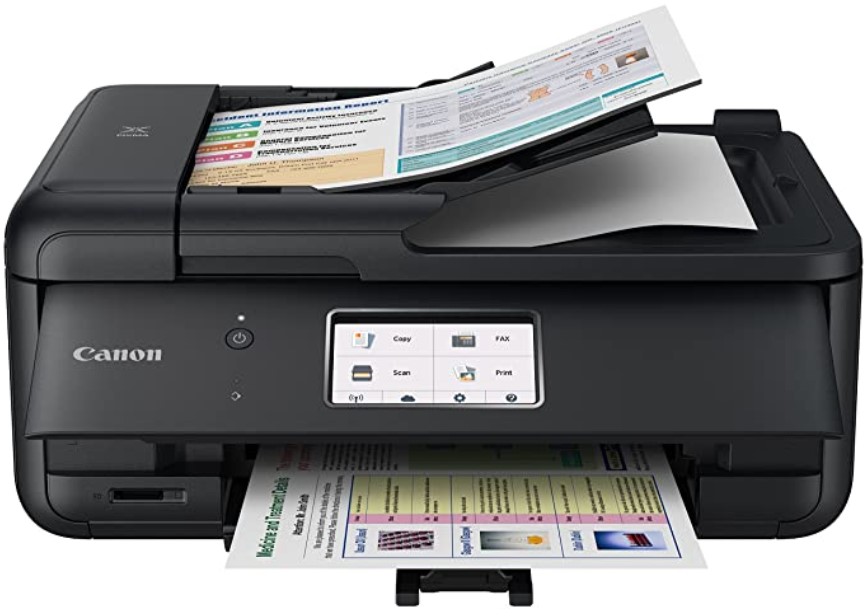 The Canon PIXMA TR8520 Wireless All In One Printer brings all the convenience of wireless copying, printing, scanning, and faxing. Don't let its small size deceive you. This easy to use printer and scanner is loaded with features meant to deliver results efficiently.
This product comes with a rear and front paper feeding for seamless paper flow and minimal paper jams. It's safer for younger kids who'd like to use it to print or scan their favorite cartoon characters or graphic art straight out of their smart devices!
There is a five individual ink arrangement to make it easier for kids to identify and refill color-specific tanks as needed. Seamless wireless options will easily let your smart device connect with this printer. Scan and print easily using Bluetooth or Wi-Fi Direct enabled devices using the Canon PRINT Inkjet or Selphy app.
Need to print directly from the phone to the device? Use your iPhone, iPad, or Macbook iOS 7.0 or later versions to get quick prints. They can also store images and other content for printing using an existing SD TM Card or SDHC TM Card.
This all-in-one printer is a convenient home device perfect for printing, copying, and scanning—tech functions that kids won't have problems with!
Another trusted name in printers, Canon offers functionality galore with this one! Your kids will love it!
4. Brother Wireless All-in-One Inkjet Printer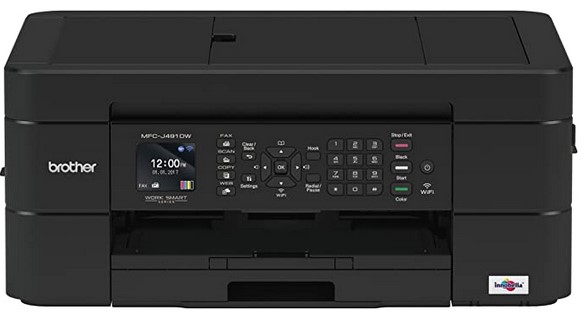 Versatile devices like Brother Wireless All-in-One Inkjet Printer makes it easy for kids to get images, homework, or art inspirations scanned or printed.
This compact, all-in-one printer is loaded with features to bring convenience for work and play. The wired option lets you connect your PC or laptop directly to the printer to get documents printed or scanned. With most homework sent through online, kids can use this with ease for mobile printing too!
Content sent through Google Cloud Print, Brother iPrint & Scan, Air Print will allow them to get outputs quickly without going through various programs. It has cloud support features to enable your kids to scan directly from the printer to popular cloud storage software such as Google Cloud, EverNote, AirPrint, OneDrive, and Dropbox, to name a few. This is one of the best printers for school homework, no doubt!
The Amazon Dash Replenishment feature automatically alerts you when ink is low and ordering ink refills are hassle-free. There's also no need to keep refilling the 2-sided document feeder as this handles 100 sheets per load at most.
Modestly priced, this is a reliable all-in-one printer for home use.
An excellent choice for kiddos who have printing needs while doing homework or exciting art projects! Check it out on Amazon!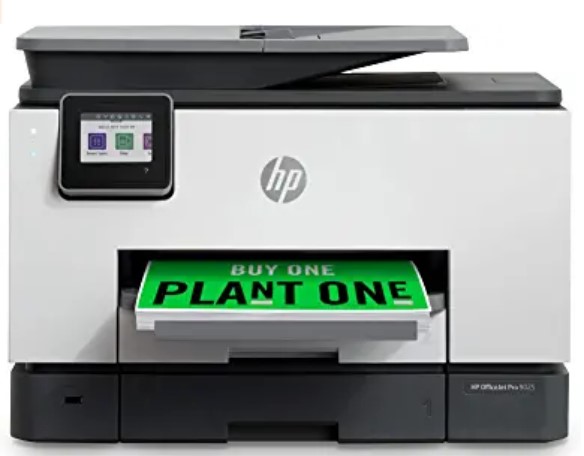 Get more for less with the HP OfficeJet Pro 9025 All-in-One Wireless Printer and have your kids accomplish tasks faster. The Smart Tasks features save time and keep all documents organized. Now, it's easy to automate scanned files, edit, or search documents with this feature!
Move around whenever and wherever with its cloud-based printing. Using your smart device's Wi-Fi, connect easily with the equipment and get printing or scanning right away! Your kids can also scan content and send it directly to cloud storage platforms such as Google Drive, Dropbox, or email.
Compared with traditional ink printers, this one delivers more prints with better resolutions and clearer texts. Need to print, scan, or copy both sides? Get efficient printing with its two-sided automatic document feeder.
Printing sensitive information? Utilize password security so you and your family will be the only ones to connect. Wireless, convenient, and space-saving, this home all-in-one printer is a worthy investment for your child's future.
---
Things to Consider
Why should I invest in an easy-to-use printer for my child?
Today more than ever, easy-to-use, all-in-one printers and scanners are a must-have for a kid's "office" or workspace. As they often are required to do schoolwork from home on their computers, assignments or research may require the need for a dependable printer. In addition, your child… and you… will enjoy printing off selfies, photocopying important documents, or using the scanner to submit their homework assignments.
Which is best for a kid's printer… inkjet or laser printer?
There are pros and cons to both types of printers. Depending on the usage, you may want to compare "cost of ownership" for both types. Inkjet all-in-one printers require ink replacement cartridges, while laser printers require a toner replacement, as well as drum replacement after 20,000 pages or so.
With inkjet printers, you will probably need to replace the cartridges more frequently; however, if used minimally by your child, inkjet may still be more economical for you.
What's the deal with CISS easy-to-use printers?
Some easy-to-use printers and scanners have another ink option if you're not sure about replacing cartridges or toner. They have a Continuous Ink Supply System, or CISS. The large "tanks" hold the ink and are refillable. Our number 1 choice, the Epson EcoTank ET-2720 Wireless Color All-in-One Supertank Printer, is our selection for this type of printer.
The Pro: These types of printers hold more ink; therefore, not requiring the constant change of cartridges and lasts longer before needing to be refilled.
The Con: Well, you can imagine that the CISS could be messy if not done with precision. For kids, this may not be the best option, especially if you would like for them to maintain their printer by themselves.
What is the best printer for school homework?
The HP OfficeJet 250 All-in-One Portable Printer, our number 2 choice above, is perfect for kids. This easy-to-use printer and scanner also makes copies and is one of our selections for the best photo printer for kids. It's lightweight and portable for homeschoolers on a trip so they can take with them if needed. It also has ink cartridges that kids can replace themselves.
This product has excellent customer reviews.
Does my child need a color all-in-one printer?
Absolutely! Why not at least give them an option? Most easy-to-use all-in-one printers will give your children the choice to print in color or to use the black ink option only. If you are looking for a photo printer for the kids, it's a must, of course.
Which easy-to-use printer is best for students?
Our above list of the "5 Best Easy-to-Use All-In-One Printers for Kids" is your perfect guide to choosing a printer that is just right for your child's needs, whether it be for school homework, for the photography hobbyist, or just for fun. With a little research, you can find one that meets all of your high expectations.
Here are a few points to consider:
Is the cost of the printer reasonable?
Is the cost of replacement ink cartridges, ink refills, or toner within your budget?
Are the features of an easy-to-use printer ones that your child can operate easily without adult supervision?
Do the tasks that an all-in-one printer offers meet your kid's needs?
Does the all-in-one printer meet your home's connectivity requirements?
Does the printer footprint matter? Do you have a space for a printer that is out of the way but convenient for your student?
Will it meet your child's required school homework and hobby needs?
And finally, are the customer product reviews positive?
Which kid-friendly printer is best for photo printing?
Choosing the right tool for the job is essential. When deciding on an easy-to-use printer for children with an interest in photography, it will call for the best photo printer for kids. Two printers top our list: Our number 1 choice, the Epson EcoTank ET-2720 Wireless Color All-in-One Supertank Printer, and our number 2 choice, the HP OfficeJet 250 All-in-One Portable Printer.
---
related electronic "stuff"