As you help your children study at home or strive to complete their homework, using a magnetic whiteboard for kids makes all the difference! Whether for writing, reading, or art purposes, a magnetic whiteboard offers convenience and ease in teaching and learning.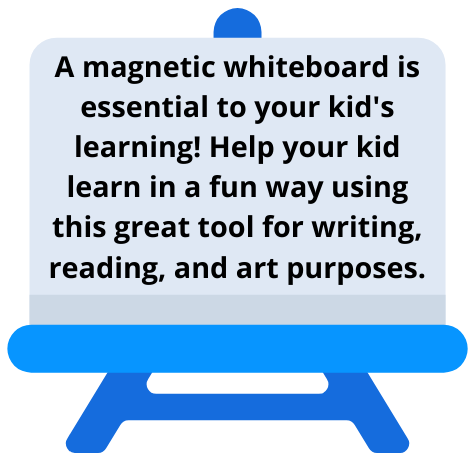 And, if your kids simply want to doodle, magnetic whiteboards are great, too! Art is a way for kids to express themselves, especially when they hit the age of two! Research has also shown that creative activities such as this stimulate the brain for better learning. So, when you're starting them young, you are building a brighter future for your kids.
Parents and educators know that art is a vital component of "play" in children and helps them with creative thinking. Many kids are gifted in this area, and some of them are even considered art prodigies who are outstanding artists. With a whiteboard, you're always ready for when your kids feel like showing off their artistic side!
But what about buying small blackboard for kids instead of small magnetic whiteboards? While both products are writing surfaces with a high reusable value – each type can last for several years with proper use and care – they have significant differences.
For one thing, blackboards require dry chalk sticks as the writing medium while whiteboards should be used with dry erase markers. While the choice between the two writing surfaces boils down to personal preferences, many users say that dry erase markers typically result in finer artwork and penmanship.
For another thing, the use of dry chalk sticks can increase the risk of respiratory issues and allergies in susceptible persons. This is true even for dustless chalk since it still generates small amounts of chalk dust, which can be inhaled and ingested over time. Chalk can also cause fine powder stains on clothes, furniture and carpets, not to mention that children and pets can ingest larger pieces of chalk.
The bottom line: If you're worried about the adverse effects of chalk on your children, you may want to consider magnetic whiteboards instead. The latter will be safer to use while still allowing your children to express themselves through art and practice their writing and reading skills.
But it also doesn't mean to say that blackboards aren't suitable for kids! The trick is in ensuring that chalk dust doesn't build up in your children's play area through regular dusting and cleaning. In fact, we included a few products with a dual purpose – a whiteboard on one side and a blackboard on the other side. These are multipurpose dry erase chalkboard kids will absolutely love!
When choosing a children's chalkboard magnetic board combo, be sure to check if the chalkboard goes well with dustless chalk – it's the safest choice for toddlers.
Check out our "Things to Consider" section!

Here are our suggested magnetic whiteboards—some of them extremely versatile—for all your kids' school and art needs! Check out these five of the best whiteboards for kids with current prices that are posted on Amazon as of this publishing.
---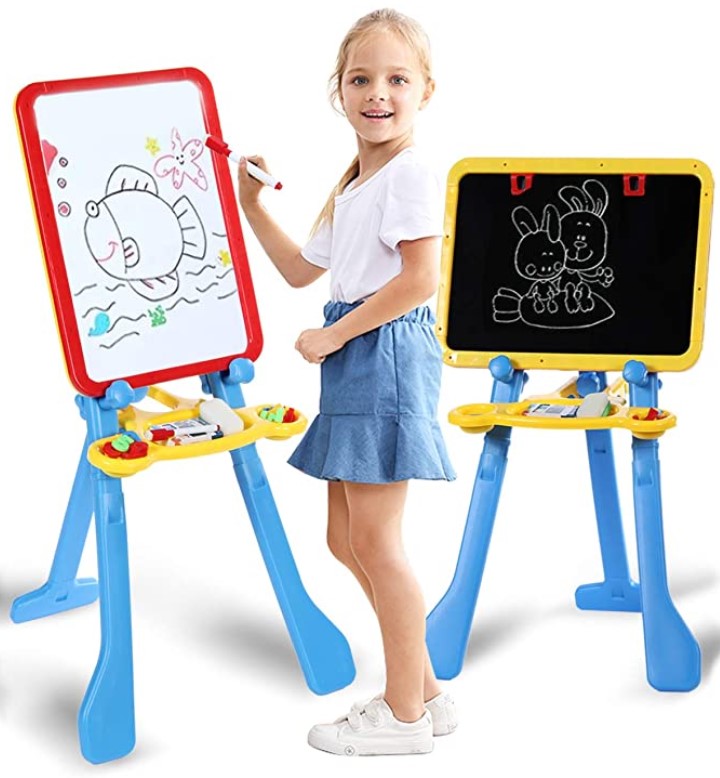 Develop the young Rembrandt in them with the STEAM Life Art Easel for Kids 4-in-1. This is a tool designed to satisfy your child's art cravings. An excellent value for your money, it is an easel that can be used as a chalkboard, magnetic whiteboard, and paper canvasses.
This whiteboard set also comes with a complete set of letter and number magnets. For smaller kids, this can be a starter tool to teach them how to read the alphabet and numbers. You can add more magnets with animals, plants, or other fun designs to make learning more engaging!
A storage tray is found at the bottom of the tray to hold all magnetic letters, numbers, coloring pencils, whiteboard markers, and erasers. With this multi-functional easel, they can draw or doodle on any canvasses they prefer. All items found in this set are non-toxic and safe for frequent use. This is also a lightweight and portable easel that can be stowed away in the corner after use.
Designed to inspire your child's creativity, buy the STEAM Life Art Easel for Kids 4-in-1 set today!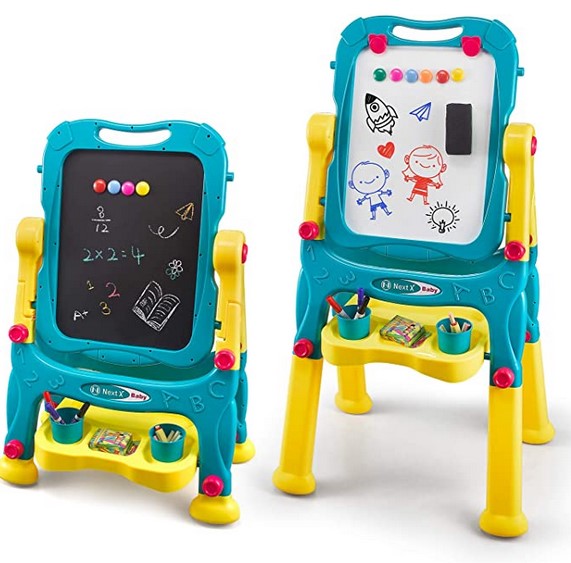 Play and learn with the NextX Kids Adjustable Double-Sided Art Easel, a height-adjustable toddler whiteboard that can grow with him, so to speak. This colorful and vibrant art tool is just the right medium to explore their artistic streak. Kids can choose from two drawing mediums: a traditional chalkboard or a dry magnetic whiteboard. It's a two-way board, so two or more kids can draw or color on either side.
This tool comes with two storage cups and a small tray for erasers located at the middle bottom portion of the easel, features that contribute to its addition in this list of the best dry erase markers for toddlers. They can use any art tool imaginable such as crayons, pencils, whiteboard markers, color pencils, and chalk. A chalk holder conveniently holds the chalk for them to keep their hands clean and dust-free.
Quickly access the magnetic eraser by placing the back portion of the eraser on the magnetic board. This set also comes with two colorful paper clips to put the paper canvass on the magnetic whiteboard. So, if they feel like going for crayons and pens today, they can easily switch to a paper canvass.
Button-like magnets can be used as an accent to draw with on the whiteboard. Not only is it the best magnetic writing board for toddlers because of its ease of use but it also has excellent accessories options! If you're feeling a little extra, you could purchase additional sets of magnets with insects, plants, letters, and number designs on them! It's an excellent way to get them curious about the world.
The NextX Kids Adjustable Double-Sided Art Easel's height can also be adjusted according to their comfortable working height. Pave the way to nurture your child's curiosity to explore, learn, and create with this beautiful art easel!
3. Little Artists 3-in-1 Standing Easel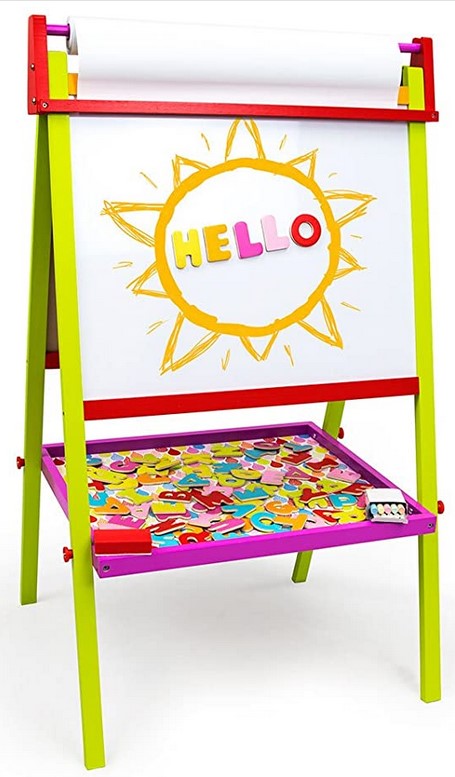 If your kids have a distinctive love for art, start with the Little Artists 3-in-1 Standing Easel.
This minimalist but colorful easel is an excellent starter art tool for young kids. The easel is roughly 3 to 4 feet tall with a full tray firmly attached to the easel's support. We consider it the best magnetic board for toddlers because everything your toddler needs to get started is already here!
This set comes with 75 colorful magnetic letters, a collection of rainbow chalk, a chalk eraser, and a pack of 18″ easel paper canvasses. Kids can also use these magnets as accents for their drawings. For a toddler, this is a great learning tool to teach them early on letters and numbers too!
This can also be one of the magnetic white boards for students just starting out in kindergarten. Toddlers can scribble, doodle, paint, draw, or learn their numbers and ABCs using this magnetic whiteboard easel for kids! Keep them engaged to write and draw using the whiteboard. Not only will this save you money on paper, but it's also an excellent board for bored kids staying home over the weekend.
On the other side of the easel is the traditional chalkboard. Using a different canvass helps them explore other drawing tools at their disposal. It's also an excellent tool to get them to socialize with other kids through collaborative play. By playing alongside other kids, this could be a social tool to build friendships for your kids.
Art increases their cognitive skills and imagination. So, they can use their energy to do fun artwork instead of watching cartoons on smart devices. No need to break the bank for this tool. Buy one for your kids today!
Begin with the basics… the Little Artists 3-in-1 Standing Easel is great for the beginner art student in your family!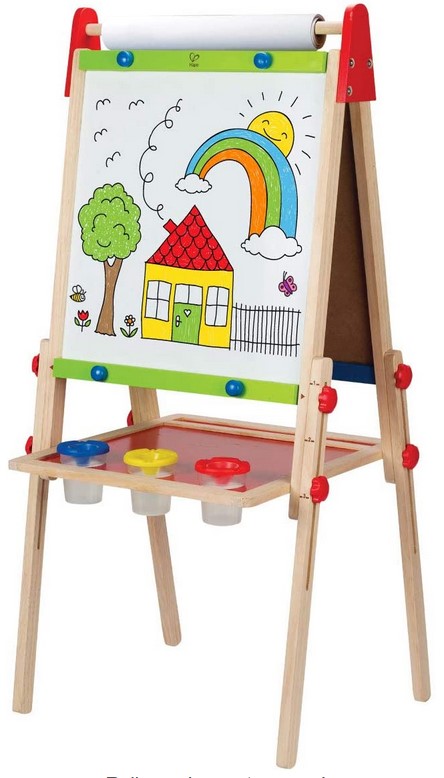 Paint, color, doodle, and learn with Hape All-in-One Wooden Kid's Art Easel, a toddler dry erase board that's as easy to clean for parents as it is easy for kids to write on. Just like creativity, this easel is not bound by a single art canvas.
Both sides of this awesome kids wipe board can be used for scribbling, doodling, drawing, or painting. On one side, it has a magnetic whiteboard canvas. Parents and kids alike will genuinely enjoy learning, writing, or making art fun together to pass the time.
Despite its wooden stand, it's a sturdy easel that can withstand frequent use. Depending on the child's preferred working position, you can adjust the height between 37.5 inches to 43.5 inches. This is one of the little dry erase boards perfect for your little ones as they discover their creative side!
Use the magnets to clip the paper canvas on the magnetic board. Young kids can use paint or color pencils to create their artwork. Use the paint pots provided to place the paints and brushes. If they are not using paint, it can be used to store pencils, crayons, magnets, and other craft materials to make their art more interesting.
For a basic painting or drawing tool, this wooden easel is a good buy for your kid's entertainment.
This whiteboard easel will grow with your child… The adjustable height is a key feature that makes this an excellent gift for any aged child!
5. Step2 Easel for Two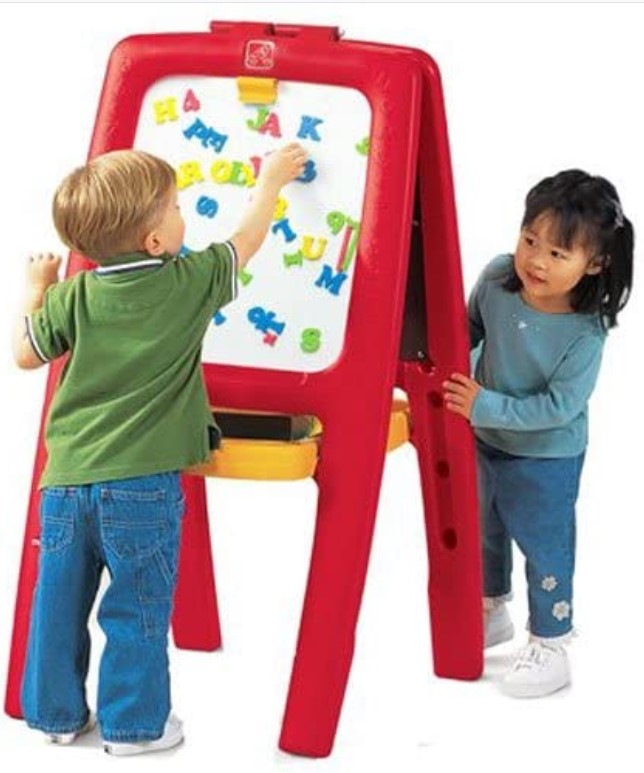 Two can play with this magnetic dry erase board for kids and that makes it a lot more fun, especially for siblings or cousins! Make creativity borderless with this Step2 Easel for Two. This two-sided easel is an ideal tool to spark creativity and learning for kids.
Kids can use the magnetic whiteboard on one side to play with 77 funky foamed letters, numbers, and symbols magnets. Make learning extra fun by incorporating other unique magnets such as plants and animal designs, an option for adding more accessories that make it one of the most versatile magnetic board toys for toddlers.
Go paperless and have your kids write or draw using the whiteboard. It's also a cost-efficient board to apply for home-schooled kids. Regular chalkboards can get boring after some time. Be more creative and get an additional set of chalk with fun colors to work with! Now, your kids will find it hard to resist drawing and scribbling on this easel during break time.
The removable storage bins serve as a working tray for placing pencils, crayons, chalks, paint, paintbrushes, and color pencils. A paper clip found on both sides of the easel can be used to clip paper canvasses. It's a great way to have them explore other ways to draw and color using paints and crayons.
Unlike most easels, this one is compact and portable. For smaller spaces, this one can be folded and tucked nicely inside a small portion of a cabinet. Purchase this unique easel to explore and share for only $44.99.
For the little people in your life, the Step2 Easel for Two is great for your budding artist and their friends. Foster their creativity with this great easel.
---
Things to Consider
What is a magnetic whiteboard for kids used for?
Whiteboards are used in many applications… from homeschooling to the boardroom and everything in between. For kids, they are particularly good for artwork, such as drawing or playing word games, and for homeschooling, as parents use them to demonstrate math problems or dangling participles, and much more! Indeed, there are many practical uses for a marker board for kids so much so that even parents can use it – as a reminder board for bills and chores, for example.
What is the difference between a whiteboard and a dry erase board?
Actually, they are one and the same. The term "dry erase boards" is often used to refer to whiteboards in which whatever is written on them can be easily erased. While the size, shape and accessories, such as storage trays, foldable legs and magnetic objects, are different, every write and erase board for kids serve the same purpose – to allow children to write on them.
How do I choose the right whiteboard for my child?
As there are many to choose from, consider the following:
What is the intended use?
What size space do you have for a whiteboard?
What height should your dry erase board hang that is suitable for your child? Or, do you need one on an easel?
What type of materials should it be made of?
Will you need writing/accessories for your whiteboard?
Do whiteboards wear out?
Yes, of course; however, typically plastic or melamine boards will last anywhere from one to five years, depending on its usage and treatment. More durable options can last up to 15 years or more with adequate care. Keep in mind that even the best magnetic whiteboard easel kids love will eventually breakdown, especially when it's exposed to the natural elements. Keep the boards indoors for a longer life.
What is the proper way to clean a whiteboard effectively for prolonged use?
A funky whiteboard filled with a buildup of oil from dirty fingers, ink from markers and chalk dust isn't exactly conducive to artistic inclinations. It must then be cleaned immediately or else it can become unattractive and, thus, unusable.
You can use any type of cloth moistened with window cleaner, peroxide, or just warm water to clean your dry erase board or whiteboard. In addition, you can also purchase a cleaner specifically designed for this task, such as Expo's Dry Erase Surface Cleaner (Two 8 oz. Spray Bottles). Don't use waxy cleaners that can leave a nasty film on your whiteboard!
What about permanent markers and inks? These can be removed from a whiteboard by writing over them using a dry erase marker until they are completely covered. Then, just erase both markings – easy-peasy!
What's the best whiteboard for a toddler?
For toddlers who are beginning to doodle and practice their alphabet, a Magna Doodle product is excellent, such as the:
2 Magna Doodle Boards with Multi-Colors Drawing Screens, 13" x 17" Erasable Magnetic Drawing Sketch Board for Toddler Painting
Or, this option by NextX:
NextX Kids Easel Adjustable Double Sided Magnetic Dry Erase Board and Chalk Board Educational Toys Art Easel with Art Supplies Accessories for Kids
What's the best whiteboard for homeschooling?
Get your week started off right with a plan. We recommend this homeschool whiteboard because of its weekly planning feature. Check this out:
Magnetic Weekly Dry Erase Board Calendar Whiteboard – Magnetic Weekly Planner for Refrigerator
And to teach school lessons:
48″ x 36″ Dry Erase Board, Ohuhu Magnetic Large Whiteboard/White Board with 6 Color Dry Erase Markers, 4 x Magnetic Stickers, 1 x Eraser, 4 x Screw Nuts & Sleeve Anchors
And, for the ultimate homeschooling experience, go for this large magnetic board for kids
CREATIVE SPACE Standing Mobile Whiteboard – 48×36, Portable, Magnetic Dry Erase Board with Stand, Double Sided, Rolling White Board on Wheels for The Office, Classroom, or Homeschool
What are the best construction materials used for a dry erase board?
Whiteboards/dry erase boards are constructed by several materials. Most magnetic erase board kids love can be made by laminate, glass, melamine, aluminum, or porcelain/enameled steel. Depending on your intended use, you will want to buy one that is less susceptible to scratches, easy to clean, or perhaps one that will last for a very long time.
Here are a few guidelines for you to consider:
Scratch and stain-resistant: Laminate, glass, or porcelain,
Easy to clean: Melamine, or painted steel,
For durability, long lasting, best warranty: Porcelain/Enameled Steel
Are easily scratched: Melamine, or painted steel,
Most popular and affordable: Melamine
What kind of writing tools are best to use on dry erase boards or whiteboards? What accessories will I need?
The ink used on dry erase boards must be designed specifically for whiteboards. Please don't try to use just any type of magic marker or permanent marker! Check these out:
Expo Low Odor Dry Erase Marker, Chisel Tip Markers, Whiteboard Markers, Assorted, 36 Count
Arteza Magnetic Dry-Erase Board Foam Erasers, Set of 10, Ergonomic Shape with Thick Felt Pad for Whiteboards, Lapboards, and Glass Boards
MyGift Wall-Mounted 2-Tier Black Acrylic 10-Slot Dry Erase Whiteboard Marker and Eraser Holder Stand