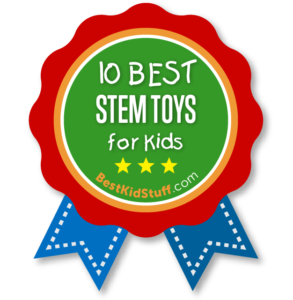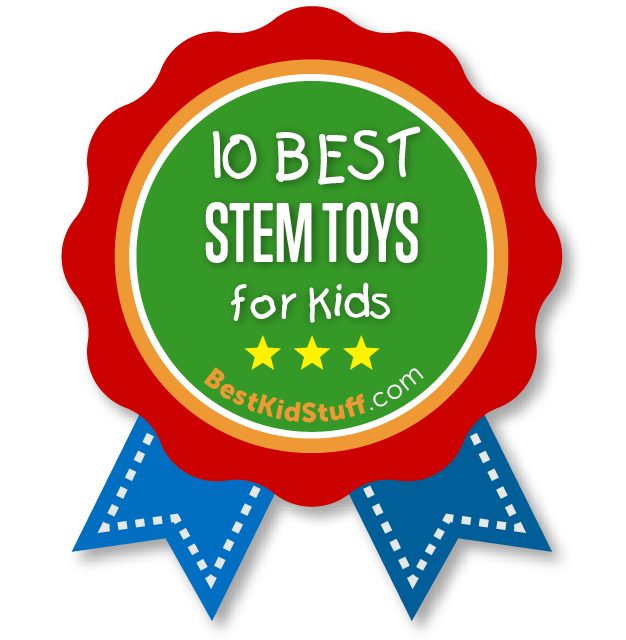 Anything that promotes learning Science, Technology, Engineering, and Mathematics or (STEM) is all the rage right now. There's a really great reason for this. These subjects are known to teach more than just what is on the page. STEM teaches reasoning, awareness, persistence, problem solving, cooperation, innovation and everything that we need to become successful in the world.
The research shows that when children build, they are learning the fundamentals of these skills. Building is not as much about following a set of instructions to the finish line as it is about understanding space, balance, object function, architecture, and the list goes on and on. Many great STEM toys have a building component to them.
Lately, you may have seen some toys labeled as STEAM toys. The "A" stands for the Arts – understanding that creativity and imagination are just as important to learning as quantitative skills and reasoning. For this reason, a number of the toys we surveyed have a creative component. Most of all, these toys are so much fun to play with and we love that they work well with individual play, group play, and many times with the whole family involved. Children stay occupied as the STEM toys we selected are open-ended opportunities for your child to explore and have fun.
When ranking these toys, we factored in the cost of the product, the quality, how well the product teaches STEAM principles, and of course how much fun or engaging it is for your little one. We are excited to see such fantastic options on the market featuring STEM. Here's what we came up with for the top 10 STEM toys out there.
Keva has created a number of quality building sets over the years and Contraptions is a great addition to the family. There are four ways to purchase Contraptions – as a 50 piece set, as a 200 piece set, bundled as 200 plus 50 piece sets, and a 400 piece set. These finely crafted wooden planks may be assembled in any number of ways, encouraging creativity, engineering, and perseverance. If you are looking for a challenge, the Keva Contraptions building set delivers. Because each piece is the same and interchangeable with other sets you can continue to expand your collection over the years. What's more, Contraptions is compatible with a huge age range – from about 4 years old through to adulthood. Kids can build a tower, or build a Rube-Goldberg device. The level of complexity is up to the child. Here's a tip: If you are looking to source products made in the USA look for the KEVA products made with Maple.
This is a great toy for individuals or groups and is a lot of fun if you have extra pieces and want to create teams. Teachers also love Keva products as these interchangeable planks are a great addition to any building station. Don't be put off by the simple design. Yes, these are planks of wood but they are cut to perfection for balance. Whether you're looking to encourage math and science skills in your kids, love watching them get creative, or are hoping to teach persistence and perseverance, or all of the above, Contraptions does it all.
What We Love
Fun
Interactive
Great for STEM
Keeps Children Occupied for Over an Hour
Travels Well
High-Quality Pieces
Good for a Wide Range of Ages
Endless Creative Options
Good for Sharing
Teaches Persistence, Patience, and Perseverance
Interchangeable with other sets
A Good Challenge
Score
Quality of Materials: 100/100
Cost: 95/100
Availability: 99/100
Teaches STEM Principles: 100/100
Engagement Level: 100/100
Overall Score: 98.8
Teachers love this… so you should, too! Give it a try… Buy it from Amazon.com!
The Crayola Color Chemistry Lab Set is a great STEAM toy that mixes creativity, engineering, math, and science – especially chemistry. The set comes with materials for 50 science experiments that are engaging for a wide range of ages. Though the box says for ages 7-10, small children can participate with some adult supervision. As expected from Crayola, the colors are fun and the activities are tactile. We like how engaging this is, but be warned that the experiments may get messy. Please have newspapers, plates, and paper towels available for the experiment and for cleanup.
This kit is an excellent introduction to chemistry. We love any kind of activity that exposes children to complex concepts in non-threatening ways. There are 10 experiments you can do right from the box but the detailed instructions include over 50 ways to experiment with the contents (with the help from some basic household items). Many parents report sustained interest for well over an hour. This is basically a lab inside of a kit for an excellent price.
What We Love
Fun
Interactive
Lots of Experiments
Keeps Children Occupied for Over an Hour
Good Value
A lot of Experiments May Be Completed
Good for a Wide Range of Ages
Promotes Creativity and STEM
Good for All Genders
Easy to Clean Up
Score
Quality of Materials: 96/100
Cost: 100/100
Availability: 99/100
Teaches STEM Principles: 99/100
Engagement Level: 99/100
Overall Score: 98.6
Crayola… A trusted name in child's entertainment for years!
If you love butterflies you will love the Insect Lore Deluxe Butterfly Garden kit. Unlike other toys, your child actually watches nature fold and unfold – literally. This kit comes with two caterpillar jars and feeding kits and keeps your child engage for weeks. This is a great STEM toy as children have an opportunity to observe, interact, and record data about what they see. It's a great way to keep children engaged for a period of time, and not only teaches STEM skills but other skills as well, like keeping a schedule, paying close attention, patience, and other executive function skills.
This kit comes with a total of 10 caterpillars. These caterpillars will turn into painted lady butterflies. Once in the Chrysalis stage, move them and watch the transformation begin. We think this toy is great for children of all ages and adults as well. Teachers love this product for the entire classroom, as this makes a fantastic seasonal activity in the classroom. In addition, you may want to grow butterfly-loving plants or read everyone's favorite caterpillar-themed book.
What We Love
Great for All Ages
Very Educational
An Activity that Lasts Weeks
Great in Households or Classrooms
Teaches Observation and Data Collection
Good for Nature-Lovers
Great for all Genders
Score
Quality of Materials: 98/100
Cost: 99/100
Availability: 99/100
Teaches STEM Principles: 99/100
Engagement Level: 97/100
Overall Score: 98.4
Watch nature unfold right in front of your eyes with the Insect Lore Deluxe Butterfly Garden!
If you are looking for an engaging STEM toy that works across a wide range of ages, Brain Flakes are a great option. These flat disks require just a couple of fine motor skills and minimal coordination to become a huge success. They are colorful and encourage creativity, spatial concepts, engineering, and imagination. With 580 pieces, it just takes one set and several kids can build at the same time. Even smaller children can engage in imaginative play with the discs until they develop the fine motor skills to build on their own.
Unlike other construction sets, Brain Flakes don't require specific pieces in order for projects to take shape. The simplicity of the design makes for greater accessibility and virtually limitless possibilities. With enough pieces to go around, kids tend to cooperate more and fight less. Families and teachers love using these creative discs to teach concepts, encourage free thinking and playing, as well as simply keeping kids distracted. The motto "Engineers Start Here" perfectly sums up this great toy.
What We Love
They are colorful and fun to look at
This is an inexpensive toy
You get 580 Brain Flakes
The pieces are not sharp
Many ages including adults can engage with this toy
There are uniform pieces so no frustration/risk of losing a piece
Many kids can play together
teaches the basics of engineering and encourages creativity
Kids like to play with Brain Flakes for long periods of time
Score
Quality of Materials: 98/100
Cost: 100/100
Availability: 99/100
Teaches STEM Principles: 95/100
Engagement Level:99/100
Overall Score: 98.2
For hours of fun… Check out the Build a Brain Imagination Flakes!
Suction Kupz are brilliantly simple. Basically, the toy is 6 cups with suction that are colorful and safe for all ages. What makes this simple toy brilliant is the child that uses them. Imagine building not only on the floor but on the side of the wall, in the bathtub or anywhere imaginable. Building toys are shown to promote math and science learning and these are accessible at the very youngest ages. Though the fun does not stop with building. Your child can use the cups as actual cups and spend hours engaged in imaginative play. They're fun and interactive, and who wouldn't love sticking one to mommy's head? This is a great STEM toy for babies around 7 months to 2 years or even older.
The Suction Kupz are dishwasher safe, teach fine motor skill and spatial reasoning, and are BPA free and food safe. Babies can literally eat and drink from them. You'll love this travel-friendly toy that keeps your child entertained for a long time and to top it all off, the price is fantastic.
What We Love
A Great Option for Babies
Dishwasher Safe
Keeps Kids Occupied
Teaches STEM Skills
Encourages Creativity
A lot of Fun
Inexpensive
BPA-Free
Fun for All Genders
Score
Quality of Materials: 97/100
Cost: 99/100
Availability: 98/100
Teaches STEM Principles: 97/100
Engagement Level: 99/100
Overall Score: 98
This unique toy is simple but entertaining. The fun colors make it fun to drink out of or to hold Cheerios or another favorite snack!
Botley the Coding Robot Activity Set teaches the principles of coding to students as young as 5-years-old. The advanced features mean that kids will be able to code with Botley for years to follow. Botley won the Toy of the Year Award (TOTY) for Innovation and it's easy to see why. Botley is interactive and completely screen-free, meaning no tablets or phones are required to get started with coding. Kids have access to coding cards and are encouraged to get creative building multiple obstacle courses for their Robot. This toy teaches the basics of STEM concepts, problem-solving, and critical thinking.
The activity set comes with a cute robot named Botley, remote programmer, 40 coding cards, 6 tiles, and 27 obstacle pieces. This set requires 5 AAA batteries which are not included. Simply pop the batteries in and Botley is ready to roll. He learns through basic commands and is able to follow a track as well as navigate an obstacle course. Parents report attentive kiddos in a matter of minutes, who stay engaged for an hour or longer. If you are looking to avoid screens and introduce your little ones to the fundamentals of coding, this cost-effective toy is a great option.
What We Love
Cute
No Screens Required
Instantly Engaging
Teaches the Basics of Coding to Young Children
Affordable
Scales Up Quickly
Score
Quality of Materials: 99/100
Cost: 98/100
Availability: 99/100
Teaches STEM Principles: 96/100
Engagement Level: 96/100
Overall Score: 97.6
Toy of the Year for Innovation Award… It sounds like a winner!
As a STEAM toy, MagnaTiles is encouraging artistic expression as students engineer, craft, explore shapes and spatial concepts, count, and sort with their tiles. The tiles themselves are colorful, durable and somewhat translucent and not to mention, you get 100 of them. Kids can even play around with color-blending, for example, watching the red and blue tiles come together to create a translucent purple – another great STEAM feature. This toy is great for a diverse group of learners including neurotypical kids, kids with autism, and other exceptionalities. The magnetic tiles stack in this very pleasing way inside of the box even making clean-up a fun puzzle.
The magnets are what sets these tiles apart from similar products. They connect well and can hold some very mighty complex structures- encouraging kids to keep going, keep building, and keep trying new and greater complex structures. This engaging toy is likely to be in the home for years to come and if your son or daughter leaves one out, you don't have to worry about hurting your foot in the middle of the night. It's a win for the whole family.
What We Love
Engaging for a wide range of ages
Lots of colors and shapes that encourage creativity and imaginative interaction
Very durable and likely to last several years
The magnets really work; holding even the most complex of structures
Works well for all types of learners
Comes with a large number of tiles
Tiles stack neatly into the box- making even clean up fun
Teaches a lot of different STEM skills including the Arts making this a fantastic STEAM product
Lightweight and travels well
Score
Quality of Materials: 99/100
Cost: 89/100
Availability: 99/100
Teaches STEM Principles: 100/100
Engagement Level: 100/100
Overall Score: 97.4
Playing with MagnaTiles is a great way to spend a rainy afternoon at home! Buy it from Amazon Prime!
Brickyard is a STEM building kit that works for ages 3-10. This 163-piece construction toy set promotes creativity and cooperation. It works well in households and classrooms. Kids may spend hours problem-solving, creating, and tinkering. The little kid-friendly tools are great fun and promote fine motor skills to boot. The pieces themselves are colorful, eye-catching and non-toxic! If your child can imagine it, they can make it with this incredible building set.
Parents and teachers alike love the collaborative nature of this toy. With so many pieces comes a lot of interaction, increased social skills, and teamwork. The smaller pieces and tools require fine motor skills and satisfies tactile learners as well as visual learners. The set includes a full-color design guide that is easy to follow. We like that it works for all types of learners – including kids who like to follow diagrams and kids who would rather be more "free form" with their designs. The price is really good too and there's often an excellent deal available to Amazon Prime members.
What We Love
Lots of Pieces Included
Promotes Creativity
Great for Groups
Fun tools included
Good For A Wide Range of Ages
Colorful
Clear Instructions
Good Value
Score
Quality of Materials: 98/100
Cost: 97/100
Availability: 99/100
Teaches STEM Principles: 94/100
Engagement Level: 97/100
Overall Score: 97
Let them build… with this large set of building blocks. Buy it from Amazon today!
The Orboot by Shifu is a globe featuring augmented reality technology that is app-based and interactive. This interactive globe teaches kids about cultures and creatures across the globe. Your kids will earn about animals, monuments, cuisines, inventions and more. The augmented reality feature is a lot of fun and enhances the experience with 3D imagery.
Orboot is a great globe for a wide range of ages from about 3 years to 10 years of age. The Orboot comes with a passport and stamp so children may explore the globe and keep track of their quests. It's a great way to introduce your children to diverse cultures and animals and help them learn the entire map. You'll probably want to give it a try as well- there are a ton of fascinating facts!
What We Love
Fun
Interactive
Augmented Reality
Keeps Children Occupied for Over an Hour
Travels Well
A lot of diverse activities and games
Good for a Wide Range of Ages
Score
Quality of Materials: 97/100
Cost: 95/100
Availability: 99/100
Teaches STEM Principles: 95/100
Engagement Level: 99/100
Overall Score: 97
Buy Shifu Orboot from Amazon Prime… Get it within two days and take advantage of free shipping!
Snap Circuits is a rewarding kit that teaches the basics of electronics through exploration and set activities. The kit comes with over 60 electrical parts that snap into place requiring no additional tools. There are over 300 different possible activities, some more complex than others. As kids work through the booklet, the level of complexity increases. There are ways to continuously upgrade as kids learn to customize their own circuits or upgrade to the pro-level.
The pieces are color-coded and clearly labeled making the initial start to play, well, a snap! The pieces snap together in various patterns to create working electronics and devices. The results are very reinforcing and satisfy on the very first attempt. Some of the do-it-yourself projects include launching a helicopter, spinning a propellor, powering a radio, spinning gears and so much more. The kit is great for all genders and a wide range of ages.
What We Love
The product builds on itself increasing the skills of the kids playing and range of kids who may want to engage with it
Color-coded and clear
A real bang for your buck product
Instantly rewarding
Cleverly teaches the basics of electronics
Great for a wide range of ages
Over 300 activities possible
More advanced versions available
Engaging for many years to come
Engaging for All Genders
Good for critical thinking
Fun challenges that tier up
Score
Quality of Materials: 99/100
Cost: 98/100
Availability: 99/100
Teaches STEM Principles: 90/100
Engagement Level: 97/100
Overall Score: 96.6
Do you have a budding electrician in the family? This is ideal for kids interested in how electronics work. Amazon has it!