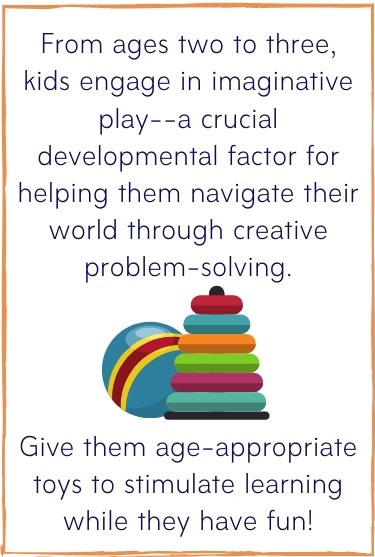 Moms know that kids tend to be more active the moment they can talk and walk from ages 2 to 3 years old. It is also the time where they gain independence and learn to say 'no' to almost anything. Nothing motivates a child more than play. Their imagination only grows as time passes and they start exploring outside and learning more about the world surrounding them.
This is the stage where they engage in imaginative play, a crucial developmental factor to help kids navigate their world through creative problem-solving.
Toys that stimulate role-playing or symbolic playing involve toy versions of gadgets, tool kits, musical instruments, and even kiddie costumes. Giving your child these kinds of toys stimulate further learning by forming social groups and collaborative play as well as improve language skills. When providing these kinds of toys, it's best to let them play under adult supervision to avoid accidental choking from small toy parts.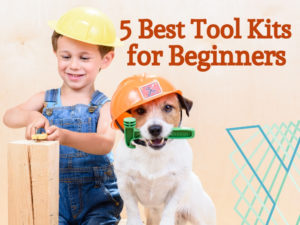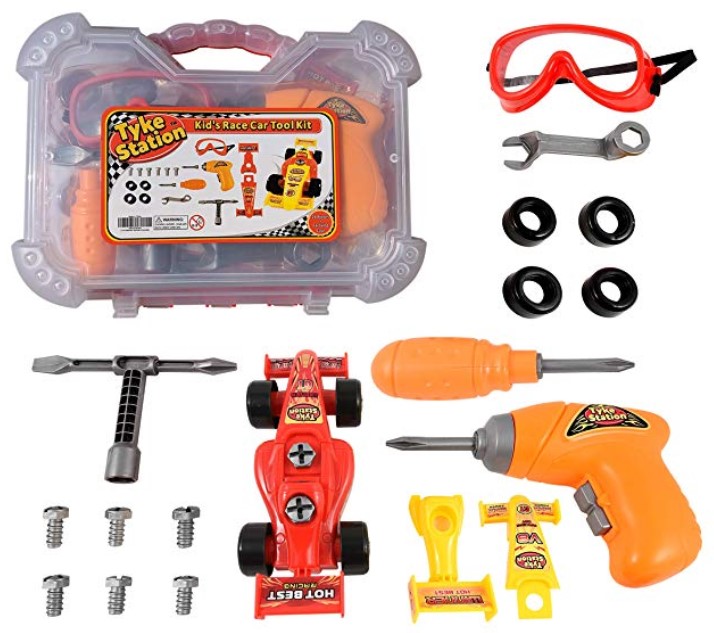 The Tyke Station Kids Tool Set with Take Apart Car is an excellent toolset for the curious. It is a 24-piece toolset with a toy car that your kids can take apart. All tools are stored inside a sturdy plastic carry case. So when your child is happy and satisfied playing, they can place all devices in this portable carry case. Hey, you can even bring it with you on your next family trip to the beach!
This set contains play goggles, screwdriver, spanner, and a toy drill that is powered by using 2 AA batteries. Make the most of boredom and let your child play for hours and hours! This is CPSIA and ASTM certified safe for kids and recommended for three years and older.
This toy set is intended explicitly for developing a child's cognitive function and excellent motor skills. It's also a unique educational toy for kids to tinker and play-pretend with other children to help them develop collaborative and social skills. If your child has a playroom, complement this toy with different toy sets such as cars, wood, and other construction-related toys.
Not happy with the product? Get a 30-day money-back guarantee! For only $19.99, you get an educational and fun toy.
Interested in the Tyke Station Kids Tool Set… with the Take Apart Car, of course? You can purchase it safely on Amazon.com!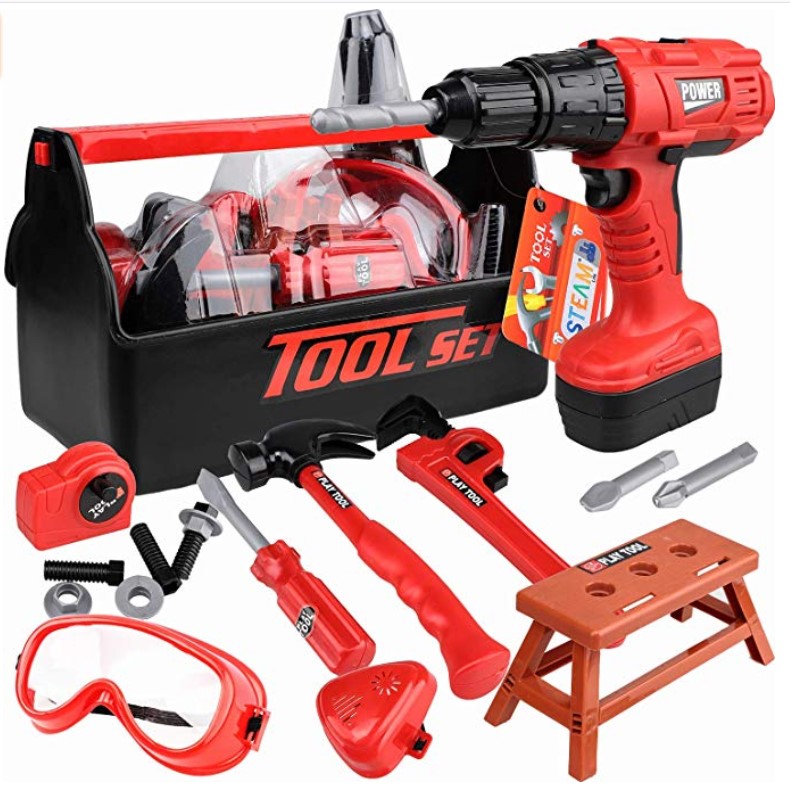 Ready to play mechanic? Get the STEAM Life Kids Tool Set for Toddlers! This is an ultimate construction set complete with 19 tool pieces, including a drill, screws, safety goggles, clamp, anchors, and some wood to play with. The toy drilling tool comes in two types: manual and electric type. Have your kids play along using their toy construction set as you play pretend to repair your tables or chairs. It's a good time to share a thing or two about work too!
Each item in this set is built for durability as your kid can pound or screw into hard surfaces. After using, they can easily pick the pieces up and place them in its handy toolbox. Allow them to explore and have other kids play along and socialize. Or take the opportunity to develop strong bonds with your kids as you play pretend in constructing imaginary buildings or railways! Don't worry. Each tool is safe for kids and made of quality plastic material.
Are you purchasing the perfect gift for his or her birthday? It s a fun and entertaining kid's toy to stimulate the imaginations of kids 3 to 7 years old! Get your money's worth for a fun and educational toy your kids will value for only $16.97.
This easily has to be the most realistic tool kits that will entertain your boy or girl for hours! It's on Amazon!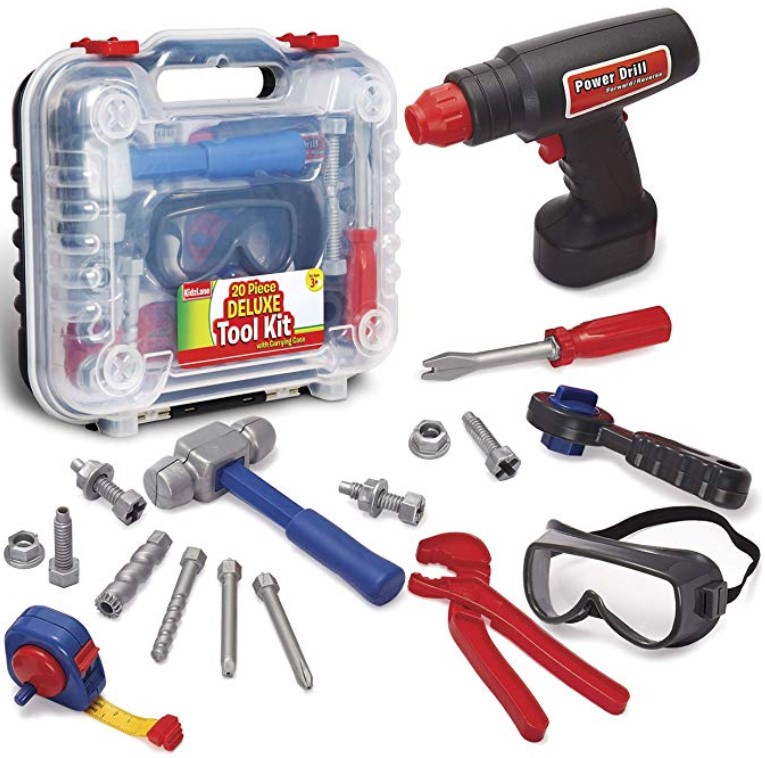 The Kidzlane Durable Pretend Play Construction Tool Set is for the inspiring engineers-to-be for kids between 3 to 6 years old. This toy set contains 20 pieces, such as bolts and nuts, hammer, screwdriver, channel lock, safety goggles, a functional tape measure, nails, and ratchet. Battery-powered driller mimics sounds similar to a real one. To turn on, push the button. Now your kids can mimic the real thing!
Done playing? This is an excellent time to teach your kids discipline by letting them place their toys in the storage case.
Kids tend to throw and pound toys around, making this a fragile item if it's not made of quality plastic products. Each component of this set is made for constant wear and tear from throwing and bumping. It's portable so you can bring this for family vacations, camping trips, or visiting nearby playgrounds.
Is your little one celebrating a birthday anytime soon? This would make an excellent educational gift too!  This cool set sells for only $23.99.
The Durable Kidzlane Pretend Play Construction Tool Set is a great gift for any boy or girl in your life!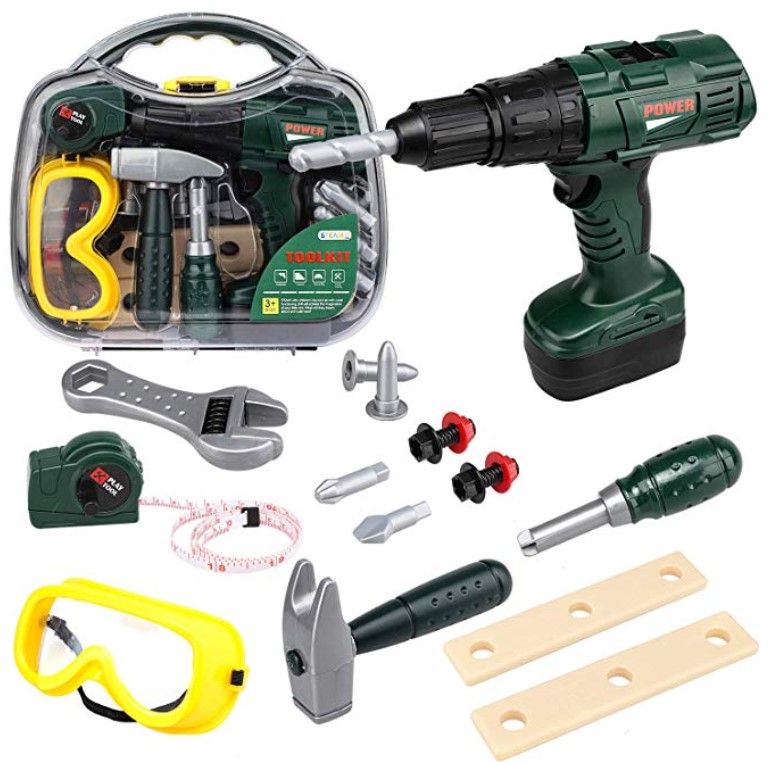 Let your kids experience the love for learning with STEAM Life Kids Tool Set Power Toy Drill. While they can't have a real thing yet, why not give them the closest to the real deal? This toy electric drill set works, feels, and sounds like actual drilling equipment. This drill apparatus is powered by using batteries.
Let your child have fun exploring, renovating, and imagining buildings, woodworks, and other fun things to create! Each set comes with 19 toy pieces of building materials such as screwdrivers, safety goggles, measuring tape, hammer, needle nose pliers, clamp, screws, anchors, and play wood that kids can experiment with.
Make memories and spend time with your kids using this toy toolset for only $17.97. Keep kids entertained and watch them play construction as you sip your tea nearby with friends keeping a close watch. This is an ideal toy for kids from 3 to 7 years old with a 12-month warranty too!
Amazon sells this item and PRIME TOO! Have the STEAM Like Kids Tool Set in your little one's hands in two days!
The Battat Builder Tool Box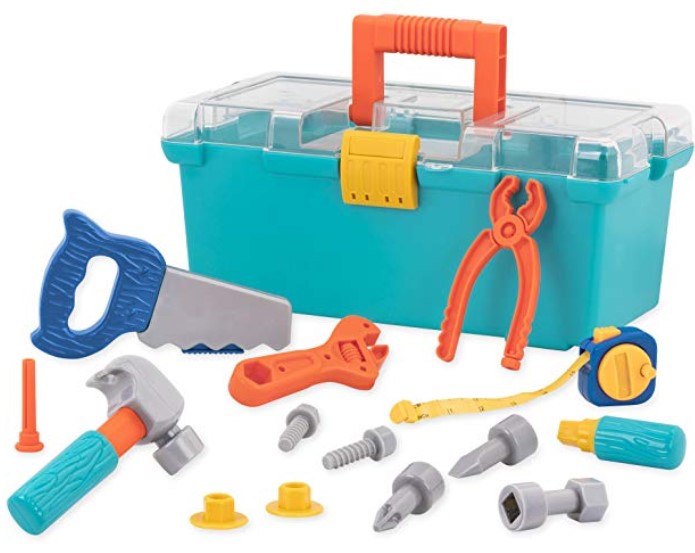 Kids Tool Set is a colorful starter toolbox for young kids. This is a 15-set toolbox kit in adorable light blue, orange, and yellow combinations. It is ideal for 3- to 5-year-old kids to encourage imaginary play. Each toolkit contains a screwdriver, screws, plier, nail, nuts, measuring tape, bolts, and bits. No need to worry about wearing a hard hat with this plaything!
Good time to head out for a picnic? Why not bring his favorite toys with him! This set includes a neat toolbox that's easy to carry. Encourage them to do a role play with other kids and get limitless possibilities as they sort out various ways to create and renovate. Give the kid in your life the best gift of creative learning and purchase this for $16.95!
Perfect for "daddy's little helper"! The Battat Builder Tool Box for Kids is available for purchase on Amazon!