At 12 months, most children will have taken their first baby steps and be able to climb the stairs in their second year. Some words and gestures are likely to develop during their first 12 months. As for physical development, it's expected that toddlers develop better gross motor skills in their first 12 months with excellent motor skills starting to show on their second year.
Children at this age are also able to utter simple words such as "mama" and "dada" and have a knack for repetitive play such as throwing a toy so you can pick it up. To the eyes of a 1-year-old girl, everything is worth exploring, tasting, and touching. They'll also engage with other children to play.

This is the best time to expose them to challenges that are appropriate for a 1-year-old. Teaching them about everyday items such as a spoon, cup, or phone enhances their understanding of what those items are for.
Pretend play is also prominent where children mimic what mommy or daddy does. It's also good to read with them helps so they connect with what you say to the images presented in the book.
Musical toys with counting, singing, or repeating phrases also encourage counting and conversations. So, if you're planning to purchase a toy for a 1-year-old girl soon, choosing educational and functional toys would be a worthy investment.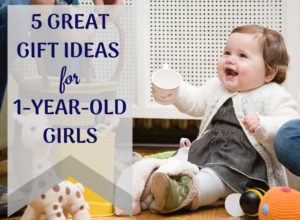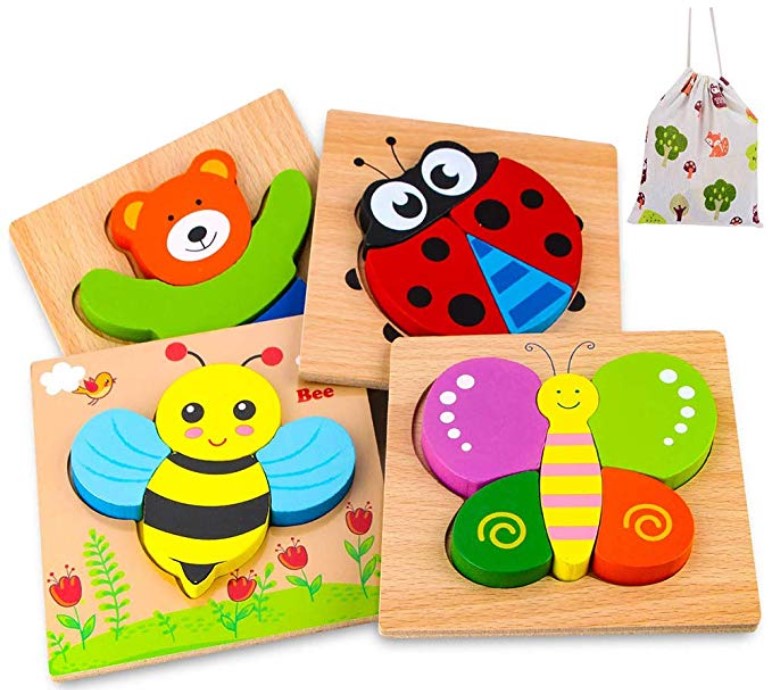 The Wooden Animal Puzzles is a beautiful animal colored puzzle set for the curious mind.
This puzzle set consists of bear, bee, ladybug, and butterfly pop-ups in high-quality big wooden blocks, so it guarantees not to be a choking hazard!
No worries about splinters sticking out of the surfaces. Each piece is smooth to the touch, so it's safe for your child's delicate skin. Paints on each wooden piece are also BPA-free and environmentally friendly.
Get your kids to mingle with other kids and solve puzzles together! Or play along with her as you teach her colors and characters as you solve each puzzle.
Are you planning to give this as gifts for your 1 to 3-year-old daughter or niece?
2. Spin and Learn Color Flashlight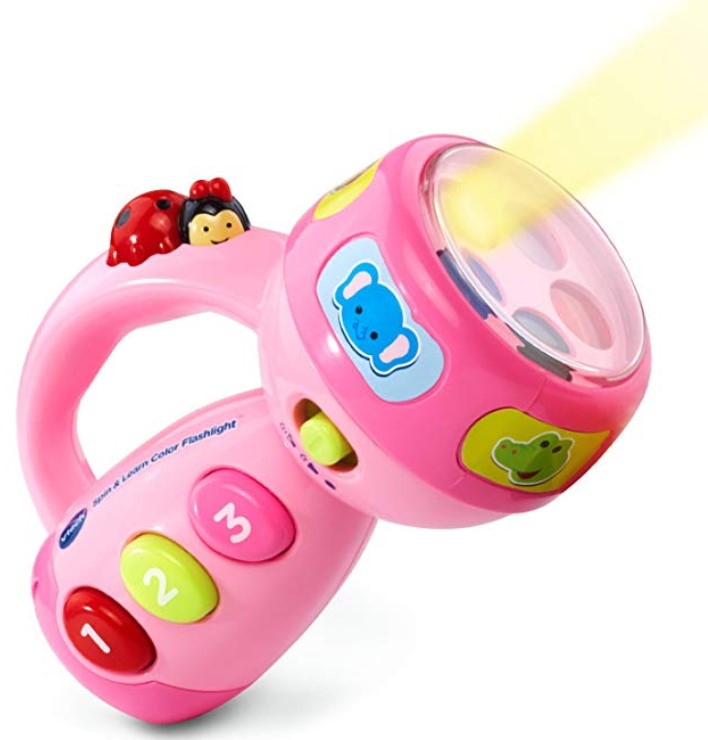 Delight in flashy lights and sounds with the Spin and Learn Color Flashlight.
Let your child choose from three different colors: green, pink, and yellow. Each colorful character and numeral buttons produces a melodic sound. The ladybug button produces phrases, numbers, and melodies that children can sing along.
Teach your child simple counting by pressing 1, 2, and 3 buttons. Have your child explore its five changeable lights and discover melodies that they can sing along with. The volumes are adjusted, so its sounds are just right.
Each experience is unique, with 50 sing-along songs that your child can learn and re-learn! Suitable for one- to three-year-olds, this singing flashlight is a joy to play with the whole day.
How cute is this flashlight?!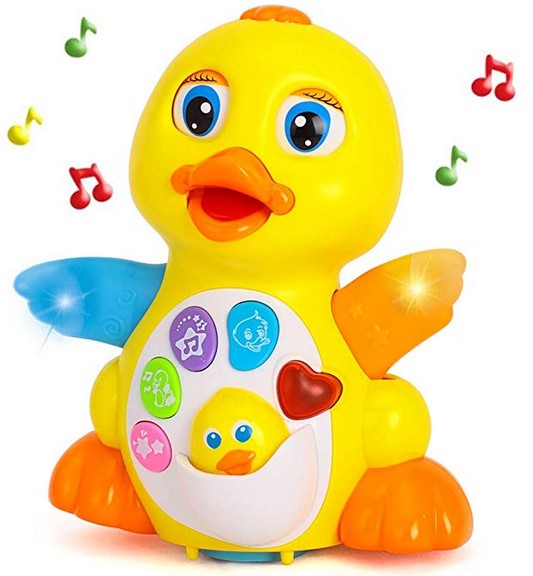 Bring out your child's cheerfulness with the Musical Flapping Yellow Duck Educational Toy.
The lovely bright yellow duck design is fit for a 1-year-old girl. Get your children curious and explore this toy's musical abilities! Your little girls will laugh in glee as this toy duck dances and sings to the push of a button! Pushing the heart button mimics the actual heartbeat.
Voice button found on the first upper left side produces cute melodic tunes as the wings flap, and the heart button lights up. Small wheels at the bottom give this toy mobility as your child plays with it. Next to the voice button is the melody button that activates seven sounds played in a row once pressed. Press it again, and it produces a different tune!
Press the song button, which is located next to the melody button, to sings to the melodies of "Six Little Ducks" as well as "Quack, Quack, Quack." Explore other exciting buttons, such as the duck button and sound effect button, and watch your child's eyes widen with wonder!
Who doesn't want to entertain with a Musical Flapping Yellow Duck?! It's just a click away!
4. Princess Castle Stuffed Playset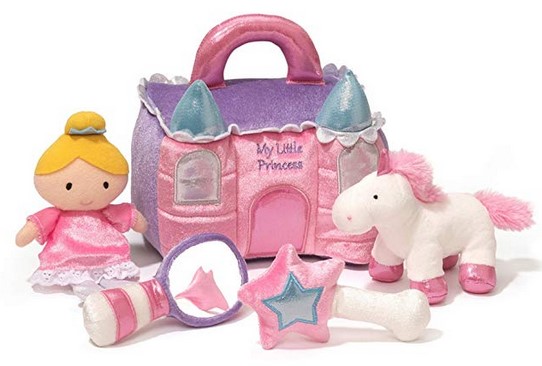 Journey into the world of castles and make-believe with Princess Castle Stuffed Playset.
This is a 5-piece toy set ideal for babies and young girls. With light pink and white colors, this would also be a suitable toy to bring with them to bed. Soft plush material makes this easier to squeeze and grab as they engage in play with other kids.
Each set contains a princess crinkle doll, magic wand, mirror, a princess figure, and a plush unicorn that produces a melodic sound when pressed. Make this part of their unstructured play and pretend to be princess crinkle in search of prince charming!
Need to clean it? Except for the unicorn toy, all other pieces are machine-washable. Each huggable toy is safe for kids too! Need to pack this for your family camping trip? No problem! This set comes with a soft and plush pink castle case to store all pieces of this set.
The Princess Castle Stuffed Playset is ideal for the girliest of girls!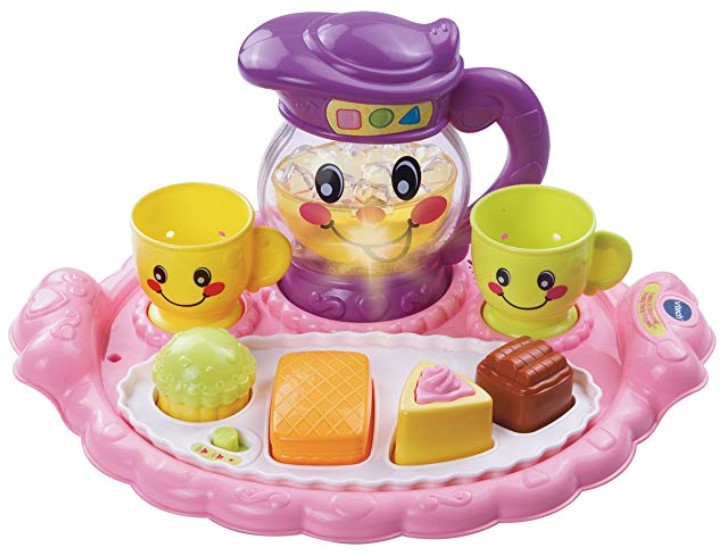 Play tea with a friend with the Learn & Discover Pretty Party Playset!
This toy tea set contains a colorful pitcher, two adorable cups, and four pieces of sweets such as cakes on a pastel pink platter. Interact with your child as you play pretend to pour tea and eating cakes in the garden. Arrange the pieces together in the tray and watch the pitcher and tray light up to your child's delight!
It also encourages your child to learn shapes and colors while she plays tea party with friends. Powered with 2 AA batteries, she can choose from more than 70 melodic tunes and phrases with this set! Or have her sing along as the toy produces a melodic song. By tipping the pitcher, they can simulate real pouring of tea or water.
Kids from 6 months to three years of age will surely love this tea set with her friends!
Interested in the Learn & Discover Pretty party Playset?