Edited by Britt Lynn
A Hoverboard… What's that?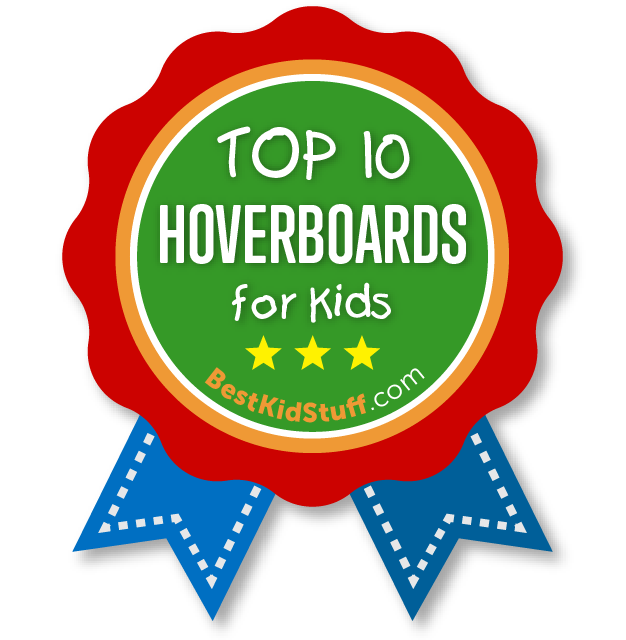 If you're reading this, you probably didn't have a hoverboard as a kid. Unfortunately, the hoverboards you may have imagined (ones that float) aren't yet available cheaply to the public. No worries. There are still incredible boards that will let your feet feel like they're coasting on clouds, even though they're actually atop tires.
Hoverboards are a great way to keep your shoes clean and crisp, learn about balance, and have fun that's relatively safe in comparison to some other forms of transportation.
Plus they're a sleek, slick way to get from point A to B. Of course, hoverboards for kids are primarily considered as toys but these have their practical uses, too, such as going to and from school and other places.
Quick Peeks at the Top 3 Hoverboards for Kids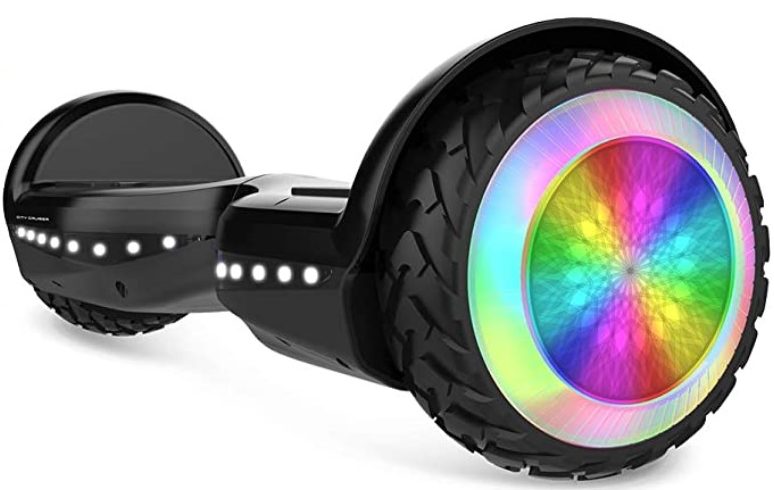 Hyper GOGO HoverBoard with colorful LED Lights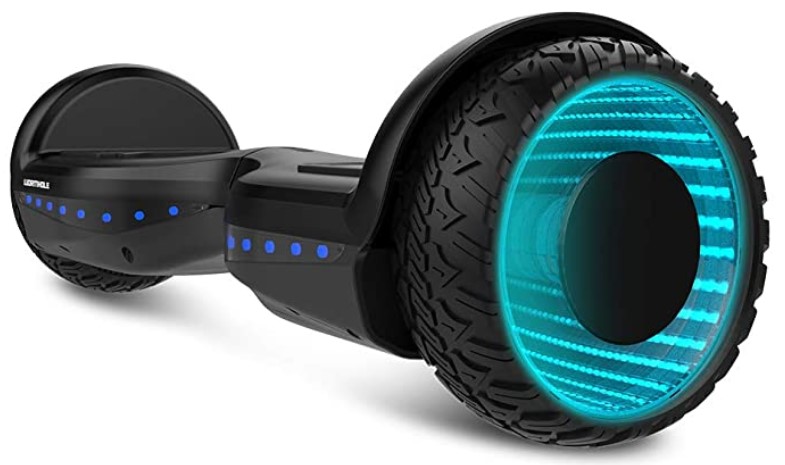 The WORMHOLE Off Road Hoverboard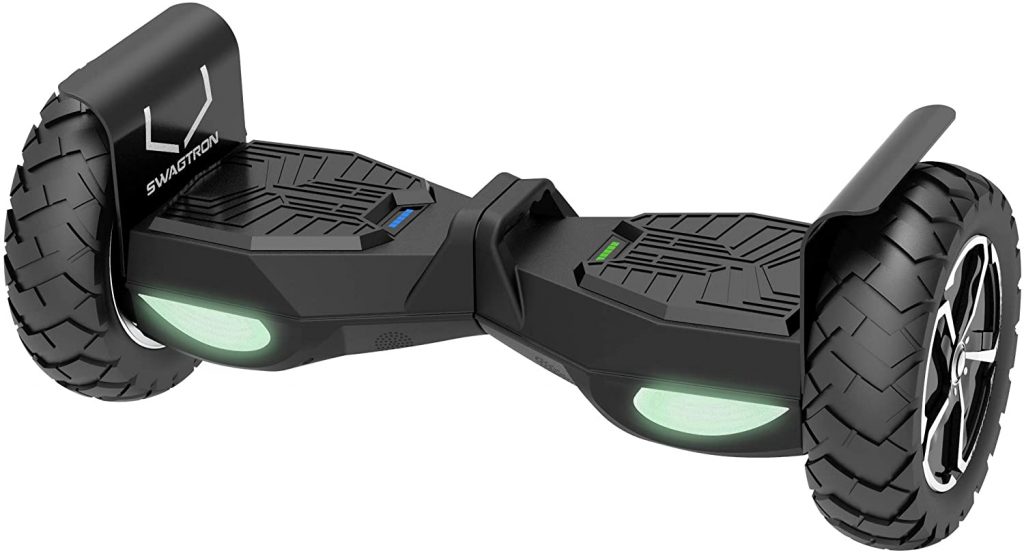 Swagtron Swagboard Outlaw T6 Offroad Hoverboard with Bluetooth
Fun for the whole family…
This is the kind of toy you get for your kids, and then discover you might want to have some fun too. Some of the boards on our list can handle adult riders, letting this become a gift for everyone.
Connect to Bluetooth on select models…
Many of these boards come with exciting perks like apps to monitor battery life, distance covered, and other stats. You might also choose a board with a built-in Bluetooth speaker to enhance your riding experience with sweet tunes. Or perhaps maximum safety is your top concern. On this list, you'll find boards that were certified through a battery of different tests to prove they were safe for riders in a myriad of ways.
On this list, we've ranked boards based on their price, whether they've got an app and a built-in Bluetooth speaker, and the top speed they hit. We've also looked at and summarized the "things we love" about the different models based on reviews from owners.
Two quick notes:
First, make sure to closely examine warranty terms, and look at the experiences verified users have had dealing with different companies' customer service. Secondly, one thing we learned while researching these vehicles is they often use ion batteries, which can die if left unused in packaging for a long time. So the longer these hoverboards have been sitting unboxed since they were manufactured, the more likely they won't start after being opened.
Keep it properly maintained…
Keep in mind, too, that even expensive and cool hoverboards require proper and regular maintenance. Parents should first read the instructions manual regarding charging of batteries, troubleshooting issues, and cleaning the surfaces, among other matters of maintenance, before its first use. Avoid thinking that since it isn't your family's first hoverboard that you know everything about this second one – each one is different so it pays to read the instruction manual first.
These devices can be expensive, so you want to get the most out of them. We're here to help you make the right call in choosing the best children's hoverboard for your family. Let's check these hoverboards out!
Check out our "Things to Consider" Section!
Ranking Methodology:
The criteria we used in choosing the best hoverboard for 2021 were also used in this 2022 list. For this reason, there are changes to the list, particularly as new features have been introduced and new issues may have been brought to our attention.
Price: the price on the most common locations not including limited-time-online sales
App: whether or not the hoverboard may be monitored (speed, battery, location) or controlled via an app
Speed: the top speed of the hoverboard as well as a range of speeds at which the hoverboard can go
Charge: the length of charge in distance or time between charges, also the time it takes to charge
Bluetooth: whether the hoverboard has built-in Bluetooth connectivity and speakers
1) Hyper GOGO HoverBoard with colorful LED Lights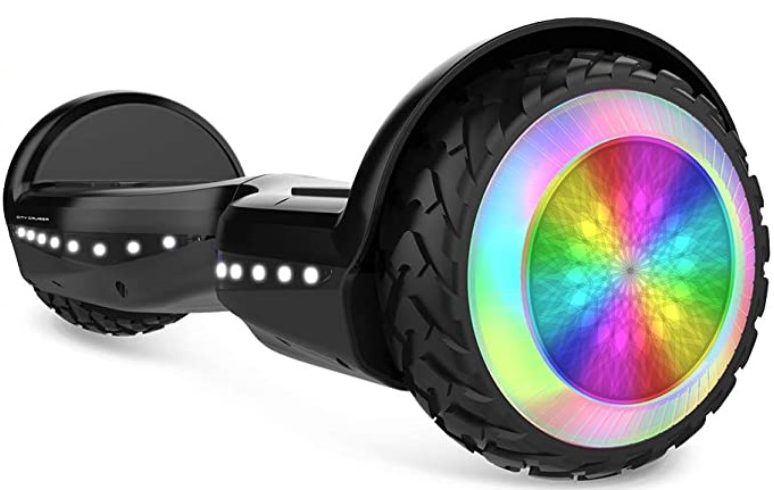 This is a hoverboard that kids will definitely love, thanks to its intelligent build and safety, the Hyper GOGo Hoverboard with RGB LED Lights offers excellent battery management, stable output, long battery life, and power-saving features.
Kids will love the high-quality 3D surround Bluetooth music, too, as they cruise for up to 20km/h! It is a great companion for quick trips outside with its 7.4 m/ph maximum speed. They come in black, blue, purple, and pink so your kids can choose the best one for them!
Perhaps the best part about owning the Hyper GoGo hoverboard is its RGB LED light that illuminates your night travels! These bright headlights on the front are energy-efficient, so you can go where you want–safely and quickly–even after sunset.
What We Love:
Owners said it's easy to maneuver and user-friendly.
Reviews raved about the short charging period.
Buyers said the Bluetooth music feature is fantastic.
The LED lights are attractive and cool, according to some reviews.
Many recommended it as the perfect gift for kids and teens because of its 6.5″ size.
Score
Cost: 4th
App?: No (5th)
Speed: 7.4mph
Length of Charge: couple of hours
Built-in Bluetooth: Yes
You can order the Hyper GoGo Hoverboard on Amazon.com!
2) The WORMHOLE Off Road Hoverboard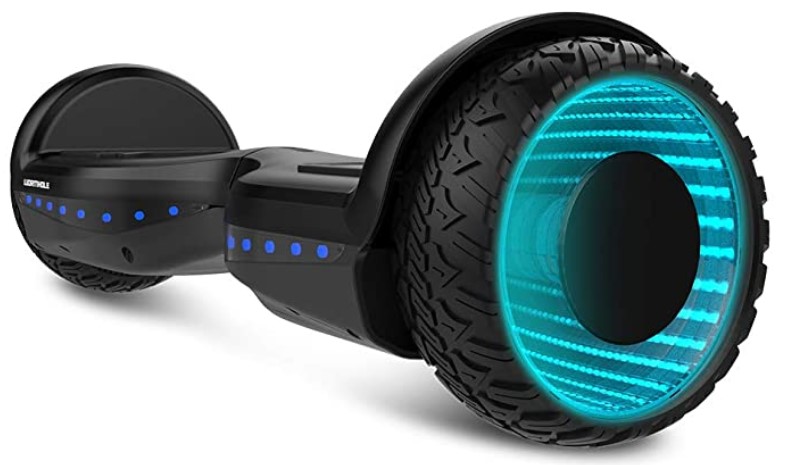 The WORMHOLE Off-Road Hoverboard is a popular product that rolls through different terrains! With a 6.5" size, It offers every kid and teen the best hoverboard experience and wins in the safety and attractiveness departments.
Kids can operate the WORMHOLE Off-Road Hoverboard using the Self-balancing mode, which teaches them how to ride it easily. The colorful LED lights are an excellent addition, as it offers a colorful and fun exploration for kids! The Bluetooth speaker has been integrated into this product as well!
While it's a unisex hoverboard, many parents say that it's more suitable as a boy's hoverboard because of its Spartan design and faster speed.
What We Love:
Most reviewers think this product is the best gift for everyone, especially children.
Reviewers are happy about the dynamic Bluetooth speaker
Parents said the bright and energy-efficient headlights are a plus!
Many buyers found it easy to use.
Score
Cost: 4th
App?: No (5th)
Speed: 7.4mph
Length of Charge: couple of hours
Built-in Bluetooth: Yes (1st)
Interested in this hoverboard? The Wormhole Offroad Hoverboard is available from Amazon.com!
3) Swagtron Swagboard Outlaw T6 Offroad Hoverboard with Bluetooth
Swagtron returns to our list with the Swagboard T6 Offroad Hoverboard, which beckons with, "your swag personal transporter awaits you."
This model hits 12 mph at top speed and has a 12-mile range, although speed is governed at 7.5 mph. It handles riders that weigh up to 420 pounds. This model performed spectacularly in electrical safety tests, also earning it the UL 2272 certification.
It offers LED lights, two riding modes (learning and standard), and can climb 30-degree inclines. It also boasts safe stop technology and battery indicator lights that let you know precisely how much battery your board has at all times. It has 10″ tubeless tires and a 300 Watt dual motor. You can jam while you ride with the Bluetooth feature!
Once again, this board was designed for kids – and we think that it's a great hoverboard for older children or young teens because it's so easy to balance, even for beginners – and their safety but has the capacity to work with adults as well. Check out the cool colors it comes in!
What We Love:
A 42-year-old reviewer said he loved it so much that he got one for his daughter, and they had fun riding together.
Owners were happy with the battery life.
Reviewers said they were happy with how their youngsters were able to learn to ride.
Users said they picked this product because of its safety and were happy with their choice.
One reviewer said this board charged quicker and lasted longer than expected.
Score
Cost: 5th
App?: No (5th)
Speed: Max 12mph (4th)
Length of Charge: 12 miles (2nd)
Built-in Bluetooth: Yes (4th)
Perfect for the kid OR the adult! Order the Swagtron Swagboard Outlaw on Amazon with Prime… ONE DAY SHIPPING!
4) UNI-SUN Hoverboard for Kids
If you're looking for an eye-catching hoverboard for girls, then you may want to consider the Uni-Sun hoverboard!
With its colorful lights on the body and wheels, it's sure to catch the attention of everybody who comes across it. This is also a great hoverboard for 5-year-old children because pre-schoolers are attracted to bright and bold designs.
The 6.5-inch hoverboard from UNI-SUN has certified charger systems and fire-safety features to ensure the user's fun and safe ride. It features a built-in Bluetooth wireless speaker so you can enjoy your favorite audiobooks and music without having to use your headphones.
The UNI-SUN hoverboard has well-built, flashing tires with LED sidelights and front lights. It's perfect for use wherever you wish to! It has chips and smart systems to help you achieve balance in a safe and easy manner. The maximum speed is up to 9 mph and lasts up to 9 miles with just one battery charge.
What We Love:
Its LED lights are an outstanding feature.
The Bluetooth connectivity makes it easy to listen to music while riding on the hoverboard.
The sturdy build and material quality are some of its best attributes.
Score
Cost: 5th
App?: No (5th)
Speed: 9 mph
Length of Charge: 6-9 miles
Built-in Bluetooth: Yes (1st)
Order this UNI-SUN hoverboard on Amazon.com!
5) Segway Ninebot S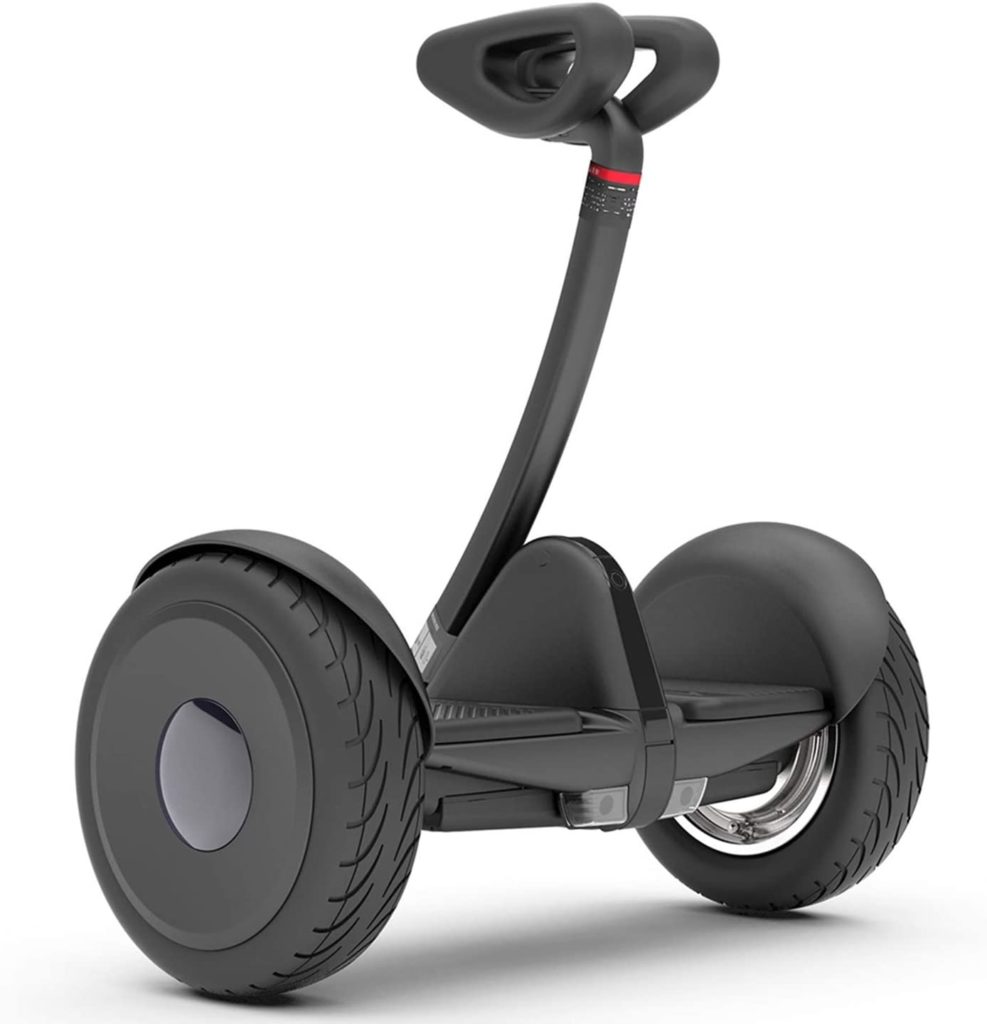 Before there were hoverboards, there were Segways. The rise of the hoverboards heralded the Ninebot S, a Segway with an adjustable and removable steering bar.
It comes with 10.5″ pneumatic air-filled tires, an aircraft-grade alloy frame, customizable LED lights, and a mobile app with controls.
This device was designed to teach riders how to use it. It will only go to 4.3 mph until riders complete an instructional tutorial. This device is for older children, and was made for riders 16 and up. There's a max load of 220 pounds. It has a charge time of 4 hours. It can cover 13.7 miles and has a 10mph top speed. Its maximum climbing angle is 15 degrees.
What We Love:
Users described this product as very fun.
A user with MS found the handlebar extremely useful.
One reviewer said this device is great for riding on rough roads.
One user said they had fun using the remote control part of the app to play with their cat.
One reviewer said after practicing you could get this model to reach its top speed for a full minute, or just below its top speed for several minutes.
One user described it as "so close to wonderful."
Users said this model was easy to master.
Score
Cost: 8th
App?: Yes (1st)
Speed: 10mph (2nd)
Length of Charge: 1 hour (5th)
Built-in Bluetooth: No (4th)
Order this awesome Segway Ninebot S hoverboard on Amazon!
6) Razor Hovertrax 1.5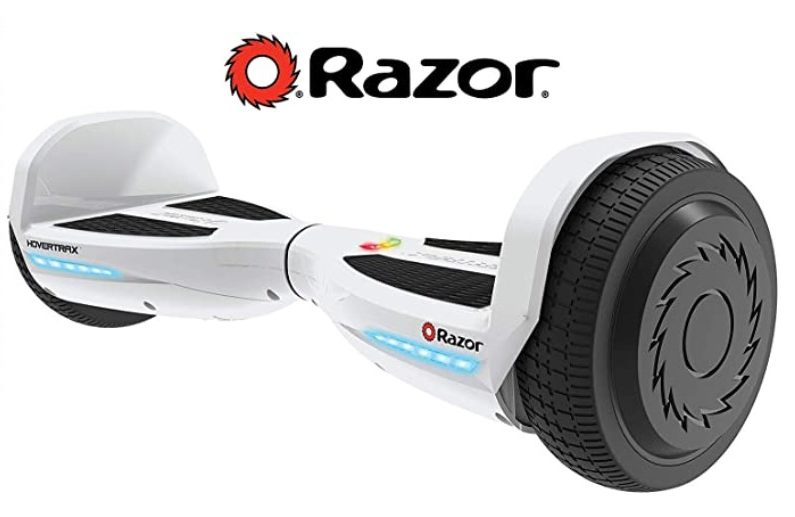 Did you know that Razor was the first brand in the United States that was granted the UL 2272 listing for safety? This product meets all the highest electrical and fire standards so you know your kid is safe when riding the Razor Hovertrax 1.5. It is best for kids at least eight years old and can support up to 176 pounds or 80 kg.
This product comes with the EverBalance technology, which levels the Hovertrax 1.5 so your kid can mount it easily and enjoy a smooth ride! The cruising speed is 10 km/h for about 45 minutes of use. The combination of easy-to-learn mounting and balance makes it the best hoverboard for beginners in our opinion. After all, no parent will want their children to fall off a hoverboard multiple times due to the increased risk of injury. Your child will love how silent yet powerful it is with gyro-sensor technology. The rubber is anti-slip, and the traction pads are provided to help users be in perfect foot-controlled balance.
What We Love:
A reviewer said the product seemed sturdy and fun to use.
Many bought this hoverboard as a birthday gift.
The kids enjoyed how easy it was to balance on it.
Score
Cost: 4th
App?: No (5th)
Speed: 10km/h (8th)
Length of Charge: 45 minutes (6th)
Built-in Bluetooth: Yes (1st)
The Razon Hovertrax 1.5 is on Amazon!
7) Hover-1 Helix Electric Hoverboard Scooter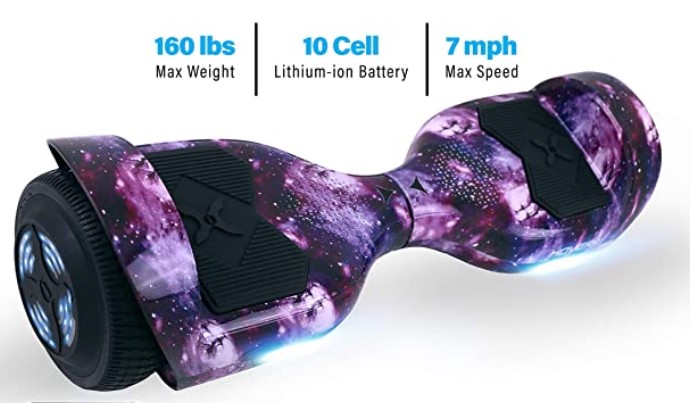 A crowd-favorite, Hover-1 Helix Electric Hoverboard Scooter impresses with its sturdy, water-resistant build with a built-in Bluetooth speaker.
Enjoy the ultra-bright LED wheels, too, that enables your kid to ride and roam even when it's past sunset! With a 160-pound capacity and 7 mph speed, you can go anywhere you like with your Hover-1.
This hoverboard, also a great hoverboard for 8-year-old children due to its striking design, easy mounting, and smooth ride, is also known for its quiet mechanism, which means children can ride it without any distracting noise.
The maximum charging time is six hours. It is available in six different colors to suit your kid's preference.
What We Love:
A customer loved how the product was easy to operate for an eight-year-old.
This hoverboard was a preferred present for kids for different occasions.
The LED light is of good quality; many kids loved the illuminating effect.
Score
Cost: 4th
App?: No (5th)
Speed: 7mp/h (6th)
Length of Charge: 6 hours to fully charge (8th)
Built-in Bluetooth: Yes (1st)
This Hover-1 Helix Electric Hoverboard Scooter can be ordered via Amazon!
8) HYPER GOGO Off Road, Electric Self Balancing All Terrain Hoverboard
Living up to its name, the Hyper Gogo is an 8.5-inch hoverboard that is super strong! It can run on terrains of off-road vehicles and is best known for its ground adaptability, durability, and smooth ride.
The Hyper Gogo hoverboard passed a strict electrical safety test and met the UL2272 safety standards. Suitable for all ages but also safe for kid amateurs. the Hyper Gogo hoverboard has a top-quality Bluetooth speaker.
A treat to all kid-users is the high-intensity LED light! It illuminates at night! This hoverboard is also scratch-resistant, so it stays looking like new for a long time, a feature that may well make it a great hoverboard for 9-year-old children who are more conscious about their toys' appearance.
What We Love:
Customers love the 8.5″ SUV style wheels that can withstand most terrains.
Reviews also mentioned how easy it was to carry.
Many users said the integrated Bluetooth Speaker is a great plus.
The bright and energy-efficient headlights are impressing kids and parents.
Buyers said the self-balancing hoverboard system makes it easy for kids to become a pro!
Score
App?: No (8th)
Speed: 6mph
Length of Charge: 6 miles (6th)
Built-in Bluetooth: Yes
Get the Hyper Gogo hoverboard on Amazon!… And check out the cool colors this one comes in!
9) EpikGo Scooter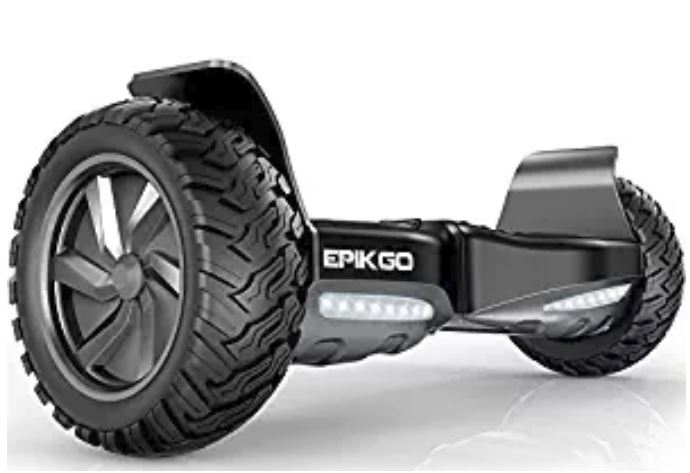 Here we have the most expensive board on the list, the EpikGo Scooter, which unsurprisingly boasts the UL 2272 and 2271 certifications. It has 400-watt dual motors that make it two times more powerful and 30% larger than its leading competitor (it says).
It only takes two hours to charge, which is significantly less than some of the other devices on the list and which makes it an exceptional hoverboard for boys who can't get enough of riding around the neighborhood and beyond.
This board is solid, water-resistant, and can handle sand, mud, and grass. It can climb 18-degree steep slopes, lasts over an hour on a single charge, and has a 10-mile range on one charge.
It can support between 44 and 240 pounds. It's recommended for riders 13 and older, and it's the best hoverboard for a teenager who wants a faster, stronger, and better toy.
What We Love:
One user said this board sets the standard for the field.
That same user noted they weighed 235 pounds and were able to ride through the grass on the EpikGo easily.
Users noted this board was extremely durable.
One rider said their 11-year-old had a great time using this board.
One user recommended contacting Power-Innovation to get replacement pieces or for other customer service needs.
Users found this model extremely fun.
Users were extremely happy with this model's ability to handle different terrains.
Score
Cost: 10th
App?: No (5th)
Speed: 10mph (2nd)
Length of Charge: 1 hour (6th)
Built-in Bluetooth: No (4th)
Order the EpikGo Scooter on Amazon today!
10) TPS Power Sports Hoverboard
TPS Power Sports is known for its hoverboards which offer riders a speed of 6 mph for 7 miles, with a 200-pound maximum weight limit.
Charge its 36V lithium-ion battery pack to keep on the go. This is an excellent hoverboard for 6 – 12-year-old children, too, especially those who like to enjoy uninterrupted rides. The "spider web" design offers self-balancing technology, thus, making this perfect for beginners. It features 6.5″ wheels with a non-slip grip footpad.
Would you like to play music while you "play?" If so, just hook your smartphone to the Bluetooth speaker. The bright spider-look web on each wheel lights up for a cool effect. This hoverboard can climb hills up to 17 degrees. Its self-balancing technology promises an easy mount and smooth ride. It's UL2272 certified for safety. It also has a powerful " 300-watt motor.
What We Love:
Reviewers say this model will not explode.
One user described their kids as being "in love" with this board.
Users praised the "stutter-free" smooth glide of this board.
One reviewer gushed about the battery life and durability of this model.
It won't mark wood floors according to one owner.
Users were overwhelmingly happy with the functionality and longevity of this model.
Score
Cost: 6th
App?: No (5th)
Speed: 7mph (4th)
Length of Charge: 1 hour (8th)
Built-in Bluetooth: No (4th)
The TPS Power Sports Hoverboard is on Amazon! Check it out today!
---
Things to Consider
At what age is a hoverboard appropriate for a child?
Generally, the recommended minimum weight requirement is at least 45 pounds, and typically, the maximum weight limit is around 300 pounds (be sure to check the manufacturer's specifications before you buy). In addition, most manufacturers also recommend that your child is at least six years old. There's really no strict hoverboard age range so even a toddler can ride it, in the same way, that an octogenarian can. The only hoverboard age requirement seems to be that a user should be able to stand and balance while on the device.
While there's isn't a dedicated toddler hoverboard yet, you will find a suitable hoverboard for 4-year-old children with an excellent sense of balance and athleticism. Look for smaller hoverboards with lower clearance and slower speeds. Also, if your child meets the minimum weight requirement to properly control the device AND has an excellent sense of balance, a four or five-year-old can certainly try it out… but don't forget the helmet, elbow, and knee pads, regardless of the child's age!
Are there advantages to letting my kid play on a hoverboard?
It goes without saying that to excel at riding a hoverboard you must have amazing balance. If your little one is just now testing the waters and becoming a little daredevil, perhaps letting them practice their balance on a hoverboard is a good thing. But, at BestKidsStuff.com, we can't express enough the need for proper protection. The correct size helmet, as well as knee and elbow pads, are essential. Also, there have been many reports of cracked tailbones, so a little cushioning on the backside is a good idea for the beginner as well.
Besides working on your child's balance abilities, riding a hoverboard can be great exercise, as they can gain core strength and burn up to 285 calories per 30 minute ride. These health-related are great reasons to be on board the hoverboard craze!
What price ranges can I expect when in the market to buy a hoverboard?
A basic hoverboard will cost approximately $100 to $200; however, cheap does not mean you have to sacrifice quality. At this price range, there may not be any bells and whistles to it but will certainly serve its purpose with many hours of entertainment.
In the $200 to $500 range, you will enjoy several amenities, such as fancy LED lights, Bluetooth capabilities, higher speed, and better charge time.
Can you get a hoverboard that costs over $500?… Absolutely; however, they may not be suitable for young children or inexperienced riders.
What are the differences in a Hoverboard and a Segway?
Segway, Inc. first made the personal transporter in 2001. Dubbed the "segway," it became very popular. In 2015, the "hoverboard" was developed. Hoverboards are often referred to as a "mini segway."
Although very similar in purpose, the most noticeable difference between the two is that the segway has a handle and the hoverboard does not. With a segway, the handlebars are used to control the device. On a hoverboard, your body weight is used to control its movement.
Perhaps other noticeable differences are the size of their wheels. Segways can have up to 19" wheels, can go about 12 mpr, and can run approximately 25 miles on a single charge. Segways are also heavier; therefore not as easy to transport, weighing in at about 104 pounds.
On the flip side, a hoverboard typically has a 10" or less wheel size, can reach speeds of 6 to 8 mpr, go about 6 miles on one charge, and is lightweight and portable at about 25 pounds.
While segways are useful for policemen, sight-seeing tours, and warehouse transportation, they are not practical for kids… and their cost can run into the $1,000's. For some fun "tooling" around the neighborhood, the hoverboard is the way to go, with an average cost of $100 to $500, depending on quality.
related sports "stuff"