We have searched the internet for the most popular gift ideas for 6-year-old girls that have high star ratings and rave reviews. We know your time is valuable, so we wanted to do the hard work for you! These toys and gift ideas are available on Amazon.com.
A 6-year-old child is a walking contradiction during this phase. It is marked by the security of gaining independence yet insecure with parents less prominent in their day-to-day activities. The demands of school, events, birthday parties, and play also get more prominent as the child grows up. Middle childhood is a time when they can dress independently and relate with others more with ease.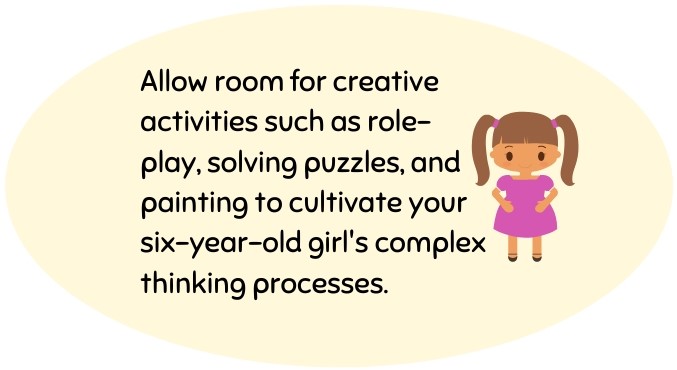 Emotionally, children think more about their future and are likely to do more collaborative play. This is also a time when young girls would want to be liked by their peers.
Girls this age are also more mentally adept at solving problems and expressing thoughts by talking about their experiences.
As a parent, you may want to give your kids toys that encourage outdoor activities to develop cognitive abilities. On this note, allow room for creative play such as make-believe, puzzles, and painting to cultivate complex thinking processes.
Our writers have all raised children and many of us have girls, some are grown and some are in the age range we are discussing here. Our methodology for choosing products is based on many factors, including popularity of the toy/learning aid, outstanding reviews, what we feel, in general, is just a cool product to own, the quality of the item and the brand's warranty and satisfaction guarantees offered.
Please peruse our choices below and click the links to further learn about whether the item is something of interest to you and your child or for birthday gifts for your children's friends! Enjoy! Side note: We sort of want everything on this list… not necessarily for our own kids… shhh, don't tell anyone! *wink wink*
Disclaimer – Product prices frequently fluctuate and pricing may be slightly higher or lower than what we have them categorized as at the time of this printing.
GIFTS UNDER $10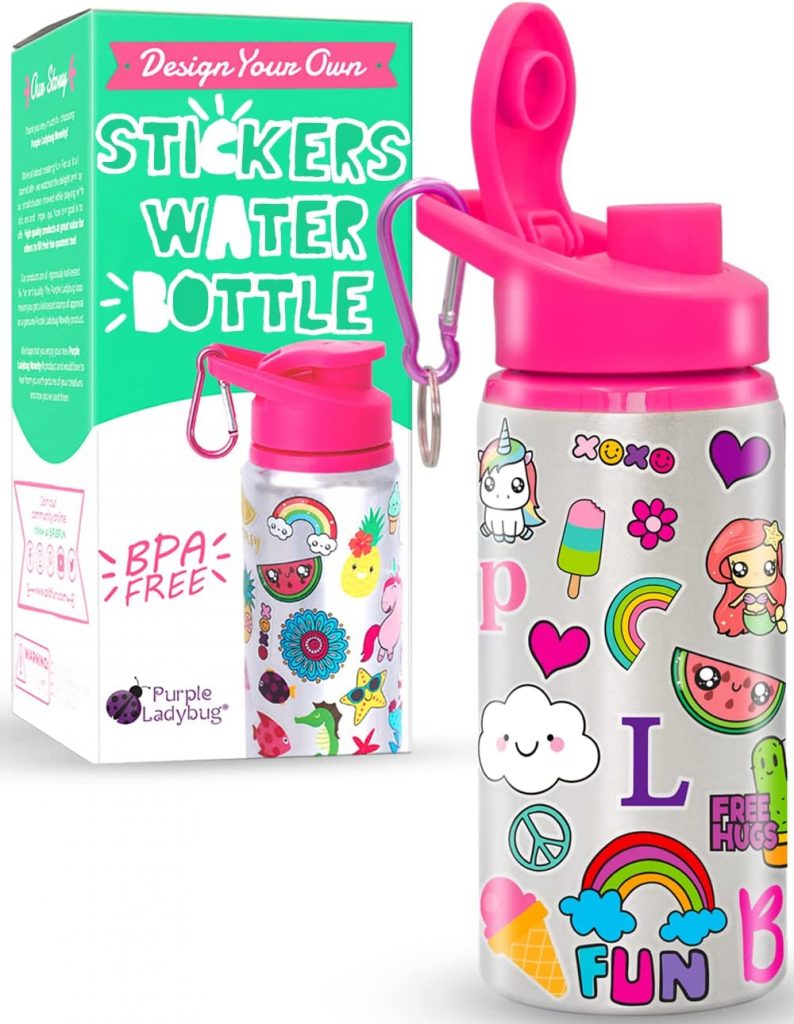 Purple Ladybug Decorate Your Own Water Bottle
We chose this DIY personalized water bottle to further your little girl's creative flair! Let them exercise their artistic abilities as they personalize their bottle in their own style!
It's safe and made of high-quality materials, not to mention it is just downright FUN! It would be a great project for the birthday girl or for sleepover guests. Also makes great stocking stuffers or Easter basket treats!
It comes with six sheets of stickers. A happiness guarantee from Purple Ladybug is included!

---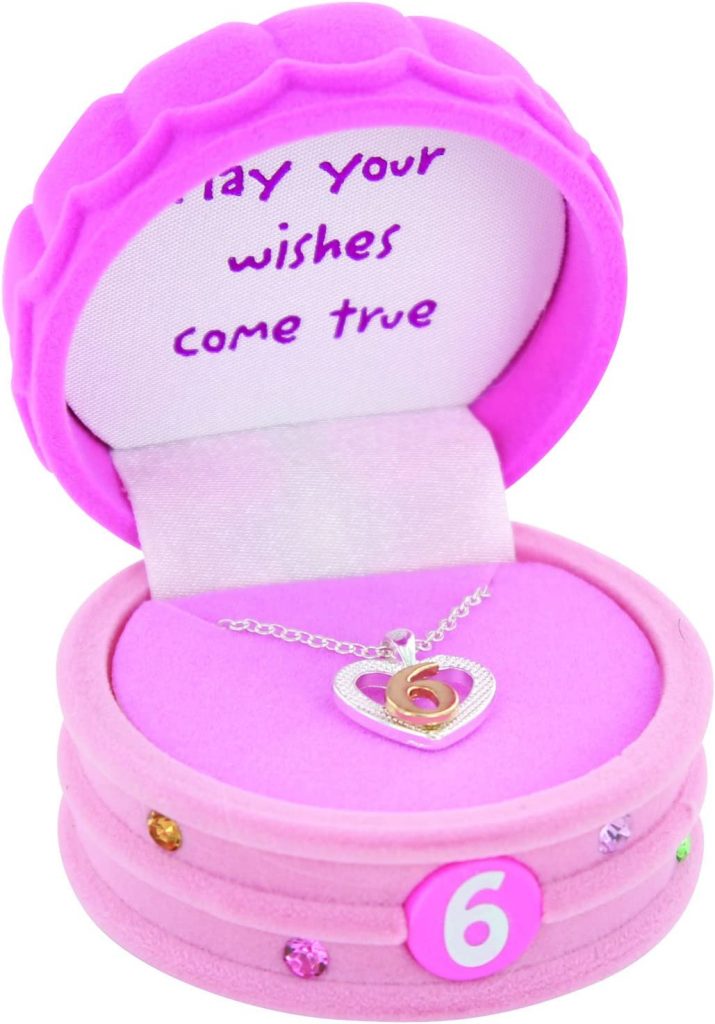 "It's My Year" Child's 6th Birthday Pendant
Your little girl can show the world they are a proud 6-year-old with this beautiful necklace (that's inexpensive if it gets lost!)
The cute little box it comes in teaches your little one to put their jewelry up safely.
This super adorable treasure will be a keepsake your daughter or friend can have forever.
---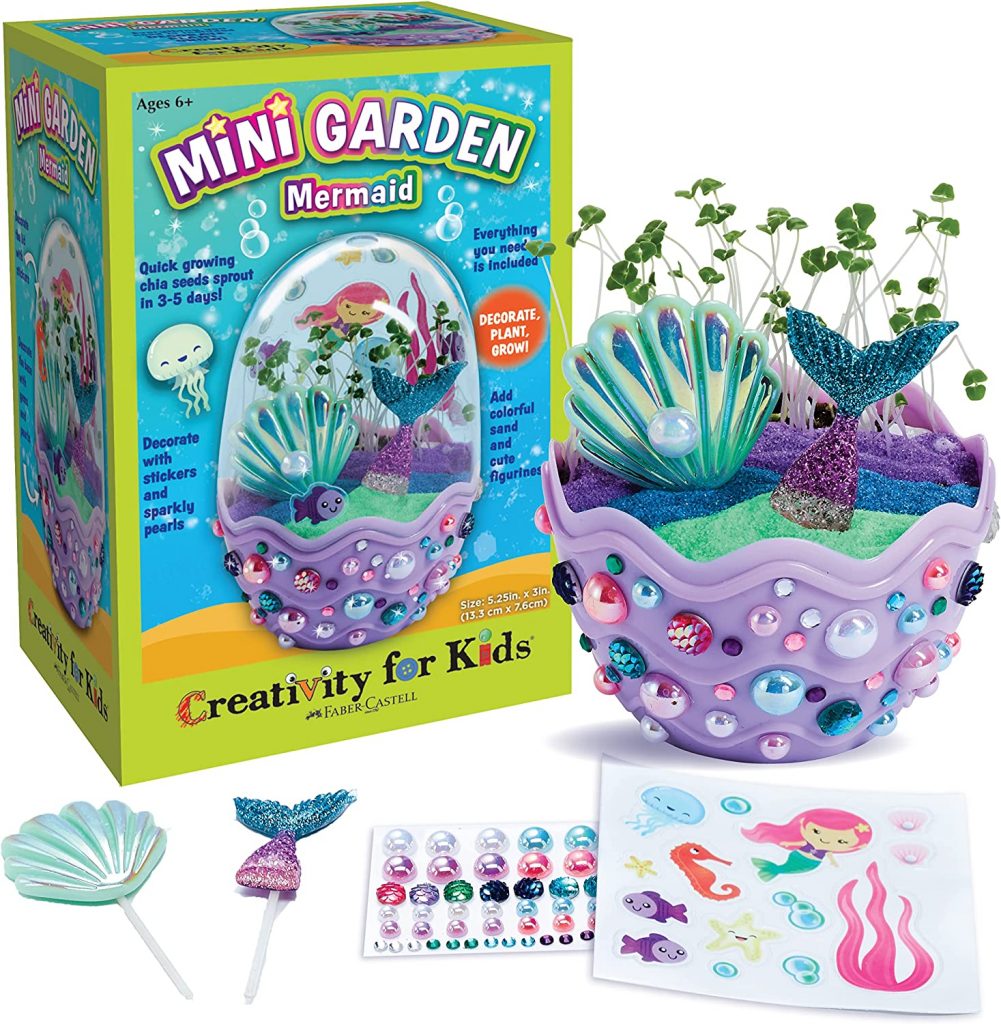 Creativity for Kids Mini Garden: Mermaid Terrarium
This mini garden also comes in super cool Dinosaur and Unicorn varieties!
Your child decorates the planter and plants chia seeds that sprout in 3 to 5 days for fast satisfaction.
Provides a great teaching opportunity!
---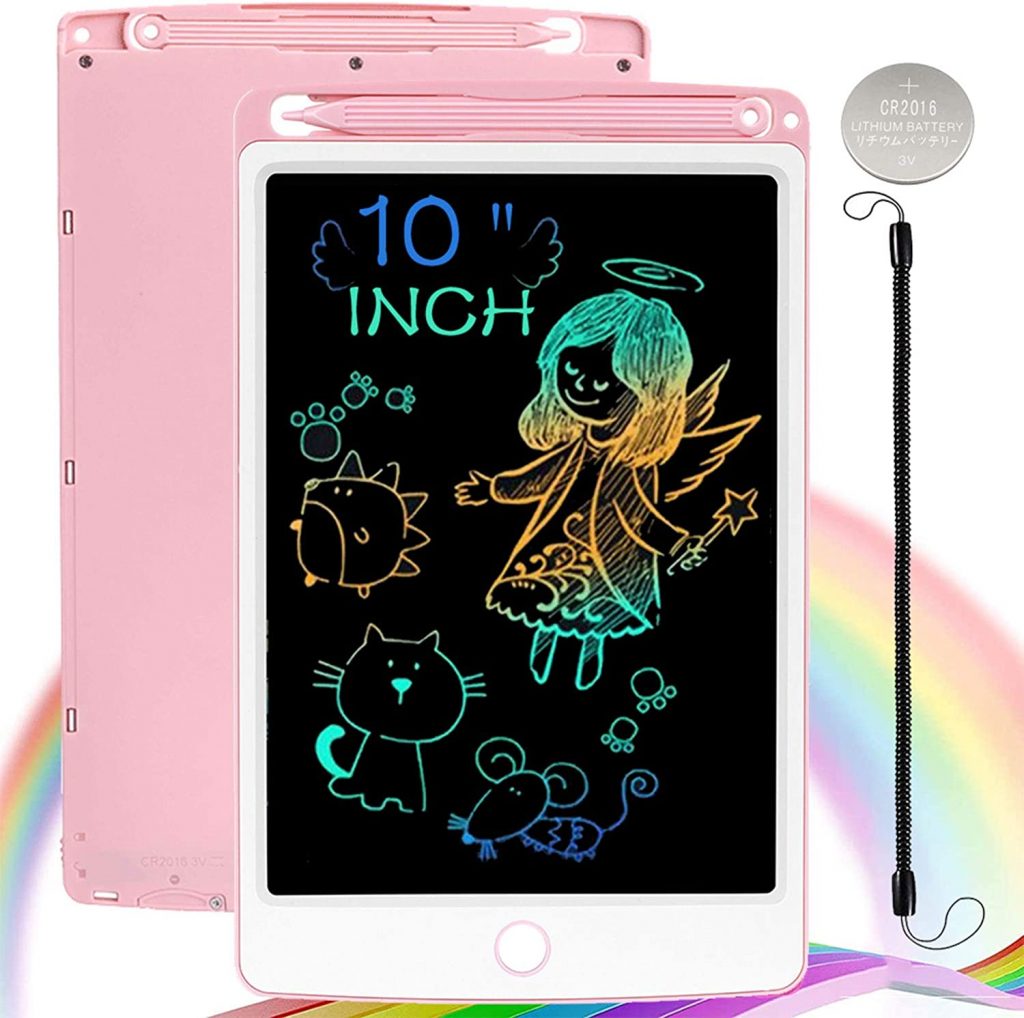 Super durable tablet for fun, colorful writing, and drawing. It comes with an extra battery!
Simple to use and lightweight! Perfect for keeping your little one occupied at home, in the car, and even at doctor's appointments!
ScriMemo offers a 1-year warranty and 24-hour customer service via email so you can feel secure purchasing this awesome scribble pad.
---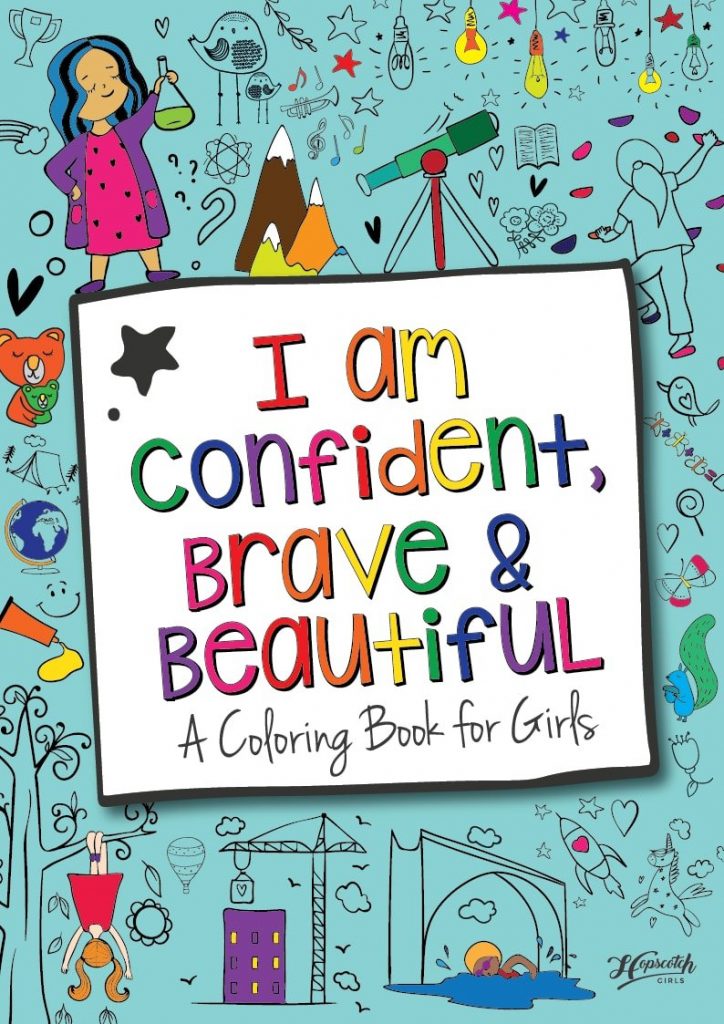 I Am Confident, Brave & Beautiful: A Coloring Book for Girls
Little girls need to be reminded daily of exactly how confident, brave and beautiful they are!
The incredible amount of reviews of this coloring book for girls is overwhelmingly positive!
Some reviewers suggest framing the work after your little one completes a page which is a great idea!
---
GIFTS UNDER $25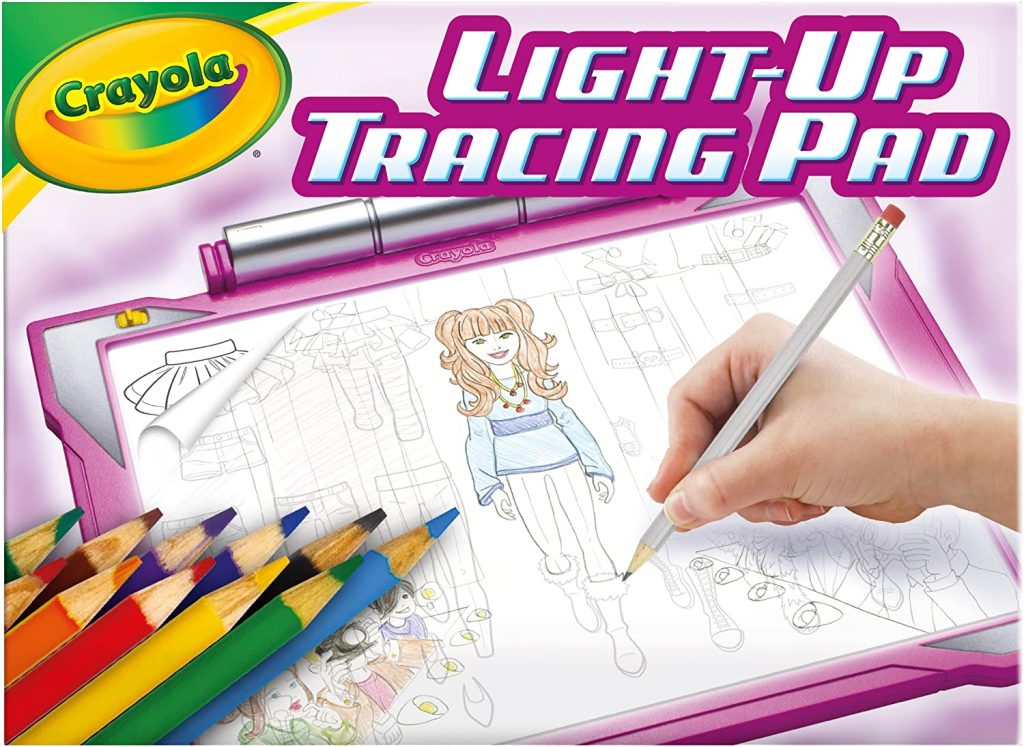 Crayola Light Up Tracing Pad in Pink
What better way to promote creativity in your child than their very own Crayola pad? And… this one lights up for easy tracing!
There's no way your little gal will get bored… It comes with over 100 traceable images and 12 colored pencils.
Let the creativity flow with this awesome present designed to spark the imagination of any little girl. Did we mention… It glows in the dark!?!
---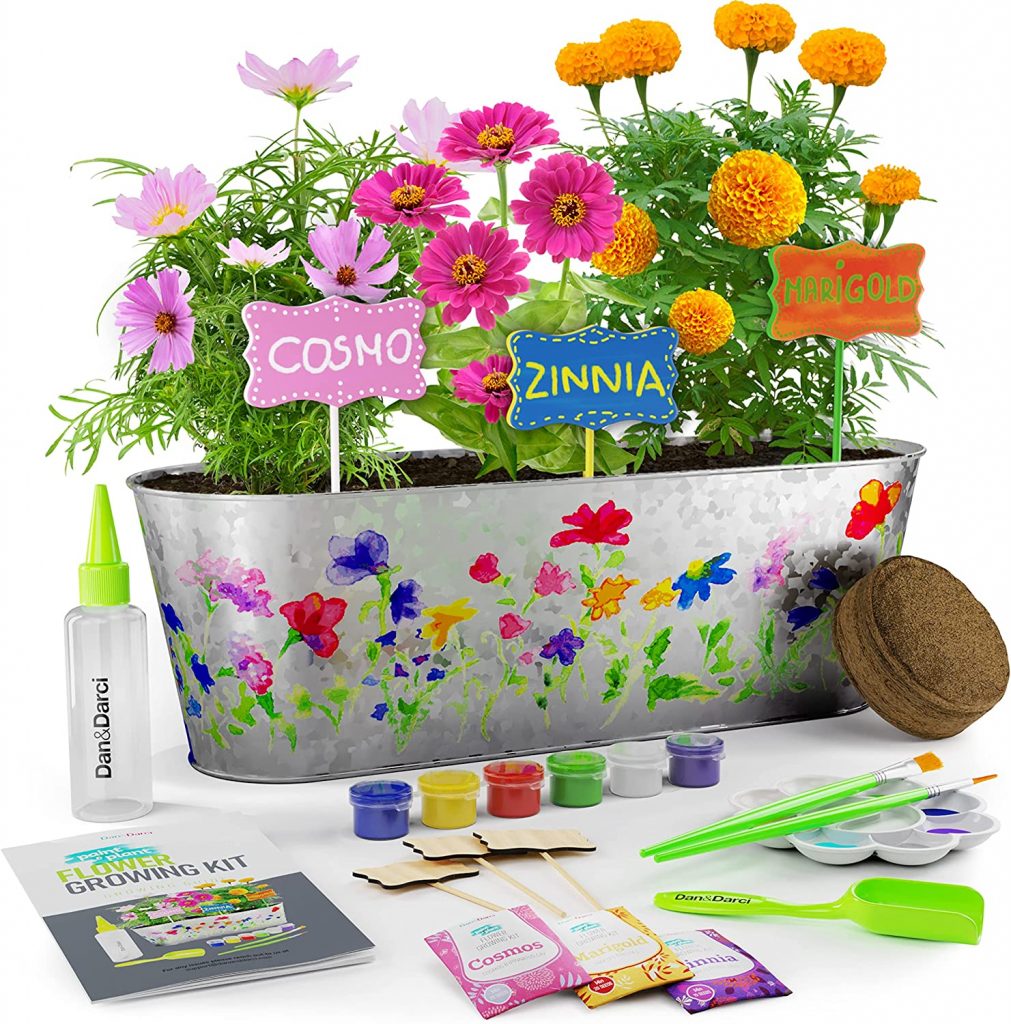 Dan&Darci Paint & Plant Flower Growing Kit for Kids
Teach your 6-year-old girl all about gardening with this fun and functional kit designed to educate about the life cycle of flowers.
Begin by decorating the container with the included paints making it a nice art project.
Then let her plant the seeds and nurture the garden with love and sunshine as the plants begin to grow and become beautiful flowers just like her!
---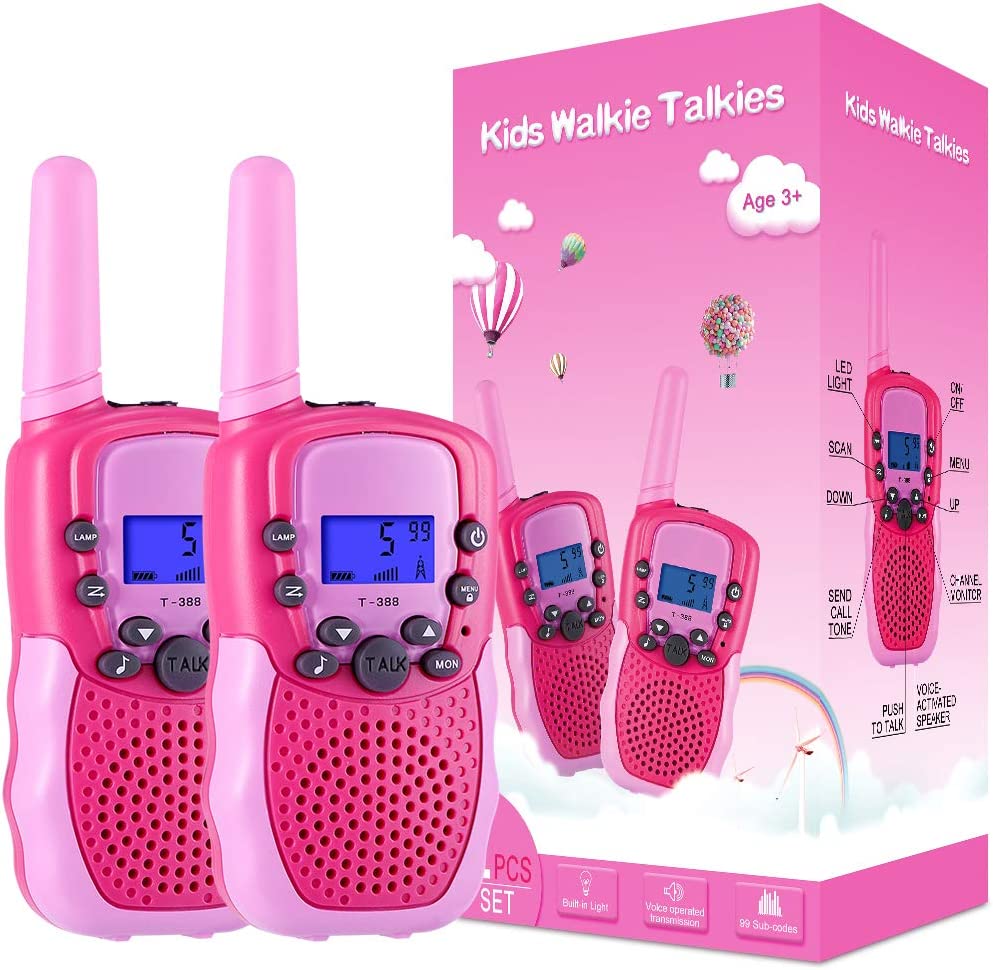 Selieve Walkie Talkies in Pink
Walkie-Talkies are great at any age, right? But when you are six years old, they are a real novelty! These are great for pretend play with friends… but they really do work!
Whether your kids are playing indoors or outdoors with these, the range is great and the sound quality is clear.
There are many channels to choose from for privacy. Each walkie-talkie has a cool flashlight, LCD backlit display, and is ergonomically suitable for cute little people's hands!
---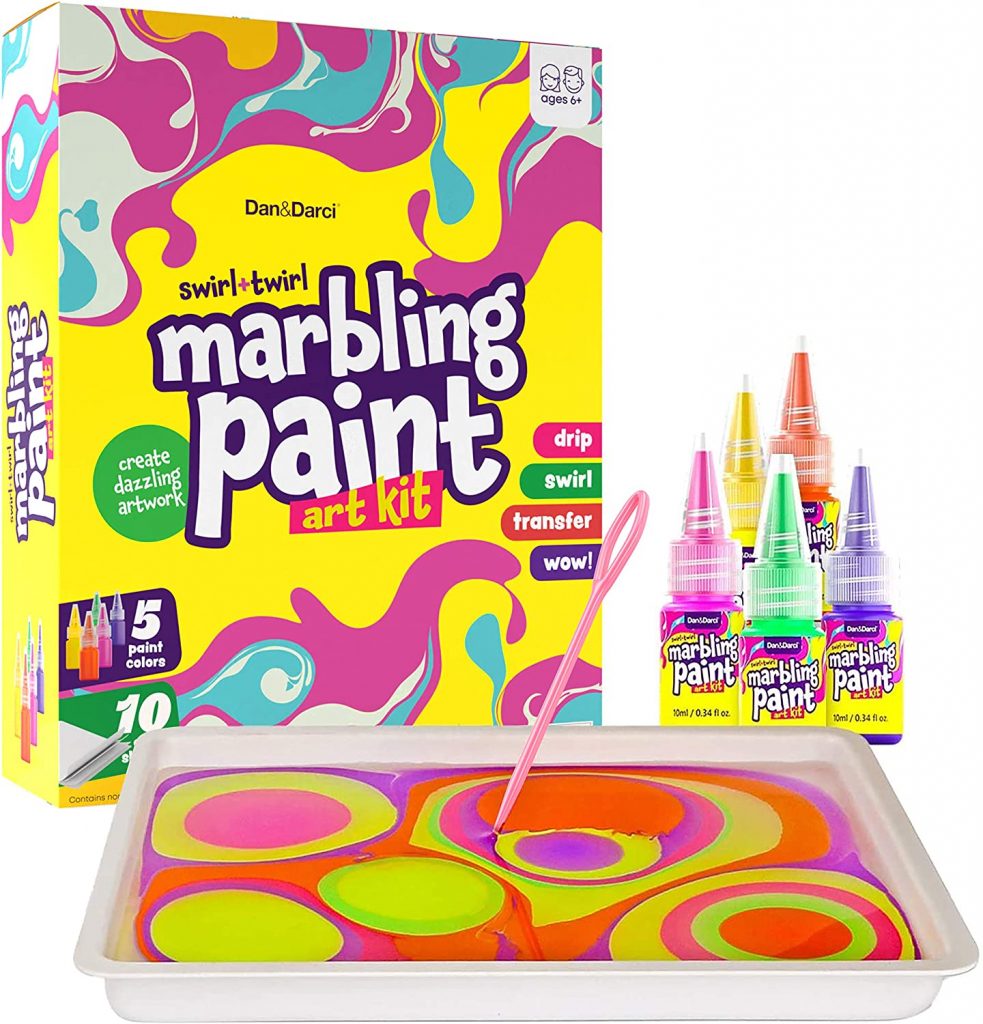 Marbling Paint Art Kit for Kids
Does your little girl like to paint? If so, you will find that this is not the typical painting kit that you had as a child. This is Marbling Paint!
As they fill the tray with their favorite colors, they can swirl it around for the design they want to print onto the paper. It comes with five paint colors and the carrageenan powder needed to make the magic happen!
Let your little Picasso hang their masterpieces on the fridge or frame them for their bedroom wall!
---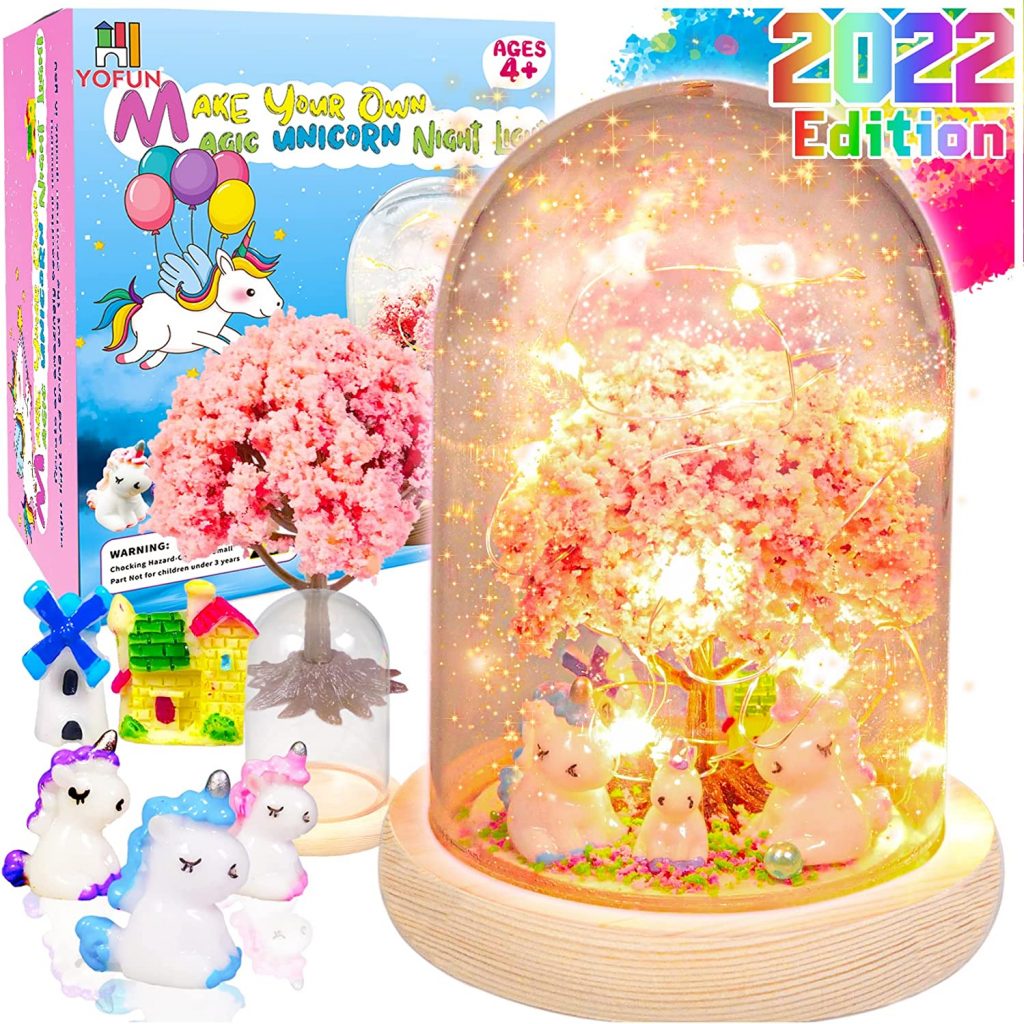 YOFUN Make Your Own Unicorn Night Light
How about a nice little project to help your little one decorate their room? 6-year-old girls love unicorns! And, they also still need the security of a night light. This is a perfect combination of the two!
This craft project is BPA-free and non-toxic for kiddos and the LED lights are battery operated – No electrical cords to worry about.
Let them use their imagination and creativity as they construct their night light using a magic tree, house, windmill, and a family of unicorns!
---
GIFTS UNDER $100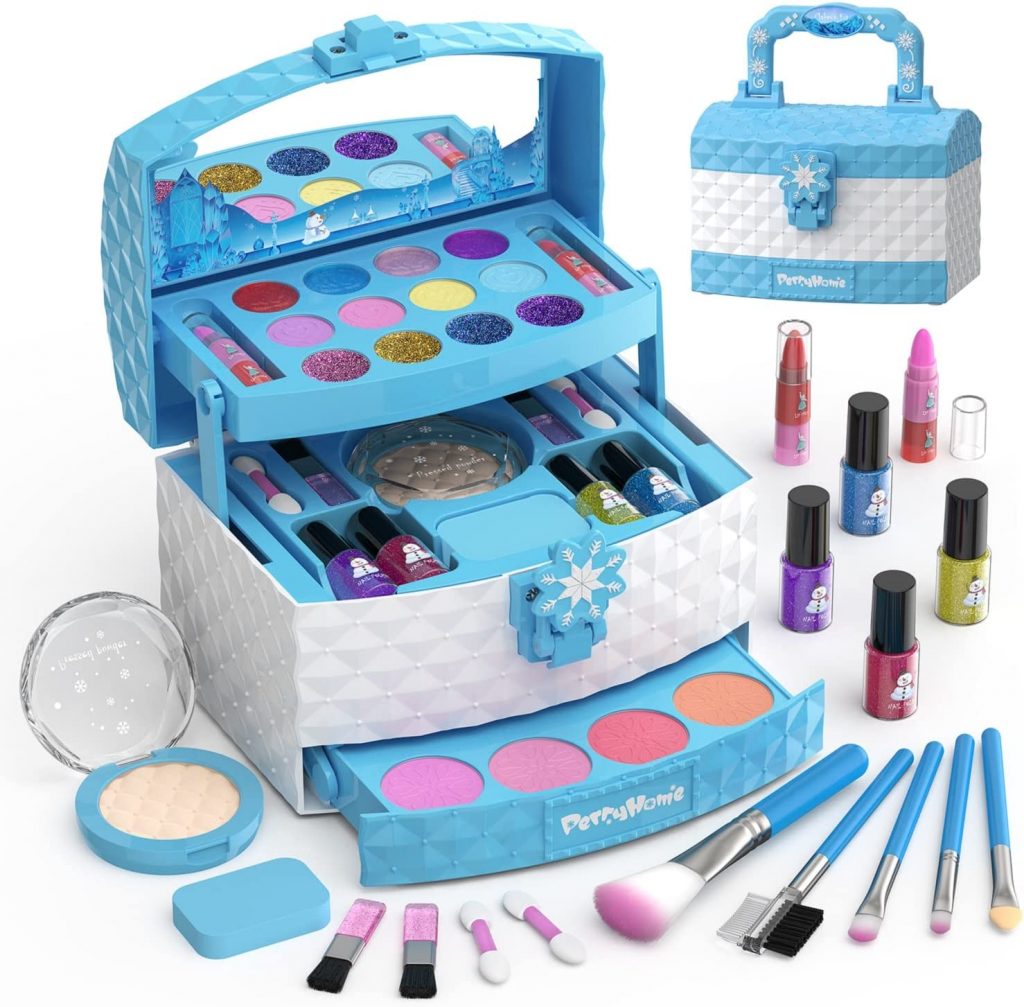 PERRYHOME 35 pcs. Kid's Makeup Kit
Six-year-old girls love to imitate their mommy, right? This kid's makeup kit will allow them to interact with you as you teach them how to apply makeup and share some giggles, too!
The makeup is non-toxic and washable, making it the ideal gift for the little gal in your life. Could also be used as makeup for the evening she becomes a little Princess for Halloween trick-or-treating!
Little girls love the Frozen-themed look of the carrying case as well.
---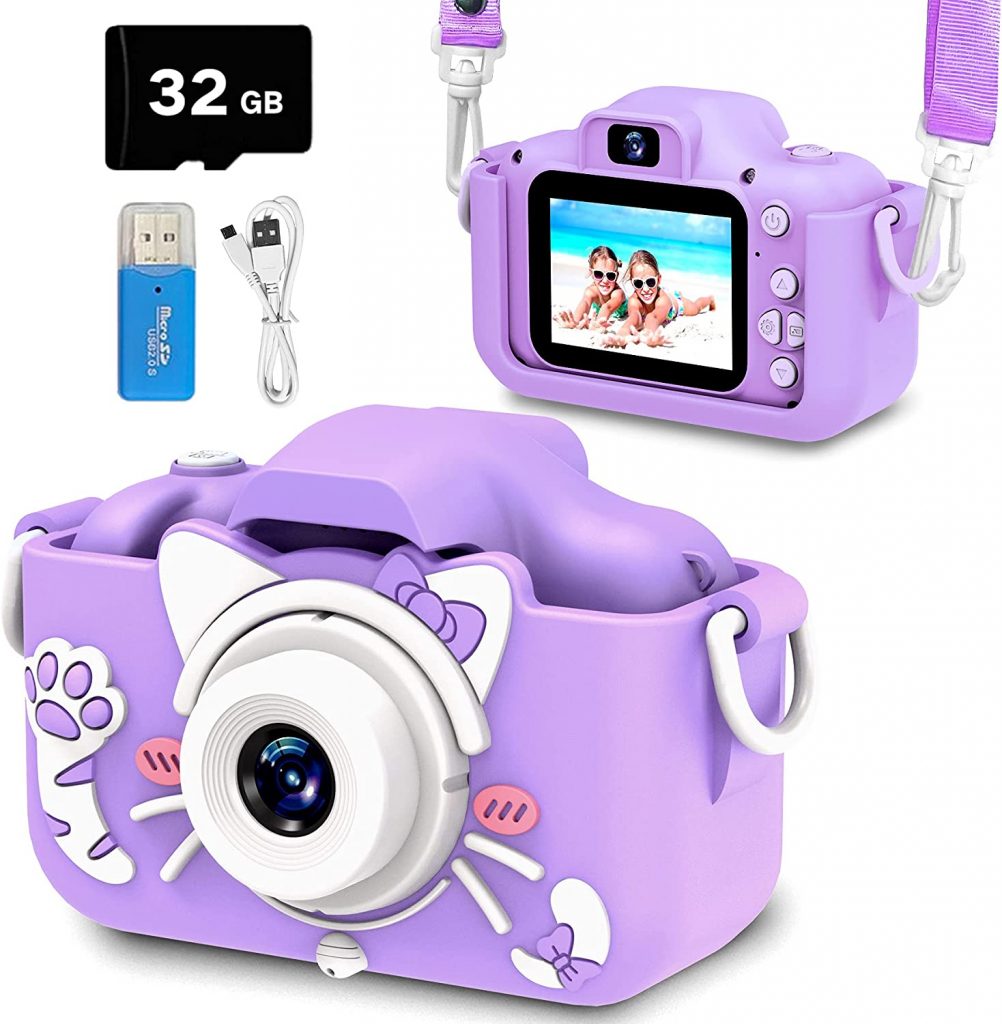 Goopow Kid's Camera / Digital Video Camcorder
At 6 years old, she may be a little too young for a cell phone, but why should she miss out on the selfie craze? With this cool little camera, she can take pics of her friends, cute selfies, as well as take videos.
This one is designed with young kids in mind. It's rubberized so it won't be damaged by drops. It's rechargeable and has a 2.4-inch screen, 28 funny photo frames,
The Goopow Kid's Camera will foster creativity and imagination as she takes exciting pictures while using the 5 mirror effects and 4 color filters.
---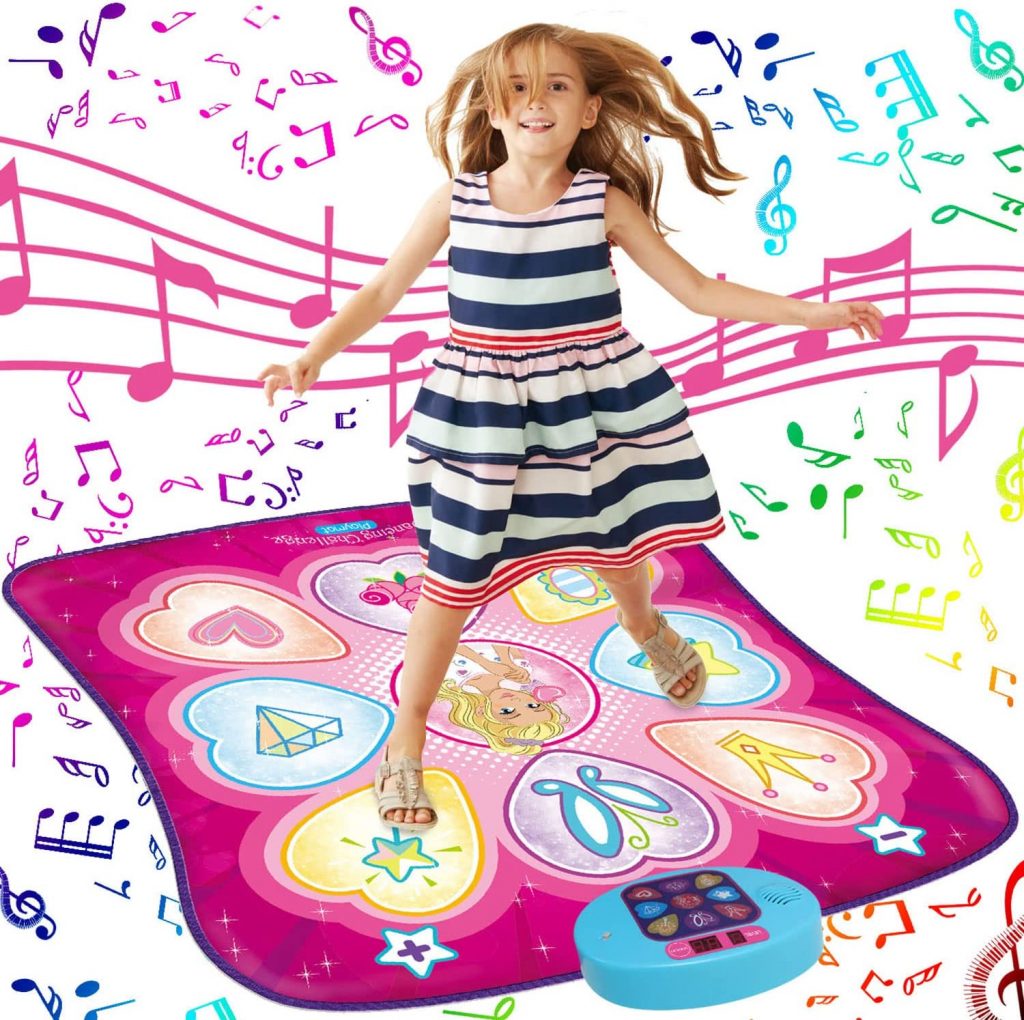 SUNLIN Dance Mixer Rhythm Step Mat
Is she ready to dance? This dance step mat will get them away from the video games and up moving around… and siblings and parents will want to join in on the fun!
The sturdy mat provides built-in music and LED lights, providing three different skill levels, and can be used indoors or outdoors.
If you are looking for a great way to encourage a fun way to get exercise… This is it!
---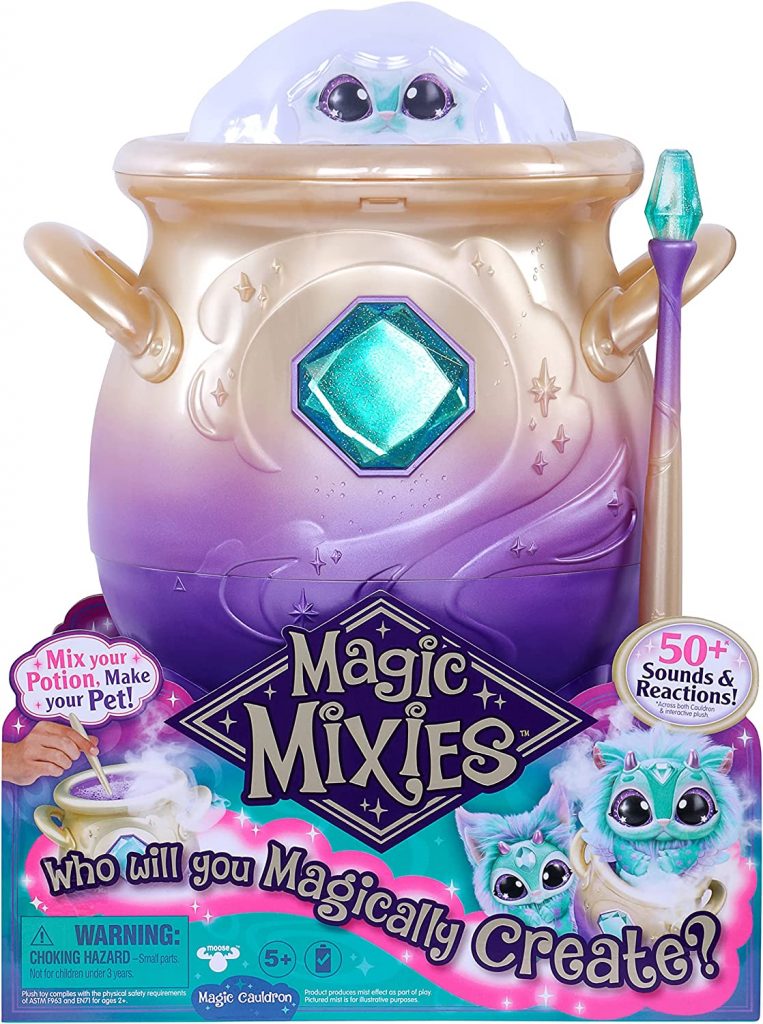 Magic Mixies Magical Misting Cauldron
Every child needs to believe in a little magic! This interactive toy brings out the excitement and anticipation of what's to come!
Your little girl can mix the potion to create their own Mixie as they follow the spellbook for easy-to-understand instructions.
The misting cauldron and sound effects make this one of the most popular toys on the market today. Girls will love interacting with their "new pet!"
---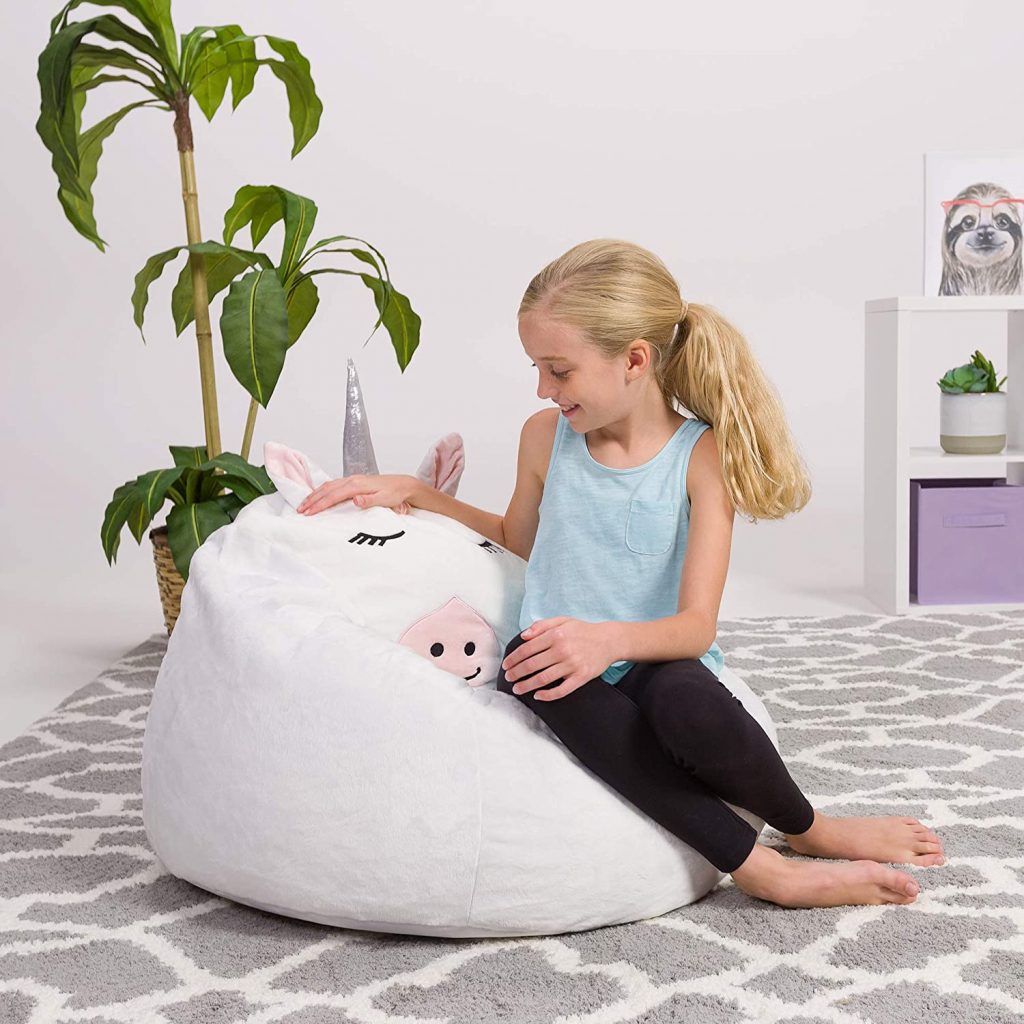 Posh Creations Cute Soft and Comfy Unicorn Bean Bag Chair
What's not to love? Bean bag chairs have been popular since they were invented… They're comfortable, easily moved, perfect for relaxation, and good for extra seating for guests.
Does your 6 year old need one? Absolutely! Because they are so cute and come in many different designs, such as a grey sloth, pink llama, purple bunny, and our personal favorite… the white unicorn!
Give her a space to read, relax, and regenerate in her fancy bean bag chair! Perfect for a little girl's room, playroom, or den!
---
GIFTS OVER $100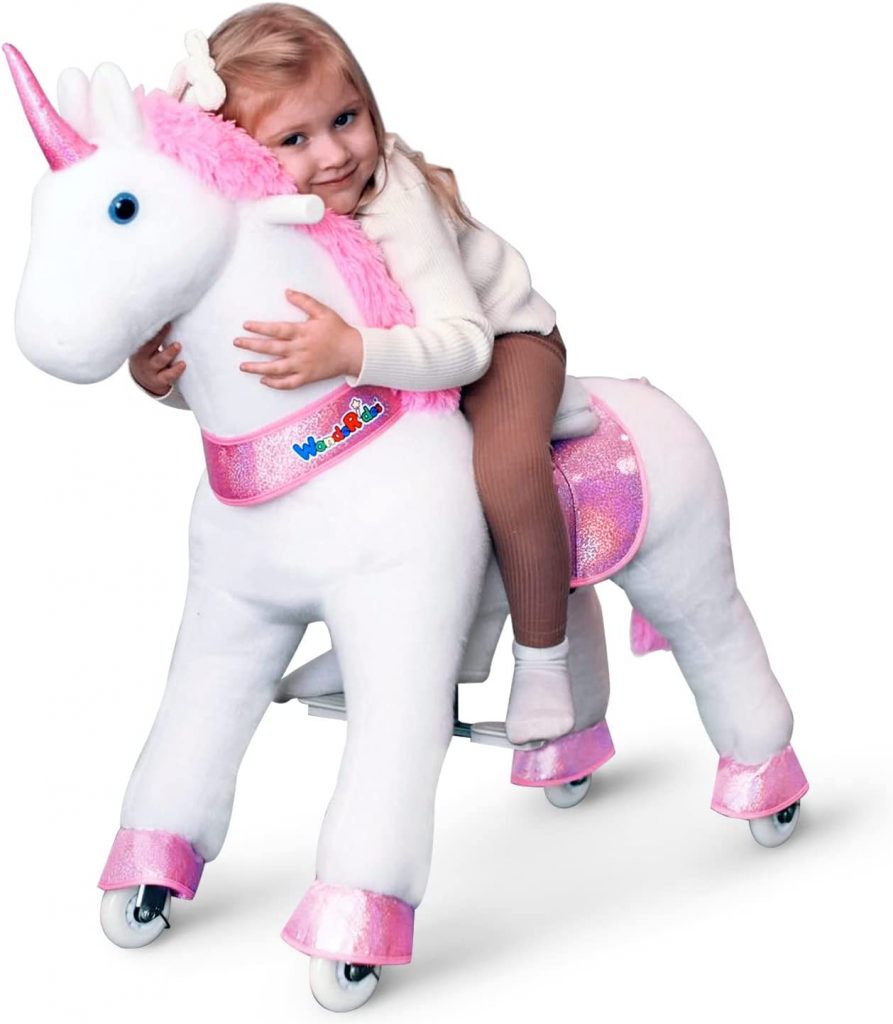 WondeRides Ride on Pink Unicorn Horse Toy
Saddle up and giddy up… Because this sweet unicorn horse is ready to go! For the little one in your life who loves horses (and who doesn't?), this is a perfect gift for a 6-year-old girl.
This toy promotes physical strengthening exercise, as well as hand/eye/muscle coordination, providing a fun and beneficial activity for all.
It has a comfortable raised seat, handles to control the direction, smooth-riding wheels, and is easy to assemble. Let the fun begin! Yee-Haw!
---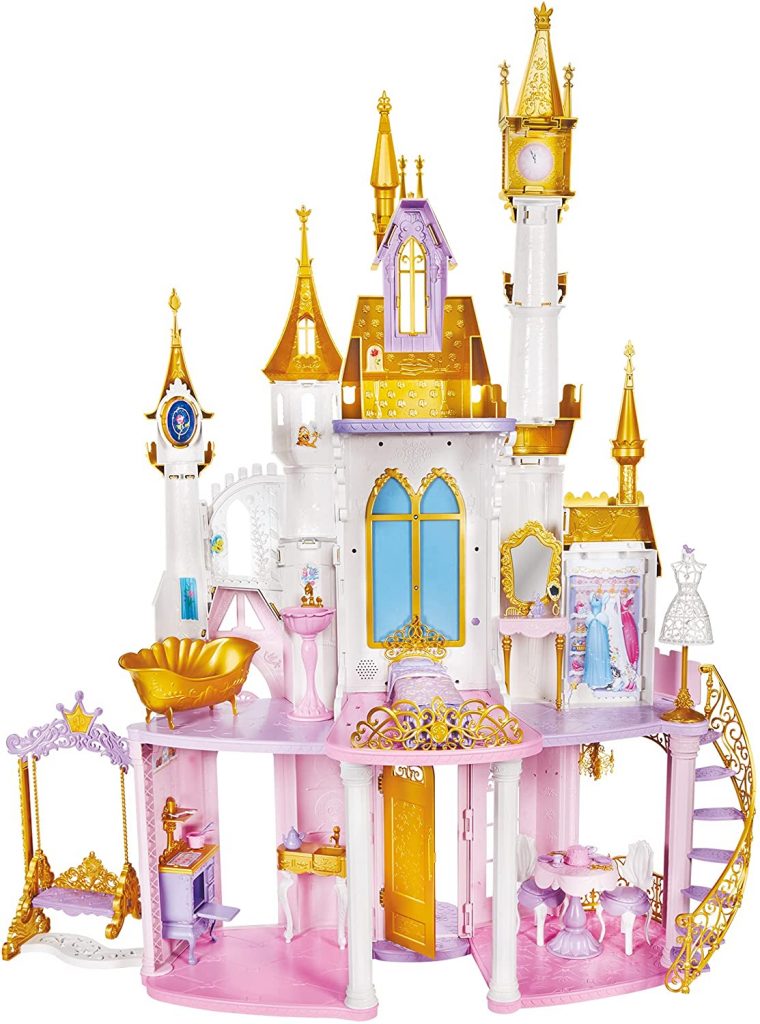 Disney Princess Ultimate Celebration Castle
If your little princess is interested in pretend play, this Disney Princess Celebration Castle is a must-have! With three floors, numerous accessories, and six rooms of furniture, can you imagine the fun they will have?
What's the neatest feature? The fireworks and music show they can see with the push of a button! Belle, Jasmine, or Tiana and their friends will feel right at home in this spacious palace!
By the way, this product does not include dolls; however, they can easily be purchased separately. This house accommodates 12″-14″ dolls. Requires minor assembly.
---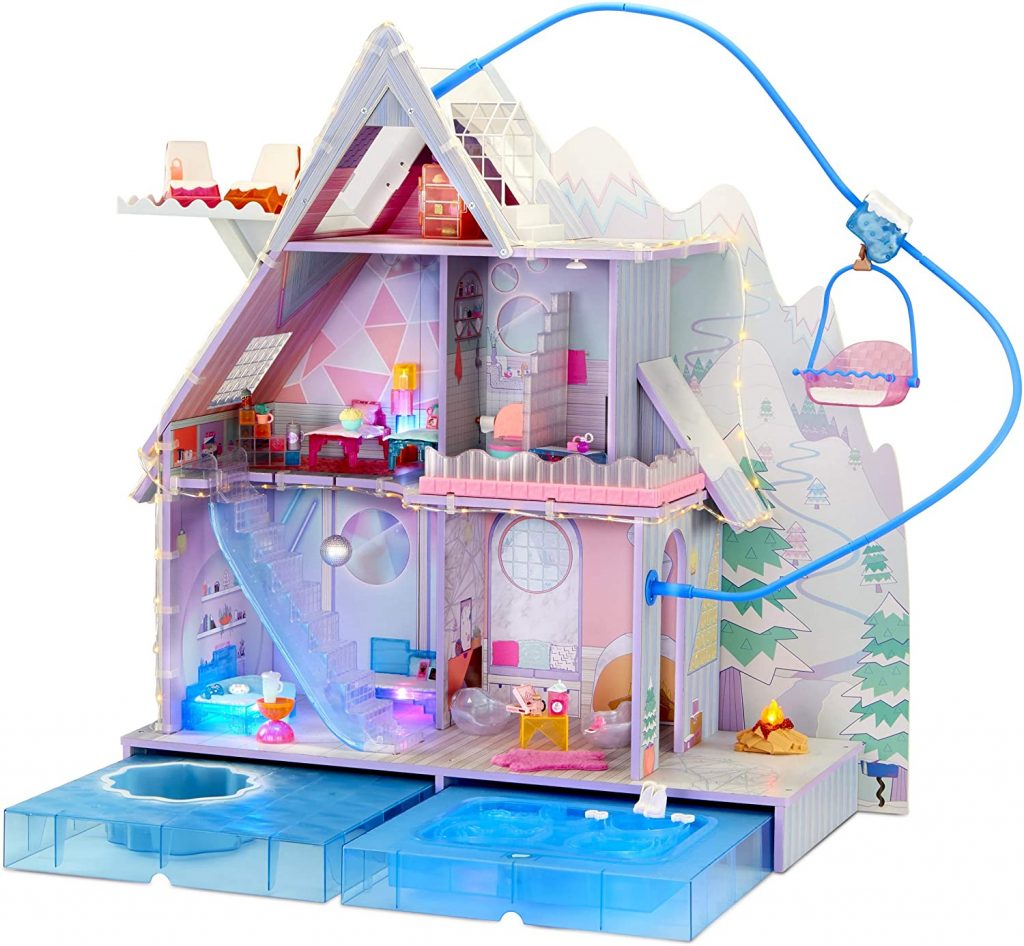 LOL Surprise OMG Winter Chill Cabin Wooden Doll House Playset
The popularity of the LOL craze has not diminished at all; therefore, your 6-year-old will enjoy the highlights of the Winter Chill Cabin which includes a hot tub, working ski lift, and an ice skating rink!
This cozy chalet has three floors featuring six rooms, has working sound effects and lights, and comes with 95+ Surprises!
Turn the cabin around and you have a nice winter wonderland backdrop for additional pretend play options! It also comes with an additional light strand to decorate their winter getaway.
---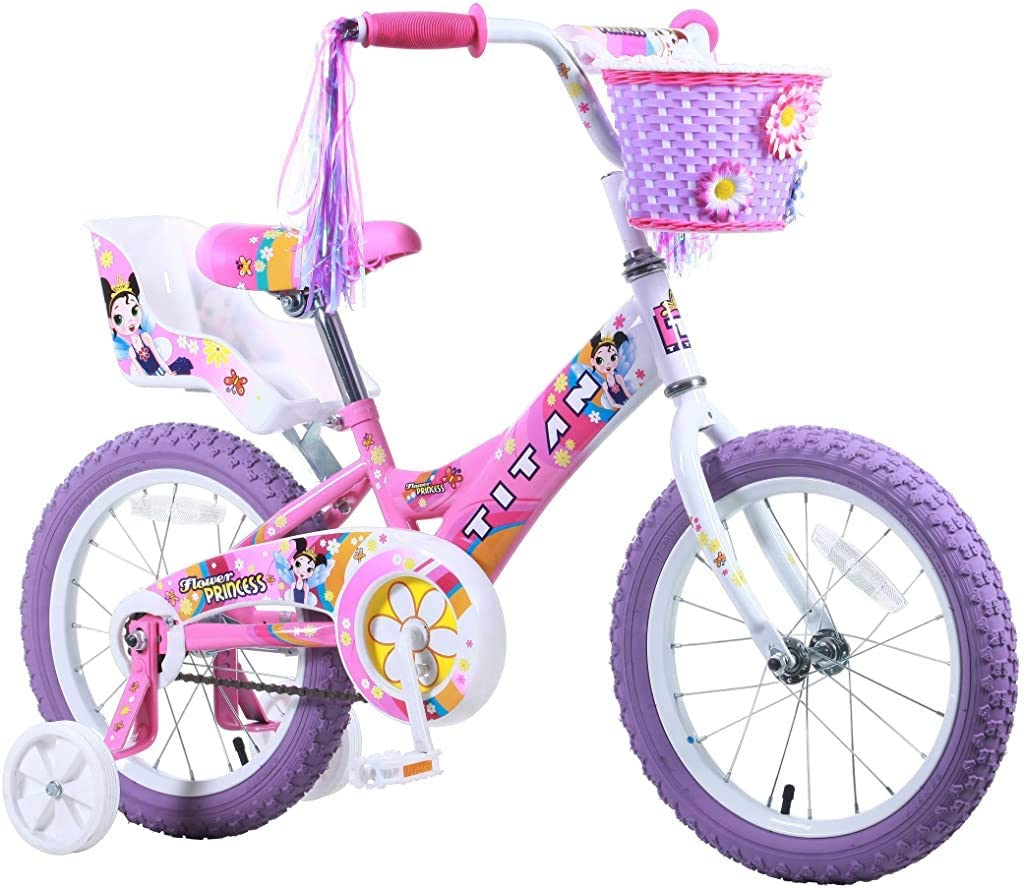 Titan Girl's Flower Princess BMX Bike
This 16-inch girl's BMX bike is nicely decorated with beautiful pink and purple paint sporting a cute flower princess theme… Perfect for your little girl!
What's the best feature of this cool bike with purple tires and handlebar streamers? You guessed it… the babydoll seat in the back! They will have so much fun riding their dolls and stuffed animals in the baby seat and cute flowered basket!
This bike comes with detachable training wheels for the beginner biker. This bike is suitable for four – seven-year-olds.
---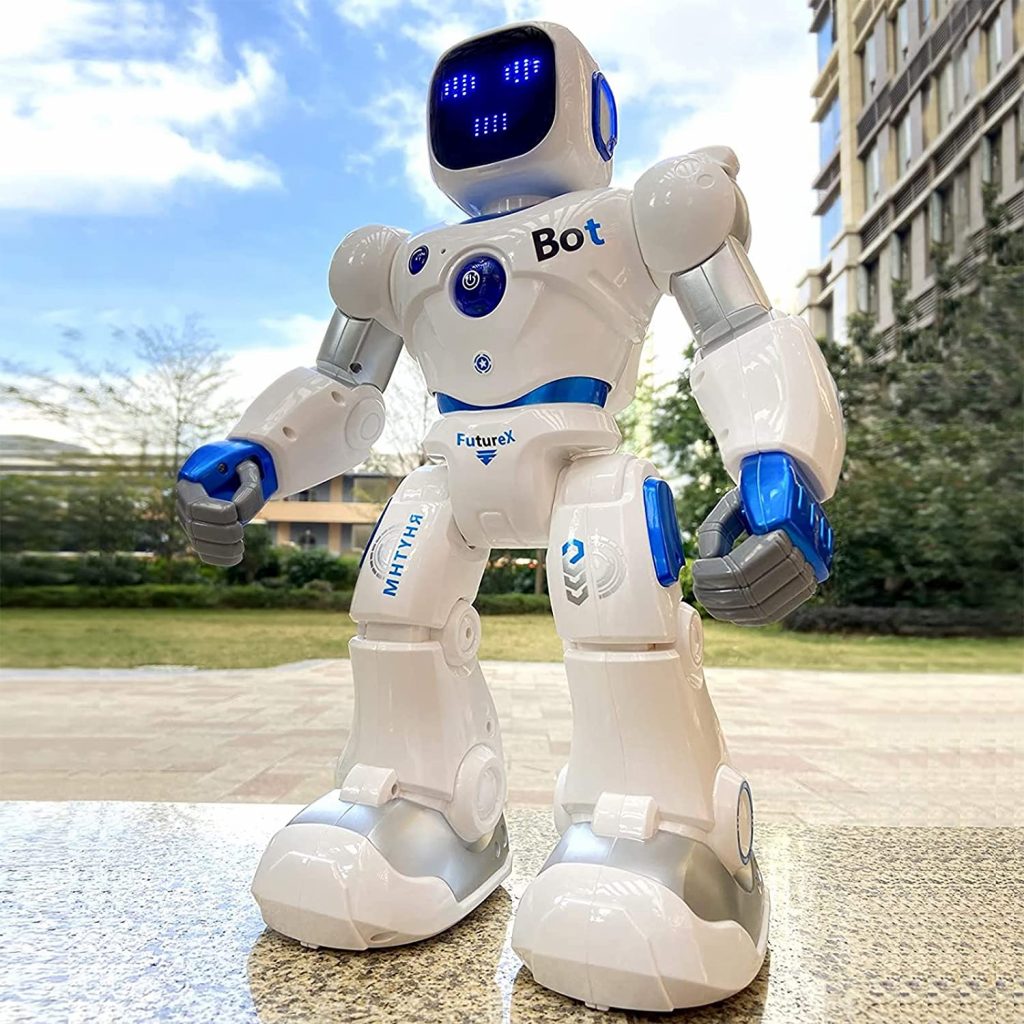 Ruko Smart Robots: Large Programmable Interactive RC Robot with Voice Control
Carle, a Ruko Smart Robot, is ready and willing to bring excitement to your household and joy to the face of your little girl. This technology-driven creature is sure to become your child's best buddy!
This robot measures 15.8″ tall, features four intelligent control levels, supports 56 actions, and can express his feelings on his LED face! He can sing and dance with her, tell stories, and will respond to the touch (he likes a little pat on the head), follows voice commands, and has an adjustable volume. He is suitable for ages four through nine.
When Carle gets tired, just charge him back up! There are really too many features to list here, just know that your little gal (or guy) will love this robot! Carle is entertaining, educational, and interactive!
Commonly Asked Questions
What are the best gift ideas for 6-year-old girls? What are they interested in? How do I choose the right toy?
Six year olds are often interested in imitating their mother's or other authority figures, such as daycare teachers or religious leaders. They watch every move we make and like to pretend they are grown-ups themselves. With that said, pretend play is important as they like to play with makeup, pretend to cook, and perhaps even clean house.
In addition, your child may begin to show interest in art, music, and other craft projects as they learn to use their hands and express their style and creativity with such activities. Little girls enjoy being outdoors too, so don't forget to provide fun options that get them out into the sunshine and fresh air!
Choose a gift that you think they will be interested in, hold their attention, as well as benefit them educationally and emotionally.
What are the best ways to foster my 6-year-old's imagination?
There are many ways to encourage your child to use their own imagination, such as:
First and foremost, turn off the television and other electronic devices.
Read to your little one, beginning at a very young age.
Allow them free time to express themselves through pretend play.
Present puzzles and other hand/eye coordination activities to make them think about their next move.
Go outside with them and explore.
Talk to them and play with your little ones, keeping in mind that they learn from you and want to please you.
Praise your little girl for their efforts in art, making music, or any other activity where they have created something according to their imaginative minds… no matter what it looks like or sounds like!
Make a fuss (in a good way, that is) about their projects; post it on the refrigerator and brag to close family members! Let them know you appreciate their efforts and you're proud of them!
Should I encourage group play or playing alone?
You should encourage both. In life, there are times when we, as adults, are left to entertain ourselves and other times when working with others is necessary. The same is true for your little girl. Learning both types of play is important for your child's future.
At an early age, children should learn to play well with others as they share their toys, respect other children's feelings, and include other kids in activities.
Playing alone is advantageous for children as well, particularly if they are an only child or when Mom or Dad are a little busy. Alone play teaches them to be creative, independent, and patient.
What other types of activities are good for 6 year old girls?
A 6 year old girl can be introduced to a plethora of activities and games as a means of creating inspiration and increasing their curiosity. Whether it is a classic board game, such as Apples to Apples or Candyland, Lego friends, pretend play with dress up costumes, creating their own window art, some of the best toys yield the most imaginative play.
On the learning side, obtaining STEM skills early on is huge right now, encouraging beginning readers can set them on the right path for the years of schooling ahead, and even learning to play chess gives your child much needed fine motor skills.
---
RELATED TOY STUFF: