A 6-year-old child is a walking contradiction during this phase. It is marked with the security of gaining independence yet insecure with parents less prominent in their day to day activities. The demands of school, events, birthday parties, and play also gets more prominent as the child grows up. Middle childhood is a time where they can dress independently and relate with others more with ease.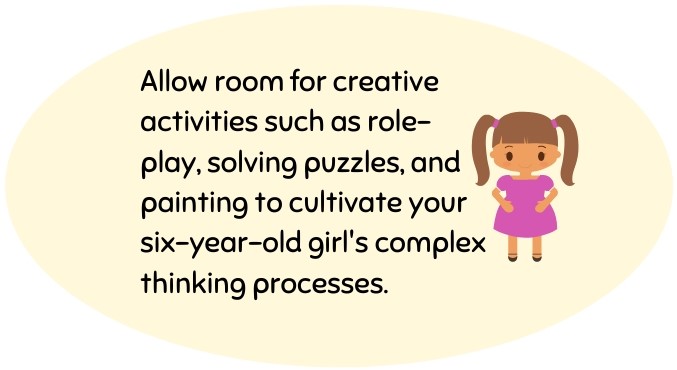 Emotionally, children think more about their future and likely to do more collaborative play. This is also a time where young girls would want to be liked by their peers. Girls this age are also more mentally adept at solving problems and express thoughts by talking about their experiences.
As a parent, you may want to give your kids toys that encourage outdoor play to develop cognitive abilities. On this note, allow room for creative play such as make-believe, puzzles, and painting to cultivate complex thinking processes.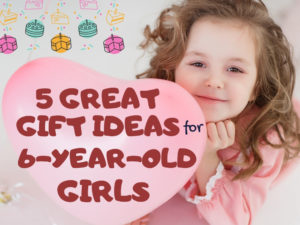 1. Pretty Purple Dollhouse and Pink Palace 3D Puzzle Set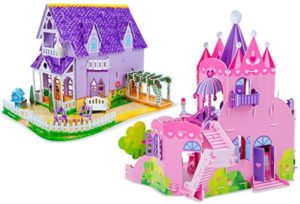 Play princess with the Pretty Purple Dollhouse and Pink Palace 3D Puzzle Set. Tinker with their minds and bring out their creativity by solving this puzzle set.
It comes in brightly-colored puzzle pieces that will have your kids preoccupied, entertained, and stimulated throughout the play. Each set contains furniture, a porch, deck areas, fenced yard, four rooms within a 2-level house, and a trellis to be assembled using these puzzle pieces.
Every set also contains a grand piano, a horse-drawn carriage, and princess figures that your kids can play with their friends or siblings in their playroom. It's also an excellent toy to establish new friendships and learn at the same time.
The dollhouse is 11 inches tall while the palace stands at 14.5 inches upon completion. Suitable for six years old and above, this do-it-yourself dollhouse will surely bring out the genius in every little girl.
Take their imagination where it leads them!
Little girls can put together these puzzles with their friends or with mom and dad!
2. Light-up Terrarium Kit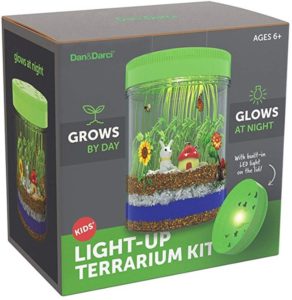 Groom them young and encourage appreciation of nature with Light-up Terrarium Kit. Simulating a real garden, this miniature garden inspires children to become nature-lovers.
Each kit contains a 4″ x 6″ terrarium jar, a micro-USB charging cable to be plugged to a power source, a jar lid that lights up, wheat grass, river rocks, vermiculite soil, chia seeds, and blue sand for an aesthetic finish. Adding the bunny and mushroom figures inside completes this cute terrarium toy set-up.
Your kids also have the option to stick adorable removable stickers on the outside of the terrarium. A spray bottle and wooden stick are also available for planting and nourishing real plants inside the container. Each kit contains an instruction manual to let your kids build it from scratch. It is also a time to develop a strong bond with your children as you guide them throughout the process.
Let your child nurture and observe these plants sprouting from the soil while you teach them a thing or two about plants. While these plants grow at day, let them observe it at night when using the terrarium's special LED light.
Place these in tabletops nearby where they can quickly turn the lights on and off. The lights are rechargeable by plugging the micro-USB port into a compatible power outlet.
This STEM.org approved toy is a great gift you can give to your kids to foster interest with everything science. This unique terrarium toy is recommended for children ages six years old and above.
Teach and inspire young girls to care for nature—with a little bit of creativity.
Let them grow their own garden and see life blossom every day! Great rating for this item on Amazon.com!
3. Create Your Own Window Art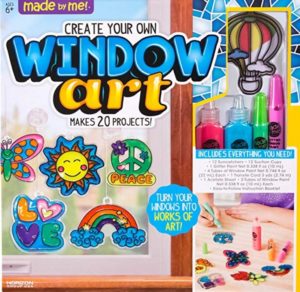 Bring a whole level of creativity in the world of sun-catchers and imagination with the Create Your Own Window Art. Get your child to think beyond drawing or coloring on paper.
These 20 window art creations will surely bring out their creativity and experiment using its eight vibrant paint colors. They can also create other designs by tracing the illustrations included in this set. They can also explore different designs that come to mind and draw it on the acetate sheet.
Fancy coloring instead? There are 12 pre-printed sheets that your child can color. Place the suction cups included in this set to their chosen places in the window. Attach the cords and let your child hang their pieces with pride. This toy set is safe for your kids since it doesn't require them to use any sharp objects such as scissors.
Have your kids paint and create with their friends or siblings inside the playroom or at school. This toy also encourages them to interact with other kids!
Make this a special gift to your 6-year old little girl this year. You are helping them create and think beyond the ordinary.
I used to love painting "stained glass" to hang in my room! This is the perfect gift as they can design with any colors they want!
4. Frozen II Disney Jewelry Box Building Kit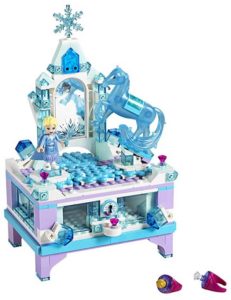 Is your child fond of building things? Are they keen to solve puzzles? And are they a big fan of Elsa from Frozen? Set their imagination on fire with the famous Frozen II Disney Jewelry Box Building Kit.
This is a 300-piece toy jewelry box to enhance their thinking abilities as they tackle to fit the pieces together. Upon completion, this jewelry box stands 9-inch tall, 5-inch wide, and 4-inch deep. If she didn't seem to get enough of Frozen, this would make an excellent addition to her Frozen-themed bedroom among myriads of character toys from the movie.
Keep them occupied and have them build this with a friend or sibling for hours and hours. Each set contains miniature figures such as a drawer and lock as well as a mini-mirror. Two unique LEGO toy rings are locked within this drawer, which they can discover and share with a friend! A unique Nokk LEGO is attached below certain toy characters that allow spinning. To top it off, an adorable mini-Elsa doll sets as the centerpiece for this lovely jewelry storage box.
This is an easy-going and fun toy to give to your 6-year-old child as they spend a Sunday afternoon looking for something to tinker with.
Imagination doesn't have to be expensive.
5. HAKTOYS MAGICAL PINK HELICOPTER UNICORN
Fly away where dreams are made of with the Helicopter Unicorn.
This is an adorable pink unicorn toy set with a shiny finish. It has a pair of glittery wings, with lights and music, giving it a whimsical feel. Attached to its body is the helicopter mechanism to enable it to fly within proximity. Suitable for young girls ages six years old and up, this flying toy works almost similar to a drone. Turn on the switch and wait for the indicator light to turn on.
Place the flying toy in a vertical position and wait for the sensors to activate. To activate flight, you only need to place your child's hand under the toy, and it motions the toy to hover. Its smart LED infrared sensor helps detect nearby objects to avoid any collision. To turn it off, use the remote control to switch off. Each set comes with a magical unicorn, a USB cable for charging, and a controller.
It's also made of lightweight material that is safe for children. Supervising your kids while playing with this toy will prevent any accidental scraping. It's also best to have your kids play in open spaces indoors because the wind conditions outside the home can deflect the toy.
Let them experience a different "high" of excitement!