When you think about the best 80s kids movies what comes to mind? Is it the imaginative plots? The famous adaptations? The music? A specific type of animation style that is just "so 80s?" Nearly all of what we consider today to be the best kids 80s movies of all time are cult classics. Very few of our picks with the exception of a couple had any critical or blockbuster acclaim.
The majority of films, however, featured memorable music, imaginative imagery, alluring adaptations, and that je ne cais quois nostalgia that only films made in the 80s can bring about. Once these films made it out of the theater their popularity picked up steam including our number one choice which only recently premiered in China in 2018. It appears as though films with a cult following tend to have a certain timelessness about them as though we can't imagine a generation that won't love these films.
Also see: Best Kids Movies of the 90's
When we were thinking about our top picks for the best kids movies of the 80s we gravitated towards films that had an imaginative story, were told in a unique way (whether that be through animation or with muppets or otherwise), had a memorable cast, and were groundbreaking in some way for the time.
Groundbreaking is a term that we use loosely and may include some of the storyboarding tactics used to create the opening sequences of My Neighbor Totoro, the combination of masterminds who collaborated on Labyrinth, or even the risk-taking involved in pulling off sentimentality in an alien movie (E.T. we are looking at you). All of these magical moments combine to make what we consider to be the top 10 greatest kids movies of the 80s.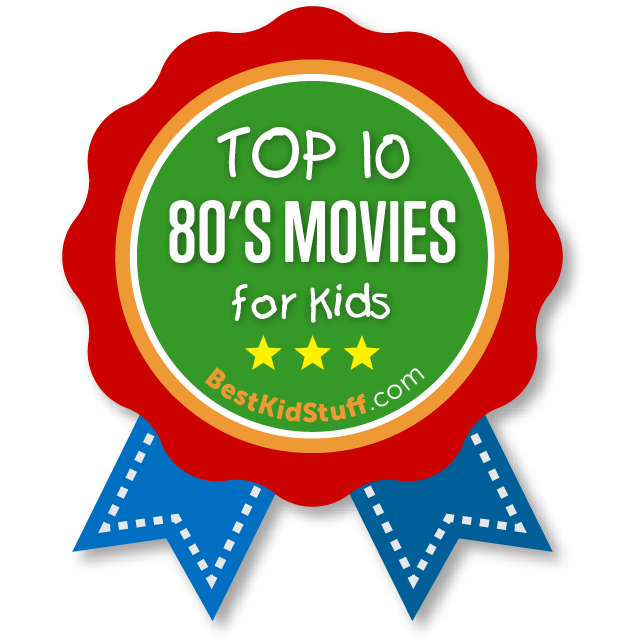 To help rank these films we looked at the following metrics:
Originality 1/3: When considering originality we looked for films that were breaking ground within the context of the 80s. Though there were some computer-generated images, the 80s was still a time where a lot of the effects happened with cameras. We looked for films that used some aspect of originality to tell their story whether that be with muppets, unexpected themes, or unique animation
Artistic Imagery 1/3: When it comes to this metric, we know that kids really pay attention to the way films appear- be they colorful or whimsical or memorable for scenes or specific characters, we considered the "look" of the film to be important when selecting our top choices
Story 1/3: Our third metric is kind of an obvious one. When considering what would make a good story we thought about how relatable the themes are to children. We looked for stories that were intriguing, thrilling, and had a special ability to excite the imagination.
1. My Neighbor Totoro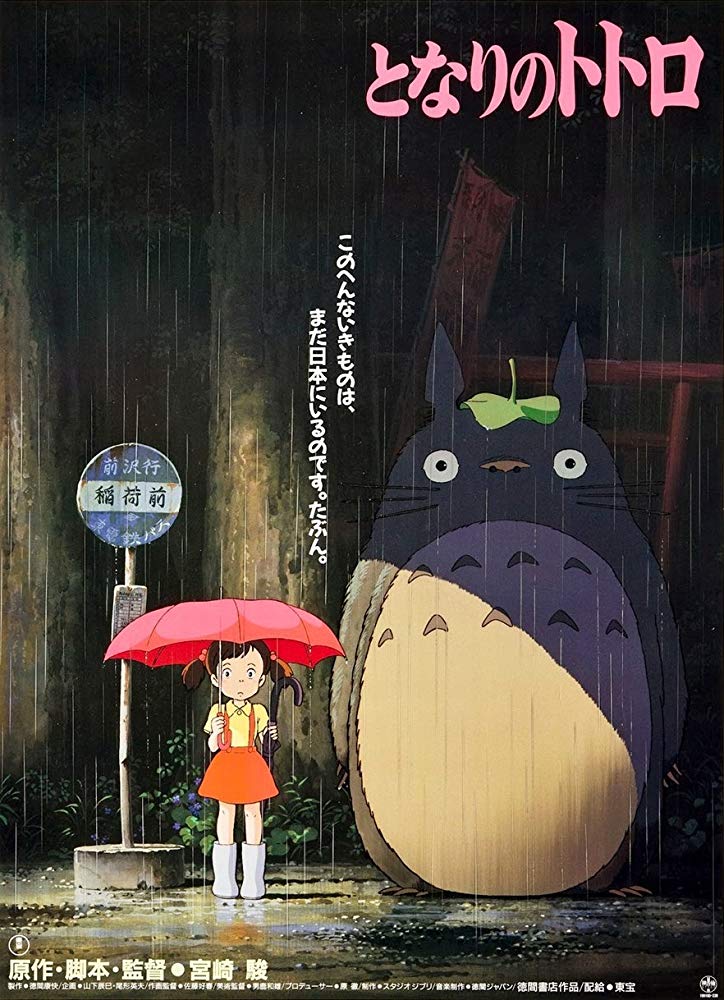 My Neighbor Totoro is a Japanese animated film that was written and directed by Japanese animation and film making master Hayao Miyazaki. The film is set in Japan approximately 10-15 years after WWII. My Neighbor Totoro is critically acclaimed and has a very large cult following. Many critics consider My Neighbor Totoro to be the greatest animated film of all time. Whether or not you agree is beside the point.
This film would soon become synonymously associated with Studio Ghibli- Miyazaki's animation studio which continued to create some of the most imaginative animations ever released. Over the years, My Neighbor Totoro continued to gross profit. In fact, the film was only officially released in China in 2018 (due to longstanding political differences between Japan and China) and continued to gross approximately $25 million in China that year. It appears as though no matter the nationality or time, My Neighbor Totoro is a captivating film.
My Neighbor Totoro is the story of two girls who have recently relocated to a house in a rural part of Japan. Their names are Satsuki and Mei who befriend Totoro. Totoro are mythical animals that live on the land surrounding their new home. Miyazaki makes it clear that the Totoro are not spirits but rather are animals of the land but with magical powers. As the girls settle into their new surroundings the three Totoro (lead by Totoro-oh the largest one) engage the girls with their magical abilities.
We learn that the Totoro can make plants grow at will, have their own catbus, and can even fly. Their magical abilities come in handy as the girls wrestle with the reality that their mother is very sick and in the hospital. The film is quite simply about family and friendship. My Neighbor Totoro is a whimsical Japanese tale that continues to enchant the hearts of children even today.
Pros
Whimsical Animation
Heart-Felt Story
Incredible Characters
Timeless
Beautiful
Captivating
Cons
We Are Struggling to Think of One
Score:
Originality: 10
Artistic Imagery: 10
Story: 10
Total: 10/10
---
2. The Secret of NIMH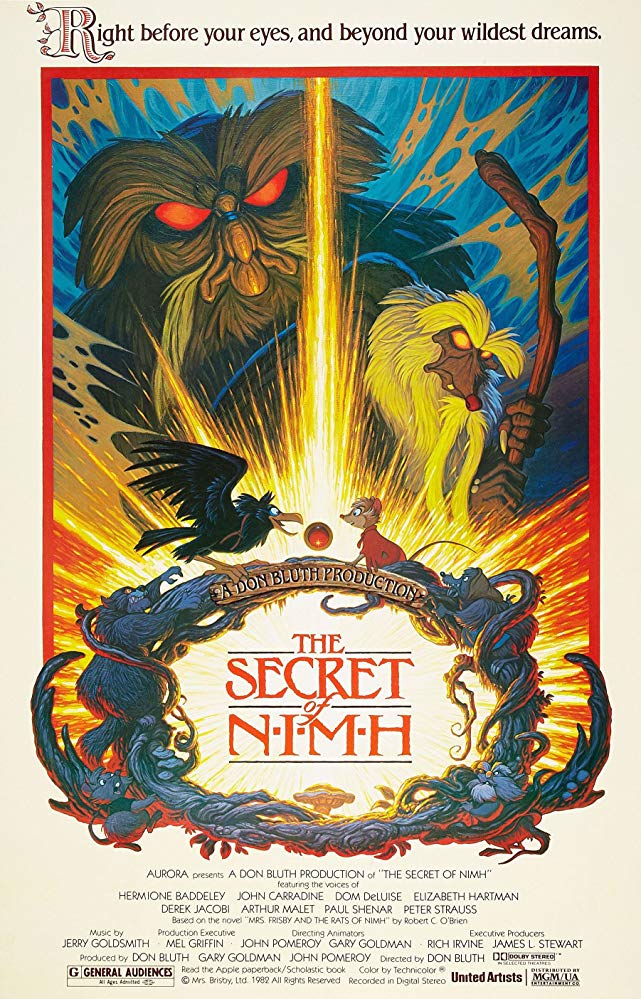 Directed by Don Bluth, the Secret of NIMH is a timeless classic suitable for all ages. Don Bluth started his career as an animator for Disney and later would leave to form his own company. He is known for An American Tale and the Land Before Time. Before that, he created this fantastic film. Though not a box office success, critics and fans alike have considered The Secret of NIMH to be among the greatest animated features ever made.
The character development stands out exceptionally well, and the film delves into some dark territory- including the ethics of using rats for experiments, backstabbing, the life of a widow, discrimination, terminal illness, and even murder. That being said, there's so much heart in the Secret of NIMH that the positive upturns become a huge payoff. Perhaps it's the combination of heartfelt moments, memorable casting and brave storytelling that have catapulted The Secret of NIMH to 2nd place on our list.
The Secret of NIMH is the story of a shy widowed mouse named Mrs. Brisby who will stop at nothing to save her son Timothy who has been ill with pneumonia. Her house, located in a cinder block, must move from its location before the next "moving day." Moving day is when the neighbor farmers The Fitzgibbons plow their land. In order to find help to move her home, Mrs. Brisby must align herself with the rats of NIMH. The rats of NIMH are highly technical rats who escaped from a lab.
Over time, thanks to science, the rats became organized and learned to develop their own technologies including electricity. Mrs. Brisby discovers a familial connection with the Rats of NIMH. Will the rats help Mrs. Brisby move her home before it's too late? The ending is far too good to give away, but this animated classic does not disappoint in the department of drama and even a few plot twists.
Pros
Great Characters
Excellent Cast
Interesting Plot for the Whole Family
Nostalgic Animation Style
Memorable Music
Holds Attention
Cons
Some of the Themes May Be Too Scary for Young Children
Score:
Originality: 9.8
Artistic Imagery: 9.8
Story: 9.8
Total: 9.8/10
---
3. The Little Mermaid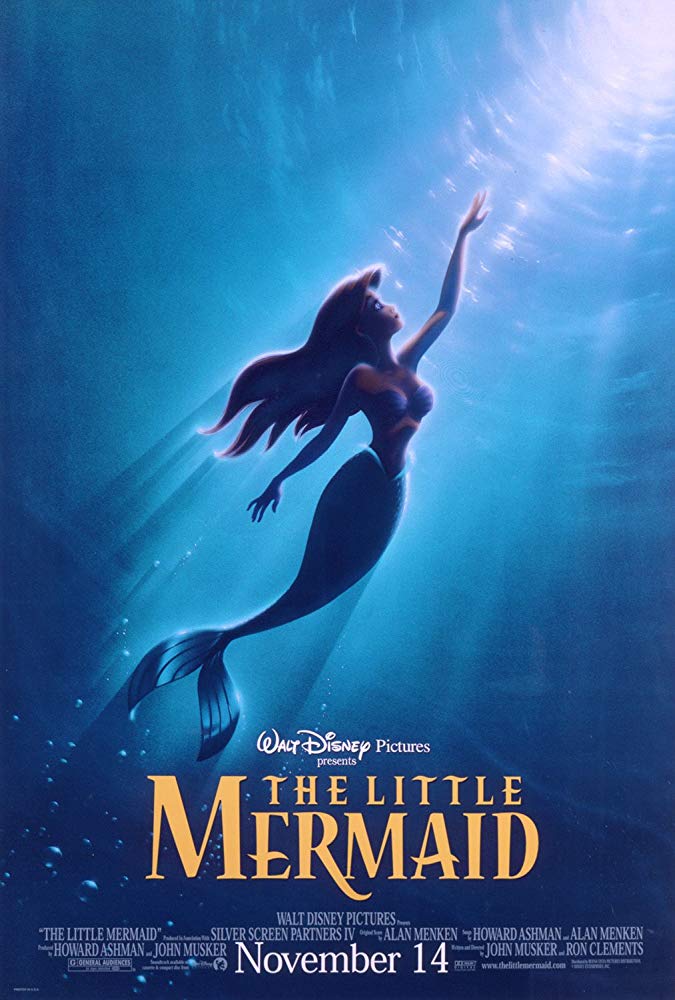 The Little Mermaid is a Disney animated musical written and directed by Ron Clements and Jon Musker. Like with so many Disney feature films, this film has an incredible back story. Originally, The Little Mermaid was considered for development in the 1930s along with Snow White and the Seven Dwarfs but was delayed.
Eventually, independently of this, the story was brought up again in the 80s. Coincidentally the same changes to the original Hans Christian Anderson story were made in the 1980s as were suggested in the 1930s, and in 1989 Walt Disney Feature Animation and Walt Disney Pictures released what is arguably the best Disney film released during the entire decade.
The Little Mermaid is the story of Ariel, a young mermaid who on the night of her 16th birthday (her underwater debut as princess Ariel) is found missing. Ariel has been sneaking off to the surface and longs to become "part of their world" that is the world of the humans. Her father King Triton soon discovers that his daughter has been risking her identity and the kingdom of the mermaids for far too long.
In a fit of rage, her father destroys everything that Ariel has collected from the land. Devastated and now more determined than ever, Ariel in a fit of rebellion trades her voice for legs with Ursula the Sea Witch. Musical numbers like "Under the Sea" and "Kiss the Girl" drive the plot along as Ariel races against time to win over the heart of Prince Eric.
Pros
A Beloved Disney Classic
Great Characters
Fantastic Music
Timeless Story
Cons
Some of the Themes are a Tad Dated
Score:
Originality: 9.7
Artistic Imagery: 9.8
Story: 9.6
Total: 9.7/10
---
4. The NeverEnding Story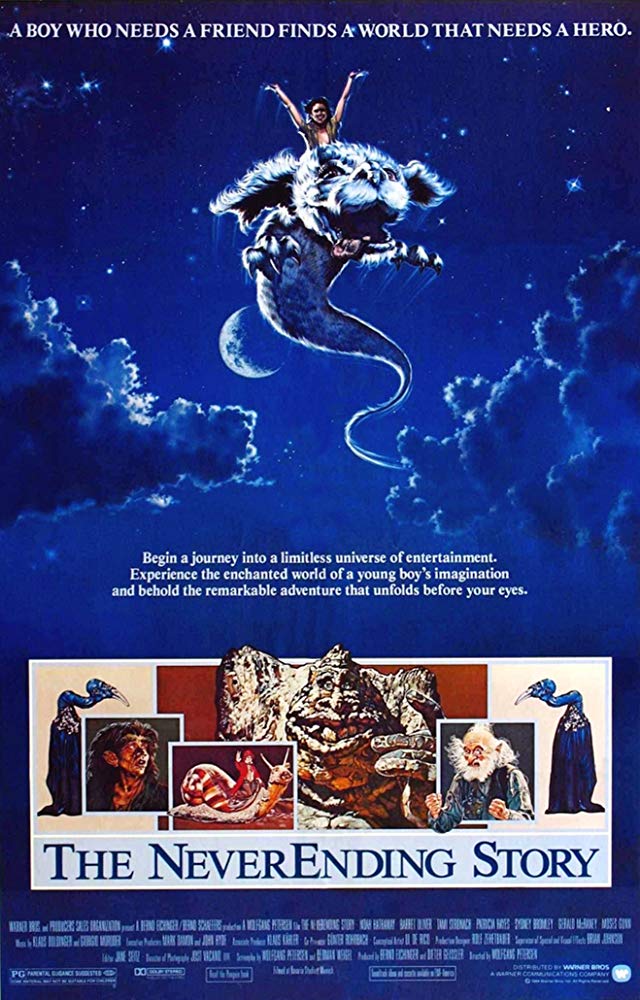 The Neverending Story was released in 1984 and is a German film with an international cast. The director and co-writer is Wolfgang Petersen and this was his first English-language film. Though not highly lauded by critics, The NeverEnding Story is a fan favorite and yet another cult classic. The film is loosely based off of the Michael Ende book of the same name though Ende did not approve of the final production. Critics' and authors' opinions aside, this film was beloved by kids (now adults) across the US. The imagery, story, and music make The NeverEnding Story an unforgettable film.
The film is about a warrior named Atreyu who is given the ominous task of stopping "The Nothing" which we later find out to be a metaphor for apathy. The Nothing is crumbling the beautiful land of Fantasia and is threatening to swallow the world whole. The Childlike Empress has also fallen ill and to save her Atreyu is given the Auryn and sent on his quest. Somewhere in another plane is Bastian, a young boy who eagerly reads along.
During the journey, the lives of the two boys become mystically intertwined leaving in question which of the two is the true warrior. The film is filled with memorable moments like The Swamps of Sadness, rides on a luckdragon, the three quests including the magic mirror, and of course Atreyu's fight with Gmork. Though some of the special effects are dated for today's viewers, the epic tale of the NeverEnding Story is absolutely timeless.
Pros
Great Characters
Amazing Story
Memorable Moments
Cult Classic
Exciting Music
Thrilling
Cons
Some of the Scenes May Be Scary or Sad for Smaller Children
The Special Effects Are Dated
Score:
Originality: 9.7
Artistic Imagery: 9.6
Story: 10
Total: 9.7/10
---
5. E.T. the Extra-Terrestrial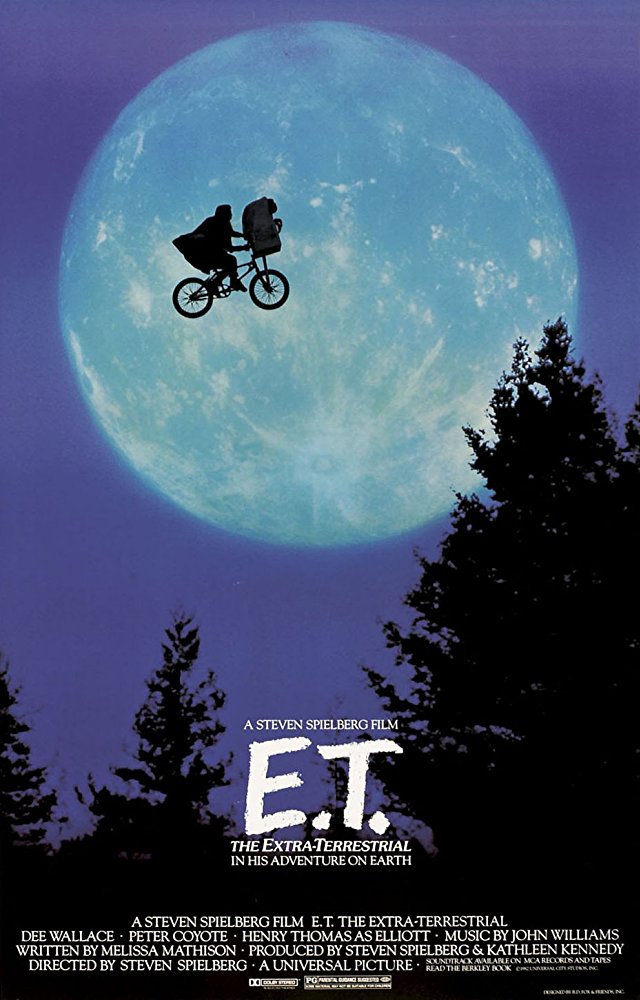 Are we the only beings out there? This question seems to be a consistent theme of films made in the 80s. Aliens were often portrayed as superior wicked beings that would stop at nothing to abduct humans and destroy their way of life. But Steven Spielberg had a different idea of what might happen when aliens came to Earth.
This time, the alien likes Recess pieces, learns to talk, gets drunk and just wants to get back to his home planet. Like with so many of Spielberg's greatest films, the protagonist and hero is a humble little boy. The alien AKA "E.T." is just as humble as Elliot -the young boy who would find ET and at first, try to keep him.
It soon becomes evident to Elliot that E.T. does not belong on his planet, though a very strong friendship starts to form. Eventually, Elliot's siblings become privy to the existence of E.T. and will work together to help E.T. reach out to his home planet so that he can make his way back. As time passes ominous government agents catch on that E.T. exists and come to track him down. Unknowingly, the relationship between E.T. and Elliot becomes symbiotic in nature and their existences start to intertwine with each other. It appears that E.T.'s death would mean the death of Elliot and likely vice versa.
What happens next in the film is nothing short of cinematic magic as the direction of Spielberg and the music of John Williams (once again) merge to make moments so memorable they would go on to become iconic of American cinema. E.T. the Extra-Terrestrial is not to be missed, and though some of the plot points may feel a touch "yeah right," the film continues to deliver that very same cinematic magic even today.
Pros
Family Film
Incredible Cast
Very Good Special Effects for the Time
Beloved Plot
Iconic Cinematic Moments
Great Music
Cons
Sometimes Alien Movies Are A Touch Scary
Some of the Language Use May Not Be Suitable for Very Young Children
Score:
Originality: 10
Artistic Imagery: 9.6
Story: 9.7
Total: 9.7/10
---
6. Labyrinth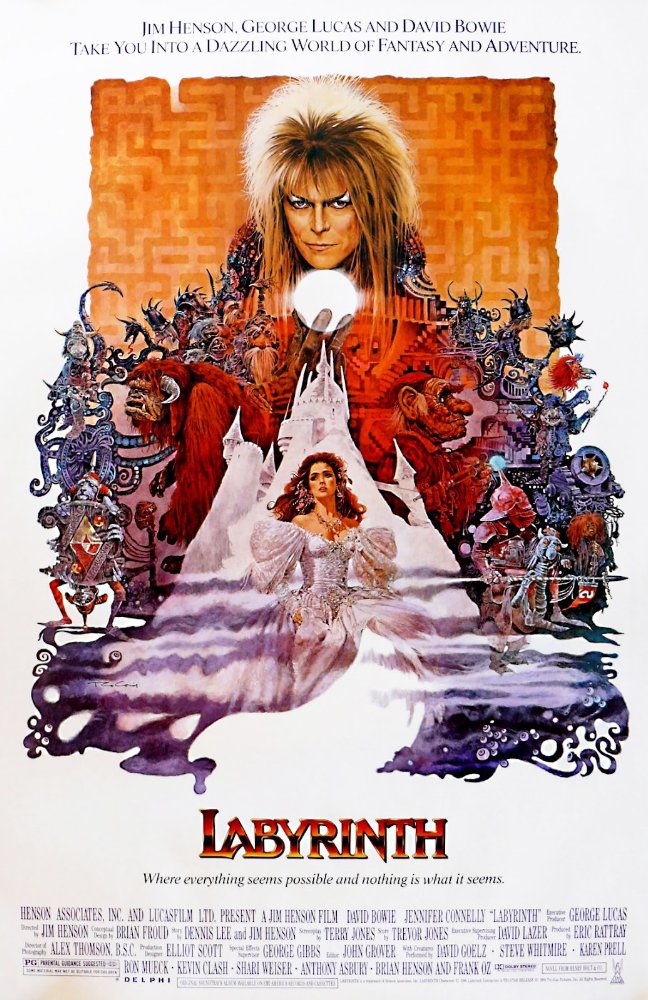 What do you get when you combine Jim Henson, George Lucas, and David Bowie? The classic 80s movie Labyrinth. Released in 1986, Labyrinth is a fantasy film that is the result of a truly tremendous collaboration. The look of the film is a collaboration between Jim Henson and Brian Froud.
The script was a collaborative effort between Monty Python's Terry Jones, George Lucas, Dennis Lee, and Elaine May (among others). David Bowie and Trevor Jones collaborated on the music, and of course, the majority of the cast are muppets. The resulting fantasy film is one that can hardly be forgotten.
The Labyrinth is about Sarah a teenager who prefers life in her imaginary world (remember when?). She gets a little carried away (not by her phone but by her mind) when she suddenly realizes that she is late to watch her baby step brother Toby. A few arguments with her stepmom and dad leave Sarah annoyed and further aggravated by the insistent crying of her younger half brother. She wishes him gone and before you know it the Goblin King Jareth takes him to the center of his Labyrinth.
She has 13 hours before Toby becomes another goblin and is trapped forever. Racing against the clock Sarah maneuvers her way through the Labyrinth to rescue Toby. Along the way, Sarah is aided by Hoggle and Ludo as she navigates through the ever-changing maze. The visuals are stunning and most of the special effects are actually just done with cameras. There's never a dull moment in this Jim Henson classic film.
Pros
Muppets
Amazing Cast
Brilliant Music
Artistically Brilliant
Incredible Puppetry
David Bowie
Cons
Some of the Scenes are a Tad Scary for Younger Children
Score:
Originality: 9.5
Artistic Imagery: 10
Story: 9.5
Total: 9.6/10
---
7. The Princess Bride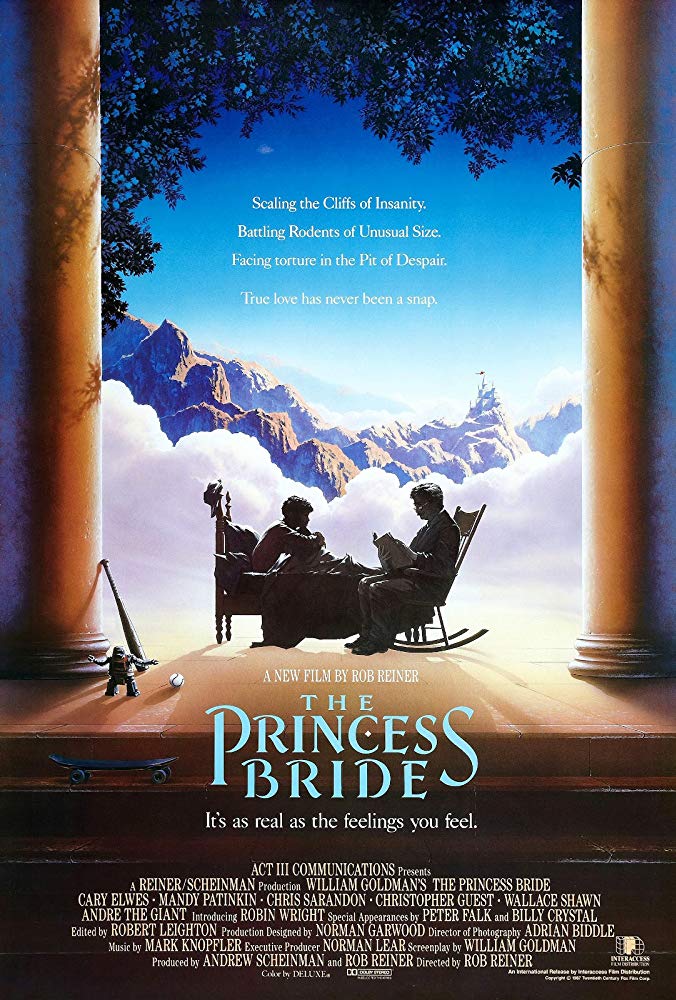 The Princess Bride is a Rob Reiner comedy that was released in 1987 just 3 years after his release of This Is Spinal Tap. Though considered an American comedy this film was shot across England and features English as well as American actors. In many ways, the film feels like a complete "mash-up" between the two styles of film making. Channel 4 and AFI alike consider this film to be one of the greatest comedy films of all time. It wasn't until 2016 that The Princess Bride took its place among the greats in the National Film Registry.
The cast is one of the best for comedies with Cary Elwes as Westley, Robin Wright as Buttercup, Mandy Patinkin as Inigo Montoya, Wallace Shawn as Vizzi, and Billy Crystal as Miracle Max (just to name a few). This film is sure to leave you mostly dead (pun intended) with laughter and will be one to watch with the family again and again over the years.
The story is taken from the book of the same name and is a love story and comedy about a beautiful woman named Buttercup who has fallen in love with her farmhand Westley. Believing him dead, Buttercup agrees to marry Prince Humperdink and is soon kidnapped by three outlaws. Eventually, you may have guessed Buttercup reunites with Westley but only briefly.
Hilarity ensues as Buttercup and Westley fight to get back together (again) and there are a plethora of hijinks that take place among the three outlaws. The film continues on in this matter to the very end and as Westley and Buttercup discover a way to be together. After all, if you forget to say "I do" how can a marriage truly be valid?
Pros
Funny
Great Cast
Family Fun
Many Memorable Scenes
Cons
Not Suitable for Younger Children
Some of the Jokes Are Geared Towards Adults
Score:
Originality: 9.4
Artistic Imagery: 9.4
Story: 9.4
Total: 9.4/10
---
8. Back to the Future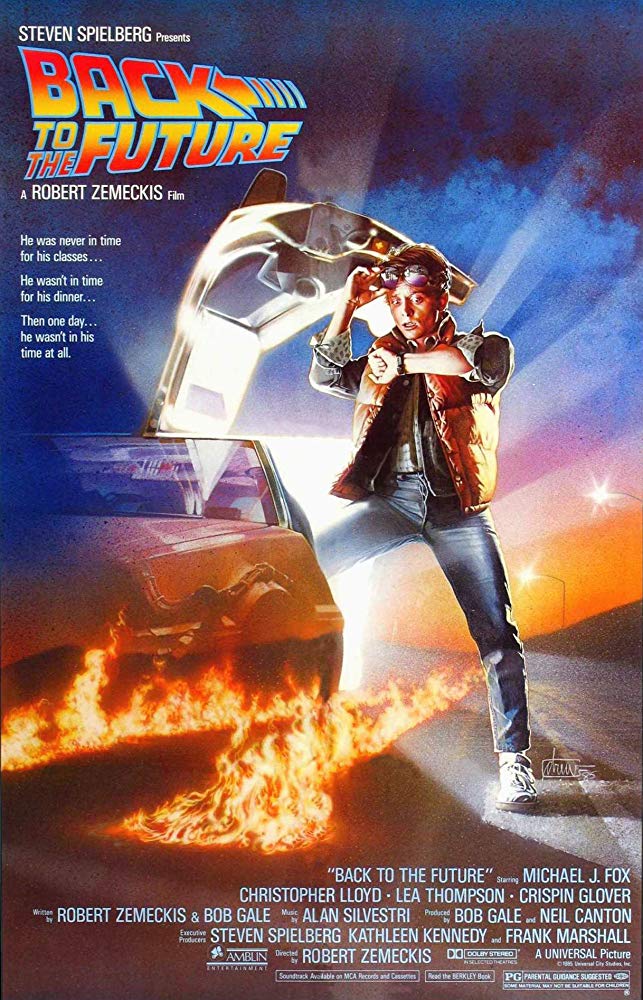 Back to the Future was directed by Robert Zemeckis and released in 1985. It is the first in a trilogy of films starring Michael J. Fox as Marty McFly and Christopher Lloyd as Dr. Emmett Brown "Doc." The film also features the talents of Lea Thompson, Thomas F. Wilson, and the truly quirky Crispin Glover. It's the 80s so nobody thinks twice about why a flunking high school student and a brilliant scientist are best friends. The film was produced by co-writer Bob Gale and Neil Canton. This science-fiction film will go on to rank among the top science fiction films ever made.
Back to the Future is the story of Marty McFly your typical 80s high school failure who rides a skateboard and plays music which is "just too darn loud." It appears almost everyone in his family is actually kind of a big loser. His mother is an alcoholic, and his father is a failed writer with a personality timider than a mouse and bullied by a big shot named Biff. Perhaps it will take a time machine to fix what happened to the McFly family. Luckily for Marty, his best friend is an eccentric scientist referred to as "Doc" who did happen to invent time travel.
Doc requests Marty come and film as he makes his first-ever voyage through time- something he has been working on since 1955. Doc is shot that night and it is Marty who makes the trip back to 1955, but finds himself trapped there. The film revolves around Marty making his way home. He has to make delicate choices so as not to alter the space-time continuum and erase everyone from the face of the Earth. The film is a whole lot of fun and continues to excite kids and families even today.
Pros
A Family Film
Good Characters
Exciting Music
Excellent Story
One of A Trilogy (and all three are really good)
Cons
Some of the Language is for More Mature Viewers
Some of the Subject Matter is for Older Kids
Score:
Originality: 9.8
Artistic Imagery: 8.7
Story: 9
Total: 9.4/10
---
9. The Goonies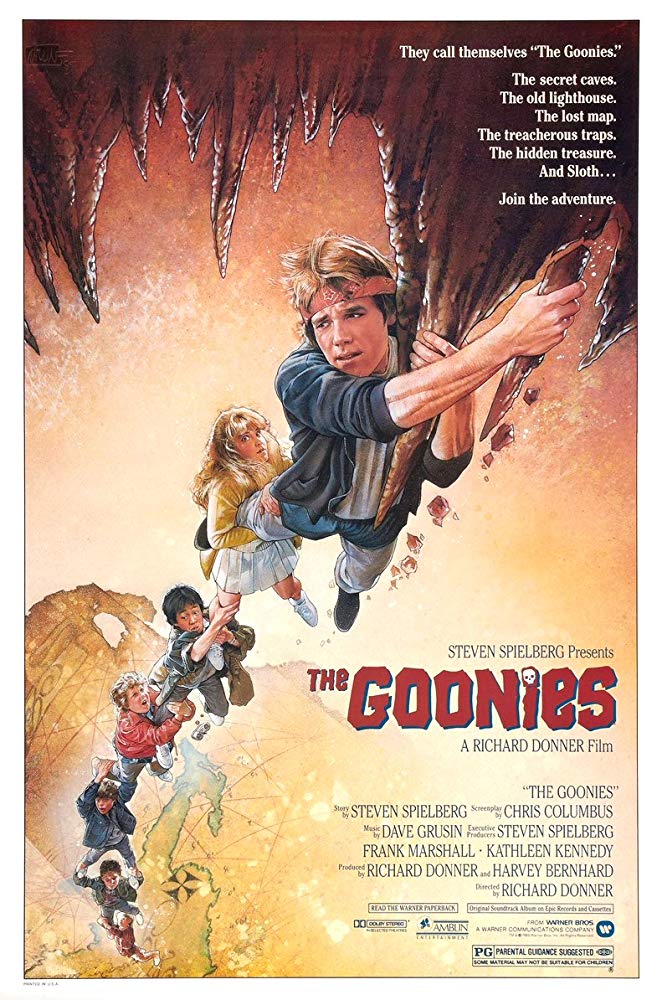 The Goonies is a 1985 adventure comedy written by Chris Columbus (of Harry Potter fame) and directed by Richard Donner (of Superman and X-Men fame). The story is actually by Steven Spielberg (who seemingly has a hand in some way in almost all cult classics made in the 80s and 90s).
Like with all cult classics, The Goonies holds a special place in the viewer's hearts and now officially as the film was inducted into the National Film Registry in 2017 for its "cultural, historic and aesthetic significance." The cast is mostly children perhaps most famously Sean Astin (of Lord of the Rings and Stranger Things fame) who plays Mikey Walsh. Donner recalls that directing a cast primarily made up of children came with its own unique challenges.
The Goonies is a story about a group of friends who grow up in Oregon who happen upon an old map. Mikey is convinced that this is truly a map that will lead to a long-forgotten pirate's treasure- that is the treasure of One-Eyed Willy. The group reluctantly agree to have one more "Goonie adventure." They follow where the map takes them down to a restaurant where they first encounter the Fratellis family- who will eventually follow the Goonies in search of the same treasure.
The film is full of thrilling and funny moments that are sure to make kids laugh even today. Like with so many 80s kids films, this one does not disappoint when it comes to happy endings.
Pros
Funny
Memorable Characters
Lots of Action
Great Story
Cons
Somewhat Gruesome at Times
A Tad Dated
Score:
Originality: 8
Artistic Imagery: 8.5
Story: 9
Total: 8.7/10
---
10. A Christmas Story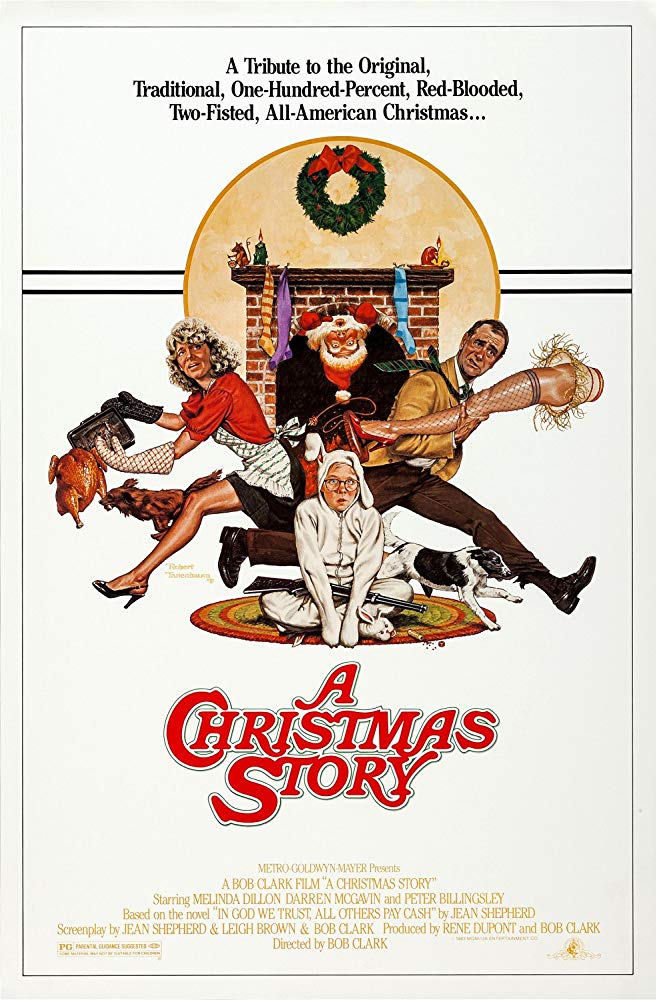 A Christmas Story is an American comedy that was released is in 1983. This iconic holiday film would later go on to earn its place in the National Film Registry. Perhaps it's decades of Christmas Story marathons that helped to make its way to the registry or perhaps it's just that great of a film. The film is known for its iconic scenes, and there are a ton of them. Everyone knows a person that says "fragile, it must be Italian." It's just unheard of for an honest American not to have seen this film. Which is why it's important to pass this tradition along to the younger generations. Everyone from all walks of life must see this film. The thing about A Christmas Story is that it is very dated. But it started off that way. Though it was released in the 1980s, this film has a very 70s feel and at times a 50s feel. A Christmas Story has always felt like a film from another era, and that is precisely what will give it its staying power.
The film is a series of vignettes that all kind of go together. What ties them together is the Parker family. The main thread we follow is that of Ralphie Parker and his quest to get his Ryder Carbine Action 200-shot Range Model air rifle. Will he shoot his eye out, though? That's the real question. Additionally, there's Ralphie getting his mouth washed out with soap, the part with the lamp, the dogs and the turkey, the tongue on the flagpole, the "crummy commercial" and an epic fistfight. Hijinks and Christmas movies go hand in hand. We have A Christmas Story to thank for that! They started it.
Pros
Timeless in an Old Sort of Way
Funny
Good Characters
Memorable and Iconic Moments
Family Fun
 Cons
Score:
Originality: 8
Artistic Imagery: 7.5
Story: 8.5
Total: 8/10