Did you know that the best way to raise healthy eaters is to get them to participate in the kitchen? Indeed, at a very young age, you can raise your children on how to become healthy and mindful eaters through food preparation and cooking.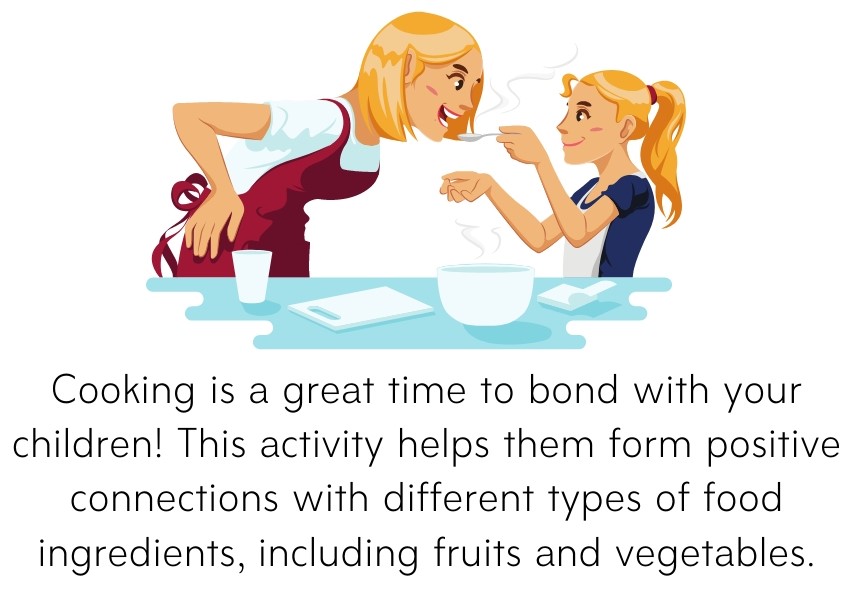 Cooking can be a great bonding time with your children and helps them form positive connections with different types of food ingredients, including fruits and vegetables.
If you're struggling to get your kid to eat their fruits and veggies, cooking with them is the answer. The earlier you engage your kids in the food preparation and cooking process, the more likely that they'll actively participate as they grow older.
The skills that your child can develop in the kitchen at an early age can help shape their well-being. Children are naturally curious and they learn by feeling, listening, smelling, tasting, and touching—which you can heighten through the kitchen experience!
Nurture Your Kid's Cooking Skills
If your kids dream of owning a restaurant showcasing their culinary expertise, encourage them to be good at it! Cooking with young children offers practical experience and nurtures essential skills such as measuring, following instructions, and reading comprehension. Other benefits include eye and hand coordination, knowledge in math and science, and improved motor skills.
Cooking at a young age is a critical step for each kid to reach their culinary endeavors! They'll learn about healthy food consumption and become world-renowned chefs in the future. A crucial thing to remember is to make it a fun and exciting activity for children. Show them the joys of cooking.
A good cookbook is a must, for starters, to get not only recipes but also kid-friendly culinary tips, tricks, and ideas. If you're unsure about the cookbook to buy for your little chef, don't fret! Our list introduces you to the five most affordable yet incredibly useful and information-filled cookbooks.
Amazon's price list fluctuates periodically; these cookbooks cost below $15 as of this publication.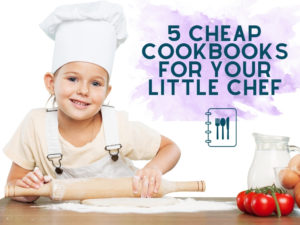 1. The Everything Kids Cookbook: 2nd Edition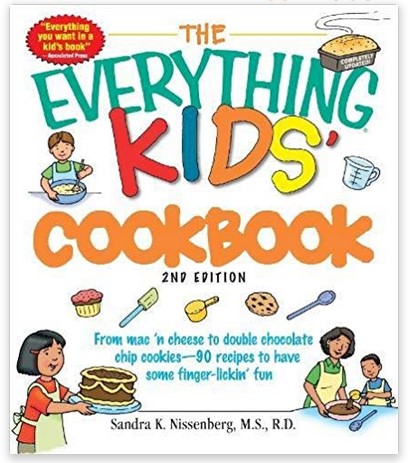 With a specialty in child nutrition, Sandra K. Nissenberg, MS., RD. published The Everything Kids Cookbook: 2nd Edition that provides a wide range of recipes for kids to get started in the kitchen. She has participated in several media events that focus on the significance of healthy eating for children.
This cookbook has over 90 recipes for every occasion and types of meals including tasty tacos, peanut butter & chocolate squares, Parmesan-flavored potato fries, and cheese-filled fish fillets!
Each recipe contains information on the level of difficulty to prepare the dish as well as provides extensive information on what cooking equipment is needed and what ingredients to buy. There is something for everyone in this cookbook! This book also contains trivia stuff and 30 food-themed brainteasers for added fun.
Parents will surely love this $9.99 book because it provides them all the information on what type of food is healthy for their kids. Aside from unique and easy-to-cook recipes, it comes with safety guidelines on what to do in the kitchen.
The majority of verified reviewers have bought this book for their children ages eight to ten years. It is proven to have concise and straightforward cooking instructions. The instructions and ingredients are easy which makes it easier for both children and parents to follow. This cookbook is suitable for children ages eight to twelve years old.
The Everything Kids' Cookbook 2nd Edition is available on Amazon!
2.

THE COMPLETE COOKBOOK FOR YOUNG CHEFS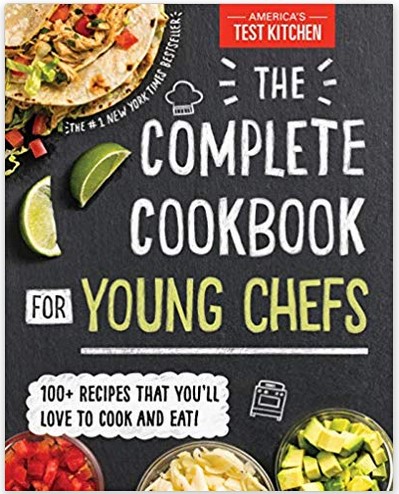 Awarded as a #1 New York Times Best Seller, the Complete Cookbook for Young Chefs by America's Test Kitchen is one of the best cookbooks for your little chefs, ranging from seven to twelve years old! America's Test Kitchen is the U.S.'s most authoritative resource for trustworthy and kitchen-experimented recipes and cooking guidelines.
The author values practicality, curiosity, and integrity. Thus, making it one of the most reliable cookbooks to start with for your kids in the kitchen. The complete cookbook contains 100+ recipes that will have something for everybody. From baking cupcakes to surprise the whole family with breakfast tacos, or even a quick snack, this cookbook is a one-stop-shop for your kid's culinary needs.
Ranging from breakfast, snacks and beverages, desserts, and everything in between, the recipes found in this cookbook have been thoroughly tested by more than 750 children. As a result, they have come up with different cooking strategies that are just right for different cooking skills.
For only $11.85, America's Test Kitchen's Complete Cookbook for Young Chefs contains step-by-step pictures of cooking techniques and tips that will make cooking more fun and livelier in the kitchen.
Also, the cookbook has some product reviews and testimonials from kid test chefs who worked together with America's Test Kitchen professionals. This is to motivate young chefs that they are learning only the best cooking skills from the best cooks around the country.
Excellent cookbook for YOUR young chef! The 'Zon has it!
3.

KID CHEF JUNIOR: MY FIRST KIDS' COOKBOOK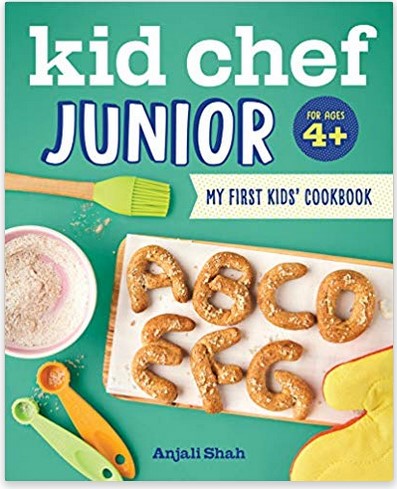 Featured on Oprah.com, Kid Chef Junior: My First Kids' Cookbook's Author, Anjali Shah, is a food writer and famous author of "Super Easy Baby Food Cookbook." In this kids' cookbook, children are guided to develop their culinary knowledge as they create healthy, kid-approved meals.
It is recommended for children ages four to eight years and provides them with essential cooking confidence and skills. In her book, she teaches young kids to cook on the stove, bake, whisk, chop, cut ingredients, and another how-to in the kitchen setting.
The different recipes found in this $10.99 cookbook are categorized according to the level of difficulty, from easy to medium to hard.
Kid Chef Junior: My First Kids' Cookbook has photos of each recipe that helps young children figure out what to cook and enables them to have an overview of how great their creations will result. It contains Cooking 101, with age-appropriate cooking guidance and techniques as well as safety guidelines in the kitchen.
Also, this cookbook has 25 creative and fun recipes for healthy snacks, breakfasts, desserts, and family dinners. According to the majority of verified buyers, the cooking instructions were clear and concise and written in a kid-friendly tone.
Kid Chef Junior is for sale on Amazon.com and is a great first cookbook for your child!
4.

KID CHEF EVERY DAY: THE EASY COOKBOOK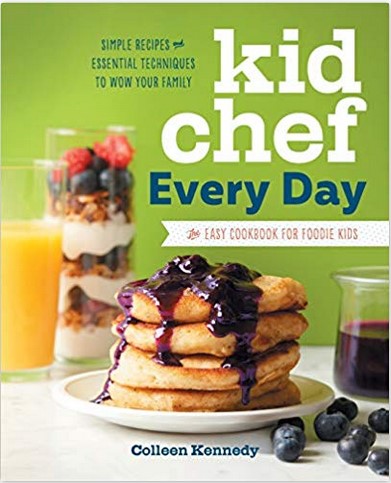 Are you looking for the perfect gifts for your child who loves cooking? Or do you want to have your child actively engage in the kitchen at an early age? Kid Chef Every Day: The Easy Cookbook is one of the best introductions to initial childhood cooking!
This cookbook molds budding chefs to develop their cooking skills daily with quick and easy recipes and simple techniques to build confidence for your children in the kitchen setting. It is suitable for children ranging from eight to twelve years of age.
For only $13.67, Kid Chef Every Day: The Easy Cookbook starts with hands-on recipe guidelines for young cooks to develop grown-up cooking strategies. From slicing to sautéing, this cookbook provides an essential introduction to different cooking skills to learn in the kitchen.
It gives children the inspiration they need to work their way around the kitchen and proudly make their creations any day of the week. The kids' cookbook contains more than 65 simple recipes ranging from breakfast, lunch, dinner, and desserts. It has cooking lessons that provide children with essential kitchen skills, vocabulary, and techniques.
The cookbook also comes with several tips and tricks to take your kid's culinary skills to the next level, including swapping ingredients.
Interested in the Kid Chef Every Day: The Easy Cookbook? Of course you are! Click away!
5.

THE COOKBOOK FOR KIDS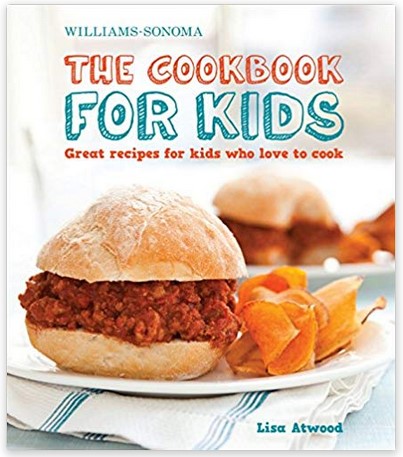 Packed with compelling and straightforward recipes for parents and young children, The Cookbook for Kids is one of the best kid-friendly cookbooks that make cooking fun and memorable!
This cookbook has more than 60 delicious recipes for simple treats such as nachos, cookies, crepes, and even fish tacos. It has visually-pleasing pictures and colorful illustrations of food that makes cooking even more fun in the kitchen.
Both parents and children will admire the colorful illustrations of each recipe and some fun facts that add the extra fun and simulation in the kitchen.
This $12.50 cookbook illustrates simple and yummy recipes that encourage children to be creative in the kitchen. Also, it contains information on the basics of healthy eating as well as providing children with the essential skills they can utilize for the rest of their lives.
It's a good cookbook that offers an introduction to cooking since the recipes are simple and don't include hard-to-find ingredients.
Simply put, The Cookbook for Kids is a steal at $12.50 on Amazon.com!