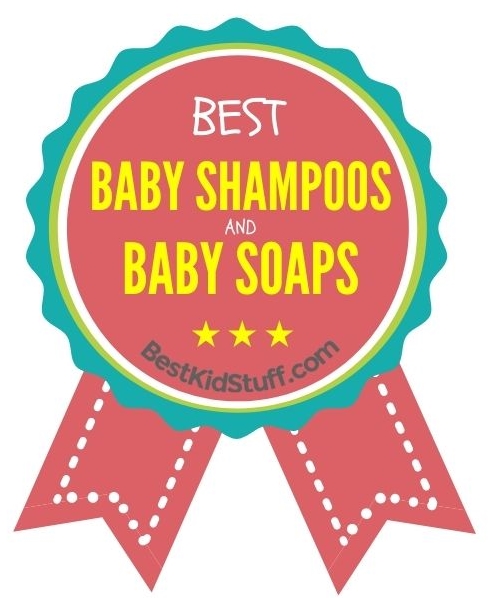 A parent's commitment to giving their kids the very best extends to buying shampoo and soap for their newborn! Babies have the most delicate skin, so you must be more careful when choosing these products.
Some babies may even have more sensitive skin than others, and they may be prone to skin issues such as eczema and rashes. You need to use baby shampoo and soap that do not contain harsh chemicals to protect them. And check the label, always!
Our Ranking Methodology
You have limitless options in the market when it comes to buying baby soap and shampoo. But the rule of thumb is to do your research and listen to what other parents are saying! And, that is exactly what we did! We considered these factors in putting together the 10 best products on our list:
Safety first! The "safe-for-babies" label on the soap or shampoo is often a good sign. We dug deeper by ensuring they come from reputable manufacturers and underwent clinical trials, or are recommended by pediatricians or doctors.
Ingredients matter. Parents must be aware of what the baby soap, shampoo or wash is made of. Generally, these ingredients are a no-no: parabens, phthalates, formaldehyde, fragrance, dyes, sulfates, and alcohol. Many experts also recommend plant-based ingredients as it is more friendly to sensitive skin. And in many cases, less is more.
Gentle all the way! Perhaps a keyword that no parent should neglect when buying soap and shampoo for their baby is "gentle." That said, it is important to understand your baby's skin allergies and sensitivity levels.
Fragrance isn't a priority. Nothing is as magical as a sweet-smelling baby after a relaxing bath! But fragrance isn't the main concern when it comes to these teeny-tiny humans. We chose top-rated, stellar-reviewed products from trusted companies.
See the 10 best baby shampoo and soap products that will not only keep your baby smelling sweet but also ensure their skin is safe. We also recommend that you ask your pediatrician for advice if you're unsure!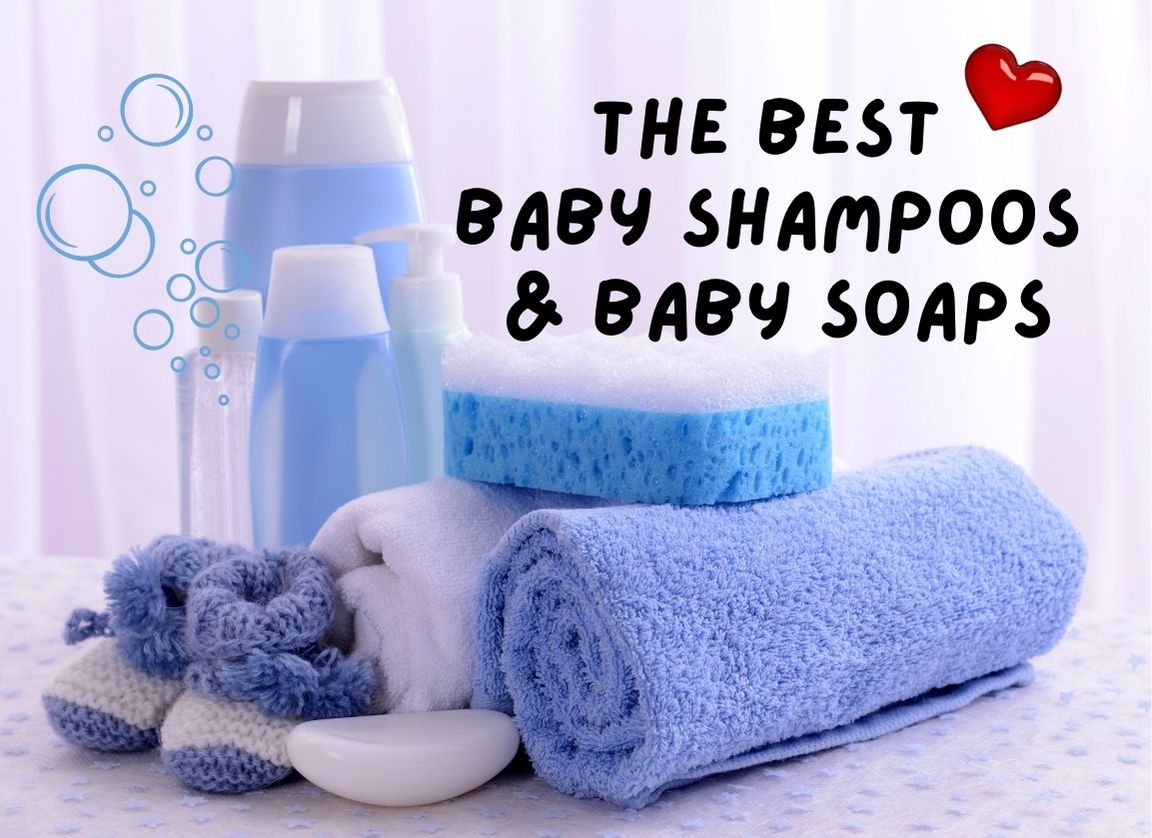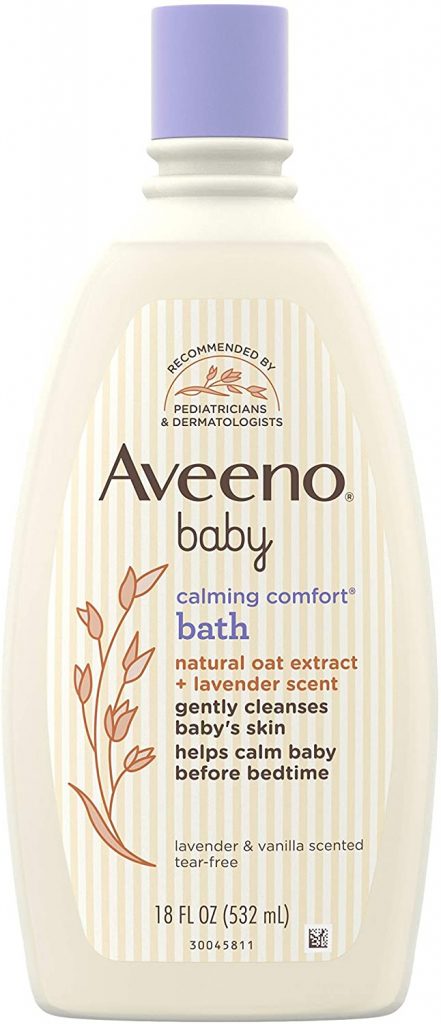 Made with hypoallergenic and tear-free formula, Aveeno Baby Calming Comfort Bath is a soothing choice for your little one. It is highly recommended for sensitive skin. The soap-free bath and wash contain natural oil extract to help babies calm down before bedtime.
Moms often use this with a warm bath when babies become fussy, allowing them to relax and sleep peacefully. It is also known to cleanse a baby's delicate skin without drying. Hence it can be used every day either as a hair and body cleanser or a calming bath before sleep.
This comfort bath also ticks off all the harmful ingredients from the list. It does not contain paraben, phthalate, steroid, and soap. The nourishing formula from the oat flour can moisturize and soothe dry and itchy skin. It also comes in the mild scents of lavender and vanilla, which can be perfect if you want your baby to stay sweet-smelling throughout the night.
---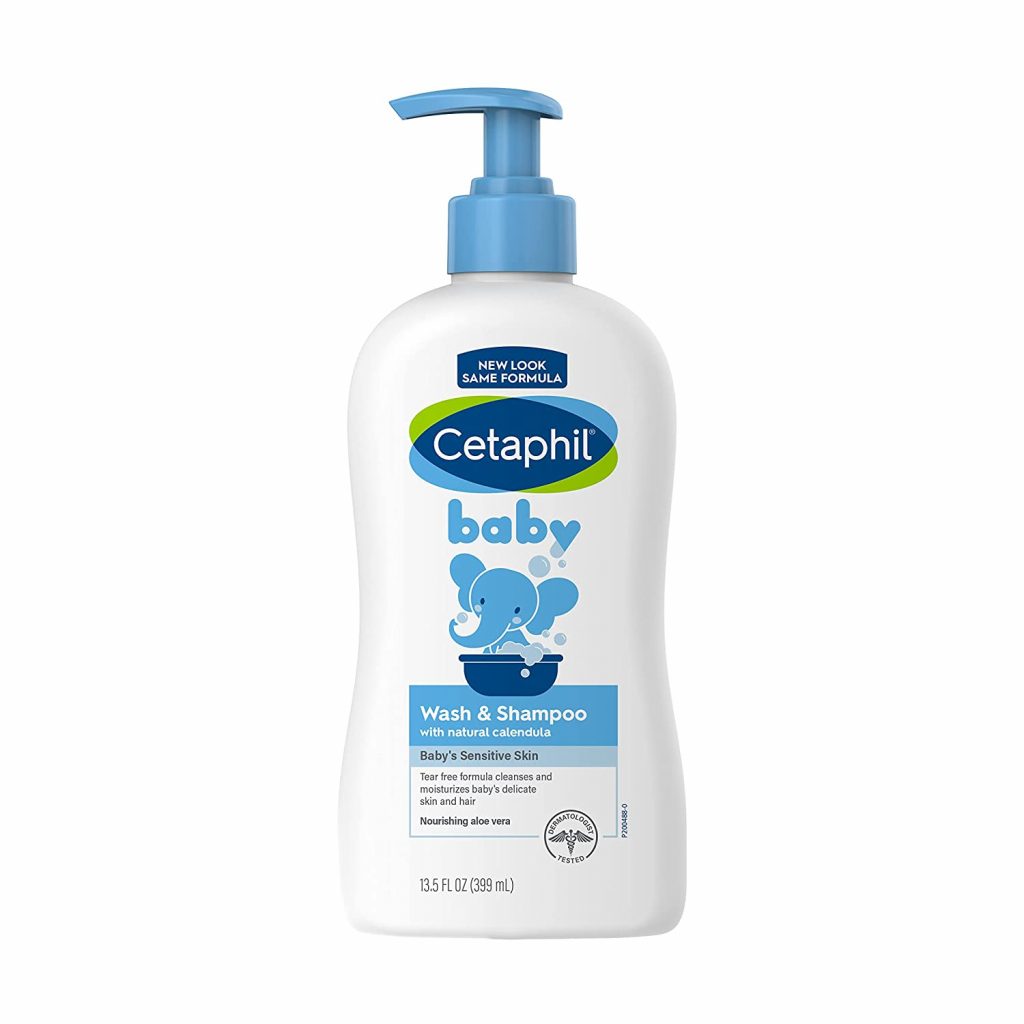 From dermatologist-recommended brand Cetaphil comes the Baby Wash & Shampoo with Organic Calendula, an ideal choice for babies with sensitive skin. This 2-in-1 wash and shampoo have a tear-free formula that produces a rich lather to gently cleanse your baby's skin and leave their hair soft and clean.
Its moisturizing properties ensure that your baby's delicate skin can be cleansed without drying and retain moisture throughout the day. Made with calendula from the marigold flower, aloe Vera, and vitamins E and B5, this baby wash and shampoo formula soothes, moisturizes, and softens the skin while leaving it with a fresh scent.
Cetaphil Baby Wash & Shampoo with Organic Calendula is tested to be safe for babies with dry and sensitive skin. Hypoallergenic and free from parabens, colorants, and mineral oil, this baby wash and shampoo in one promises to never irritate your baby's skin.
---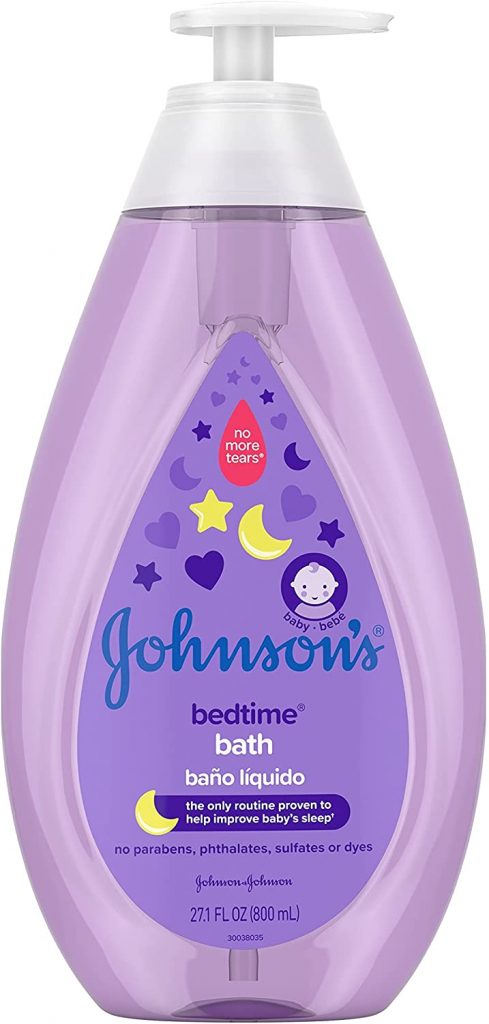 Are you looking for the perfect bedtime bath for your little one? Johnson's Bedtime Baby Bath with Soothing NaturalCalm Aromas is a 2-in-1 formula that can cleanse your baby's skin, leaving it soft and smooth.
The calming aromatic blend of this bath can soothe your baby during bath time, allowing them to enjoy a more restful sleep. It is formulated to help babies sleep better and longer with its NaturalCalm aroma, from lily of the valley and jasmine blossom to pink rose petals and juicy apricot.
When used, this bath creates a foaming lather that gently cleanses the skin without making it dry. The product is liquid without the usual suspect harsh chemicals such as parabens, phthalates, sulfates, and dyes. It has a tear-free formula that ensures it will be gentle on the eyes.
Compared to other baby baths, this one is considerably cheaper. The product is most suitable for babies and toddlers ages 7 to 36 months.

Created as a 2-in- formula, The Honest Company Truly Calming Lavender Shampoo + Body Wash makes your life as a parent easier! It can both be used to cleanse your baby's skin and hair, allowing every bathing routine to be a breeze.
Not only does it cleanse and soother your baby's skin and hair without ever leaving it dry. It is also known to contain a rich formula that gives your baby's skin added nourishment. The tear-free shampoo and body wash are gentle enough to use daily.
The naturally derived ingredients allow for a thick creamy lather that leaves your baby's skin moisturized and healthy-looking. The product was created without synthetic fragrances, parabens, dyes, phthalates, and formaldehyde, making it suitable for parents who want to avoid harsh chemicals of concern. You can be sure that your baby will be cleansed from head to toe, leaving skin soft, smooth, and protected.
---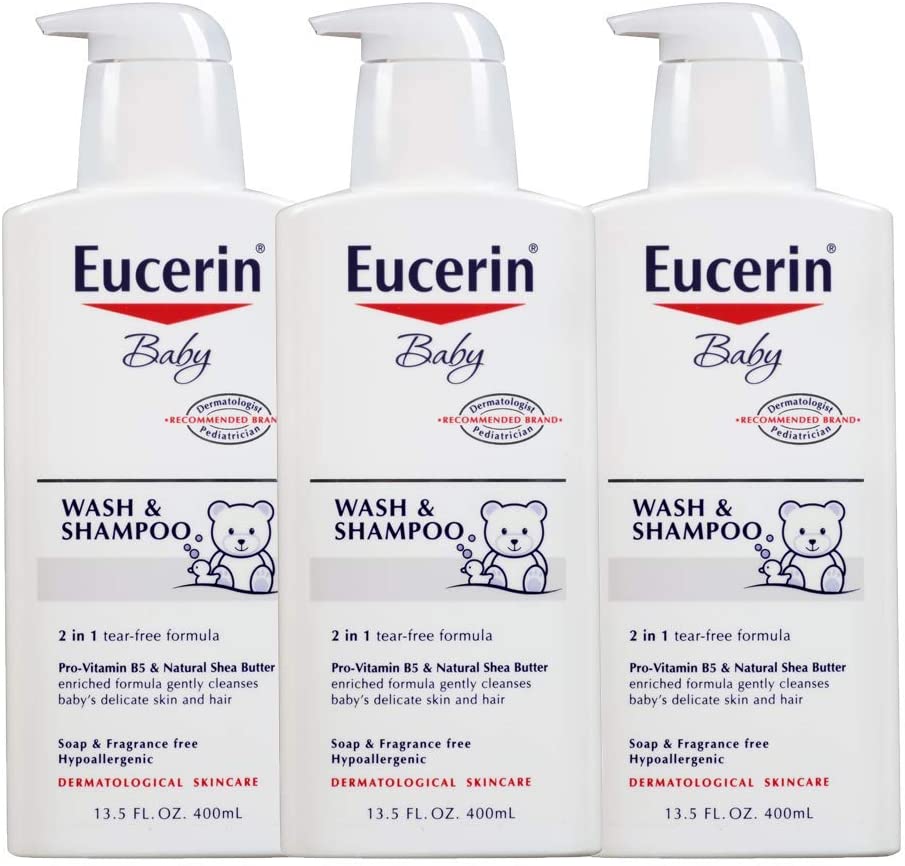 Designed to soothe sensitive skin, Eucerin Baby Wash & Shampoo has a tear-free formula that can both be used on a baby's skin and hair for gentle cleansing. It is made with natural Shea Butter enriched with pro-vitamin B5 that can nourish babies' delicate skin and hair.
Its hypoallergenic properties, along with the absence of harsh ingredients like soap, fragrances, drying alcohols, and dyes, meaning that it can clean your baby's skin without leaving it parched and irritated.
Since it is fragrance-free, this body wash and shampoo formula works wonders for babies with especially sensitive skin. As attested by many online reviews, skin issues like rashes and eczema can be soothed with Eucerin Baby Wash & Shampoo.
---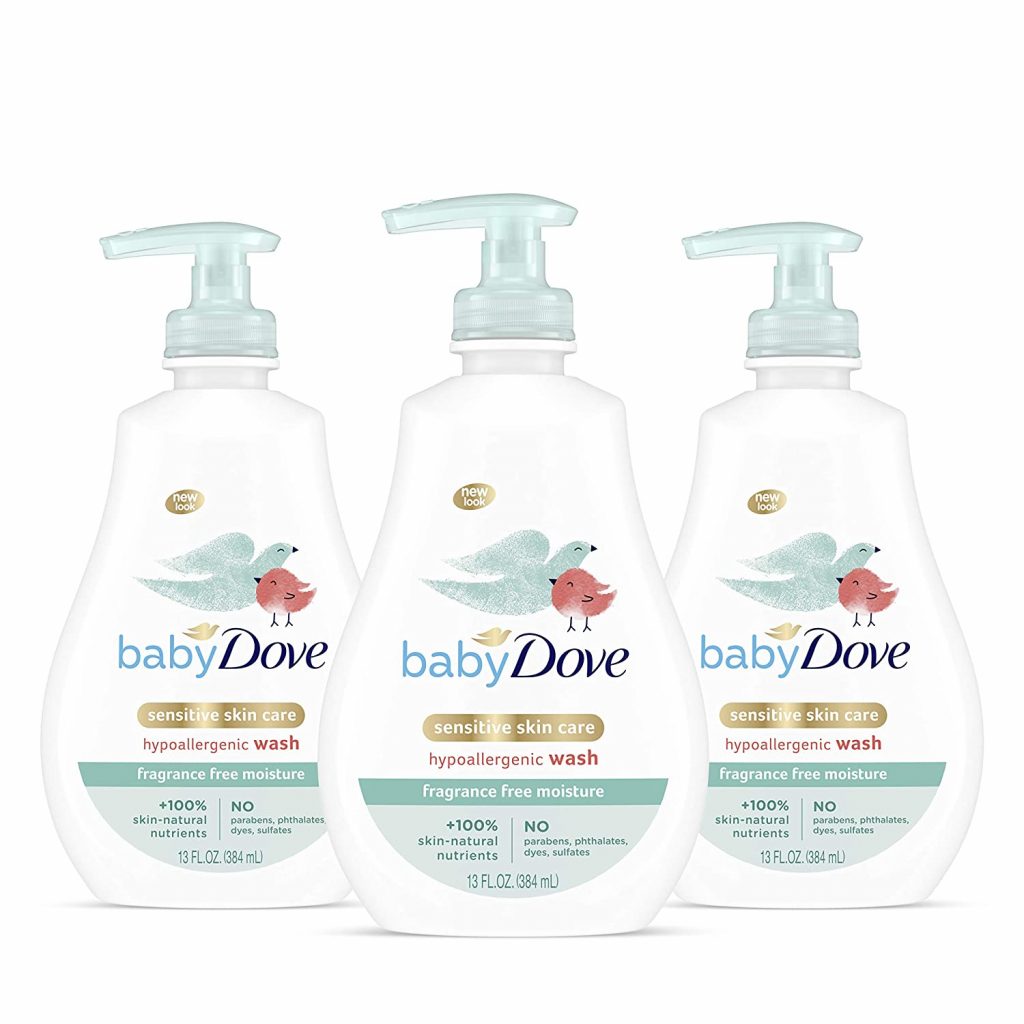 Babies with sensitive skin will greatly benefit from Baby Dove Tip to Toe Baby Body Wash. Formulated with gentle properties, this baby wash can cleanse and nourish your baby's delicate skin to leave it softer and smoother. Fragrance-free and hypoallergenic, this tear-free baby formula forms a rich, creamy lather that does not dry and irritates the skin.
Made with 200% skin-natural nutrients, this body wash allows your baby's skin to retain moisture while leaving it clean and sweet-smelling. Pediatricians often recommend it for babies with skin conditions because of its gentle formula created without harsh ingredients like dyes, parabens, and phthalates. It is perfect for newborns and developing baby skin.
Plus, the product can be used as an effective hand wash that can wash away dirt and germs. Even better, the baby wash comes in 100% recycled plastic which helps reduce plastic waste. It is an excellent choice for parents who are environment-conscious.
---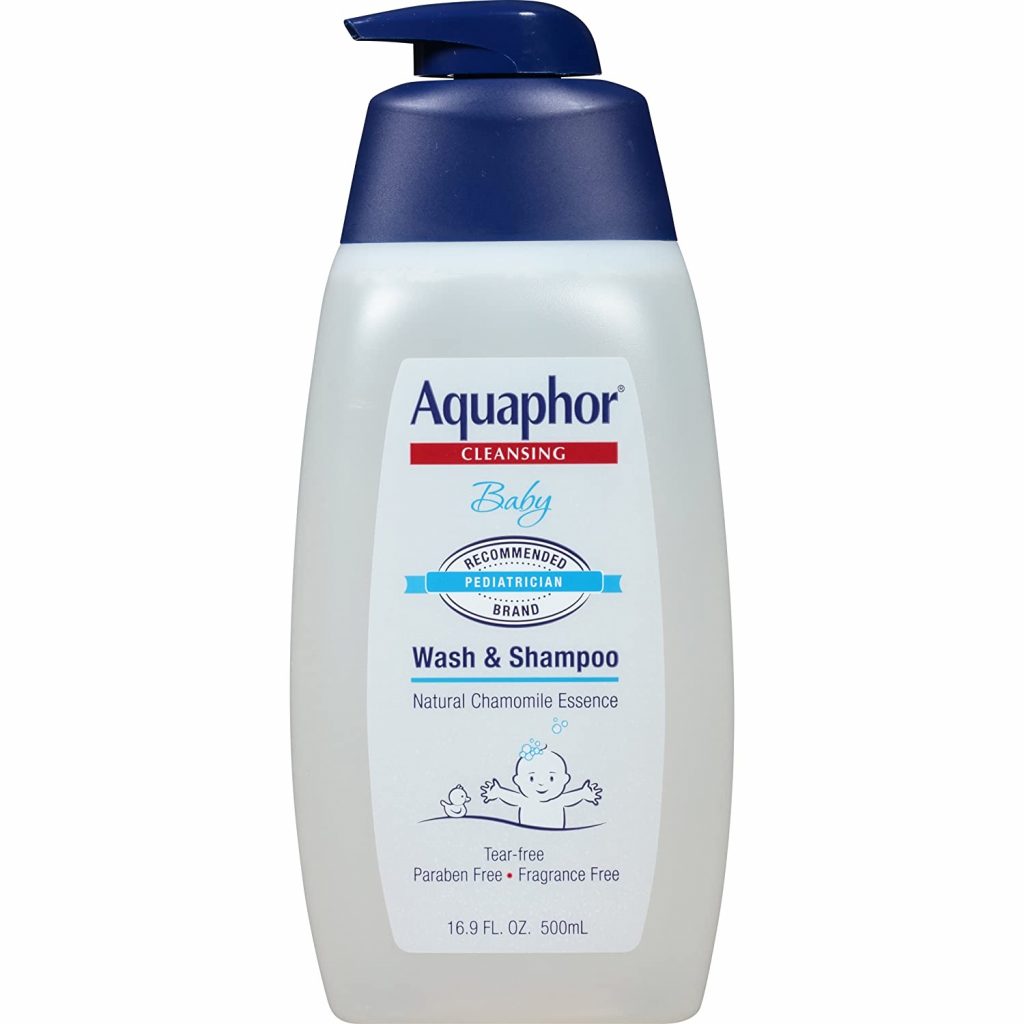 Do you want to sweeten your baby's bath time? Aquaphor Baby Wash and Shampoo comes with a pump dispenser that allows convenient one-handed use. With its clinically proven, gentle ingredients, this 2-in-1 solution is formulated to give your baby's skin and scalp the pampering it deserves.
It is made with chamomile essence combined with pro-vitamin B5 that can soothe and cleanse your baby's hair and skin without drying and irritating. Plus, it comes with a tear-free formula that parents will love.
The wash and shampoo formula is hypoallergenic and free from suspect chemicals such as parabens, dyes, and fragrances. The latter's absence makes it an ideal choice for those with dry, sensitive, and irritated skin. The clear gel consistency of this product means that it only forms a mild lather that can be easily rinsed.

Made from natural ingredients, Burt's Bees Baby Shampoo & Wash gently cleanses and softens babies' delicate, sensitive skin. Its mild and tear-free formula can ease parents' worry during bath time, making the routine so much easier and fuss-free.
This bath essential is made without harmful chemicals such as parabens and phthalates. It can be safe and effective for everyday use. It is also hypoallergenic.
The natural cleansing properties of soy proteins infused with aloe, vitamin E, and shea butter ensure your baby's skin is clean, soft, and nourished. Babies can feel good after every wash with its fresh, clean scent. The packaging is designed as a pump for your convenience. This product is also a great choice as a baby shower gift or a new baby gift set.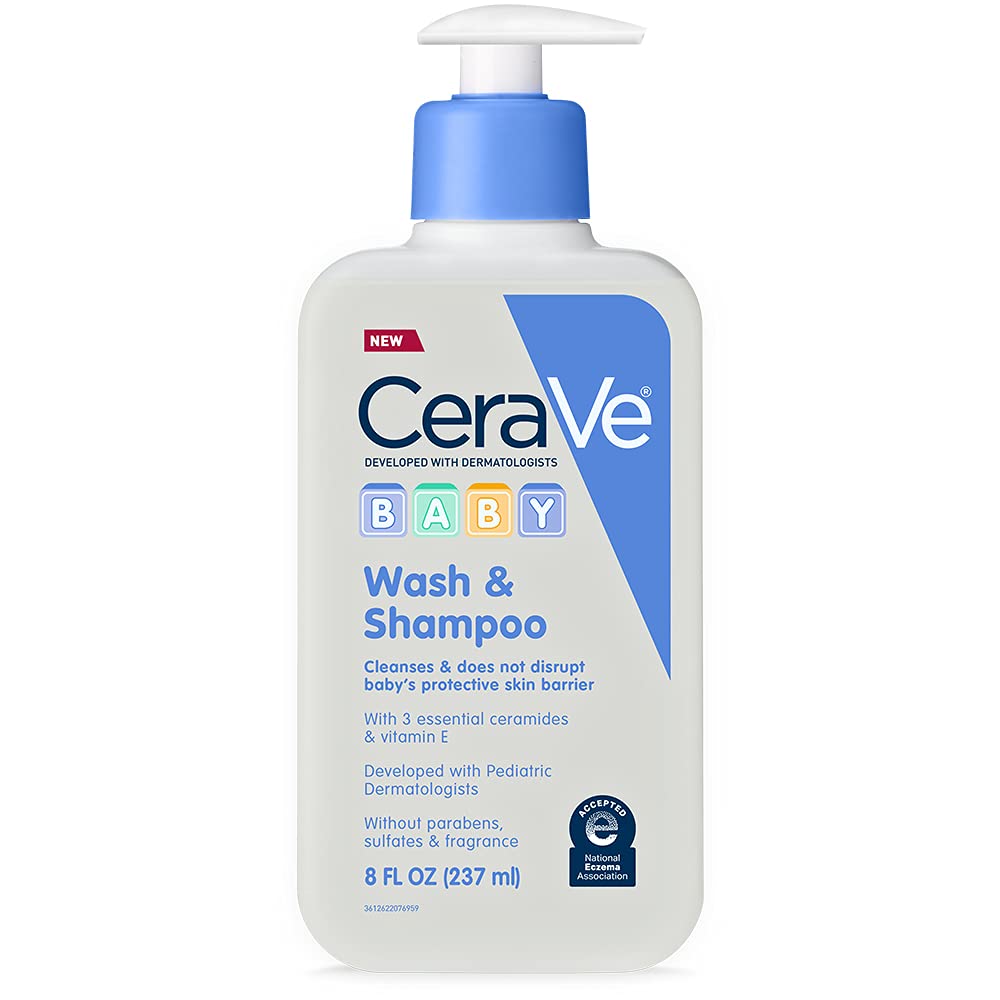 Want a tear-free, fuss-free bath time? Look no further than CeraVe Baby Wash & Shampoo. The 2-in-1 formula would make every bathing routine faster and easier, as it doubles as both a body wash and shampoo.
This product is formulated with three essential ceramides and further enriched by vitamin E and hyaluronic acid, which can cleanse your little one's skin without disrupting their skin barrier. Not only does it leave your child's skin clean, but it can also restore and maintain their skin's moisture to leave it soft, smooth, and healthy-looking.
Recommended for daily use, this baby wash & shampoo formula forms a mild form that you can lather into your baby's skin without leaving a residue. This product has earned a seal of acceptance from the National Eczema Association, making it a primary choice for babies, toddlers, and children with eczema-prone skin.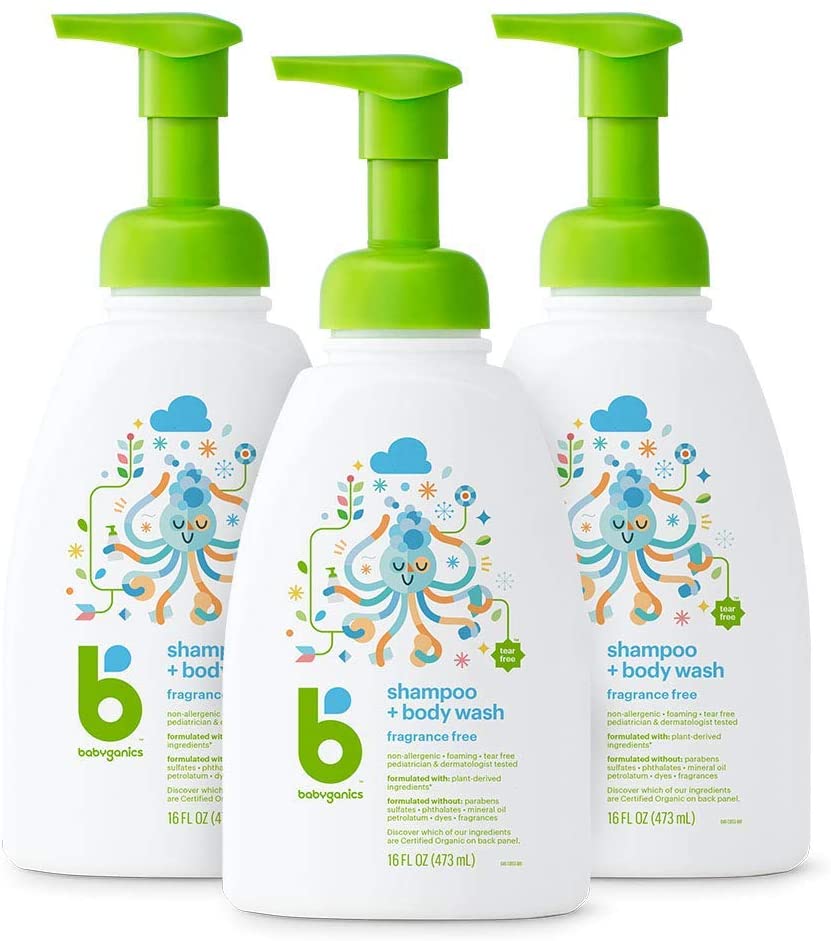 Babyganics Baby Shampoo + Body Wash is distinguished by its NeoNourish seed oil formula blended with raspberry seed oil, tomato, cranberry, sunflower, and black cumin. These plant-derived and organic ingredients mean that your baby's skin can be gently cleansed and nourished. The formula is safe for the eyes and gentle on the skin. It can be used daily from head to toe.
Its gentle, non-irritating formula makes this a suitable choice for your baby's delicate and sensitive skin. Plus, it is made without the usual problematic ingredients like sulfates, parabens, phthalates, dyes, and synthetic fragrances.
You can also rest easy as this foaming formula is non-allergenic and tear-free. The pump design of the packaging is an added convenience for faster, fuss-free bath times.