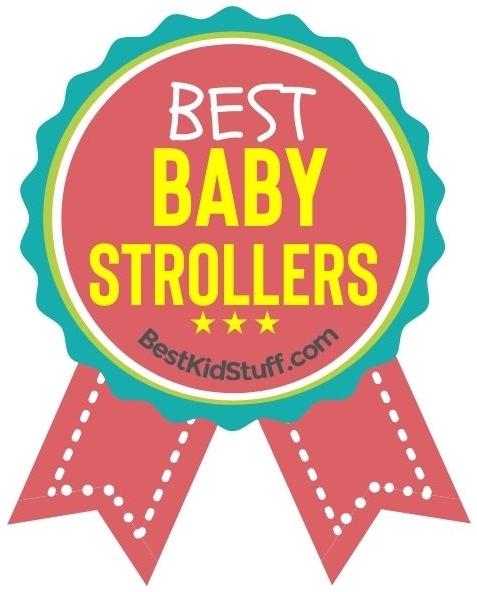 Don't parents always want the best for their babies? The fragile little humans that they are, your infant or toddler should have the best stroller to keep them safe when they are out and about with you! This is where choosing a stroller requires serious considerations. Ultimately, a stroller that is comfortable and functional enough for the baby and spells ease and convenience for you is the way to go!
Not all baby strollers are the same! They are designed for a specific age range. Many are designed to suit your lifestyle. An active parent, for example, would certainly want a stroller that allows them to be on the go. Strollers may come with multiple functions and even include a removable car seat. Many are compact and foldable, making them the ideal choice for traveling.
Ranking Methodology
Remember that there is a stroller for every need and budget—but the right one makes a huge difference in the life of a new parent! Here are top questions that were asked—and answered—to come up with our list of excellent products:
Is the stroller made of the most durable material with safety features written all over it? Remember that more than anything, your baby's comfort in sitting or snoozing is your priority for buying this baby product. The wheels must not feel flimsy or prone to breaking. The canopy, umbrella, or visor must be adjustable enough to protect your baby in any weather.
Does it provide extra space for stashing baby essentials? A stroller that makes space for diapers, wipes, pacifiers, a change of clothes, and everything else is a life-saver!
Is it lightweight enough and easy to store? Convenience is important to you, too, so you can focus on your baby's comfort and security. A bulky baby stroller may imply sturdiness and be spacious enough for everything you need, but for that quick trip to your baby's doctor or sudden need to go outside with your little one in tow, a convenient product works best.
Is it easy to clean or wash? Babies can make a mess, so picking a stroller with an easy-to-wash, durable fabric makes sense.
Does it have extra features? Is it a high-function model? The basic stroller is ideal for occasional use and suits most parents' budgets, but advanced models may be worth the investment—depending on your need and preference.
Will your next baby (or someone else's) possibly be able to use it? Smart first-time parents usually think ahead, and they know hand-me-down baby products like a good old stroller won't hurt. Buying a baby stroller known for its longevity will save you money in that respect!
Check out our ten best finds that you can conveniently purchase on Amazon: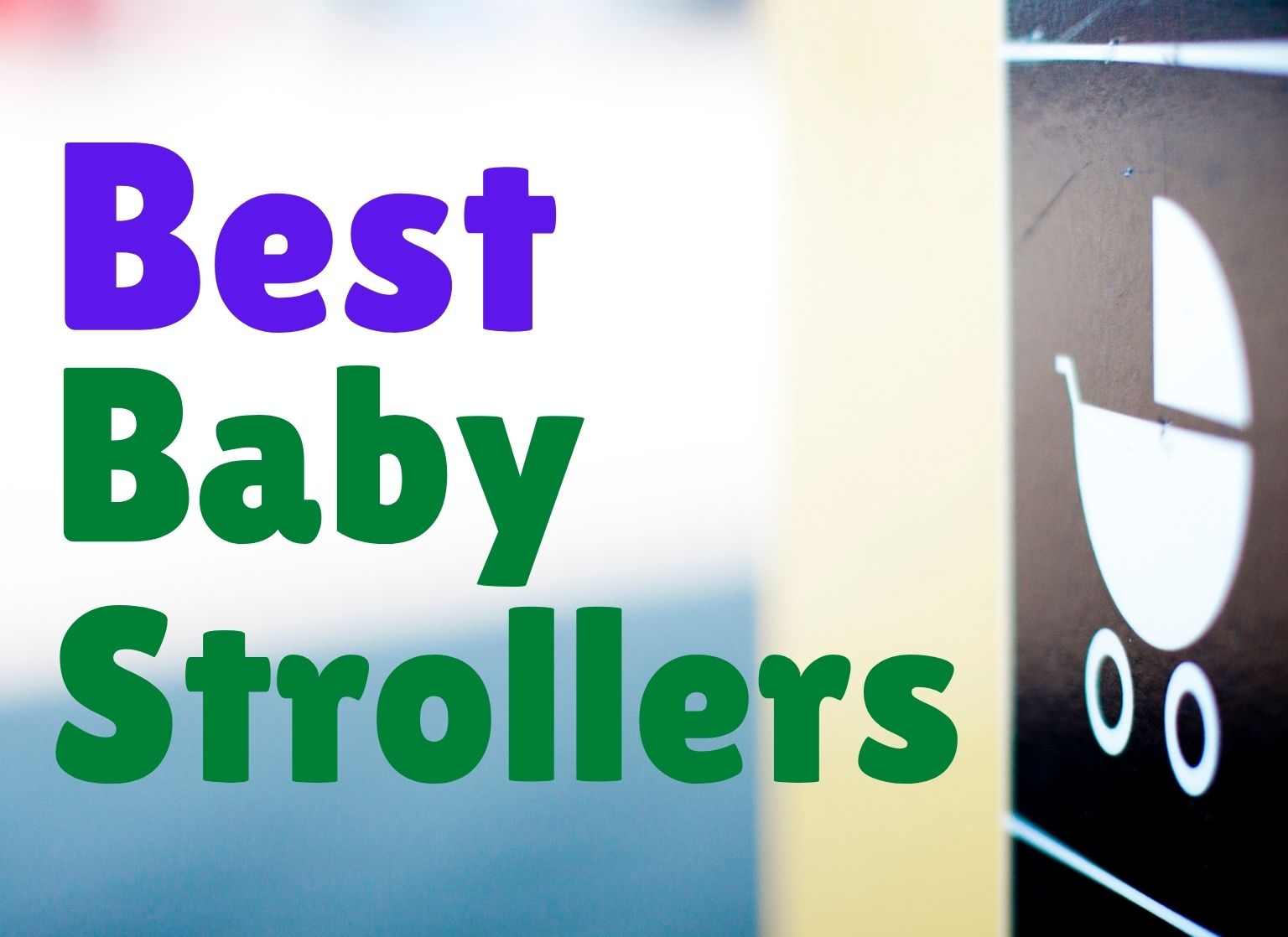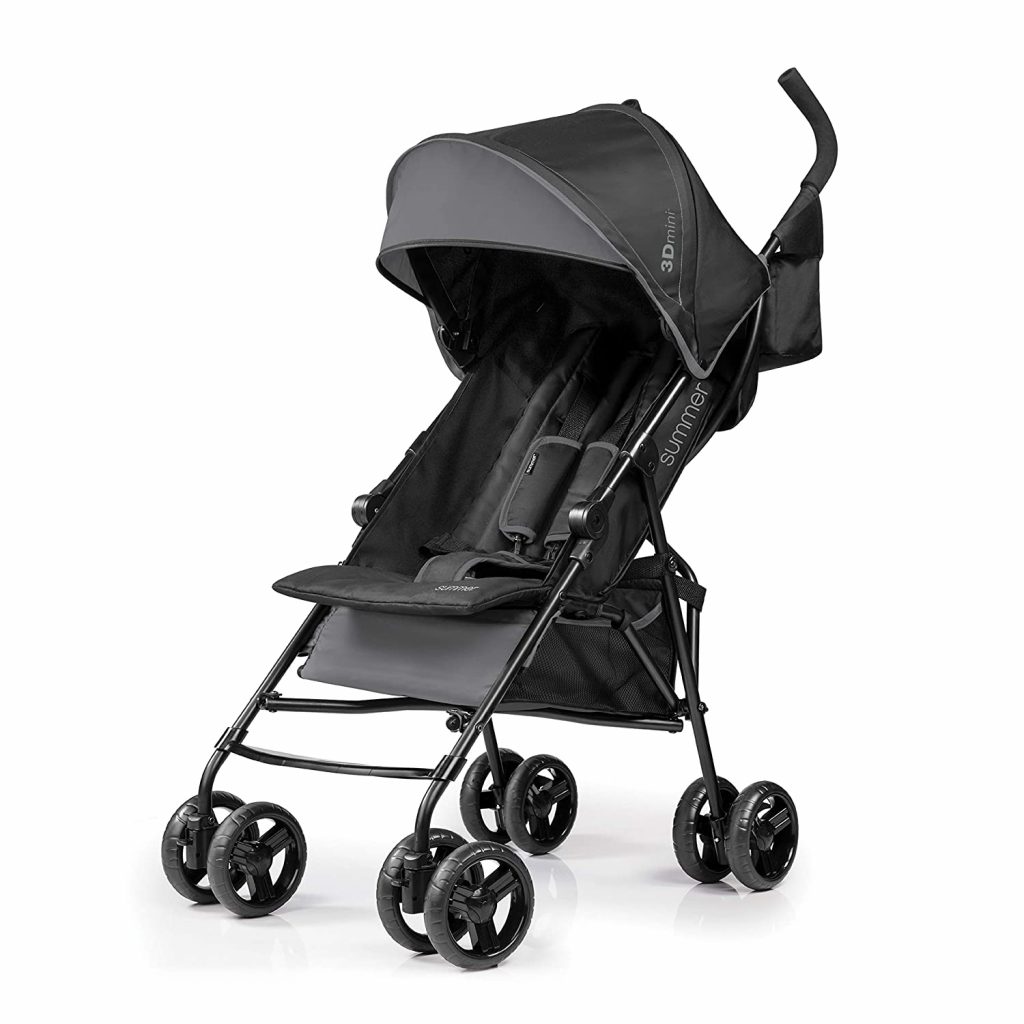 Parents looking for a lightweight, compact stroller will find Summer Infant's 3D Mini Convenience Stroller an ideal choice. Made of a durable aluminum frame that only weighs around 11 pounds, this stroller comes with a full-sized seat, auto-lock and anti-shock front wheels, and lockable rear wheels. It is designed for easy travel, making outings with your little one a pleasant experience.
You will love the multi-purpose recline function along with its padded seat back and safety harness – all of which can keep your kid feeling comfortable during naptime strolls and even rigorous travels. There is a hassle-free canopy and sun visor for sunny days. Toddlers weighing a maximum of 45 pounds can use this stroller. Its compact design means that you can conveniently fold it for storage or bring it with you on the go. If you are going out and bringing some essentials with you, the stroller's storage space is all you need to keep your important stuff. You will find a storage basket, cup holders, and a rear storage pocket that will suit your needs.
The stroller might be lightweight and compact, but it is quite long-lasting. It also looks stylish and perfect for leisurely strolls and special outings.
2) Kolcraft Company Travel Baby Stroller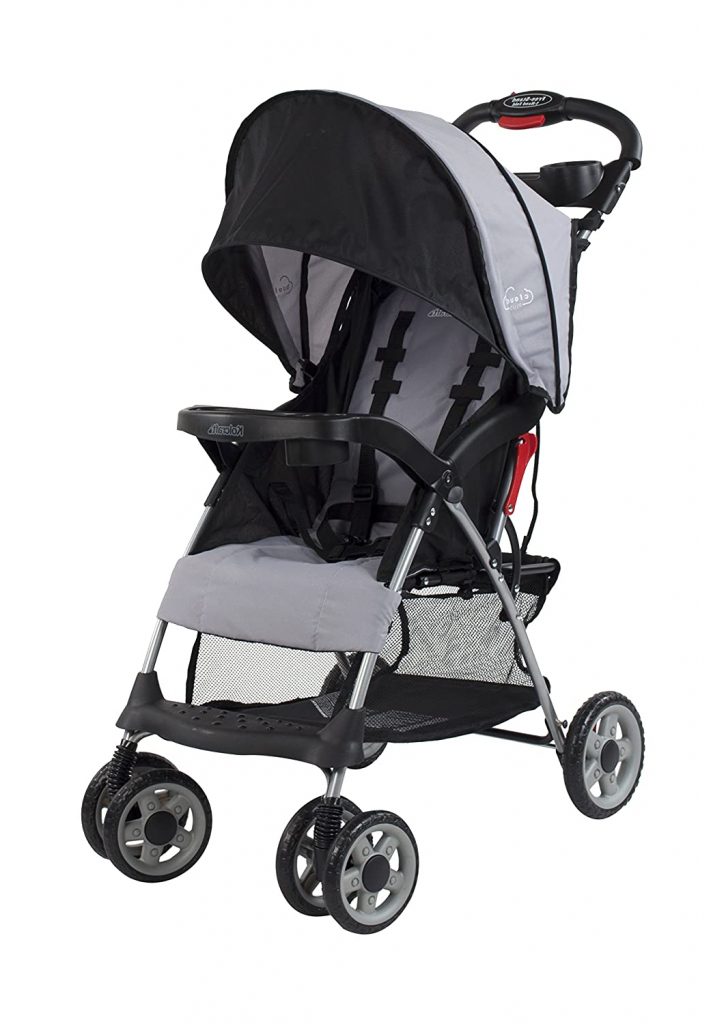 Another baby stroller suitable for moms who are always on the go comes in Kolcraft Company's Travel Baby Stroller. Its lightweight, travel-friendly design makes it the best choice for parents who often go out to run errands. It features an extended canopy that allows maximum UV protection. To help you keep your eye on your child, there is a peek-a-boo window that you can easily access.
The stroller is suitable for all terrains, with its handy wheels and front suspension that make for a smooth ride. It is easy to steer with one hand in whichever way you need to go. A reclining seat offers a safety restraint system, allowing them to sit comfortably and securely.
There is a handy storage space at the bottom where you can throw in some stuff you need for your strolls. Convenient trays that can hold drinks for both parents and children are included. The stroller's one-hand fold design highlights convenient for travels and vacations.
3) Blahoo Baby Stroller for Newborn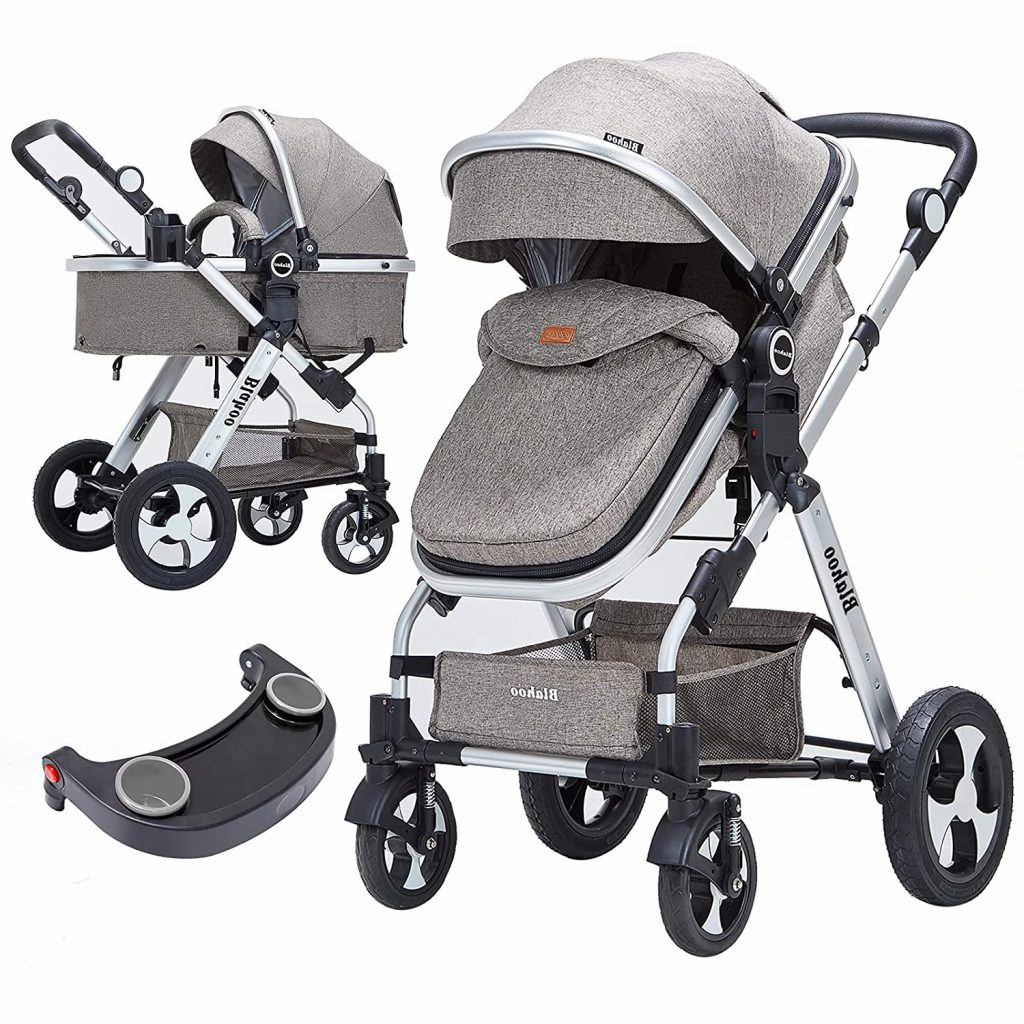 The Blahoo Baby Stroller is lightweight but stable with an aluminum frame and eco-friendly fabric. It is easily adjustable to various positions to keep your baby comfortable. It has durable wheels that make for a smooth ride because of its car-like quality. Designed with your little angel's safety in mind, this stroller will keep your little one secure with anti-shock springs in the front wheels and rear rubber wheels made to ensure a smooth glide on any terrain.
This baby stroller can be easily converted into a toddler stroller by adjusting the sleeping bassinet into a seat position, allowing the toddler to sit upright or in a semi-recline position. The stroller's adjustable handlebar can easily accommodate different heights. Talk about multi-functionality!
Most suitable for kids ages 0 to 3 years old, the stroller comes in two colors – coffee and blue. You can get free accessories such as the mosquito net, baby seat cushion, safety belt, foot cover, and dining tray when you purchase one. The stroller is covered by the one-month return/money-back guarantee, which allows you to return the product if you are not satisfied.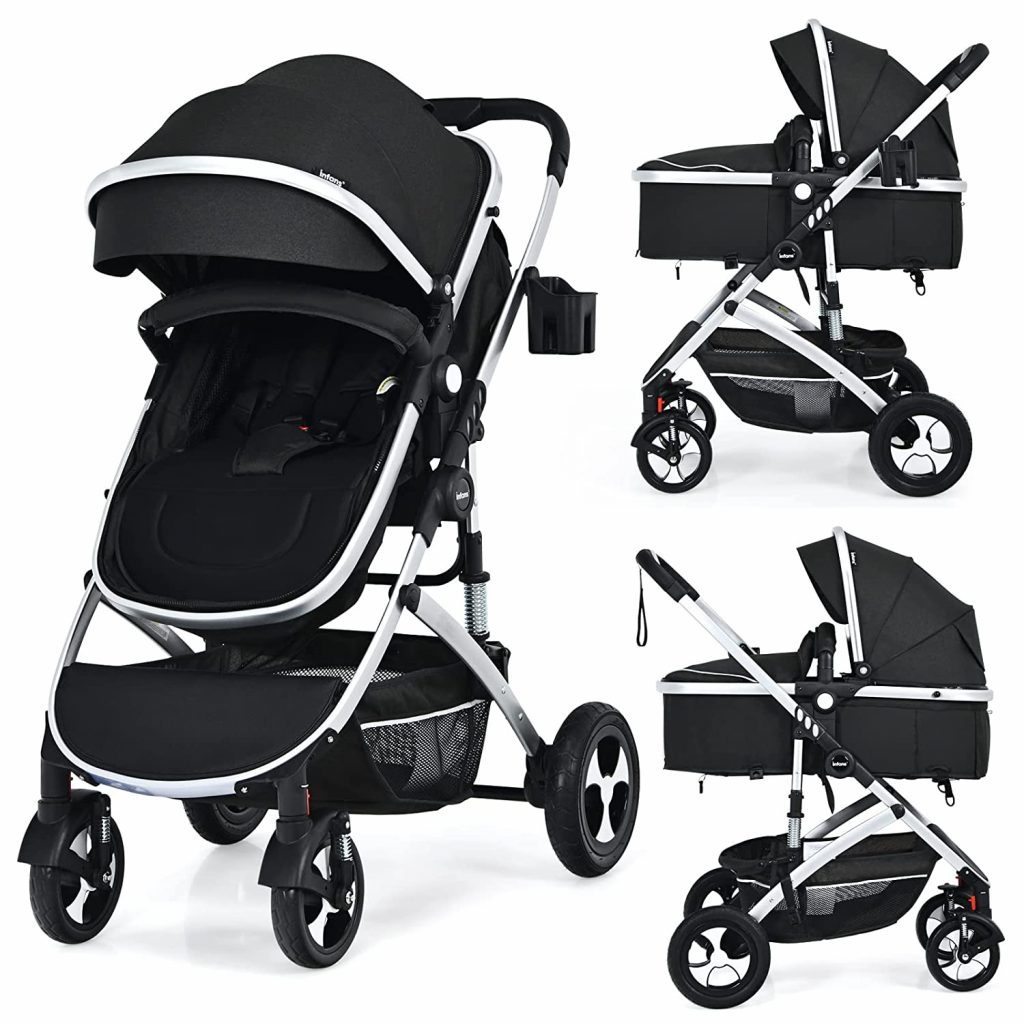 Committed to creating innovative products, from INFANS comes a convertible baby stroller in a 2-in-1 design to meet your different needs. INFANS 2-in-1 High Landscape Baby Stroller features an adjustable backrest and 3D solid suspension frame. It has durable wheels designed to absorb shocks and protect the baby during strolls in different terrains. The front wheels can be adjusted to rotate 360 degrees or locked in one direction.
The stroller features two functions in one design. One is the adaptable sleeping cradle that can be adjusted to different positions. It is possible to adjust the stroller so the baby can enjoy the scenery or have it face you so you can keep a watchful eye on them. The canopy can be adjusted depending on the current weather condition. It comes with a sun visor to protect your baby from harmful UV radiation. You can also use the foot cover for wind protection during winter and remove it during the summer season. The backrest can be modified to meet the baby's needs, whether sleeping, half-reclining, or sitting upright.
Other features include cup holders, baby cushion, mosquito net, storage bag, basket storage, and a 5-point safety belt. The stroller is made for infants and toddlers within the 36-month age range.
5) Baby Joy Baby Stroller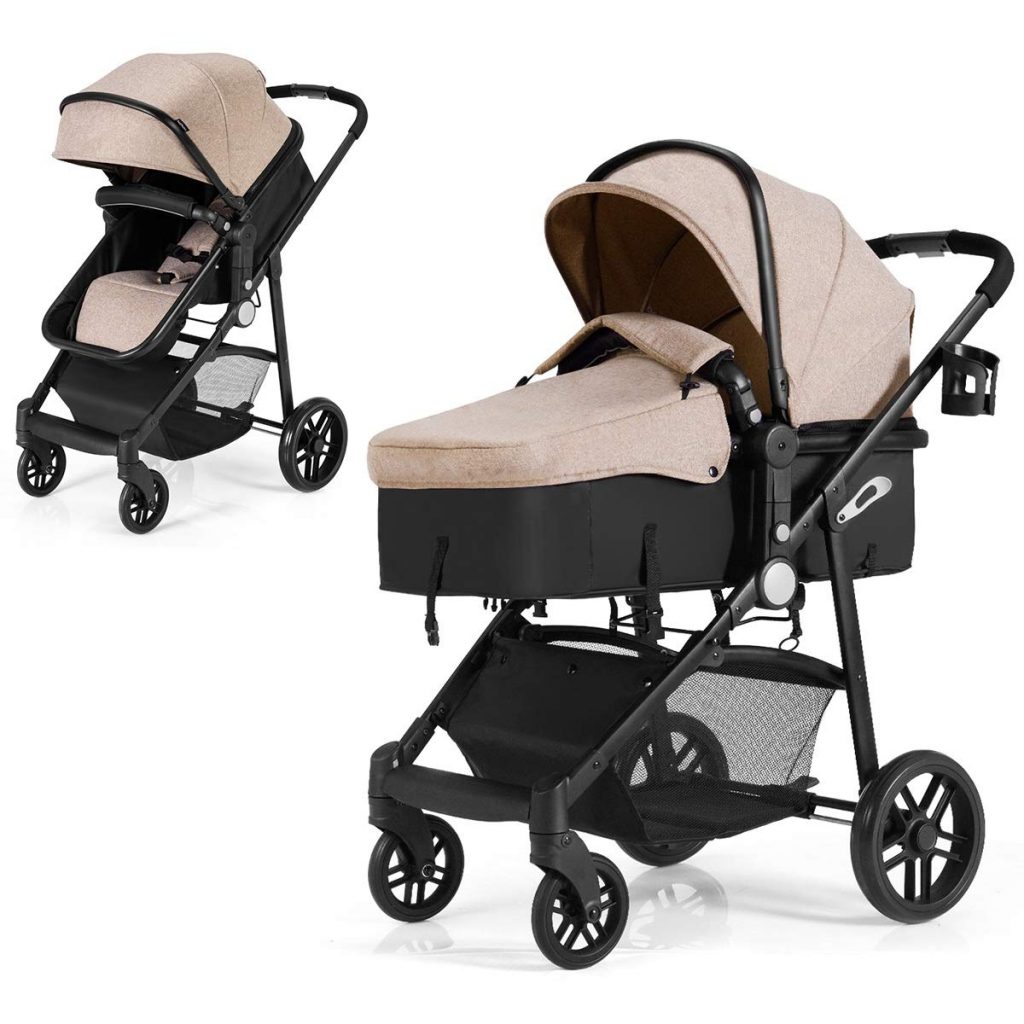 Are you looking for a functional and user-friendly stroller that can suit your travel needs? Baby Joy Baby Stroller showcases a 2-in-1 convertible design for an affordable price. The durable and lightweight aluminum frame means this foldable stroller is easy and convenient to bring along to day trips and daily errands. It features a breathable Oxford cover that can protect your baby from the rain or the sun, adjustable according to your needs. The backrest and handle can be adjusted to meet different requirements. You can adjust the backrest to a sitting or sleeping position. It also includes a 5-point safety harness and sleeping cushion designed for safe and comfortable sleeping.
The Baby Joy Baby Stroller is all about safety and flexibility with its durable, lockable, and inflatable-free wheels. The latter is shockproof and can be well-suited to all kinds of road surfaces. There are foot-operated linked parking brakes that will easily let you move around and stop as needed. For storage purposes, you will find a basket underneath the seat that you can use to hold baby essentials like diaper bags. The baby stroller comes in three colors – coffee, black, and gray.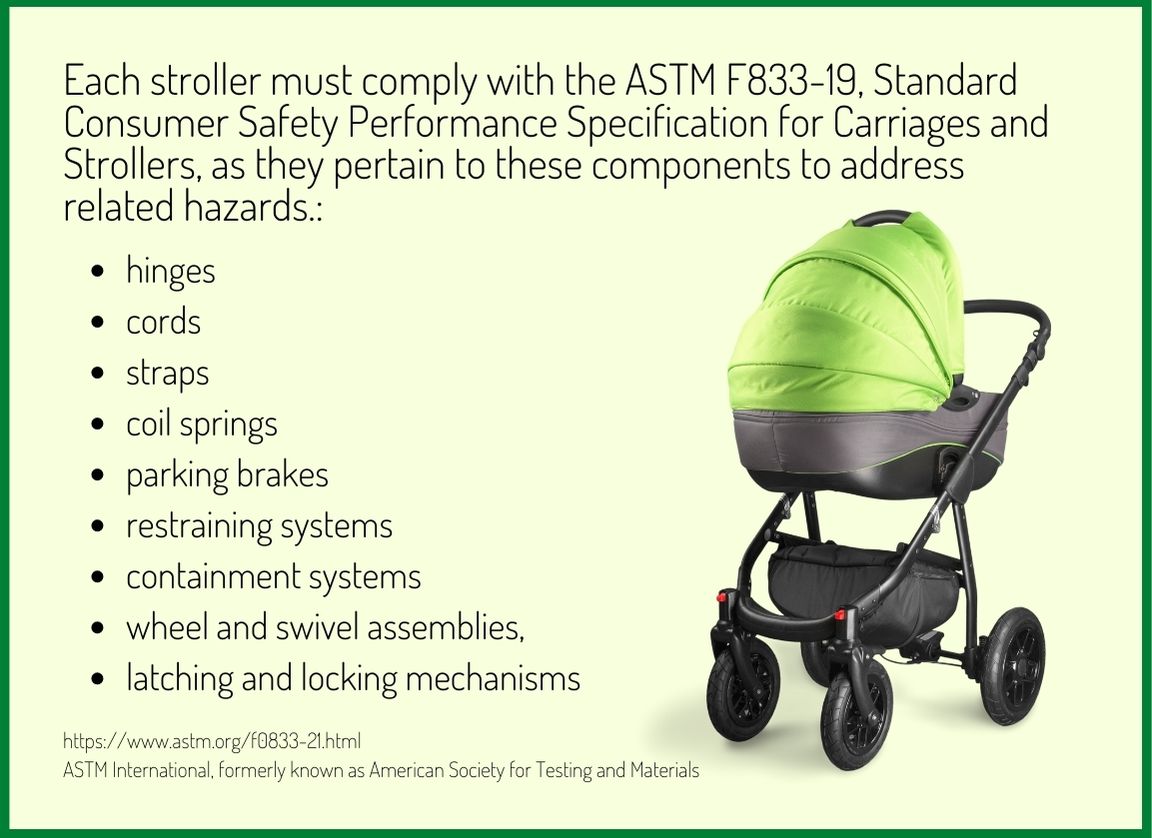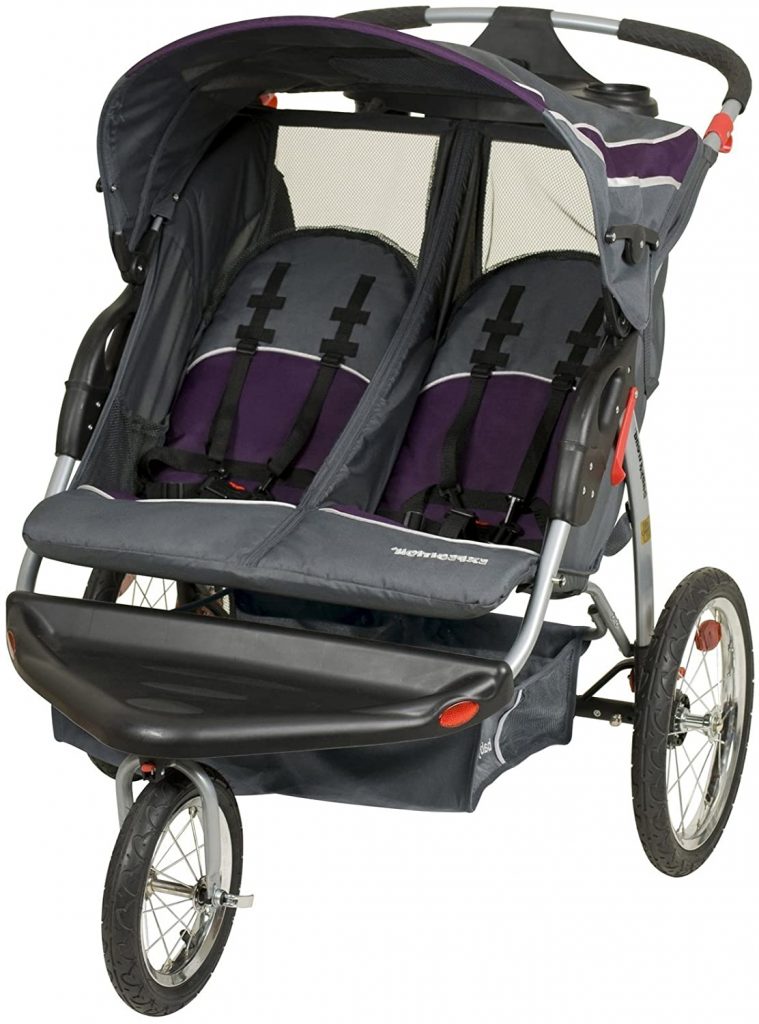 If you need a stroller that you can use for jogging, then the Baby Trend Expedition Double Jogger is a great choice. It is designed to accommodate two children. It features bicycle tires and a locking front wheel that allows you to keep the front wheel in place as you jog. For leisure walks, you can unlock the front wheel so you can have more freedom to maneuver the stroller. The shade canopy gives your children protection from the sun or wind. The seat can be adjusted to recline to suit different position requirements. Its lightweight and sturdy construction mean that this stroller is convenient to carry around and lasts longer.
The Baby Trend Expedition Double Jogger comes with a parent tray with two cup holders and compartment storage for your convenience. Children are recommended to meet the minimum age of at least six months and a maximum weight of 50 pounds to safely use this stroller. Nothing can hold you back from living a healthy and active lifestyle with this double jogger stroller.
7) Graco Verb Travel System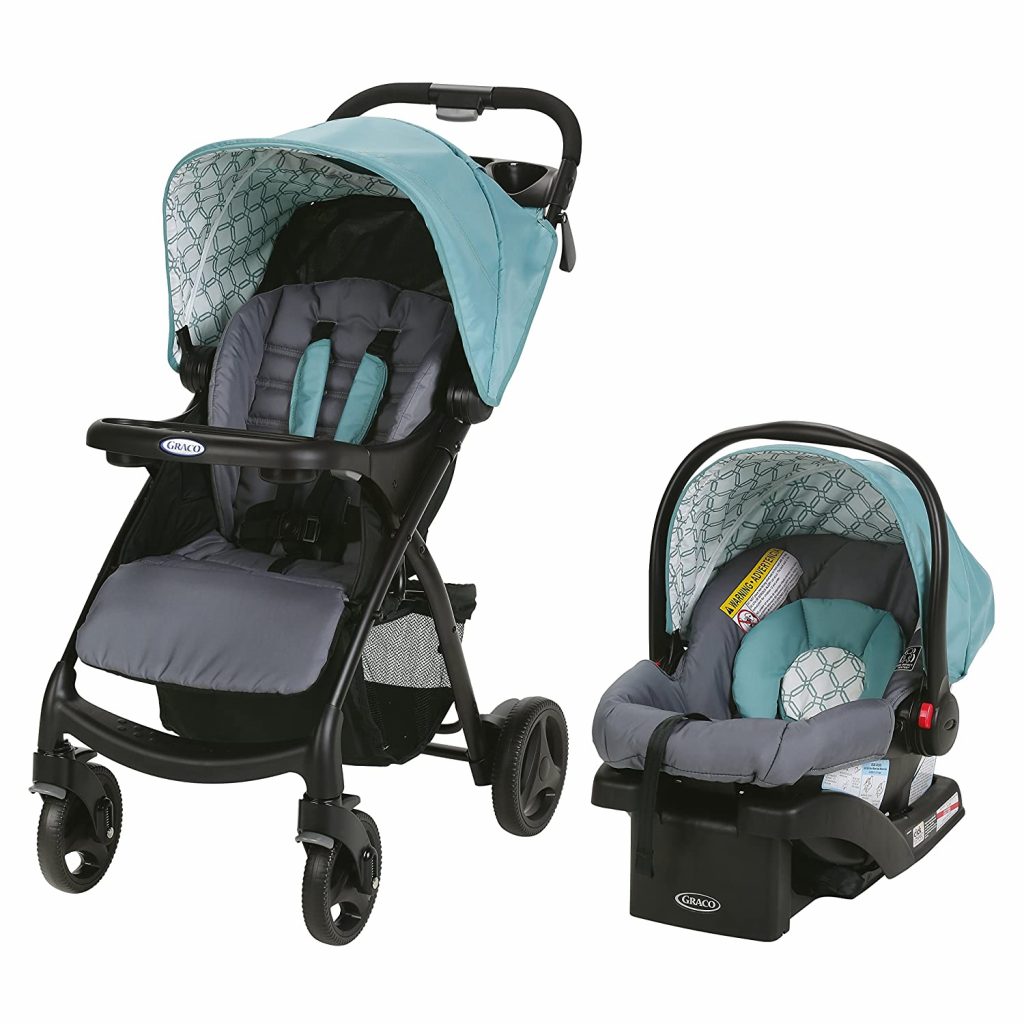 Designed for both babies and infants, the Graco Verb Travel System is an ideal choice for parents who want a stylish and smooth ride for their children. It comes with an infant car seat that can be easily and securely connected to the stroller. It features a click connect system that allows you to attach the infant car seat to the stroller in one step.
The stroller itself is lightweight, which makes it convenient to carry around. It has a suspension and a locking front-swivel wheel that allows for a smooth ride. The reclining seat can be adjusted to accommodate different positions. You can utilize the parent and child's tray to hold cups and bottles for convenience. There is also a large basket for additional storage space to keep baby essentials during outings.
The stroller can be easily assembled. It comes in two available colors – azalea and Merrick. The maximum weight recommendation for this stroller is 30 pounds. Plus, it meets Disney size requirements which means it is pretty convenient for leisurely travels to main attractions.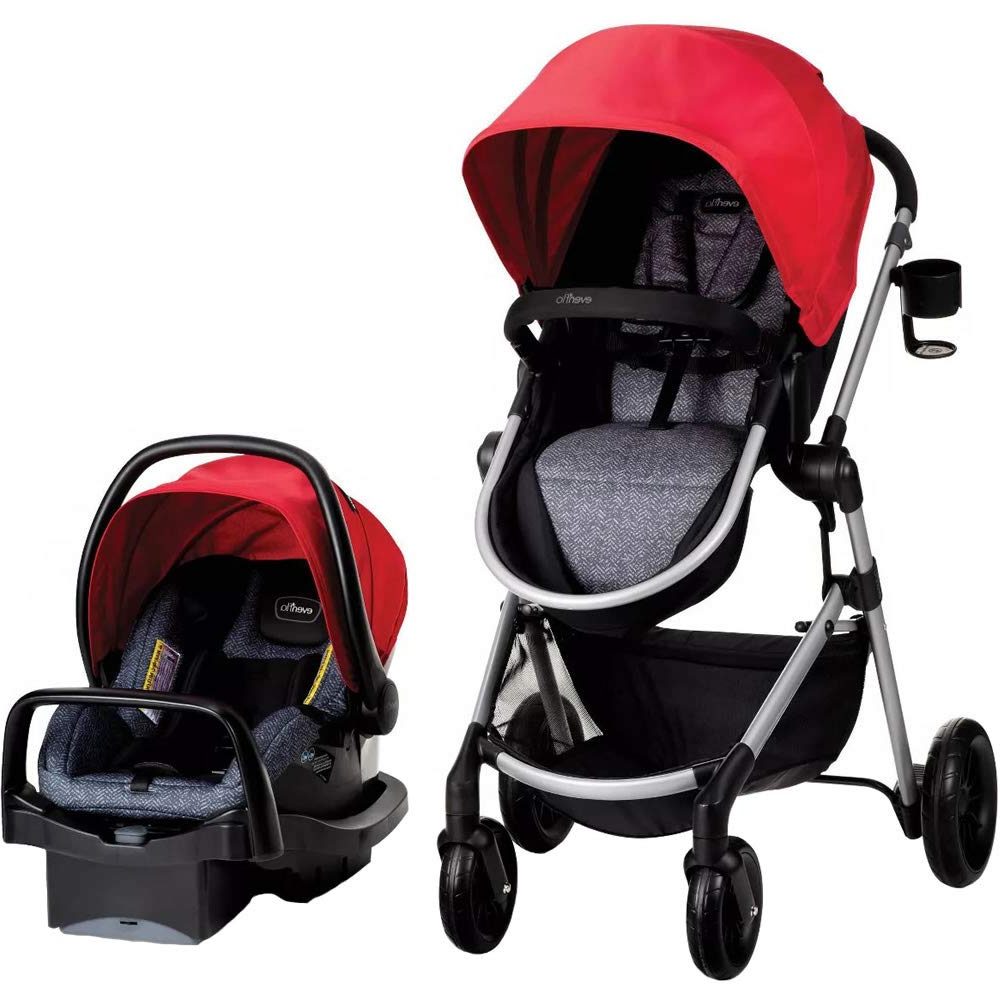 The Evenflo Pivot Modular Travel System includes a car seat and stroller featuring a modular frame with six modes. It can be easily converted from an infant car seat to carriage mode. If you need to use it for your toddler, you can easily do so with its adjustable design, giving you flexibility on the fly. The car seat is safe and secure, tested for structural integrity. There is an anti-rebound bar feature designed to absorb and dissipate crash forces.
The baby's removable bumper bar and handy snack tray are quite a nice touch for added convenience. You will also find a peek-a-boo window with ventilation, great for comfortable travels. It is possible to adjust the reclining seat with one hand, accommodating different needs. You can keep your trip organized with the oversized storage basket where you can keep your valuables and essentials.
The maximum weight recommended for this stroller is 50 lb and has a height of 38inches. Featuring cruiser tires, the stroller can be easily maneuvered over multiple surfaces, allowing for a smooth ride. You can choose among various colors, including casual gray, salsa, dusty rose, and sandstone.
9) Jeep Unlimited Reversible Handle Stroller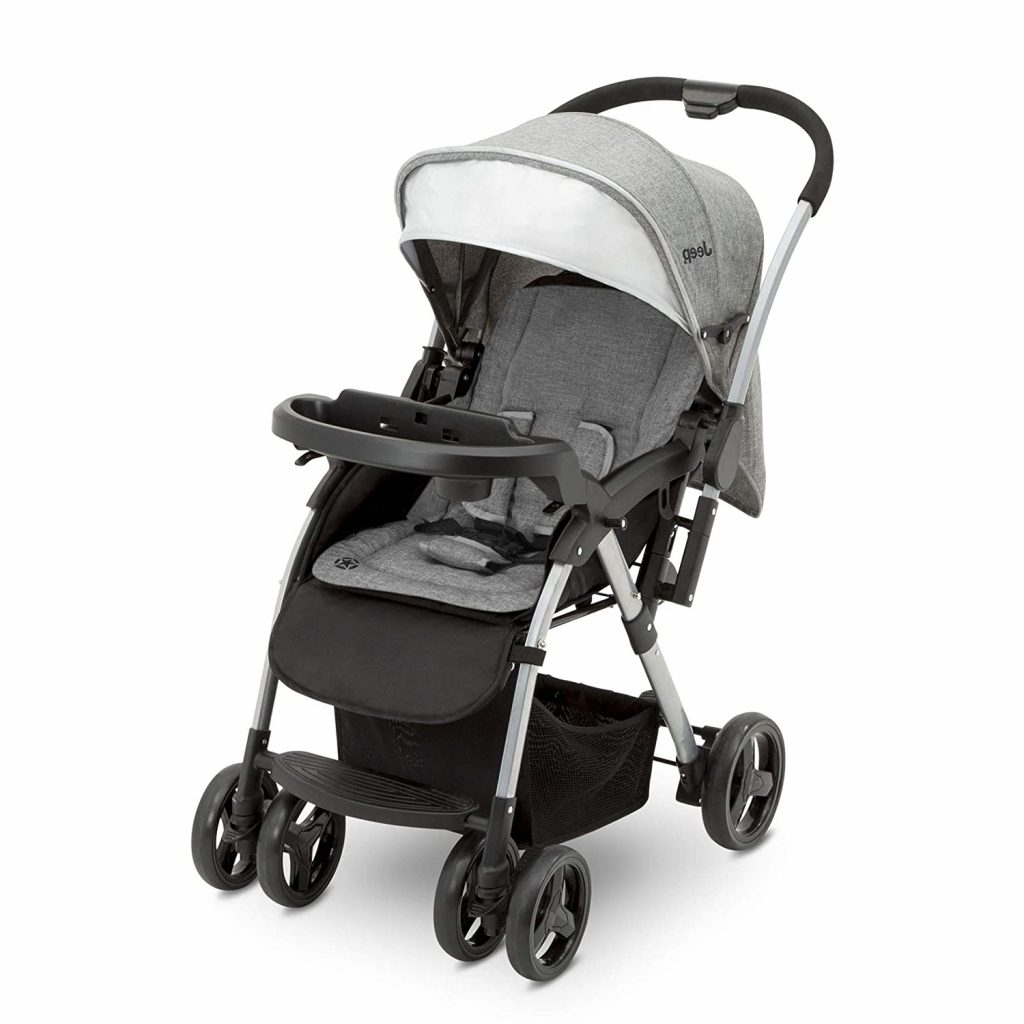 Featuring an innovative design that caters to multiple needs, whether you are out for a stroll or an adventurous outing, the Jeep Unlimited Reversible Handle Stroller is made for families on the go. Depending on your need, it has a reversible handle that can be easily adjusted to face forward or backward. It can also be turned into a travel system when combined with a compatible car seat. Some infant car seats that fit this particular stroller include Click Connect 30, 35, and 40, Evenfall Nurture, Greco Snug Ride, and Evenfall Embrace. The extended European-style canopy is made for unfavorable weather conditions. It is equipped with a UPF 50+ sun visor.
Other key features include a reclining seat that can be adjusted to 3 positions, an adjustable footrest, and a child tray with a cup holder. You can be assured of a safe ride even during the night with its reflective piping. The added security of the 5-point safety harness and shock-absorbing back wheels is also added. Baby essentials can be stored in a large storage basket. The stroller is compact, foldable, and highly portable.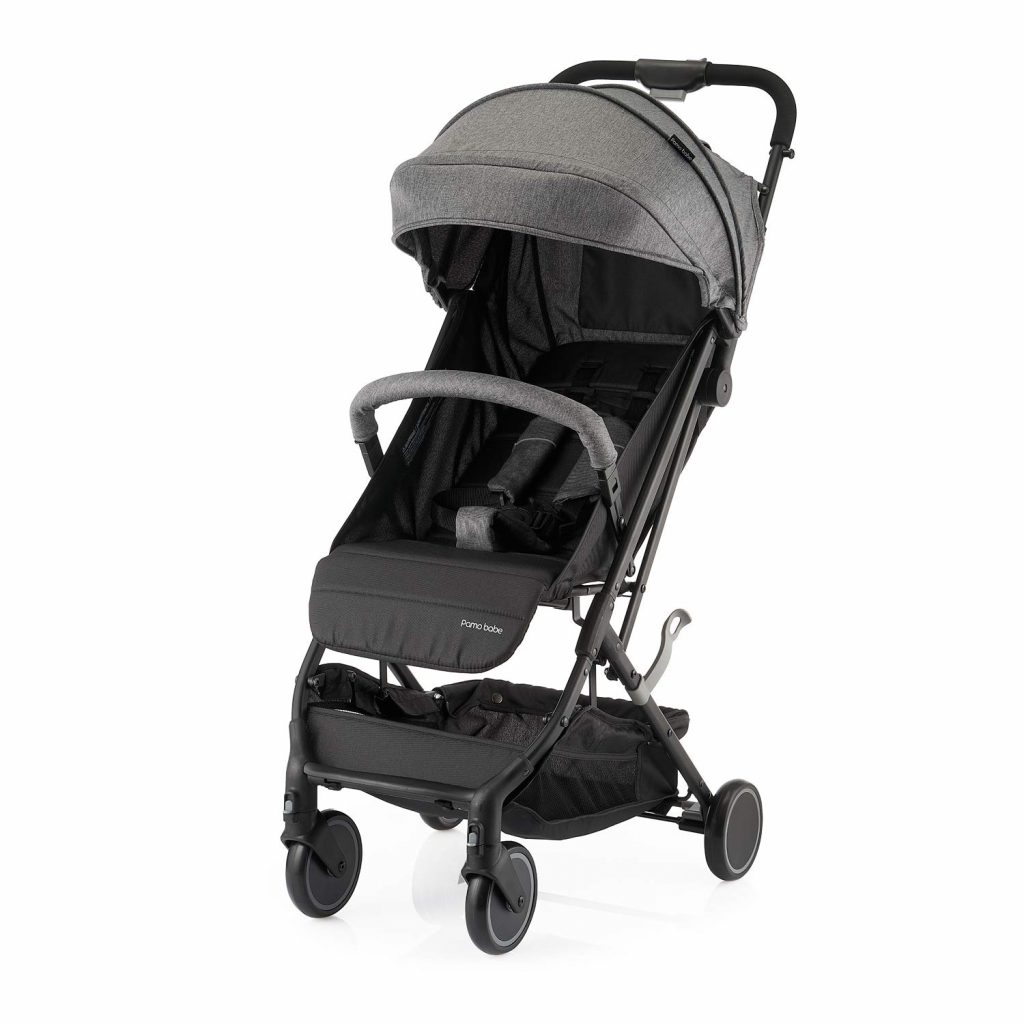 Designed for convenient travels, Pamobabe Compact Baby Stroller can accommodate babies up to 1.47 lbs. One feature that distinguishes this stroller from the others is a compact one-hand fold that can fit it in cars and airplanes' overhead compartments. It has a padded carry handle and shoulder strap, making it portable when you are on the go. If you need more storage, you will find plenty of space in the extra-large storage basket, along with a cup holder for convenience. Keeping your little one comfortable is a breeze with its multi-position recline and safety harness.
There is an adjustable canopy that can protect your child from the harmful rays of the sun. Depending on your need, it can also be stretched out or folded back. The swivel front wheels are lockable, and the rear wheel is equipped with a brake for a safe, smooth ride.