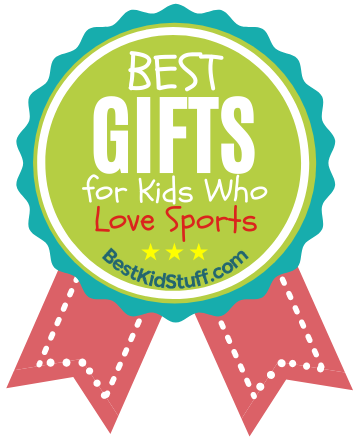 Shopping for children's toys might seem like a simple activity, but it is quite challenging because of the numerous options available!
Experts recommend thoroughly researching presents for kids so you can get your money's worth and, most importantly, your kids will enjoy those gifts. After all, the entire premise behind purchasing toys is allowing your children to play with, learn from, and enjoy those items for a long time!
When buying gifts for kids, consider what they truly enjoy! Do they normally enjoy challenging board games? Do they love colorful stuffed products? Are they the active type?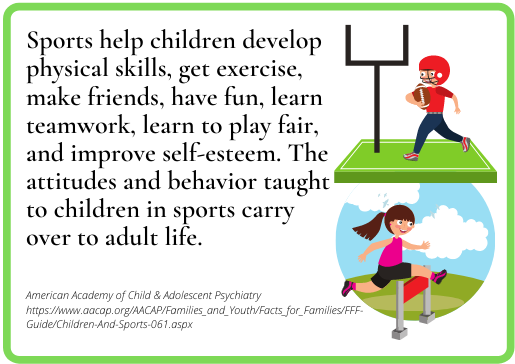 If you're giving presents to kids who love sports, considers these factors before making the purchase:
Toy function. Sports-loving kids need the kind of toys that match their active personalities. Explore items that they can use both outdoors and indoors.
Age appropriate. If possible, give your kids toys they can use without you constantly assisting them.
Ease of use or assembly. A heavily complex toy for sports-loving kids can end up frustrating your kid! Buy something they can easily understand (consider their age) and genuinely enjoy. The last thing you want to spend time constantly fixing and assembling the toy for your kid.
Size of the play area. Do you have a massive yard? How big is your home's dedicated play area? If space is a concern, buy toys that are neither too big nor too small as they end up cluttering the area! Toys for kids who love sports come in all forms, shapes, and sizes; make sure you pick the one that's just right for the space you have. Also, get storage boxes if you must to keep the little toys in one place.
Quality. Cheap toys are a welcome idea, but they may not be as safe or reliable as the pricier ones, quality-wise.
It's time to reveal our top picks of the best gifts for kids who love sports!
1. MJ-Brand Adjustable Mini Basketball Hoop and Stand for Kids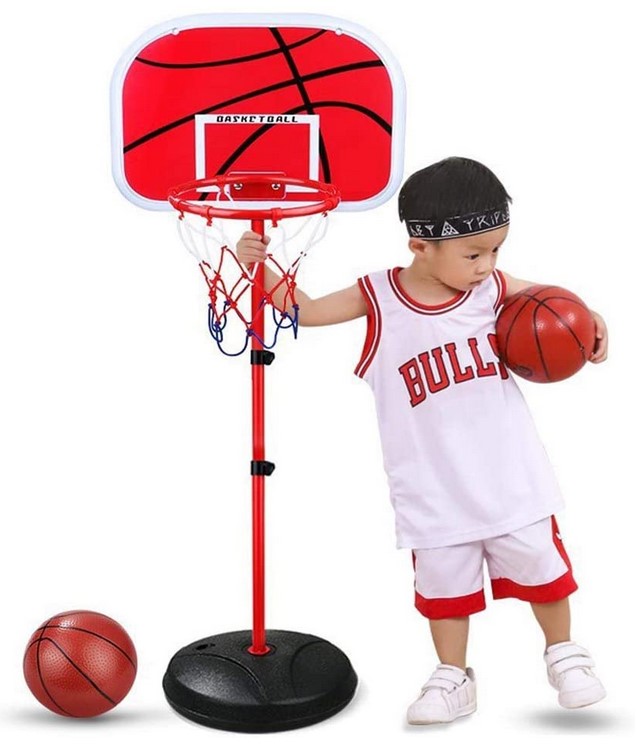 The MJ-Brand Adjustable Mini Basketball Hoop and Stand for Kids is your extraordinary basketball sports set for outdoor and indoor use!
This set contains an English user manual, fixed accessories, a pump and needle, basketball, basic, rebound, basket net, and four iron tubes. It is ideal for children four years old and above.
Here are some of the reasons why this basketball set is a suitable gift for your kid:
It offers each player a memorable and genuine basketball experience.
It is stable and durable to be used indoors without filling the base with sand or water. You can also fill it with water when utilizing it outdoors.
It can help children exercise their bodies and improve their strength and immune resistance.
The basketball stand has five types of adjustable heights.
SWOOSH!!! If your child is interested in basketball, this set is perfect and just their size. If it rains, just bring it indoors! Get them started early!
2. Morvat Soccer Goal Set for Backyard/Outdoor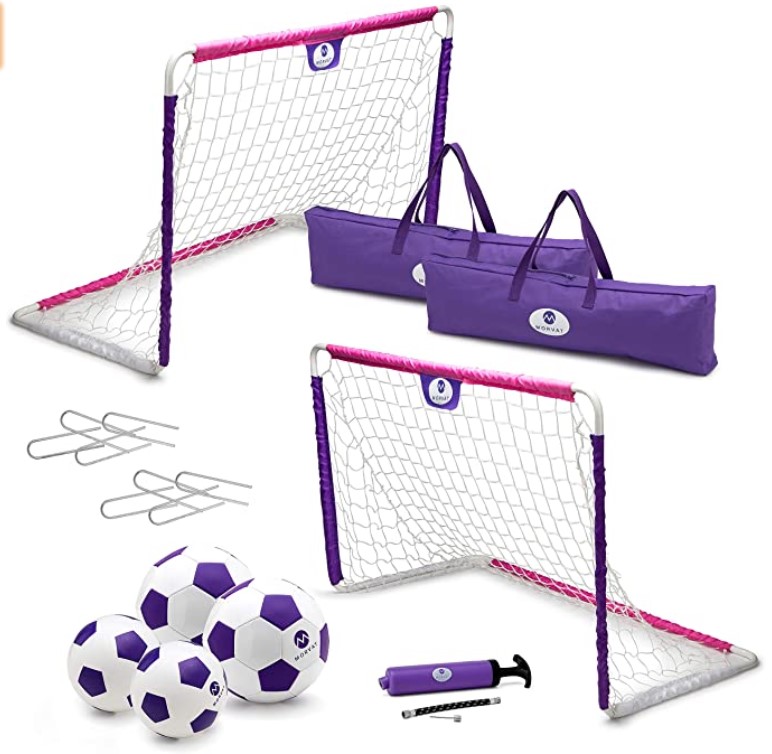 Soccer is one of the spectacular sports for children because it has several benefits. It is one of the kid's sports that helps enhance focus, coordination, and physical fitness and practice the value of teamwork. This makes the Morvat Soccer Goal set one of the ideal gifts if you have kids who love to play sports.
The Morvat Soccer Goal Set for Backyard/Outdoor comprises two carry bags, eight metal spikes to keep the soccer goal in place, two mini soccer balls, two standard size soccer balls, a pump with needle, and two soccer goals with pink/purple soccer.
This soccer goal set is one way to get your kids to enjoy the fresh air outside while bonding with family.
Here's why this present is ideal for a kid who loves sports:
It gets your children moving and playing all year round!
It develops essential motor and social skills as well as helps enhance hand-eye coordination.
The toy helps your kid get acquainted with and practice soccer.
The toddler soccer goal nets are convenient and quick to assemble your children can do it on their own with no tools, batteries, or multiple parts required.
It comes with a portable carry bag. Take it with you to the yard, the park, or even during a vacation. The carry bag can also be used for storing the goal set when it is not being used.
Customer satisfaction is guaranteed. A refund or replacement is available as well.
The set is completely durable and made from high-quality, long-lasting materials.
The set can also be played outdoors or indoors, rain or shine.
Does your kiddo like to practice soccer?!?… Even at home?!? Of course, they want to be their best. This set is perfect for a friendly backyard competition!
3. UNI-SUN Hoverboard for Kids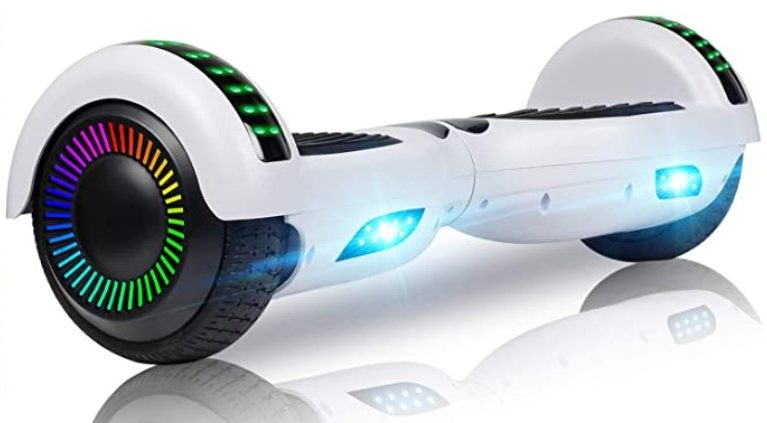 The UNI-SUN Hoverboard for Kids is made from durable solid tires with a 6.5-inch colorful flashing wheel, durable structure, strong shell, and high illumination LED front light.
Electrical charging and battery systems are UL 2272-certified and tested, which can guarantee your kid's safety and offer them extraordinary riding fun.
It is also Bluetooth-supported since it has a built-in wireless speaker that can be conveniently connected to portable devices quickly. Through this, you and your kid will be able to enjoy your favorite music without using headphones.
Other accessories include a self-balancing system, a motherboard, powerful dual motors, smart chips, acceleration sensors, and professional gyroscopes.
Here are some of the reasons why you should consider this as a gift for your child who loves sports:
It flaunts a distinct and stylish design aside from its stability and durability.
Distinct sound effects can also be made for the hoverboard to appear cool and stylish.
The additional accessories like the gyroscopes and sensors offer your kid a stable, seamless, and safe riding experience.
The hoverboard also helps your kid have proper balance and coordination.
Gyroscope foot sensors help in quick response to speed and angle.
Colorful flashing wheels and high-luminance LED lights make travel more entertaining and safer even while riding at night.
The self-balancing system and smart chips guarantee that your kid can freely ride and master balance anywhere swiftly.
The powerful dual motors allow maximum mileage of up to 10 kilometers.
Here are the types of hoverboards available for your kid, as well as their features:
| | | | |
| --- | --- | --- | --- |
| Specifications | Pure Color Series | Chrome Series | Funny Sensors |
| Bluetooth/Non-Bluetooth version | Present | Bluetooth version only | Bluetooth version only |
| Presence of LED front lights and flashing wheels | Present | Present | Present |
| Speaker and Sidelights | Bluetooth-supported | Present | Present |
| Recommended Age | 4 to 8 years old | 9 to 12 years old | For all kids and teenagers |
| Other features | Simple, exquisite, easy-to-match | Attention-grabbing, dazzling, brilliant | Interesting trends, featured colors, popular, featured colors available |
Talk about options… You will surely find a color that will make a great gift for the young person in your life. And, they will love you for it!
4. Asweets Indoor Children Kids Wooden Game Mini-Golf Course Toy Set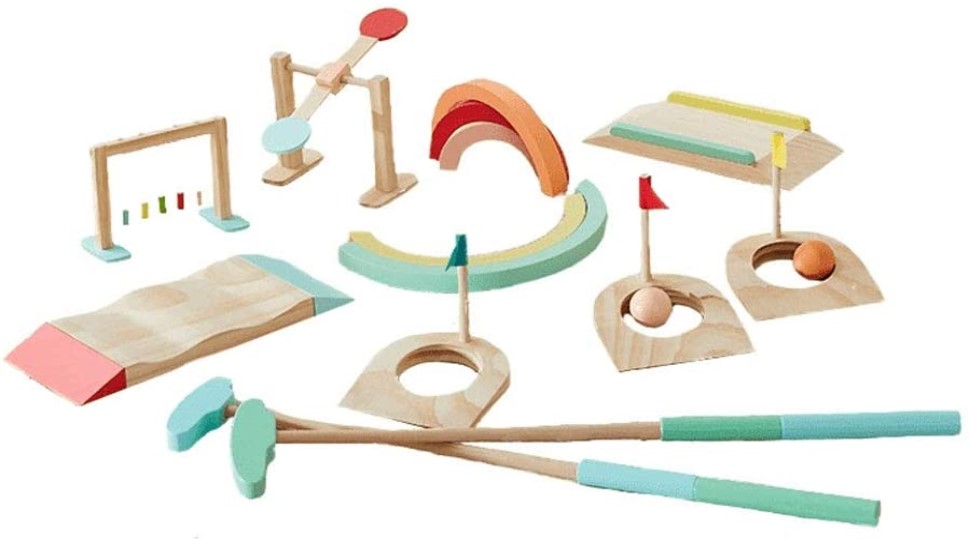 Children can begin creating their tricky golf course even in the comfort of their homes through the Asweets Indoor Children Kids Wooden Game Mini-Golf Course Toy Set, which contains a canvas carry bag, one-wavy bridge, one flat bridge, one spinner obstacle, one bead curtain obstacle, a five-piece rainbow tunnel, two balls, three holes with flags, and two clubs.
This durable and well-made mini-golf course enhances your children's creativity for more fun and excitement daily.
Here are the reasons why you can consider this as one of the ideal gifts for your child who loves sports:
It has adjustable putter clubs that are suitable for your child, regardless of age.
All the pieces of this toy set are made from child-safe, wood-finish materials.
You can configure holes and obstacles in your playrooms or bedrooms for several hours of fun and satisfaction for your kids.
Do you think Tiger Woods started out this way? Probably so… If you want to get them out on the green early, then get them started in the backyard! Check out this cute set!
5.YFFSS Fitness Inflatable Tower Punching Bag for Children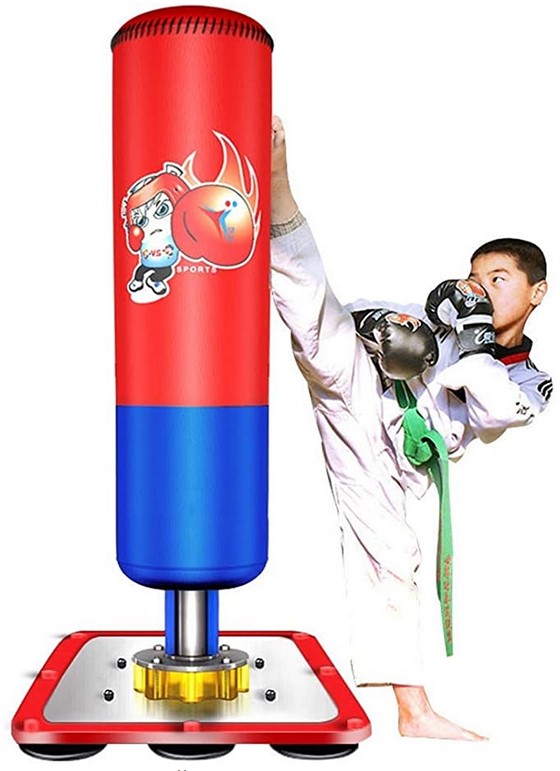 Most people understand the dedication required to maintain a healthy lifestyle and well-being through regular workouts, even when you do not need to go to the gym. It's also given that most people understand the importance of working out frustrations safely after a stressful day.
Casual boxing offers highly effective body exercise for everyone. It stimulates weight loss since it also aids with muscle regulation.
Thus, the YFFSS Fitness Inflatable Tower Punching Bag for Children is one of the ideal boxing punching bags that you, your family, or friends can use to assist you in conveniently accomplishing your home fitness workouts.
The free-standing boxing bag has a strong, durable spring at the shaft base, which enables the spring-mounted punching bag to be bouncing back in its original position all the time after every hit.
Why is it suitable as a gift for your child?
It is convenient to set up, and it all has everything you need for every boxing session.
This punching bag suits any preferences and is perfect for any age bracket (young teen to adult) and level of fitness. It is conveniently adjustable to suit the needs of everyone.
The punching ball is suitable for teenagers 13 years old and above and for adult women, men, and youth for better engagement.
When you are in a bad mood, you can beat the boxing ball to release your emotions.
It relaxes your body, cervical spine, and shoulders.
It's a type of aerobic exercise that helps improve cardiopulmonary function and alleviate fatigue.
It enhances body left-right symmetry and hand-eye coordination, especially for older people.
It promotes the physical and brain development of children.
It develops a sense of rhythm, good coordination, and agile movements.
It can freely control exercise intensity to attain your leisure and fitness goals.
It is the perfect companion for a child's growth.
Customer satisfaction is guaranteed.
Yes, this is an investment; however, if you have a home gym space, get them exercising with you! This is great for the BIG KIDS (aka YOU), too!
Related Articles: