Childhood is a time in life when an individual is curious about nearly everything. It is when a child's desire to learn and discover new things is at its peak, they are lead to new experiences and eventual success in school. Providing children with the tools and instruments for exploration is one way of encouraging and feeding their curiosity.
Before you decide what perfect gift to give your kid, consider their interests first. Perhaps, you can share your interest in or introduce them to astronomy by buying them a telescope. A telescope is one instrument that helps satisfy the curious minds of children. Coupled with an excellent science or astronomy book or magazine, a telescope allows children to get a closer look at the world, such as in wildlife or sporting events, or explore celestial bodies without having to travel to space.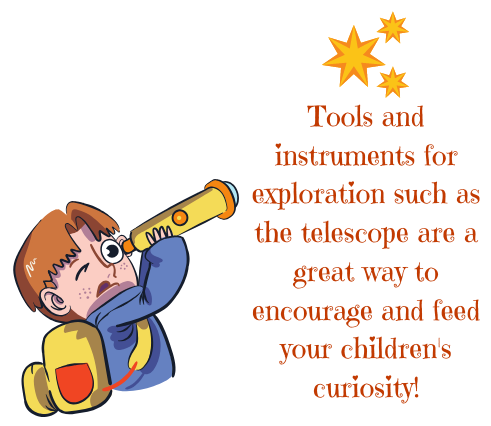 But before you drive out to find one, consider reading this list to help you find a reasonably-priced and easy-to-use beginner's telescope. Beginner telescopes should be portable, have a variety of magnification levels, and setup should be a breeze.
It is also essential that first-time learners get a simple yet powerful telescope without hurting your budget. New astronomers getting their hands on their telescope and exploring the mysteries of the universe may find a lifelong love for astronomy.
Let us help you find the best telescopes for your little ones! We rounded up some simple, yet educational beginner's telescopes that your kids will treasure for a long time. As of this publishing, these items don't exceed $50 at Amazon.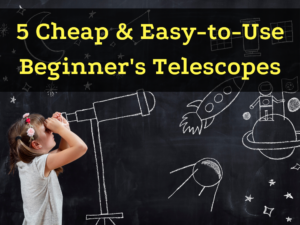 1.

NASA Lunar Telescope for Kids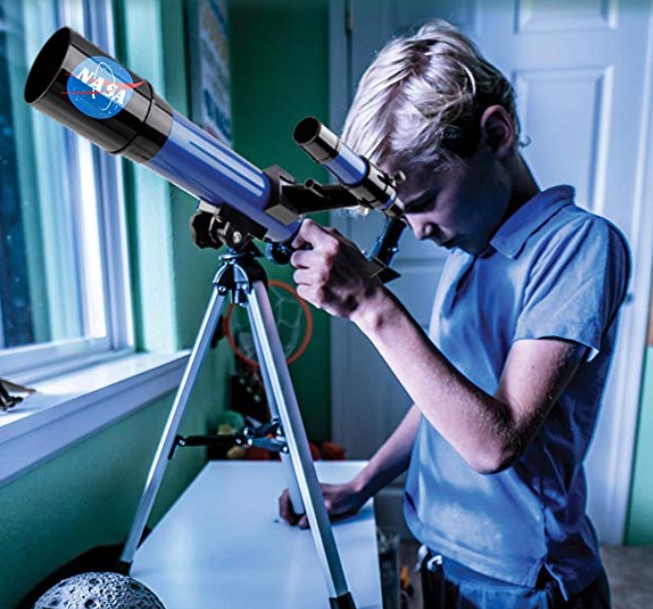 The NASA Lunar Telescope for Kids is ideal for kids aged eight years and up. Kids who are enthralled by the heavenly bodies, especially the moon, will surely love this easy-to-handle telescope. It is built to let kids see the moon's details like the craters, rilles, gray patches, and other features.
Kids will enjoy every bit of their NASA Lunar telescope experience— from learning how it's so easy to set up to fun and limitless moon watching. It comes with a high-quality optical glass and finder scope that will help in the eyepiece alignment. It has a tabletop tripod that is durable, such that the telescope won't easily topple over when kids shakeup in excitement during their skywatch.
Inclusions in the package are a low-power eyepiece and a high-power eyepiece so kids can magnify on lunar craters and set wide and close-up views. It also has a lens dust cap and a bonus colorful learning guide with instructions to help you in its simple assembly. This lightweight NASA Lunar Telescope will spark your kid's curiosity in astronomy, and you can even enjoy it together for a high-quality time.
2. GEERTOP Portable Telescope for Kids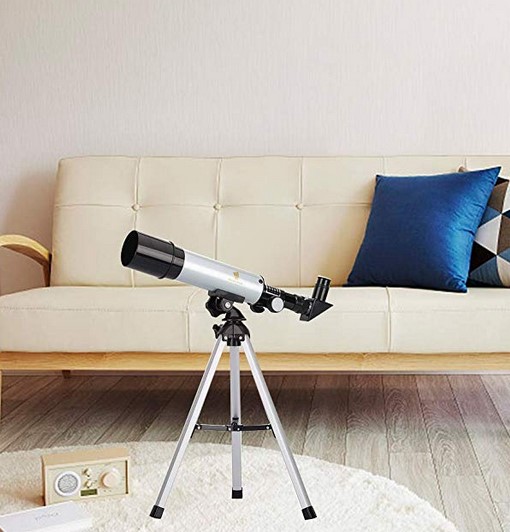 If you're looking for the best inexpensive gift for youngsters who want to have their full-featured refractor, the GEERTOP Portable Telescope for Kids won't disappoint. At 1.79 pounds, this telescope is light enough, which is perfect for students age eight years and up. It is easy to carry around, allowing kids to find an excellent spot for the sky gazing. The GEERTOP portable telescope is favored for its price.
Adults can help their children set up this telescope with its adjustable aluminum tripod in under three minutes. The fully-multicoated GEERTOP telescope comes with an H20mm and an H6mm eyepiece that kids can set up with a 1.5X erecting eyepiece to provide customized viewing in 60X 18X, 90X, or 27X magnification.
Kids will be delighted to view distant objects that become bright and clear through the telescope's 50mm optical aperture. Beginners can rely on learning basic astronomy concepts on this telescope using its moon lens. They can also use this for viewing objects on land, and even bird watching.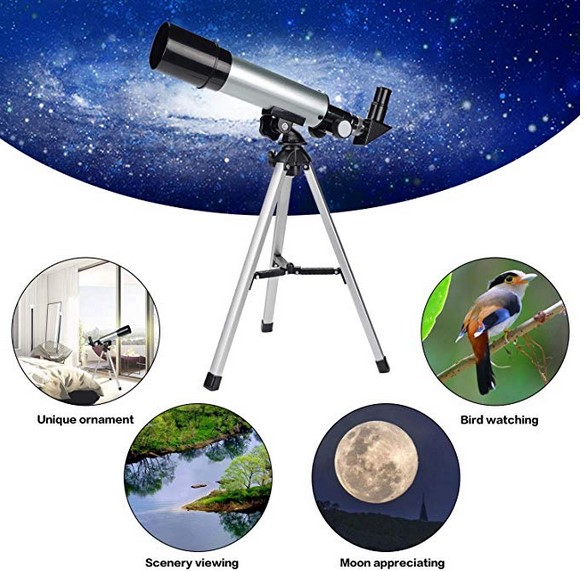 One of the cheapest ways to get your kids to start exploring the celestial bodies, constellation, and the outer reach of the solar system is the RONHAN Astronomical Telescope for Kids/Beginners. Amateur astronomers will appreciate this travel telescope as its features include a full-surface coating on its optical glass, which makes images clear even in low lighting.
Its moon filter prevents eye strain due to intense or stray light. This telescope is easily carried and set up with the help of a graphic instruction manual, so kids won't have to worry about breaking any part of it. They can bring and fix it anywhere they want to, whether on a field trip or camping. It accommodates two different magnification eyepieces with a 1.5X erecting eyepiece for various observation preferences. This eyepiece is added to ensure convenient and exceptional distant viewing.
Its 360-degree rotation provides users with multiple viewing angles, which helps kids avoid getting impatient with only one viewing direction. It comes with a durable tripod which allows kids as young as four years old to operate it. Kids will be fascinated with the improved version of the RONHAN telescope that captures quality images day and night.
4. Oumoda Telescope for Kids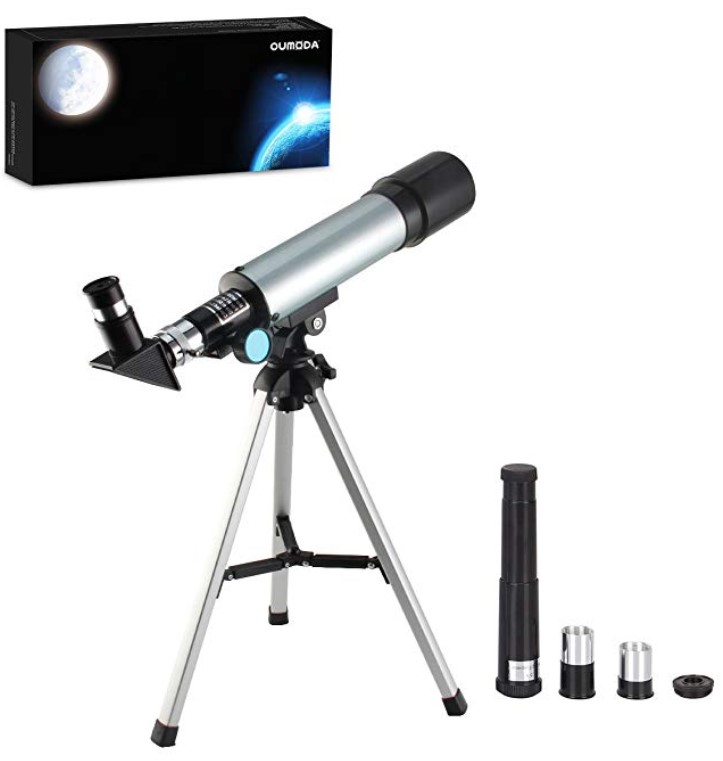 The Oumoda Telescope for Kids is a great starter kit for junior astronomers and scientists. It has a very budget-friendly price. The Oumuda Telescope is specially crafted to give effortless viewing for young kids and help uncover many mysteries in the night sky.
This simple refractor is compact, which kids can use for observing out-of-reach land and night sky objects. There is no need for alignment for its basic assembly, thus, making it one of the best telescopes for kids. It is built with 2.0 inch (50mm) aperture and a focal length of 360mm with optical lenses that are layered fully for precise imaging and visual effects.
Along with the package are two eyepieces (H20mm and H6mm) for both high and low magnification and a 1.5X erecting eyepiece, which can double the power of magnification for either eyepiece. Thanks to its 13.5-inch tripod, kids can move the scope (vertically or horizontally) for all-around views without sacrificing stability. Other inclusions when you order the Oumoda Telescope for kids are the moon lens, color box, and a helpful guidebook. Kids age six years and up can discover planets and stars, or do some interesting bird-watching during the daytime with this low-cost scope.
5.

Qooarker Telescope for Kids and Lunar Beginners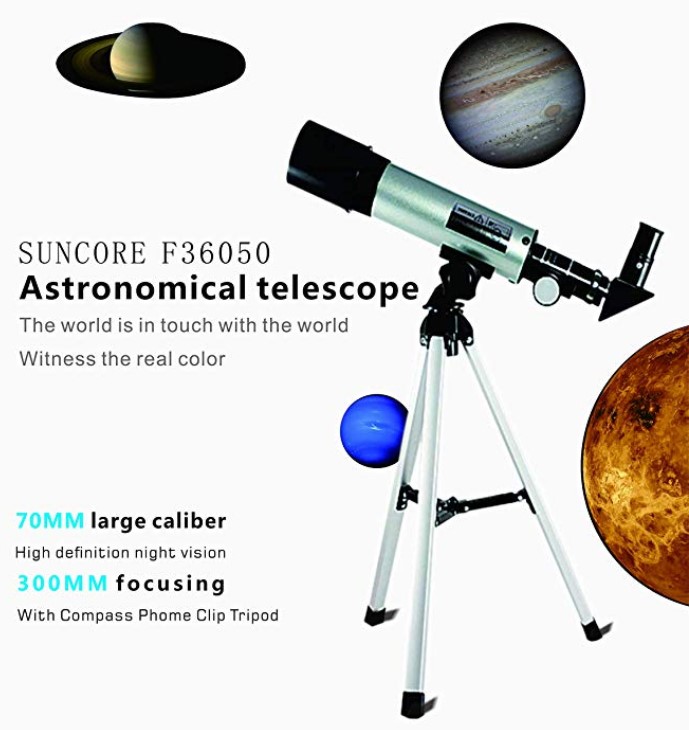 Priced to suit most budgets, the Qooarker Telescope for Kids and Lunar Beginners is designed to provide one the best sky watching experiences. Budding astronomers will see how lightweight the telescope package is to give way for portability.
They can take it with them out in a field, their astronomy science lab, or use it at home. It requires minimal assembly that only takes a minute. Its 13.5-inch tripod certainly provides for a sturdy base when making vertical and horizontal adjustments that facilitate easy celestial exploration.
This telescope is an excellent gift for kids who are starting their astronomy expedition, particularly when studying the moon. It comes with both wide-view and close-up eyepieces for kids to catch sight of the lunar's surface and amazing views of nearby stars. The recommended age for users is 3 to 12 years old. This scope is intended for starters without too many expectations on the product.