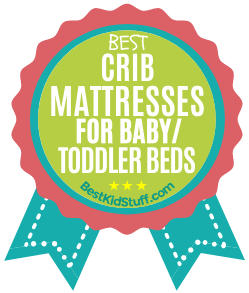 There were almost 4 million births recorded in the US in 2018! For some women, motherhood is a special season in their life. It's a unique role filled with challenges but just as rewarding if you're entering this season, congratulations! Your 40-week journey starts with planning and preparation.
During your first few months, your body will undergo various changes, including fatigue, swollen breasts, and morning sickness. It's also a crucial time for your baby, so it's best to take all the necessary precautions and health regimens instructed by your obstetrician.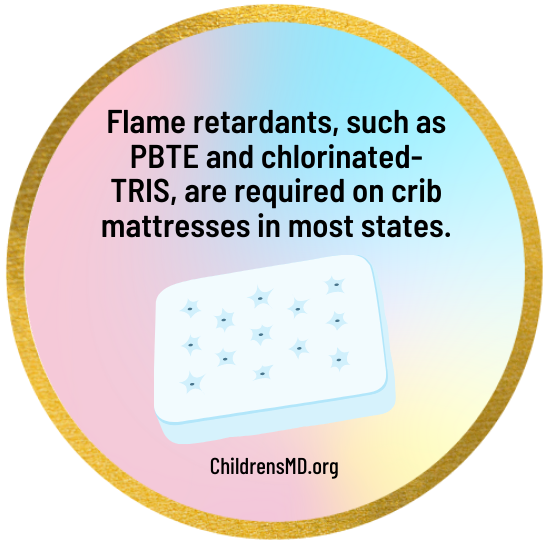 Ideally, the best time to do all the physical preparation is during your second trimester. It's the 'sweet spot' where you gain back your lost energy and get to do more activities throughout these three months.
If you're planning to decorate and shop around for baby items, now is the best time. Finding the right crib is a priority.
Everything has to be for your baby's comfort and safety, so choosing a suitable mattress that meets this requirement is paramount!
Once your little bundle of joy comes into the world, the little one's body adjusts to the 24-hour cycle. And a well-ventilated room coupled with pleasing interiors and a soft mattress can help your little one ease into a comfortable rest.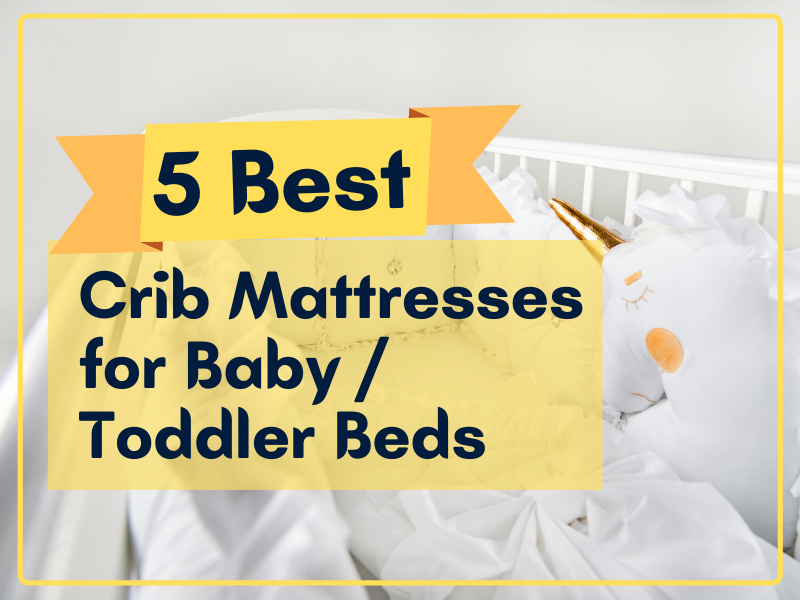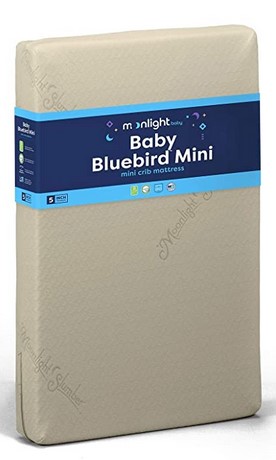 The Moonlight Slumber Mini Crib Mattress is a premium foam mattress designed for optimum sleep. It is more lightweight than traditional innerspring types. This multi-layer foam comes with a top-most plush knit waterproof cover, woven fire barrier, OxyFlo CoolGel Toddler Side, and Extra Firm Infant side.
Compared with most baby foam mattresses, this Moonlight Slumber mattress comes with a dual firmness to accommodate newborns up to toddlers. When your child is still in their newborn and infancy stage, you can use the firmer side of the mattress to help support his or her body and avoid complications such as SIDS.
Once the baby hits one year and older, use the mattress' OxyFlo CoolGel side to maintain comfort when your little child can sit or climb out of bed. This feature keeps your child cool, especially in warm weather. Plus, it also adds comfort when the mattress is turned to the toddler side. This 5-inch cushion could snugly fit in any mini-crib or toddler bed.
In terms of durability, this multi-layered cushion provides adequate support for daily wear and tear. Created with high-quality, cured polyethylene foam, you are assured that this bed does not make any crinkling sound and won't disturb your baby's sleep even when he makes any movements.
The antimicrobial cover also keeps your infants from harmful germs that could cause allergies. You can rest easy with this mattress since the exterior cover is also stain and odor resistant while improving the overall performance for both sides of the mattress. The cover is also removable, machine-washed, and air-dried.
This product is made with safe materials to keep your baby from harm. It's certified by UL Greenguard and CetriPUR-US Certified Foam free from spray-on FR Chemicals, chemical fire barriers, chlorinated Tris, and antimony.
Parents are always looking for good products to invest in for their child's well-being. This mattress is something your child can fully enjoy for many years ahead!
2. Dourxi Crib Mattress and Toddler Bed Mattress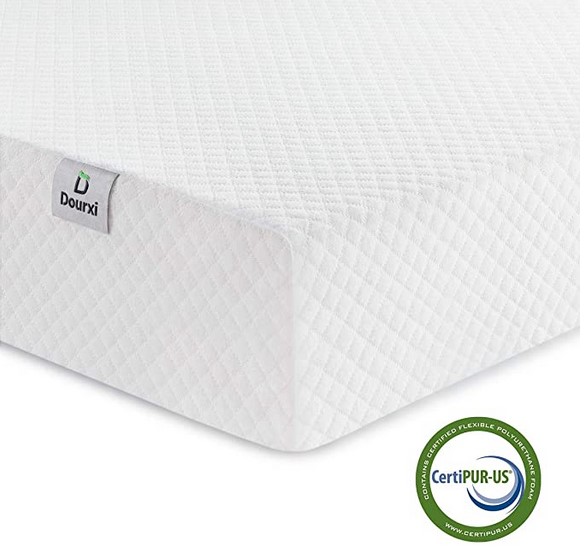 Finding a good mattress suitable for your child's needs can be overwhelming. Parents know that newborns grow up fast during their first few years; hence, sleep is an important aspect of their life. With the Dourxi Crib Mattress and Toddler Bed Mattress, your child is getting their best sleep each time!
This crib cushion by Dourxi is ideal for parents looking for a "value-for-their-investment" purchase. Made from quality foam, this multi-layer cushion is dual-purpose. The firm side is for your newborn or infant, and the softer side for your toddler.
The waterproof cover keeps the foam from seeping any accidental spills that could be a potential breeding ground for germs, molds, and allergens. Parents would surely love its four-layered mattress with a removable waterproof cover, rayon cloth fire barrier, plush and soft eco-foam for toddlers, and firm plant oil-based for newborns and infants!
If you're looking for optimum comfort for your baby, this one is made of a breathable organic cotton cushion. It's gentle and soft on your baby's skin! The mattress is also easy to clean and dry. For humid days, it helps to keep your baby cool and well-ventilated, ensuring he or she gets sufficient sleep throughout the day!
When your child is still in their newborn for up to 18 months, it's best to use the firm side of the mattress to keep them from any accidental choking. However, if your child can sit and stand, you can transition to the toddler side using a toddler mattress.
For budget-conscious parents, purchasing a convertible crib might be a good option for this type of mattress to get long-lasting furniture (and mattress!) to give your money more mileage for more important purchases. This Dourxi Mattress can fit any standard-sized crib and toddler bed.
Unlike the traditional innerspring bed, this 5.5-inch foam mattress is easier to lift, move, and clean. It's also free from any harmful chemicals, including phthalates, latex, BPA, lead, and other noxious cleaning sprays that can be harmful to your baby's health. The Dourxi Crib Mattress passed the GreenGuard and CertiPUR certification of safety. It also meets the Federal Standard Flammability Standard 16-CFR 1633.
Help your child sleep better and purchase this affordable and long-lasting crib cushion today! You can find it on Amazon.com!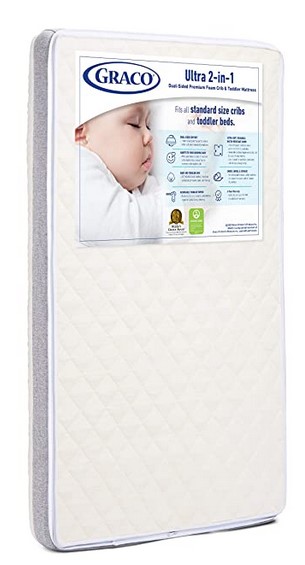 If you're looking for a premium baby mattress with made from quality materials at a good price, the Graco Ultra Dual-Sided Premium Crib and Toddler Mattress deliver optimum comfort up to toddler years.
This premium mattress from Graco is made of high-quality breathable foam to deliver optimum comfort for your young one. It maximizes the airflow going through the cushion to allow sufficient circulation for cooling the body.
Mothers worry about allergens and germs that could settle in the cushion. Its outer cover is of soft but made of a water-resistant material to prevent staining and seeping from accidental spills. It also prevents bacteria from breeding inside the cushion, keeping your baby safe from harm. When you need to change covers, unzip it from the mattress and hand-wash using a mild soap. Maintain its longevity by air drying only.
The mattress comes rolled and flattened. To expand this, unroll the mattress and allow it to expand in a standard-sized crib at room temperature. Give it 2-weeks time within the purchased period for proper expansion.
It comes with two sides: the firmer side suited for newborns to infants and the softer side for toddlers. The firmer side allows for back relaxation for newborns and infants. It also keeps them from accidental choking or suffocation, which can potentially cause SIDS.
As your child's motor skills develop, he or she may be able to sit and climb with ease. Ideally, infants have already reached toddlerhood at 18 months, making this an ideal time to transition them into a toddler bed while using the softer side of this Graco crib cushion. You can use this mattress with a convertible crib if you're looking for cost-efficient ways to maximize this purchase.
This cushion is generally safe for your baby's health. CertiPUR-US, JPMA, and GreenGuard certify this product as chemically-safe from lead, ozone depleters, phthalates, heavy metals, and other cleaning chemicals.
Because your baby needs the best, this award-winning crib mattress will not disappoint! At $139.99, this quality-tested cushion is worth every penny!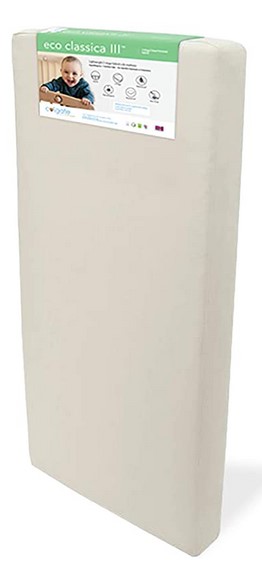 Eco-friendly and snug, expect more rest-full nights with the Eco Classica III 2-Stage Baby & Toddler Mattress by Colgate.
This premium crib mattress by Colgate Mattress Store is made of organic cotton intended to grow with your child from newborn to toddler years. It's a multi-layer cushion composed of a plush cotton cover, organic flammability barrier, plant oil-based eco-form suited for newborns and infants, and a firmer eco-foam side best for toddlers.
It's normal to want to give your child the best when it comes to their peace of mind and rest. Newborns and infants spend most of their time sleeping, so ensuring your baby gets the coziest mattress is a must.
This dual-mattress is made of 6-inch quality foam that allows them to stay on the surface without risks of suffocation. As his or her mobility progresses, you can flip the mattress on the softer side to allow their bodies to ease snugly into the cushion for comfort.
Fitting a standard-sized crib, this cushion works marvelously with a convertible crib that can be shifted from newborn to toddler crib. Need to clean the mattress? It's lightweight and can be washed with ease.
It's odor-less and doesn't have any gas fumes that come with most commercial foam cushions. The breathable material allows for cool air to circulate in the mattress for your baby's optimum comfort. To lengthen the longevity of the product, you can use a zippered waterproof cover.
No harmful cleaning chemicals are added to this product. It passed all safety standards by CertiPUR-US and GreenGuard, assuring parents that they are getting a mattress safe for long-lasting use for their little one.
It's also CPSIA compliant and exceeded the qualifications for federal and state flammability test. This product is handcrafted in America with extra durable seams to withstand the daily wear and tear of use.
Parents who are looking for a little stretch in their purchase will find this a suitable investment for their young ones!
5. Sealy Baby Posturepedic Crown Jewel Waterproof Toddler & Baby Crib Mattress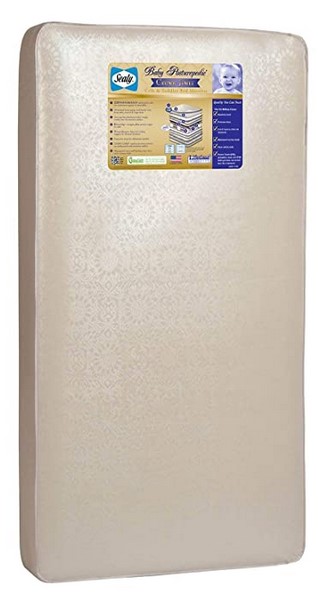 The Sealy Baby Posturepedic Crown Jewel Waterproof Toddler & Baby Crib Mattress provides the best orthopedic support for your baby's back.
Baby mattresses are an essential purchase for babies considering they will be staying in their cribs for most of their time for a year or so. While commercial beds may provide plush and firm mattresses to keep the baby on the surface, it's not optimally designed to support their backs.
This Sealy Store product is created with a 220 PostureTech Coil System feature to allow your baby to move freely in their beds with correct posture support. As a dual-mattress, the coil side provides the firmness suited for newborns and infants.
The STAPH-GARD hospital-grade side keeps the cushion free from harmful germs, bacteria, molds, and allergens from seeping inside the cushion. It's also waterproof to avoid accidental spillage from settling inside the mattress. This beautifully pearl-embossed bed is made with innerspring material that fits standard crib beds snugly.
Convertible cribs can also use this cushion for easy transition from an infant crib to a toddler bed. Compared with most commercial crib cushions, this one comes with a premium steel edge support to keep the mattress from sagging from constant use.
This product holds a GREENGUARD Gold certification for low chemical emission and air quality to ensure your baby is safe throughout use. It also meets ASTM safety standards and the CPSIA test for leads and phthalates.
Check this out on Amazon today! This is a luxurious crib mattress perfect for your little queen or king at a very affordable price!