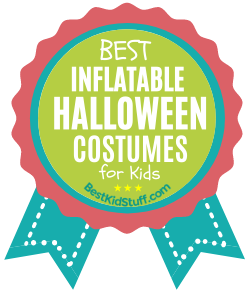 Crisp air and falling leaves everywhere. Halloween is almost here! You'll soon be seeing carved pumpkins, flying lanterns, and other spooky decorations in the neighborhood.
You can host a virtual party as a way to celebrate Halloween this year, but have you started looking for costumes for the party? What about kiddie costumes? Choosing a Halloween costume is entirely up to you, but why not get some ideas for your little tots from the trendy pieces this year?
Instead of dressing them up with the same costume you've had ages ago, you can get something that's comfortable, fun, and unique. Try inflatable Halloween costumes that will make your kid stand out of the crowd, literally.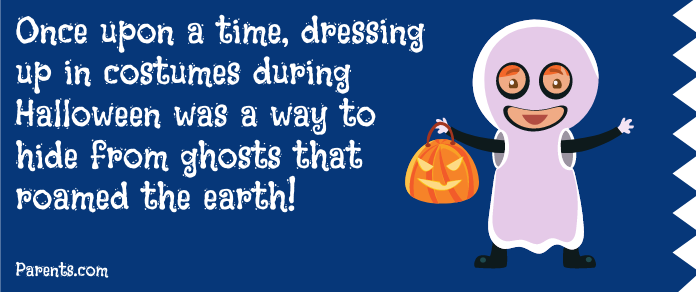 Inflatable Halloween costumes are all the rage! They're huge, attractive, and hilarious. You may have seen videos with people wearing them as they go viral on the internet. You don't have to stress yourself about spending on ride-on costumes for your kids or even for yourself.
If you're looking for Halloween costumes that offer different looks, then you've come to the right place. Choose designs from robots to superheroes, from dinosaurs to your kid's favorite animals, from princesses to video game characters. Pick your inflatable Halloween costume and be the life of the party.
These are perfect for kids and adults since they are easy to wear and non-revealing. So, don't miss out on this year's Halloween Costume Party! Start by looking into our list of the ten best inflatable Halloween costumes.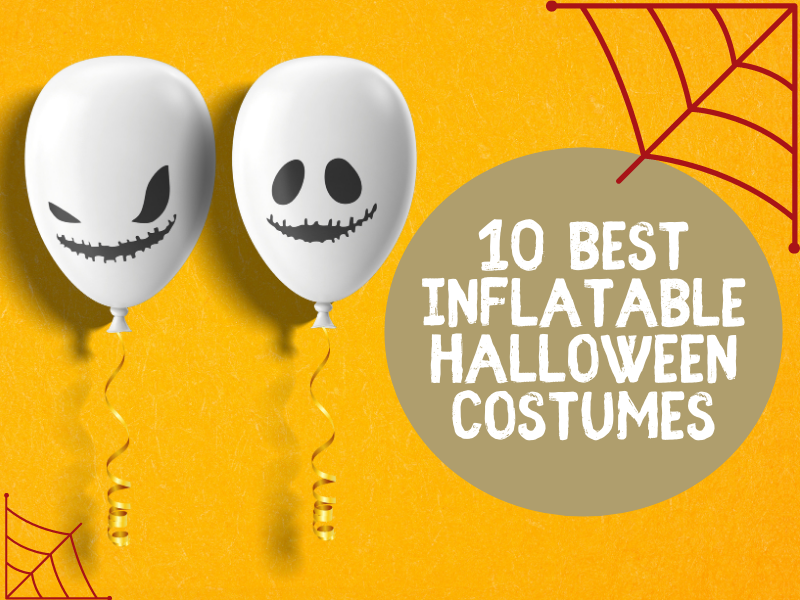 ---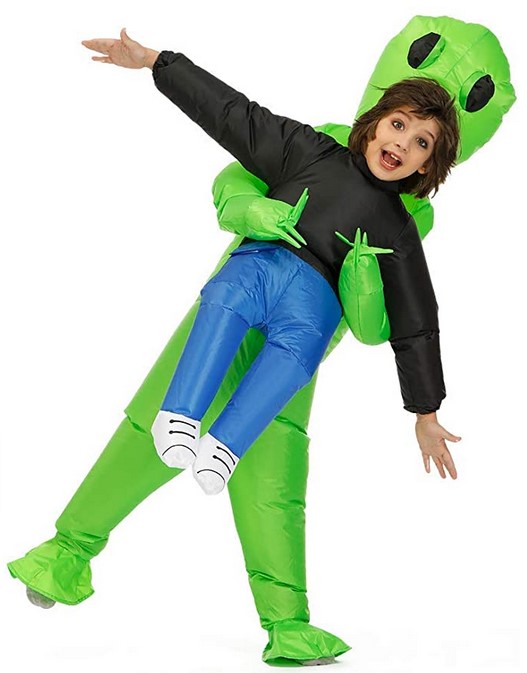 Imagining what Area 51 looks like? What would aliens do when we see them? Science fiction and space themes have been popular for many years.
It makes total sense that the Kooy Inflatable Alien Costume Inflatable is a top choice. This hilarious Halloween costume will have you look like you've been kidnapped by an alien. Its inflatable jumpsuit is made of 100% durable polyester, so it does not easily get torn when you step into it and go into action. It comes with a fan and a battery pack that inflates it in an instant.
The costume shows only your head to make it look like your body is suspended in the air and that the massive alien's arms are wrapped around the human body figure. It's so easy and comfortable to wear that you can trot your arms out through its sleeves for a more dramatic abduction scene.
For only $25.89, this will surely have you and everyone else chuckling.
This is a hilarious costume that's sure to be the hit of the Halloween block party!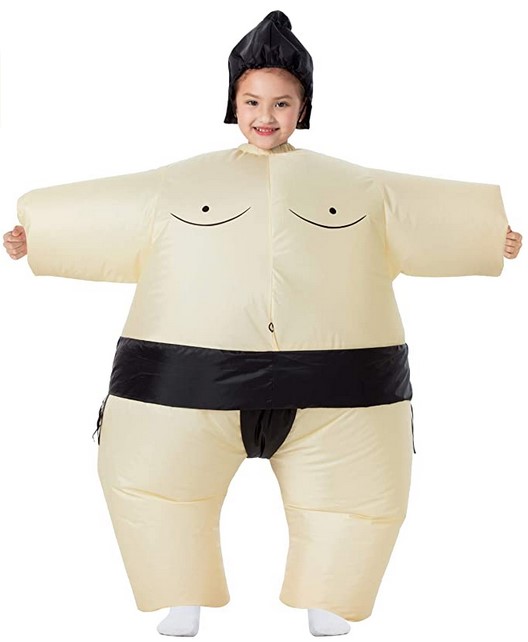 The YEAHBEER Inflatable Costume Sumo is one of those costumes that will have you non-stop laughing once you step into it. Have fun with these blow-up suits that are made of 100% polyester.
It's strong and waterproof, so you won't have to worry about tearing it while mock fighting against another sumo wrestler or spilling drinks on it. It's so it is easy to set up. It includes an air pump, a blower, and a battery pack that will keep it inflated for up to seven hours.
The YEAHBEER inflatable costume sumo displays flesh tones and detailed print. Step into the costume and look beefed up in an instant. It's also great for creating a family team. Find the right size for you and start receiving battle challenges from your family and friends.
Get this quality inflatable Halloween costume for $28.99.
Set up your own Sumo wrestling match! This one is definitely good for a few laughs…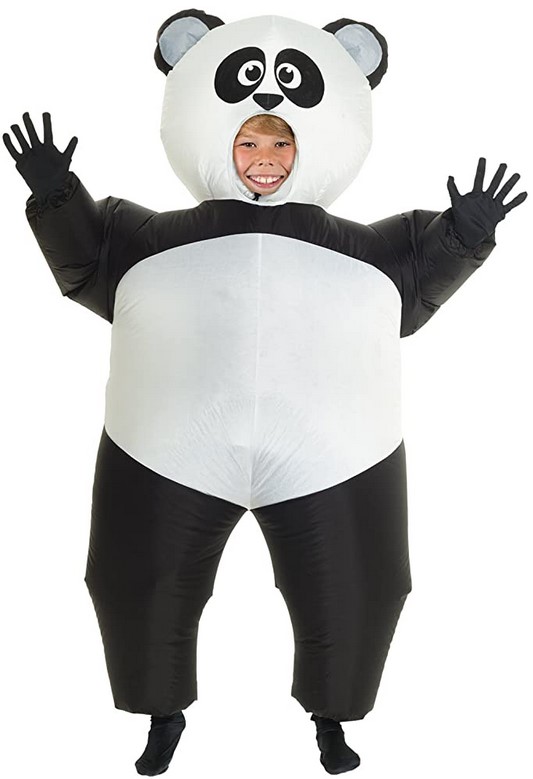 A giant panda would be a great choice for your kid's Halloween costume. Pandas are not only cute and cuddly but are also one of the popular animals in the world.
Let your kids feel like a super-sized panda in the Morph Giant Panda Kids Inflatable Blow Up Costume – Kids. This first-rate inflatable costume is a one-piece slip-on with a fan attached to a pocket. Turn the fan on to inflate it quickly and get your kids ready to prance and pounce while munching on their candies from trick-or-treating.
It is printed with a silly panda face, and its humungous head has its mouth wide open just enough to fit your kid's face. One size fits kids age 5-11 years old who'll surely have a blast in the Halloween party.
Morph exclusively manufactures it so you're sure to get the best quality for only $46.96.
What's your child's favorite animal? If it's the Panda, then this costume is for them!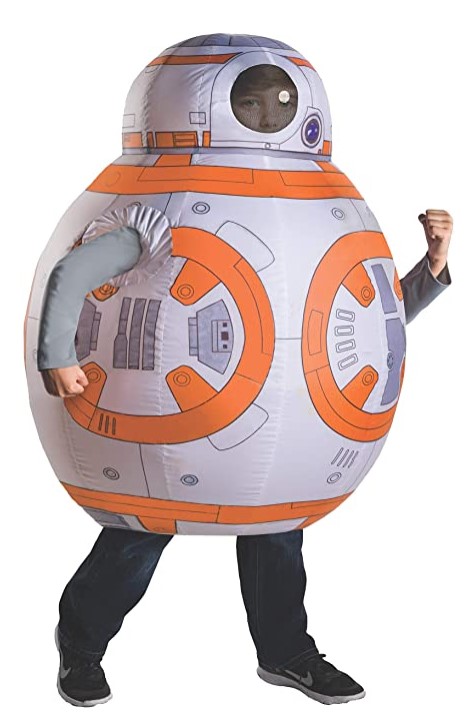 Get the eye-catching Star Wars: The Force Awakens – BB-8 Inflatable Child Costume for your kid this Halloween. This officially licensed inflatable costume is perfect for little boys, and girls age 5 to 8 years old. Kids who can't get enough of the movie can live out one of its most epic scenes by dressing up as the cute astromech droid BB-8.
With your help, your kid can step into the costume with an attached battery-operated fan to get it inflated into a spherical shape within seconds. Its printed details and accents will have other people adore your kid's costume giving him/her the best Halloween experience.
Let your kid cruise down the neighborhood or enjoy the Halloween party at home with this inflatable costume! It's a must-buy for the Star Wars fandom!
Got a Star Wars fan in the family? This is perfect for girls or boys!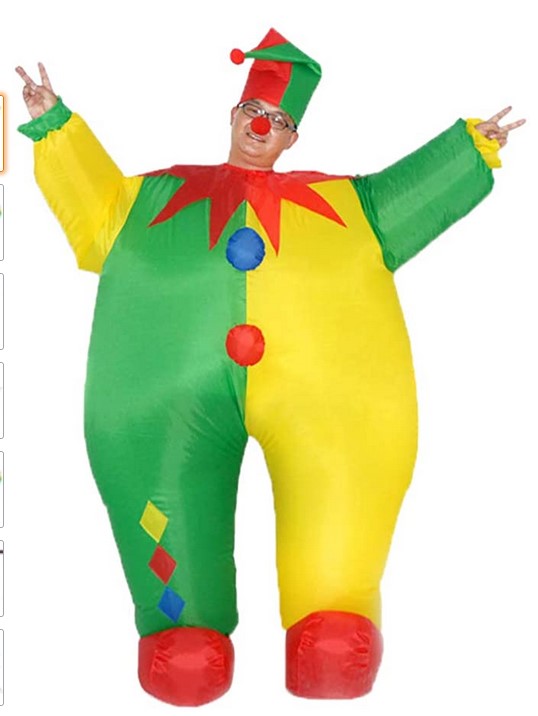 Are you looking for a Joker costume that's not too horrifying? Well, the SIREN SUE FUNNY JOKER Inflatable Costume for Halloween is the theme made just for you.
The joker costume has been the traditional choice for Halloween, and instead of the frightful and evil-looking ones, you can opt for this classic, colorful joker costume. Dressing up as a joker has never been easier! With the inflatable funny joker costume, you just put on the suit, connect the fan to the battery pack, and switch on the box to inflate it.
The SIREN SUE FUNNY JOKER inflatable costume includes a jumpsuit with oversized red shoes. The joker costume wouldn't be complete without accessories like the jokers hat, which are included in the package.
Get this inflatable joker costume at a low price of $34.99 and bring amusement to your family and friends all Halloween long.
Let's admit it… Jokers can often be scary or intimidating for the youngsters. But not this one… It is perfect for a young teen's Halloween party or Trick-or-Treating!
6. Camlinbo 73″ Child Inflatable Dinosaur Costume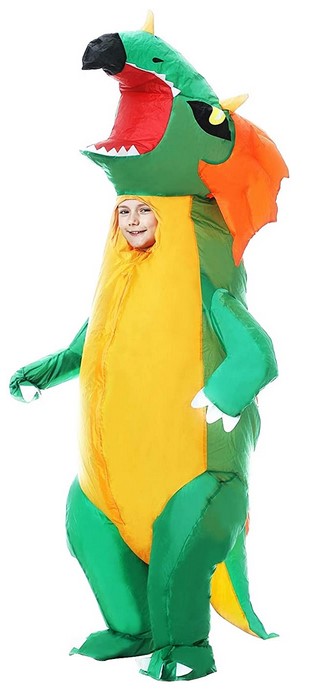 There is no doubt that dinosaurs have become a fascination for most kids. These kids dream of getting to see a real dinosaur or even having one as a pet.
Let them roar in excitement with the Camlinbo 73″ Child Inflatable Dinosaur Costume this Halloween! This suit is large and will have your little one in charge of the Halloween party. It comes in different sizes available to kids age 4 to 10. It is lightweight yet durable and comfortable for kids to wear.
Kids step into this colorful Halloween inflatable costume that features the shape of a Triceratops. A zipper closure is found on the front and includes a fan and battery set that'll inflate the costume in less than a minute. The inflatable dinosaur costume features a mouth wide open with a face hole under it for your child to see out.
Your youngster's love for these extinct creatures will turn into a magical adventure as they wear this wonderful inflatable costume.
Most children are enamored by dinosaurs. This one is perfect for kids and quite the conversation starter!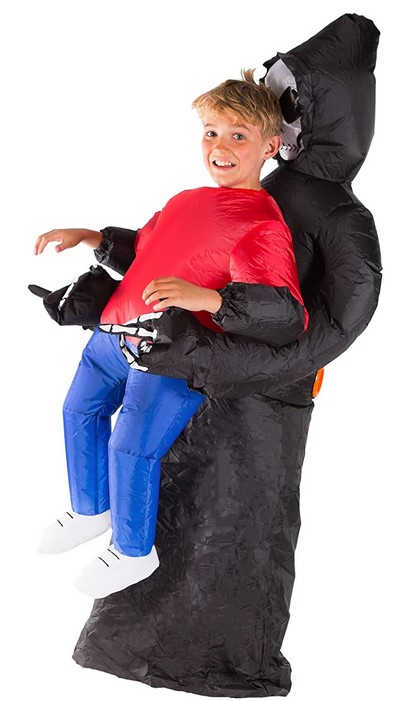 Not all kids want to dress up with colorful and friendly costumes for Halloween. Some of them are looking for a good scare while having a good harvest of treats.
Make them look spooky yet hilarious in the Bodysocks Kids Inflatable Grim Reaper Halloween costume. This inflatable costume creates the illusion that your kid is being carried around by the Grim Reaper.
Boys and girls, age 5-11 years old, will surely find wearing this inflatable costume comfortable and cool.
Help your kid set this up by turning on the fan to inflate it in seconds and let them have a scary-good time.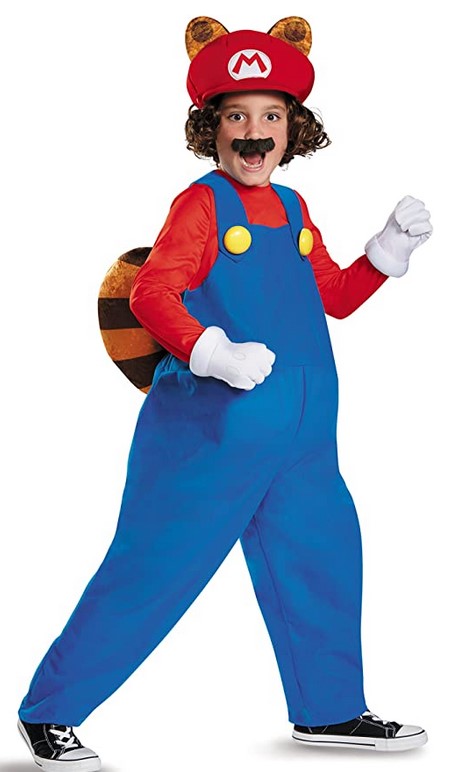 Why not let your youngster be a Super Mario Bro. this year? The Mario Raccoon Deluxe Super Mario Bros. Nintendo Costume is perfect for your kid gamers.
Kid gamers know that when Raccoon Mario acquires the Super Leaf, he can use his tail to glide and attack enemies in the Super Mario Bros. 3 game. Super Mario Bros. 3 is one of the best video games of all time. Halloween could be the best time to let your kid live out as the epic hero in this video game.
Buy them this costume and make them feel like the winner that they are. This licensed costume includes a jumpsuit with an attached raccoon tail, an inflatable belly, a hat with raccoon ears, a pair of white gloves, and an adhesive mustache to complete the revolutionized Super Mario Bros. look.
How cute is this Mario Raccoon Deluxe Super Mario Bros. Nintendo Costume?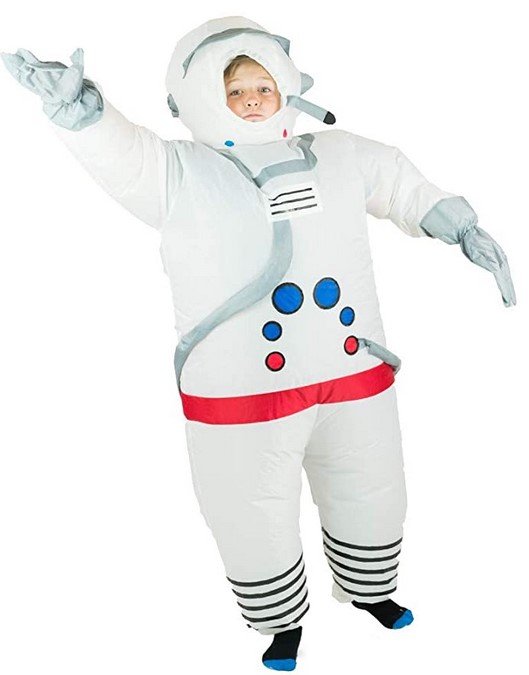 Does your little child want to be an astronaut? Get them started this Halloween by giving them the Bodysocks Kids Inflatable Spaceman Fancy Dress Costume.
Let your kid wear this inflatable suit and give them an out-of-this-world experience. Help foster their interest in space exploration while having a blast in the Halloween costume adventure. The spaceman suit comes with a fan and a battery pack that keeps it inflated for seven hours. It's a jumpsuit that your kids can step into with ease.
Your kid will look forward to an awesome spacewalk while trick-or-treating in the neighborhood. One size fits little space dreamers 5-11 years old.
Do you have a future astronaut in your home? Let them look the part (kind of) in this cute Inflatable Astronaut costume!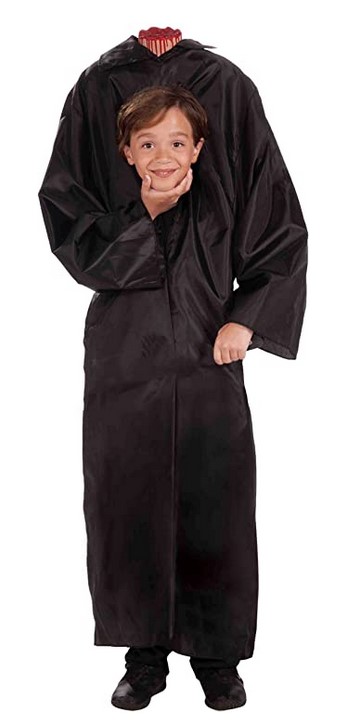 What would Halloween be without scary costumes? Forum Novelties Children's Unisex Headless Costume is a terrific choice for kids who'd love a good fright on Halloween. This headless Halloween costume will transform your kid into a terrifying form giving other kids nightmares.
This costume features an illusion of having your kid's head severed and has a hole for the face. The palm grabs his head and the long black cloak helps to conceal your kid's body. Its neckpiece rests on your kid's shoulder, and everything is put in place with the help of a harness.
It's spooky and eerie, and a whole lot of fun… to scare others!