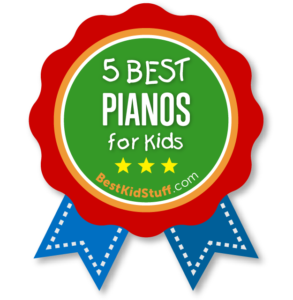 Piano lessons can teach kids important life lessons. It is a valuable experience beyond just the ability to read music, and those benefits have become even more essential as music programs are being removed and reduced in frequency in schools across the US.
Studies show that students who participate in music score higher in reading and math, which also translates to a higher grade point average and better academic success. Kids also score higher on standardized tests and there appears to be a correlation in the student's IQ.
The benefits are well-documented and have inspired a push to bring back arts and music programs to schools where they have been discontinued.
That's also why so many parents, grandparents, guardians, and educators are searching for the best piano keyboard for kids. It's important for kids to have access to music education that will help to improve their lives, as well as their academic performance.
As parents and caring adults, it's important to understand the factors that will be involved in facilitating a piano education experience that's fun, educational, but which also makes sense from a budgetary and long-term development point of view.
How to Determine the Quality of a Piano
The piano is so big and foreboding that it may not always get the full level of scrutiny that it should. It's one of the largest (and potentially most expensive) instruments, but it still should meet basic quality standards. Here are a few factors to consider when evaluating a piano for purchase.
Sound
Every piano will sound different in general, but the pitch and tone will also change when it is out of tune. Bring someone who knows what to listen for in selecting a quality piano. For used pianos, it's also important to ask when the piano was last tuned, and/or if it has ever required repair or servicing. For electronic keyboards, the sound is still important, even though it's possible to adjust the output to some degree.
Playability (Touch)
The touch of the piano will change with age and use on a traditional piano. The action can change, which affects the touch. To get the most accurate feel, it's important to consider a keyboard with weighted keys that has the most accurate emulation of piano touch-and-feel, without sticking or mushy keys. When considering an electronic keyboard, the factor is often in how close to the feel of a "real" piano that the keyboard is able to get.
Aesthetics
The piano is designed to be large. It takes up a lot of room, but some models are larger than others. For some, the color, and other design-related factors can affect the decision on which piano to purchase. For an electronic keyboard, the size and shape of the model is still a factor in the decision. The larger and more complicated electronic keyboards also tend to cost more, but they also more closely emulate the quality and aesthetic look-and-feel of a traditional piano.
Longevity
The best pianos will last a lifetime, but there are a number of factors to consider. What's the budget? Is this a "starter" piano or an instrument for a dedicated musician? Is it new or used? Consider whether the piano will really be needed for a lifetime or just a short period of time, as part of educational life experience. Electronic keyboards are typically the best option for kids who are just learning to play the piano, but they may not last as long as some of the more traditional piano models. Electronic keyboards fulfill the needs and requirements of the beginning student.
---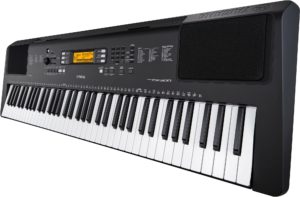 The Yamaha PSR-EW300 goes above and beyond the rest. It offers a full 76 keys, with USB and MIDI connectivity. It's a portable keyboard, but it's from a name that's known and trusted for its high-quality pianos and electronic equipment.
The Yamaha is a popular brand as one of the best keyboards for kids to learn piano. The keyboard comes with a bundled stand and power supply. The Yamaha portable keyboard has a mix of 165 styles, 154 songs, and 574 voices that offers the level of versatility that will grow with the piano student no matter what their age or level of experience.
The Yamaha Education Suite (Y.E.S.) offers practice options via preset songs or MIDI files, but there's also the Touch Tutor Lesson mode to track velocity and strength. The underlying premise with the functionality is to allow the beginning piano student to build basic strength at his or her own pace while supporting the development of more advanced piano skills. The Yamaha PSR-EW300 also supports greater connectivity.
Sound: 10/10 – Yamaha sound, and lots of options
Playability: 9/10 – Touch-sensitive keys for more dynamic options, but not weighted
Aesthetics: 8/10 – Standard keyboard, not particularly pretty
Longevity: 9/10 – Yamaha quality, will stand up to use
Score: 9/10
The Yamaha PSR-EW300 will get your child or teen on the road to music-making in no time!
2. Hamzer 61-Key Electronic Piano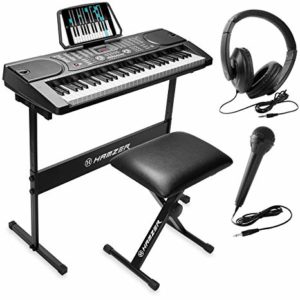 The Hamzer 61-Key Electronic Piano offers a user-friendly design which makes it the best keyboard for kids learning piano. This electronic piano comes with microphone and headphones that support long and dedicated practice, while the record-and-playback functionality supports the ability to write songs while improving music skills and technique.
This model is a strong option for a beginning piano student, with a price point that makes sense. The Hamzer 61-Key Electronic Piano comes with the essential gear a student needs with the special effects and features that set this electronic piano apart from the rest.
Sound: 8/10 – Pretty solid piano sound
Playability: 7/10 – Keys are full-size but do not feel like real piano keys
Aesthetics: 6/10 – Very busy with button sets – may be confusing for kids
Longevity: 7/10 – Decent materials and construction
Score: 7/10
Amazon offers this sweet set up for a very reasonable price tag!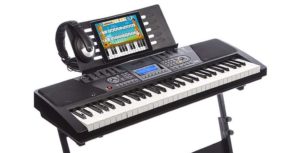 The RockJam 61-Key Electronic Keyboard comes with a superkit, which means that it has a full keyboard, an adjustable Z-shaped keyboard stand, a padded stool, a sheet-music stand, a power supply, and headphones.
Beyond all the standard bells-and-whistles, the Rockjam is one of the best keyboards for kids to learn piano because it comes with an LCD screen with access to the Simply Piano app and Face to Face lessons.
Rockjam supports intelligent teaching, which syncs to the speed and level that the student needs. With record and playback functionality, the keyboard also features 50 demo songs, 100 keyboard sounds, and 100 rhythms to get kids started with their learning experience.
It's a fun learning experience, which puts the students ahead on their path to learning the piano.
Sound: 8/10 – Not a perfect emulation, but good for kids to learn on
Playability: 7/10 – Full-size keys, but not weighted
Aesthetics: 6/10 – A bit on the gaudy side with so many buttons
Longevity: 6/10 – Lower-quality materials may mean a shorter lifespan
Score: 6.75/10
Equipped with an LCD screen, this keyboard system will be a hitmaker at your house!
4. Joy 61-Key Standard Keyboard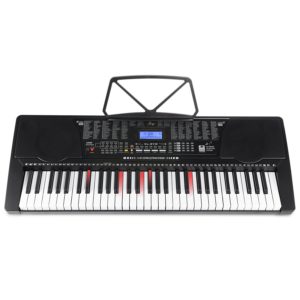 The Joy 61-Key Standard Keyboard has the standard 61 keys, with the MP3 player function and a high-quality LED display screen for added flexibility. The keyboard guides the students in selecting the correct note for the demo songs, which support quick and easy learning in a fun way.
This electronic keyboard is built to last with durable materials. Careful consideration was put into the tuning and testing of each model, which means that the Joy keyboard is the best keyboard for kids to learn piano.
It is a high-quality keyboard, with great sounds and effects: 255 rhythms, 50 demo songs, and 255 timbres. It also includes multiple patterns and functions, including percussion.
Sound: 5/10 – A bit chintzy-sounding, but lots of options for kids to explore
Playability: 7/10 – Keys are full-size, but not weighted or touch-sensitive
Aesthetics: 8/10 – Not overwhelmed with buttons for more of a piano look
Longevity: 5/10 – Watch out – there are complaints that it doesn't hold up to abuse
Score: 6.25/10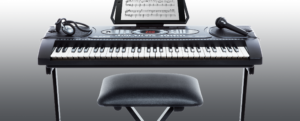 The Alesis Melody 61 MKII is a 61-key portable keyboard with built-in speakers and 300 built-in sounds. Beyond the digital keyboard, it comes with headphones, a music rest, a bench, a power adapter, and a user guide. It has recording and playback functionality, which makes it perfect for songwriters.
Weighing just under 9 pounds, the portable keyboard stands 4.1 inches tall. It doesn't take up a lot of space, and it's a great solution for the beginning piano student. The Alesis is the best keyboard piano for kids.
Sound: 5/10 – Very digital-sounding
Playability: 6/10 – Keys are far from a real piano
Aesthetics: 6/10 – Clean and not too busy
Longevity: 5/10 – Fine for kids learning, but if they stick with it, you will be upgrading soon
Score: 5.5/10
For the budding songwriter in your family, the Alesis Melody keyboard will allow your child to record their music and then play it back.