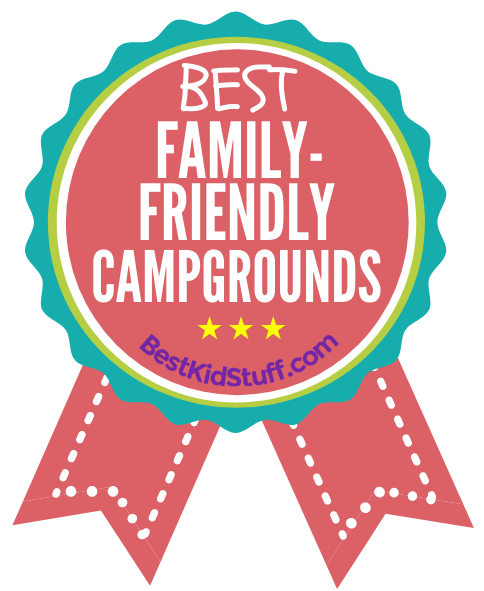 Did you know that Thomas Hiram Holding started the modern recreational camping trend as we know it today? But it must also be said that before Holding and Baden-Powell, individuals and families were already into wilderness camping on awesome campgrounds for recreation as early as the 1870s.
In 1908, Holding wrote "The Camper's Handbook" based on his camping experiences, including his tour of prairies across the US. He also founded the Association of Cycle Campers, the world's first camping club, in 1901. Of course, the narrative of American camping will be incomplete without mentioning Robert Baden-Powell, the Boy Scouts founder.
Fast forward to the 21st century, and recreational camping has become even more popular! In 2019, more than 78.8 million households in the U.S. had enjoyed the camping experience, many of which have done so three or more times in a year. Many are also new to camping and have expressed heightened interest in it.
The camper population has also become more diverse, with more new non-white campers than white campers. Millennials comprise more than half of campers, followed by Gen Xers. Furthermore, more millennials are bringing their kids along for the ride and are, in fact, among the most enthusiastic group! More than half of them go on family camping trips for over seven nights every year.
And the pandemic further emphasized the benefits of family camping! The best family-friendly campgrounds are accessible to families with vehicles and provide ample space for physical and social distancing. After months of being cooped up indoors, families enjoy the perfect balance between being outdoors while still staying safe.
Many international vacation spots are still closed to tourists or unsafe for tourism due to rising COVID-19 cases. Why fly abroad when the best vacation spots are in your backyard? Many campgrounds are also affordable with little to no fees involved, such as in national parks.
Even in post-pandemic times, tourism experts predict that recreational camping will continue to increase in popularity, with many traveling across state lines. Such enduring popularity can be attributed to the Internet connectivity that many campgrounds offer their guests, meaning parents can work and children can attend school remotely.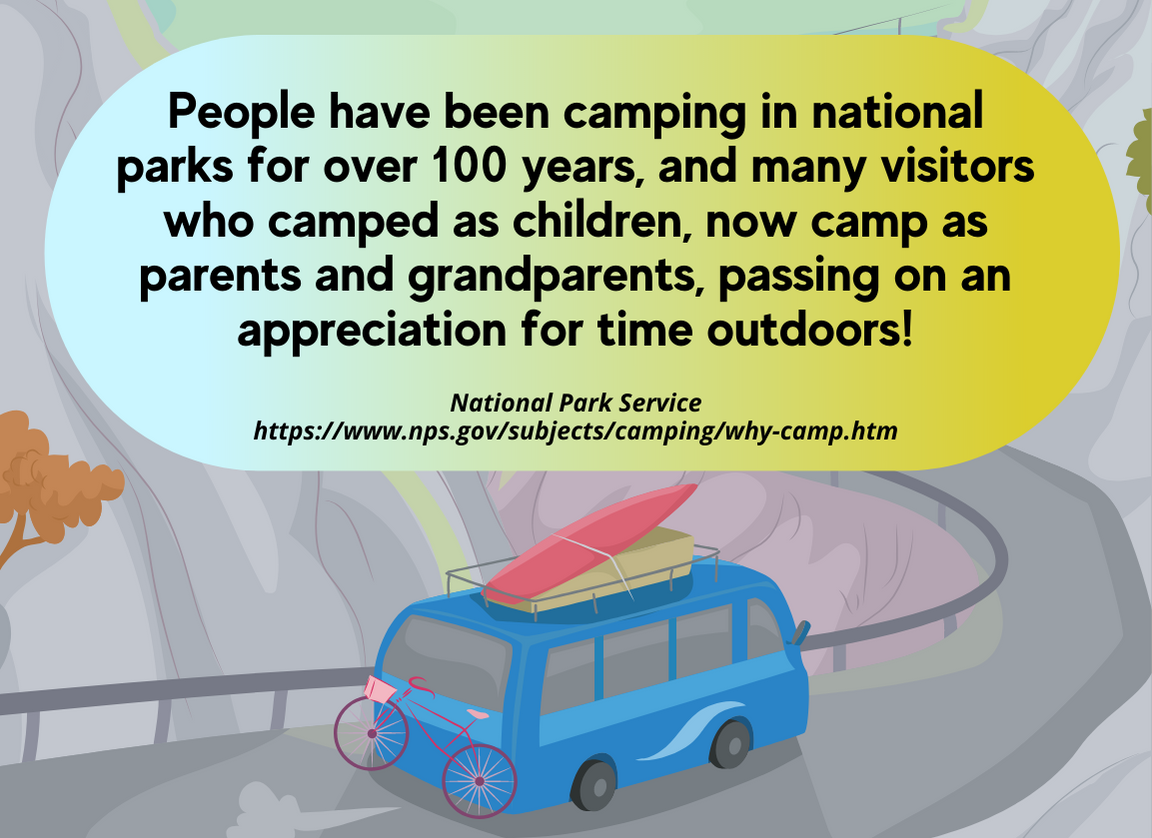 Of course, the benefits of recreational camping for families cannot be overemphasized in the picture! Young and old individuals alike benefit from it in many ways, including:
Stress reduction since camping means there are fewer scheduled activities throughout the day and well into the night. Families can explore the surrounding area, go swimming or hiking, or take it easy. You're on vacation, after all!
Enjoy the beauty of the outdoors, including the warm sunshine, fresh air, and cool breeze, which may be rare for city dwellers. There's nothing like being outdoors to rejuvenate your mind and body, too. Physical fitness also comes more naturally since hiking, swimming, and kayaking, among other physical activities, are on the agenda.
Build stronger relationships by spending more quality time with each other. You and your family can talk without the distractions of gadgets and television – unless you allow it. Consider unplugging from your screens while still being plugged into modern conveniences, such as electricity, water, and bathrooms.
Develop new skills, such as cooking, fishing, and tying knots. Many campgrounds offer supervised exploration activities for kids, too. Children develop their self-confidence, too, which can translate to better academic performance and social skills.
Most campgrounds also offer great food, facilities and amenities, and services, including toilets and bathrooms, game rooms, and planned kid-friendly activities. You and your family can then choose between basic accommodations (i.e., tents with little hook-ups) and glamping (i.e., luxurious camping).
These benefits, however, come with responsibility! Recreational camping has written and unwritten rules that families must be aware of.
Read the campground rules and ask questions about them.
Be nice to your neighbors so everybody can have a great time.
Follow the quiet time at campgrounds.
Respect the personal space of other campers.
Always keep your food supply in secure containers. Wild animals can quickly get to them otherwise.
Help the campground staff clean up after yourself, especially in the toilet, bathroom, and laundry room.
Respect the campsite by keeping its appearance the way it is during your stay and before you leave. This means no DIY hammocks, swings, and clotheslines from trees.
Ensure that your kids and pets are well-behaved. If possible, tell them your expectations before hitting the road. Keep your pets caged or on a leash, as may be required.
Most importantly, follow the Golden Rule. You will find that it makes life easier for you and your family in and out of your home. You must also teach your kids about personal safety, such as being aware of their surroundings.
We give you the most outstanding campgrounds in the United States! Here, we highlight one that stands out in every state, based on their family-friendly facilities, amenities, and services, particularly where children are concerned. These include clean toilets and bathrooms, kid-friendly areas and activities, and sufficient campsite privacy.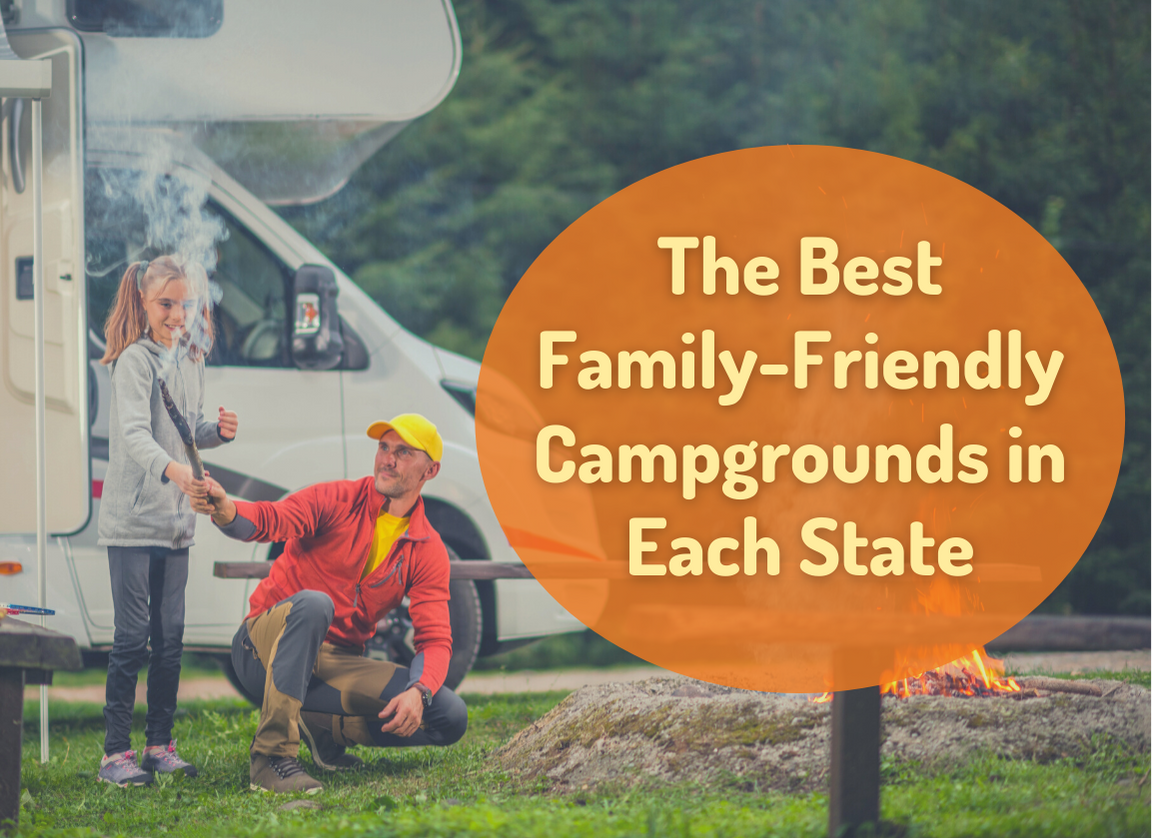 188 Campground Rd, Grant, Alabama 35747
(256) 582-9884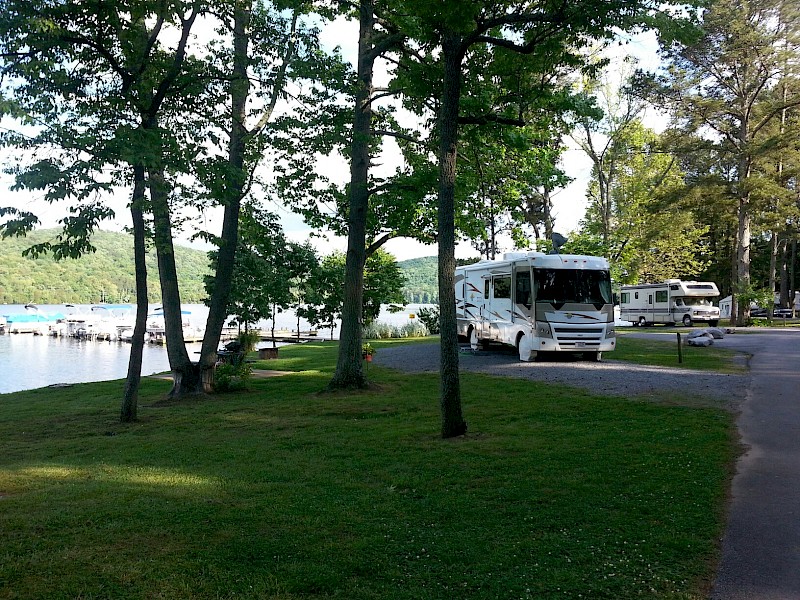 Honeycomb Campground offers family-friendly facilities that will keep the children and adults relaxed or engaged, whichever they choose to be during their stay. The camping sites and cabins are within walking distance of the clean beach with its refreshing waters. Most overnight accommodations have great views, too, and the picnic areas have large trees for shade and soft grass for play.
There are plenty of water activities for the young and old alike, including boating, canoeing and kayaking, and fishing. Hiking and trekking are also great for fitness and exploration, and the surrounding areas are generally safe for children. But it's also possible to just sit back and relax since it's what makes for a great camping experience.
Families can choose between a day stay and an overnight stay, perhaps for as long as a month or an entire season. There are 141 sites for the campground and four cabins available. Each type of accommodation has different rental rates, but these are reasonable considering the exceptional amenities.
Full electric and water hookups are available, and these may be included in the monthly rent. Other amenities include a pumping service, an on-site dump station, and a laundry room. There's even a general store for basic supplies! Bathhouses with modern amenities and privacy features are also available.
The cabins are quite luxurious for a typical family camping experience, too. Every cabin has bedrooms, a full bathroom, a fully furnished kitchen, and a living room with a television. Wi-Fi access is available upon request.
Registered campers can also use the day-use area with its picnic tables and grills. The boating facilities are also open for their use.
Why It's the Best in Alabama:
Pet-friendly policies
Well-maintained facilities from the private cabins to the public areas
Great staff who ensures topnotch services and all-around safety
Full hookups
Mile 101 Seward Hwy, Anchorage, Alaska 99516
(907) 269-8700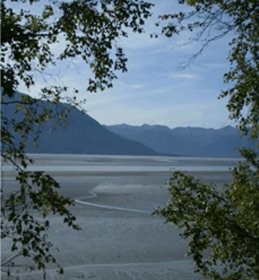 Alaska is a huge campground with its vast wilderness expanse. But if you're looking for a more modern family camping experience, the Bird Creek Campground is the best! Its accessible roadside location, excellent outdoor options, and year-round opening attract families from across the country, too.
Spring is the best time to be here, as you bask in the little snow combined with an explosion of life in bold, bright colors. Guests can enjoy many activities, from riding the 13.3-mile paved bike trail of the Turnagain Arm to viewing spectacular wildlife. Beluga whales and bald eagles are fairly common sights, while the bore tide brings exciting scenes.
The rainforest is just waiting to be explored while the Bird Ridge beckons adults to climb its 3,400-foot summit and be awed by the majestic panorama. Children can also appreciate the glorious views by climbing just a few hundred feet up.
Fishing enthusiasts will find the salmon run so exciting that it may well be the best reason for their stay! Chums and pinks are there for the taking, but it's also possible to just enjoy the awesome sight of spawners jamming the Indian Creek.
Families can stay in their RVs and tents, as well as choose between two cabins – the Beluga and Bore Tide. The campgrounds have an open layout with ample distance between parking spaces and breezy and fabulous views. The Modern amenities make camping more fun with children, such as fire rings, outhouses, and water pumps, and bear-safe lockers are a thoughtful feature.
Why It's the Best in Alaska:
Accessible for all types of vehicles, including RVs
A vast expanse of wilderness to enjoy and explore (About 495,200 acres)
Campsites with comfortable amenities, including bathrooms and toilets
Plenty of activities to do, from picnicking to climbing
11345 N. SR 89A, Sedona, Arizona 86336
(877) 444-6777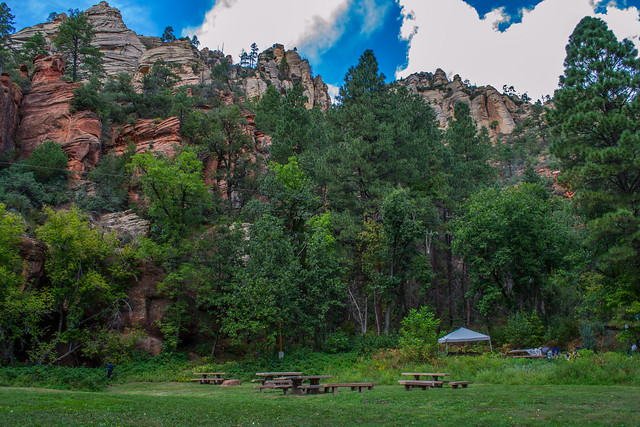 Located inside the Coconino National Forest, Cave Springs Campground boasts awe-inspiring scenery that attracts locals and tourists alike. Weekends can be crowded, so it's best to come on weekdays, if possible. Take note of the strict ban on radios and amplified devices, as well as on horses. Motorbikes are allowed, but only if these are used for entering and leaving campsites.
Come here from May through September since the fair weather is the best for children. The forested canyon surrounds the campsites, and the ponderosa pines provide cool shade during the summer. Many campsites are within walking distance, if not on the banks of Oak Creek with its crystal clear, cool, and shallow waters.
Fishing is a popular activity here, thanks to the abundance of trout in the streams. Fly, spin, wade, and shore fishing are allowed in the national forest. Swimming is also popular, bird watching and hiking with numerous hiking trails through the canyon slopes.
Families choose from 84 campsites with one campsite reserved for tents only. Trailers, motorhomes, and RVs are welcome, but there's a 36-foot limit for these vehicles. All the campsites have cooking grills, campfire rings, and picnic tables, so prepping and enjoying food outdoors becomes more enjoyable. Drinking water is provided on all campsites, while vault restrooms and coin-operated showers make it easy to attend ablutions in a wilderness setting.
There are no hookups, unfortunately, but the availability of other essential services offsets it. The store, for example, sells a wide range of camping supplies, snacks and coffee, and other essentials for families.
Why It's the Best in Arizona:
Accessibility by passenger cars and other types of vehicles is a plus
Awesome flora and fauna
A variety of physical activities for children and adults
Good facilities and reasonable fees
Near other attractions and towns, including Sedona proper
82 Woolly Hollow Road, Greenbrier, Arkansas 72058
(501) 679-2098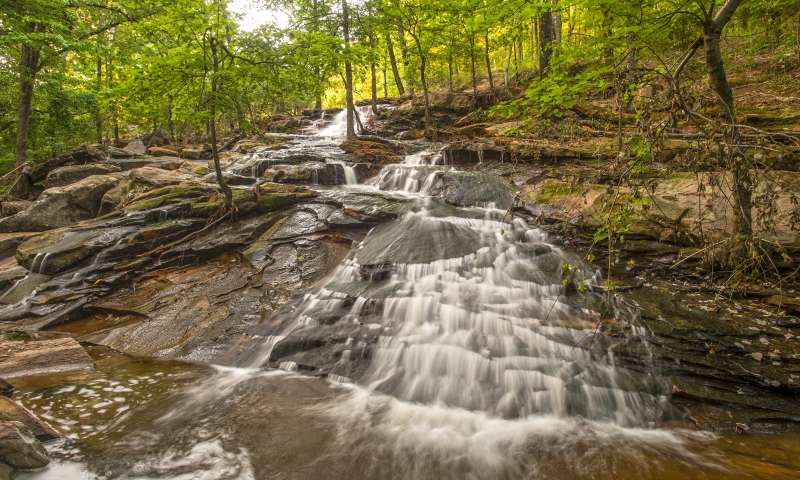 Families looking for the classic camping experience in a state park will find it at the Wooly Hollow State Park! The picturesque panoramas are enough reason to come here, but families also come for the retreat from city living. The Ozarks inspire a spiritual connection with the earth while also providing plenty of opportunities for exciting outdoor adventures.
There are ten tent sites and 30 AAA campsites for families to choose from, and all of them are well-maintained by the staff. The AAA campsites are for glamping enthusiasts who want the convenience of full hookups, easy bathhouse access, and dining areas. The tent sites don't have extra amenities, but there are communal water taps for drinking and washing. The RV sites have utility hookups, including a sewer service.
Lake Bennett, a 40-acre man-made lake, features a launch ramp where pedal boats, kayaks, and canoes can be rented. Fishing boats are also available for rent, but guests must bring their fishing gear. Swimming is encouraged in its clear, cool waters, too.
Hungry after a day of adventures, but there's no time to cook for the kids? Instead, hit the snack bar and enjoy corn dogs, ice cream, and other filling food, perhaps enjoy them while watching the sunset. Picnic sites are best for eating with family and friends in a beautiful outdoor setting, too.
Aside from the snack bar, a gift shop and a visitor's center make the camping experience more enjoyable. Be sure to look into the hiking trails, too, such as the Huckleberry Trail and Cabin Trail. Ride the length of the Enders Fault Mountain Bike Trail if you're up to an adrenaline rush.
Why It's the Best in Arkansas:
Modern amenities include hot showers and hookups
A choice between a more outdoorsy tent experience or a glamping experience in the campsites
Plenty of outdoor activities suitable for all ages
Open year-round, although some activities are seasonal
40800 N Shore Dr, Fawnskin, California 92333
(909) 866-8021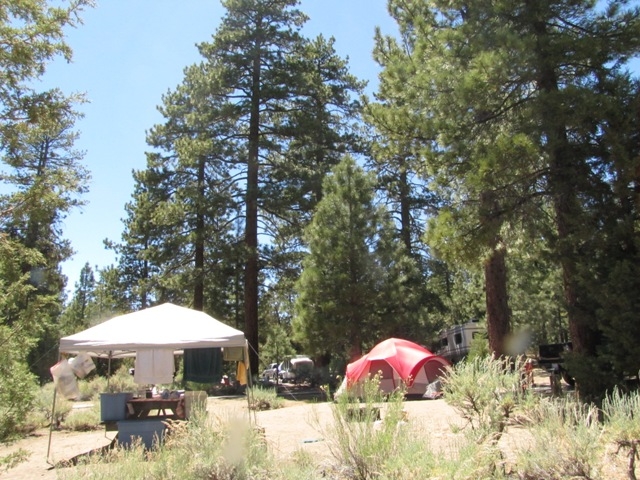 Located within the San Bernardino National Forest, Serrano Campground is surrounded by an enchanting pine forest and within walking distance of the Big Bear Lake. Families can plan their activities with the assistance of the staff at the Big Bear Discovery Center or just sit back and relax.
One hundred nine campsites are consisting of 16 double sites and 93 singles sites. Each site has an eight-person limit, including children and a two-vehicle limit; the second vehicle is charged a nominal fee. Your pets may come with you, as long as they are on their leash pawrents!
The campsites have fire rings, picnic tables, and electric hookups; not all campsites have hookups, so ask the staff first. The campground has tap water, restrooms with flush toilets, and showers for the guests' convenience. Families with small children find these amenities particularly welcome for obvious reasons.
There's a for-a-fee dump station, too, for RVs and motorhomes. Firewood can be bought on-site, and fire rings enhance the nighttime camping experience. Children and adults have fun during the campfire interpretive programs, too.
Campers enjoy the various activities possible on Big Bear Lake. These include swimming, boating, waterskiing, and stand-up paddleboarding, as well as fishing. There are also amenities for parasailing, jet skiing, and mountain biking, while the surrounding countryside is the best for hiking and mountain biking.
The campgrounds are clean and well-maintained, with asphalt roads and grassy picnic grounds. Pets are allowed but should be under human supervision at all times. Connectivity with stable Wi-Fi and strong cell signal is a bonus, particularly for families who still want connections with the outside world.
Why It's the Best in California:
Ample space for accommodations and explorations
Modern facilities, including restrooms and showers
Plenty of outdoor activities within the national park and its lake
Friendly and helpful staff
18680 Hwy 145, Dolores, Colorado 81323
(970) 882-7761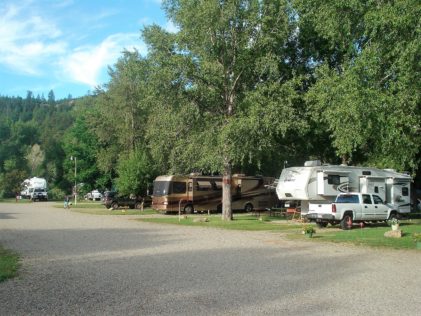 The Dolores River Campground provides the perfect balance between enjoying the great outdoors and getting the best camping amenities. Here, parents can let their children play, run and make friends within the safety of the campsites and allow them to explore the surrounding areas. The tree-filled campsites have the cool waters of the Dolores River running through them, too.
Families can choose from these accommodation options:
Cabins with private bathrooms, kitchenette, and bathroom; cable television is available
Vintage trailers with kitchen, bathroom, and picnic tables; Wi-Fi connection
Conestoga wagons with electricity and fire pit
Yurts with electricity, fire pit, and private deck
RV and camper sites with hookups, picnic tables, and Wi-Fi connection
Tent sites complete with fire pits and picnic tables
Indeed, there's an accommodation that will suit your family's unique needs! The rental rates are reasonable, too, which means staying for extended periods will not be a financial strain.
Within the campground itself, families have numerous outdoor activities to choose from. Fishing on the Dolores River and the on-site fishpond will test your skill, while the river walk will open your eyes to the beauty of nature. Swimming should be on the agenda, too, followed by watching the stars while gathered around the fire pit at night. Hiking through Bullwinkle Woods is a great way to get your exercise, too.
There are also on-site activities, such as the ice cream socials, campfire cooking of wood-fired pizzas, and gyro food truck on certain days of the week. The gift shop sells souvenirs and gift items, while the breakfast cafe offers great food.
Why It's the Best in Colorado:
Plenty of accommodation options from basic to glamping
On-site amenities include a laundry room, large recreation hall, and a commercial kitchen for events
Well-maintained restrooms, showers, and hookups; most accommodations have electricity and water, too
Friendly staff works for the benefit of guests, including their safety and convenience
271 Leonard Bridge Rd, Lebanon, Connecticut 06249
(860) 642-7470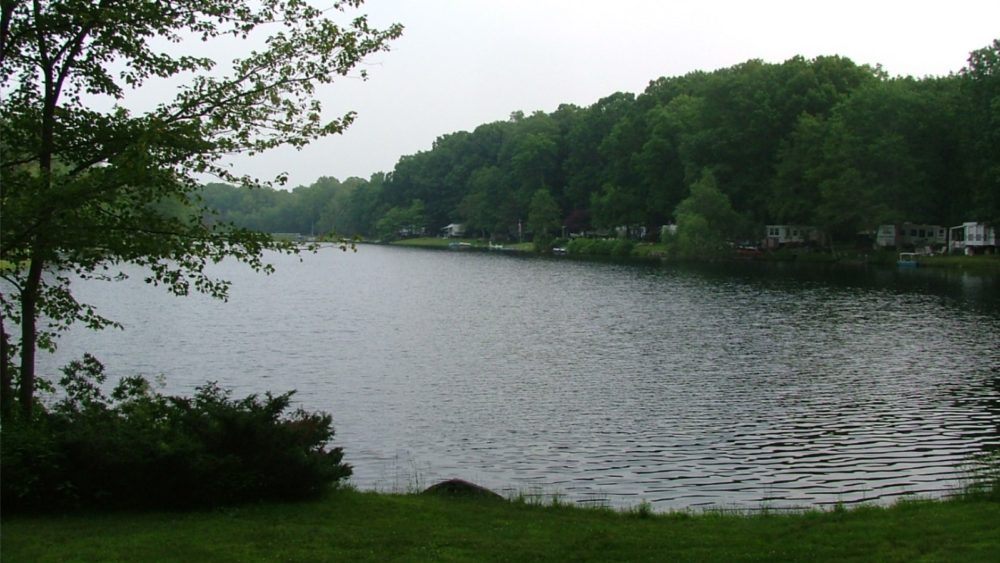 The 10-acre Water's Edge Campground has a wooded area for hiking and exploring and a stocked fishing lake for enthusiasts. Take note that there's a catch-and-release fishing policy that must be followed strictly by campers. There's a fishing derby, too, which adds to the excitement of the camping experience.
The camping season starts on April 15 and lasts until October 15 every year, and reservations are appreciated. Families can choose to come in their RVs and motorhomes, rent the cabins for a glamping experience, and set up tents for a basic vibe. The rental rates are reasonable considering the excellent amenities and activities offered.
Pets must be leashed throughout the park. There's a dog park, known as the Bark Park, where dogs can play with their kind, too.
Adults and children have plenty of indoor and outdoor activities to choose from during their stay. Christmas in July, bingo tournaments, and a bicycle parade are unique to the campground, while the Great Lebanon Fair draws families. Swimming in the 30'x50' pool is always a treat, particularly during the summer, while the sandy beach is a great place for frolicking.
Pitching horseshoes, hiking through the woods, and boating are also popular outdoor activities. Children can also play in the two playground areas and participate in the planned activities, such as children's games and treasure hunts. Indoor activities are aplenty, too, in the large recreation hall filled with videogames, billiards tables, and air hockey tables.
Every accommodation also comes with its water and electric hookups as well as bathrooms with showers and toilets. There's even a laundry facility, a propane filling station, and a camp store with grocery supplies.
Why It's the Best in Connecticut:
Children can be kept entertained with indoor and outdoor activities
Adults have numerous opportunities for relaxed socialization, too, including pig roasts and potluck dinners
Modern facilities available
Efficient, helpful, and accommodating staff
15099 Cape Henlopen Dr, Lewes, Delaware 19958
(302) 645-8983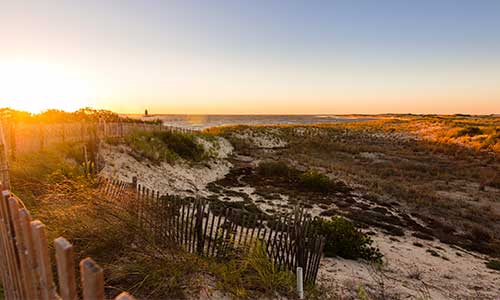 With more than six miles of stunning coastline, the Cape Henlopen campground is smack in the middle of a verdant forest that sits at the junction of the Delaware Bay and the Atlantic Ocean. The coastal ecosystem here consists of diverse habitats ranging from coastal beaches and barrier dunes to maritime forests.
Be advised that certain areas of the state park are off-limits for wildlife conservation purposes. But it's among the reasons for its glorious panoramas, too, so respect the rules.
Guests are well-advised to visit the Seaside Nature Center first to learn more about the rich flora and fauna in the area. The aquariums feature horseshoe crabs, stingrays, and local fish, too.
There are 20 sites for tents as well as 12 cabins with two bedrooms each. Families then have a choice between sleeping rough and glamping, both of which are enjoyable experiences. The individual cabins have fire rings for cooking, outdoor faucets, and communal bathhouses with privacy features.
Larger rigs can also park in the campground. There are 100-amp service and 2-points hookups on several sites, so camping becomes less primitive.
What's family camping without the exciting outdoor adventures? At Cape Henlopen, families can swim in the ocean, play and lounge on the beaches, and enjoy the scenery. Lifeguard patrols are on duty on certain days, typically Memorial Day weekend and Labor Day.
Water activities include boating, kayaking, and paddleboarding, as well as windsurfing and fishing. Beyond the water, there are also beautiful trails for explorations on foot and bikes; bikes are available for rent. Look into the historical tours, too, with Fort Miles as the centerpiece.
Why It's the Best in Delaware:
Filled with beautiful beaches, wooded areas, and trails
Plenty of water and land activities
Great modern facilities and amenities for families
Friendly, helpful staff ensure an enjoyable stay
2309 River Ridge Road, DeLand, Florida 32720
(386) 736-5309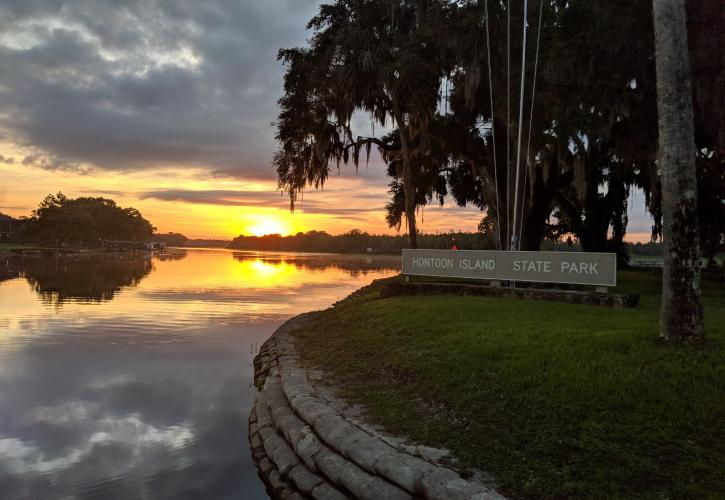 The true island camping experience is what sets the Hontoon Island State Park campgrounds apart! The 1,648-acre Florida State Park is truly away from the hustle and bustle of the city with its strict ban on motorized vehicles; wheelchairs are the exception. Plus, it's a back-to-basics camping experience that allows families to bond better – no distractions within miles.
Hontoon Island can only be reached by boat, typically by the park-operated passenger ferry that crosses the St. Johns River. Guests are transported to their cabins via vans, too. Enjoy the magnificent sceneries of pine flatwoods, cypress swamps, and oak and palm hammocks along the way.
Families choose between six cabins with basic amenities and 11 tent sites for a more earthy experience. Most guests have a view of the woods, marsh, and river from their accommodations. The Hontoon Dead River surrounds the island itself, St. Johns River, and Snake Creek, so there's plenty of water-based outdoor activities.
Swimming is off-limits on the island, but there are plenty of other activities. Ask the staff about canoeing, boating, kayaking, and fishing on the bodies of water. Take a trip around the island during the day and enjoy nature at its most pristine. Paddle your way to the neighboring Blue Spring State Park, too.
Take advantage of the stunning landscapes by hiking, picnicking, and watching out for wildlife. Stay put on the island if you want a more laid-back experience, and let the kids play in the playground or explore the 3.4-mile nature trail. Buy essentials, such as firewood and snacks, you may have forgotten at the concession stand.
Why It's the Best in Florida:
Unique island camping experience
Playground and supervised activities for children
Youth camp available
Great outdoors in an island setting with island hopping possible
Good facilities and services for the price
4003 Stonewall Jackson Drive, Stone Mountain, Georgia 30083
(770) 498-5710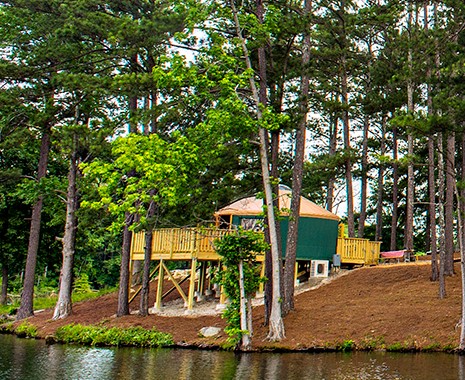 Located just outside Metro Atlanta, the Stone Mountain Park Campground is set against an awe-inspiring, 3,200-acre park. The campgrounds are the perfect balance between Mother Nature and manicured lawns, modern amenities, and thrilling attractions. This is where families gather to spend their weekend getaways and vacations!
Families can rent one of the more than 400 accommodations ranging from luxurious yurts to basic tents. There's no need to bring camping gear, too, since most modern facilities are already on site! Think of it as a glamping experience at a fraction of the cost.
The RV and motorhome sites can accommodate 250 vehicles and offer full or partial hookups. Guests can tap into the water, electricity, and sewer facilities and enjoy Wi-Fi and cable television access. Check with the staff about the availability of back-in, head-in, and pull-through sites.
The tent and pop-up sites offer partial hookups to electricity and water. Take note that there are partial hookup and barebone sites, so check with the staff before making your choice.
The 18 yurts come with cable television and a Wi-Fi connection, so staying connected is possible. Water and electricity are also modern amenities inside these old-fashioned yet comfortable accommodations. Smoking and pets aren't allowed here.
The campground features large, airy picnic areas, well-maintained public restrooms, and a large playground. There's an outdoor pool for swimming, a horseshoe court for games, and a general store for essential items. All public spaces have a stable Wi-Fi connection, too.
Modern restrooms and showers are for guests' convenience since recreational camping doesn't mean primitive ablutions. Laundry facilities with washers and dryers make extended stays better, particularly with kids around.
Why It's the Best in Georgia:
Parent-friendly amenities including laundry area, dump station, and police, fire, and EMS services on site
Near park attractions including Scenic Railroad, Summit Skyride, and Skyhike
Playground for kids and courts for adults
Accessible from the city
56-335 Kamehameha Hwy, Kahuku, Hawaii 96731
(808) 674-7715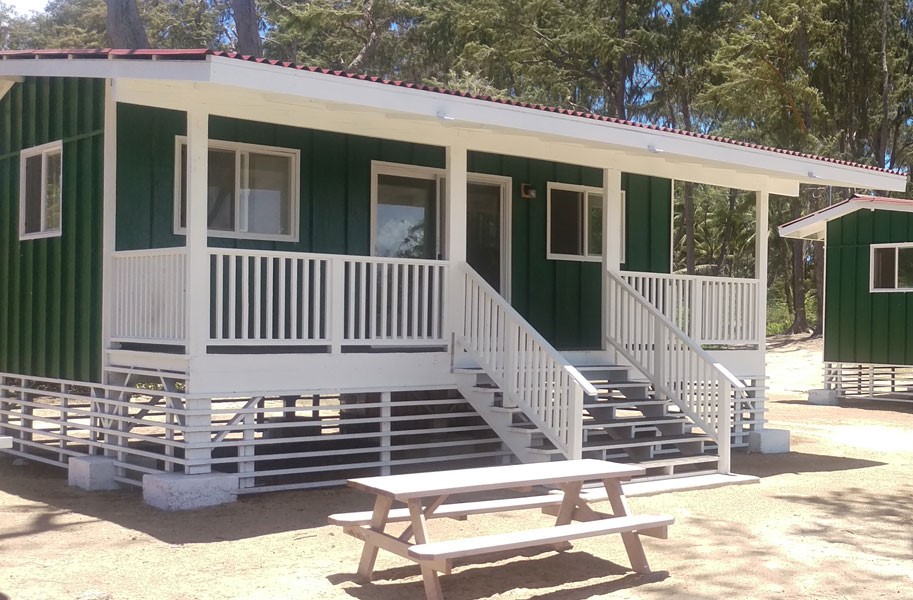 Located on Oahu's windward side, the Malaekahana Beach Campground features a mile-long beach with soft sand and clear waters. This is a secure campground with 24/7 security and an entrance gate, which attracts families conscious about their children's safety. The awesome beauty of Hawaiian landscapes isn't diminished by these security features either.
Families choose from several types of accommodations, from basic yet comfortable tents to luxurious pavilions. There are multiple tent campsites where guests have easy access to outdoor toilets, beach shower facilities, and campfire rings.
Vehicle camping sites also have outdoor toilets and beach facilities, as well as ample parking space. The plantation huts can each accommodate up to four guests and feature a large lanai. There are no electricity and plumbing utilities, but there are numerous outdoor toilets and shower facilities.
The plantation suites offer a more luxurious camping experience with their indoor bathroom, electricity, and beds. These are also characterized by lockable doors and windows and large interior spaces.
For larger groups, the pavilion package is the best choice. Up to 20 guests can sleep in a pavilion with more sleeping spaces in tents around it. Guests have access to the toilet and shower facilities in each pavilion.
The public areas have picnic tables, fire pits, and water spouts for the guests' convenience. Families with children, however, may want to consider bringing their drinking water.
This is Hawaii, so outdoor recreational activities are in abundance! Families with children enjoy swimming in the crystal clear waters, as well as kayaking, stand-up paddleboarding, and surfing. Children are fairly safe, too, thanks to the gentle shore break.
Why It's the Best in Hawaii:
Great beach with plenty of water activities for children and adults
The safety of guests is its priority
Reasonable rental fees
Accessible area for vehicles
Friendly, attentive staff
1920 Davis Ave, McCall, Idaho 83638
(208) 634-2164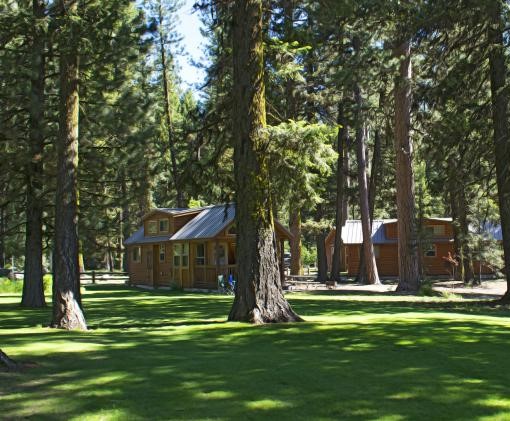 The nearly 1,000-acre Ponderosa State Park is a peninsula jutting into the gorgeous Payette Lake, and it's best viewed from the Osprey Point. The varied topography invites explorations while the wildlife provides opportunities to be awed by nature's magnificence at every turn.
The humid, dense forests, arid sagebrush flats, and spongy marshes are home to ospreys, wood ducks, beavers, bears, moose, and bald eagles. The vivid wildflowers make it seem like the entire field was painted by a genius artist, too. There are plenty of nature trails for families to explore together, on foot or on bikes.
Every season brings new adventures for the family, too. During the winter months, Nordic skiing is a fun and thrilling activity on the USSA-certified cross-country courses. Families also go on snowshoeing explorations. In the warmer months, swimming and boating are popular activities, while cycling, playing volleyball and horseshoes, and watching for wildlife are just as much fun.
Parents can rest easy knowing that their children will enjoy the outdoors during the day and sleep in safe and comfortable quarters at night. Cabins are available for rent, and these come with electricity, heat, and air-conditioning facilities and locks on doors and windows. Yurts are whimsical yet comfortable accommodations, too, with electricity, propane heating, and beds.
The Northwest Passage has more than 100 standard campsites with central water facilities and vault toilets. There are also companion serviced campsites and serviced campsites that families will love. These have electric and water hookups, bathhouses with hot showers and flush toilets, and a dump station. Picnic tables and chairs and fire rings are gathering places where stories are told and memories are made.
Why It's the Best in Idaho:
Large natural areas for year-round activities
Access to modern utilities and amenities
Reasonable rates
Guided walks and evening campfire programs keep guests entertained
1405 Lakeview Heights, Pittsfield, Illinois 62363
(217) 285-6719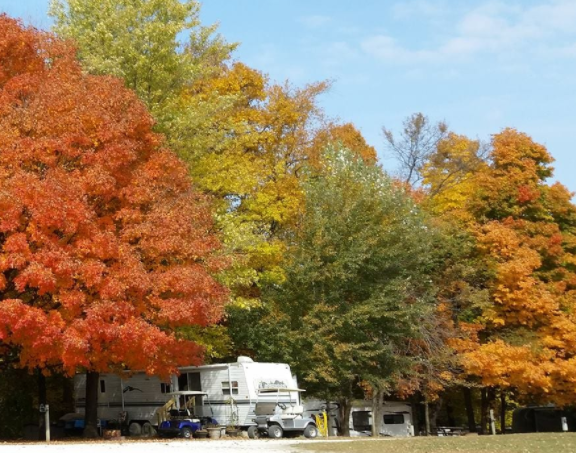 The chain of Yogi Bear's Jellystone Park Camp-Resorts is among the best family-friendly campgrounds in the country! Every campground must meet exceptional standards, including first-class campsites and cabins, restroom facilities, and recreational facilities.
Families choose from several types of accommodations, but they are set close to great places within the campground. Make your choice depending on your unique needs, such as close to the pool, the playgrounds, or the lake. Bring your motorhome, trailer, or RV, and then choose your preferred site.
The full hookup sites come with 30-amp and 50-amp electricity hookups, fire rings and picnic tables, and cable television. The concrete patio is your family's personal space, too.
The pull-through sites also offer utility hookups and picnic tables, fire rings and cable television, and a free park-wide Wi-Fi connection.
The lakefront tent sites have 20-amp electric and water service, and some sites have ample space for traditional pop-up campers.
Forgot to bring something? Buy it from the Ranger Station, where camper supplies, toys, and souvenirs are available. The park also offers food service for your picnics, an enclosed dog park where pets can run without their leash, and laundry facilities. The bathhouses have free hot showers, a luxury after a day of playing and exploring.
Recreation is at the heart of Yogi Bear's campgrounds, and this location is no exception. There's an inflatable water playground, an oversized swimming pool, and wide, open spaces for paddleboarding, kayaking, and fishing. The snack bar has plenty of food options to nourish the body while on these physical activities and when just lounging.
Why It's the Best in Illinois:
Kid-friendly activities and places abound, including the GAGA ball pit
Comfortable accommodations for basic glamping experiences
A balance between outdoor activities and planned events
5896 West 200 North, Greenfield, Indiana 46140
(317) 894-1397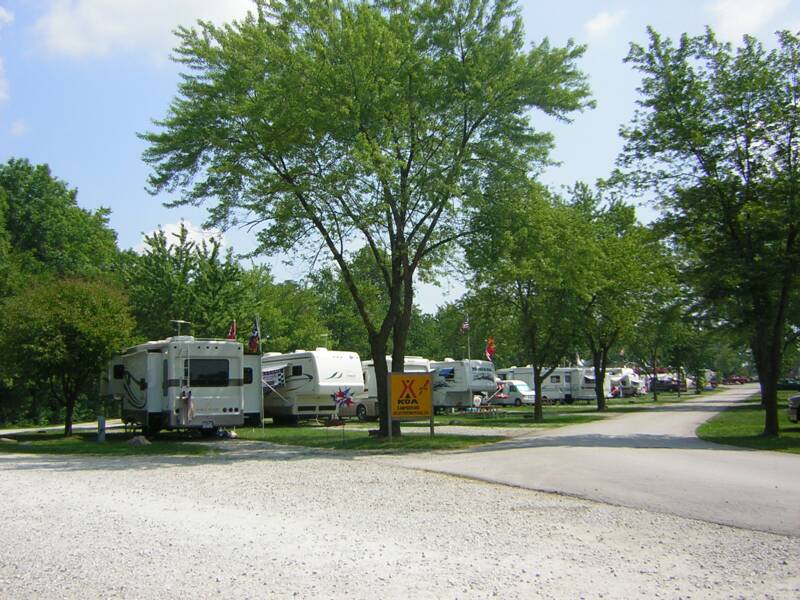 This KOA Holiday location is near enough downtown, so families have easy access to it but far enough from the city to give country vibes. Families can come here in their RVs since there are ample parking spaces, many of which have patios. But families can also rent cabins and tents if motorhomes and the like aren't available.
The cabins are quite luxurious in camping standards, with their full baths among their modern amenities. Even the tent sites are more comfortable than expected! There are also group facilities for larger families.
Enjoying a laid-back vacation is possible here, too, with meandering creeks and wooded areas with towering sycamore, oak, and maple trees being perfect spots for lounging. But it's also a place for physical outdoor activities that families will love. There's a large swimming pool, a snack bar filled with goodies, and a dog park for your furry friends.
Banana bikes, wagon rides, and petting zones keep the children entertained while the adults enjoy their mini-vacation, too. Planned activities include scavenger hunts and pancake breakfasts. Families can enjoy many of these activities together. But there are also kid-friendly activities that allow children to discover their sense of adventure and independence.
Want the fun in the Red Bull Air Race, the Brickyard 400, and the Indy 500? Head on to this KOA location! This is also close to the Speedway, the Indy Zoo, and the Children's Museum, so there are plenty of exciting activities outside the campground.
As in all KOA campgrounds, the staff members work hard to ensure the safety and comfort of guests. The excellent standards of cleanliness and hygiene are also in place here.
Why It's the Best in Indiana:
Accessible location
Countryside vibe with plenty of natural areas
Great choices in accommodations
Plenty of recreational opportunities in and out of the campground
A trusted brand for family camping experiences
1515 P Ave., Madrid, Iowa 50156
(515) 432-1852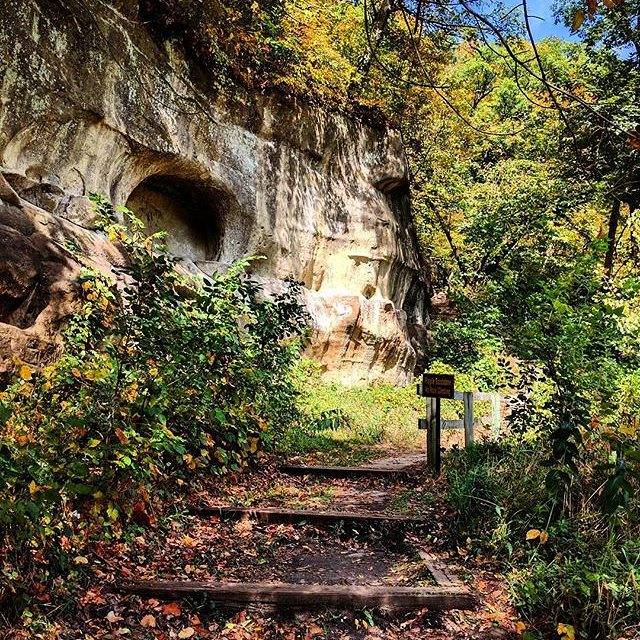 Dense woodlands, sandstone cliffs, and campgrounds with modern amenities make Ledges State Park popular among locals and tourists. Families have easy access to its campgrounds from 250th Street, which will lead into the park valley with plenty of awesome vistas along the way. Be careful when driving since kids are frolicking at the creek crossings, a sign of the park's popularity.
Hiking is still the best way to see the stunning vistas, and the four-mile trail system makes it even easier. Mother Nature's fabulous handiwork is evident in the towering sandstone ledges, scenic landscapes, and steep slopes. Man-made structures seem to blend in with nature, too, with stone bridges being the most striking features.
Take the little ones on a walk through the creek. Don't worry, as it's only ankle-deep, but it offers plenty of opportunities for play and discovery.
There are 95 campsites across the state park, too. Of these campsites, 40 sites have electrical hookups, while 42 have non-electric facilities. There are also 12 hike-in sites and one group site, many of which can be reserved online. There are campsites on a first-come, first-served basis, too. These campsites are well-designed with ample spaces for privacy purposes, too.
Every campsite has public areas with picnic tables and fire rings or grills for cooking. Parents find it convenient that the camping pads are level and filled with gravel, a safer surface for kids. Most campsites accommodate back-in RVs, while a few are of the pull-through type.
The camp amenities include:
Shelters
Modern restrooms
Full showers
Playground
Dump station
Amphitheater
Firewood can be bought on-site, too. Be sure to follow the rules and regulations of the state park as there can be stiff fines otherwise.
Why It's the Best in Iowa:
Accessible by standard vehicles
Offers a more organic camping experience
Has clean, modern facilities for bathing and ablutions
3710 Farnum Creek Rd, Milford, Kansas 66514
(785) 463-4000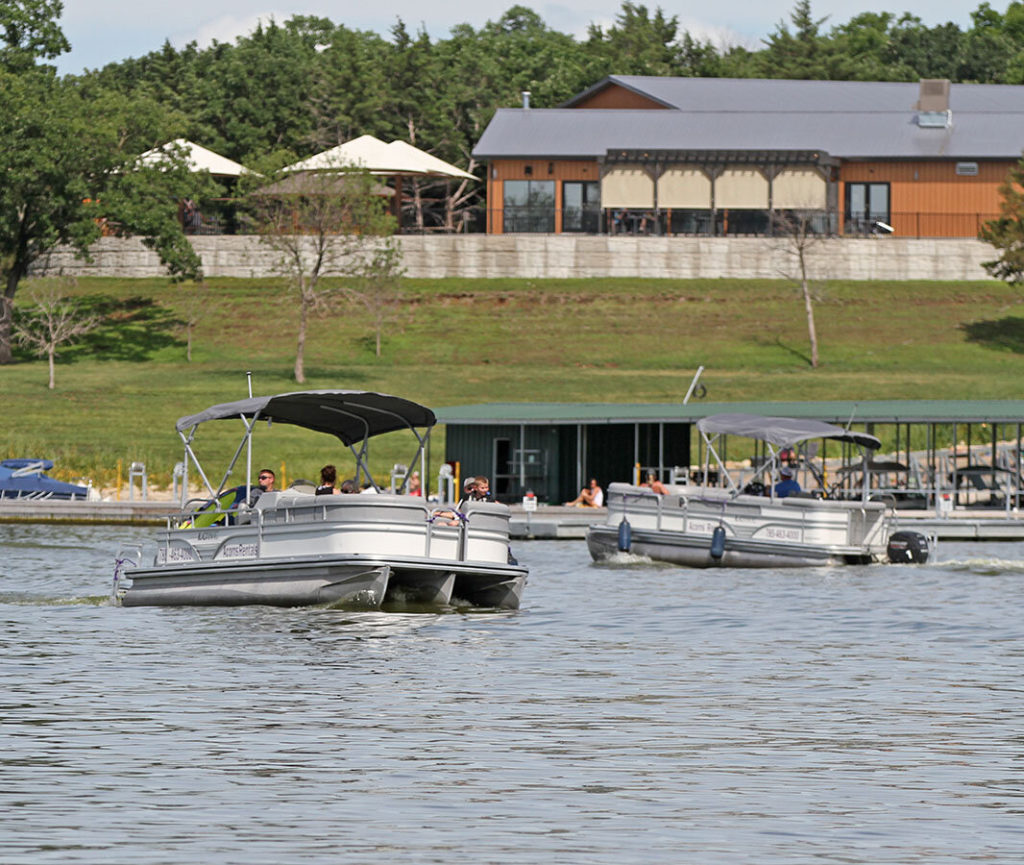 With Milford Lake, the largest lake in Kansas at its heart, the Acorns Resort and RV Park attracts families to enjoy its exceptional campground. The lake has 163 miles of spectacular shoreline featuring sandy beaches and cool waters, the best venue for water sports and lounging. The wide array of watercraft ranges from canoes and kayaks to sailboats, pleasure boats, and fishing boats, and there's always something to do in them.
Choose from among 14 public boat launches, too, where larger watercraft can be rented for a day out on the water. But if you prefer individual water sports, check out the stand-up paddleboards and kayaks. Pontoon boats are also available for rent, but you must meet the state's boater regulations.
Fishing is a popular activity for children and adults, so be sure to pack your fishing gear. Bass including spotted bass, walleye, and largemouth are abundant in the lake. Swimming is also encouraged, as is the case for land activities like hiking, wildlife watching, and bonfires.
Acorns Resort is also the perfect venue for family reunions, weddings, and other events because of its large function hall and other amenities. Live entertainment is also offered, and there are karaoke, game nights, and corn-hole tournaments for entertainment.
Staying at Acorns is easy considering the number of RV campgrounds, deluxe cabins, rooms in the lodging facility, and yurts, as well as tent sites. There are nearly a hundred of these accommodations, most equipped with modern facilities for the guests' convenience.
The staff members are friendly and go out of their way to answer questions and address practical concerns.
Why It's the Best in Kansas:
Plenty of family-friendly outdoor and indoor activities
Well-maintained grounds and facilities
Safe and accessible location
Reasonable rates on accommodations and other rentals
Beautiful surroundings
5970 State Park Rd, Burkesville, Kentucky 42717
(270) 433-7431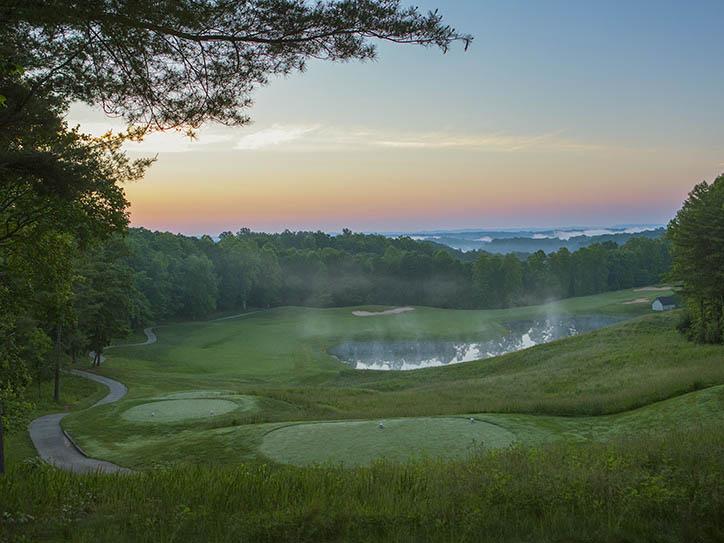 Part of the Kentucky State Parks, Dale Hollow has several RV and tent campgrounds for families with children on short-term vacations. There are 145 campsites, with most of them set amidst the verdant green of trees, and horses are welcome to many campsites, too. Families without an RV or a tent or want a more comfortable camping experience can rent one of the cabins with air-conditioning and bunk beds.
The Mary Ray Oaken Lodge has 60 hotel-style guest rooms with private patios and balconies facing spectacular views from the cliff. The lake and its surrounding woodlands are visible from the rooms, an excellent view to start and end your day at the campground. This is a pet-friendly lodge, too.
Take note that there's no Wi-FI connection here, but it can also be a welcome feature for families seeking to disconnect from the outside world, including social media. You and your family can focus on spending quality time and enjoying the camping experience.
There's an on-site restaurant that offers breakfast, lunch, and dinner options. The food options are delicious, filling, and affordable, and the foodservice allows parents to focus more on their families.
There are several activities offered, including:
Basketball
Biking through the campground's 3,400-acre area; bring your mountain bikes and stick to the mountain bike trails
Bird watching with the Eagle Point Trail as the best spot
Boating with fishing and recreational boats available for rent
Caving led by an expert guide through Cindy Cave
Fishing, a year-round activity with muskie, trout, and bass as the best catch
Golfing at the 18-hole courses and miniature golf course
Hiking, horseback riding, picnicking, and swimming are also great outdoor activities. Children can play at the multiple playgrounds near the lodge, picnic area, and campgrounds.
Why It's the Best in Kentucky:
A wide range of accommodations is available
Spectacular scenery that can be explored by land and water
Plenty of opportunities for physical activity and relaxation
Family-friendly amenities and services
43234 Highway 445, Ponchatoula, Louisiana 70454
(844) 336-4214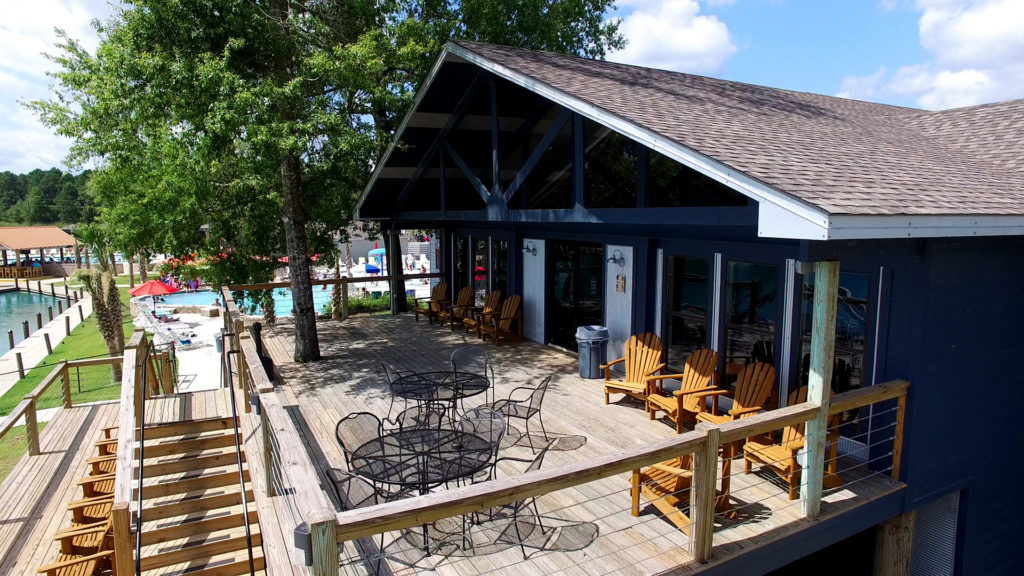 Glamping is the name of the game at Reunion Lake RV Resort! It's the perfect spot for families who want the outdoor fun of a traditional camping experience and the modern comforts of a luxury resort. Plus, it's accessible from the I-12, so you can enjoy a fun weekend every chance you get.
Luxury cabins are also available for rent, and these are well worth their rental rate. There are 33 cabins with a choice between a one-bedroom with loft cabin and a 2-bedroom cabin. Every 400-square foot cabin has all the amenities of a second home so that you can make the best of your time here. Choose between inland and waterfront cabins, too.
RV owners are welcome, too, and the all-concrete roads in the resort make it easy-peasy to get in and out. The resort has excellent facilities that guests are welcome to enjoy, and these include the mini-golf course, pickleball, basketball courts, and fitness center. Take a tour of the campgrounds, too, via a golf cart!
Pets are welcome, but there are rules to follow. There's a fenced-in dog park where dogs can run free and take a bath.
There are designated pools for families and adults-only, meaning parents can relax without their kids tagging along to the adults-only pool. The lazy river attraction even has a tiki bar with a tropical vibe that sets the mood for fun times.
Head on to the scenic lake, where more fun awaits! The floating obstacle course is part fun, part exercise, and 100% adrenaline rush. Enjoy the peaceful vibe of the lake in a kayak or a paddleboard, but it's also great to be in a race. Test your family's fishing skills at the designated fishing areas, too.
Why It's the Best in Louisiana:
Accessible to all types of vehicles
Glamping at a reasonable cost
Wide variety of outdoor activities
Near casinos and malls
275 Pine Point Rd, Scarborough, Maine 04074
(207) 883-6043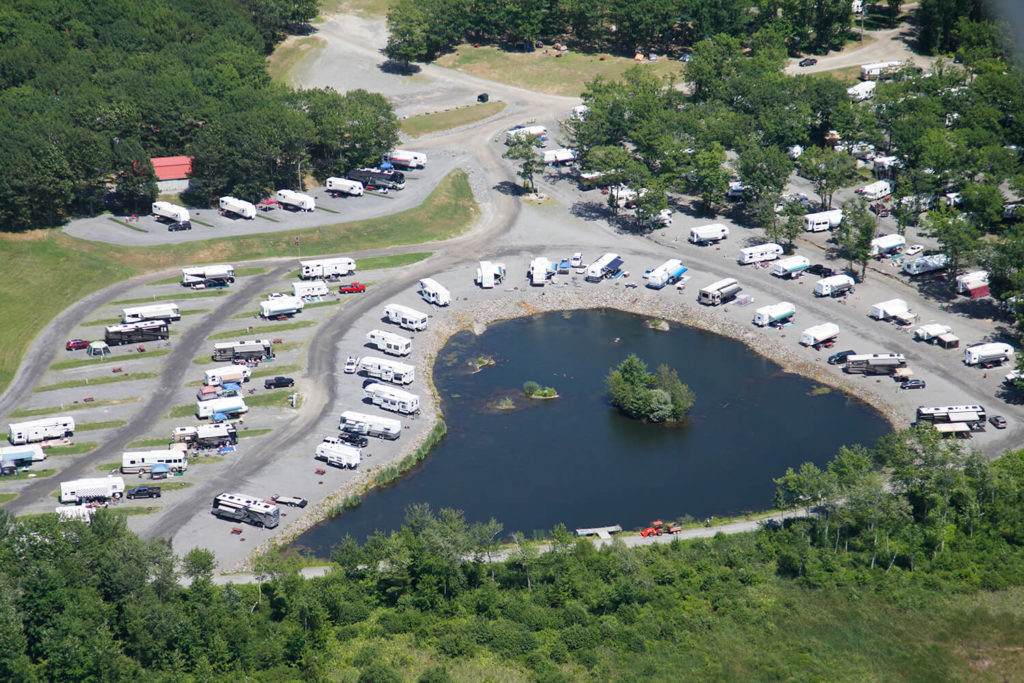 There are so many things to do at Bayley's Camping Resort that children and adults forget how boredom feels! Resort camping is what it's all about, so fun outdoor activities and quiet relaxation blend seamlessly. Guests can also participate in the planned campground activities and mingle with other campers.
The pool pole plunge attracts kids and kids-at-heart with raucous games involving large inflated rubber balls. Brave guests can even go on a lobster dive – grab lobsters from the pool, and whatever you catch can be cooked by the restaurant chefs. Kayak through the Little River Estuary and enjoy a self-directed tour while enjoying the peace and quiet.
The Little River Complex, an 18+ and above-only facility, features a large lounge pool, two hot tubs, and a bar and grill for the ultimate relaxing vacation. Live music enhances the tropical vibe, particularly as it's only available during the summer season.
Head on to the Seaside Square Complex, where more water-centric relaxation awaits. Guests become even more relaxed in the heated pools and hot tubs, perhaps with a drink in hand. There is also nightly family entertainment at the pavilion. Ashley's Game Room and Arcade have plenty of video and arcade games that attract young and old alike.
Don't worry about forgetting camping essentials as two on-site stores sell a wide range of items from 'smores to cooking utensils. Wash your clothes at the on-site laundromats any time of the day and night, too. Clean, well-stocked restrooms and free showers dot the resort.
Families choose from several types of accommodations with affordable rental rates. Cabins have electric fireplaces, screened porches, full-size bathrooms, and bedrooms. Trailers have the amenities of a second home, including kitchen appliances, water and electricity, and cooking and dining utensils. Camping sites have clean bathrooms nearby, firepits, and picnic tables.
Why It's the Best in Maine:
Resort-like facilities and amenities
Suitable for longer stays with deluxe accommodations
Plenty of kid-friendly activities
9800 Cherry Hill Rd, College Park, Maryland 20740
(301) 937-7116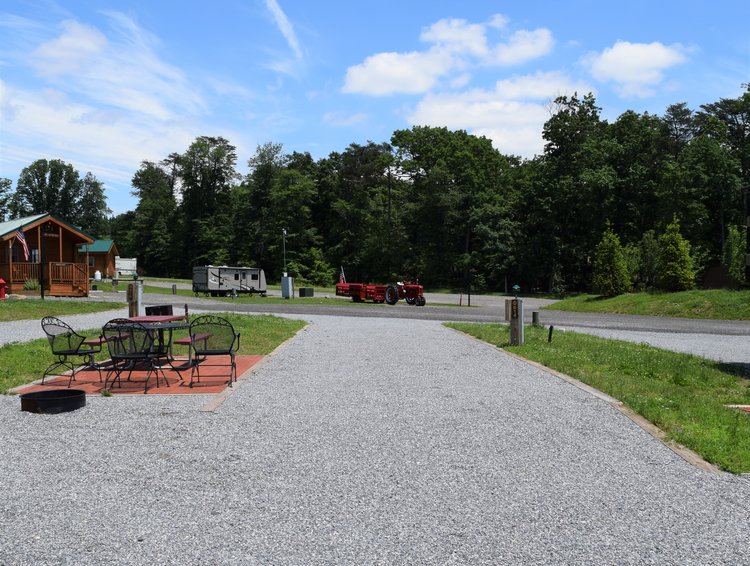 With 100 hundred years of campground experience, Cherry Hill Park's management certainly knows how to make guests feel welcome and valued! In celebration, guests have the opportunity to win surprise gifts, take advantage of special offers and participate in exciting events. Children can play with retro toys, and families can take selfies with a farming background, too.
The campground is accessible from the city, too, with transportation options including the DC Metrobus and the CHP Express Bus. Most families come in their vehicles but take a tour of the campground through a tour bus or golf carts. These are exciting tours because there are plenty of beautiful places to see at Cherry Hill Park.
Swimming is popular among all ages, and it's a safe activity, too, particularly since there are lifeguards on duty. The park has two solar-warmed pools, a pool with a fountain, a splash park, and a sandy beach. Adults head on to the hot tub and sauna for an hour or two of complete relaxation away from the energy-laden vibe of the pools.
Hiking, fishing, and playing games in the recreation center will fill your days, too. Ask the staff about the hiking trails and designated fishing spots to get the most out of the experience.
Hungry after all that physical exertion? Order delicious food and refreshing drinks at the cafe! Dine-in, takeout, and delivery options are available. Then, consider hopping on free sightseeing sessions about Washington, D.C.
Tractor rides around the campground attract kids more than adults, but the summer movie nights are a blockbuster among all ages. The 18-hole miniature golf course provides guests with a means to do good for others – all the proceeds from the $1/person fee go to the local children's hospital.
Why It's the Best in Maryland:
Guests have plenty of opportunities for play, exploration, and fitness
Secure premises
Parent-friendly facilities like the camp store, laundry area, and toilets and bathhouses
RV hookups for utilities, as well as free cable TV and Wi-Fi
Deluxe cabins and yurts for rent
72 West St, Foxborough, Massachusetts 02035
(866) 673-2767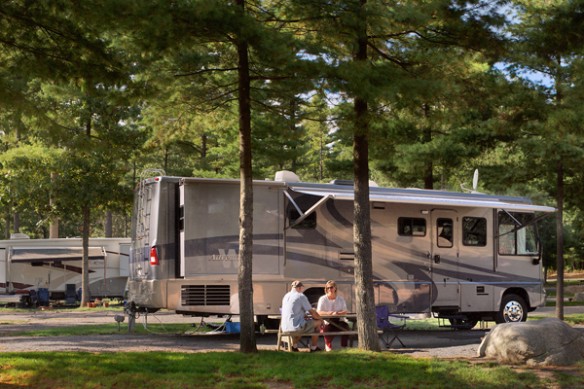 Normandy Farms offers luxury camping experiences that families have enjoyed since its first guests came in 1971. Families choose from several accommodations, including deluxe cabins, yurts and RVs, and safari and pop-up trailers. Most of these have modern amenities, including utilities, kitchen appliances, and comfortable beds – indeed, a second home for families.
While the facilities are top-notch, the rates are reasonable, so families on a budget can still enjoy a camping vacation. Guests can enjoy most, if not all, the areas in the campground, including the parks, trails, and playgrounds.
The wide range of family-friendly recreational activities include:
Biking at the bike park, which has pump track and jump line areas
Hiking and technical trail riding through the 23-mile trails at the adjacent Foxboro State Forest
Golfing at the 18-hole disc golf course
Getting your fitness groove on at the fitness center
Playing at the themed playgrounds, volleyball and basketball courts, and soccer and softball fields
Swimming at the resort's four pools
Shopping at the on-site store and gift shop
Enjoying various games at the recreation lodge with its indoor pool, arcade games, and activities loft
Adults can simply kick back and relax at the sauna, jacuzzi, and wellness center. Bring your furry friends along and let them run free at the Freedom Tail Park, a 1.5-acre dog park with a drinking fountain, dog wash, and agility equipment.
Ask about these amenities and activities at the concierge station so you can plan well. There's also a business center for adults who must put in some work, even on vacation.
Amenities that make life at a campground easier are the three self-service 24/7 laundromats and three fuel-service 24/7 restrooms with toilets and hot showers. These facilities are placed in strategic areas of the resort.
Why It's the Best in Massachusetts:
Pet-friendly facilities
Modern amenities for a convenient stay even with a gaggle of kids in tow
Plenty of activities for the whole family
Clean, well-maintained facilities and amenities
Helpful staff
7685 Lehring Rd, Durand, Michigan 48429
(989) 634-9782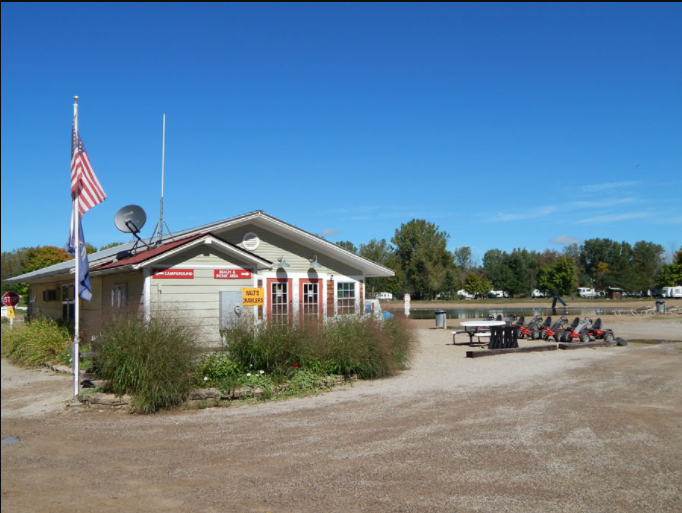 Located on the land surrounding the Shiawassee River, Walnut Hills takes pride in its "up north" camping experiences. Accommodations include RV sites with full utility hookups, deluxe cabins, and primitive tent sites, all of which are in safe and secure areas. There are no charges for children under three years old on all sites.
The electric and water sites have 20/30 amps hookups and can be rented on a nightly, weekly, and monthly basis. The primitive tent sites have no water and electric hookups, but the camping-under-the-stars experience is well worth it. The two cabins have beds, basic kitchen appliances, and an air-conditioner. For larger groups, there are two pavilions with water and electricity.
The beach is open for all registered visitors and campers, and it's a great beach for children to frolic. A 55-acre grassy campground is also a great place for free play and lounging.
Canoe and kayak rentals are available at reasonable rates. Fishing is allowed, and campers can buy fishing supplies, including bait, at the on-site store, which also sells grocery items and souvenirs. Picnicking is a popular activity with several picnic areas and fire pits across the campground.
There are three dump stations and a honey wagon service for RV owners, too. Firewood and ice cubes can be bought on site.
Boredom isn't part of the vocabulary at Walnut Hills! Families go on wagon rides, river tubing adventures, and paddleboarding. Basketball and volleyball courts and horseshoe pits attract the old and young alike, while the playgrounds and arcades are a bevy of activity.
The themed events include Christmas in July, drive-in movie weekend, and Labor Day weekend.
Why It's the Best in Michigan:
Accessible from major cities
Choice in modern and primitive accommodations
Wide range of active and laid-back activities for the entire family
Reasonable rates even for the glamping experience
372 S Hungry Jack Rd, Grand Marais, Minnesota 55604
(218) 388-2265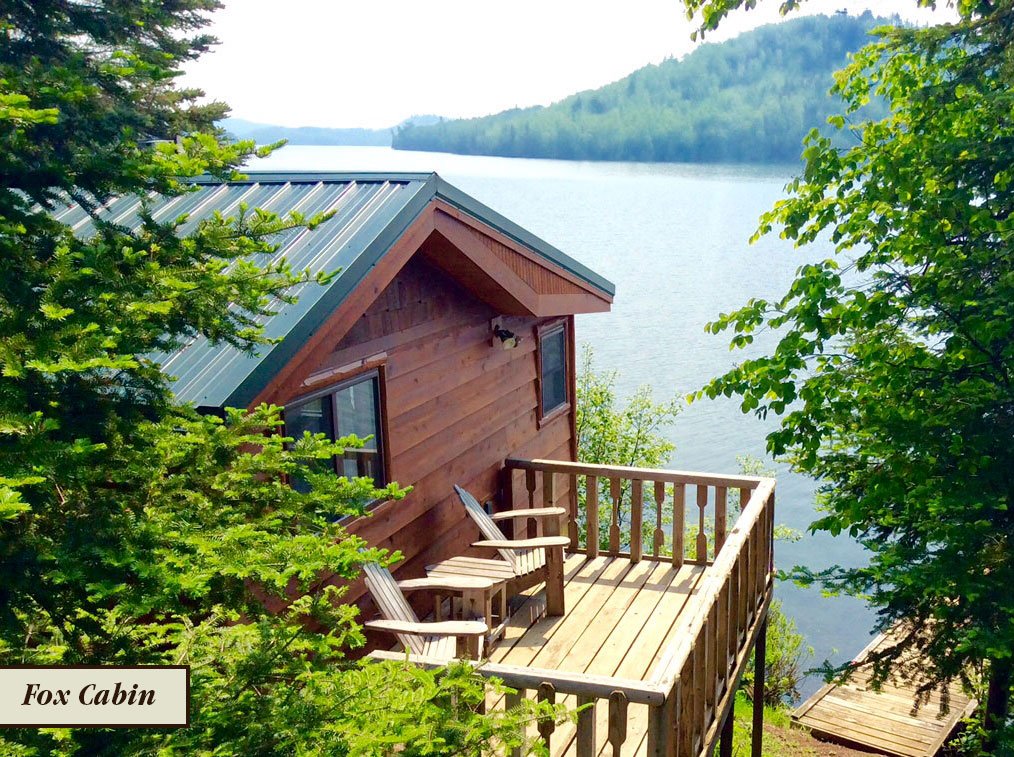 Located on land around the Hungry Jack Lake, Hungry Jack Lodge is ideal for families looking for day trips and overnight camping experiences in a lakeside resort. Some accommodations will fit your unique needs and want, from primitive tents to large motorhomes.
There are numerous camping sites on both the Gunflint Trail and on the Hungry Jack Lodge campground. Both sites are set in safe, secluded, and wooded areas, so families have ample relative privacy. The Gunflint Trail campground features large spaces for vehicles, including 5th wheels, motorhomes and travel trailers, and tents and pop-ups.
Families can also choose one of the deluxe and premium cabins with modern conveniences. Electricity and running water, bathroom with toilet and bath, and kitchenette with basic kitchen utensils are provided. Outdoor decks with charcoal grill and picnic tables, even a private dock are provided on most of these spacious cabins.
Registered campers and guests have full access to the following facilities and services:
Use of playground, sauna, and swimming beach
Enjoyment of the canoe routes and hiking trails; boat and canoe rentals are available
Electricity and water hookups
Free use of hot showers, central shower house, and flush toilets
Dump station use
Guests looking for adrenaline-inducing activities can also engage in mountain biking, cross-country skiing, snowmobiling, and snowshoeing. There's something exciting in every season – fishing and biking in the summer, for example. And speaking of fishing, you can hire a fishing guide to find the best fishing spots.
Too tired to cook your family's meals? Head on to the Fireside Dining Room and let the staff take good care of your dining needs, from breakfast, lunch, and dinner to snacks.
Why It's the Best in Minnesota:
Near towns, so families can go on weekend getaways with a short drive
Choice in accommodations for all budgets
A balance between traditional camping and modern conveniences
Year-round activities possible
105 Co Rd 90, Tishomingo, Mississippi 38873
(662) 438-6914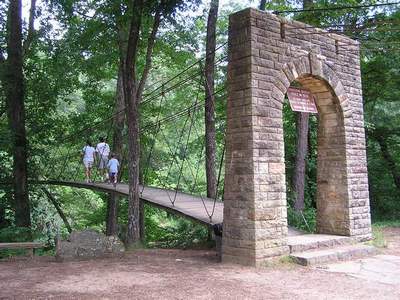 Be amazed by the splendid landscapes of the Appalachian Mountains when you go camping with your family at the Tishomingo State Park campgrounds! Massive rock formations with moss covering, vibrant wildflower trails, and verdant fern-filled crevices take your breath away at every turn. Children also discover pockets of glorious beauty in the rugged landscape – and that's enough reason to come here.
Families can either enjoy the park during the day only or stay for a night or two. The rates, in either case, are affordable, and all children under five years are free of charge. Families staying for the night have several accommodation options, including:
62 RV campsites
One cottage, which has two bedrooms with bed linens, dining and kitchen areas, and an outdoor grill
Six cabins are equipped with basic kitchen and bedroom accessories, air-conditioning and heating systems, and a screened-in porch.
Group camp facility
The campground itself is set amidst verdant woods around Haynes Lake, and the paved road leading to it makes it easy to access. The campsites have water and electrical hookups, where necessary, as well as grills and picnic tables. Haynes Lake is near, too, so water activities are just a short walk away.
Guests have free and easy access to the bathhouses with showers and restrooms, so ablutions don't have to be done in a primitive manner. There's also a central dump station for RV owners to use.
The adventure-filled activities include hiking and rock climbing in the park's seven trails and rock formations. Children have a blast at the playgrounds, swimming pool, and lake, where fishing, canoeing, and swimming are encouraged. Adults can also head on to the multi-use ballfield, disc golf course, and volleyball court. Check out the Bear Creek canoe float trip for a leisurely trip on the creek.
Why It's the Best in Mississippi:
Budget-friendly vacation/camping experience for the entire family
Modern amenities are provided across the campground
More organic camping experiences for the kids and adults
Excellent customer services
1135 Hwy W, Sullivan, Missouri 63080
(573) 468-2283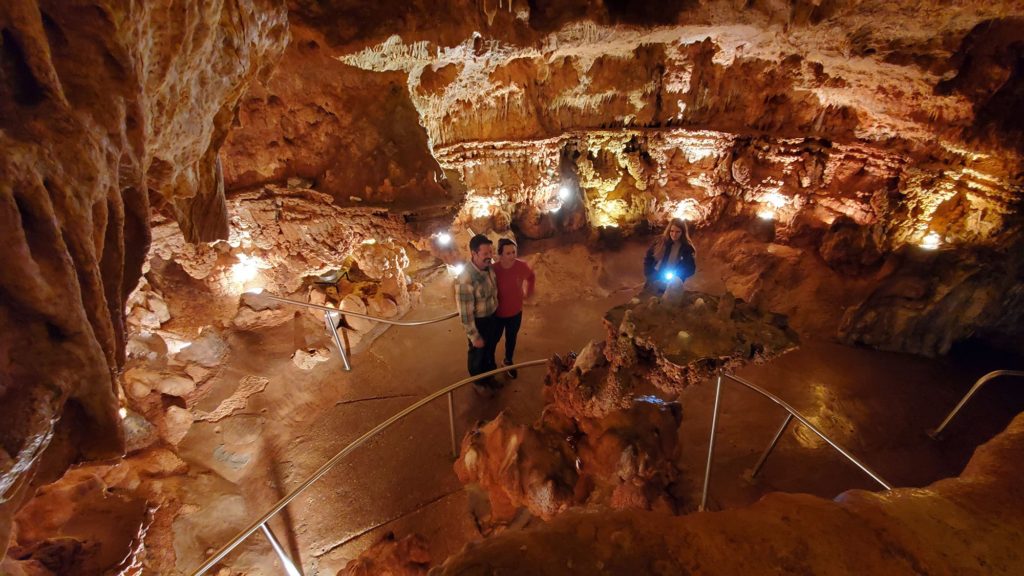 Why settle for above-ground adventure when you and your family can also enjoy below-ground activities? Experience thrilling camping adventures at the Meramec Caverns Campground today! The Meramec Caverns are located beneath Meramec Valley and its equally beautiful rolling hills, and its complex mineral formations are a sight to behold.
Children can come on guided tours, too, which are led by trained rangers. The tours are made along well-lighted walkways, so both children and adults have safe paths to walk on. The largest cave formations – and we daresay, the most awe-inspiring formations – are highlighted on these tours.
Above ground, there are many activities that adrenaline junkies will enjoy. The zipline is popular because it takes guests on a thrilling one-hour ride above the Meramec River and its surrounding lush landscape. Think of a bird soaring through the trees, and you will want to get on the zipline as many times as you can!
Wall climbing is another challenging yet rewarding activity for kids and adults alike, and it's indoors, too. Afterward, head outdoors to pan for fool's gold, gemstones, and fossils. Boating along the Meramec River aboard the Cavern Queen I and II is a relaxing activity. For a longer ride, check out the miles-long river float or go canoeing, kayaking, or river rafting.
Staying for the night is a great idea, thanks to the availability of water and electric hookups for trailers. The campground has sheltered pavilions, barbecue pits, and a playground, too. Restrooms and showers are within easy access for guests.
But if you and your family want a proper room, check in to the Meramec Caverns Motel in LaJolla Natural Park. Rooms have bathrooms with showers, double beds, and television. Plus, children stay free!
Why It's the Best in Missouri:
Affordable fees and rental rates
Exciting outdoor and indoor activities
Unique underground experience
Comfortable accommodations available
28031 Big Arm State Park Rd., Big Arm, Montana 59910
(406) 837-3041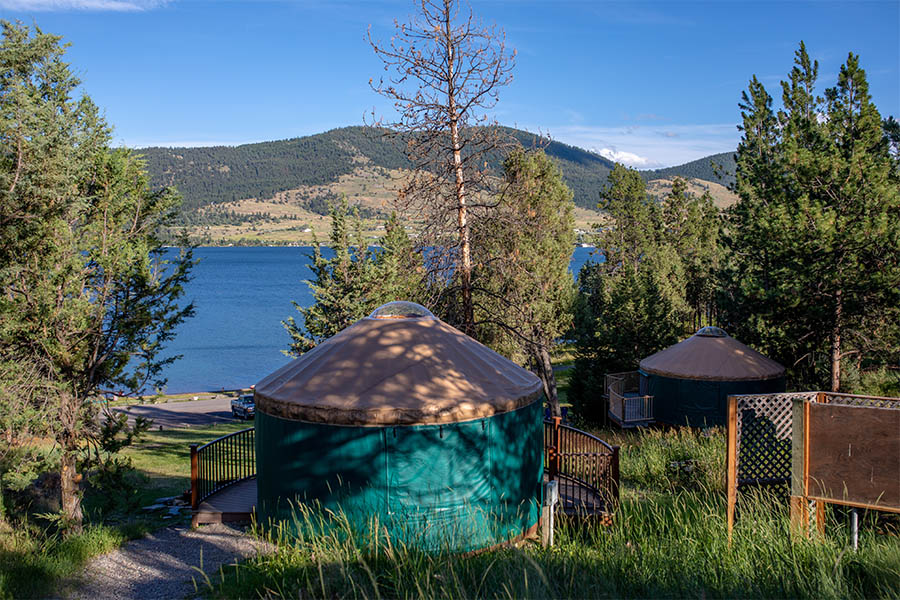 The Big Arm campgrounds are situated around Flathead Lake, among the country's largest natural freshwater lakes, and its miles of shoreline are excellent fishing grounds. Be sure to secure a tribal fishing license first, and it's also important to keep pets on their leash. Campers are only allowed a 14-day stay within 30 days, a rule that should be considered when you're planning your camping vacation.
The campground is an outstanding starting point for a wide range of outdoor adventures, including boating, swimming, and exploring the landscape. Other watersports include board sailing, scuba diving, and water-skiing, and there are equipment rentals for these activities.
Check out the Wild Horse Island, where a small herd of wild horses roams free alongside mule deer, bighorn sheep, and small mammals. Bird watchers consider it a great place to look for eagles, songbirds, and owls, too. Hiking and biking become adventures on their own with the glorious mountain landscapes and miles of trails.
For a more relaxed time, bring a picnic basket to the picnic areas or choose a spot with panoramic views. Then take a canoe or a kayak to cruise the lake and take in the spectacular sight. With more than 240 acres to explore, the Big Arm is, indeed, a great place for families to bond.
Don't worry about your family's accommodations as there's plenty of room for motorhomes and RVs to park. But if you don't have these vehicles, you can rent one of the yurts! These have the comforts of electricity, water and furniture, and a fire pit for cooking and picnic tables.
Why It's the Best in Montana:
A vast expanse of wilderness for explorations
Modern amenities including showers, toilets, and grills/fire rings
Pets are allowed
Open for day use and overnight stays
Reasonable rates on accommodations and equipment
88090 Spur 26 E, Ponca, Nebraska 68770
(402) 755-2284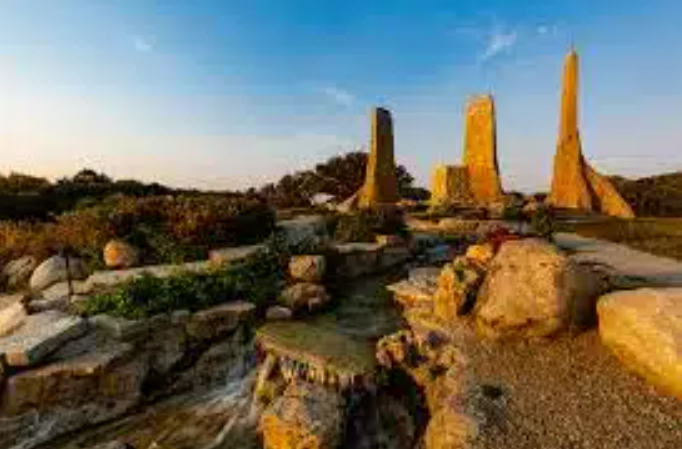 Scenic panoramas, verdant forested hills, and spectacular wildlife make every camping visit to Ponca State Park memorable. There's always something exciting for you here, while you take comfort in the familiar experiences. With its comfortable accommodations, Instagrammable backgrounds, and unique events, it's also a popular option for large family events like reunions and weddings.
Every season also brings with it exciting things to do and see! During spring, the wetlands become alive with migrating birds that attract bird watchers. In the summer months, planned family events and naturalist activities are on the agenda. Fall brings with it not just spectacular foliage but also haunted hayrack rides and plays. Winter is the time for the fun Fruitcake Fling.
Staying for several days doesn't mean roughing it out with the park's 92 camping pads with 30/50-amp hookups and four group campsites. But if your family likes the rough-and-tumble camping style, there are also 43 sites for tents. Amenities include showers, water spigots, fire pits for cooking, picnic tables, and a dump station.
Year-round camping is possible, but the modern amenities may be limited to certain months, usually from April to October, depending on the weather. The types of activities will also depend on the weather, including:
Hiking and biking on the 22-mile backcountry trails (Guided tours are available)
Swimming is popular in the aquatic center (Annual family passes are available)
Horseback riding with experienced wranglers through woodland and river trails
Golfing on the 9-hole course and relaxing at the clubhouse afterward
Shooting at the shooting complex; slingshot, pellet guns, and .22 rifles are among the popular methods
Fishing, canoeing, and floating are the watersports that complement the land-based wildlife viewing experiences at this state park.
Why It's the Best in Nebraska:
Year-round opportunities for adventures with your family
Good choices in comfortable accommodations
Friendly personnel who know their way around the park
100 Great Basin National Park, Baker, Nevada 89311
(775) 234-7331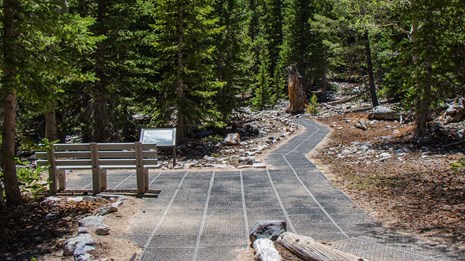 Many family-friendly campgrounds can become crowded and, thus, take away the beauty of family camping – quality time in a peaceful environment. Fortunately, there's the Great Basin National Park, among the least visited parks in Nevada! Here, your family can spend days exploring nature and enjoying various activities while crossing paths with just a few other families.
If your family is into stargazing, you will love the awesome nighttime views from wherever you are in the park! In fact, the campsites are designed for the best stargazing experience possible with space for tripods and telescopes, too. Your family won't even mind the absence of Wi-Fi and electricity connection because the sky's just so beautiful.
Plus, there's no entrance fee! Have the entire family come along and not worry about your budget being shot. Hiking, wildlife viewing, and cruising are free, too, which only reinforces the idea that the best things in life are free.
But there's a small entrance fee into the Lehman Caves, a breathtaking place filled with rare cave formations. The guided caves tour means that you can bring children along and let them appreciate below-ground ecosystems. The caves also contrast with the abundance of above-ground flora and fauna set against mountain terrain.
Thanks to the mountain lakes and streams and pine forests in the national park, there's plenty of explorations to enjoy. If possible, make a visit to one of the Visitors' Centers where you can get information about the best places. The Wheeler Park drive is a must-do since it's a window into the breathtaking views of the landscape.
Why It's the Best in Nevada:
Amazing opportunities for adventures, either planned and DIY
Easy access to five developed campgrounds with toilets, grills, and hookups
Wide variety of activities including fishing, hiking, horseback riding, and winter sports
35 Jellystone Park, New Hampton, New Hampshire 03256
(603) 968-9000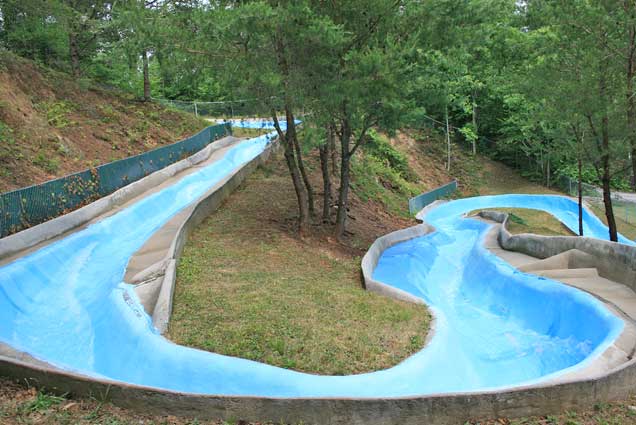 With more than 200 lakes in the surrounding area, families flock to the Adventure Bound Camping Resorts for water-centric adventures! Children and adults alike enjoy swimming, fishing, and boating adventures as well as the family-friendly fun zone and splash park. Think of spending your weekends in the great outdoors while also enjoying access to the facilities of a camping resort.
Aside from the unplanned adventures, families also enjoy the planned activities on site. Expect activity-filled months! You'll get Christmas in July, Carnival Weekend, Country Western Weekend, and Chocolate Lovers' Weekend in August, and Labor Day Weekend in September.
The accommodations are comfortable, if not on the deluxe side, for a camping experience. The premium, deluxe and large efficiency cabins feature bedrooms with beds, bathrooms, and fully-equipped kitchens. These also have picnic tables, fire rings, and air-conditioning/heating systems because camping doesn't necessarily mean roughing it out.
There are also rustic cabins with basic amenities. While these don't have their bathrooms and kitchens, these are located near modern bathhouses and have BBQ grills, small refrigerators, and fire rings for food preparation.
Go for the RV rentals if you're feeling more luxurious. Each one has beds, a bathroom, and a kitchen with utensils and basic appliances. Feeling like a picnic while still being close to your second home? Yes, since it also has a BBQ grill, a fire pit, and a picnic table.
Why It's the Best in New Hampshire:
A myriad of activities, from supervised games to swimming, will keep your kids occupied,
Adults also have their share of activities
Comfortable accommodations
Clean, well-maintained facilities
Great customer service and deals
61 Dewitt Rd, Sussex, New Jersey 07461
(973) 875-4166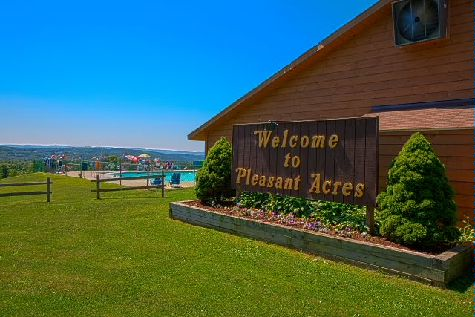 Camping on a working farm brings unique experiences that your family will appreciate and learn from! Open your children's horizons with educational experiences like sheep shearing, cow milking, and even pig chasing. While these may seem dirty, these activities will develop their physical and mental skills.
There are also more sedate activities like a baby animal petting zoo and horse-drawn hayrides. Children also flock to the swimming pool to cool off and frolic, the sports fields to get their play/exercise, and the fishing lake to test their skills. The summer months bring live bands, painting parties, line dancing, and free meals on certain nights.
Comfortable lodgings are available via the spacious, air-conditioned cabins equipped with kitchens, bathrooms, and flat-screen televisions. The RV and tent campsites are also comfortable places to spend your nights, thanks to the 30/50-amp hookups, among other amenities. Check out the back-in and pull-thru sites, too, and choose between gravel and grassy campsites.
The recreation facilities mean there's no space for boredom while at Pleasant Acres! The game room has arcade games, a popular spot for kids, while the adults head off to the miniature golf course, spa and clubhouse. There's even a dog park if you want to bring pets along.
Forgetting to bring some essentials isn't a problem with the on-site store and snack bar. Propane can also be bought on-site and dirty clothes can be washed in the laundry facility. Staying connected is also a no-brainer with the stable Wi-Fi connection, a great way to provide updates about your vacation on social media.
Why It's the Best in New Jersey:
Unique farming and camping experiences
Full-featured accommodations for a comfortable stay
Breathtaking views and well-kept campgrounds
Planned and unplanned recreational activities abound
640 State Road 95, Los Ojos, New Mexico 87551
(575) 588-7470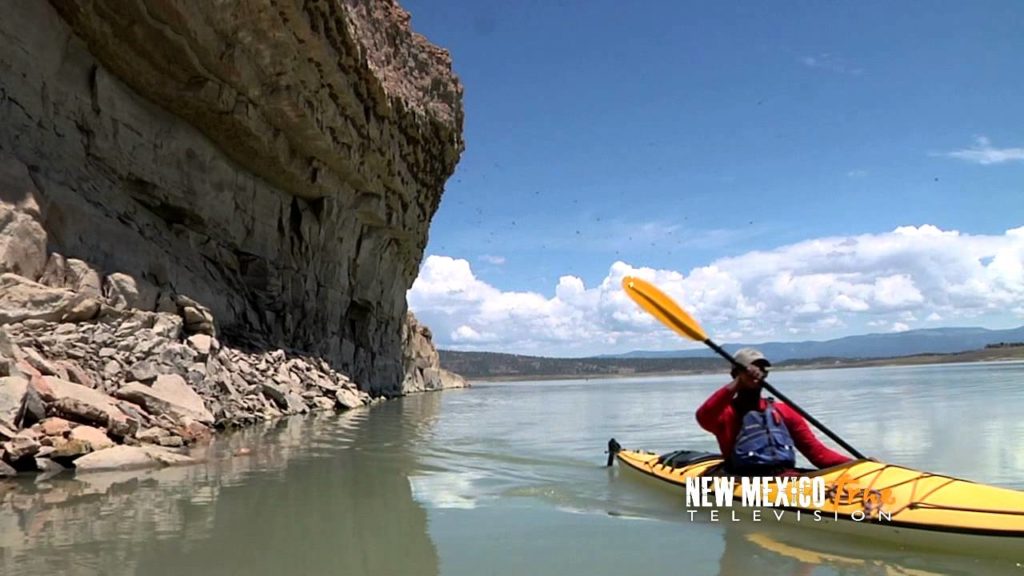 Heron Lake is a "quiet lake," meaning that boats must run at no-wake speeds only. Not only does it make for a peaceful and quiet environment, but it's also great for paddleboarding and other watersports. Bring your paddleboards, sailboards, and canoes or kayaks for the best time on the water – or rent the equipment in the park.
There are boating facilities, including a boat ramp, boat dock, and marina. Be mindful of the rules and regulations regarding boating and related activities on Heron Lake, including the no-wake rule. Boat-in camping is allowed.
Fishing is particularly rewarding here, with large kokanee salmon and trout as the popular catch, and ice fishing in winter is a joy. Winter activities include snowshoeing and cross-country skiing. Note that horses aren't allowed in the park.
Spending your days lounging by the beach while watching the kids frolic on the water is happiness itself, too. Since it's a "quiet lake," there's less noise pollution, too, which means a more relaxed vibe for everybody.
Hiking trails include a suspension bridge where panoramic views of the stunning landscape can be enjoyed. Wildlife viewing is a must-do in the park with its abundance of elk, deer, bald eagles, even black bears, mountain lions, and osprey. Biking through the trails is also possible.
The campground facilities include 250 developed campsites, with 54 of them being electric sites. Modern conveniences include potable water, restrooms with water, vault toilets and showers, as well as an RV dump station. Families who want primitive camping can choose from several sites, too, including the beach. Group camping facilities are available.
Why It's the Best in New Mexico:
Peaceful and quiet environment with plenty of secluded areas
Plenty of land and water activities to keep kids entertained
Basic but modern conveniences
Reasonable rental rates
10892 Campground Rd, Forestport, New York 13338
(315) 831-5077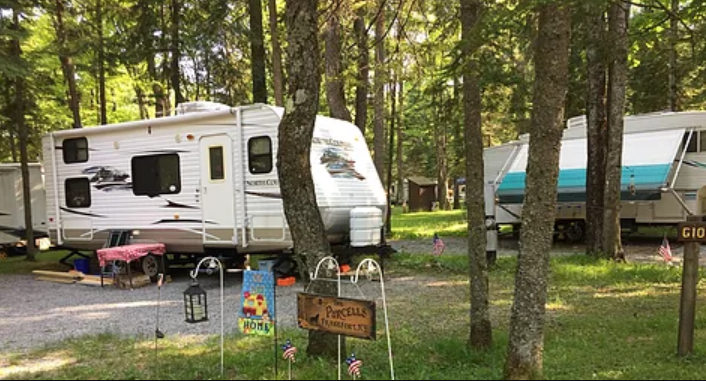 Set amidst the striking foothills of the Adirondacks, the Kayuta Lake Campground has kid-friendly facilities that ensure no kid ever gets bored – and parents love it! There are self-guided and planned activities in the heated swimming pool, playground, and recreational center, so there's always something new to do. These include swimming, basketball and volleyball, ladder golf, cornhole, and arcade games, as well as outdoor laser tag and archery.
Adults have access to plenty of things that keep them entertained, too! Fishing at the 422-acre Kayuta Lake can yield abundant lake trout, brown trout, smallmouth bass, panfish, and bullhead. Bring your fishing gear or buy hooks, tackle and bait at the General Store. Canoe and kayak rentals are available if you want to spend a lazy day on the lake, too.
The General Store also sells fresh espressos, lattes, and cappuccinos – because coffee is life – and other family essentials, including groceries, firewood, and camping supplies. There's even a make-your-own-sundae every weekend. Running out of fuel is never an option with the propane filling station for RVs and tent campers. The dump station is free for the camp's registered guests.
Doing your laundry is easier with the modern laundry facilities on site. Staying connected while camping is also possible with the on-site Wi-Fi hotspot; only available, however, in the playhouse and store. Check out the DVD collection if you want movie marathon nights with family and friends.
Planned activities for the entire family include Annual Cookoffs, Halloween Weekend and Redneck Yachting Weekend, even a Wet & Wild Weekend. Be sure to consider spending your Fourth of July, Labor Day, and Memorial Day weekends here, too, because it's so much more fun.
Why It's the Best in New York:
Near other attractions, including the Pixley Falls State Park, Water Safari water park, and the Adirondack Railway
Family-friendly self-guided, and planned activities abound, both indoors and outdoors
With toilets, hot showers, and other modern amenities
639 Main Street, Chimney Rock, North Carolina 28720
(828) 625-4014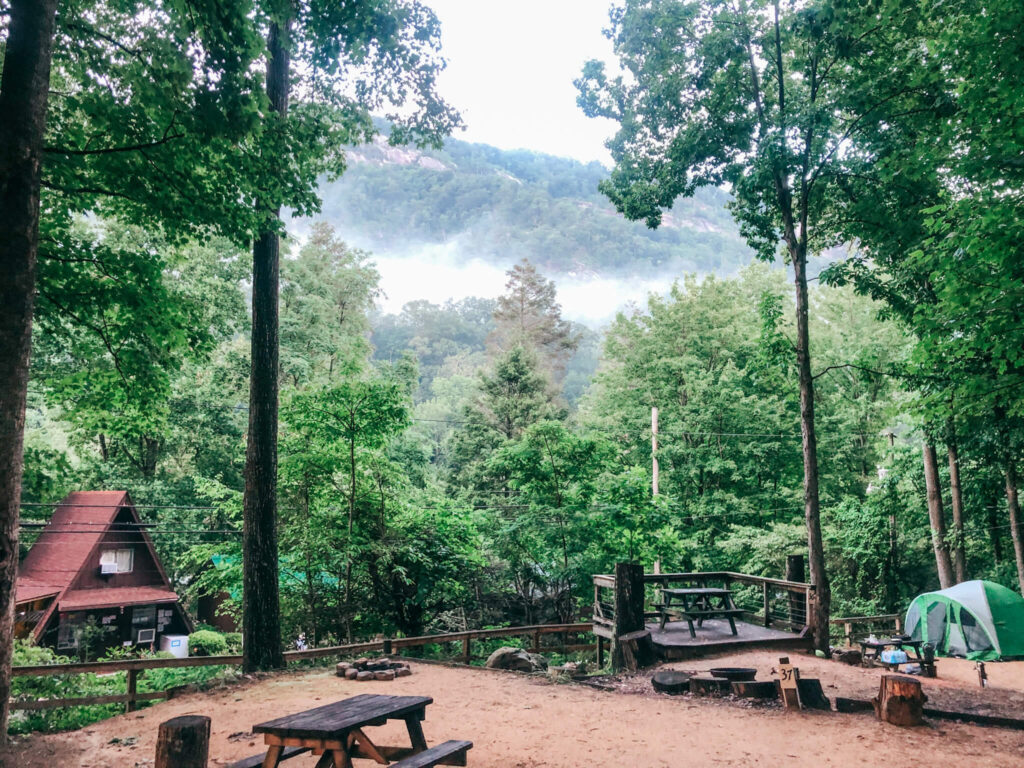 Just off Highway 64-74 lies the wonderful Hickory Nut Falls Family Campground, the best family-friendly campground in North Carolina! For over 50 years, families have flocked to it to experience the wonders of the Lake Luke and Chimney Rock area. Comfortable camping experiences are a key to its success, and it starts with a wide range of accommodations.
There are 79 full hookup RV sites as well as cabins, covered decks, and covered tent sites. Take note that riverside sites allow families to enjoy the river at all hours of the day. All tent sites have water and electric hookups, too, so primitive camping becomes more comfortable.
The cabins are the most comfortable accommodations with water and electricity and a gas log fireplace for both heat and effect. There are also beds, a full kitchen, and cable television to make it your second home. All bath and bed linens are provided, but you may bring your own.
The covered decks are the best places for setting up hammocks, tents and pop-ups, even vans. These have water and electricity hookups, too, for your convenience.
Each one of these campsites is surrounded by the verdant green of the Chimney Rock forest. Every camper loves the spectacular views of the Broad River and its surrounding peaks. With these natural features, campers have plenty of activities, including:
Tubing
Fishing (Permit needed)
Boating
Hiking
Games like billiard, pinball, and corn hole
Playing in the playground
Toilets, bathhouses, and laundry facilities are available on-site, too. The camp store sells camping essentials and groceries, so there's no need to exit the campgrounds for whatever you may have forgotten to bring.
Why It's the Best in North Carolina:
Fairly small campground but it isn't crowded and noisy for this reason
Suitable for relaxation with children in tow
Accessible location
Affordable rates for hookups and accommodations
152 South Duncan Road, Devils Lake, North Dakota 58301
(701) 766-4015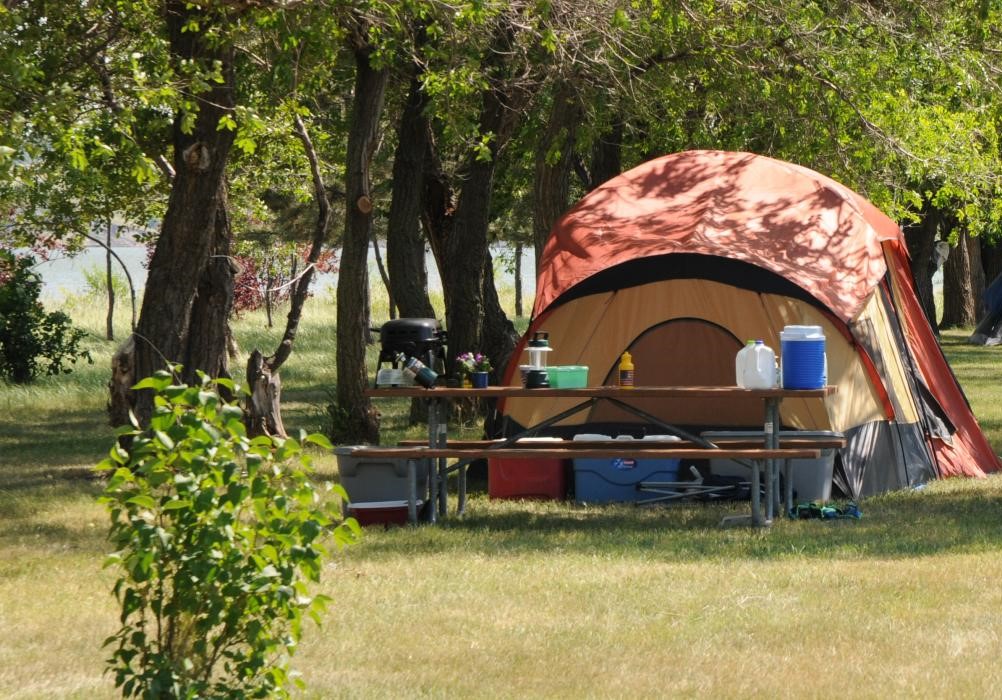 Don't be turned off by its fairly remote location because it's easily accessible with an RV, not to mention that it's a secluded and peaceful place. The Devils Lake is a sight to behold, and its surrounding panoramic views are a breath of fresh air from the chaos of daily life!
The campgrounds have several accommodations ranging from primitive campsites to deluxe cabins. Motorhomes and RVs have full hookups with 30/50-amp electricity hookups. There are both pull-through and back-in sites for your convenience.
The four seasonal camping cabins, named after fish abundant in the lake, are located on top of a hill overlooking the lake. Think of waking up to the glorious view and campfire sessions on the lakeshore every night. Each cabin accommodates up to five people and comes with a small refrigerator, an air-conditioner, and multiple beds.
The 108 modern and modern-plus campsites have electricity, water, and sewer hookups, too. There are also group campsites with different amenities, including utility hookups and multiple units placement. Check out the affordably-priced primitive campsites if you're looking for a more rustic accommodation.
Fishing enthusiasts come to Grahams Island for exciting opportunities in world-class fishing. National and regional fishing tournaments are regularly held throughout the year. Bring your fishing gear or buy them at the onsite store. There's a 4-lane boat ramp for launching into the lake and a fish cleaning station for prepping whatever fish you caught.
Other equally exciting activities are swimming, cross-country skiing, snowshoeing and hiking, even biking. The trails include the Sivert Thompson Loop and North Campground Loop. There are showers, there is strong cell reception, and pets are allowed, too!
Why It's the Best in North Dakota:
Good amenities for families
Peace and quiet is a staple of the campground
Easy water access
A visitor center for large gatherings
84000 Mallarnee Rd, Deersville, Ohio 44693
(740) 922-3649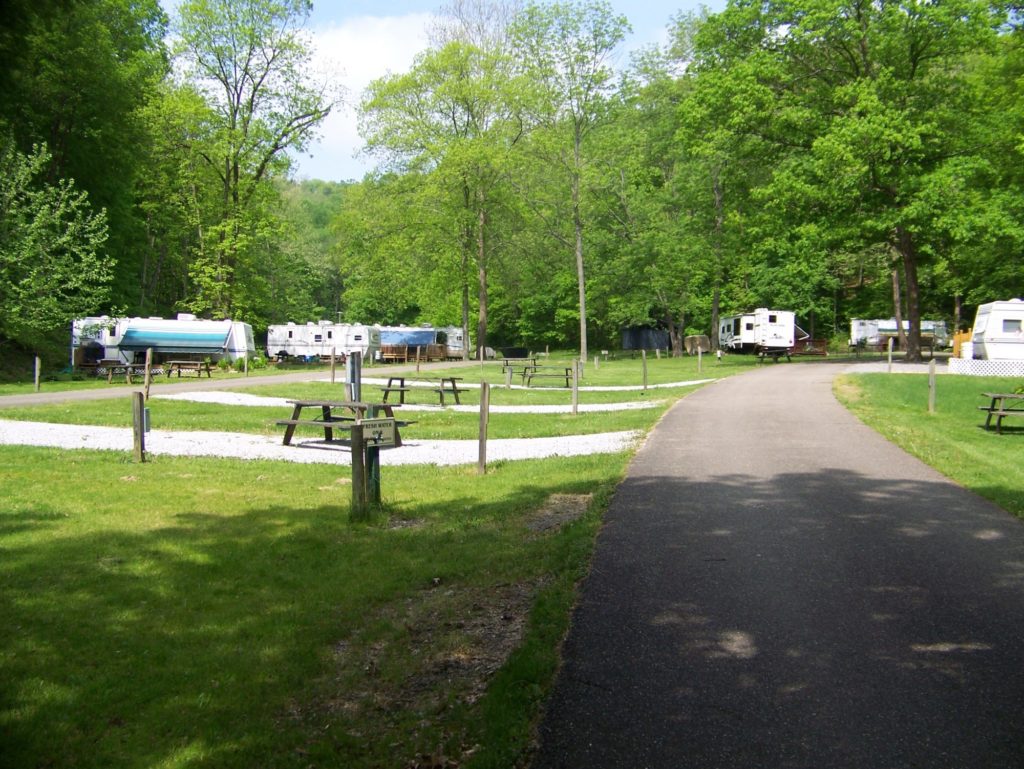 Voted Best Campground by local newspapers, Tappan Lake Campground, allows campers to enjoy both active and sedate land and water activities. The breathtaking panoramas also inspire contemplation and appreciation of Mother Nature's beauty, and it's an activity enjoyed by young and old alike.
Speeding up and slowing down on the water is possible but be careful about the areas where you want to do them. There's a 399-horsepower limit, so waterskiing, wakeboarding, and other fast-paced water activities are encouraged. But fishing while enjoying the solitude is also possible on the 2,350-acre lake.
Take advantage of the public ramps or rent a boat at the marinas. Dock rentals are available at the marina, so your boat can be ready during the summer season. Kayaks, pontoons and paddleboats, and paddleboards are for rent, too.
Tappan Park has over 500 campsites and several cabins, but there's always sufficient space for privacy, thanks to the secluded camping areas. The comfort level of these accommodations ranges from primitive campsites to full hookups for motorhomes and RVs. The electric campsites have a 30-amp service, and all campsites have a campfire ring and picnic tables.
Rates differ between seasonal camping and daily camping. The seasonal camping permit lasts for seven months, from April 1 to October 30, and there are designated sites for it. Discounts are offered for senior citizens, veterans, active-duty military, and free entrance for former POWs.
The site amenities include:
Swimming beach with concession stand nearby
Changing rooms and restrooms
Concession stand/camp store
Nature center with interpretive programs
Laundromat
Basketball courts with an annual basketball camp
Volleyball and tennis courts
Playgrounds on the beach and other camp areas
Picnic pavilions
Hiking trails
Daily and special programs await guests, too. These include contests and games, bingos, and crafts.
Why It's the Best in Ohio:
Pet-friendly policies
Excellent customer service
Beautiful campgrounds with secluded areas
Plenty of indoor and outdoor activities on land and the water
1008 West Second Street, Sulphur, Oklahoma 73086
(580) 622-7234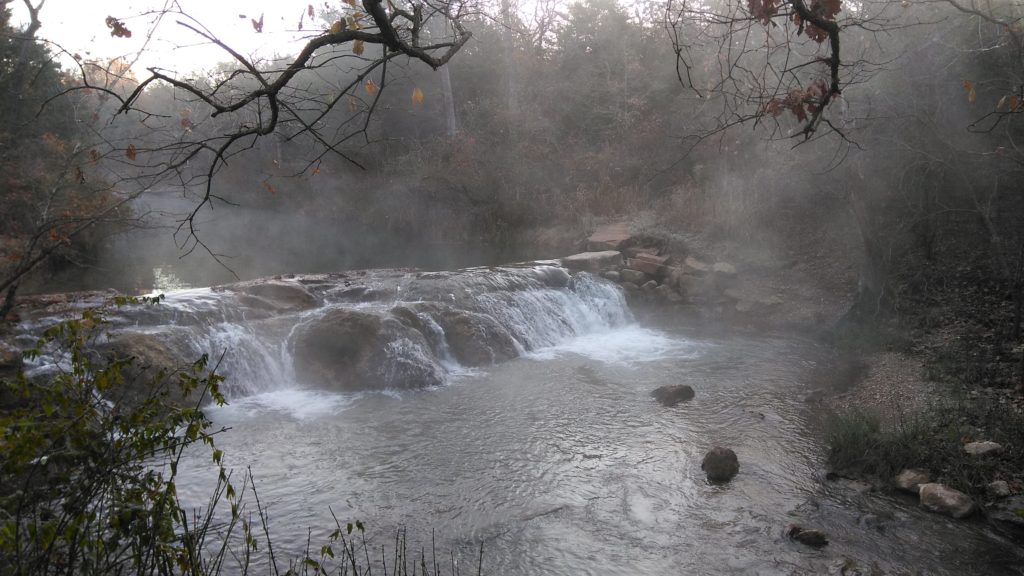 Touted as an Oklahoma oasis, the Chickasaw National Recreation Area has six public campsites with different amenities. Many can be reserved in advance, while others are on a first-come, first-served basis. Every campsite, nonetheless, has picnic tables, fire rings, and parking spaces. The nightly rates are reasonable so that large families can enjoy budget-friendly camping vacations.
The Buckhorn Campground is a popular spot due to its proximity to the Lake of the Arbuckles and its choice of loops. The four loops, designated from A to D, are either open seasonally (A and B) or year-round (C and D). All four loops have showers in the restrooms, while many sites have electric and water hookups. While there are no sewer hookups, there's a dump station nearby.
The Point Campground has two loops consisting of 28 tent sites and nine electrical sites, and restrooms with showers are on-site. Be sure to book your reservation for the upper loop sites.
Other campgrounds are the Rock Creek Campground, Cold Springs Campground, Central Campground, and Guy Sandy Campground. With many campgrounds, camping doesn't feel crowded at all! But take note that there may be limited facilities in some areas, so plan accordingly.
There is so much to do here for a national park! Hiking is always a great way to explore nature, with every season offering a different perspective. Wildflowers form colorful blankets on the ground, with the best views occurring from March to October.
Be sure to check out the biking trails, too, as well as the abundant opportunities for picnicking, water skiing, and swimming. Hunting and fishing are allowed, too, at certain times and in certain areas.
Why It's the Best in Oklahoma:
Located inside a national park
Land and water activities are aplenty, with fishing and hunting being the most popular
Year-round camping is possible
Basic but satisfactory amenities
1843 Crooked Finger Rd. NE, Scotts Mills, Oregon 97375
(503) 873-7432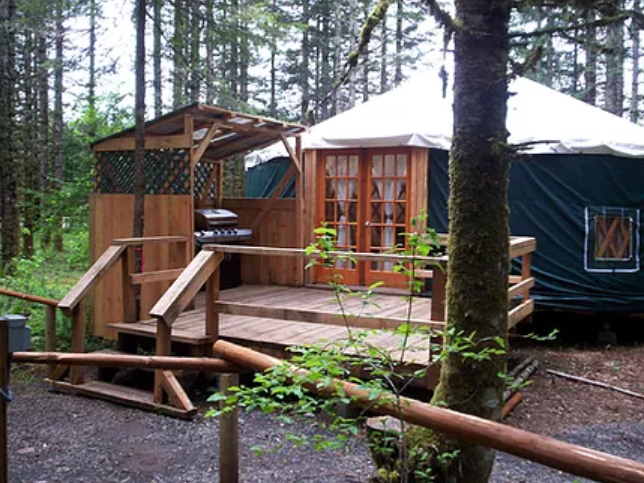 Just an hour away from Portland lies Camp Dakota, a scenic 45-acre campground and adventure park set in a verdant forest. Families can come at any time of the year (i.e., year-round camping) and engage in a wide variety of activities. But it's also possible to just sit back, relax and take in the sights since there are many pockets of calm here.
The high-adrenaline activities include zip-lining and going through the high ropes challenge course, both of which may have age and height requirements. There are high-adventure and team building programs and rock climbing, treasure hunting, and gold panning. Adults can head on to the 18-hole disc golf course for time away from the kids.
The hot showers followed by hot coffee for the adults and pizza for the children are always welcome with so many activities. Shopping for camping gear, essential items, and souvenirs can be done at the camp store.
Accommodations are aplenty, too, so you don't need to bring RVs, motorhomes, and tents. But if you have these vehicles or want to enjoy a more basic camping experience, then bring them along! Camp Dakota has 10 RV sites with electric and water hookups and picnic tables, and fire rings.
The tent camping sites are located in forested areas and equipped with fire rings and picnic tables. The tent pads make your stay more comfortable, and most sites have water and electricity facilities.
Camping in yurts is a more comfortable way of being outdoors while still being dry. Yurts have electricity and lights, a wood-burning stove, and a propane BBQ with a side burner. Check out the tee-pees and cabins, too.
Why It's the Best in Oregon:
Adventure awaits!
Modern amenities include showers, restrooms, and electricity, even potable water
Food is available for delivery and orders
341 Sousley Rd, Lenhartsville, Pennsylvania 19534
(610) 756-6366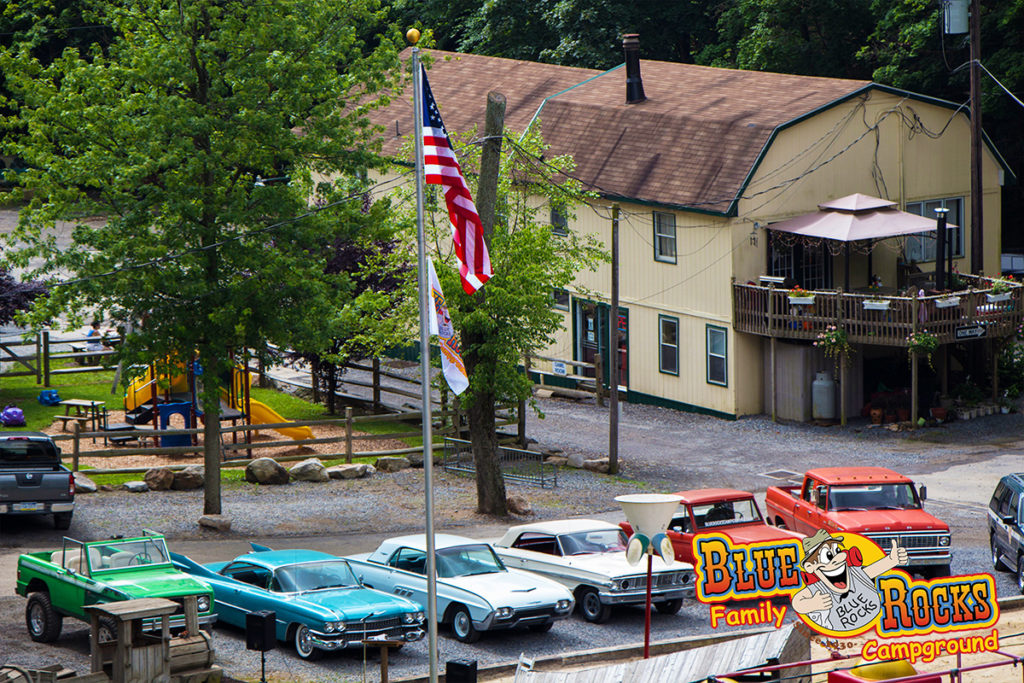 Opened in 1930, Blue Rocks Family Campground is set within the wilderness of Eastern Pennsylvania. With more than 100 acres of space, there's plenty of adventures for your family. The verdant forest and mountain stream seem enchanted, while its miles of hiking trails invite explorations into the natural world.
But camping here doesn't have to be cavemen-like primitive, particularly when you have children in tow! Rent one of the cottages and cabins and call it your home for the day or weekend. Ask about the amenities before booking! You'll get numerous options, including the cottages with fully furnished kitchens and the basic cabins. The RV sites are more modern because they have water, electric, and sewer hookups.
The entertainment options leave no stone unturned, with many of them taking advantage of the campground's surrounding forest.
Hiking is popular, thanks to the Appalachian Trail and the Boulder Field
Firetruck rides are particularly popular among the kids, but adults take them, too, for scenic tours
Swimming in the pools
Fishing on the pond
Basketball and volleyball games
Playing in the playground with slides, jungle gym, and monkey bars
Passing the day with games in the game room
Check out the marvelous collection of vintage cars, including hot rods on the campground, too! Head on to the snack bar when you and the children become hungry from all the activities. Buy fishing accessories, groceries, and camping supplies at the general store, perhaps add Blue Rocks gear and souvenirs to your shopping bag.
Modern conveniences within easy reach are the full laundromat, clean restrooms with hot showers, and golf carts.
Why It's the Best in Pennsylvania:
Surrounded by the beauty of nature but with family-friendly conveniences
Staff members are always accommodating toward guests
Plenty of indoor and outdoor self-guided activities
Less crowded even during peak periods
Route 1 Charlestown, Rhode Island 02813
(401) 322-8910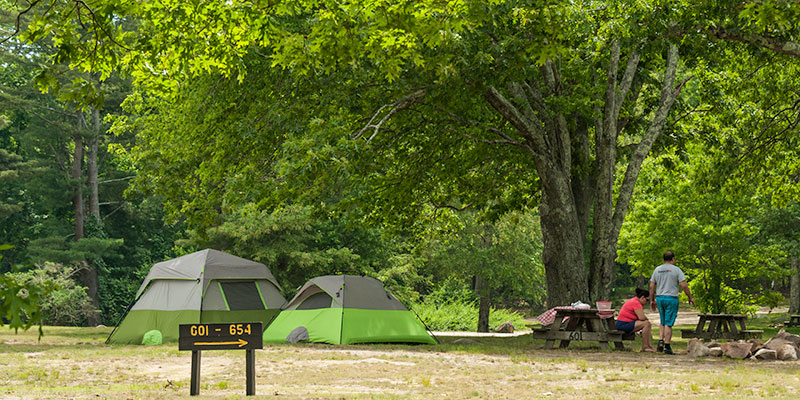 With 3,100 acres of woodland and the Watchaug Pond at its heart, the Burlingame State Park and Campground is the site of magical times for families! The vast expanse features 20 basic cabins and more than 700 rustic campsites that accommodate hundreds of people yet still provide families with privacy. For added fun, you may search for so-called secret sites that aren't listed on the map.
All camping sites have picnic tables and fire pits for cooking. Check first whether a site is a pull-through or back-in type to avoid inconvenience. There are no water, electric, and sewer hookups, but there are flush toilets, showers, water spigots, and porta-johns across the campground. Bathrooms have electrical outlets, too, and there are two dumpsites.
While the on-site lodgings are barebones in nature, the magnificence of the natural landscapes and the fun adventures more than make up for it. Besides, you and your family are on a camping expedition so you may as well make the best of it!
Hiking is the best activity here, with the park being home to a wide variety of mammals, birds, reptiles, and amphibians. Deer, muskrats, weasels, foxes, and otters are a fairly common sight here. Take a dip in cool waters, too, as well as go on picnics, boat rides, and fishing sessions.
Hunting – with a permit – is popular along the Pawcatuck River, if that's in your alley. Canoe rentals are available for families who just want to cruise the river without harming anything.
Why It's the Best in Rhode Island:
Vast woodland expanse for adventures for the whole family
Back-to-basics camping for more time spent with family
Hunting and fishing are always thrilling activities
6001 S Kings Hwy, Myrtle Beach, South Carolina 29575
(843) 238-5636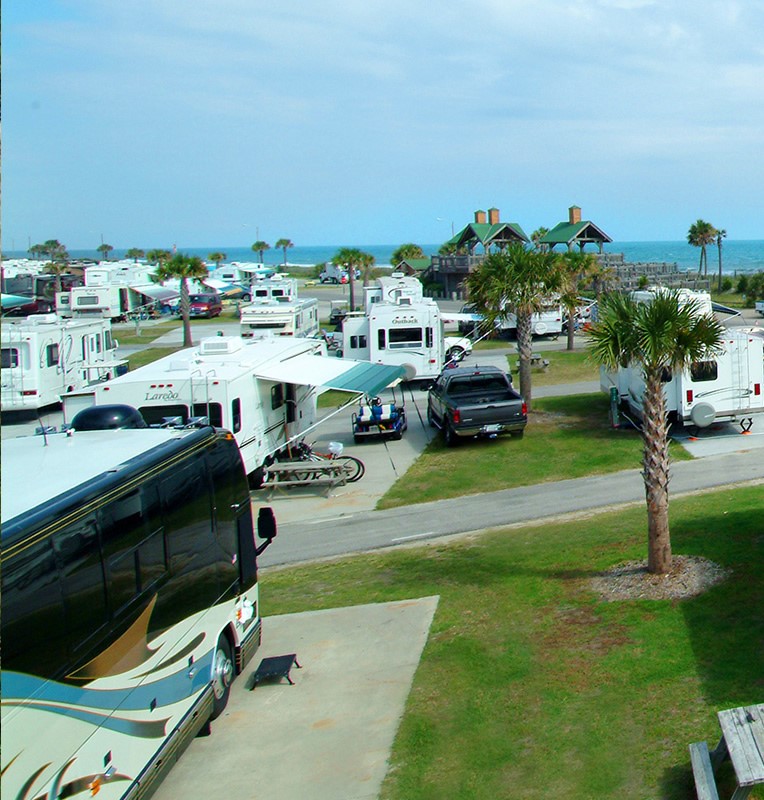 Ocean Lakes is an award-winning park with world-class amenities and facilities, excellent customer service, and a year-round calendar of exciting activities. This is a family-owned campground, so there's a personalized touch in its services, too, despite the sheer size of its land.
With 310-acres of prime oceanfront property, the sprawling campground has 859 campsites, of which 665 have solid concrete pads. There are also 300 rental houses, including park models and beach houses. Families that prefer tents are also welcome to enjoy the campground and its facilities.
Note that all the campsites are pull-through and with the capacity to accommodate large 40-foot campers. The amenities include 20/30/50-amp electrical and water hookups, as well as efficient sewer hookups. Campers may be in the boondocks but remain connected through the Wi-Fi connection and 64-channel cable television hookup.
Kids asking, "But what will we do now?" are a no-show here with more than a handful of entertainment options, including:
Mat racer slides at the Sandy Harbor Water Park
Swimming at the Adventure River, Splash Zone, and pools
Participation in the year-round planned activities including Beach N' Boogie, Bluegrass Weekend, and Patriotic Golf Car Parade
Kamp Starfish for children with activities in group games, crafts, and music
The on-site camp amenities include a general store, laundromat, snack bars, and camper storage.
Why It's the Best in South Carolina:
National RV Park of the Year winner six times in a row and winner of South Carolina Governor's Cup
Excellent facilities and amenities for families
24391 SD-87, Hill City, South Dakota 57745
(605) 574-2668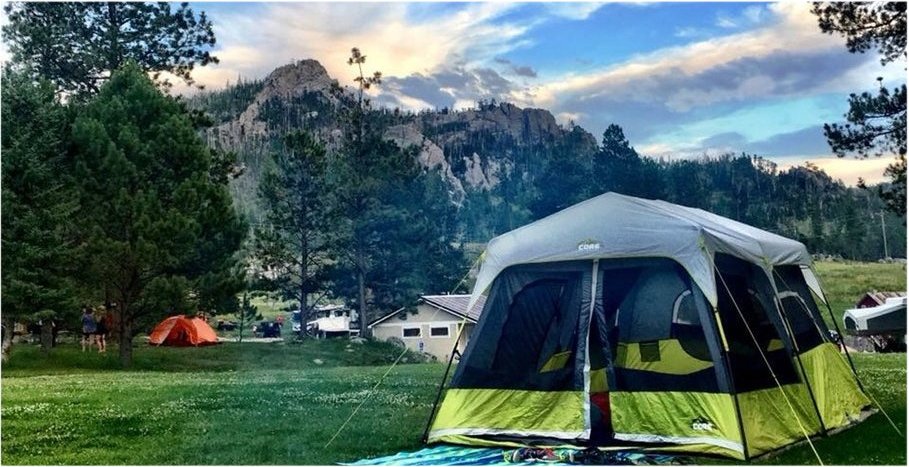 All the things you or your family could ever want in a traditional camping experience with modern conveniences can be found at the Horse Thief Campground and RV Resort! The abundance of wildlife complements the Old West vibe of the campgrounds, while the modern conveniences make it feel like a second home.
Located in the Black Hills, the campground doesn't only offer on-site facilities and activities. Its proximity to many of the nation's foremost attractions, such as the Rushmore National Monument, Jewel Cave National Monument, and Custer State Park, is an added draw. Families can enjoy the on-site and offsite attractions, a double whammy of enjoyment!
The accommodations range from the non-electric tent sites, the most basic type, to the tent sites with electricity, RV sites, and sleeping cabins. The RV sites have electric, water, and sewer hookups and accommodate rigs up to 45 feet in length. Many sleeping cabins have basic amenities, including bedrooms, bathrooms, and kitchens; bring your pillows and linens.
All camping sites have picnic tables and chairs and fire rings, which are great places for socialization. The amenities include:
Ceramic tile bathhouse
Coin-operated laundromat
Heated swimming pool
General store with snacks and gift items
Picnic pavilion with basic kitchen equipment including gas grills
Children can play at the playground, horseshoe area, and basketball court. There's Wi-Fi access despite the remote location. The camp store sells firewood and ice, too.
Horse Thief Campground is a beacon for bikers, hikers and mountain climbers, and photographers with its miles of outdoor spaces. There are plenty of trails guests can explore, so it's unlikely that crowds gather in just one or two places.
Why It's the Best in South Dakota:
Near other national parks and monuments
Peaceful environment suitable for quality time
Easy access to modern conveniences
Excellent for stargazing and other outdoorsy activities
20 Cabin Lane, Henderson, Tennessee 38340
(731) 989-5141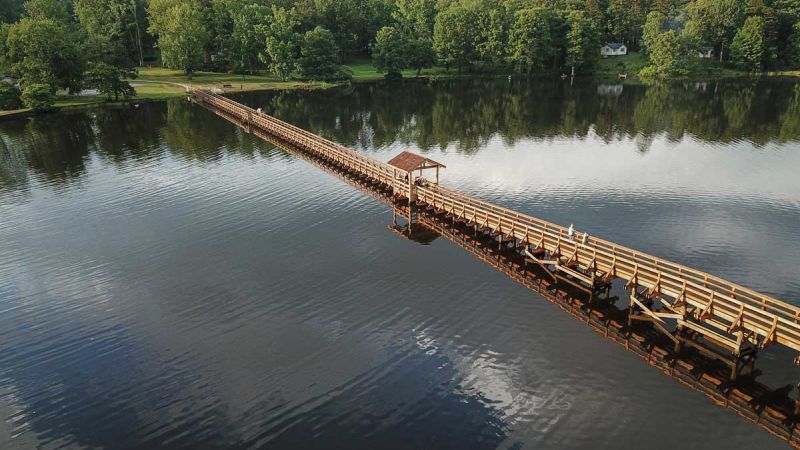 Chickasaw State Park is a high-elevation park with more than 14,300 acres of timberland, of which nearly 1,300 acres are open for recreational activities, including camping. Miles of hiking trails attract amateur hikers to explore the beautiful landscapes and look out for wildlife. The bike-friendly roads and trails range in difficulty from easy to moderate, but all of them are characterized by Mother Nature's awesome beauty.
On the water, families can enjoy the cool waters of Lake Placid. Swimming is a free activity, while pedal boats and rowboats are available for rent. Enjoy the changing panorama, too, if a sedate lifestyle is on your agenda for the weekend.
Horseback riding is encouraged since it gives a different – and exciting – perspective of the landscape. Horses can be rented at reasonable rates. The guided trail takes riders through some of the park's beautiful areas, and it may well be the best one hour of your time here. Bring your horse, too, if you like, so that you can enjoy the self-guided tour on horseback trails across the park.
Get supplies from the Chickasaw Trading Post, and there are also snacks and souvenirs available here. Ask about the seasonal operating times.
Families can choose from several lodging options. Each of the 13 cabins can accommodate up to six people, and these are equipped with televisions and fireplaces. With tall pines around these cabins, the Wild West vibe is palpable, not to mention that these are close to Lake Placid.
The RV campground consists of 53 sites with water, electricity, and sewer hookups. The tent campground with 29 sites has a water hookup, while the wrangler campground with 32 sites is for visitors with horses and comes with water and electricity services. There's a dumpsite, too.
Why It's the Best in Tennessee:
Traditional camping with fewer distractions without completely forgoing modern amenities
Breathtaking landscapes with plenty of places for solitude and bonding
Friendly staff
3630 Park Road 4 West, Burnet, Texas 78611
(512) 793-2223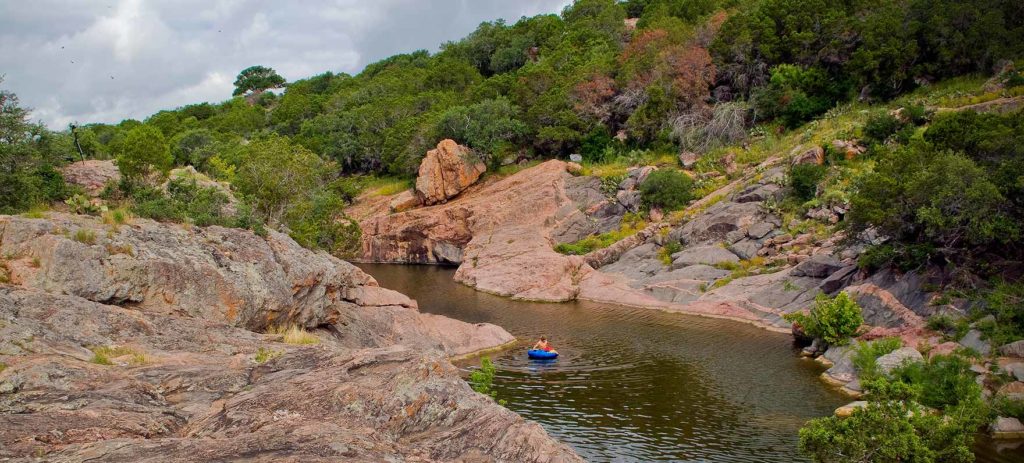 Just an hour from Austin, Inks Lake State Park epitomizes the adage that everything is bigger in Texas. Here, the activities are more thrilling, the scenery more breathtaking, and the company more fun. And it isn't just us either – ask any camper you encounter here, and they will say that they are having a Texas-sized blast!
The Inks Lake itself is the real – and best – draw for campers. With its two fishing piers, a boat ramp, and fish cleaning stations, it's a fisherman-friendly place filled with an abundance of bass, catfish, and sunfish. There's no need for a fishing license so long as you're fishing on the shore or from the pier.
Fishing isn't the only outdoor activity on Inks Lake either! Swimming, water skiing, and scuba diving are popular, too, and you can also rent canoes, kayaks, and paddleboards. Take note that there are no lifeguards, but the lake's level usually stays constant, and there's a no-wake zone for paddlers.
With easy access to the lake, these water activities are easy enough to enjoy, too. Many of the cabins and campsites are near the lake. Year-round camping is also possible partly because of the great weather and partly due to the lake's consistent level.
On land, the activities are just as many and thrilling. Backpacking, wildlife watching, and hiking are favorites among guests, and picnickers are a common sight. The Devil's Waterhole is a popular swimming spot, while the Valley Spring Creek leads to the spectacular waterfalls.
The campsites have water and electricity hookups, restrooms and showers, and basic cooking areas like grills and fire rings.
Why It's the Best in Texas:
A short drive from the city, so a weekend getaway is always possible
Many water and land activities to choose from
Campsites are clean, well-maintained, and have modern conveniences
Striking natural landscapes for a breath of fresh air
44 UT-12, Torrey, Utah 84775
(435) 425-3665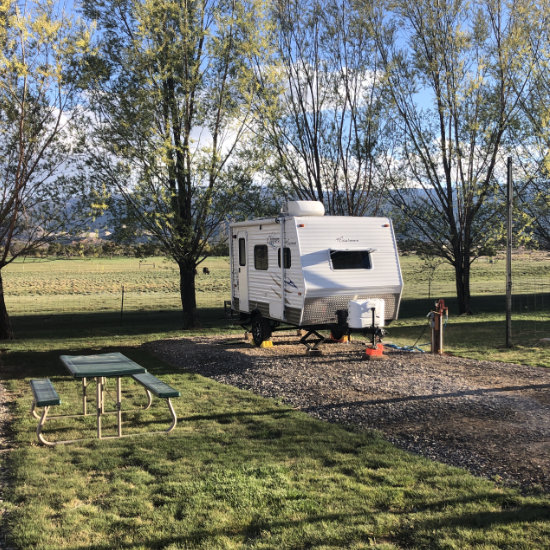 Located inside the Capitol Reef National Park, Wonderland RV Park is the perfect jump-off point for discovering the national park's wonders. Every facility and amenity is designed to ensure that guests enjoy a comfortable and enjoyable stay in the park, too.
The accommodations include:
Pull-through RV sites
Back-in RV sites
Water and electric sites for smaller campers
Log cabins equipped with queen beds, table and chairs, and basic kitchen appliances. Showers and restrooms are within a short distance.
Economy cabins have a queen bed, a television, and a workspace. These can be rented at an affordable rate. The restrooms and showers are in another facility but are close by.
Tent sites have a fence-like structure on every tent as protection against the elements and for privacy. Restrooms and showers are nearby, too, and there are parking spaces available.
Sheep camp wagons are rustic lodgings, but these are popular among couples.
The RV sites have full utility hookups. All the sites are located in grassy areas, with many wonderful views of pastureland acres. Waking up to such a beautiful sight makes for an excellent start to your day!
Wi-Fi access, laundry facilities, and nearby restaurants mean that you're not completely leaving the modern world behind.
Hiking trips can lead you to high cliffs and narrow gorges that open up discoveries of the area's history and beauty. Fishing is a popular activity, but you must have a valid Utah fishing license to do it at Fremont River.
Backpacking, auto touring, canyoneering, horseback riding, and rock climbing can be done as part of your self-guided tours. Harvesting various fruits – for free, to boot – can be a new experience for the family at the orchards. This happens between early March and mid-October.
Why It's the Best in Utah:
Plenty of natural areas for physical activities, such as Hickman Bridge, Brimhall Natural Bridge, and Halls Creek Narrows for older kids
Accommodates all types of campers
Showers and restrooms are clean
Scenic views all around the campsites
​4817 S 116 Rd., Bristol, Vermont 05443
(802) 453-3123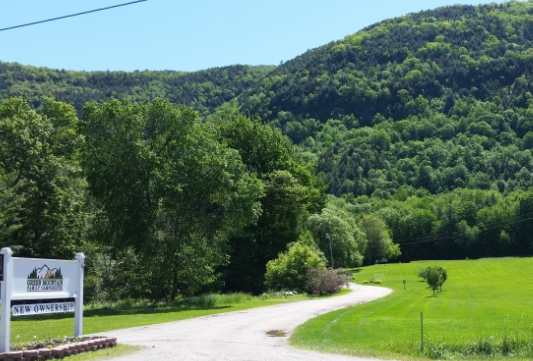 Located next to the Green Mountain National Forest, a 400-acre national park, the Green Mountain Family Campground combines the best nature with modern amenities. The rustic campground complements the wilderness areas of the national park, too, and there are plenty of hiking and biking trails for an active lifestyle. Families come here for its peaceful and quiet environment that encourages contemplation during the day and stargazing at night.
Take note that there are strict rules about quiet hours in the campsites. Children are welcome, but parents are well-advised to encourage them to follow the campground's rules.
Sites for tents, travel trailers, motorhomes and RVs, and pop-ups are available for rent. Full hookups include electricity and water offered at reasonable rates, and a dumping station is an added service. Propane, wood and ice, and other camping supplies and groceries can be bought at the country store.
An in-ground kiddie pool and a larger in-ground kiddie pool are open for most of the day for your swimming pleasure. The playground attracts the children before their attention shifts to the wagon rides and biking around the campground. Bring your pets but check out the rules about them first.
Get your family into the great outdoors through hiking and mountain biking. Then, enjoy volleyball, badminton, and horseshoe tournaments. Soccer, frisbee, and cornhole games are also popular. Themed nights, bingo, and pit BBQ dinners allow adults to socialize with others even more than before.
There are showers, restrooms, and drinkable water faucets across the campsites. Laundry facilities and bathhouses with hot showers are welcome amenities.
Why It's the Best in Vermont:
Well-maintained modern amenities that parents love to have on camping trips
Plenty of child-friendly facilities and activities to keep them occupied
Peaceful and quiet environment
Friendly but unobtrusive staff
145 Cliff Road, Montross, Virginia 22520
(804) 493-8821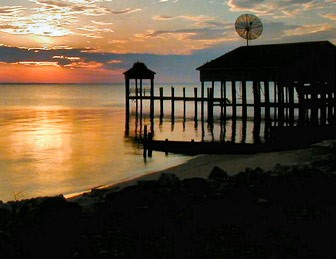 Just a little over an hour from Richmond, Westmoreland State Park is listed on the National Register of Historic Places. It provides an abundance of opportunities for family fun. Considering its proximity to the Potomac River, you can expect plenty of water activities to choose from as well.
The Potomac River isn't just for water activities as it's also a great site for hunting for ancient shark teeth and other fossils. Fishing is popular, particularly at the offshore breakwaters, and there are boat rentals and a fishing pier for this purpose. Birdwatching is a pleasure here due to the abundance of bird species, including American bald eagles, green herons, and kingfishers.
The hiking trails will satisfy your desire for adventure and solitude with your family. Children can get their fill of playing at the playground or go paddleboarding, kayaking, and canoeing with the adults. The Olympic-sized swimming is both a joy to splash in and a wonder to behold for smaller kids.
The Potomac River Retreat can hold up to 16 persons for special events like family reunions. Since it's near the water, it's also a great launching point for water activities. For striking panoramic views of the Potomac River, get up to Murphy Hall and enjoy the sight!
Wi-Fi and cellphone service are limited, but it has its merits. Everyone in the family can enjoy outdoor activities instead of being glued to your screens.
Overnight facilities are fairly comfortable and at reasonable rates. These include cabins with basic kitchen and dining utensils, air-conditioning and heat, beds; lodges with bedrooms, bathrooms, television with DVD player; and camping cabins. RV sites with utility hookups quickly fill up, too, so make early reservations.
Why It's the Best in Virginia:
Exciting land and water activities for the family
Comfortable accommodations for all types of campers
Modern, clean, and well-maintained amenities
Efficient customer service
3572 Olga Road, Olga, Washington 98279
(360) 376-2326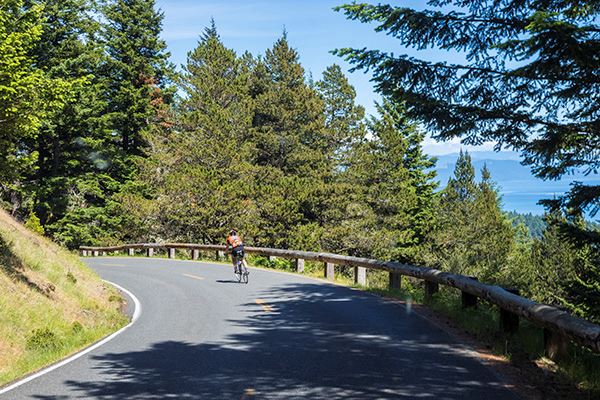 Located more than three hours from Seattle, the drive to Moran State Park is well worth the time and effort. The San Juan Island ferry ride is an adventure on its own, a scenic drive over hills then follows that before arriving at the forested refuge. With an old-growth forest consisting mainly of Douglas fir, the vast expanse of wilderness is punctuated by freshwater lakes, camping areas, and hiking trails.
There are five camping areas, with two of them located around a freshwater lake. The state park has five freshwater lakes suitable for swimming and other non-motorized water activities. These include fishing, canoeing, and kayaking, which every family member can enjoy.
On land, the activities are just as varied. There are miles of horse trails, hiking trails, and bike trails with scenic views along the way. The wildlife viewing and bird watching opportunities here are exciting because of the wide variety of animals.
Climb to the summit of Mount Constitution and be amazed by the glorious landscape laid out before you, perhaps even see to Canada. But you can also drive your car up to the summit if climbing isn't your thing. Get to the observation tower, too, for more spectacular views.
The campgrounds consist of 124 standard campsites in five different areas and six hiker/biker sites. There are ten showers and five restrooms for the guests' convenience. But there are no electric hookups, a minor inconvenience when you're looking for a 100% off-grid camping experience with the kids.
Why It's the Best in Washington:
A true getaway from the city's frenetic pace and toxic environment
Breathtaking views on the way and inside the campgrounds
Many outdoors adventures for the whole family
1898 Airport Rd, Summersville, West Virginia 26651
(304) 872-6222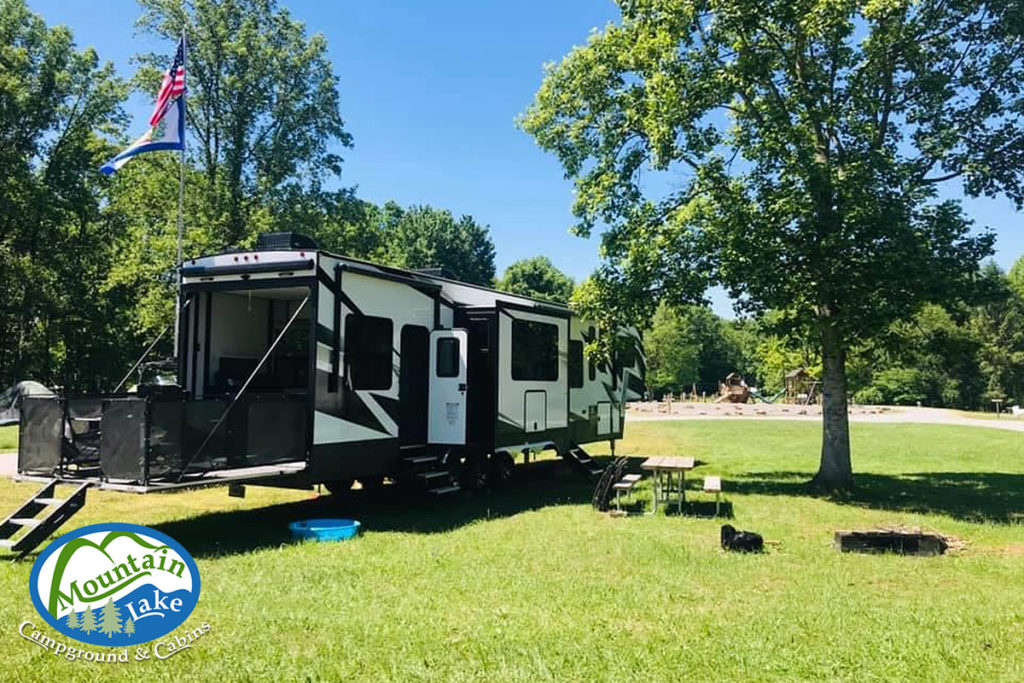 Mountain Lake Campgrounds is a popular camping spot for families that want to escape the humdrum routine or the frenetic pace of their daily life. Here, you will find the perfect balance between sedate and strenuous activities, the former to unwind and the latter to explore with the kids.
The accommodations are varied, so there will be one that will fit your budget and camping needs. Choose between camping sites located in wooded areas or open, airy, and sunny areas. Mountain Lakes' RV sites have electricity and water hookups, as well as fire pits and picnic tables. The fully-equipped, well-maintained tiled bathhouses are inaccessible areas, as are the coin-operated laundromats.
Other amenities include pop machines, playgrounds, and volleyball/basketball courts. Many sites are open only on a seasonal basis, but there's an area open for the entire camping season. Many camping sites have a private beach area, too.
The cabins, which are in wooded areas, have fairly luxurious features for camping. Most have private bedrooms, living rooms, and fully-furnished kitchens with basic microwave, coffee pot, and pots and pans. The bathrooms have showers, commodes, and toilets, too.
Pets are welcome, but certain possibly aggressive breeds aren't allowed for safety reasons. If you want to bring non-allowed pets, you may consider putting them in a nearby kennel during your camping vacation.
Other services include golf car rentals, boat mooring, and boat or camper storage. Buy supplies, snacks, and souvenirs at the country store; enjoy your pizzas from the on-site Pizza Shop; and cool off with delicious soft-serve ice cream.
Bathhouses with clean facilities are placed in strategic locations throughout the four campgrounds. There are laundry rooms in most camping sites, too, while tank services are available for a small fee.
Why It's the Best in West Virginia:
After-hours security for extra peace of mind
Land and water activities abound, from swimming and hiking to mini-golf, treasure hunting, and basketball
Themed weekends, outdoor theater movies, and other planned activities are offered
3668 Grondin Road, Sturgeon Bay, Wisconsin 54235-9008
(920) 743-7115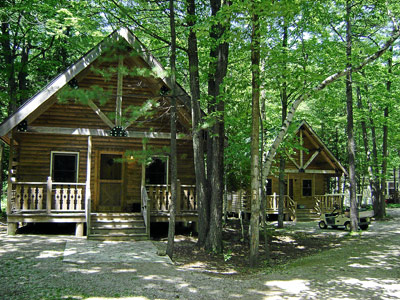 With its proximity to Lake Michigan and Green Bay, Tranquil Timbers Camping Retreat is a haven for water lovers! The sparkling waters are home to several fish species like smallmouth bass, rainbow trout, and walleye. The clear waters are also great venues for adrenaline-pumping activities like water skiing and boating, as well as more sedate swimming.
If you're looking for off-campground excitement, there are plenty of golf courses, local festivals, and orchards within a short drive from the resort. But you and your family will be drawn to the lovely wooden areas of the campground with their airy, spacious, and peaceful vibe. Check out the miles of hiking trails at the adjacent Potawatomi State Park too, which has plenty of wildlife as well.
Young families also find plenty of entertainment options within the resort. These include live bands, games at the game room, mini-golf course, horseshoe pits, playground, and volleyball courts. Planned activities, including themed weekends, mean a break from planning self-guided activities.
There are 250 camping sites with locations ranging from lush woodland to open, sunny grounds. All sites, nonetheless, are within walking distance of amenities like restrooms, showers, and laundry facilities. The lodging options include park models, yurts and cabins, as well as RV sites.
The RV sites have water, electricity, and sewer hookups at reasonable rates. All camping sites have picnic tables and fire rings, too, as well as a honey wagon service on weekdays.
Why It's the Best in Wisconsin:
Controlled access to the campgrounds with security at the gate
Clean, hygienic restrooms and showers
Numerous entertainment and adventure options for the whole family
Scenic views of the land and water features
Forest Rd 106, McKinnon, Wyoming 82938
(877) 444-6777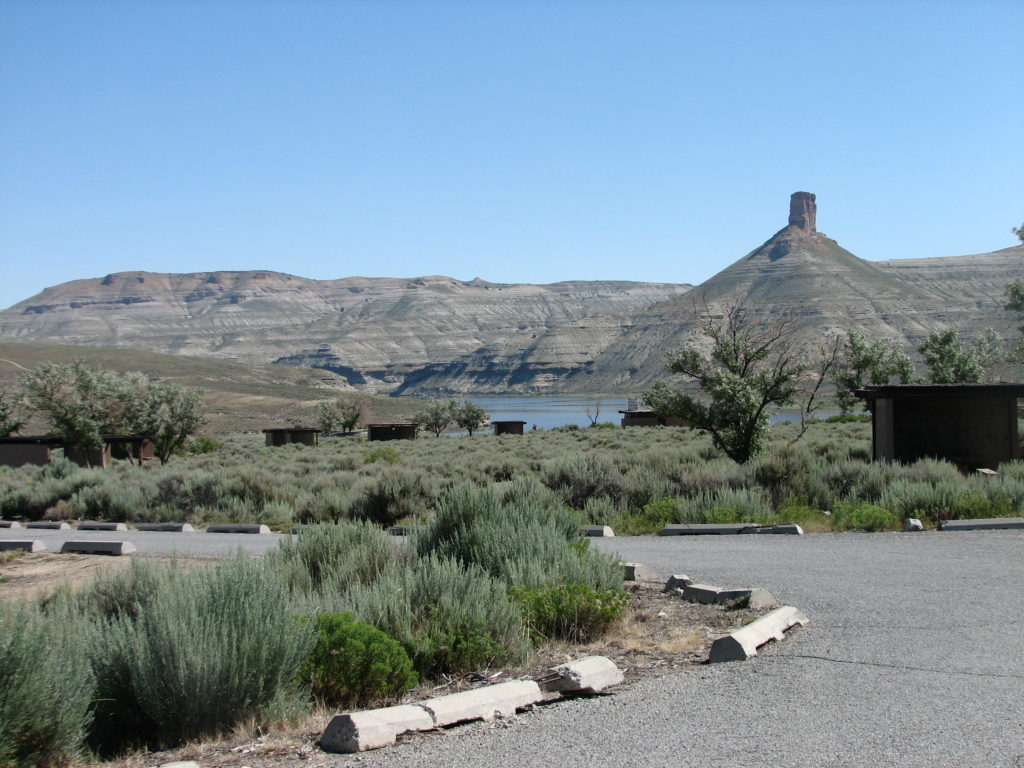 Set amidst the vast Ashley National Forest, Firehole Canyon Campground has a desert environment, so there's minimal shade. But what it lacks in verdant greens makes up for in the awe-inspiring views of red rock formations. If you're looking for shade, several sagebrushes and Russian olive trees offer respite and break the desert colors.
The US Forest Service manages the Firehole Canyon Campground, which is considered the best-developed campground in the Flaming Gorge Reservoir recreation area. Day users and overnight guests choose from several types of lodging at affordable rates. Take note that most, if not all, campsites have no electric hookups, but that's a small inconvenience concerning the exciting camping experience.
There are potable water, showers, and flush toilets on the camping sites on the bright side. Picnic tables, a boat ramp, and a beach area are notable facilities, too. A dump station combined with a trash collection service keeps the campsites clear of unsightly debris.
The guided tours on the Flaming Gorge Tour are popular because there's always something new to marvel at.
Why It's the Best in Wyoming:
Different camping experience due to its high desert location
Natural attractions are within a few minutes drive
Offgrid camping with good amenities
---
Of course, these 50 family-friendly campgrounds are just a small sample of the best that the United States has to offer avid campers! But you can start your camping adventures in one of these campgrounds and enjoy new experiences with your family! Did someone say, "Roadtrip?!?"