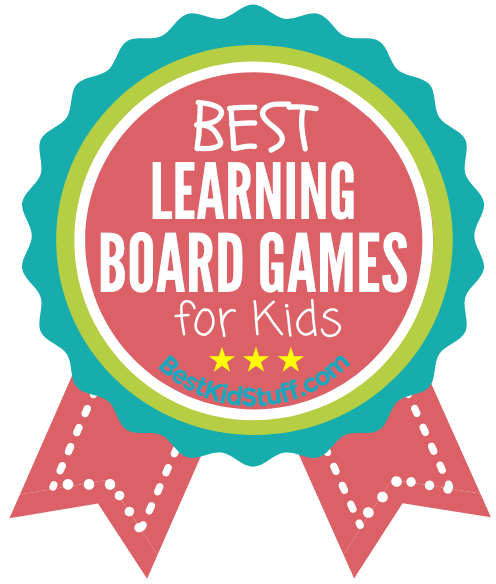 Thinking of buying a board game for your kids but are having second thoughts about what is best suited for them?
Educational board games are still one of the best ways for kids to learn at a young age. With kids having a short attention span, these board games will entertain them for hours at the same time learning something from it.
For families, it is a time where all ages sit down and play in one corner. This bonding 'ritual' has been passed on to many generations despite the world being hooked on technology.
Aside from these, below are also some benefits that a child gains from playing board games: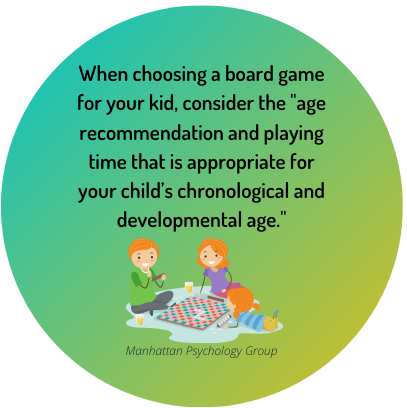 It teaches kids to set a goal. Before starting a board game, a player already has a goal in their mind they want to achieve. Thus, it helps them accomplish this in a challenging yet fun way!
It opens up their creativity. For shy children, this is a perfect tool to develop a stronger sense of individuality as they display their creative side of personality.
It brings people together – old and new. As a board game can be a multiplayer activity, it facilitates teamwork through competitive and cooperative play. With this, it requires everyone to engage, strengthen their relationships, and build a form of bond with each other.
It helps exercise the brain. With a lot of mind-boggling activities in board games, it helps improve brain function. Also, playing itself stimulates other areas in the brain that is in charge of memory formation and complex thought processes.
Finally, board games make kids happy. Playing board games releases endorphins, which is a happy hormone in the body. With these feel-good chemicals naturally, children get to enjoy the learning experience and ultimately can also reduce the worries they feel.
So here are ten educational board games for your preschoolers and school-age kids to get you started: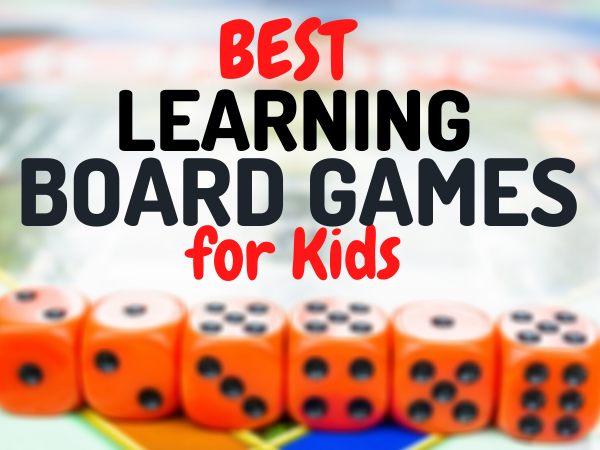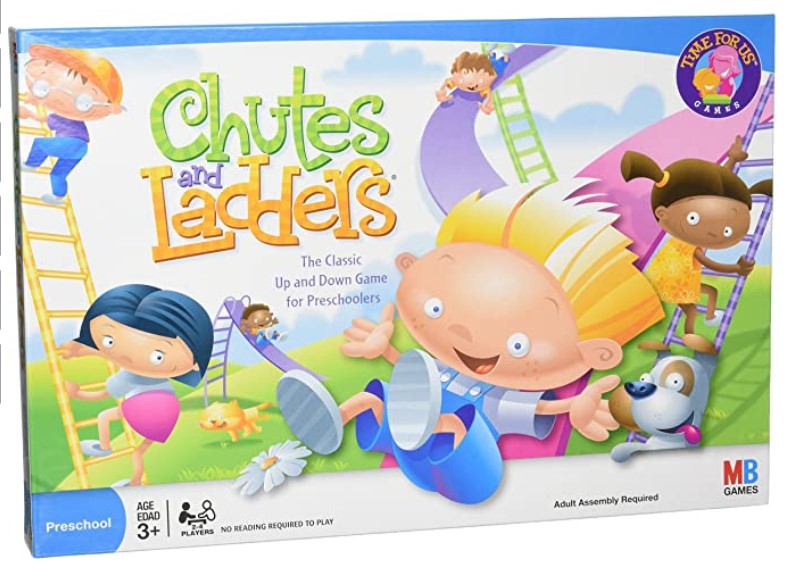 There is no other way to introduce a perfect board game than in classic gameplay! Recommended for kids ages three and above, Chutes and Ladders Board Game teaches kids about counting and math. Families have enjoyed this exciting up-and-down game for over 60 years!
Made by Hasbro Gaming, the Chutes and Ladders Board Game concept is simple and easily understood by preschoolers. It may be played by two to four people. Each kid takes turns to see how many spots they will move between 1 and 6. If they land on a space with a picture, they can move the pawn up or down.
The first player who makes it to the square 100 wins. With this, kids can practice counting, number recognition, and basic addition as they reach their way to the top.
Little players also have to watch out landing on good or bad deed squares that will show that they ate too much candy, steal from the cookie jar, helping sweep up a mess, walking the dog, or helping a sibling. They will either slide down a chute and land on a few squares or be awarded by a climb.
For parents, this can teach their young ones about rewards of positive behavior and the consequences of negative behaviors.
This Hasbro Gaming's board game includes a spinner with an arrow, four pawns with plastic stands, English-Spanish instructions, and a gameboard that is enough to keep your young ones at the edge of their seats!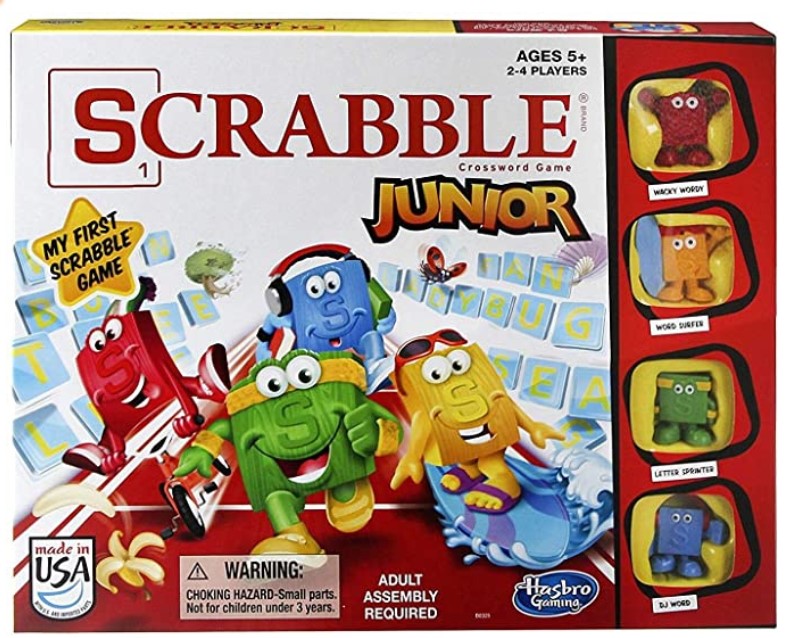 Another classic from Hasbro Gaming is Scrabble Junior Game. It is specially designed for kids five years and up, and is a fun letter-matching learning board game. A fun spin on the old Scrabble classic, it can be played by both younger kids and their older siblings!
Scrabble Junior Game can be played by 2 to 4 players. It is simple to play. These character tokens also have their personality traits from green Letter Sprinter, yellow Word Surfer, blue DJ Word, or red Wacky Wordy to track your score.
The game harnesses its players' spelling and vocabulary skills. It features a double-sided gameboard that is suited for both beginners and advanced levels. The introductory side is like a crossword puzzle. For kids learning to spell, this side of the board has all the possible words that have already been spelled out as players earn points after completing words.
It allows young players also to explore their thinking and light strategy as they play at their own level with colorful words and pictures.
On the reverse side, it is an entirely blank grid that will teach advanced children about word matching and building. This side of the game board is where kids can create their own words. Each chip has a designated score(s), and the player with the most points after all tiles are used will be the winner.
Inside the box, players will find a double-sided gameboard, four-character tokens, 105 letter tiles, and a game guide.
Truly, Scrabble Junior Game offers an educational yet enjoyable experience for kids!
3. Jumping High Five Noah's Animal Rescue!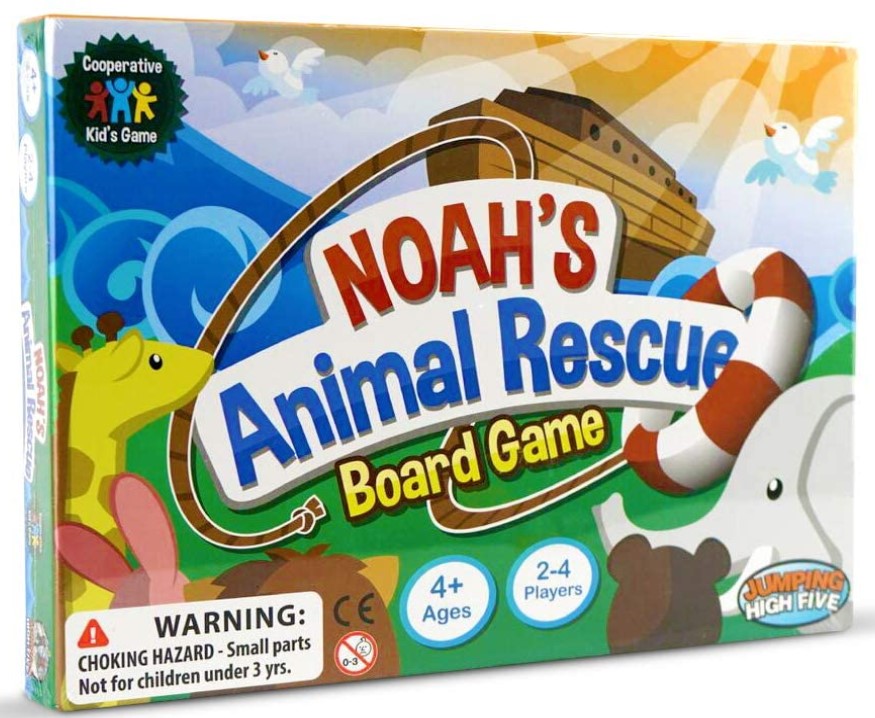 Can you save all the animals in need on time? This is the game board concept of Noah's Animal Rescue! Manufactured by Jumping High Five Games, it is ideal for kids ages four and over. The game is adapted from a famous bible story with animals.
Noah's Animal Rescue can be played in your family game night, kid's class game time, or in other learning games with their friends for 2-4 players. In this game, it is a race as little players help all of the animals on Noah's boat before the great flood!
Each board game comes with five animal characters (duck, frog, horse, rabbit, squirrel), 13 raindrop cards, one raindrop symbols, a printed instruction manual on the box, and a cool-designed Noah's Ark gameboard.
At the beginning of the play, players can choose their difficulty level from New (can choose three animals), Confident (4 animals), or Expert (all five animals). These animals will be placed at the bottom of the board and will navigate the terrain as a team by selecting a terrain card or discarding a rain card to make a move.
The game will end if all the five animals have safely boarded the boat. With a short 10-15 game time, not only will it engage your child in a fun board game but will also develop their social skills, sharing skills, and strategic thinking.
Most importantly, it develops their team communication from good sportsmanship, taking turns, and simple problem-solving skills.
With the game's emphasis on cooperation instead of competition, children can play and work together towards one common goal!
4. The Ladybug Game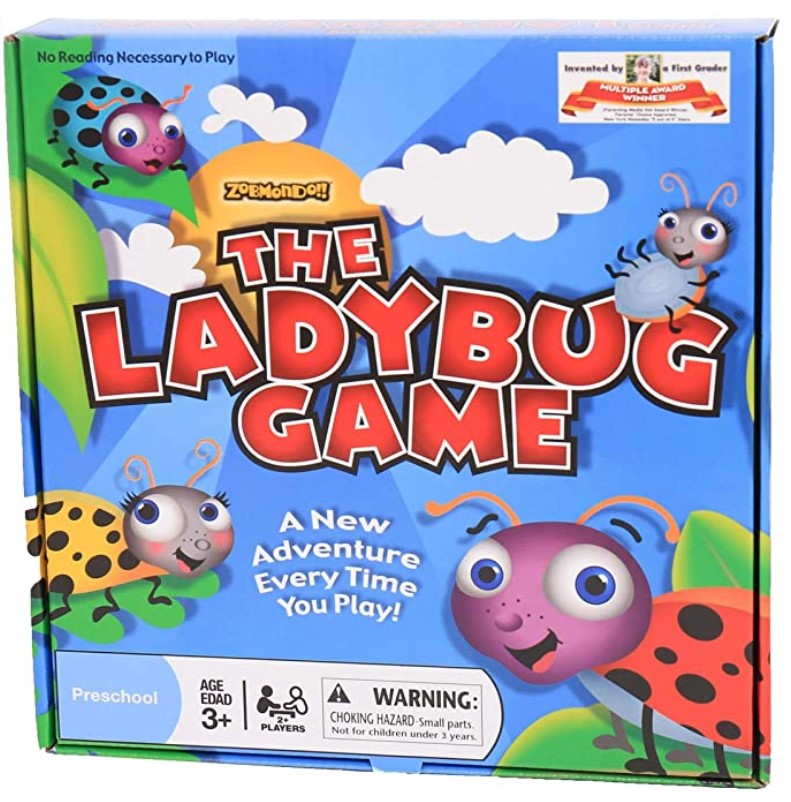 The Ladybug Game is an ideal first learning board game for kids. Aimed at young children up to primary school age, it is an educational board and card game that centers on animals and pathway building. Produced by Zobmondo Entertainment, a first grader created the game in California aimed for interactive play between kids and their parents!
As soon as the children learn the basics of reading and counting, they can gather in the gameplay of two to four. Now, the story of four ladybugs- Ella Yellow, Tommy Teal, Olivia Orange, and Rickie Red and their adventures can begin. For a game time of 20 minutes, the objective of the game is to get their ladybug from "Start" space to "Home" space quicker than their players to win.
However, Praying Mantis, bugs, and aphids will be an obstacle along the way. Kids need to draw out a Ladybug Card if it's their turn and either move or go back based on the number of spaces shown. There is also an Aphid Card to collect the number of aphids (chips) on the card, and the player's turn is over once a card doesn't say "Go Ahead" on it.
With cute graphics and an enchanting background story, the well-thought cards stimulate early readers and counters with colors, symbols, and numbers that help even youngest players catch on quickly. It also stimulates their skills in planning, communication, and strategy-building while having an interactive play.
This fast-paced and colorful game includes a gameboard, 4 Ladybug Pawns and Stands, 61 Aphid Chips, 38 Ladybug Cards, and 8 Praying Mantis Passes. It is a perfect balance between fun and an educational game!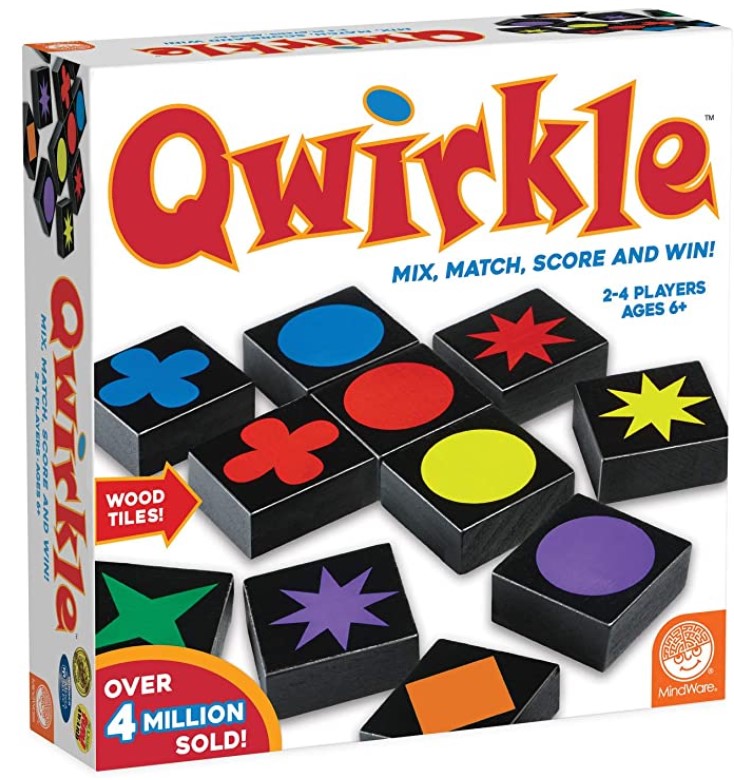 A board game without a "board," players of Qwirkle can simply use an available flat surface. Distributed by MindWare, this board game can be played by school-age kids and above. With a straightforward and easy to follow the rules, this award-winning game has sold over 3 million copies worldwide.
Qwirkle begins when players draw their own six blocks. Requiring two to four players, it can be set up anywhere with also a paper and pencil to keep track of everyone's point count. With a total of 36 possible color-symbol combinations, each tile also has an illustration on the back (i.e., circle, square, clover, or eight-point star), and each symbol appears in different colors (blue, green, orange, purple, red and yellow).
The start player places a tile of a single matching attribute of either the symbol or color, but not both. Then, an opponent adds another tile adjacent to at least one of the previously played blocks. Scoring will be on every adjacent tile placed, and the highest scorer will be the winner once the draw bag is depleted.
This board game promotes children's skills in spatial recognition from the matching colors and shapes in the blocks. They will be challenged mentally when building combinations, yet keeping them engaged and interested.
The Qwirkle game improves kids' problem-solving skills and promotes strategic thinking. It also combines the gameplay of Scrabble and Dominoes, making it a challenging game for children and adults.
Qwirkle comes with 108 wood tiles, canvas drawstring bags, and instructions to get your kids started in another play date with you!
6. Stare Junior Board Game For Kids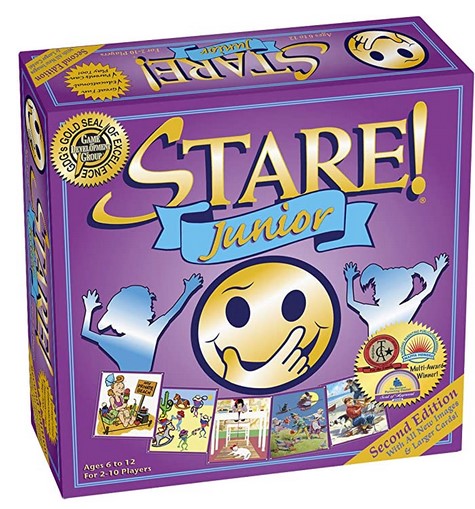 How many details can your kids recall in 30 seconds? Stare Junior is a challenging visual game. From their school class to your family night, this multi-color board game with image cards is best for kids between 6 to 12 years old. Game Development Group manufactured this multi-awarded game.
Stare Junior contains more than 160 image cards, each with six questions on the back. Each card contains different visually-stimulating and fun suitable for children. It can be a work of art, comics, funny photo, illustration, animation, and more. Each player has 30 seconds to stare at the picture on the card and recall as much detail as possible.
After that, their opponent will ask him/her a series of written questions at the backside of the card. "Which teddy bear is the tallest?" or "How many musical notes do you see: 2, 3 or 4?" or "What is the girl's party hat's color?" or "What is Superman holding in his left hand?"
The player who answers correctly can advance to the game board. It is also more fun when other people are trying to distract them!
The game seeks to determine how many objects a player can recall, including even the smallest details in an intricate picture. Aside from it being fun, the board game also develops four crucial skills in kids: pattern recognition, memory, concentration, and time pressure.
Stare Junior comes with a sand timer, dice, game board, image cards, and instructions in the package to start testing and training your kids' muscle memory! It's an exciting game!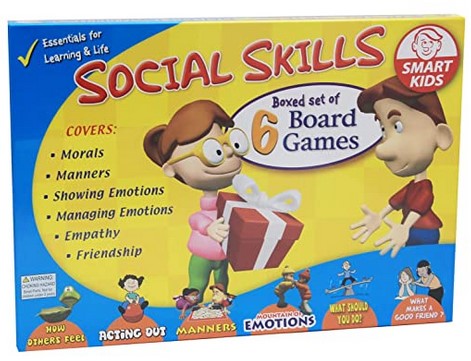 If there are board games that enhance children's memory, vocabulary, and problem-solving skills, there are also some that improve their social goals. Didax Social Skills Group Activities is a great educational game for elementary-age students. Produced by Smart Kids, it is also suited for small groups to use and therapy.
Didax Social Skills Group Activities has a set of six unique board games. In each board game, there are socially challenging situations with no right or wrong answers. Everyone then discusses the solution and the best action to take.
These activities within the game encourage the kids to communicate, listen, and participate actively. The game itself works towards six important issues that a school-age child faces. These include having good morals (Morals), showing good manners (Manners), making friends (Friendship), understanding the feelings of others (Empathy, understanding and showing your emotions), and acting out your emotions appropriately (Managing Emotions).
As it improves children's social skills, Didax Social Skills Group Activities also enhances their behavior towards school and within the community.
By working together as a team, the players become active in the decision-making process. Aside from the gameboards, the box also includes 24 counters, one dice, and one spinner to improve your young one's interpersonal and intrapersonal approach!
With the Didax Social Skills Group Activities, you can teach your child valuable lifelong skills!
8. MindWare QBITZ Q-bitz Junior Board Game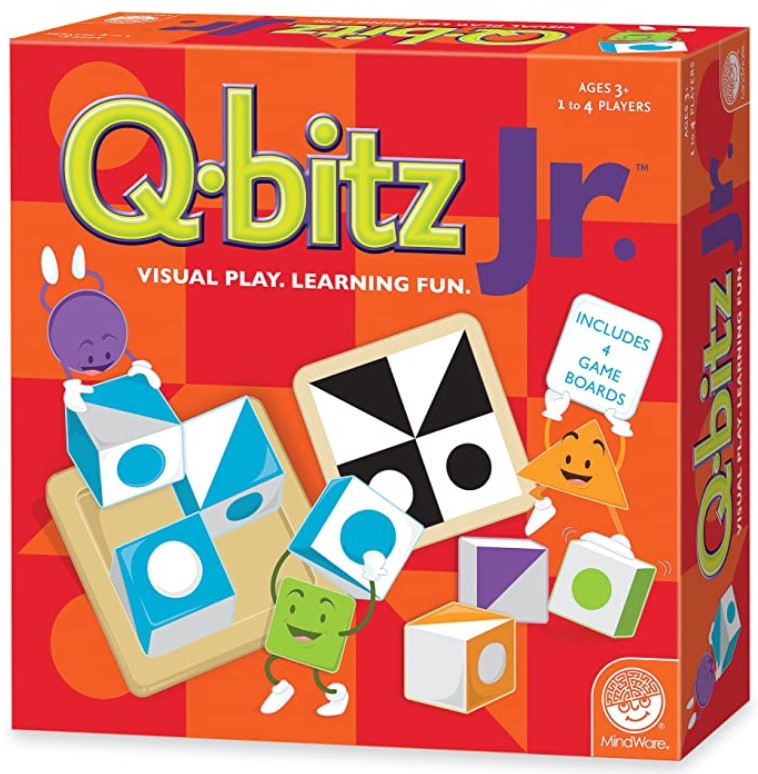 Q-BITZ Junior is a puzzle board game for young audiences. Suited for school-age, it offers many types of visual challenges that combine fun and learning. This award-winning game created by MindWare is a perfect game for multiple playing styles.
In this board game, children will receive a set of four same-colored cubes and a wooden tray. Q-bitz Junior can be played either individually or against three others for competition. The board game has three different ways to play. In Round 1, each player tries to recreate from 60 Q-bitz Jr. Pattern Cards with their particular set of cubes.
In Round 2, a round of rolling the cubes to match the pattern adds more luck and excitement. In Round 3, players will recreate the pattern from memory, which can be a test of their brainpower! Then, they will shout "Q-bitz!" and win the pattern card. The kid with the most cards wins the game.
Q-bitz is a fun and challenging way to introduce your young ones to symmetry, memory, visual ability, friendly competition, and spatial reasoning from quick-thinking, lucky breaks, or memory muscle power. Through these visual intelligence training and skills, it can also help kids for future STEM success.
Aside from the wooden cubes, trays, and pattern cards, the box also includes a complete parent guide, which offers more ways to play with the board game for additional learning and visual ability.
Family game night is a great way to connect with your kids… and Q-bitz can be fun for the entire family! Check it out!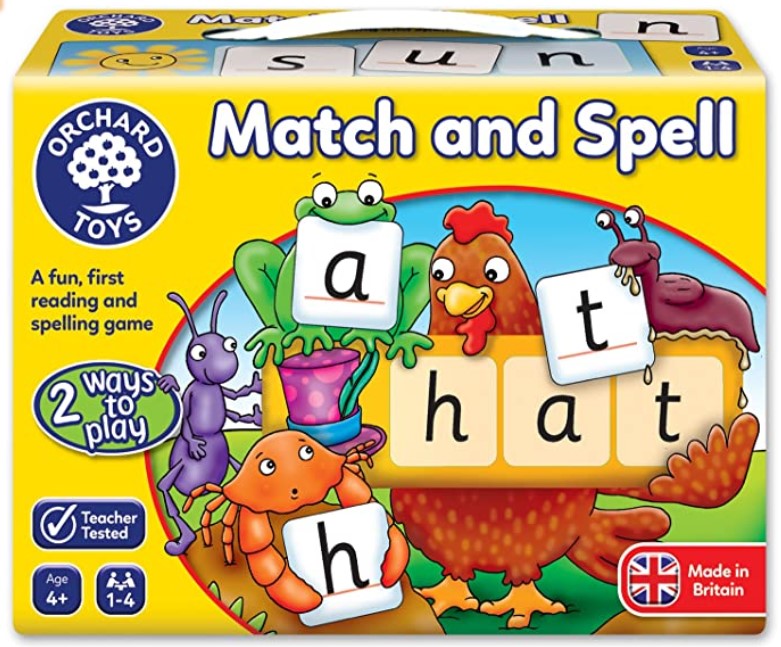 Brought by Orchard Toys that have been making educational games for almost 50 years, Match and Spell Children's Game is one of their products that emphasizes the "learning made fun" concept. Ideal for ages four and up, this game is also perfect for homeschooling, as kid's letter recognition and word building in important.
The Match and Spell game is designed for guided and independent word building. The progressive game can be a single-player activity or a multiplayer game. In a simple matching game, kids will be introduced to letter sounds and shapes.
They will enjoy looking and identifying what is in the colorful pictures. After familiarizing how each letter sounds, they will progress in reading the words out loud. It also features a double-sided word board of simple and complex words from "ant" to tent.
With friendly illustrations and simple gameplay, it encourages kids to sharpen their match and memory skills. From matching one letter to another, ultimately making a word, it progresses as these skills promote the matching of pictures and words.
Moreover, the Match and Spell Children's Game develops their literacy and language skills, especially for early beginners. From letter recognition, spelling, reading, and phonetic word building, it will give young one's confidence in this range of skills. And with a multiplayer approach and guided word-building from adults, these can encourage children to discuss how they can use their matched and completed words as a basis for conversation.
Match and Spell board game contents include 12 double-sided three-letter word boards, eight double-sided four-letter word boards, 68 letter cards, and one instruction leaflet!
10. wordplay for Kids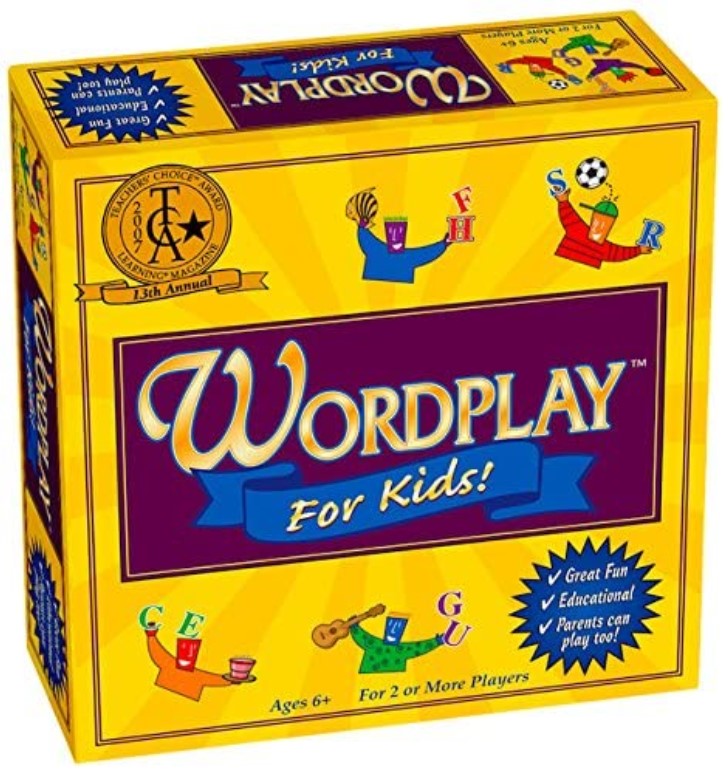 Last in our list is a Teacher's Choice Award Winner. Another product by Game Developer Group, Wordplay, is for kids between 6 and 12 years old. This board game allows kids to develop many vital skills while playing a fun and competitive one!
In Wordplay for Kids, all children can participate in every round with different challenges arising every time as they write it down in their game sheet. The concept of the game is straightforward: the first player to form a word wins before the Sandtimer runs out!
These random letters can be taken from the letter spinner. In the game, six special categories can help give each player a clue from the roll of the die. These are Living Creatures, Boy's or Girl's Name, Food or Drink, Object or Thing, Something in the House, and "Any Word.
As the winner forms a word, they will move ahead on the board. Also, more points are given to the player with the longest word and can give you more space to move.
As parents and even teachers can play along, this is no doubt a great tool to stimulate and develop every kid's vocabulary and spelling. Wordplay for Kids also helps children in a group game as they can develop their competitiveness and spirit of sportsmanship when they lose to other kids. With a timer for every game, players race against time to win!
Not only is it a competitive and challenging board game, but it also tests and improves kids' word building skills in a fun environment.
Wordplay for Kids has gamepads, game pieces, game board, sand timer, spinner, pencils, and instruction sheet inside that is all-ready in one word race adventure for everyone around!