As parents, it is vital for you to recognize and encourage your child's creativity. Their creative spirit needs to be nurtured and enhanced through constant practice. A toddler's love for toys can become an avenue for creative display! We're talking about toys and play ideas that not only keep your toddlers busy but also allows them to develop their creative drive and hone their problem-solving skills. Start them young!
How Can Toys Foster Creativity?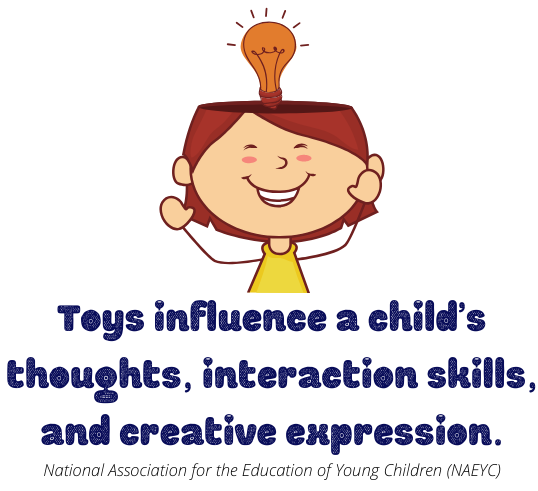 It's no secret that a child's mind constantly evolves with learning and experience. Some parents find that unstructured play works for their little ones. In particular, toys that can be used in different ways help develop their imagination.
Through creative play, toddlers can sharpen their determination, resourcefulness, and problem-solving skills, making them more prepared to cope with future difficulties. Creative kids grow to be more confident with better social skills. Toys, after all, can influence a child's thoughts, interaction skills, and creative expression.
Do you need some great ideas?
Choose with care the toys for your toddler. Pick ones that are comfortable and safe to use and encourage creativity in your little one! If you're unsure, we've got you covered! Below you will find our hand-picked creative toy suggestions for toddlers age 3 to 12 years.
1. Jigsaw Puzzle Sorting and Stacking Games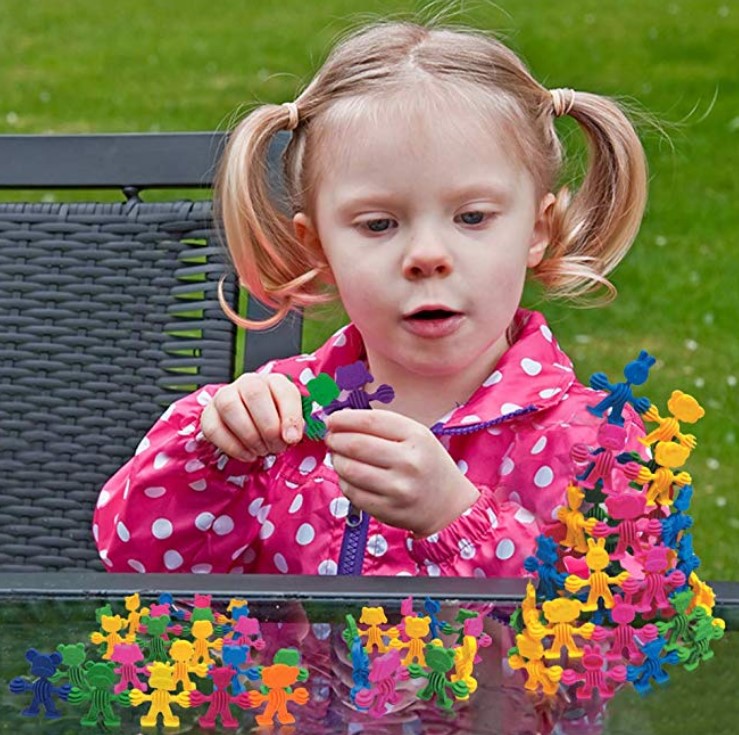 There's nothing quite like toys to keep your toddler occupied! From 3 Bees & Me comes a fun learning playset that your child will love. Made from non-toxic materials, the feature whimsical animal characters in bright and varied colors.
Kids can learn the different colors as they try to sort and link the toys during play. This exercise does not only foster their creativity but also helps them develop their motor skills. If you have been looking for ways to pull your toddler away from television and digital devices, then this unique and engaging playset is the perfect distraction. This will keep them engaged and quiet as they sort, stack, and link each colorful piece to create something from their rich imagination.
What more, this toy set gives you a perfect opportunity to bond with your child. You can play and engage with them, teaching them to count and identify each color. It's also a great way to encourage them to think and nurture their imagination as you both have fun grouping and linking the pieces into many adorable forms.
This sensory activity set is quite portable and light-weight, making it easy for you to carry around when necessity calls for it. Dining out, road trips, and plane travel with your beloved toddler can be easily manageable with the help of this bag of toys.
Are you scared to get something that might not fully meet your expectations? The Jigsaw Puzzle Sorting and Stacking Games set comes with a 60-day, 100% money-back guarantee. You can always get a refund without hassle if you're not thrilled about what you get, so no need to worry.
You can't go wrong with this awesome game set, designed to stimulate your child's imagination!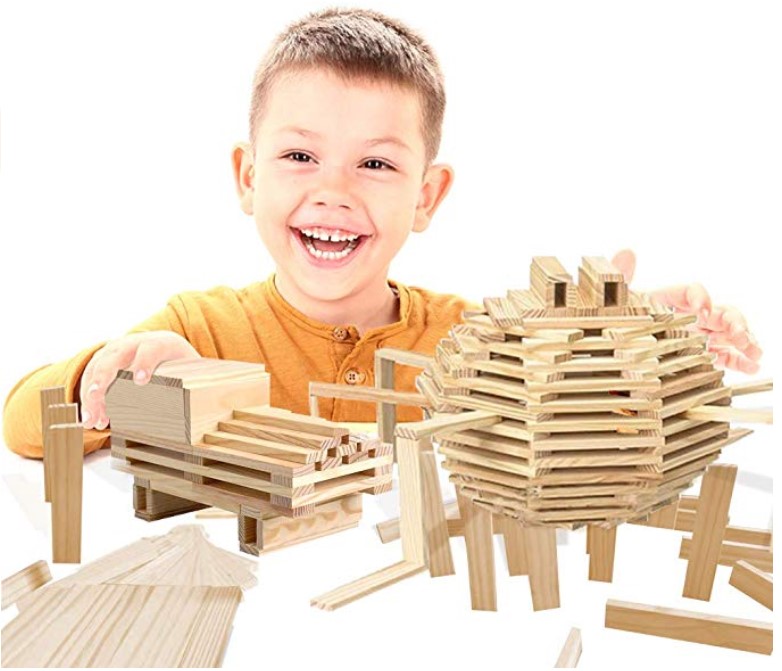 Are you shopping for an educational toy for your toddler? Look no further than Wooden Building Toys from 3 Bees & Me. A perfect choice as a gift for boys and girls ages 4 to 12, this toy set lets them construct their inventive creations from 100 wood plank pieces.
Kids can build anything from their imaginations, from simple houses and barns to monuments and dinosaurs. They can play with this alone, sharpening their problem-solving skills and patience. It is also an excellent way to train them on some math and engineering skills.
While playing on their own is a great way to go, this activity set can also be shared with family and friends. This gives your kids the chance to learn all about teamwork and build their social skills.
Just like other toys and playsets from 3 Bees & Me, this Wooden Building Toys comes with a 60-day money-back guarantee. If it did not thrill you in any way, you can get a refund, hassle-free.
Foster your little one's creativity and building skills through the art of architecture.
Does your child exhibit an interest in painting? Then the best course is to encourage the inner artist in them without worrying about the mess paints can leave behind. All thanks to this Magnetic Drawing Board from CoolToys.
This high-quality creative playset features a blank canvass and magnetic drawing pens in four different colors. It is made of durable, non-toxic plastic that can withstand the tests of time. Draw them away from the allure of television and tablets and let them have a grand time drawing and creating art pieces that can develop their imagination and nurture their creative spirit. Once done, they can quickly swipe the lever and create another artwork.
If you need to keep your little ones busy while on a trip or waiting for an appointment, this drawing board is the best companion for your little one. Just remember, however, that some parts might pose a choking hazard, so it only appropriate for children ages three and above under your supervision!
Do you have a little budding artist in your family? Start them out right. Order your Magnetic Drawing Board today!
Learning toys are everywhere, but choosing the right one for your toddler can be quite tricky. If you are trying to find something that can help with your child's early learning development, then the TINOTEEN Button Art Toy is the best choice.
This playset is composed of 50 colorful pegs, 18 different pictures, and a pegboard. Kids can match and snap the mushroom nails to complete an image, such as a bird and a frog. Designed for little hands, this toy set can help improve children's hand-eye coordination, hand dexterity, motor skills, hand dexterity, as well as color recognition.
Trying to complete different pictures can also foster their imagination and early patterning and sequencing ability. This toy set is also a great way to introduce your toddler into numbers and colors, teaching them to sort, count, and put the pictures together.
Kids ages 3 to 5 years old can play with this worry-free since this is made from highly ductile, non-toxic plastic materials. The toys also come with a large storage bag. Kids can be trained to clean up and organize their toys after use.
5.

Ball Drop and Roll Swirling Tower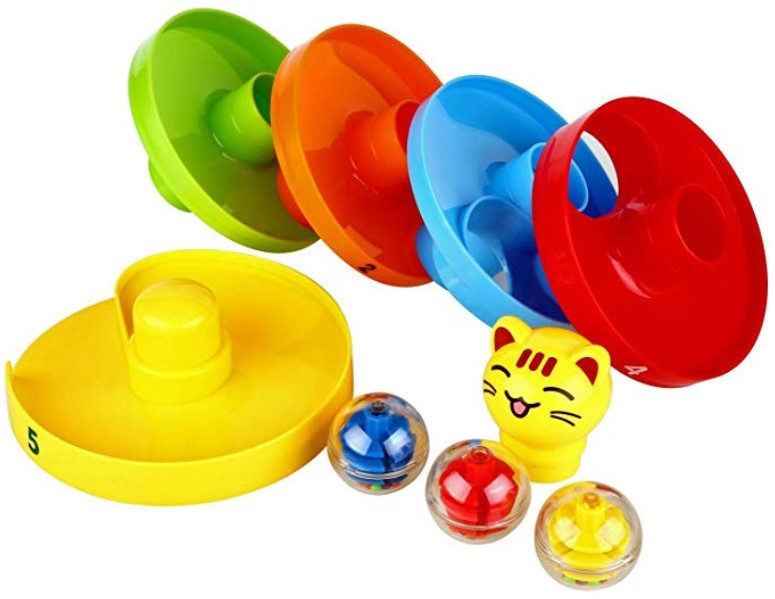 Interactive play in children can foster several skills, such as solving problems, exploring their imagination, and nurturing their inner creativity. The Ball Drop and Roll Swirling Tower educational playset from CoolToys is perfect for children nine months and older.
Featuring a 5-tier, multi-colored ball ramp, this toy set also includes three spinning acrylic activity balls. The latter contains colorful beads and shapes that can create sounds when shaken. Toddlers can drop the balls from the top of the tower and watch them slide down the track, guessing which hole it will come out and land.
It also makes entertaining noises that fascinate toddlers. The tower can be easily assembled and disassembled. It is also handy, so it can be brought with you anywhere, equipping you with the perfect toy set for playtime when needed.
The toys are made from high-quality materials, which are BPA-free, making them entirely safe for little children.
Turn playtime into a learning experience by fostering creativity and coordination!