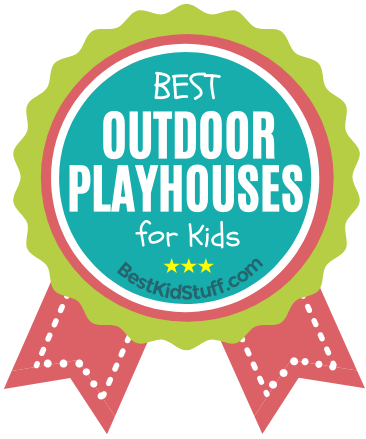 As children spend more time indoors, adults need to be more creative to get them to explore the outdoors using toys or outdoor structures such as playhouses. By age 2 to 3 years old, kids are likely to engage in "pretend play'."
This is the time where you'll see kids mimicking adult activities such as putting on make-up like Mommy or shaving an imaginary beard like Daddy. It's good to foster this type of play since it increases their awareness of the world.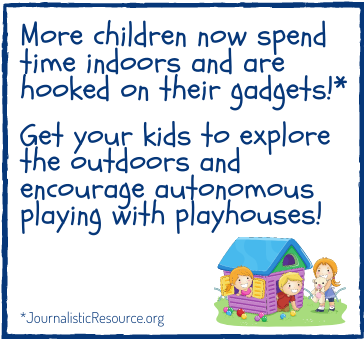 Play is a fun way of exploring their surroundings beyond what they see in the house. One way for them to explore this freedom is to create an environment where it makes it accessible for adults to oversee their safety.
Playhouses allow them to gain independence where they can spend time playing with their toys in a space they can call their own.
For mini-gatherings with other parents, this can also serve as an outlet for young kids to have fun while the adults supervise at a distance.
Playhouses present a lot of opportunities to develop their creativity and keep them occupied. Parents or adults, meanwhile, can go about their own outside activities while checking in on them periodically.
Here are our top choices, all of which are available on Amazon!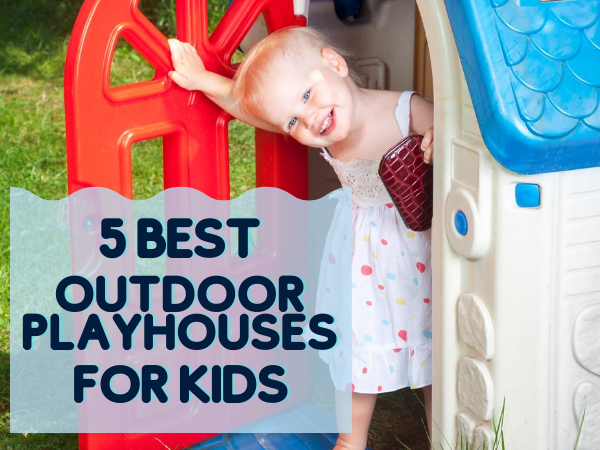 1. Little Tikes Cape Cottage Playhouse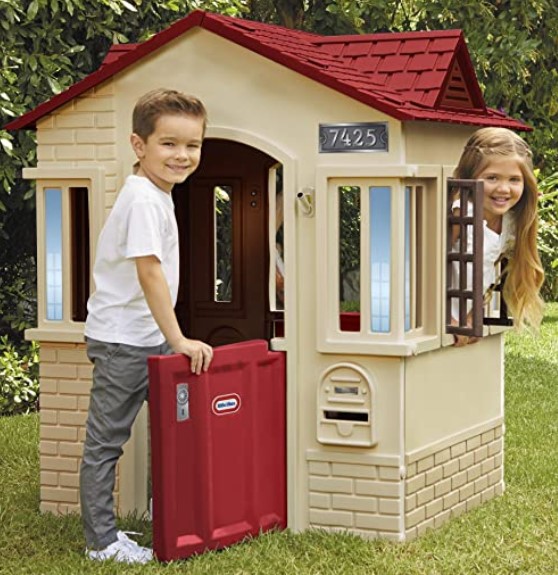 Bring them the wonders of playing outdoors with the Little Tikes Cape Cottage Playhouse! This is the ideal playhouse for homeowners with just enough space for their kids to play around the backyard.
It's a quality Little Tikes playhouse made of sturdy materials to withstand daily heat and rain, letting your little ones play anytime! Emulating a cottage-like appearance in tan and red, this structure gives it the charming classic brick-look playhouse.
Don't let its petite size fool you! Though it can accommodate around 1 to 2 children at a time, it's easy to assemble and comes with all the basic features, including a half-door, windows, and shutters.
The windows have sufficient openings to let the cool air come in during hot summer days. They can also receive 'mail' letters using the toy mailbox where friends and family can send letters.
Fit for 2-year-old kids, and below, this would make an enticing outdoor structure to bring your children outdoors to get some fun under the sun!
If they're playing alone, the space is sufficient to lay down a mat to settle their toys or add a small table for two inside the playhouse.
Parents need not worry about finding the right gift for the holidays or their birthday! This affordable playhouse will give your children the fun and enjoyment for many years ahead.
2. KidKraft – Disney Frozen 2 Arendelle Playhouse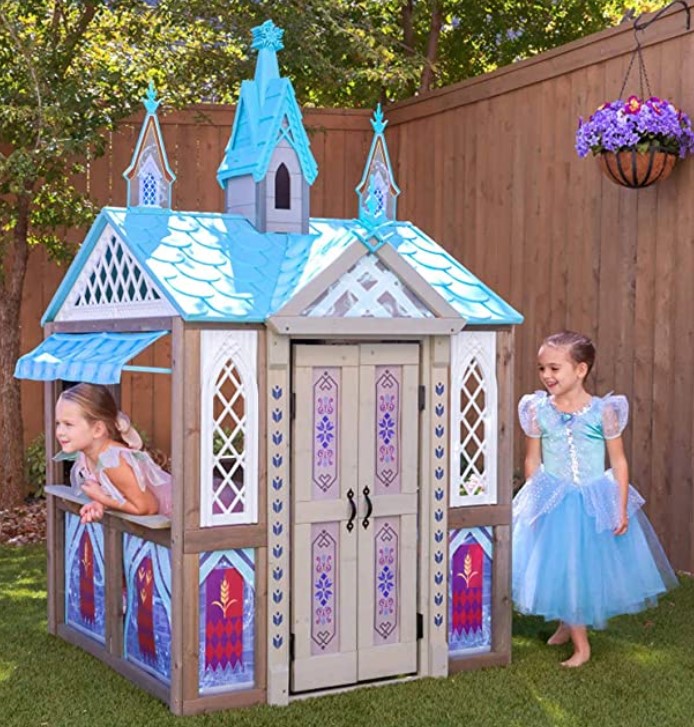 Little Elsa's and Anna's can finally fulfill their princess fantasies with this KidKraft – Disney Frozen 2 Arendelle Playhouse!
Elsa and Anna are all-time favorite hits with little girls. Grab your kids' attention and stir their imagination with their very own mini-Arendelle inspired playhouse! This unique KidKraft design is intended for kids ages 3 to 8 years old built to foster their imagination.
Your little girls will enjoy this petite princess-themed playhouse! Its unique Arendelle-inspired decor is truly captivating as they pretend to play tea with a friend or sibling. The interiors are mirrored to that of the movie with its palace-like graphic shelves, clocks, and furniture.
The exteriors also have the same graphic images of red banners and light blue frames. Kids can plant whatever flowers they like in its two window planters, too, if they choose. Or you can opt to decorate it using fake flowers. It also comes with a front door inspired by Elsa's room, custom ice windows, and beautiful roof spires, making this mini-Arendelle castle close to the real deal!
They can also write on the boards located near the windows. Just purchase some colored or plain chalks and watch your children have fun creating doodles or signs!
It is spacious enough for two to three girls. You can also add a petite table and some chairs that best complement the theme. From now on, your little girls can play tea with friends or bring their favorite toys to this enclosure.
Giving your kids this playhouse for their birthday or special achievement would surely encourage them to take more playtime outside. Outside structures like these are good investments since these are long-lasting structures.
At such an affordable price, parents and kids get to enjoy the benefits of some outdoor fun. They can even pass this on to their siblings in the future! Check it out on Amazon.com!
3. Skroutz Kids Playhouse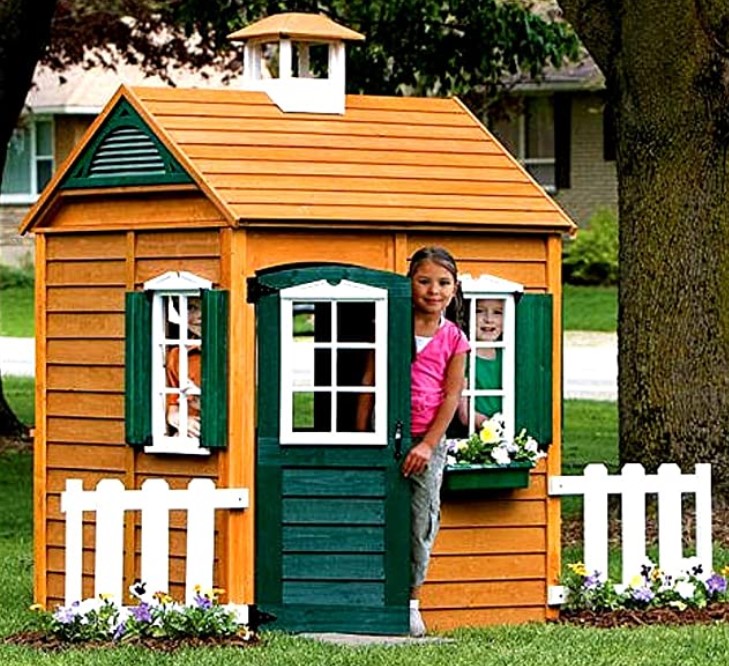 Bringing back the classic kiddie playhouse, the Skroutz Kids Playhouse covers the essentials to turn this into their private sanctuary! Homes with extra spaces in their backyards can opt to get this instead of the usual slide and swing.
Playhouses play a vital role in developing a child's creativity and independence. As children grow older, they might demand more time exploring the world outside the comforts of home.
This playhouse gives them an outlet to let their imagination run wild. It's their 'own' place to tinker and play, allowing them to be in control of this part of their fun time. Aside from fostering independence, adults can immediately have access to this space and check up on them when they're doing chores.
Emulating the standard playhouse structure, kids from 4 years old and up will surely enjoy its roomy space. This creation from Skroutz can accommodate up to 5 kids, making this a great playhouse for large families or just a hangout space for your kids and their friends.
If you're new to the neighborhood, having a spacious playhouse will surely be a favorite hangout place for your kids and their new-found friends!
The green and yellow combination gives its nostalgic classic playhouse ambiance with its wooden door, white wooden windows, a small chimney, and climate vane on top. This set also comes with a flower box where you can opt to add fake flowers or have them pick the flower plants and cultivate it themselves!
It's an ideal place to schedule downtimes from their devices. They can bring their favorite toys and play outside! This playhouse can even serve as a camping house for some of their friends for a sleepover too.
It is an easy-to-assemble playhouse that will only require a few people to have it set-up!
4. Step2 All Around Playtime Patio with Canopy Playhouse
The Step2 All Around Playtime Patio with Canopy Playhouse has an open-air theme as your little one pretends to do some backyard grilling for their friends just like Mommy and Daddy do.
It's also a haven for active kids so parents can see them in one place. As children are prone to exploring things that could be potentially harmful, this playhouse gives parents some peace of mind as they go about with chores or cooking barbecue during a get-together.
This outdoor structure has the elements of creature comforts that you would get in a comfortable backyard playhouse with its working doors and pretend kitchen. Little would-be chefs would surely enjoy a pretend-play cookout with its toy molded-in sink as they make pies with sand and water. A sixteen-piece accessory set is included for playtime.
Kids will surely enjoy this outdoor pavilion play area… where they can imagine, pretend, or even have their friends come over to play. This Step2 canopy playhouse could be the best gift you could give your kids this year!
5. Little Cottage Company Victorian DIY Playhouse Kit, 4′ x 6′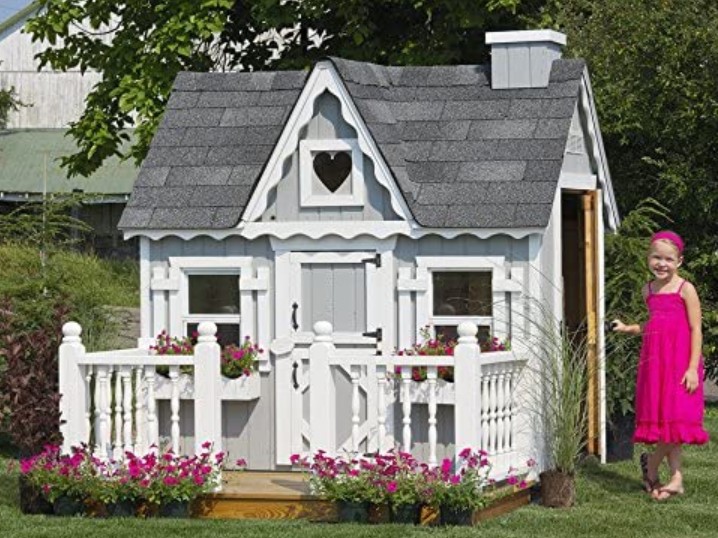 The Little Cottage Company Victorian DIY Playhouse Kit, 4′ X 6′ is your child's mini-Victorian playhouse for tea parties!
Kids love to play pretend. With growing bodies, they must get enough outdoor activities for some fresh air, vitamin D, and organic fun! Consider this their mini-house to help them explore possibilities beyond the four corners of your home. This outside structure from Little Cottage Company is created to give young girls their space to create and imitate.
It is made of weather-resistant materials to ensure you're getting the most of your money's worth. The intricate Victorian details give it an almost realistic feel that they may think it's close to the real deal! Aesthetically appealing, this outdoor playhouse is just the right size to cater around two to three children inside.
This Amish-made playhouse is complete with LP Smartside Siding with trim that is already primed for easy painting. Installing panel walls are also easy as these have already been sectioned and will only require some assembling following the manual's guide. It's a complete DIY that you and your kids can fully enjoy setting up with decorations and other items to make their playhouse comfortable and safe.
Each set contains a stud framing, two windows with safety glass and screen, two flower boxes, a floor kit, a door, and an adorable heart window. Following the instructions, this DIY playhouse can be set-up by two adults to move the pieces in place. Prior carpentry knowledge is advantageous to speed up the installation.
Placing the structure under a shaded area or tree can help extend its longevity. You can purchase the shingles and drip-edge separately from your local hardware store. Have your children participate in this activity by letting them choose the colors and paint, too.
This little sanctuary gives them the freedom to be creative in their thoughts and play. Playhouses can work as an 'outlet' to have their space and play with their dolls more freely where imaginary "kings and queens" exist. Or they can even take a nap here if they feel like it.
This comes in several sizes to choose from. Make this their retreat from the digital world and get connected with the outdoors!