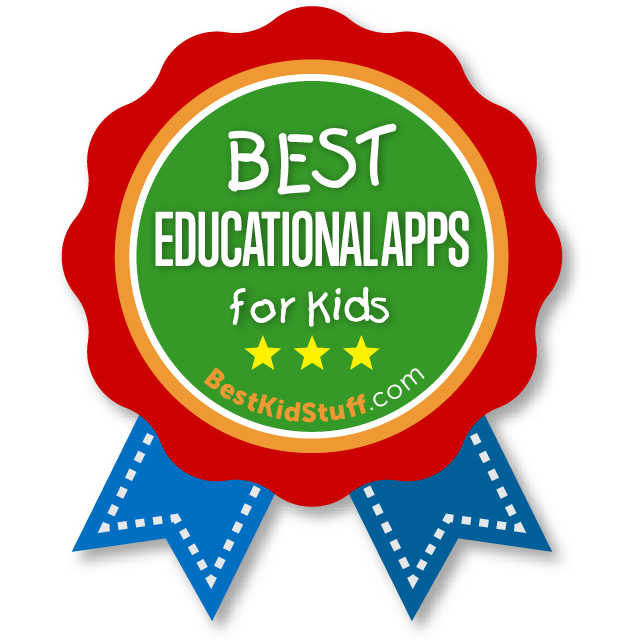 Are you in search of the perfect educational app for your kid? Maybe you are looking to see what's out there and want to find something to motivate your child to learn and replace some of the more mindless addicting apps that are getting in the way of their progress.
Welcome to the ultimate list. We spent a lot of time downloading and playing around with apps, combing through reviews submitted by kids and their parents before discerning which apps were actually the best.
What we chose and the metrics we used…
Our selection includes fantastic math-learning apps for all ages, language learning apps, apps that teach physics on fun platforms, apps that will get you and your kids star-gazing, and even some fun apps that teach animation and anatomy.
In fact, there are whole companies that have made it their mission to educate today's kids through interactive and engaging educational apps. We thank them for it. Take a look at how we made our selections.
To determine our picks we looked at the entire sequence of the app. Does it actually teach? We also examined apps to determine how engaging they are for kids and teens. We looked for fun features, cool graphics, and other fun goodies that would draw your child's attention and keep it there.
Lastly, we looked to ensure that these apps are safe for kids. We wanted to avoid things that were clickbaity and contained content that was too mature. Here's what we came up with.
we focused Heavily on these points…
Educational: Difficult to Measure But We Are Looking For Apps that Are Sequenced Well and Developed by Experts in the Field
Safety: Does This App Avoid Using Bad Language, Suggestive Themes, Click Bait, and Other Tactics that Are Addictive?
10 Best Educational Apps For Kids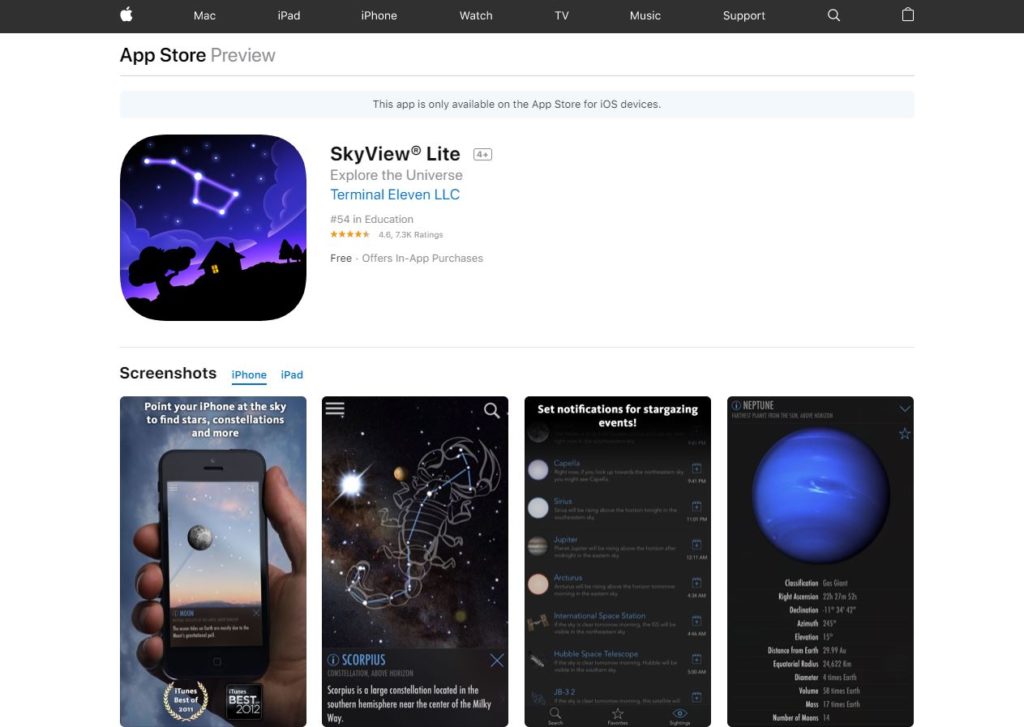 Now, more than ever we are looking to the stars for our future. There's no need to become an astronaut to explore what we see in space with this incredible educational astronomy app for kids and adults.
To begin exploring, simply aim Skyview at the sky and find out what galaxies, constellations, and stars are surrounding you. The app even notifies you when special celestial events are happening so you won't miss a night of awe and wonder.
The app uses Augmented Reality to spot various objects in the sky both day and night. You can share your findings with friends and family making this an excellent family-friendly interactive app. Some of the best places to look at the stars are remote, but WIFI is not required for SkyView to function!
So whether you're looking to stargaze or learn about the planets, galaxies, and nebulas, this app is certainly for you.
Pros
Works Outside of WIFI
Very Engaging
Great For Nearly All Ages
Cons
Score:
Educational: 100
Interactive: 100
Safe: 100
Total Score: 100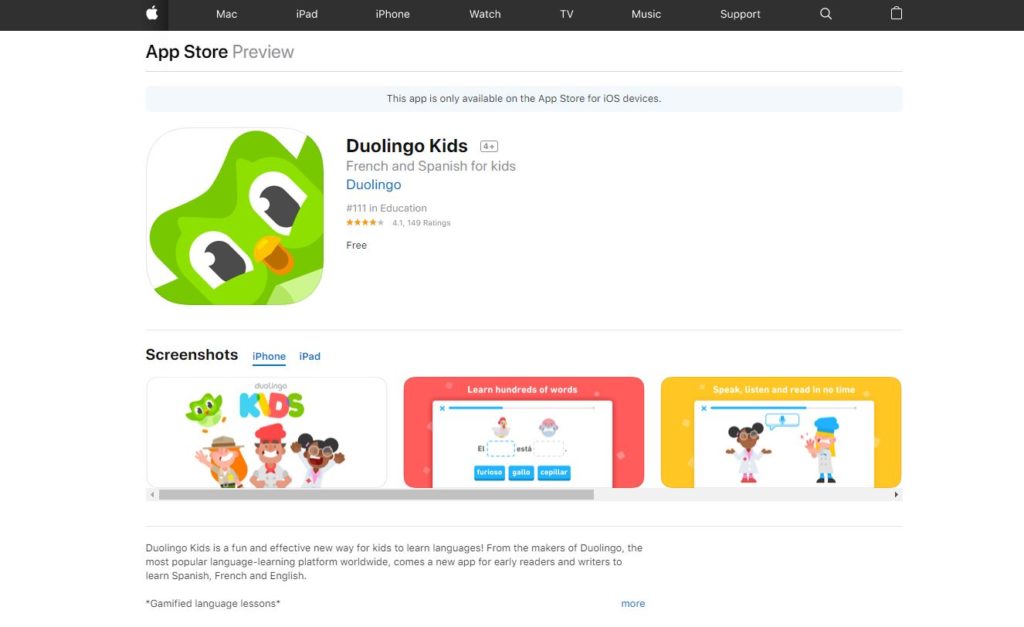 DuoLingo Kids is a language learning app that is gamified and fun for young learners. It is best for children who can read and write. Though, you may find some benefit for very small children if they enjoy listening in and playing along.
The app focuses on small and frequent opportunities for learning so that your child can "speak like a native." As the games are short and sweet, your young one can learn from literally anywhere, at home, while waiting at the doctor's office.
Kids will learn basic vocabulary as well as how to form sentences. This enables kids to start talking in their second language instantly. The program is immersive and fun for kids to follow along with.
We like DuoLingo kids as the animation and structure are engaging for young children an exciting prospect for any parent who wants their child to start learning a language at a young age.
Parents love this app because it is educational and guilt-free.
Pros
Great Tool
Evidence-Based Learning
Tons of Languages to Choose From
Cons
Score:
Educational: 100
Interactive: 100
Safe: 100
Total Score: 100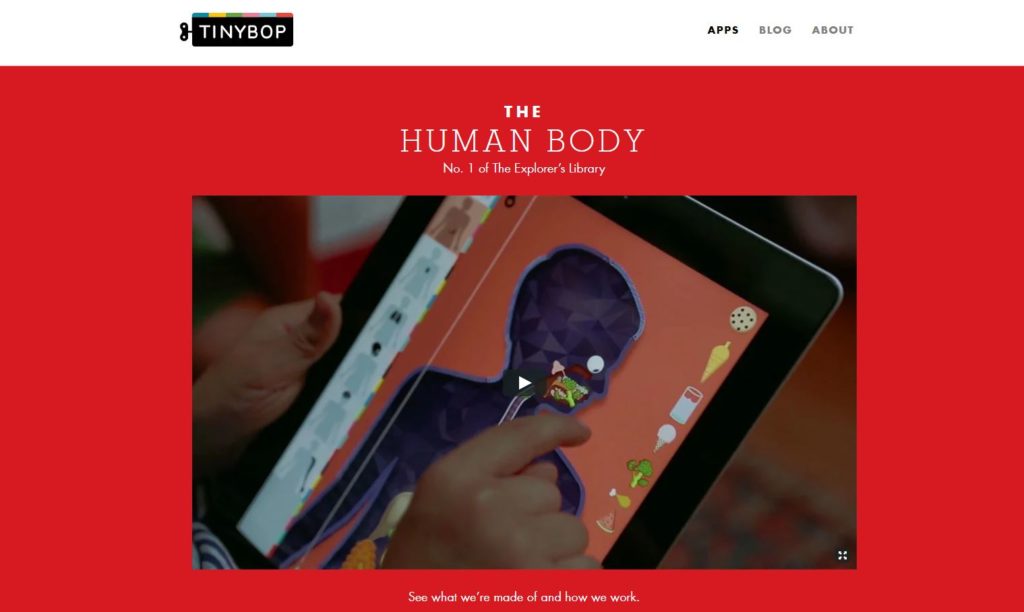 The Human Body by Tinybop is a visually appealing anatomy app designed with kids in mind. There are no rules to this game which means your kid can explore the body freely. The app features 8 interactive systems to explore including digestive, respiratory, circulatory, and more.
Your child will love the models of the eye, stomach, and brain and there are plenty of hilarious moments involving our funny digestive system. The Human Body comes in a Lite version that is free but perhaps not as intuitive as this already free-form app.
We love that children can learn so much about our anatomy at a young age as this foundational knowledge is a great building block for body awareness and function. Their motto is that "curiosity is awarded" as this app is more about exploration than it is going up levels or collecting points or stars.
If your child likes this fun investigative app, certainly check out some of Tinybop's other apps like their Mammals app, Plants app, Simple Machines app and so much more.
Tinybob even has programming for teachers which can be found through their Tinybop school's page.
Pros
Great Visuals
Lots to Engage With
A Ton of Apps to Choose From
Cons
Score:
Educational: 100
Interactive: 100
Safe: 100
Total Score: 100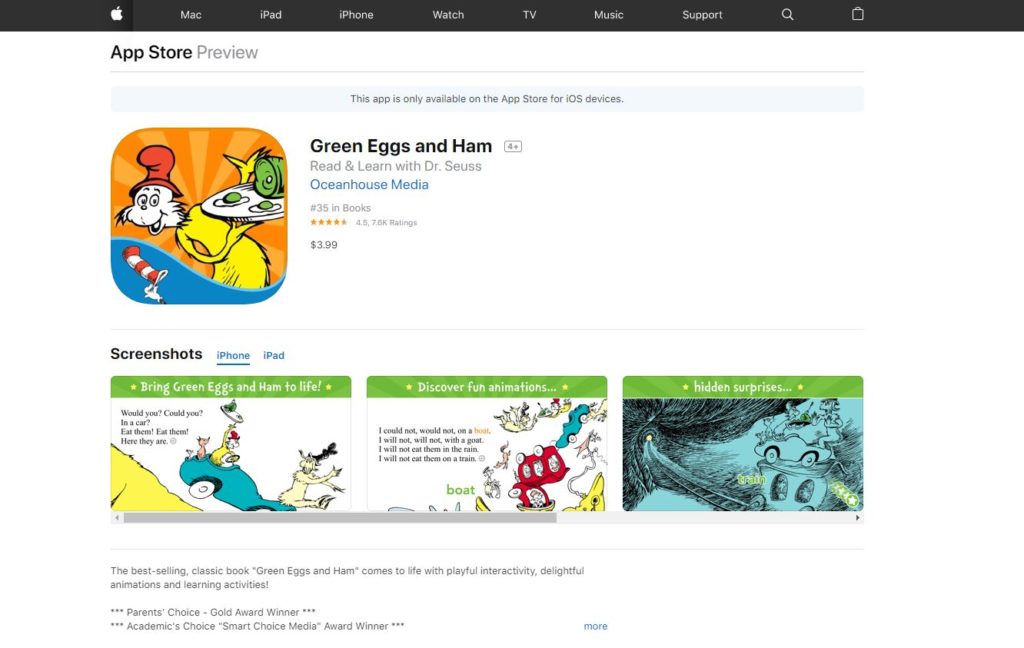 The classic Dr. Seuss book that reminds us all to try new things in life is now a fantastic interactive app. Dr. Seuss' books are so inspirational and imaginative that it is no wonder many of his books have become some of the best apps for kids.
The Green Eggs and Ham app is the recipient of the Parent's Choice award and the Academic's Choice for "Smart Choice Media." It is also "KidSAFE Listed"- really all of the things we love about a good app.
Kids can read along or read this book on their own. The app utilizes a tilting technology that exposes hidden fun surprises embedded within the book.
The parent's section tracks time spent reading as well as the number of pages read. The activities are in line with the kindergarten standards of learning. Kids can practice their readings again and again and engage with all of the amazing and fun learning activities. Small children can grasp the foundations of reading by learning phonics, spelling, and reading comprehension.
So, if you love Dr. Seuss then head over to the app store and download this app.
Pros
Educational
Fun
Award-Winning
Affordable
Cons
Score:
Educational: 100
Interactive: 97
Safe: 100
Total Score: 99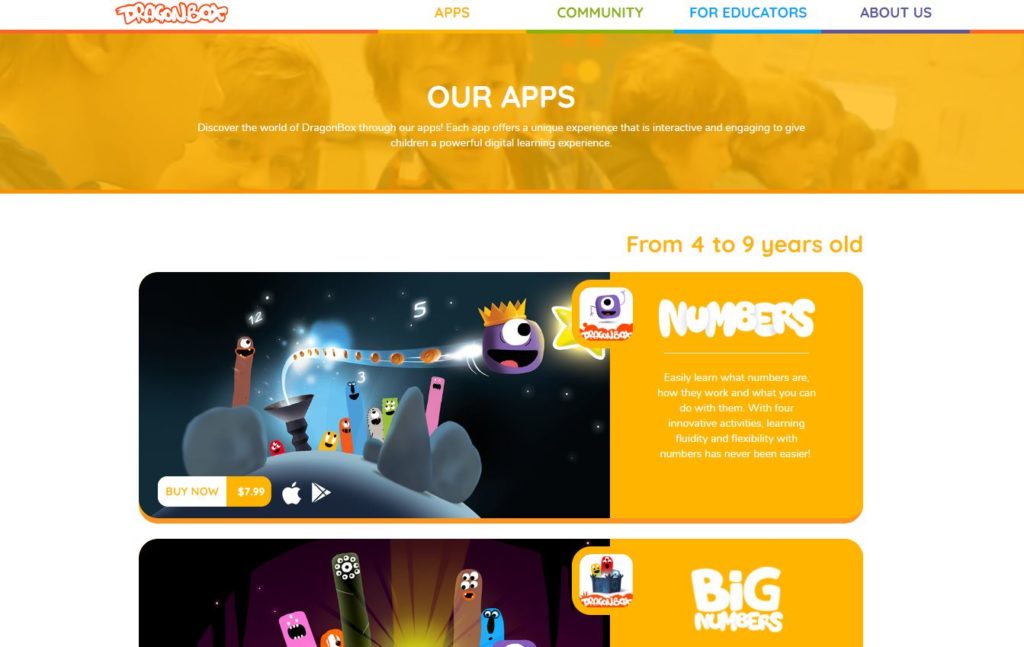 The Dragon Box App Series is a series of apps that teach math from basic numbers to advanced algebra and geometry. This is gamified learning at its finest.
Most kids (and adults for that matter) and completely hooked into the game without even really realizing that they're "learning math." In fact, every aspect of each game is math- showing just how fun the subject actually is. Parents love these apps as do math teachers. We only wish math was this fun when we were kids.
Dragon Box Elements teaches geometry from basic shape recognition to full-on theorems. The Numbers apps show numbers in a variety of fun ways with a ton of exciting levels and experiences. Both of the algebra apps (one for 5+ and another for 12+) are exciting for kids and adults.
You might want to download a copy of this one on your own phone especially if you have ever felt that "math just isn't my thing." Taking learning math to the next level with the entire series of Dragon Box apps.
Pros
Lots of Apps to Choose From
Easy to Learn
A Great Math Resource for Teachers and Families
Cons
Score:
Educational: 99
Interactive: 98
Safe: 99
Total Score: 98.6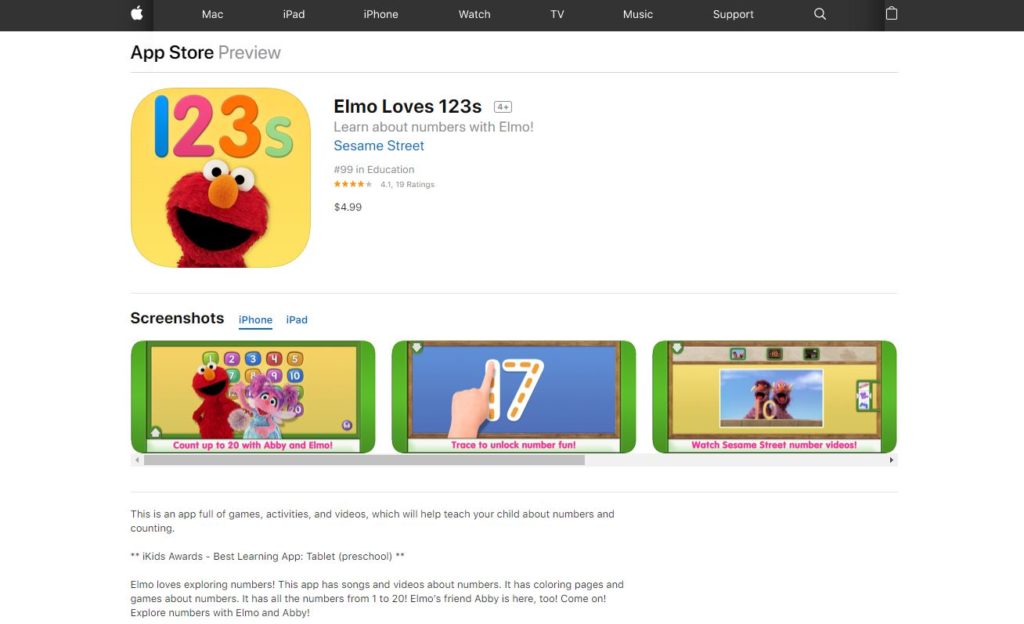 Elmo Loves 123s is the iKids Awards recipient of Best Educational Apps for tablets It is a great option for pre-school and kindergarten-aged children and above.
This app works well on a tablet or a phone, but your kid may enjoy tracing numbers on a larger surface. Sesame Street has engaged with media-centric education for decades and continues to motivate children to attend to and participate in their own learning.
Learning numbers is a ton of fun with this app as children will learn to trace and identify their numbers, and eventually add and subtract. Adults can track what their child is learning with the 123s tracker. The updated version allows for maximum parent security.
If your child loves Sesame Street they are going to love this app as Elmo and Abby are wonderful companions that walk your child through the process of learning their numbers.
An added bonus is that fundamental math skills are viewed as fun definitely setting your little one up for success down the road.
Pros
Kids Love It
Great Basic Numbers App
Secure
Cons
A Little Addictive and Gimmicky
Score:
Educational: 97
Interactive: 98
Safe: 98
Total Score: 97.6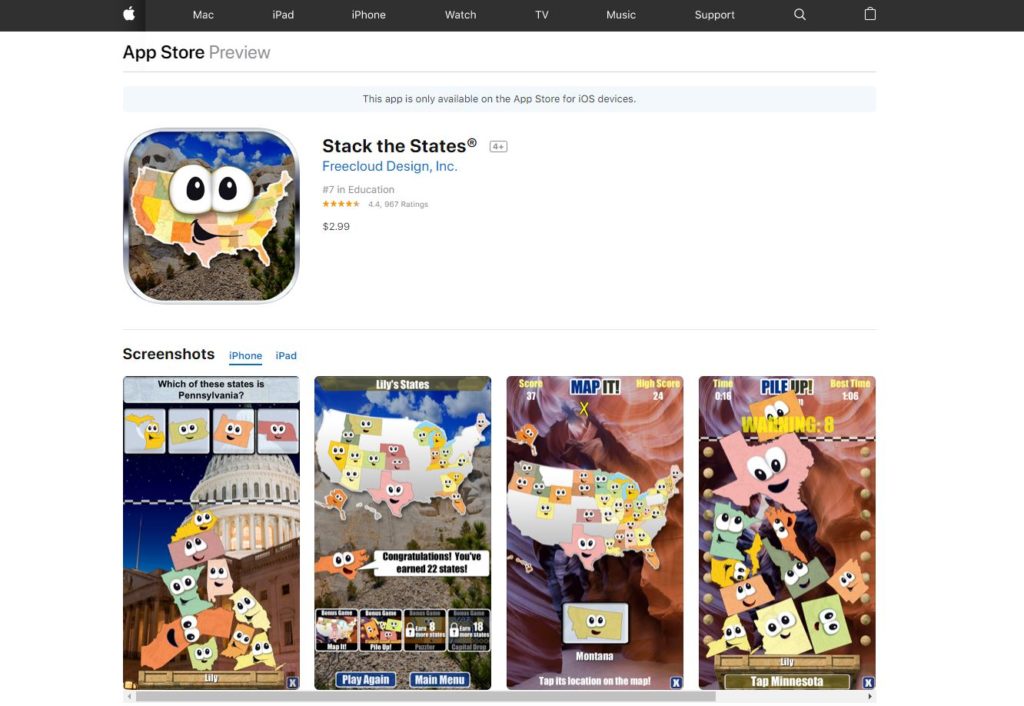 Stack the States is a fun and educational game that teaches children all about the states. This gamified app will get your child hooked on learning.
As you stack the states higher you reach the finish line. Each time this occurs your child will earn a new state. As they progress through the game your child will collect new states and open up new adventures and quizzes. The quizzes progressively become more advanced.
Your little one will be talking about the states and quizzing you before long. This app is certainly a lot of fun for the entire family. The interactive map is a great feature that teaches about the states in context. Some of the facts your child will learn about includes the states' shape, location, flag, capital, and more. There are multiple additional bonus games that come along with this app all offered at a reasonable price.
Parents love that their kids will learn all about the 50 states and quickly. Kids will love this and the gamified process of doing so.
Pros
Lots of Fun
Tons of Learning Potential
Cons
Some People Reported This App is Slightly Addictive
Score:
Educational: 97
Interactive: 100
Safe: 97
Total Score: 98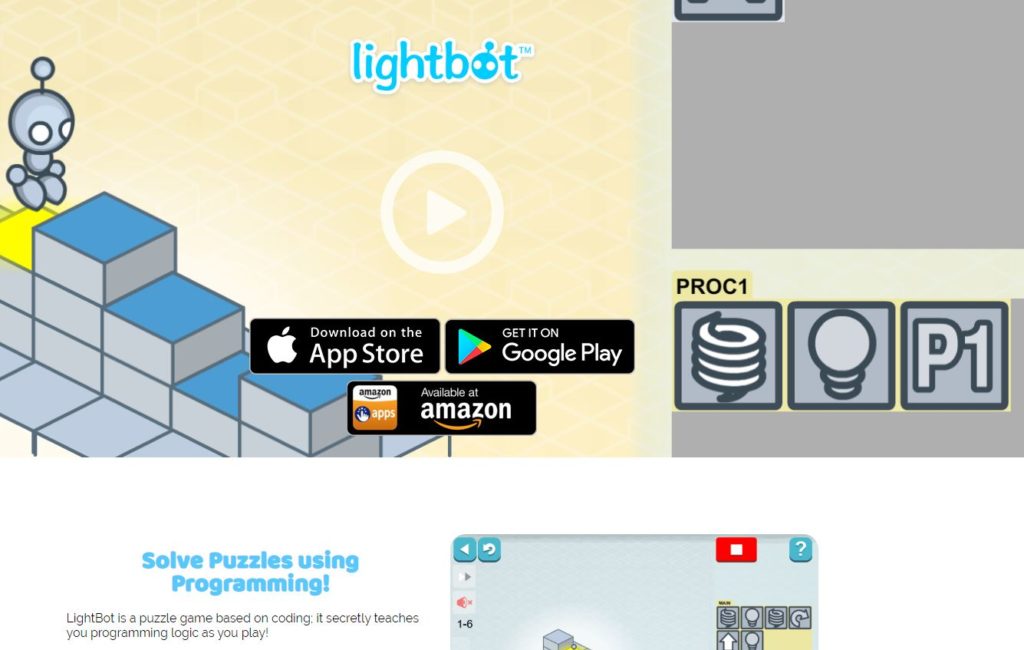 The LightBot App series is a series of three apps that teach programming and coding. LightBot Jr is an app filled with coding puzzles aimed at ages 4+. LightBot Code Hour is aimed at all kids K-12 and teaches coding across 20 levels.
The game can be played in over 20 languages. Finally, your little programmer will want you to download Lightbot: Programming. Lightbot: Programming follows along with 50 new levels and is great for any young person who is getting the hang of programming.
The games are similar in their design. You teach your little robot to solve levels using programming. Each puzzle progresses gently through to greater difficulty as you tap in a variety of commands to help sequence your robot through each mini maze.
We love apps that teach useful tools like programming and think that this fun app is a great way to get the basic concepts of programming. Some users even reported learning language programming as a result of this app.
So, no matter what the age it's never too soon or too late to get your kid started on language programming.
Pros
Easy to Use
Teaches Basic Coding
Ramps Up Difficulty Smoothly
Good for the Classroom
Works on Tablet of Phone
Cons
Score:
Educational: 97
Interactive: 97
Safe: 100
Total Score: 98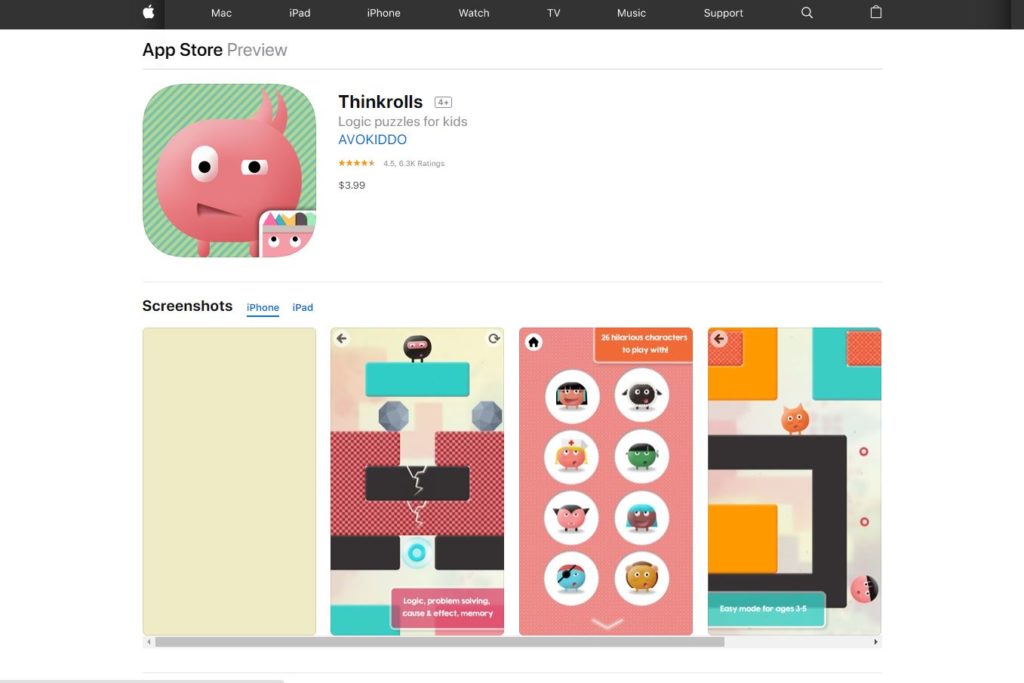 Thinkrolls App is an award-winning educational app brought to you by AvoKiddo. AvoKiddo is known for ingenuity when it comes to educational apps and the Thinkrolls apps are some of their best.
Thinkrolls is part physics platform and part problem-solving. The app features 26 fun characters (Thinkrolls) that solve problems using crates, balloons, rocks, jelly, fire, and more. Stack the crates or push them to fill in spaces. Use jelly to bounce and ice to put out fires for safe passage.
There are so many ways to solve the puzzles with Thinkrolls. And if your child is ready for more there are always Thinkrolls 2, Thinkrolls Space Thinkrolls Kings, and Queens.
We like these apps because they promote problem-solving while using Physics as a backdrop. Learning should be fun. That's how life-long learners are built so we appreciate how fun these educational apps are for kids and for adults. Teachers love them too as a way to teach basic physics concepts and instill that love for learning.
As a parent, you're going to want to play along these games are that fun. It's no surprise that this app is also the Parents' Choice Award winner.
Pros
Fun and Engaging
STEM App
Really Unique Graphics
Cons
Can Be A Bit Mindless At Times
Score
Educational: 96
Interactive: 100
Safe: 96
Total Score: 97.3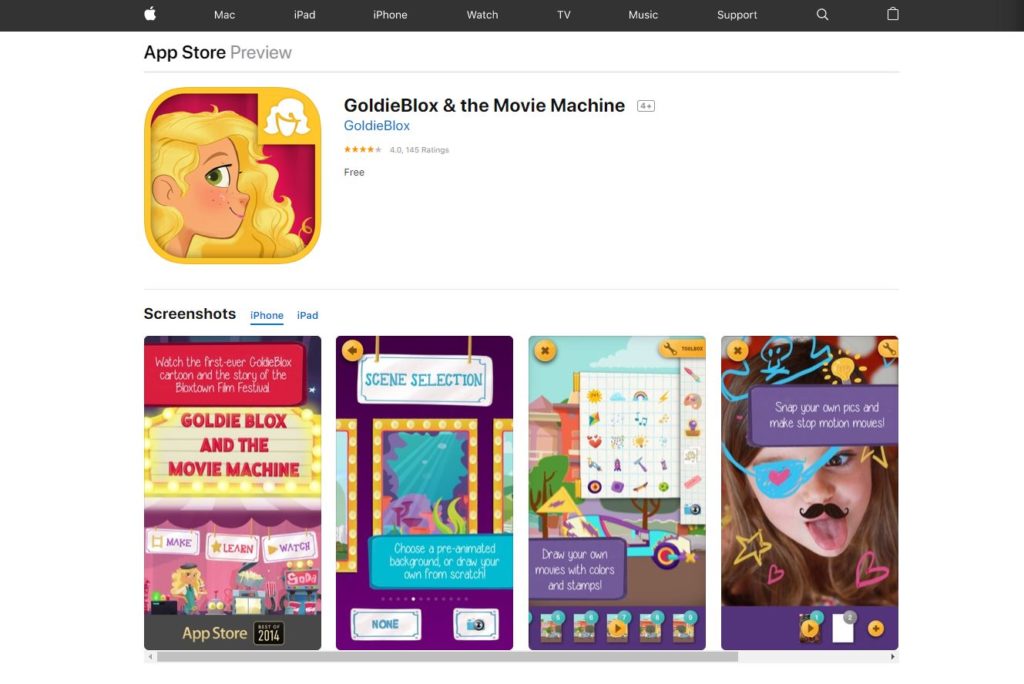 GoldieBlox and the Movie Machine is an animation and movie-making app for kids age 4 and up. The app introduces children to the basics of animation through different stages of the app.
First, learn to animate by tracing a swinging pendulum. Or a child can gather inspiration by watching some of "Goldie's Movies." Before long your little one will be ready to create miniature animations of their own.
The game is a lot of fun and the final products can be shared among friends. This creative app is definitely going to be a welcome addition to your educational app collection.
We like GoldieBlox because it is easy to play. The app progresses naturally and has just enough bells and whistles to help along with kids who may not be as confident drawing and still gives enough freedom for some great creativity.
Parents are going to want to give this game a try as well, and with the sharing capabilities, there's a lot of fun to be had by all. This free app does not utilize third-party advertising- bonus!
Pros
Easy to Play
Good for A Wide Range of Ages
Fun
Cons
Sometimes This App is a Touch Glitchy
Score:
Educational: 95
Interactive: 100
Safe: 96
Total Score: 97
---
related education "stuff"