Following the stages of your child's growth is nothing short of fascinating. In particular, two-year-old girls undergo so many changes that you would quickly notice the difference.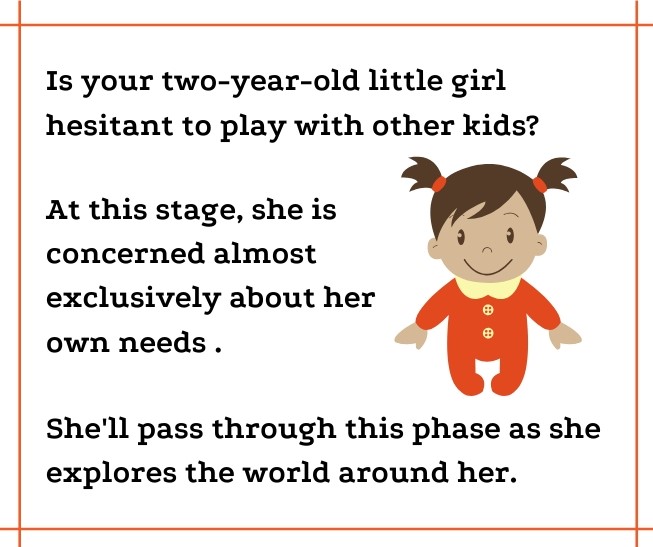 For one, they have now gained some independence. They begin to venture out of your grasp and navigate the world around them. You will notice that they can now do things on their own.
The most obvious development is in their motor skills. Your two-year-old girl must now be showcasing her newfound ability to run, climb, throw, and even kick. It is also observed that children around this age start to have better control of their hands and fingers. They might begin to hold a pencil or copy lines and circles.
While they get more curious about their immediate environment and seek to find it out themselves, this age can be unexpectedly tricky on their social skills. They still think the world revolves around them, so they are hesitant to play with other kids.
These challenges can be easily circumvented if you help your child develop and enhance their skills through educational play.

Gifts and Toys for 2-year-old Girls
Since two-year-olds are no longer babies, they can have toys that allow them to pretend and widen their imagination. It would help a lot if you encourage creative play, letting them imagine and learn while playing, and having fun.
You can help them develop their social and emotional skills along with their motor skills by providing them with educational toys. Of course, these toys should be safe and non-toxic.
There are tons of toys in the market that are suitable for the precious two-year-old in your life! It's just a matter of finding the best one for their age group. You can check out the following item to help you choose the best one for your two-year-old girl: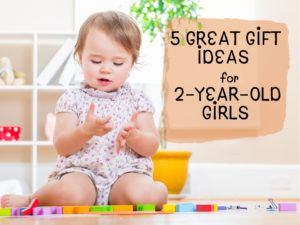 1. Water Doodle Mat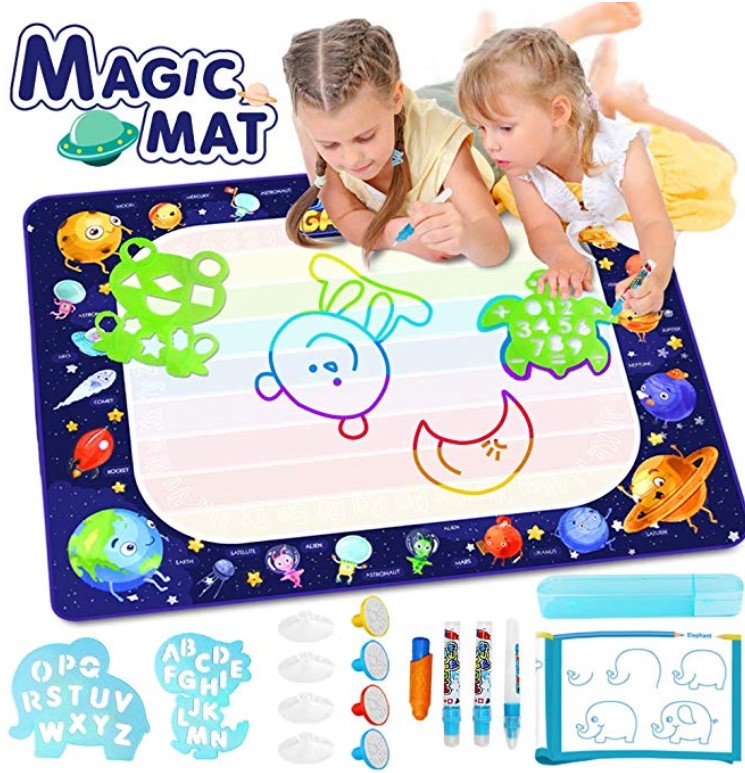 As far as educational toys can go, you can never go wrong with Betheaces Water Doodle Mat. With its large size and creative design of planets and space, this bright and lively mat can easily attract your little girl's attention.
Made of high-quality polyester and designed to meet the US safety standards, the mat is the perfect gift for any two-year-old girl. The size of the rug is 40 x 28, making it big enough for more than one child. This playset also includes four magic pens, a drawing shape template, pattern marker, drawing booklet, suction cup, and a stationery box.
It has no ink, so it does not make for a messy play area. Your child needs to fill the pen with clean water and start doodling on the mat. Depending on the temperature and airflow, the marks can magically disappear, giving them a blank canvass to draw again and again. Aside from fostering their imagination and creativity, the Water Doodle Mat sparks your little girl's interest in the planets.
This mat feeds their curiosity as they learn the celestial wonders at a very early age. Parents like you will love this fantastic playset that is easy to clean and quite portable. This foldable product becomes a compact-sized mat, making it an ideal toy for indoor and outdoor use, and travel.
Creativity is so important! The Water Doodle Mat will keep her entertained for hours!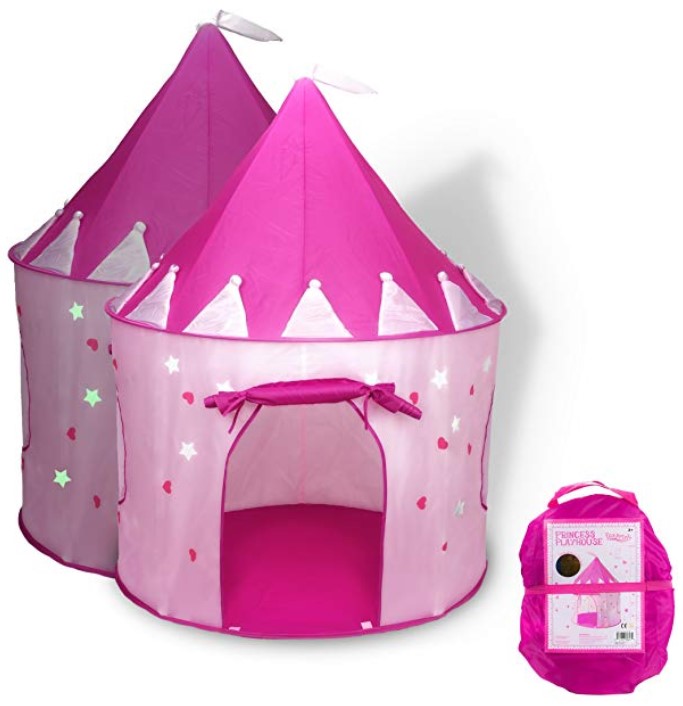 The ideal gift for your little princess, this playset from FoxPrint is the right choice if you want to enhance your child's creativity and imagination.
The Princess Castle Play Tent is quick and easy to assemble. You will need to pop it up and insert the support rods for additional stability, and you are ready to go. The poles are concealed in the inner sleeves of the tent, so they are untouchable, ensuring your little girl's safety.
You can set up this brightly colored tent inside your house or in the backyard to give your two-year-old gal a private space where they can play, relax, and sleep. They can pretend to play the role of a princess defending their fort or an adventuress living their best life in their magical cave. The tent is decorated with hearts and glow-in-the-dark stars, making it all the more appealing to their eyes at night.
What more, you can easily clean this tent up by wiping it with a damp cloth and soap. It can be folded down flat to fit a lightweight, portable carry bag for secure storage, which makes it ideal for outdoor activities.
Every little girl deserves to feel like a princess! This Princess Castle Play Tent will fulfill that dream…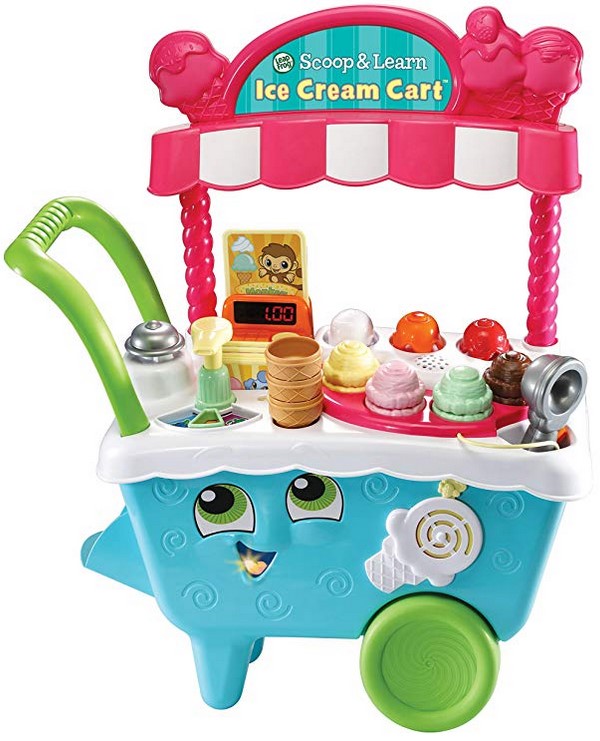 Bring in the ice cream! The VTech's Scoop & Learn Ice Cream Cart playset features a cart, scoopers, ice cream scoops, toppings, and order cards with instructions.
Let the fun of imaginative role-play start with this ice cream cart. Your child can scoop up the ice cream with the use of the magic scooper, choose toppings, and create tasty-looking flavor combinations. This exercise can help them develop their memory and sequencing skills as they follow the instructions from order cards, with your help, of course.
You can also get them started with counting, which the ice cream cart encourages through its syrup pump and coin buttons. Your little girl can count along with the ice cream cart after pressing either of the buttons.
Aside from numbers, your two-year-old toddler can also learn playful phrases, colors, and flavors. They can build on their motor skills, too, as they push the cart around, while it belts out upbeat songs and music.
The cart features ten melodies and songs and more than 200 fun phrases. What's a more fun kind of learning that one revolving around an ice cream cart?
This adorable Scoop and Learn Ice Cream Cart will be on every little one's wishlist!
4. Barbie Tough Trike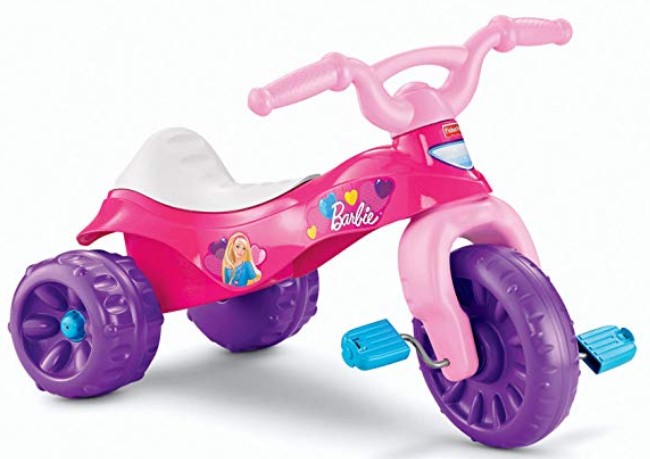 Do you want your two-year-old girl to start her adventures? The Barbie Tough Trike from Fisher-Price is the perfect start.
This Barbie-styled trike has durable and rugged tires, easy-to-grip handlebars, and big foot pedals to give your little girl the most exciting ride. Your little girl can develop her motor skills as she exercises her leg muscles and pedals away into her chosen adventure. The comfy seat is a bonus.
The Barbie Tough Trike is a great outdoor companion and a must-have for every girl during the summertime! This durable bike also has a little secret compartment under the seat, perfect for your little girl's treasures. The bike comes in 100% recyclable packaging. It is easy to open and assemble with clear directions.
If you are looking for a toy that can act as a diversion from gadgets and screen time, then this bike sounds like a fantastic deal. Your child will love playing outdoors for a change.
One of my favorite childhood memories was a trike!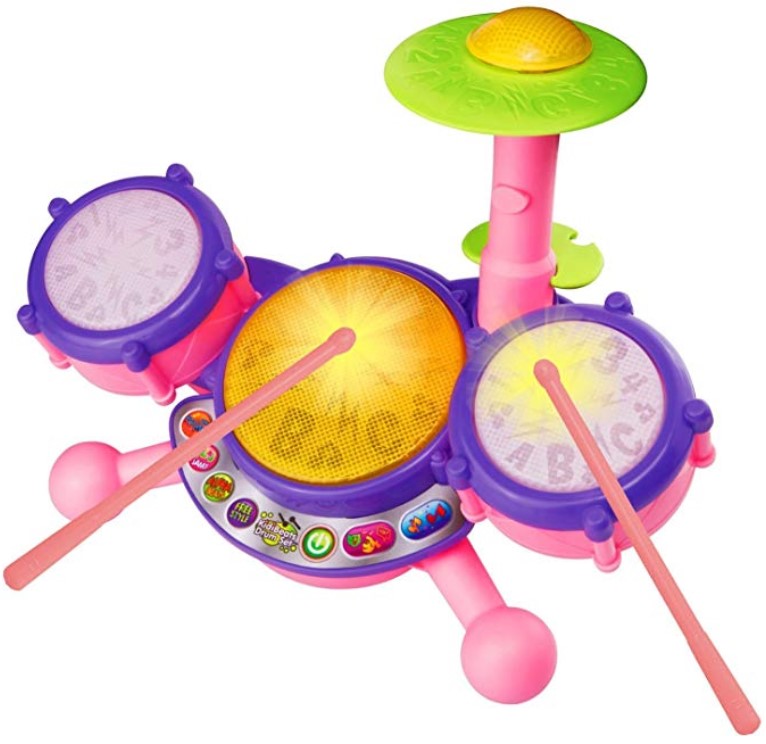 Built for sensory development, the KidiBeats Pink Drum Set produces a unique sound that can pique your child's interest in music.
It features three light-up drum pads and a cymbal in lively shades of pink and purple. Each drum creates a different sound and illuminates with an LED light. The kids can use the pair of drumsticks to tap the electronic drums in four modes of play. They can either play freestyle or by following along the nine-set melodies.
For the structured game, your little girl has the option to follow the lights on the drums as they hear the letters and numbers. This allows them to learn numbers, alphabets, and melodies. The musician in them will start to develop as they play with this toy.
This drum set is battery-operated and is equipped with an automatic shut-off option for longer battery life. There is also a volume control for quieter play.
Let's reiterate "volume control"… for "quieter play"…