At nine years old, a girl experiences various emotional and physical changes. She becomes increasingly aware of her body and appearance. She is also inclined to cultivate strong social bonds with her peers by participating in school organizations.
Active young girls show interest in sports clubs, such as swimming or running. They also love drawing, jewelry making, and other creative crafts as a form of self-expression.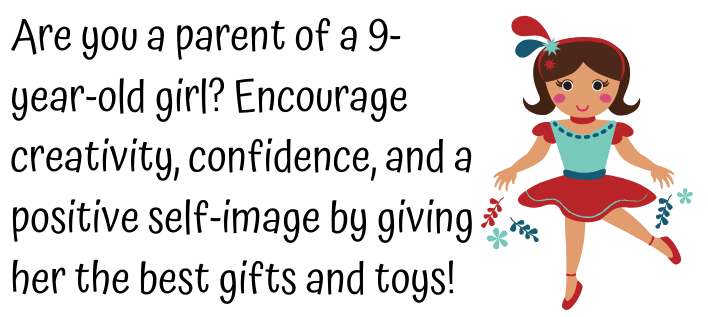 Recent studies show that technology and social media are a likely culprit in developmental stunts among young girls this age, which can result in body image issues. To ward off the negativity, parents must foster meaningful relationships with their 9-year-old and connect with them through play.
Buying toys that build the imagination and confidence is ideal during this phase! Here are our recommended gift ideas for your 9-year-old girl. The prices mentioned are reflected on Amazon at the time of publishing.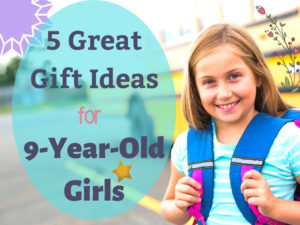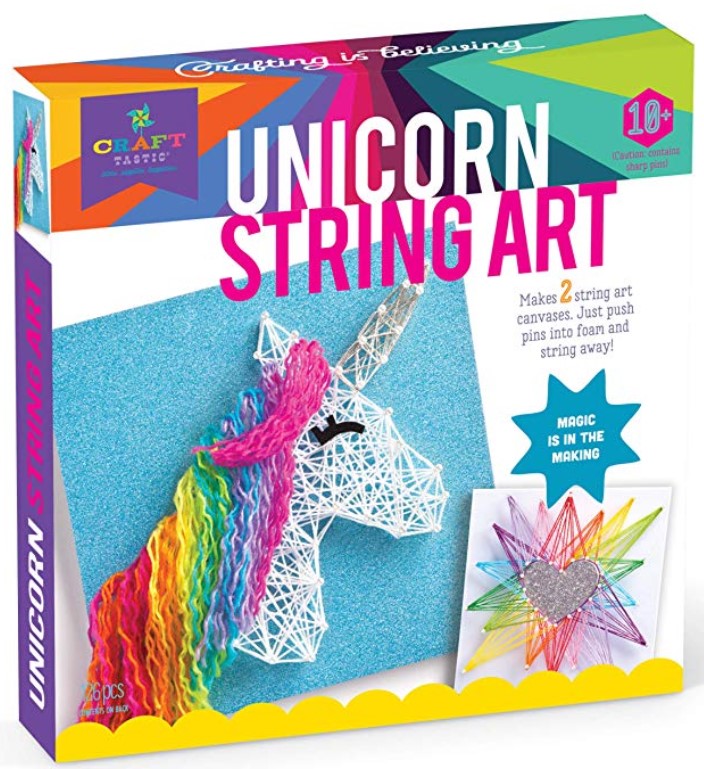 Your 9-year-old girls can now create beautiful masterpieces with the String Art Kit Unicorn Edition. Each craft set comes with two designs: a unicorn and a heart pattern.
The pre-set patterns are already printed on the foam for easier access. With 2 foam canvasses and colorful string patterns, your girls can explore arts with their friends by inserting the strings through the pins to form beautiful designs.
This easy DIY project can be done by sticking the pins in the specific areas in the pattern. This comes with a manual to guide them where to stick the strings to create the pattern.
It is an entertaining art toy for girls to explore especially during rainy weekend afternoons. Unlike conventional art crafts, this one doesn't involve any mess and wastage of materials.
Give them a boost of confidence by framing their art pieces. Hang it on the walls where they can see it and be proud of their accomplishment. It would also be great décor they can place in their rooms too!
You can give this exceptional gift to your daughter or niece!
So much fun… the Unicorn String Art Kit.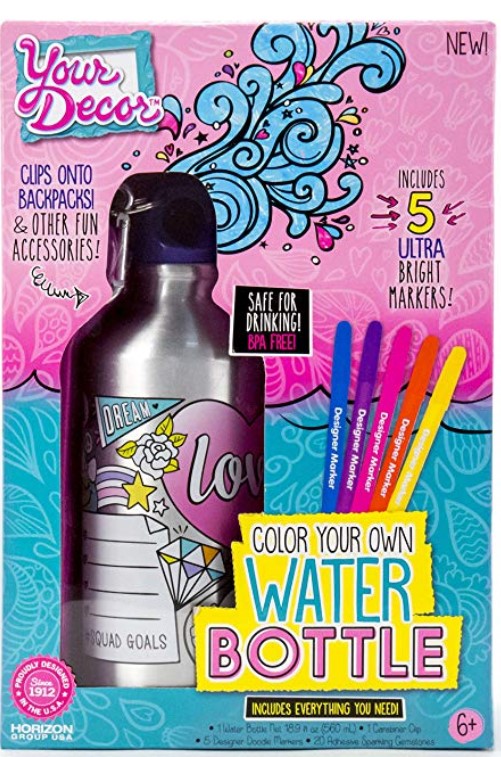 The Color Your Own Water Bottle Craft Kit is a better way to own a water bottle with colors your daughter would surely love!
This bottle is made from aluminum that is BPA-free. It can hold around 500 ml of liquid so your child can keep hydrated. It is a functional water bottle that can be customized to your child's liking. It comes with gemstones, colorful markers, and a functional water bottle with pre-designed cover.
Use the markers to color the blank stencils according to their liking and add some gemstones for a final touch. Colors immediately stick on the stencil upon application so there's no need to re-apply the colors again. Easily attach these bottles in their backpacks or purse using the carabiner.
It's a colorful masterpiece your daughter will be inspired to bring with her to school every day! For a functional DIY water bottle, this is truly a valuable purchase!
Designer water bottles are all the rage now! Would the little girl in your life love this?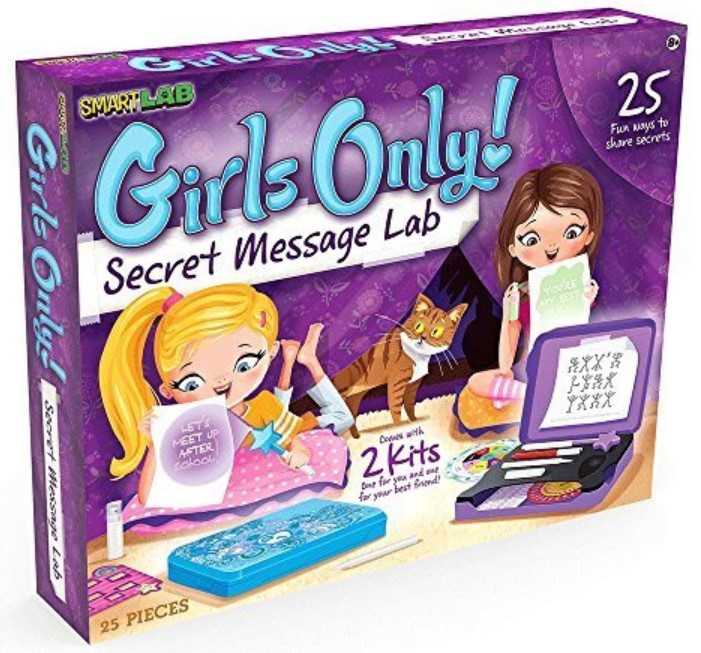 The Girls Only! Secret Message Lab Kit is a toy your 9-year-old girl can learn from and have fun with at the same time. Each set comes with a UV light pen, wax crayon, sticker sheet, code wheels, red filter, phonetic code card, red marker, and message mask.
A 24-page activity book including 10 different codes young girls can learn with their close peers. Upon scribbling, all writings may appear invisible to the naked eye. But once it hits the light or color filter, the messages appear. This is a creative way of sending messages and learning codes with their friends.
It's a good learning opportunity for them to learn codes such as Pigpen Code and Caesar's Cipher. Throughout the process, they can also learn the science behind the 'invisible ink' such as light waves and molecules. Chemistry ought to be fun like this! Your girls can learn, get crafty, and share meaningful bonds with their best friend.
OOOHHH! A Secret Message Lab Kit… Sounds mysterious! But there's no mystery about where you can buy this.
4. Large Owl String Art Canvases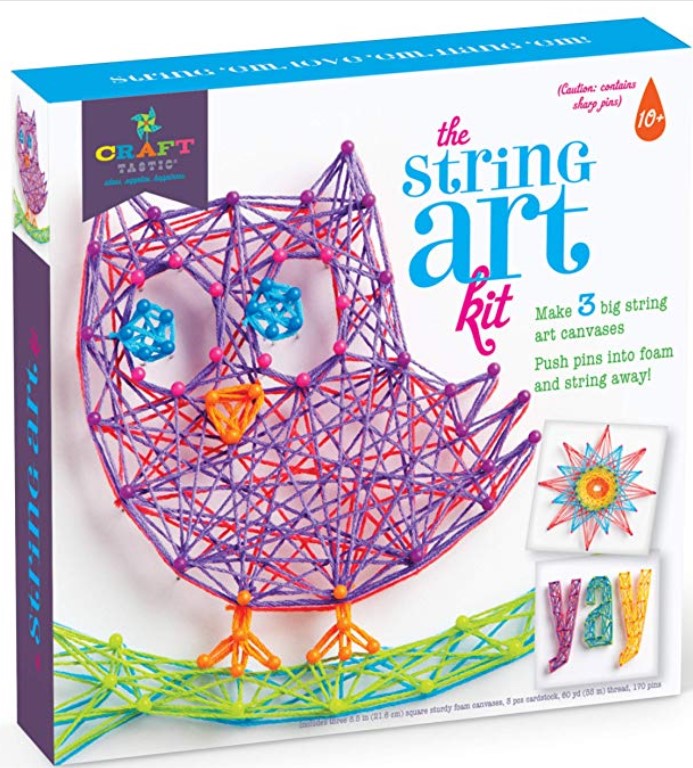 With the Large Owl String Art Canvases, they might as well be on their way to becoming the next Picasso! Each kit contains 3 foam canvases with pre-designed stencils to place the push pins.
Keep your girls entertained and create beautiful string pieces such as an owl, 'yay' word art, and starburst. Young girls can simply follow the manual for instructions on how to proceed in creating this art piece.
These colorful strings are then inserted in between push pins to form the pattern. For girls who are into crafts, this art piece will not require crayons, scissors, or glue. It's a mess-free way to express themselves within the comforts of home or school.
Why not put this on display? Give them a spot in their playroom or school to hang their work of art. It's a good confidence-booster for young girls too! Imaginative play need not be pricey.
The Large Owl String Art Canvas (along with its other two projects) is a great way to entertain at your child's next birthday or slumber party!
5. Create Your Own Personalized Tumbler for Girls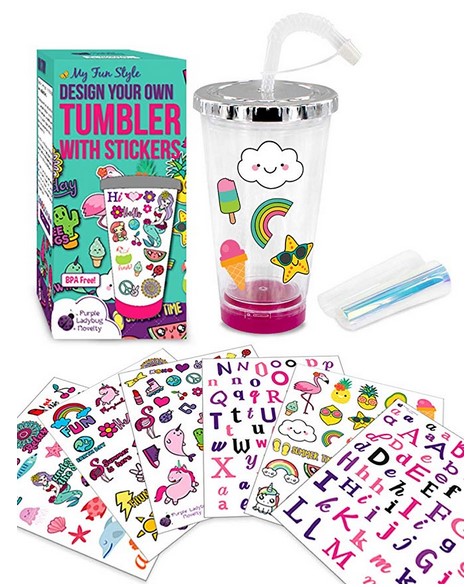 The Create Your Own Personalized Tumbler for Girls is a fun and creative way to design water bottles they can call their own!
Unlike traditional tumblers, these are funky colored tumblers they can customize using stickers. Each set contains 16 oz. tumbler with flexible liners, a bendy straw, two sets of colorful tumbler liners, and six colorful sheets of stickers with alphabets and adorable designs.
The screw-on lids eliminate messy spills when it is accidentally bumped or tipped over the table. With colorful stickers, this tumbler is something they can call their own. They can even be inspired to keep hydrated just looking at their work of art!
If your child loves to journal, they can also use the excess stickers to place on their notebooks and other personal belongings.
Children can receive their own tumbler to personalize within two days and parents can enjoy free shipping!
Before You Go!
FIRE 7 KID'S EDITION TABLET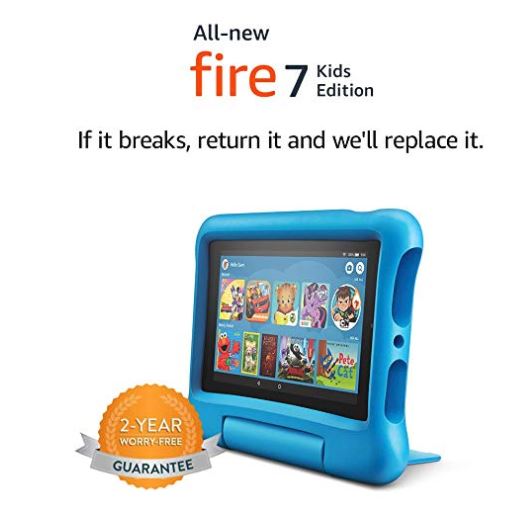 Your 9-year-old girl may be interested in this Fire 7 Tablet if they are more of the "electronic minded" type kids of today! This tablet made it to the top spot on our list of the Best Tablets for Kids and was designed with young children in mind! It comes with a two-year warranty because when it comes to kids, you know things break! The parental controls are top-notch and Amazon customer reviews are outstanding!
Check out this tablet and many more options to choose from that fit your budget and needs by clicking the Fire Tablet link above!
Other age related gift options