The age of 10 is when the preadolescence period starts. It is a crucial turning point following the stage of early childhood, during which she is clumsy.
At 10, little girls start to paint a clearer picture of who they want to be. They typically begin to explore the idea of ambition. At this stage, they socialize with kids and share the same feelings about themselves. Because they are heavily engaged in activities with their peers, 10-year-olds learn new information mostly from their friends.

At ten years of age, girls demonstrate critical changes in their social, cognitive, and emotional development:
Social Development: Your 10-year-old little girl starts choosing her friends and often prefers those she can get along with quickly. She spends time with them, so she thinks and behaves a lot like them! They would want to eat together, wear clothes of the same color, and love the same hobbies.
Cognitive Development: A 10-year-old girl is likely to have her reasoning skills developed; she now knows the idea behind right and wrong. She practices making sound judgment and has no problem telling things as they are.
Emotional Development: Your 10-year-old-girl is now emotionally sensitive and conveys her feelings in different ways. She sings when she's happy. She paints, draws, or creates poems to express her sadness.
Give the right presents to encourage and support your 10-year-old girl in this crucial stage of her development! Here are the five excellent gift ideas: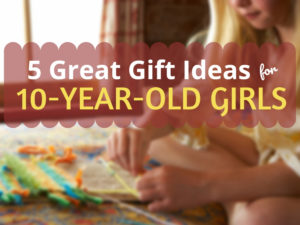 1. 27-PIECE ACRYLIC PAINT ART SET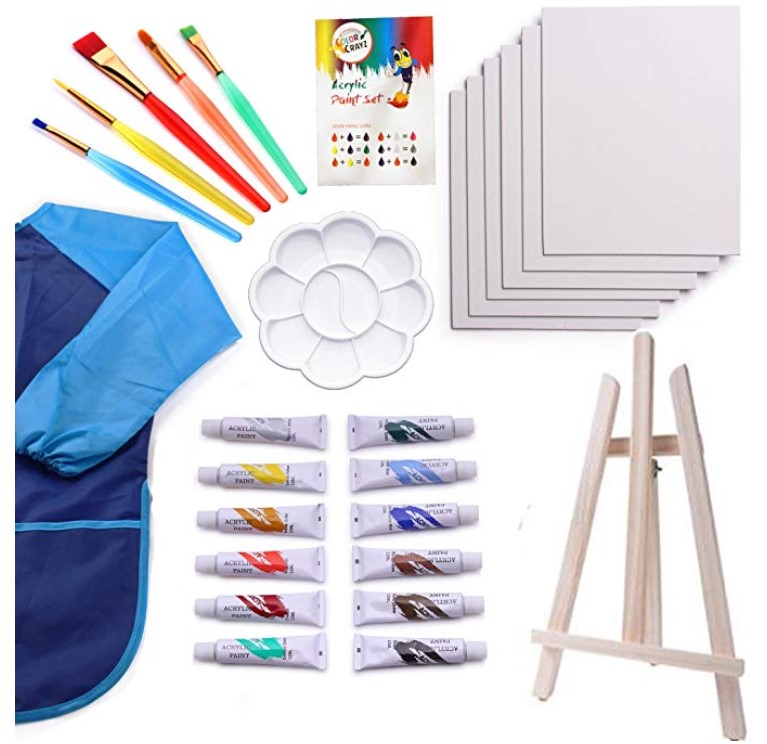 The 27-Piece Acrylic Paint Art Set from ColorCrayz consists of five paintbrushes, 8 x 10 painting canvas tabletop easels, and a bonus paint palette color mixing chart.
Intended for sharing, this gift idea is a package of multiple parts and components for a fun art activity with friends. It has washable and odorless ingredients, so it's safe for use by your 10-year-old. The oil-based paint is similar to the typical oil pastels, but it is not as toxic as most acrylic paints that adults use.
The paint is contained in a sturdy tube to maintain its quality for an extended period. Parents must keep an eye on their kids when opening the container and using this art set.
Creativity is important at this age. Help her express herself through art.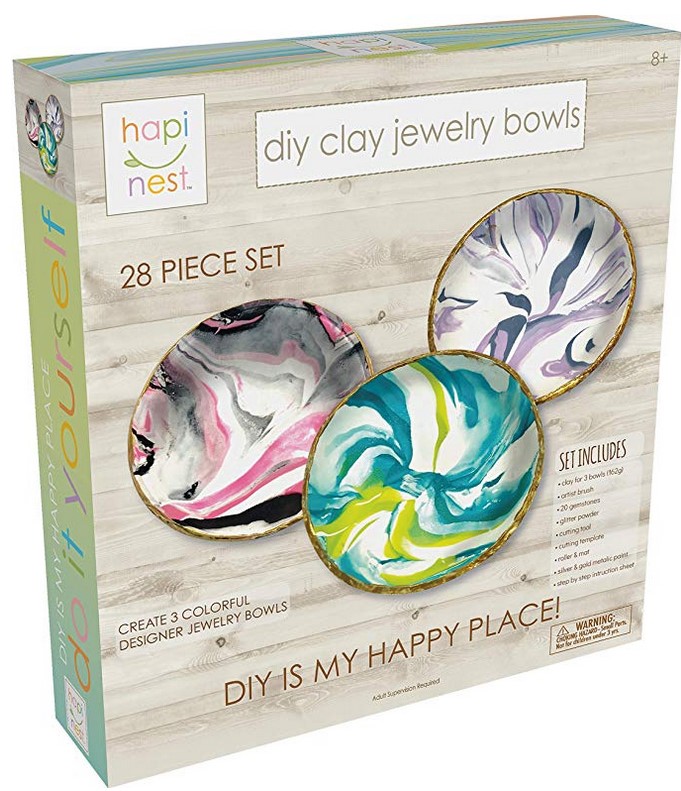 The Hapinest DIY Clay Jewelry Dish Arts and Crafts Kit is a complete set that lets your 10-year-old girl create three colorful designer jewelry bowls.
Supporting your kid's cognitive development, this craft kit is a refreshing break from the tech-driven toys most 10-year-old girls play with these days. This gift idea also encourages her to think more as she builds and designs her clay jewelry dish. It is also best played along with her friends to promote the sharing of design ideas.
To ensure the safety of your 10-year-old girl, the polymer clay and other components in this set are child-friendly and non-toxic. Parents don't have to worry about buying this gift because it is completely safe.
Let them tap into their creative side with this 28-piece Jewelry Dish Arts and Crafts kit by Happinest! The young girl in your life will love it!
3. DIY JOURNALING PLANNER/ORGANIZER/DIARY SET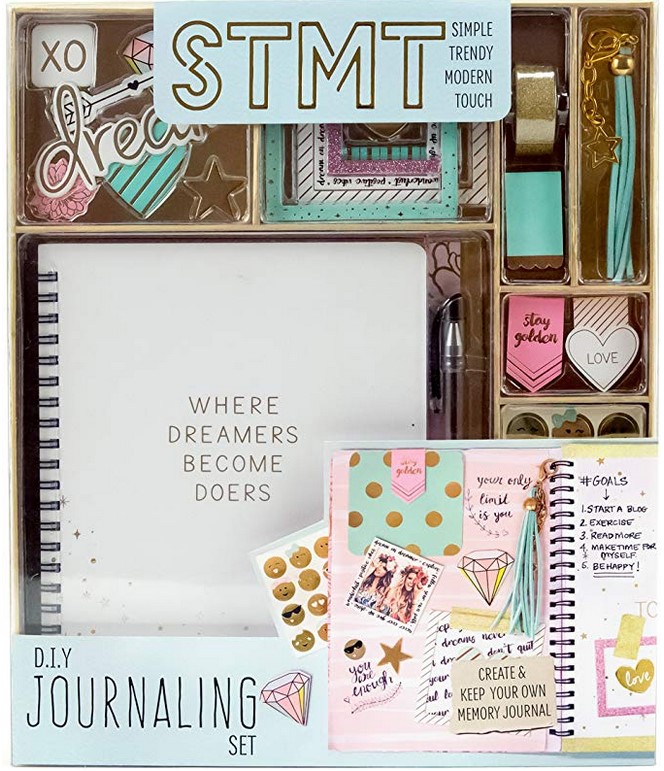 A critical factor for choosing the right present for a 10-year-old girl is her increased ability and desire to express her emotions. The DIY Journaling Planning/Organizer/Diary Set from STMT enables your little one to keep a record of her daily activities.
In this diary, she can freely write her experiences, thoughts, and ideas. It is her little private journal where she can keep her secrets! With vividly colored pages, she is sure to love writing down her feelings regularly.
Parents can keep track of their 10-year-old's journal using the stickers that come with the diary set.
Buy this DIY Journaling Planning/Organizer/Diary Set from STMT… Let your young lady begin expressing her feelings through written text!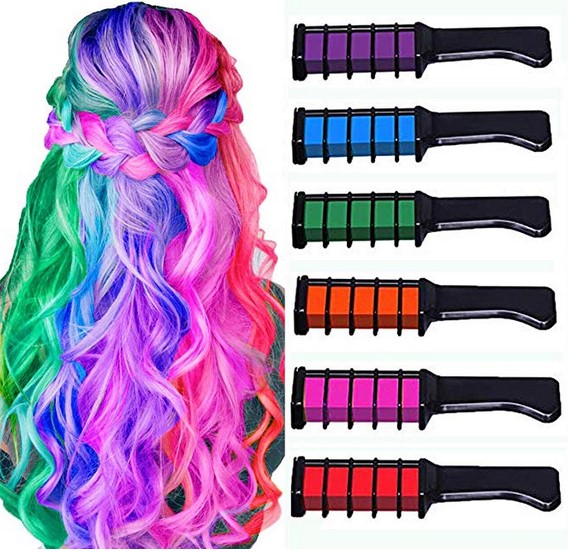 The MSDADA Washable Hair Chalk Comb comes in six vibrant colors of red, blue, green, yellow, and purple. It is perfect for your 10-year-old girl who is no stranger to fashion!
The colors are 100% washable; there's no trouble getting rid of them right after her little artistic hair experiment. This temporary bright hair dye is perfect for birthdays, Halloweens or Christmas parties, and even for those summer events.
Because it is made from totally safe ingredients, the Hair Chalk Comb is a worry-free gift idea that won't damage or hurt your kid's hair, scalp, and eyes.
For the trendy 10-year-old girl, this is a perfect gift. As it is completely washable, it's a perfect slumber party activity, too!
It's no secret that when a 10-year-old wears a stylish item, she feels like a princess. Isn't that every little girl's dream? The Unicorn Gifts and Accessories from RHCPFOVR gives her that same feeling!
This is a fashionable, colorful, and trendy option when searching for a gift for a 'tween girl. Also in this set are the stylish backpack and makeup bag made from refined polyester. The glamorous necklaces, with a unicorn pendant theme, will add a touch of glam to her look.
The adjustable and non-toxic multicolor bracelet is also a must-have, and an excellent addition to her ensemble! The set also includes a coin purse, stickers, keychain, and hair ropes. All these items are safe for your child; they're fashionable and fun without the worries!
Who doesn't love a beautiful unicorn? These accessories are on-trend and lots of fun!
---
Before You go!
DELL INSPIRON 11.6″ HD CHROMEBOOK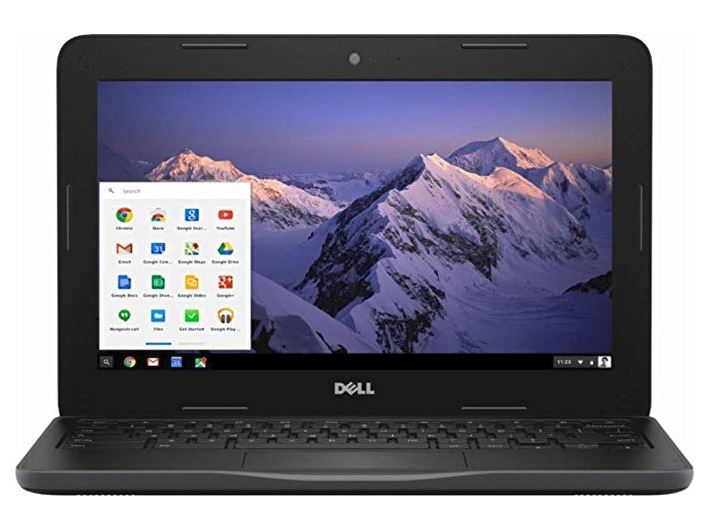 Your 10 year old girl will go crazy for this laptop and you, the parent, will go crazy for its affordability! We have chosen this laptop as our number one choice on our list of the Best Laptops for Kids and we invite you to click the Dell Inspiron link above to see this and many more options that have have chosen of the best of the best for laptop-age children!
Other Age Related gift options