Parents want nothing less than the very best for their children. Starting toddler years to 9 years old, anticipate children this age to be engaged in various physical activities and play. It is vital that we give them a proper diet, sleep, and nutritional snacks to keep up with their body's demands. Ideally, children need to eat lots of vegetables, fruits, and lean meat to develop their immune system and supply the bodily requirements necessary for growth. Today, schools are making the efforts required to provide healthy and delicious alternatives to combat childhood obesity that is still eminent today.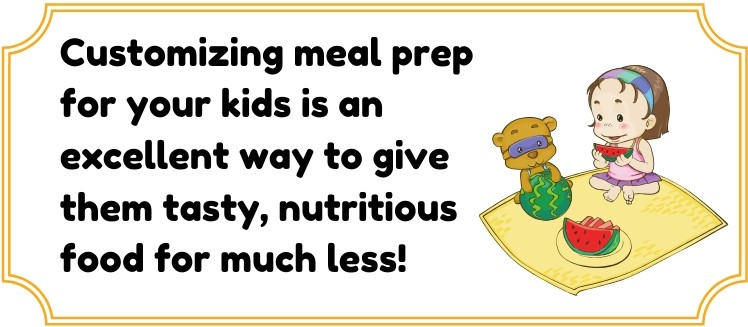 Customizing your child's meal prep is an excellent way to give your child a nutritious diet at a lesser cost. Some parents may find lunch boxes with smaller compartments, such as the bento box, more appealing. You can prepare meals with small fruits, vegetables, fruit yogurt, cheese, biscuits, peanut butter fillings, and crackers all in one container. You can also use home-made crackers or breakfast bars that have lower fat and sugar content without compromising the taste. When you have pre-planned meals for your kids, you get to mix a variety of food groups, so they don't get bored sticking to 'what the cafeteria has' for the week.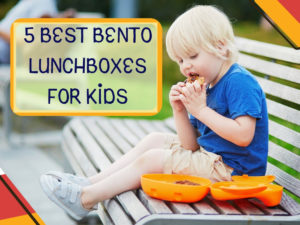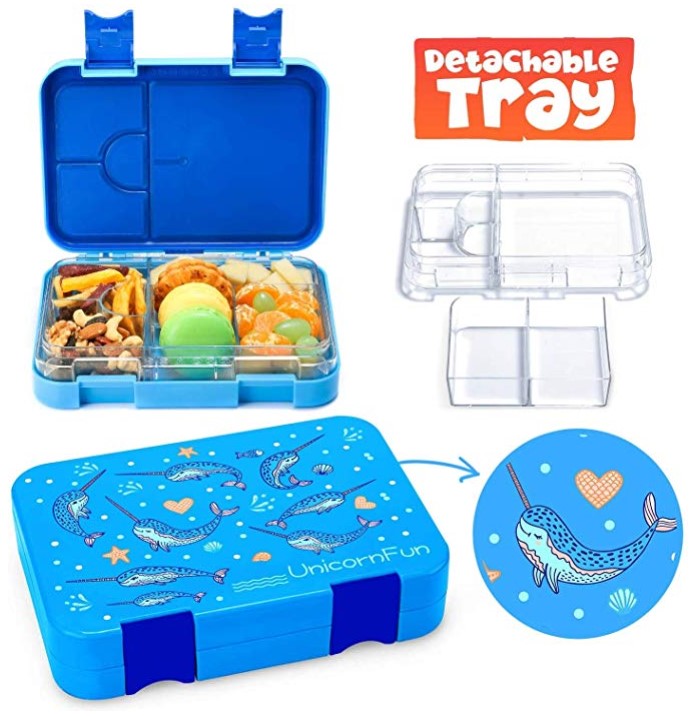 Prepare lunch boxes the quick and easy way with the SanSiDo UnicornFun Bento-style Kids' Lunchbox. Boys and girls can choose from two color options: blue and pink. Compared with traditional lunch boxes, this has more compartments with a silicon lid to seal all content tight, avoiding any messy and greasy overflow.
Busy moms would love this 4-compartment container where you can give them food variations from vegetables, small fruits, yogurt, and sandwiches all in one box! Got more food to add? Extend the container to fit in 2 more food types.
Most lunch boxes are fragile and can easily break, leading to greasy leaks. However, this bento box is made of a sturdy plastic material sure to not break easily when your kids accidentally drop them. Its coated edges add security to protect your kids from scrapes common in some traditional square lunchboxes.
If you're in a hurry and need to do a quick re-heating, this bento box is also microwave-safe. Pop this in the microwave and pre-heat. You can also clean this using your dishwasher, but hand-wash the outer portion to preserve the longevity of its leak-proof outer casing. The Zulay Leakproof Kids Bento Box is most suited for children ages 0 to 2 years old.
Not satisfied with the product? Get a 30-day money-back guarantee. For only $18.99, you get the best for your kid's health and nutrition!
This adorable SanSiDo UnicornFun Bento-style Lunchbox is available by clicking here!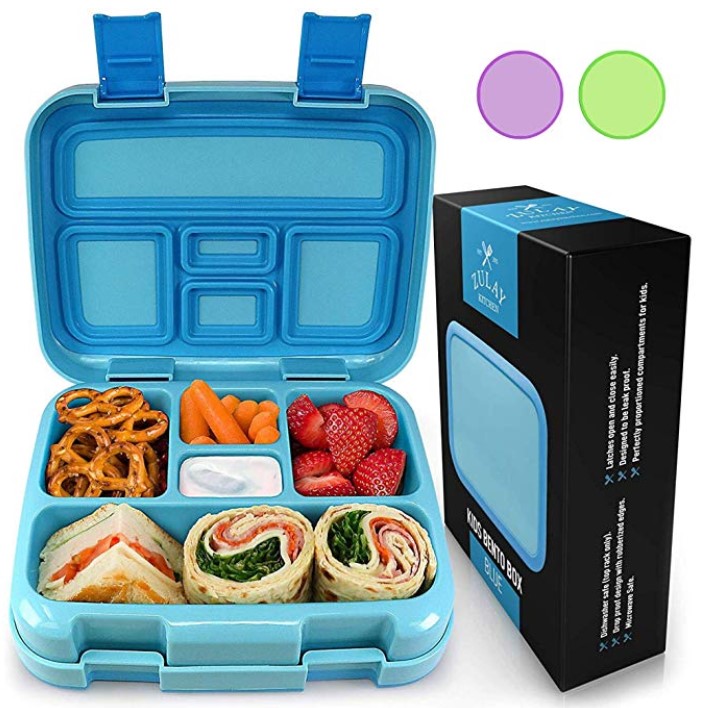 The Zulay Leakproof Kids Bento Box is a creative, colorful, and functional lunchbox to eradicate all your leak woes!
Your kids can choose from three different colors: blue, green, and purple. This lunchbox can contain up to 5 food varieties correctly sealed to keep their food fresh and clean. Easy-to-detach lids make it easier for kids to pry the container open. Its durable plastic material does not break easily and can last for long periods from constant wear and tear. No need to pack other utensils as this box comes with a spork, a fork, and a spoon in one utensil.
Your kid's motor skills aren't prominent during this growth period; it's expected that they would bang, thump, throw, and bump into things. But with this bento box, the cover lid is easy to open by merely snapping the latches. It's also slip-proof so your child can eat safely and 'mess' free. The compartments have the right proportions to store sandwiches, salads, fruits, vegetables, and some crackers! Don't worry about spills. It's leak-proof!
The tray is removable, making this easy to clean. If you're a busy parent, chances are you don't have time to pre-heat your kid's meals from yesterday's preparations. This bento box is built for the endurance from constant wear and tear for daily use. Thick silicon lines the edges and keeps the item from breakage and accidentally scraping your child.
It's top lid blank space is specially made for your child to draw in depending on their mood. Or why not write a note or two for them? Get more creative and give them sharpies and stickers to experiment with! At $11.99 to $13.99, you get an everyday item worth every penny.
LEAK. PROOF. Need we say more?! And, better yet, it's on Amazon.com! …PRIME! ONE DAY SHIPPING!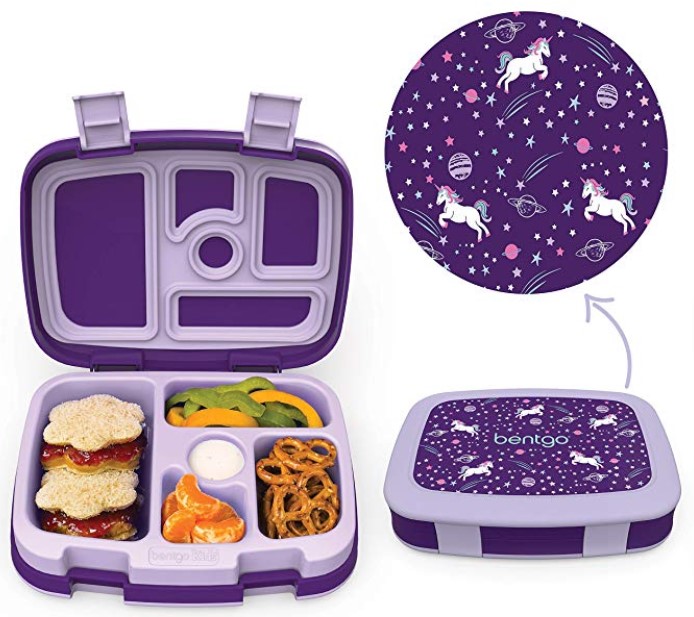 You get all the essentials in one container with Bentgo 5-Compartment Bento-Style Kids Lunch Box. Get limitless food combinations with this 5-compartment bento box for young kids! Let your kids choose from 6 colorful designs: camouflage, mermaid scales, shark, pink dots, unicorn, and rocket.
The proportions for each compartment are just right. The largest container is fit for a half sandwich or main entrée, and the smallest circular container for sauces or yogurt; the other pint-sized boxes can fit small fruits, mixed vegetables, crackers, pretzels, and other healthy finger foods.
No more messy spills with this container. Tight lids and rubber covering ensure that all content is fresh and spill-free. Easily open and close the lid by snapping the two latches found on the front. Its edges are coated with rubber to prevent scratches and breakage when accidentally dropped or bumped.
This product is made of quality plastic, so no need to worry about purchasing another lunch box any time soon! If you have a kid between 3 to 7 years old, this colorful bento box is your best choice. Get the best-priced bento box your kids will love for only $29.99.
Back when I was a kid, lunch box choices were metal or brown bags… this 5-compartment gem is just perfect for today's kid! It's just a click away!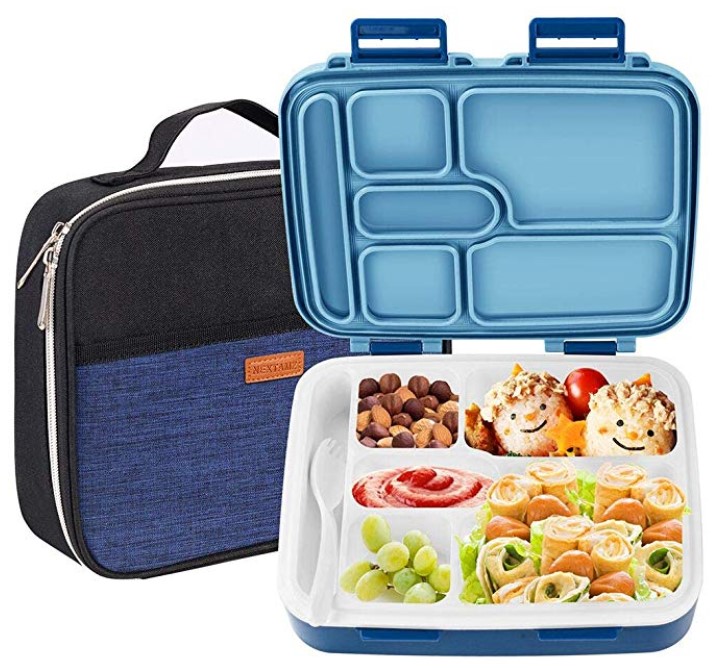 Find more ways to make every lunch box a happy meal for the family with NEXTAMZ Upgrade Leak-Proof Bento Box. It is a functional and multi-compartment bento box suitable for kids and adults alike. Never again will your food get mixed in one container. Its six compartments allow for flexible meal portions to incorporate better meals and snacks. You can store multiple food groups and snacks such as crackers, yogurt, nuts, vegetables, small fruits, and rice rolls, to name a few. Get your kids excited every day by playing with different variations of healthy food treats!
You are guaranteed secure and mess-free food whenever you use this bento box. Easily snap open the latches to open this box.
Do you have meals that needed to be pre-heated? This is a microwave-safe item that you can pop right into your microwave. Just open the lid and take out this container's sealed panels.
Stores sauces or food in this container and place it in your freezer (up to -4 degrees Fahrenheit). To clean, take out the top rack and put this in the dishwasher. It's recommended to hand wash the lid to avoid any deformations on the cover.
This bento box comes with a 3-layer insulated bag: aluminum film with insulated interlayer and oxford cloth for the outer covering. It's waterproof, so you don't have to worry about it soaking wet when your child comes home from school after a torrential downpour. For $26.98, you get a staple container your kids can use for many more years!
Amazon has the NEXTAMZ lunchbox!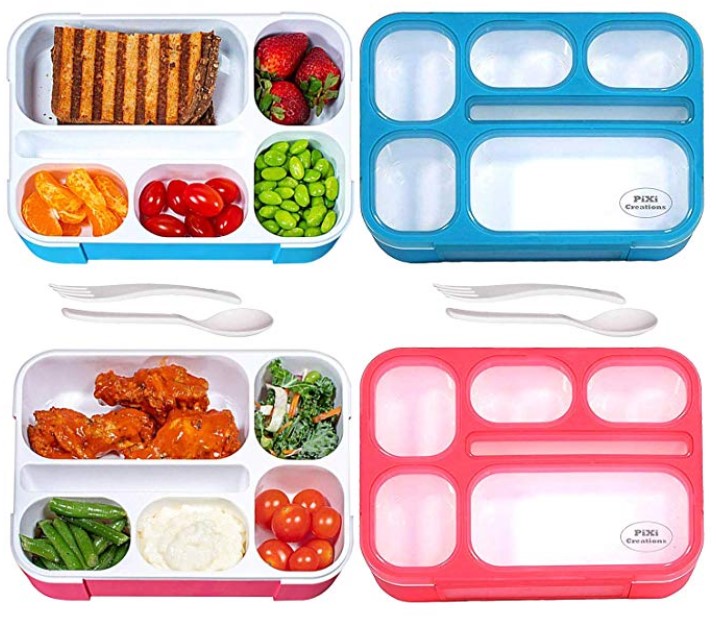 The Pixi Creation Reusable Bento Box is a beautifully crafted bento box for every boy and girl. If bulky and separate containers bother you, this lunch box is just the solution. It is available in pink and blue.
This 6-compartment box is just the right proportions to place a kid-sized meal, snacks, and other healthy food options. Compact and lightweight, these are easy to carry for toddlers and young kids.
This container is made of BPA-free material to ensure that you're getting a safe and sturdy item to last for a long time. It's insulated double-wall interior design keeps foods and secure in its place and prevents spillage in other compartments. It is a dishwasher-safe tub, so you can place the inner receptacle in the machine. Be sure to hand wash the lid to prevent damaging the outer covering.
If you're in a hurry and you needed to pop your child's frozen goods in the microwave, you can pre-heat by placing the inner receptacle with the food inside the container. You won't regret purchasing a $25.49 lunch box for quality meals for your child's everyday needs.
The Pixi Creations Reusable Bento Box is just a click away on Amazon.com!