In this day and age of mobile games and gadgets, are traditional toys such as the LEGO still relevant and enjoyable? Absolutely! For more than five decades, the LEGO brand has become a household name. Synonymous with playtime, these tiny building blocks have made their way to homes and kids' playhouses everywhere. Children from different age groups build LEGO pieces into anything they can imagine!

Parents play a critical role in keeping their children safe while enjoying LEGO sets. Adults must supervise toddlers, so they don't swallow or step on small, sharp LEGO pieces. The good news is, that LEGO adheres to a "Safety By Design approach," ensuring a stern mechanical safety-approval method for every new block that is developed. LEGO products meet toy safety standards around the globe, including the U.S. Consumer Product Safety Improvement Act and the EU Toy Safety Directive.
As a reputable brand for its appeal in different generations, the LEGO line sparks the creative freedom of children! LEGO also eliminated its gendered marketing limitations for the product to appeal to boys and girls.
How Does Playing with LEGOs Benefit Toddlers?
Physical Development: A distinct physical advantage of building with LEGOs is the enhancement of motor skills. Playing with LEGO pieces using their hands and fingers promotes healthy muscle movement!
Creativity: Playing with a LEGO set sparks a child's creativity. Toddlers can use the LEGO pieces to build anything they can think of, and freely and patiently create their masterpieces.
Mathematical and Scientific Thinking: To make something impressive out of LEGO sets, kids need to follow the step-by-step instructions usually found on LEGO boxes. This toy also cultivates awareness of shapes and proportions. A toddler's mind is actively reasoning the size and shapes of the LEGO pieces while determining how they can all fit perfectly. This toy teaches your kids their first engineering lessons, so to speak!
LEGO sets primarily serve different purposes but all of them share a common feature: they are enjoyable! Are you thinking of buying LEGOs as a gift for toddlers but don't know where to start? While there's a wide variety of LEGO sets to choose from, some are better for suitable age groups.
Let this guide help you narrow down your choices for the best LEGO sets toddlers can't get enough of.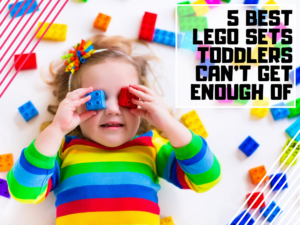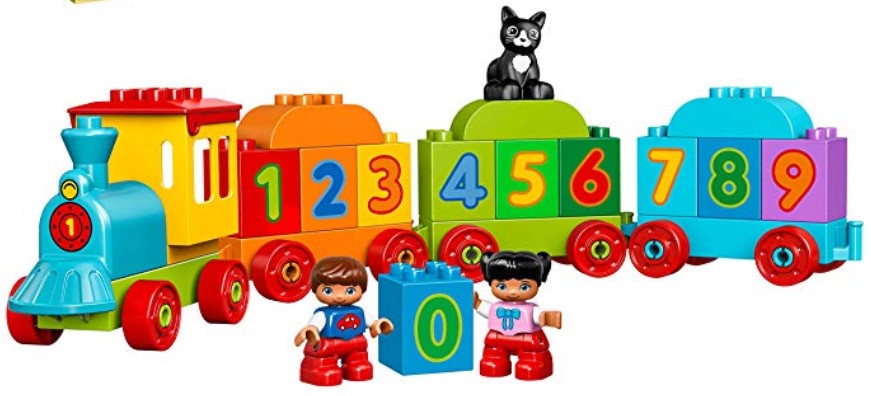 Labeled as Amazon's Choice, LEGO Duplo's My First Number Train is the perfect gift for kids ages 1 ½ – 3 years for its safety and convenience for little hands. It contains 23 uniquely designed pieces that all passed toy safety standards.
This train set has two LEGO figures resembling kids, square pieces decorated with 0 to 9 on each block, a cat figure, three wagons, and one buildable locomotive. With colorful and numbered square pieces, LEGO's first number train provides a fun introduction for your toddlers to counting and numbers. Your toddlers will enjoy playing this train set because they can build and rebuild in any way they like, helping them recognize numbers at an early age.
Aside from its colorful blocks, LEGO My First Number Train's cat and child figures are excellent additions for creative role-playing. It is a perfect combination of imaginative playtime and building skills for toddlers and small children. Also, it has bricks designed as a pepper grinder, cheese, tomatoes, money, and ice cream for extra storytelling characters.
The train set can be a wonderful bonding time for you and your toddlers. Parents can even teach them basic etiquette and order of eating through this creative set.
Choo Choo! Help choose your child's first train set… All aboard!!!
2.

Disney Pixar Toy Story Train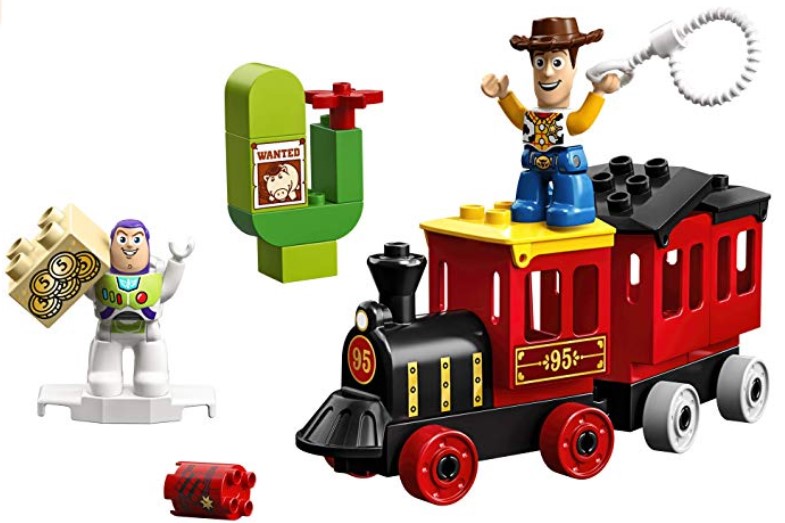 Are you buying a LEGO set for toddlers who love Toy Story? They will love LEGO pieces that are designed with the famous characters Woody and Buzz Lightyear.
Indeed, learning and playtime will be infinity and beyond fun and creative for toddlers with the LEGO Duplo Disney Pixar Toy Story Train. This original Toy Story-inspired LEGO train set is perfect for toddlers ages two years and up. It has 21 pieces, including a toy train with opening roofs, toy dynamite, lasso, and a cactus.
With characters Woody and Buzz, toddlers will surely have an enjoyable playtime, bringing their creative imagination at play with scenes inspired by the movie. They can recreate role-playing scenes with Disney Pixar's Toy Story characters or come up with their own with this toddler train set.
LEGO's Disney Pixar-inspired train set is easy to build and rebuild, helping kids develop excellent motor and construction skills. Different blocks, together with Buzz and Woody, inspire teamwork and enhance toddlers' emotional and social skills, as portrayed in the movie.
The train moves from your toddler's hands-on control, providing added movement. It has a bestseller rank #8 under the Preschool Building Sets category, making it one of the best gifts for toddlers!
Have a little Disney fun at Home!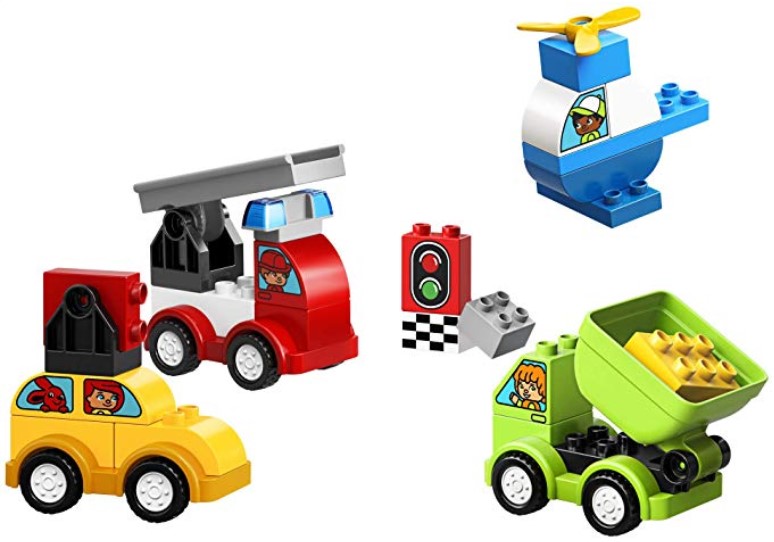 Another colorful and fun addition to the LEGO Duplo set is My First Car Creations, a great gift idea for toddlers 1 ½+ years of age for its fun and child-friendly features for small hands.
LEGO's first car creations are perfect for toddlers who love to build and rebuild colorful car pieces. With 34 LEGO pieces, kids will enjoy creating fun and creative vehicles, including a taxi, fire truck, garbage truck, and a helicopter.
This LEGO car set for toddlers encourages learning through playtime as well as develops their excellent motor skills, language skills, and cognitive development.
My First Car Creations provides an endless pretend playtime for toddlers with character decorations and traffic lights. They can mix and match other bricks and build colorful creations for themselves. It's an excellent value for the money as toddlers can build several types of vehicles with one set.
It is suitable for boys but girls can also enjoy this car playset. After all, the company is not gender-specific in all its products. What's more, this LEGO car also promotes family bonding. Through LEGO's My First Car Creations, parents can teach the value of road safety and driving etiquette to their toddlers.
Just right for little hands, the LEGO's My First Car Creations playset will spark your child's imagination!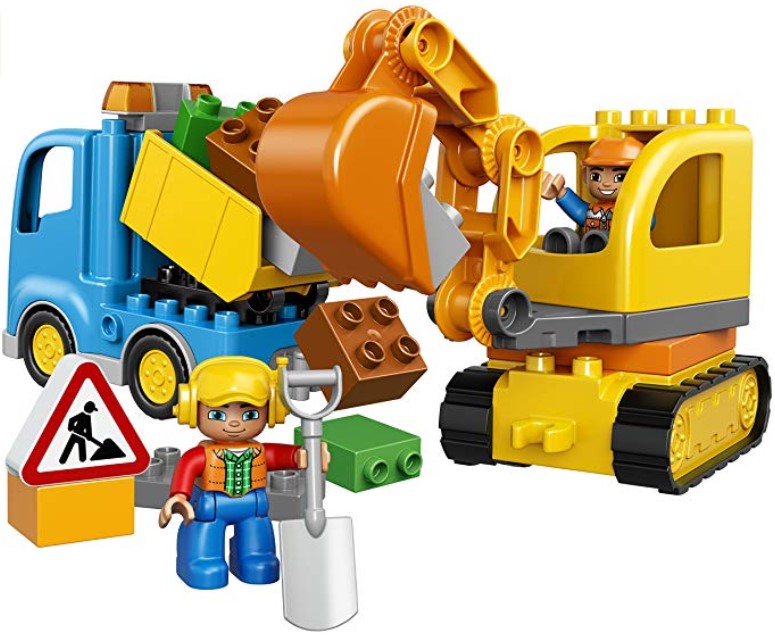 Recognized as Amazon's Choice under DUPLOS for Boys category is the Town Truck & Tracked Excavator set that provides a truckload of fun and play from LEGO.
This is an excellent introduction to the construction and even engineering fields for young children. This truck and excavator set is suitable for 2 to 5 years old toddlers who can put their creative imaginations to play. With this 26-piece LEGO truck set, children can build a LEGO town using the toy excavator and dump truck.
It encourages imaginative play at the same time enabling kids to develop early building and construction skills. Children will enjoy building and creating masterpieces using this LEGO set specially designed for them.
LEGO Duplo's Town Truck & Tracked Excavator set also comes with a shovel, roadwork sign, extra bricks for digging, and two DUPLO construction workers figures. The dump truck is equipped with a tipping feature while the excavator has a poseable arm and rotating cabin.
All of these LEGO pieces combined provide toddlers with an interactive and fun storytelling experience. For an integrated unique experience, you can add up with the LEGO Duplo Stories Alexa Skill to allow more interaction and engagement from toddlers. They can readily engage in fun storytelling features and ignite their creative imaginations while playing.
Pretend has never been so fun for toddlers!
5.

My First Bricks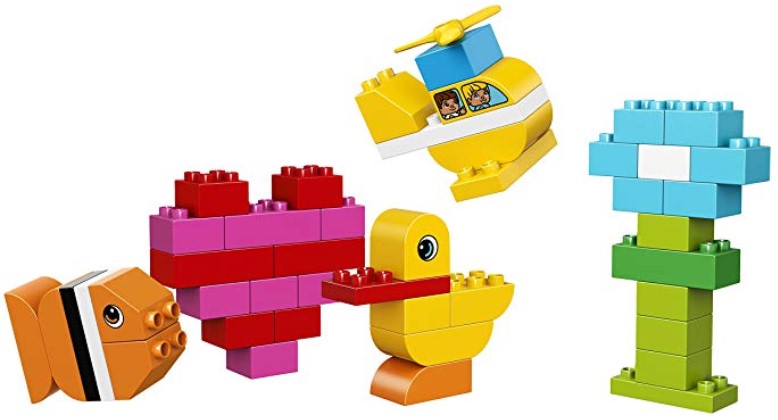 LEGO DUPLO's My First Bricks is perfect for toddlers ages 1 ½ – 3 years old by providing an age-appropriate play experience through colorful blocks. This LEGO brick playset allows kids to create and build with just about anything under the sun!
Toddlers are free and open to spark their imaginations and creative talents in building different play toys, including a helicopter, duck, toy flower, boat, or even a fish. This set contains 80 pieces of colored LEGOs in different sizes and shapes. It also comes with a toy propeller and double-sided decorated bricks. This building bricks set are proven safe for small hands to create toys for excellent motor skills development.
My First Bricks playset is an excellent supplement to any Duplo collections offered by LEGO. These colorful blocks encourage lots of creative play with any toddlers. Each block can help create toys for exploratory play and increase toddlers' creativity.
It is a great starter kit for toddlers who are new to LEGO. They can quickly build up some blocks and other toys using basic LEGO pieces. This playset comes with instructions for specific creations. Children are free to let their imaginations go wild without using the manuals!
Whether you are buying for your child or a friend, the My First Bricks playset is great for the little one's dexterity and imagination!