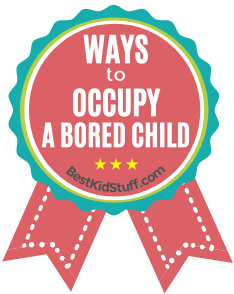 It's quite frustrating for a parent or guardian to know that their child is experiencing boredom. It might be that there are a lot of toys in their room that is waiting to be played with, or perhaps they are directly stating to their parents that they want their problem of boredom solved in no time.
Playtime is essential…
Information from the United Nations (UN) High Commission for Human Rights discloses that play is essential to maximize child development. But even kids who have access to the right resources and live in ideal environments might not receive the full benefits of play.
That is because most of these kids might be raised in a pressured and rushed environment that may restrict the protective advantages that they can acquire from child-driven
Playing remedies the boredom!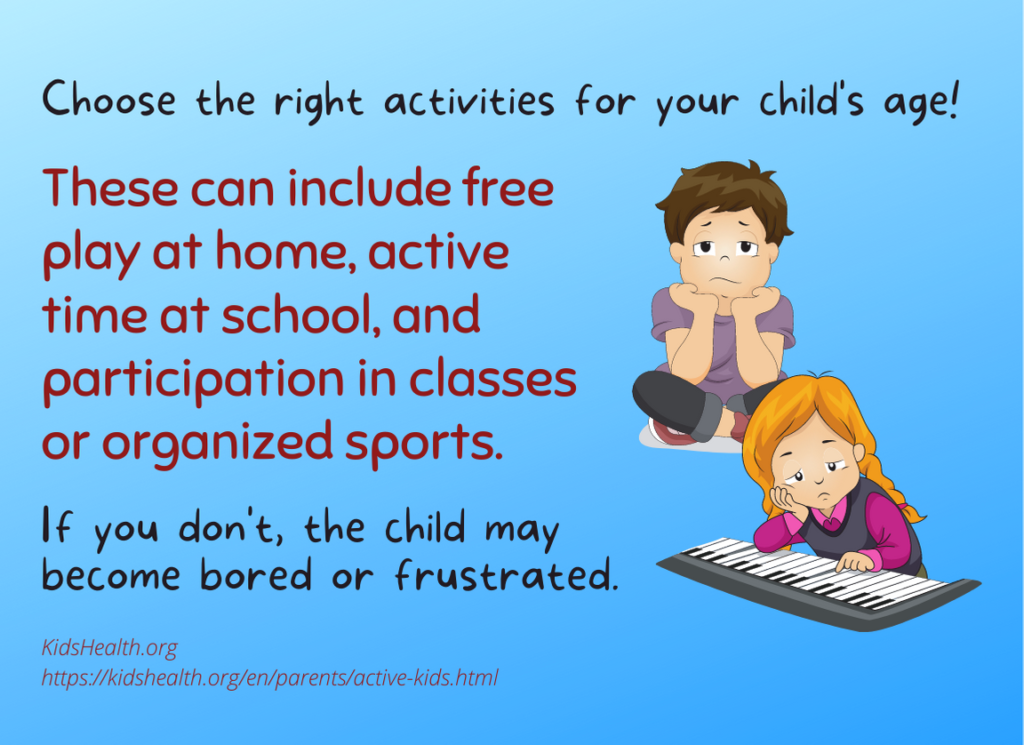 All children deserve to have the full development of their potential. As such, child advocates should consider factors that may affect the development of a child's potential, along with the situations and conditions that enable every child to obtain the benefits related to playing fully.
Play enables children to utilize their creativity while developing their emotional strength, cognitive, physical, dexterity, and imagination. Playing as an activity also lets kids explore and build a world to overcome their fears while assuming adult roles or role-playing.
Play is essential towards healthy brain development because it is through this that kids interact and engage with their surrounding environment at an early age.
Once they can master the world where they are in, play aids children in developing new competencies that result in improved resiliency and confidence to handle future challenges.
Let them use their imagination…
Undirected play enables kids to learn self-advocacy skills and to resolve problems. When play is permitted to be child-focused, the kids can enhance their decision-making skills, completely engage in passions they want to pursue, explore their interests, and move at their own pace.
Ideally, a lot of play involves adults, but when adults supervise play, children agree to adult expectations and rules and miss some of the advantages that play provides them. Play aids in enhancing community skills, leadership, and imagination. In comparison to passive entertainment, play builds productive and active bodies.
Thus, it has been recommended that promoting unstructured play may be an outstanding way to raise the level of physical activity in children. It is an effective approach for handling obesity issues. Most of all, play is a simple pleasure that is a memorable part of childhood.
When parents allow their children to join or play with them in child-centric play, they are provided with an exceptional opportunity to perceive the world from their kid's perspective since children explore the world ideally built according to their needs.
Child/Parent interaction is important…
The interaction and engagement that happens through play allows children to know that parents are completely paying attention to them and establishing long-term relationships.
Parents who can be involved in their children's world learn effective communication with their kids and are provided with another environment to provide nurturing and considerable guidance.
Overall, play provides parents with a better opportunity to completely engage with their children. Play is also essential to the academic setting. It guarantees that the school setting takes care of children's emotional and social development and cognitive development.
It has been demonstrated to help children adjust to the school setting and improve their problem-solving skills, learning behaviors, and learning readiness.
Social-emotional learning is incorporated efficiently with academic learning. It involves some of the factors that improve children's ability to learn, which are enhanced at other people's expense. Social-emotional learning, though, involves significant elements such as unscheduled time and play to permit peer interactions.
Toys and Playtime
Every toy that allows a child to build or make something ensures that they will not be distracted for a long period. Toys like Play-Doh, Lego, or puzzles are worth investing in since they help the child focus on what they are doing for several hours, but these toys also help develop spatial reasoning.
Such educational toys also keep your kids entertained, engaged, and well-informed. So with this in mind, here are some of the 20 toys to help your child overcome boredom and allow them to be entertained for a long time while learning in the process. These toys have been listed randomly and can be played either indoor or outdoor.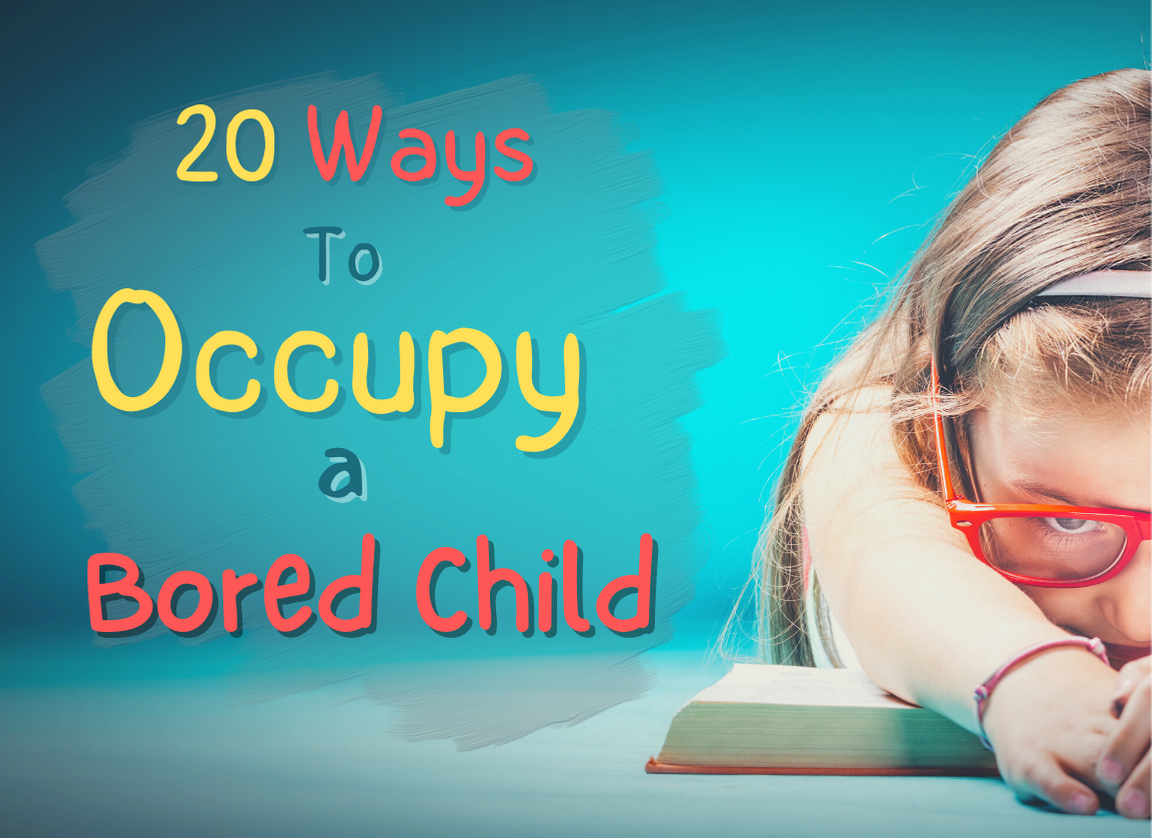 ---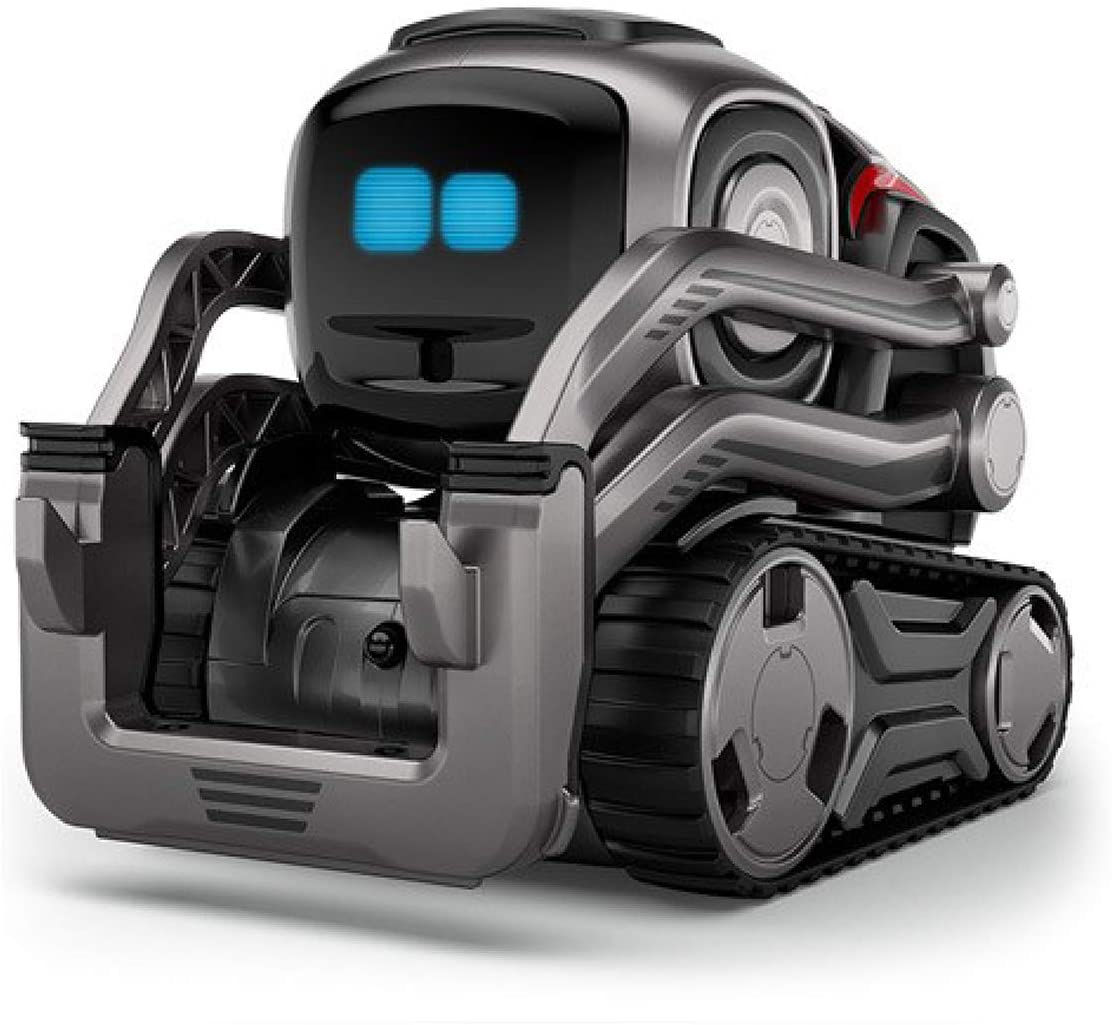 The Anki Cozmo – Collector's Edition Educational Robot for Kids is considered a game-playing machine or a real-life robot that can express numerous emotions, be able to recognize your child, and remember his or her name.
It contains 300 plus components to be able to build one entertaining and smart robot. Some of the activities and games included in the robot are Robo Showdown, Robo-Sham-Bo, Cube Tennis, Poppin' Locks, Stack Attack, Code Cracker, Memory, Keepaway, Quick Tap, and Cube Lifting.
You can also switch to Explorer Mode to know what Cozmo perceives. You can allow Cozmo to go to certain locations and alert him to greet both pets and people.
The Code Lab of Cozmo is meant for children to express, organize, and creatively discover ideas through the programming of their Cozmo. Through Sandbox and Constructor, they can make challenging projects while Python SDK is used in tapping into the full ability of Cozmo.
It has four motors and fifty gears similar to a mini-mars rover for your child to have ample time to explore it. A facial recognition software and a 30fps VGA camera are also present to help Cozmo remember the people he had close interaction with.
Moreover, Cozmo wears his heart directly on his 128 x 64 resolution facial display, and it also can assess prospective future states per second through its onboard central processing unit (CPU).
For beginners, the Sandbox Mode is the ideal option for an introduction to coding. The kids can snap together blocks to design their first projects, such as making the Cosmo sing or sneeze. They can complete challenges for more personalized creations and skill growth.
For kids who are already experienced in creating a project, the Constructor level exists, wherein their coding skills can be upgraded. The intermediate coders can develop more complicated projects with numerous possibilities, such as coding a dynamic dance party or developing games on the display of the Cozmo.
Consider this for your child experiencing boredom:
Safe to be explored
It is versatile, and it upholds four key characteristics: vision, motion, intelligence, and emotion
Have regular updates on activities included
Coding levels are being upgraded to develop more complex projects
More opportunities to learn advanced robotics, creative coding, and artificial intelligence (AI)
Accessibility to a visual programming language that is designed for beginners
Limitless projects
Has numerous fun-filled and educational games that your child can play with the robot
Has a lot of accessories such as treads of various colors to match his mood
It comes with a Brand Connection warranty for 12 months, starting from the date you have bought it
It's a robot!!! How cool is this? Your child will be enamored by the notion of having his or her own robot friend, Cozmo!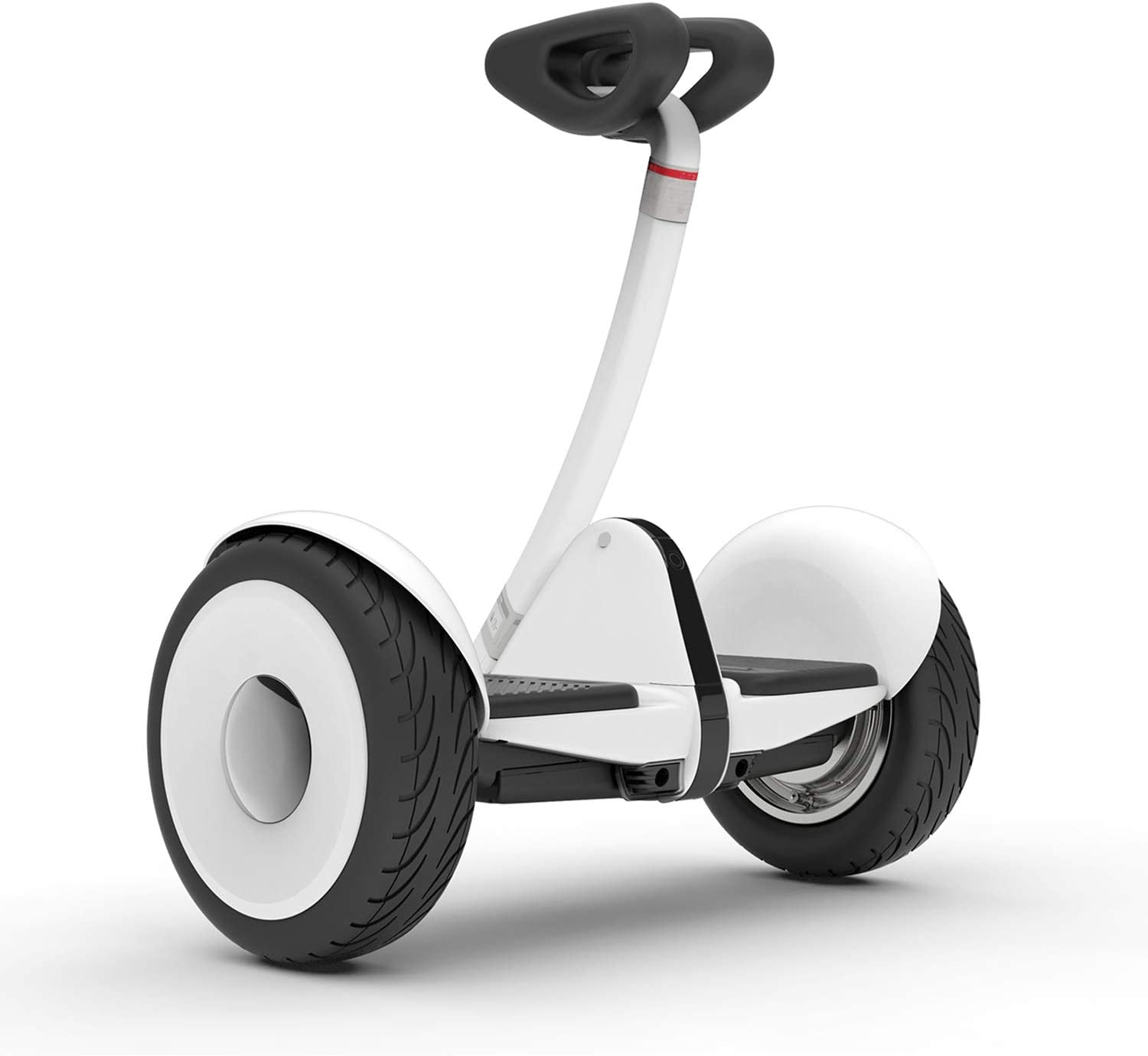 The Segway Ninebot S Smart Self-Balancing Electric Scooter is regarded as a personalized self-balancing transporter that aids your child in entertainment mobility and functional last-mile transportation.
The Ninebot S aids your child in getting to where they want to go while they experience and enjoy the moment. It is also fitted with the aviation-level magnesium-alloy skeleton, which makes it durable and light.
Here are the benefits of having the Segway Ninebot S Smart Self-Balancing Electric Scooter as a toy for your bored child:
Functional, fun, and convenient to ride
Contains a user-friendly and convenient-to-learn knee control bar design that makes it a good option for both adults and kids
Very compact and lightweight
Completely featured APP connectivity
Highly resistant to corrosion, shock absorption, heat dissipation, and elasticity
UL2272-authorized
This fun ride is not only hours of entertainment, it is also very functional for getting from one place to the other, whether on the playground or visiting friends!
3. Matatalab Pro Set Robot for Kids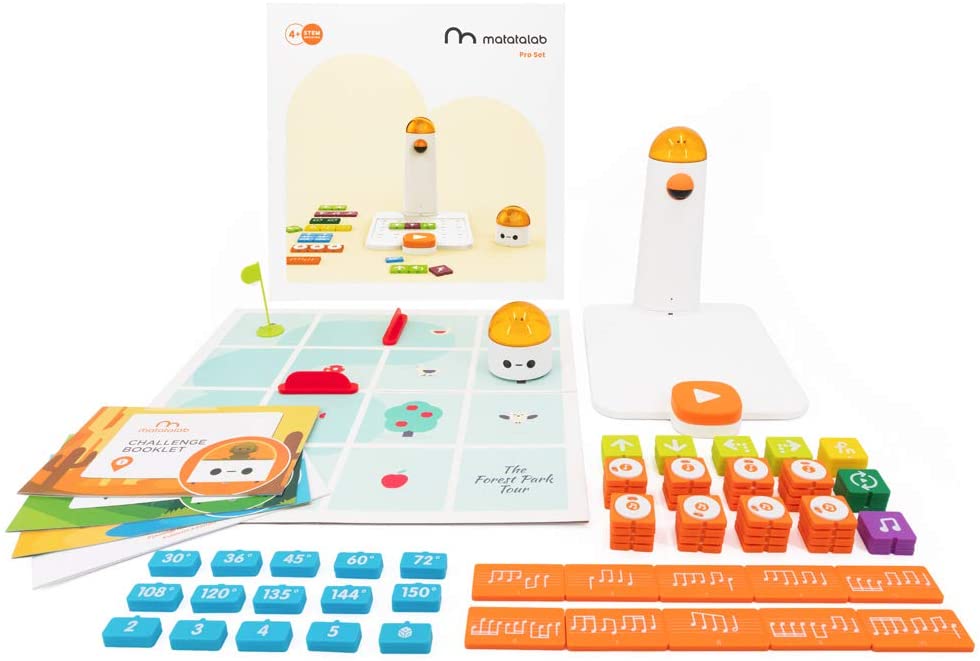 The Matatalab Pro Set Robot for Kids utilizes coding blocks when singing a song, and the kids can prepare a plan, pick their coding blocks that can also be used for drawing, and click play to observe how their robot moves.
Power can be easily turned on for a more established connection. Your kids can put these toys on the starting point, and they can build their playground area, game challenges, and rules.
Here are why you should consider this toy for your child:
Children can learn more about short coding commands, basic symbols, as well as basic and advanced computational thinking.
Children will develop the ability to design independently and learn about longer coding commands and parameters and establish exceptional robots' actions.
Children will be able to generalize and determine patterns through functions and loops to resolve a difficult problem.
Children will prepare for innovative programming languages, creative cross-curricular learning, STEAM, and systematic computational thinking.
This toy allows children to create good music, art and do other cross-curricular learning.
Older children will be able to learn more advanced programming languages without any worries.
If you are looking for a STEM-related activity for your child, this coding activity will get them started and interested in the field. You can never start 'em too early!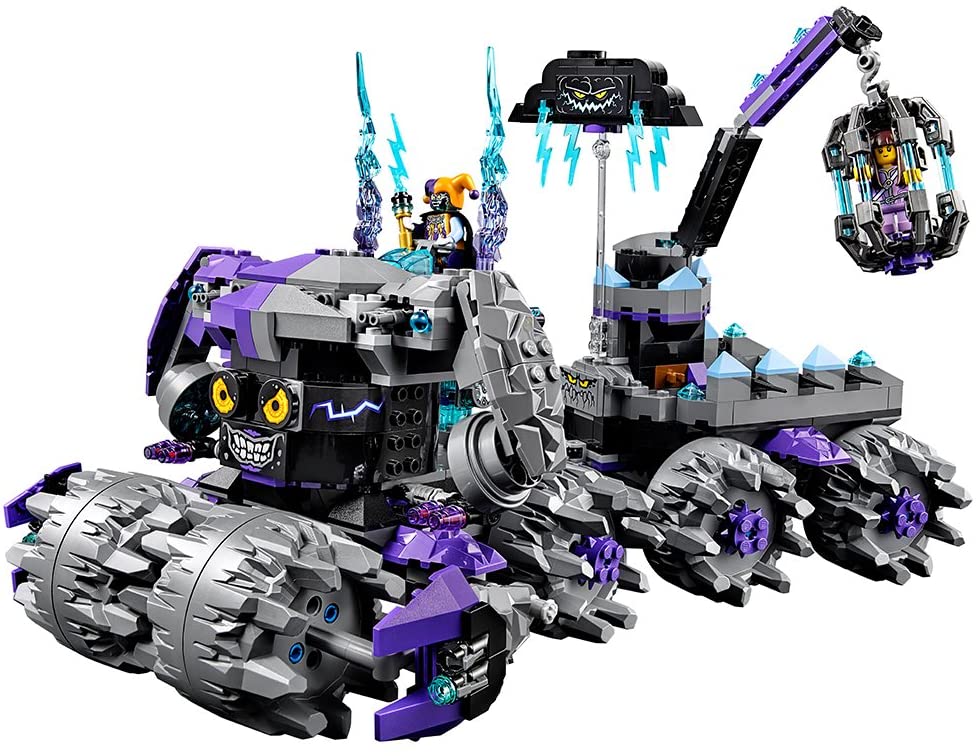 With the Lego Nexo Knights Jestro's Headquarters, your kid can stage an outrageous rescue mission and organize the release of Ava from the Jestro's Headquarters, which involves a detachable Hatattacka with flick missiles, an ejecting stone boat function, the Mobile Stone Keep trailer with adjustable cage and crane with movable bars, and a giant face with hidden weapons.
Other inclusions in the LEGO Nexo Knights set are the Macy's Underminer vehicle, which features a spinning drill plus a Stone Wheeler vehicle with cannons to level up the rescue mission action. It also includes six minifigures and five scannable shields.
Jestro's Headquarters includes a giant head with concealed surprises, an ammunition box, and four cannons, ladder, cage, adjustable crane with hook, detachable trailer with Stone Wheeler vehicle and secret stone boat, dual flick missiles, four stud shooters, versatile front rolling wheels, and detachable jester's cap mini-flyer with mini-figure cockpit and two flick missiles. You can also push Macy's Underminer for activation of the spinning drill.
Below are the dimensions of the LEGO NEXO Knights Jestro's Headquarters:
Specifications
Measurements
(Jestro's Headquarters)
Height
Length
Width



7" (20cm)
12″ (33cm)
8″ (21cm)

(Front vehicle over Jestro's hat mini flyer) Height
Length
Width





5″ (14 cm)
7″ (19 cm)
8″ (21 cm)

(Trailer)
Height
Length
Width



7" (20 cm)
5″ (14 cm)
6′ (16 cm)

(Stone Wheeler)
Height
Length
Width



7" (20 cm)
5″ (14 cm)
6″ (16 cm)

(Macy's Underminer)
Height
Length
Width


1" (4 cm)
5″ (13 cm)
2″ (7 cm)

Here are the benefits of having this as one of your toys for your child who experiences boredom:
Your kid can watch their favorite NEXO Knights characters on Cartoon Network
It includes six mini-figures, namely, a Stone stomper, a gargoyle, Lance, Macy, Ava, and Jestro
Check out the NEXO Knights by LEGO. With 840 pieces, let the building begin!!! It's perfect for 9 – 14-year-olds.
5. Air-Lite Ball Pit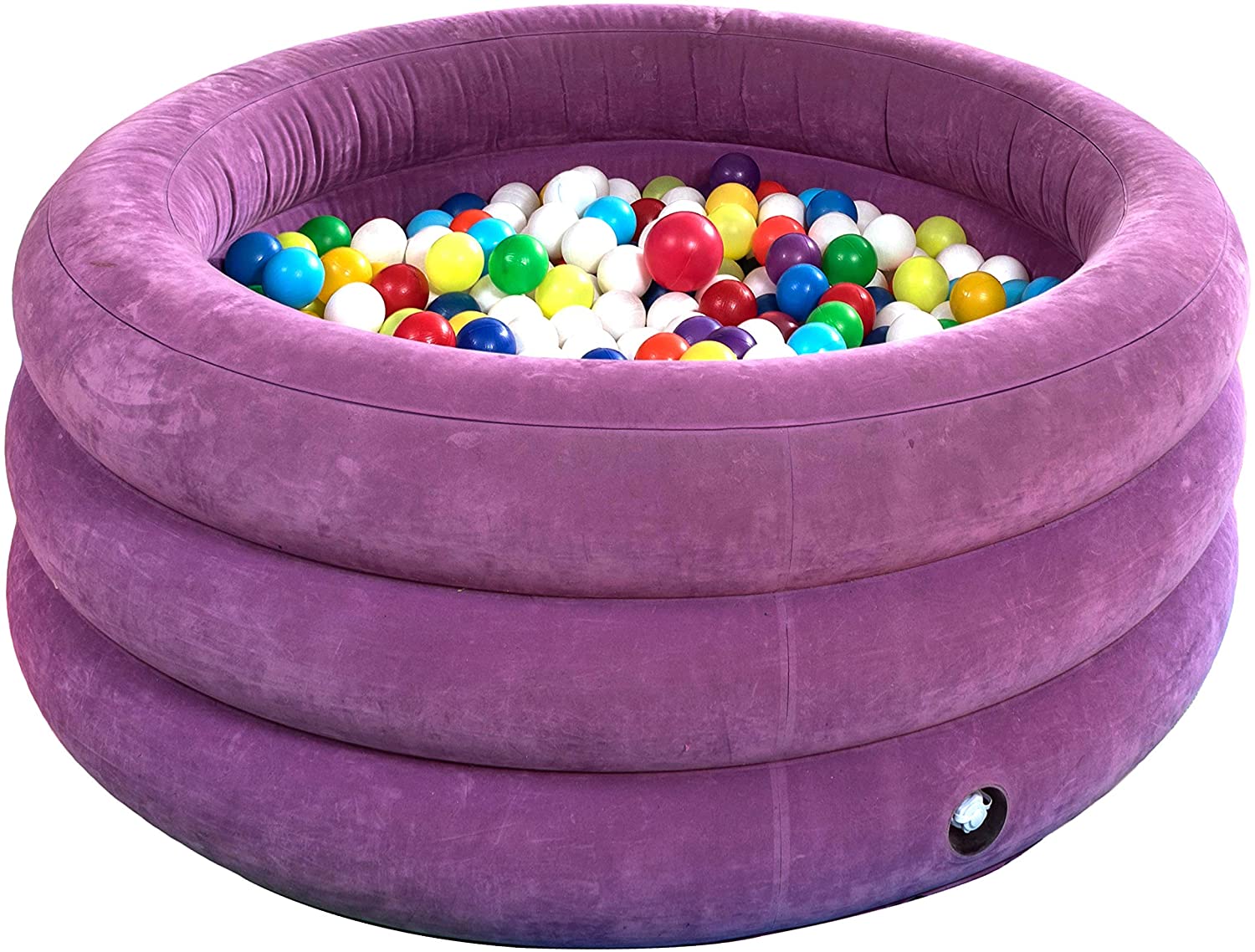 The Air-Lite Ball Pit includes a cushioned bottom for convenient landings. It is big enough to accommodate a maximum of five children (up to 250 lbs). It is ideal for social or solo use, and the soft surface works best for tactile, defensive kids.
The balls also give pressure, similar to a massage, to relax kids undergoing all forms of therapy. They are made of latex-free vinyl with a flocked outer covering that can be surface-washed and air-dried.
Below are the specifications of this particular toy:
| | |
| --- | --- |
| Specifications | Measurement |
| Age | 3 years old and above |
| Outer diameter | 64 inches |
| Inner diameter | 44 inches (when completely inflated |
| Weight | 9.9 lbs |
| Capacity | 250 lbs |
Here are the benefits of the Air-Lite Ball Pit:
It is an ideal environment for the development of motor planning skills and proper engagement in touch therapy; aids in multi-sensory engagement, and ideal for solo or social use.
Perfect for sensory incorporation because the Ball Pit enables proprioceptive input and tactile for sensory seekers. It is an extraordinary way for children to burrow, balance, crawl, and roll.
Very durable and ideal for language, speech, physical, and occupational therapy
It supports children with attention deficit hyperactivity disorder (ADHD), autism, and sensory processing disorder.
If your children are bored, this ball pit is perfect for one child or several. Let them have some fun!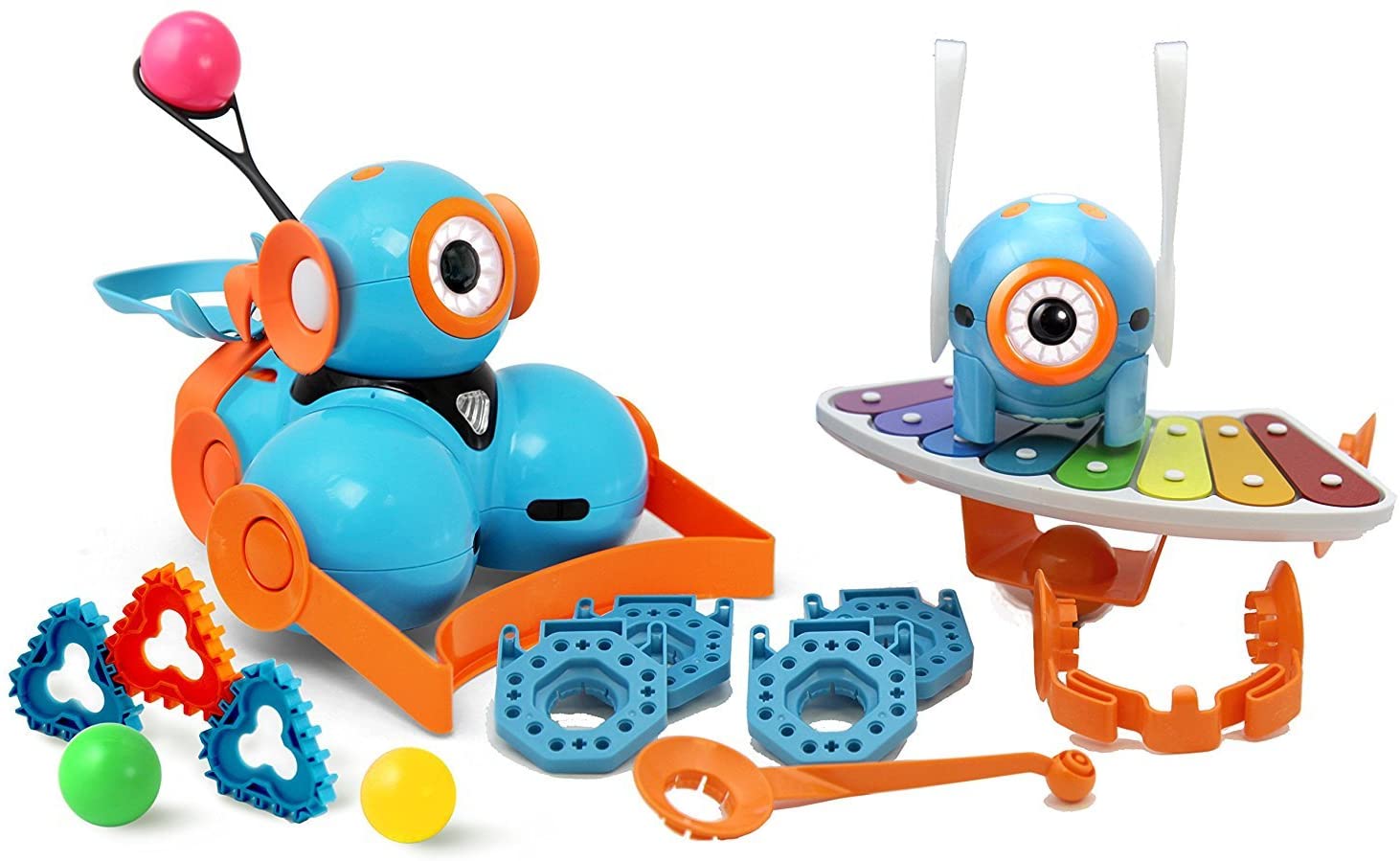 The Wonder Workshop Dot and Dash Robot Wonder Pack is regarded as an exceptional science, technology, engineering, and mathematics (STEM) learning pack for educators and parents who want their kids to develop self-confidence.
The two well-recognized robots, Dot and Dash, aid in teaching kids who are six years old up basic block-based coding.
The Wonder Pack is equipped with Dot and Dash, one xylophone, one set of bunny ears and tail, six target stickers, three launcher balls, one launcher, one bulldozer bar, one tow hook, two charging cords, and four building brick connectors.
The Wonder Pack is also utilized in more than 20,000 classrooms globally because they provide entertainment and innovation.
Dash and Dot can also be paired together to help resolve problems or for conversations.
This robot also has everything you need, such as a rechargeable battery that provides more than three hours of playtime plus a USB cable.
The Dash robot can move around the house with wheels squealing and lights blinking. It also includes the Blockly, Wonder, Kindle, Android compatible apps, and a free mobile and tablet iOS, all of which are designed for each child to learn and program independently. Wonder enables you to save your child's creations to Dash for him to play even with a screen's absence.
The Dot is regarded as the "brains" of the robotic duo, and it is equipped with numerous games like Light Sword, Dot of Music, and Hot Podoto. About a hundred games are available through free apps such as Blockly and Wonder, and such games can be saved with Dot for playing even without the screen.
The Path app enables children to begin with coding and robotics basics even before learning how to read.
On the other hand, the Go app pages how the robot can explore movements, sensors, sounds, and lights. It is considered as the first step to determine what Dash can do.
The Blockly app introduces innovative ideas on coding through fun-packed puzzles and projects.
Finally, the Xylo app can hold a music performance for friends and family through Dash's Xylophone. Your kids can remake their favorite music or channel their inner Beethoven to make their respective songs from scratch.
Here are the benefits of having this as one of the toys for your bored child:
It helps develop the child's problem-solving and logic skills.
The five apps can be downloaded for Kindle Fire 8, Android, iOS and have numerous challenges to aid your children in familiarizing complex strings of code.
Dash robot is ideal for use at home with friends and family and in the classroom. It allows your children to work solo or be together for group coding initiatives.
It is a suitable gift for children because it comes with limitless hours of interactive challenges and fun.
The accessories allow your child to transform the robots into a musician, a disc launcher, a bulldozer, and more. Such accessories can be paired to improve challenging tasks for coding activities.
Children will become more confident to enjoy several freeform play hours to allow their imagination to generate more challenges for their robots.
Toy owners become part of a supportive community for robot competitions and Wonder workshops for creativity and skill-building.
Let Dot and Dash entertain your kids! This STEM-related toy will benefit them in many ways, beginning with simple coding techniques.
7. Slackers NinjaLine 36′ Intro Kit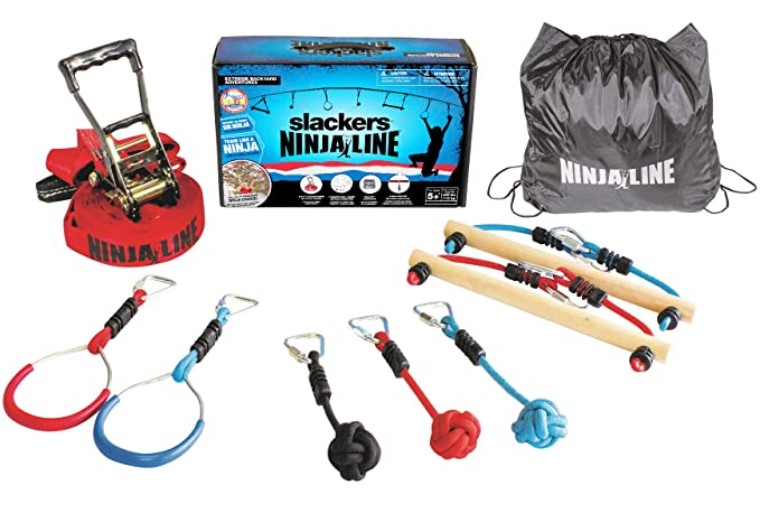 The Slackers Ninjaline 36′ Intro Kit is the perfect toolset for training your bored kid to become a Ninja Warrior!
This backyard obstacle course consists of a three-piece 10″ x 2.5″ nylon rope, a two-piece 16″ monkey bar with safety carabiners, and two textured finish gymnastics rings. Find two posts or trees in your yard to hang the 30′ 2″ slackline webbing, and let your kid's physical adventure begin! The Ninja line can be utilized as a slackline to maintain agility and proper balance.
The Slackers Extreme Ninjaline Kit is appropriate for children ages five years old and above and holds a maximum weight of 250 lbs. Adult supervision is needed as well.
Below are some of the benefits of having this toy for your child who is experiencing boredom:
Besides the obvious physical benefits of establishing core and overall strength, this set boosts your kid's self-confidence!
Very portable and convenient with a carrying bag
Easy to assemble and disassemble
Can be brought to camping trips or picnics
High-quality and safe
While durable and dependable as a starter's obstacle course, the use of this set requires adult supervision. Let them get outside to enjoy fresh air and exercise!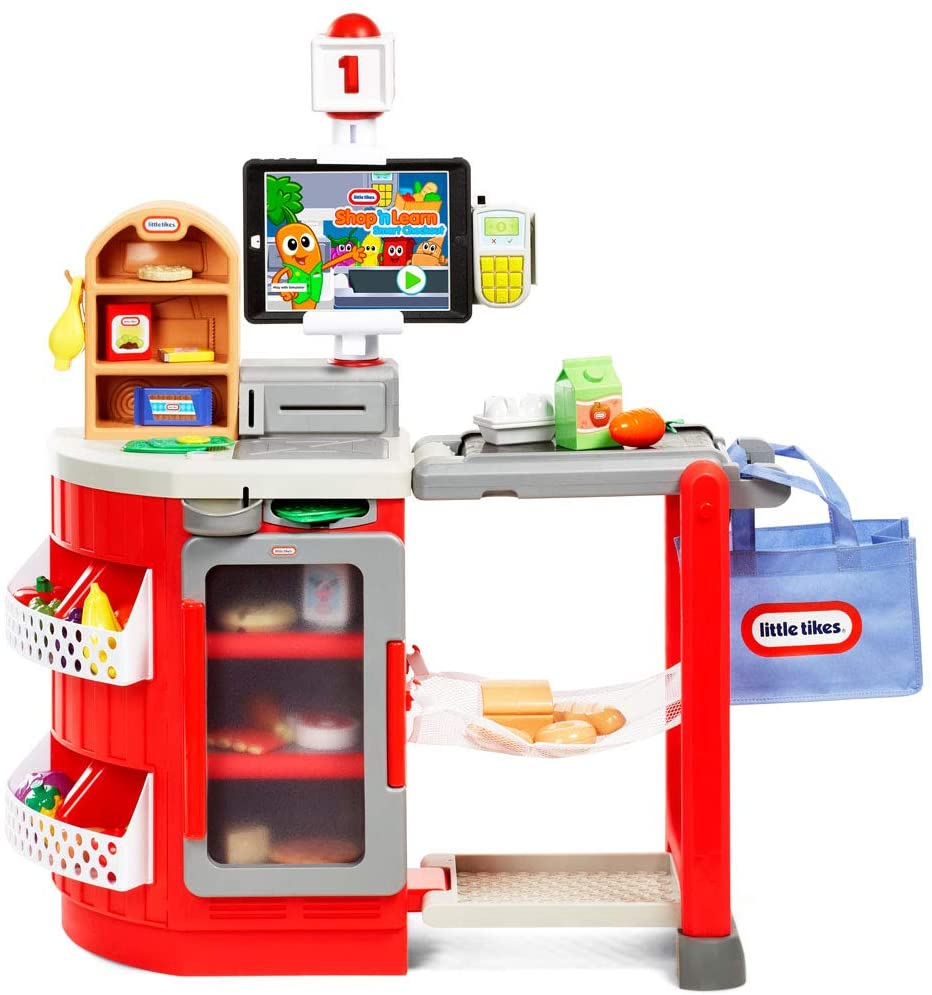 The Little Tikes Shop' N Learn Smart Checkout has more than 35 distinct accessories and food with Smart Scam technology. It also has a comprehensive line of role-play toys to help the children develop their language and social skills and discover the world around them.
If your kid likes shopping, they can do this along with scanning and checking out through this toy. The Little Tikes Shop and Learn smart checkout allows your children to shop like adults. Through a functional conveyor belt, working cash register, and interactive scanner, children will be able to enjoy the toy's smart cart.
Here are other reasons why you need to consider this as one of the toys for your bored kids:
You can download the app that provides several approaches towards play with interactive games.
Children can pretend to pay using credit cards or cash as well as learn how to count.
The fully functional conveyor belt can move when items are scanned, similar to a real market.
It includes a reusable bag and checkout
A space-saver since it can be folded easily when not in use
To encourage pretend play, the supermarket experience is a great way to make them feel like grown-ups. Where was this when I was a kid?
9. JOY FOR ALL Lifelike and Realistic Golden Retriever Pup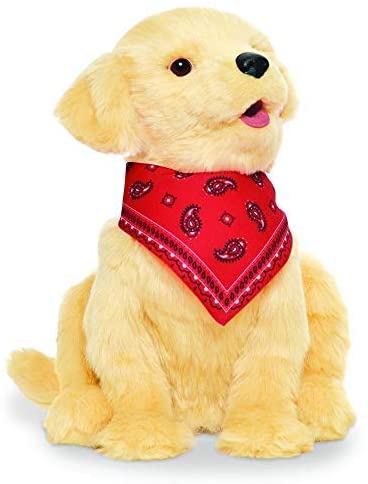 Acting like a real live puppy, the Ageless Innovation Companion Pet Golden Pup from Joy for All will surely solve your child's boredom problem! There's not a single dull moment with this lifelike toy puppy that offers an enriching pet ownership experience for your kid without the many responsibilities attached to it!
Did you know that Joy For All companion pets acquired the caregiver-friendly award? With its built-in technology, this Pup features lifelike responses such as listening to you while you speak and making puppy voices and sounds when reacting to your touch or voice! You can pet this toy's back gently to activate a subtle heartbeat sensation.
Check out why you should opt to have this engaging toy to address your kids' boredom issue:
Ideal for kids five years old and up
Mimics puppy sounds and movements
State-of-the-art "barkback" technology enabling the puppy to respond to your voice
Designed to bring its users companionship, comfort, and fun!
Operates using 4C batteries; kids can easily operate it because it's an uncomplicated device
Teach your kids how to become responsible pet owners with this realistic puppy… then decide if they are ready for the real thing! Also, this Pet Golden Pup from Joy for All is ideal for the elderly!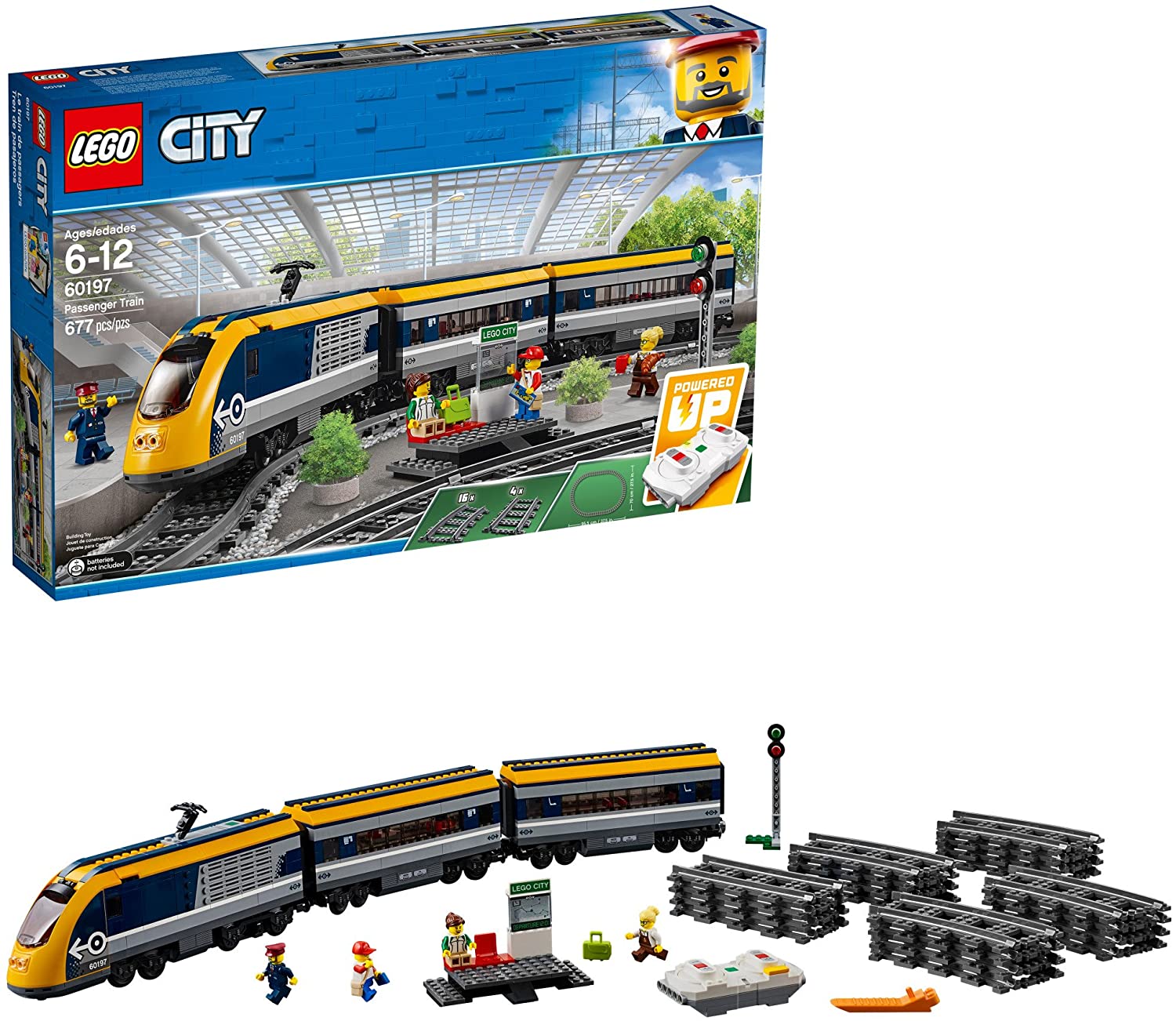 The LEGO City Passenger Train 60917 Building Kit is regarded as a remote control passenger train set with a platform, removable tables and seats, two vehicles, a configurable circular track, signals, and a motorized engine.
It uses a ten-speed Bluetooth remote control to operate the toy, and it also includes four mini-figures (two passengers, a train attendant, a train conductor). The train set has 677 pieces and is suitable for boys and girls between six and 12 years old.
The LEGO City Passenger Train 60197 construction set can be built with the other LEGO building bricks and other original LEGO sets for effective construction.
Below are the dimensions of each component of the passenger train:
| | |
| --- | --- |
| Specifications | Measurements |
| Passenger train locomotive with vehicles | 11 cm (height)69 cm (length)5 cm (width) |
| Engine section | 11 cm (height)26 cm (length)5 cm (width) |
| Platform | 7 cm (height)11 cm (width)6 cm (depth) |
Here are the benefits of purchasing this toy:
It has ample room for open-ended imagination and plays
The roof can be taken off for easier access to the passenger train cabins
The platform can also be stopped for toy passengers to go onboard
Very ideal for role-playing
With 676 pieces, this train/city LEGO building set should keep 'em busy for a while. It's suitable for 6 to 12-year-olds!
11. Sable Inflatable Play Center Wading Pool with Slide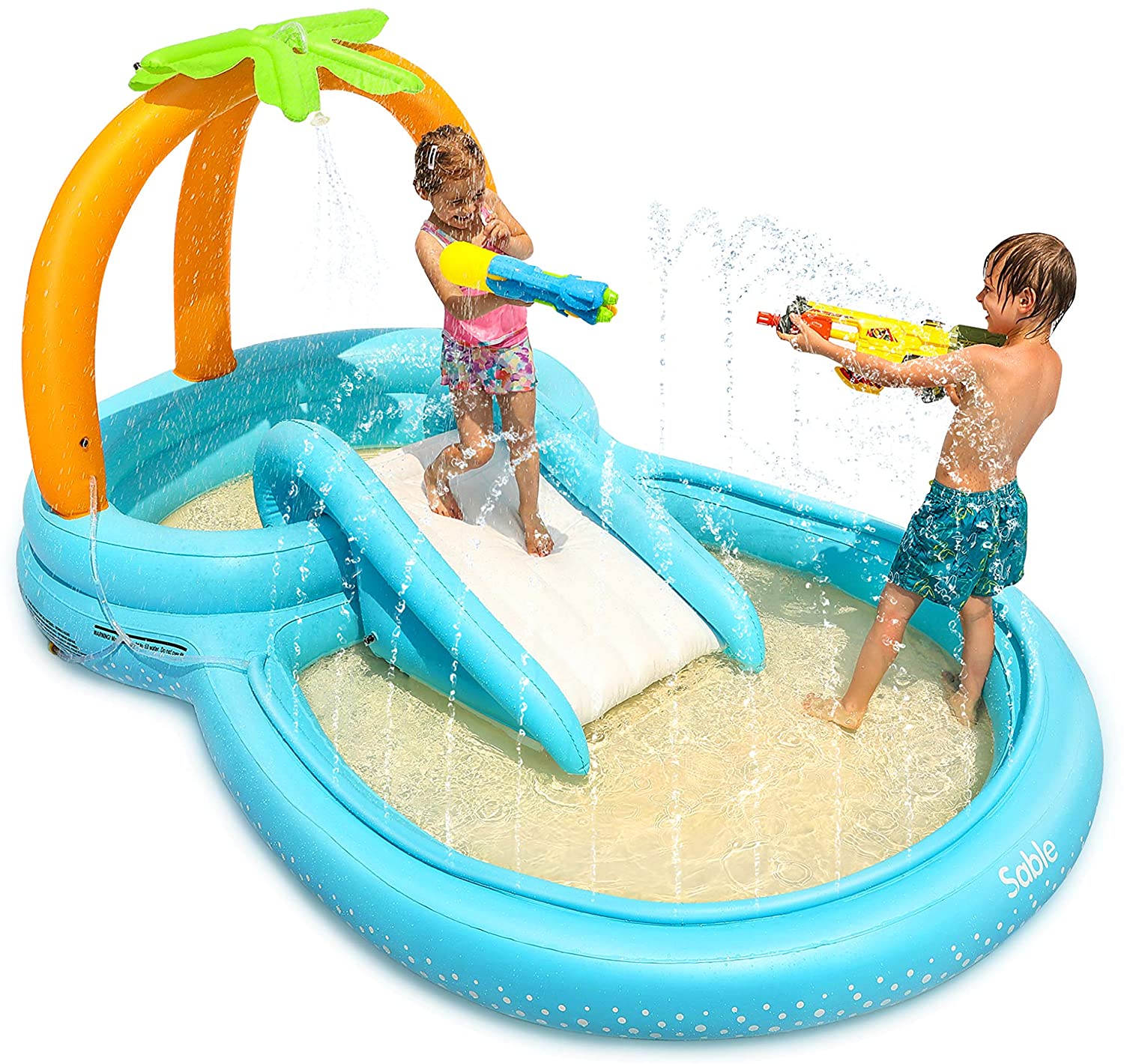 The Sable Inflatable Play Center Wading Pool with Slide appears similar to a tropical wonderland and water park placed in the backyard for children.
An angle-adjustable sprinkler is present, and it can be sprayed towards the shallow water zone, and the holes on the side can spray water inward for a cooler feel.
The wading pool also has sponge cushion padding to aid in protecting your kids while they wade and play. The pool is made from BPA-free PVC, which is 30% thicker than those sold in the market.
You can inflate each chamber in just one minute using an electric pump (not included in the package).
Here are the reasons why this wading pool should be included as one of your kid's toys:
Eliminates the need for an actual water park, pool, or beach to make a splash
Generally durable and safe
Reduces the risk of punctures to guarantee a long service life
Convenient to set up
Cool and entertaining for the summer with its water sprays and slide
For better accommodation of kids with various heights, the pool has different wading depths, and each pool features one-ring and two-ring zones
Kids are efficiently assisted as they play through sturdy and heightened handrails
The Sable Inflatable Play Center Wading Pool with Slide is a perfect idea for backyard fun on those long hot days. If the kids are bored indoors, move the fun outside… Go on a pretend trip to the beach!
12. Nifeliz Street Corner Post Office MOC Building Blocks and Engineering Toy
The Nifeliz Street Corner Post Office MOC Building Blocks and Engineering Toy can help your child build a corner post office and place street sets together for collection or display. It also features impressive and ornate trim decorations.
Building toy houses and communities is a great way of bonding with friends and family. Through this Corner Post Office, you will be able to build a close-to-reality mock-up business since it features a vintage mail van, ceramic art room, simulated post office, and other detailed decor. It also comes with exquisite box packaging with detailed instructions.
Construction of the Corner Post Office model comprises 4,004 pieces placed in a steps numbered bag so that your kid will not get bored in building their detailed, mock-up post office.
This is perfect for role-playing and can all be created through high-quality components.
Here are some of the advantages of this toy:
Easy to assemble
Excellent addition to any kid or teen's street set collection either for display or play
Promotes brain development, inspires creativity, and helps improve problem-solving skills, divergent thinking, and hand-eye coordination for your kid.
Children also learn more about teamwork and collaboration
An ideal gift for future decoration designers and mock-up set enthusiasts
It comes with a three-month 100% money-back guarantee, in case there are missing parts
This is an exquisite building set that is perfect for 14 years of age and up. Yes, it should keep them occupied for a while!
13. Modular Robotics Cubelets Robot Blocks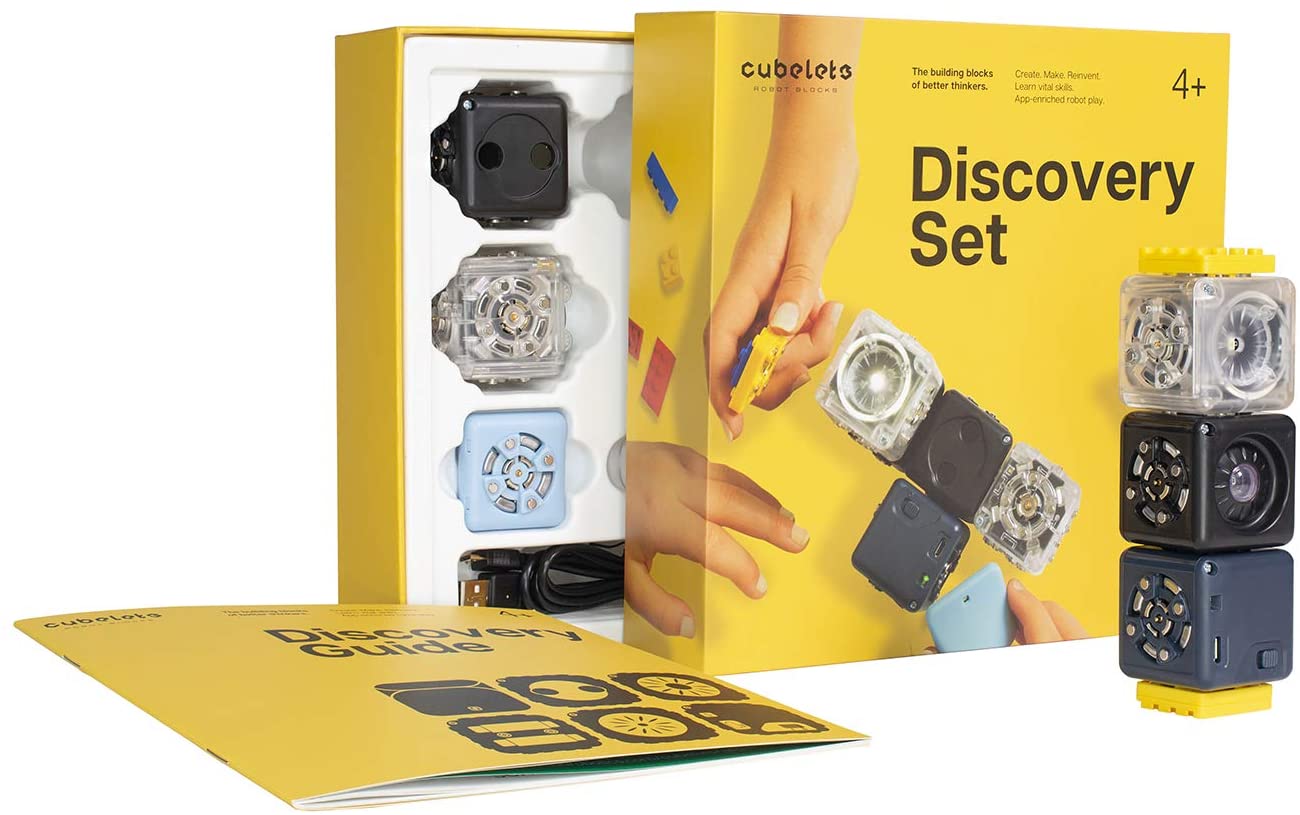 The Modular Robotics Cubelets Robot Blocks are similar to building blocks, but the difference is that these magnetic robot blocks allow you to invent and reinvent numerous robot configurations.
Your kid can build a life-long appreciation for STEM through these cubelets that are appropriate to any skill set or age. Small robots are used in building massive imaginations. Cubelets enable kid builders to invent, craft, and imagine limitless robot constructions easily.
The cubelets are primary small blocks of the software inside small blocks of hardware. Every cubelet has an exceptional function, so the way your kid assembles the robot modifies its behavior. Each combination is considered a new creation.
Moreover, these cubelets pave the way for the principles of programming to be learned and practiced easily. The extraordinary combination of hardware and software means that you can create a program through manual coding in building your kid's robot.
The Cubelets app serves as a portal to the software blocks within each Cubelet. The remote control manages individual cubelets to alter the behavior of the whole robot construction. The app is free and convenient to install. It is available for any wireless device that operates in FireOS, Android, and iOS.
Through the Personality Swap feature, you will be able to change the cubelet's code with just one touch of the button. If the Drive Cubelet is switched to spin backward, you can transform the Flashlight Cubelet into a disco-blinking item.
The Bluetooth Hat conveniently matches robot constructions with wireless devices near it. It makes it easier to add new robot capacities through the free Cubelets app.
Below are the skills that can be potentially learned through this toy:
| | | |
| --- | --- | --- |
| Four years old and above | Seven years old and above | Ten years old and above |
| Sequencing | Pattern Recognition | Abstraction |
| Sorting | Collaboration Skills | Networks |
| Speaking and Questioning | Network Basics | Design Thinking |
| Gross Motor Skills | Design and Engineering | Complexity Basics |
| Cause and Effect | Critical Thinking | Systems Thinking |
| Robotics Basics | Computational Thinking | Parallel Programming |
| | | Smarter Coding |
| | | Computer Science Fundamentals |
Below are some of the reasons why you should consider these robot blocks as a toy for your bored child:
The cubelets are purely educational since it allows kids to learn about tactile coding, software manipulation through the Cubelets app, and the new web-based Console for basic programming of Cubelets personalities
These toys show the perfect approach to explore engineering, design, coding, and robotics
The toy grows with your child because as they grow older, they learn and practice through play
Ideal for museums, maker spaces, classrooms, and homes
This STEM toy grows with your child. You will get your money's worth out of this one!
14. Orbrium Toys Train Shaped Collapsible Toys Storage Bin Organizer
Offered by Orbrium Toys, this Train Shaped Collapsible Toy Storage Bin Organizer gives kids a fun and innovative twist in which to store their treasured train parts(or any other small collection of toys for that matter)! This unique design has plenty of storage room for your child's train track pieces, as well as storage "under the engine" for train cars.
This toy measures approximately 34″ long and is just right for smaller spaces. It is also just the right size for your child to easily reach into as they choose pieces to build their train tracks! Its vibrant red color with black accent smoke stack adds to the nostalgia of classic trains, too!
Indeed, this toy is an ideal companion for your children during playtime… Not only does it provide valuable storage space for parents, but it also fosters imagination and creativity through pretend play!
But, do you need a train set to store in this sweet organizer? Take look at this set: 100-Piece Orbrium Toys Triple-Loop Wooden Train Set
Here's why your bored kid will surely love this Train Storage Unit and Train set:
Ideal for kids three years old and up
Sturdy and holds well together
Easy to assemble
Multi-purpose
Choo Choo! – All aboard! This cute little train-shaped organizer will inspire them to stay creative as they build their train tracks. And, while taking breaks, they can pretend to be a train conductor!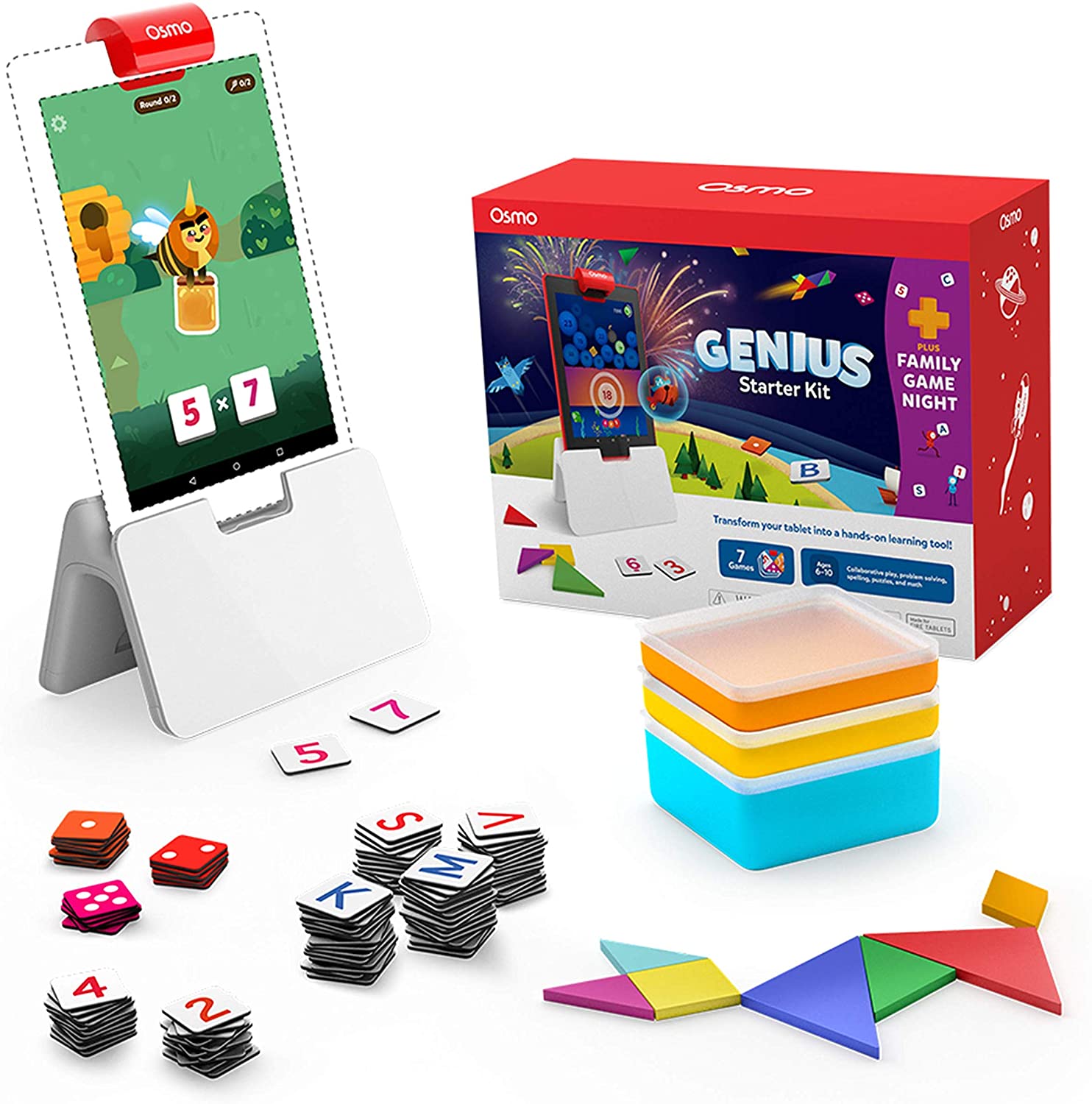 The Osmo-Genius Starter Kit for Fire Tablet (STEM Toy) is a well-recognized and fun-filled way to learn new games. This STEM toy includes a Fire tablet and an Osmo base. It has two family-friendly games and seven games.
Your kid will learn how to solve equations through the Math Buzz (more than 20 levels). Children can also create words through the letters and collect creatures as one group through the Lettertopia (exploration of more than 40 levels) and matching descriptions.
Your kid will learn how to arrange puzzle pieces to complement on-screen shapes or the Tangram (composed of 500+ wooden puzzles); be able to learn vocabulary and spelling through one-screen images (Words); add, count, and multiply tiles and pop the number bubbles, learn freestyle math (Numbers), develop drawing skills (Masterpiece with 60+ levels), and solve creative physics puzzles through lines or placement of items in front of the screen (Newton).
This toy is suitable for children ages six years old and above. Games have been designed for beginner to advanced levels. Continuous learning happens through the Osmo, which includes stackable storage for each game and all seven-game apps (Masterpiece, Newton, Words, Tangram, Numbers, Lettertopia, and Math Buzz) tiles, number tiles, and Tangram pieces.
Why is this STEM toy perfect for your bored child?
Children can interact with a fire tablet and actual hand-held pieces. It brings the child's game actions and pieces to life since no WiFi is required for gameplay.
Improve kids' vocabulary and spelling skills, social-emotional skills, word comprehension, math (counting, addition, subtraction, multiplication) capacity, and creative or visual problem-solving skills
Also develops listening skills through freehand drawing, physics, spelling, and puzzles
Children gain an appreciation for learning
Real-time visual and audio feedback allows children to learn through pure experimentation in a stress-free and hassle-free environment.
This is an excellent game option that's highly compatible for Fire tablet (7th Generation Fire 7, 7th Generation Fire HD 8, 7th Generation Fire HD 10, 8th Generation Fire HD 8, 9th Generation Fire 7, and 9th Generation Fire HD 10) – HOWEVER, it is currently not compatible with the Fire HD8 launched May 2020.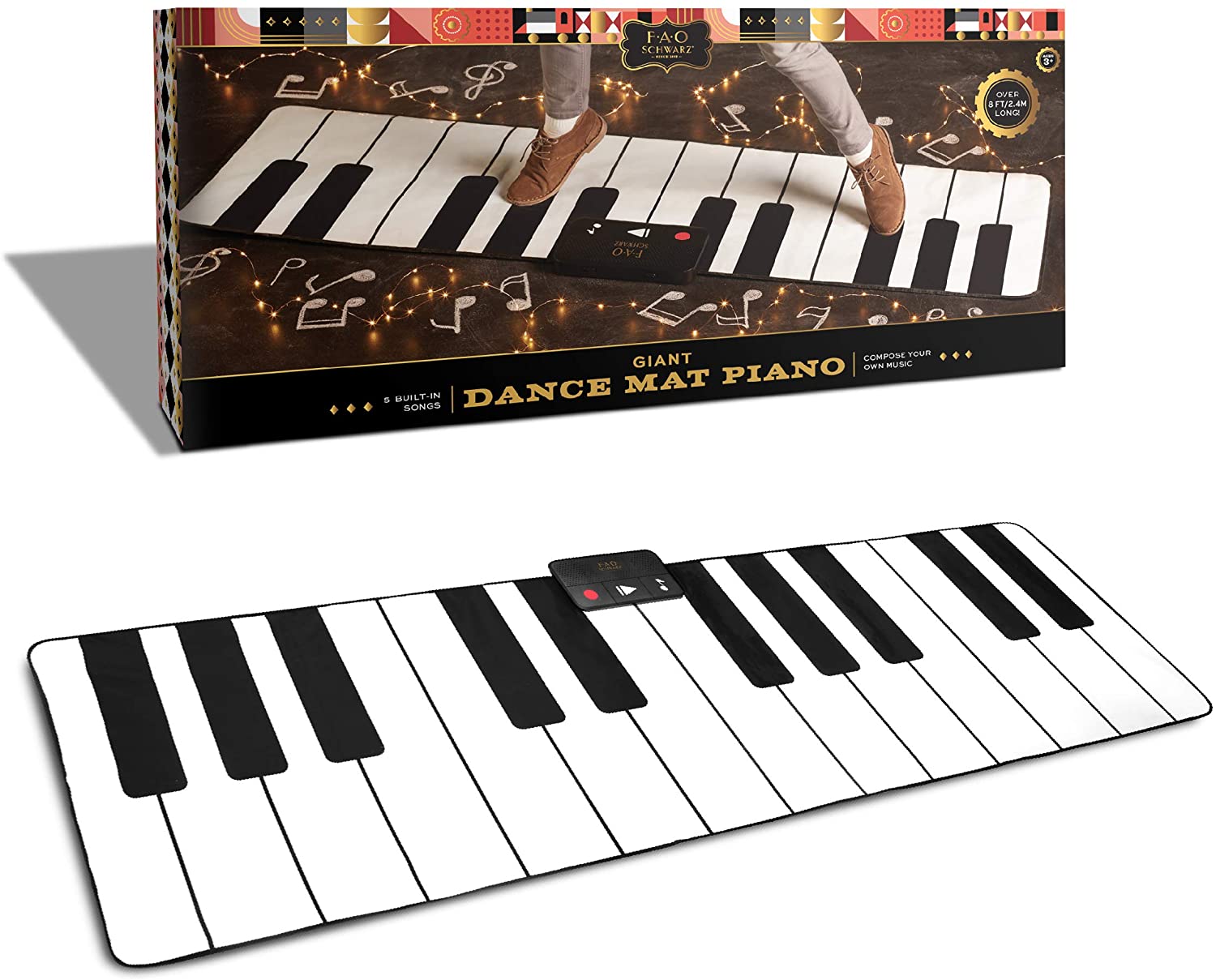 The FAO Schwarz Musical Step' N' Play Piano Dance Mat is a toy in which your kid can learn, create, record, play, and dance to their music. Kids can make their own music and tap into their creativity through music.
This piano dance mat includes five signature tunes and 38 various notes to learn so that your kid can dance well on the piano mat and create and record their musical pieces so that they can be played again.
Here are the reasons to consider the FAQ Schwarz Musical Step 'N' Play Piano Dance Mat for your bored kid:
Children will learn about the larger universe and the whole world as they power their imagination.
Children are entertained well, and it aids them in developing creative and artistic skills simultaneously.
Have been subjected to exhaustive quality evaluation and contains premium quality materials and components
For the budding musician in your family, this Step-N-Play mat is a perfect start. Secure a few other instruments and let them "start a band!"
17. Fisher-Price Laugh & Learn Smart Learning Home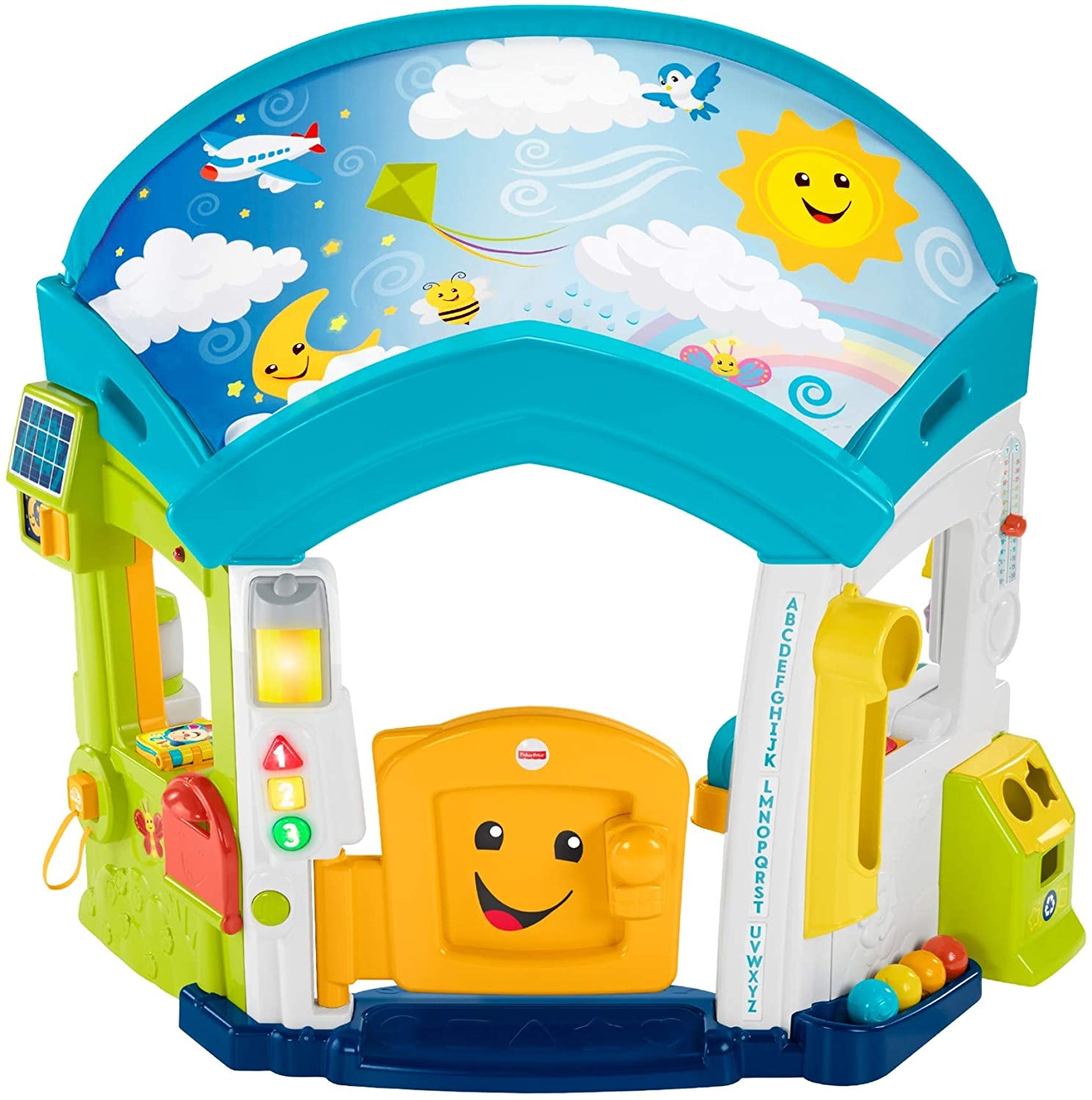 The Fisher-Price Laugh and Learn Smart Learning Home serves as an interactive playhouse that is completely updated with "high-tech" amenities, including a thermostat and an intelligent home hub.
Inside the home hub, young homeowners can press the Lights, House, Calendar, Weather, and Music button to hear entertaining phrases and songs. Your kids can also change the temperature of the "smart" thermostat and allow it to change colors to "just right," "cold," or "hot."
The exterior features of the home not only include a shape-sorting recycle bin, but also a thermometer clicker, a drop-through "rain" gutter with balls, a front door that closes and opens, light-up and doorbell "house number" buttons, a porch light, open and close mailbox, and a solar panel clicker.
The Laugh and Learn Smart Learning Home is equipped with interactive points outside and inside to help small homeowners learn while exploring.
Here are the advantages of having this smart learning hub as one of your kid's toys.
With over four languages to pick from, along with three learning levels, over 200 songs, tunes, phrases, sounds, and other interactive activities, children can ultimately do role-playing.
Children will learn and turn the tick-tock clock's hands to listen to various times of the day and learn how to count from one to twelve. They will also learn greetings and days of the week.
Children can pretend to cook in the mock-up kitchen as well using role-play pieces
Through the Smart Stages technology, you can select the learning level that is appropriate for your child (Level 1- Explore, Level 2- Encourage, Level 3- Pretend)
This toy helps your child in familiarizing with the ins and outs of their new home
Children will also learn not just imaginative songs and phrases to bring into their fun home but also learn the calendar (months of the year), check the mailbox, and check who is at the door.
This mini-home will provide hours of imaginative playtime for your little one. It's recommended for ages 6 months to 3 years old.
18. Hercules Ultra-compact DJ Party Set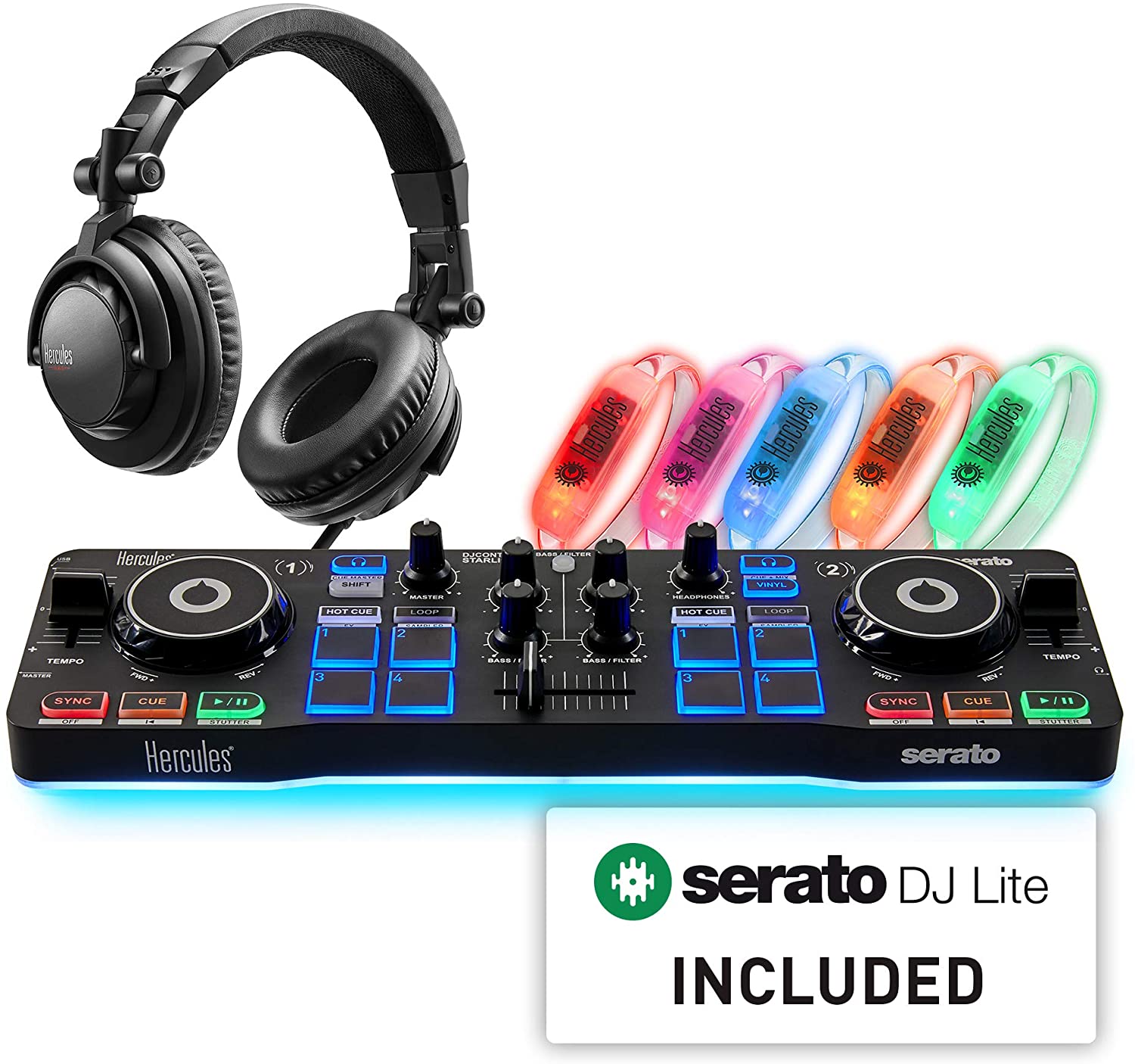 The Hercules Ultra-compact DJ Party Set is regarded as an ideal set for mixing anytime and anywhere with Serato DJ Lite (DJ software for PC/Mac included with the controller). It includes built-in audio (headphones output and master output), touch-sensitive jog wheels for menu browsing, track navigation, and scratching.
It is the ideal DJ set for growing extraordinary parties anywhere and anytime. It features Serato DJ Lite, five LED wristbands for an exceptional visual effect to pump up the vibe, HDP DJ45 headphones, and an ultra-compact DJ Control Starlight controller to boost the beat of your kid's music.
The microphone, built into the wristband, can detect vibrations and sounds that enable the lights to complement the music. The switch powers the lighting to be switched off or on and for battery power to be saved when the wristband is not used.
Here are the benefits of having this as one of the toys for your bored child:
A suitable gift for kids who love parties
It can be transported and set up conveniently; very mobile and compact
The DJ headphones help in monitoring upcoming tracks and in preparing the next tracks that your child will be playing
It has backlighting beneath the base that coincides with the music's beat
Convenient to use, the wristband can be placed around your child's wrist, and it also includes a helpful quick-attachment clip.
Transitions between tracks can be created, and sound effects were applied through bass/filter knobs. You need to press each bass or filter knob to shift between controlling the filter and the bass EQ.
Through the touch-sensitive jog wheels, you can control pausing and playback and use them for scratching the music
The ear cushions are comfortable and large; as the pivoting earpieces enable convenient transportation and are suitable for mixing.
Let's get this party started… with the Hercules Ultra-compact DJ Party Set! Order it today before the next neighborhood block party!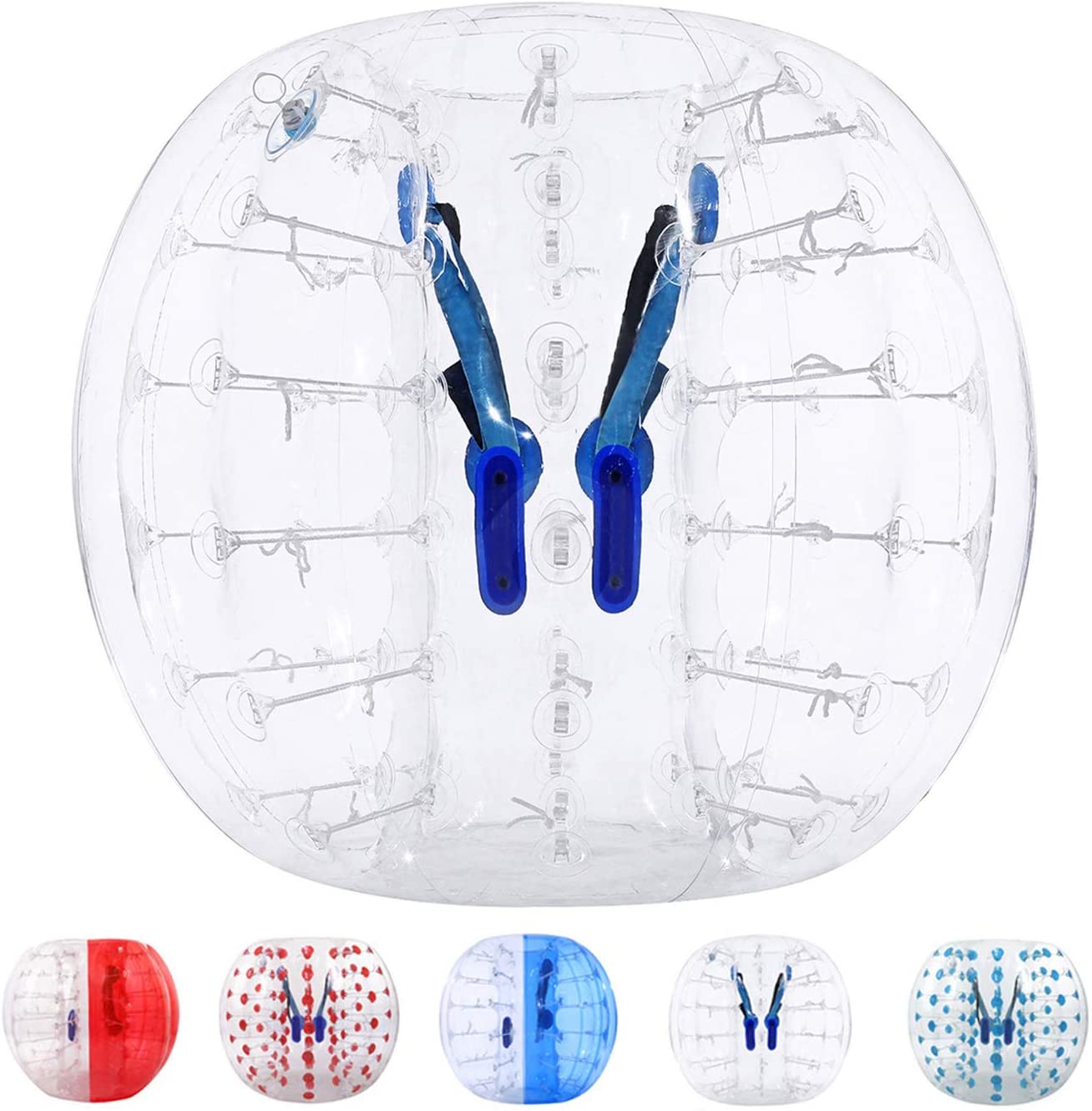 The YUEBO Bumper Bubble Soccer Balls for Kids/Adults are made from odorless, non-toxic, ultra-thick PVC. It also contains seven fasteners arranged in a row that are sealed efficiently for long-term utilization.
The bubble ball design with two adjustable shoulder straps and two handles makes it safer and sturdier for play. You can deflate or inflate the bubble balls by using an air mattress pump, compressor, and electronic air pump within a few minutes.
The YUEBO balls are ideal for children ages eight and above as well as for teenagers.
Below are the specifications of the YUEBO Bumper Bubble Soccer Balls:
| | |
| --- | --- |
| Specifications | Measurements |
| Thickness | 0.8 mm |
| Size options | 4 feet, 5 feet |
| Ideal player height | 3'9''-6'3′ |
| Ideal player weight | 60 to 250 lbs |
| Diameter | 4 feet |
Here are the advantages of purchasing the YUEBO soccer balls for your bored child:
Supreme resistance to wear and tear
The balls can support a weight of 250 lbs.
Ideally used in school events, company picnics, and birthdays
Kids will have the freedom to bump, rollover, flip, and bounce.
Excellent ductility and sealing performance
Strongly resistant to cold and heat (5.0℉- 104.0℉)
The PVC material where these balls are made is healthy, odorless, and non-toxic, making it safe to use.
So… this would be fun for the whole family… not just the kiddos. Feel free to order one for each of you. Can you imagine the fun?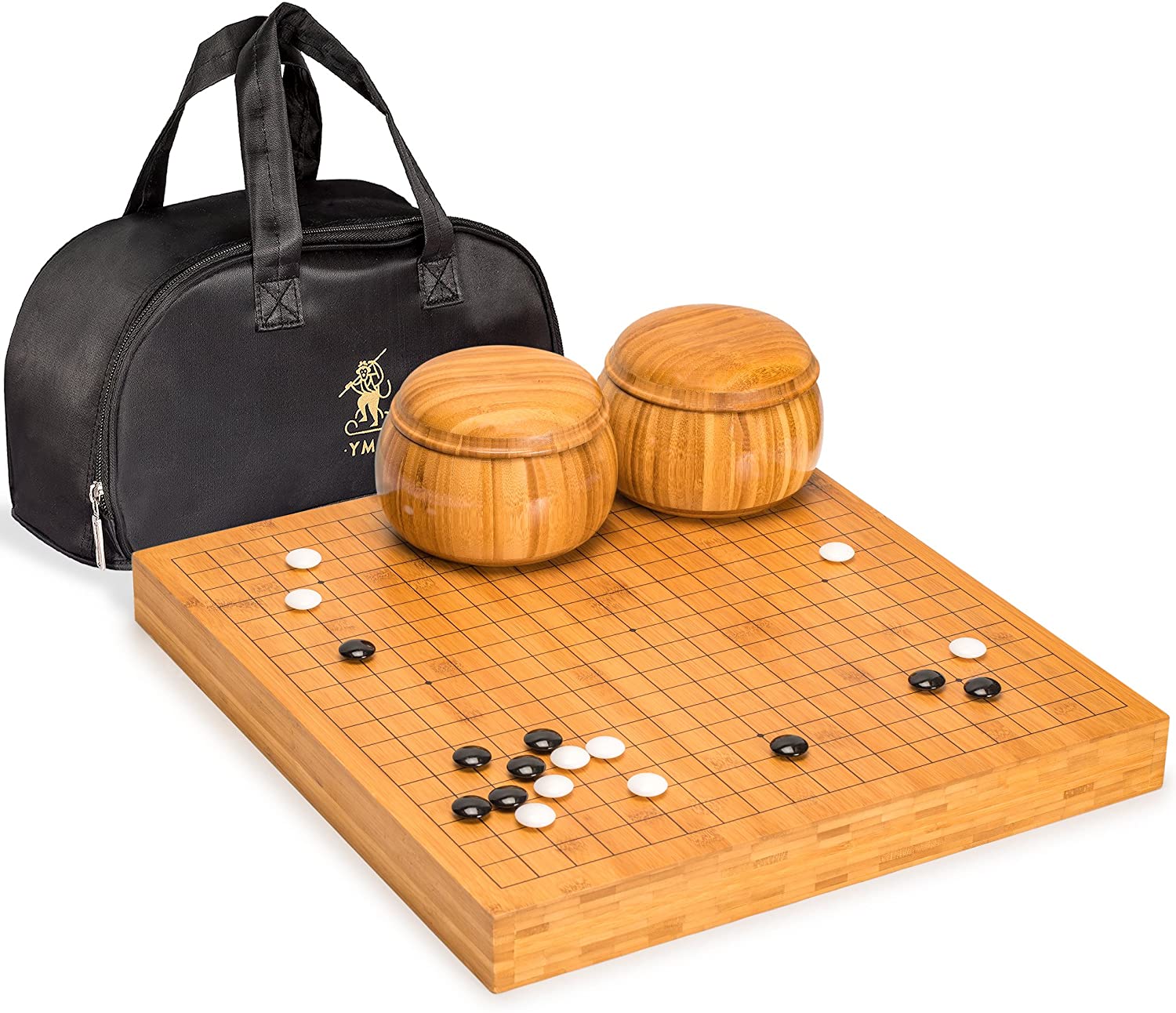 The Yellow Mountain Imports Bamboo Game Set Board is generally reversible. The bamboo board is constructed from solid strips of sturdy bamboo, which are pressed together layer after layer, and it also includes a protective felt sleeve.
The bamboo game set board also contains double convex stones from melamine, which is a premium and strong material, specifically when the stones become subjected to frequent use. The stones (composed of 180 white sizes, 33 stones, and 181 black stones) generate a relaxing feel.
It also has to complement bamboo go bowls or the "Gosu." The melamine Go stones are complemented with natural bamboo wood bowls, which can fit small stones.
Other items included are the carrying bag and securing straps for easy storage and portability for the bowls and Karl Baker's beginner classic booklet entitled, "The Way to Go," which talks about the important approaches and guidelines.
Here are the specifications of each component of the bamboo game set board:
| | |
| --- | --- |
| Item | Specifications |
| Playing field | 19×19 for standard gameplay, 13×13 on the other side for quick games and basic learning |
| Board | 18.5 x 17.4 x 2 inches (47 x 44.2 x 5 centimeters) |
| Weight of entire set | 9 kg |
| Chinese standard size grids | 22 x 23.5 mm |
| Stones | 9 x 22 millimeters (Size 33) |
| Bowls | 5.83 x 4.3 inches (approximately 14.8 x 10.9 centimeters) |
Below are some of the advantages of having this as a toy for your child who experiences boredom:
The board showcases graceful lines and high tensile strength.
It does not easily break on the inside, and it is clean and perfect in appearance on the outside. The reason why it does not easily break is due to its supreme snap and feel.
This bamboo set has been Consumer Safety Certified under associations such as the EN71-3/CE (European Union Standard), the ASTM F963 (ASTM International), and the Canadian Standards Association (CSA).
The GO Board Game is a thought-provoking game that is sure to enhance your child's strategic thinking skills while providing plenty of entertainment. Parents will enjoy the game, too!