Finding a gift for your 7-year-old boy can be challenging because there are just a lot of choices. At this age, your little boy starts to improve their locomotor skills, and his cognitive and emotional states are noticeably improving.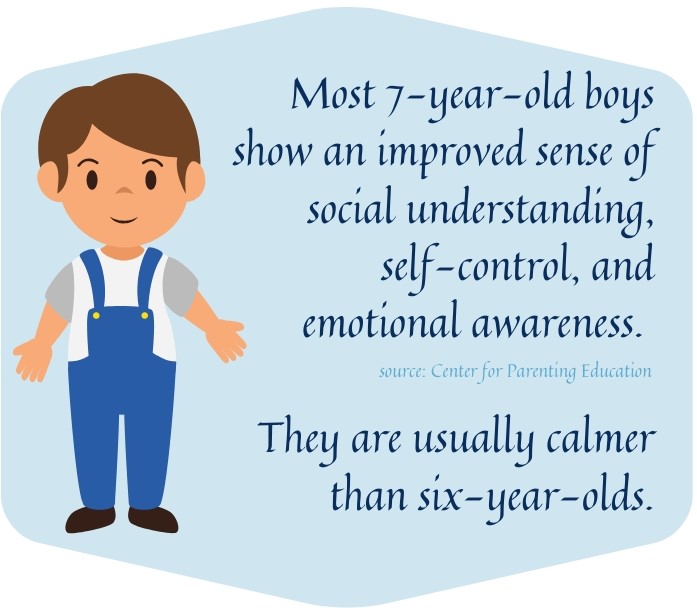 7-Year-Old Boys are active…
You might notice how they often indulge in purely physical activities like running, skipping, and jumping. Their hand-eye coordination also becomes stronger at this stage. Beyond their physical development, most 7-year-old boys have demonstrated an improved sense of social understanding, self-control, and emotional awareness. They are usually calmer than six-year-olds.
And curious…
These changes give way to avid curiosity about the things around them while strengthening their need to be independent. They no longer require your constant attention because they can be left alone with different toys. That is why you need to choose the best toys or gadgets that can support their growth and development.
Choosing the Best Presents
There are a variety of toys available for seven-year-old boys! Experts suggest that parents give toys that can help them make meaningful connections between learning and fun. Ideally, these toys should allow them to discover new hobbies and try new experiences.
It also helps if you keep in mind that their toys should not only be limited to physical play but also enhance their cognitive and creative skills. After all, they need something that will inspire their sense of curiosity, imagination, and learning. They would prefer to learn while having fun, so toys that appeal to their senses, contribute to creative play, and make them improvise are the best gifts that you can give.
Here are our best picks!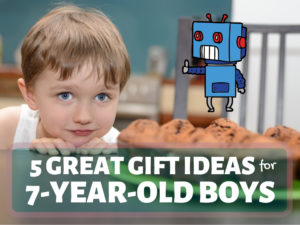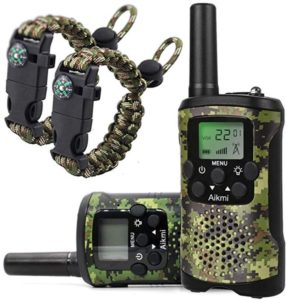 There is nothing more fun for active little boys than the prospect of an adventure. And if this adventure involves camping and survival role plays, then this Walkie Talkies for Kids by Aikmi is the perfect gift.
Fuel their sense of fun and adventure by giving them this incredible toy set. They will get camo walkie talkies featuring 22 channels and a 3-mile range. This will allow them to choose a private communication channel and keep little secrets with their friends.
Designed to fit the hands of children, these palm-sized and lightweight walkie talkies also have excellent, adjustable volume and long battery life. Also included in the toy set are waterproof and durable survival bracelets equipped with a compass, SOS whistle, and adjustable strap. Your kids will be well-prepared for one unforgettable outdoor adventure. They can even bring this with them when you go on camping or visit a nature park.
This toy set comes with a 100% satisfaction guarantee. You can also rest assured that it is perfectly safe for your child, although it is highly advisable that you still keep your eye on them while they are playing their little adventure.
Amazon has this Walkie Talkie Set with a 4.4/5 Star Rating!
2. Boy's Sports Waterproof Led Watch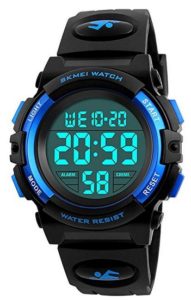 Being able to tell the time is a great skill that every child must know as early as possible. Your seven-year-old boy would love the idea of a multi-functional kids' digital watch from Dodosky.
This Boy's Sports Waterproof Led Watch makes an impressive gift for your child for any occasion. It is both fashionable and practical. This digital watch is equipped with a led backlight, alarm, chronograph, and stopwatch timer, making it suitable for any indoor or outdoor sports use. It is made from high-quality materials, including its watch strap that bends freely and is environmentally friendly.
Even better, this watch is also water-resistant. Whether your little boy indulges in a variety of water activity, from swimming and surfing to showering and hand washing, this gift will withstand it all.
Suitable for 7-year-olds and above, this digital watch can also hone your child's ability to tell the time, which comes in handy when teaching them discipline and time management. They will have loads of fun while learning how to read time using their very own watch.
It's important for a 7-year-old's watch to be waterproof and this one has a great 4.5/5 Star Rating from Amazon purchasers!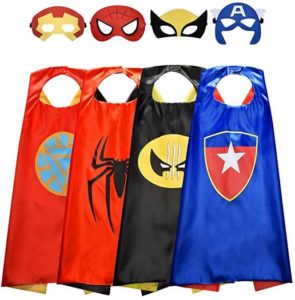 What kid will say no to dressing up as their favorite superhero? These Super Hero Cape Costumes from Roko are the perfect set of gifts that you can give to your 7-year-old boy. Excitedly, the superhero in him will wear the mask and the cape and get ready to save the day!
The satin capes, made from quality and kid-friendly materials, are in vibrant colors that can easily appeal to their senses. The mask is made of premium felt. It is easily adjusted to fit their heads with its flexible strap, allowing kids to wear it comfortably for long periods.
With your supervision, these ready-made costumes are perfectly safe for your child. They can enjoy lots of outdoor fun pretending to fly through the air, fight the bad guys, and save those in need. This type of play enhances their creative skills and stimulates their imagination.
No need to worry about your seven-year-old spending too much time playing video games; this fascinating superhero cape costume will change all that! Your little boy would want to dress up and role-play. You can even use these costumes for birthdays, trick or treat, and other special occasions.
Dress-up has stepped up a few levels since I was a kid! This set of FOUR superhero capes has high ratings on Amazon!
4. STEM Learning Model Toy Set for Kids
STEM learning is essential. Start your boys young by gifting them the Zingywise STEM Learning Model Toy Set for Kids. This do-it-yourself kit is suitable for 7-year-olds as long as adult supervision is provided while they build all 171 pieces.
They call it seven times the fun because the pieces can be used to build seven different vehicles. It includes a car, helicopter, truck, and many others. Equipped with an instruction manual, screwdriver, and oversized screws, you can sit down with your little boy and help him assemble the pieces into the vehicle of his choice. Once built, the toy can be disassembled for him to try out other models.
Since this one requires manual work, it is the perfect toy to get your child away from the screen. They will be using their motor skills, imagination, and logical thinking in the process.
Made from non-toxic materials, this toy set is safe for your little boy's use. There are also no sharp edges and corners that can cause injury. However, an adult's guidance is highly recommended to ensure your child is safe in using the tools for building the vehicle pieces. With you around, you can bond and have fun with your kid, too!
This STEM Toy Set allows your child to build, break down and build a totally different vehicle… 7 times!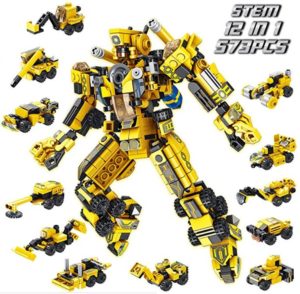 Little boys are naturally drawn to robots and building blocks. The Robot STEM Toy Engineering Building Blocks from PANLOS combines the two.
Creating up to 25 car and robot designs, this toy set is designed to enhance your child's STEM skills as they build, undo, and rebuild the pieces. Building the bricks can hone their logical thinking and organization skills.
This toy also encourages your seven-year-old's natural curiosity and creativity as he experiments and builds with the help of a manual. You can take his attention away from gadgets and give them a fun way to learn instead. To make it more worthwhile, you can join your child in building the pieces and strengthen your bond with each other.
The toys are made from premium quality materials that are safe for your little boy. They are also easy to wash and clean.
This set will keep them intrigued with so many different designs to create!
BEFORE YOU GO!
FIRE 7 KID'S EDITION Tablet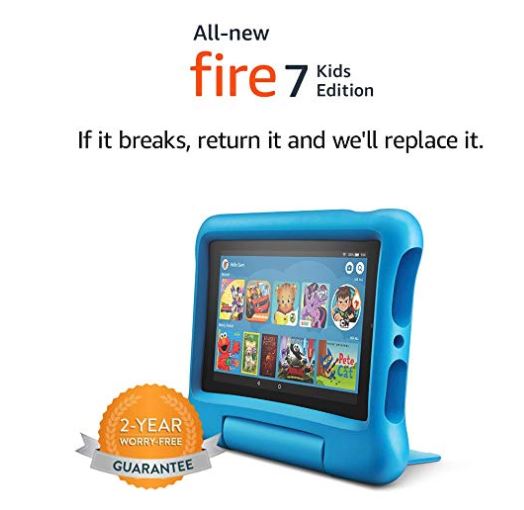 Are you looking for a great gift idea for a 7-year-old boy? Tablets make a wonderful and impressive gift surprise for the birthday boy or any other special occasion. And parents… you can be confident about your young one's use of this tablet with its impressive parental controls. With a 7″ display and 16GB of internal storage, they will love it. This functional device and many others are featured on the "Fire 7 Kid's Edition Tablet" link above. Check them out!
recommended for younger and older boys