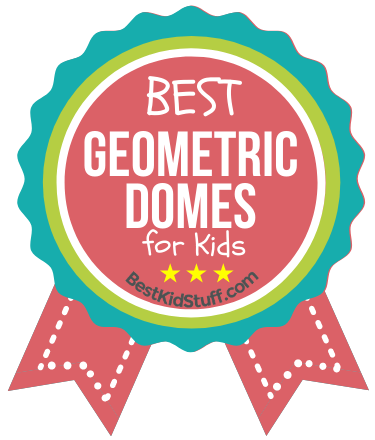 Let's have some fun…
Play is a crucial part of a child's development. It is during this time that they get to explore their creativity, develop their imagination, and build their dexterity. It's also a period where they get to learn more about their body's abilities when they stretch, run, jump, kick, and climb.
Children who are allowed to exhaust and explore their world will develop skills that can benefit them throughout their adult lives.
Playing outside in the fresh air is the best…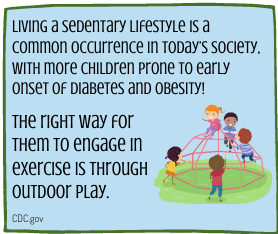 Outdoor play enables kids to develop their cognitive and physical functions. Living a sedentary lifestyle is a common occurrence in today's society, with more children prone to early onset of diabetes and obesity. The right way for them to engage in exercise is through outdoor play.
No longer just for public playgrounds anymore, you can buy Geo Domes for your backyard…
Geo domes are one of those outdoor structures that are easily accessible and entertaining for young kids. Climbing and gripping are some of the essential motor skills they needed to build to gain strength and flexibility. Some domes may come with a canopy, so it quickly turns this into an outdoor tent too.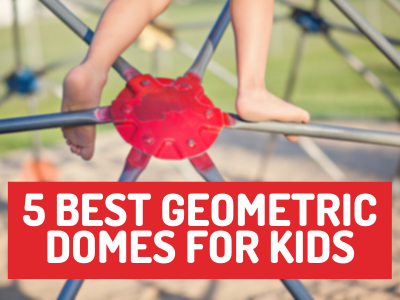 1. Zupapa Geometric Capability Suitable Frame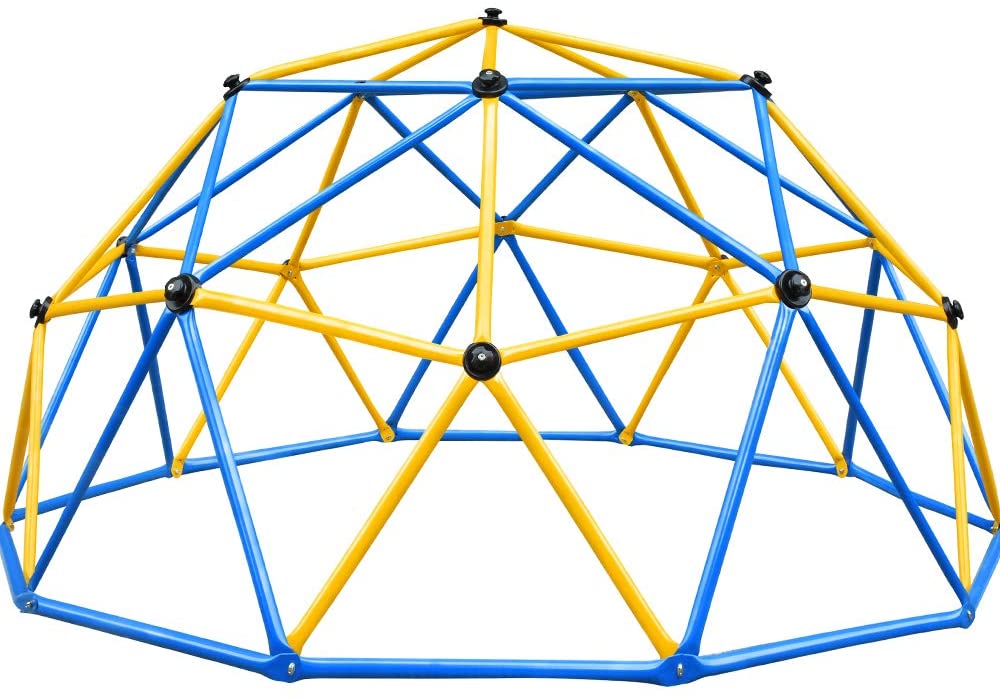 The Zupapa Geometric Capability Suitable Frame is your floor to ceiling standalone jungle gym.
Kids love to play. And what better way to play outside! This product by Zupapa is your outdoor play structure to get your kids loving the outdoor life.
Fit for children ten years old, this jungle climbing dome can accommodate up to 10 kids in one sitting. Compared with other play domes in the market, this product is made of thicker steel pipes that weigh around 750 lbs.
The steel bars of this climbing tower are just the right thickness to allow easy gripping and climbing. Kids won't have to worry about the steel breaking off easily since it's made of high-density polyethylene. For large lawns and backyards, this jungle dome is durable to withstand constant wear and tear with its rust-free and galvanized steels.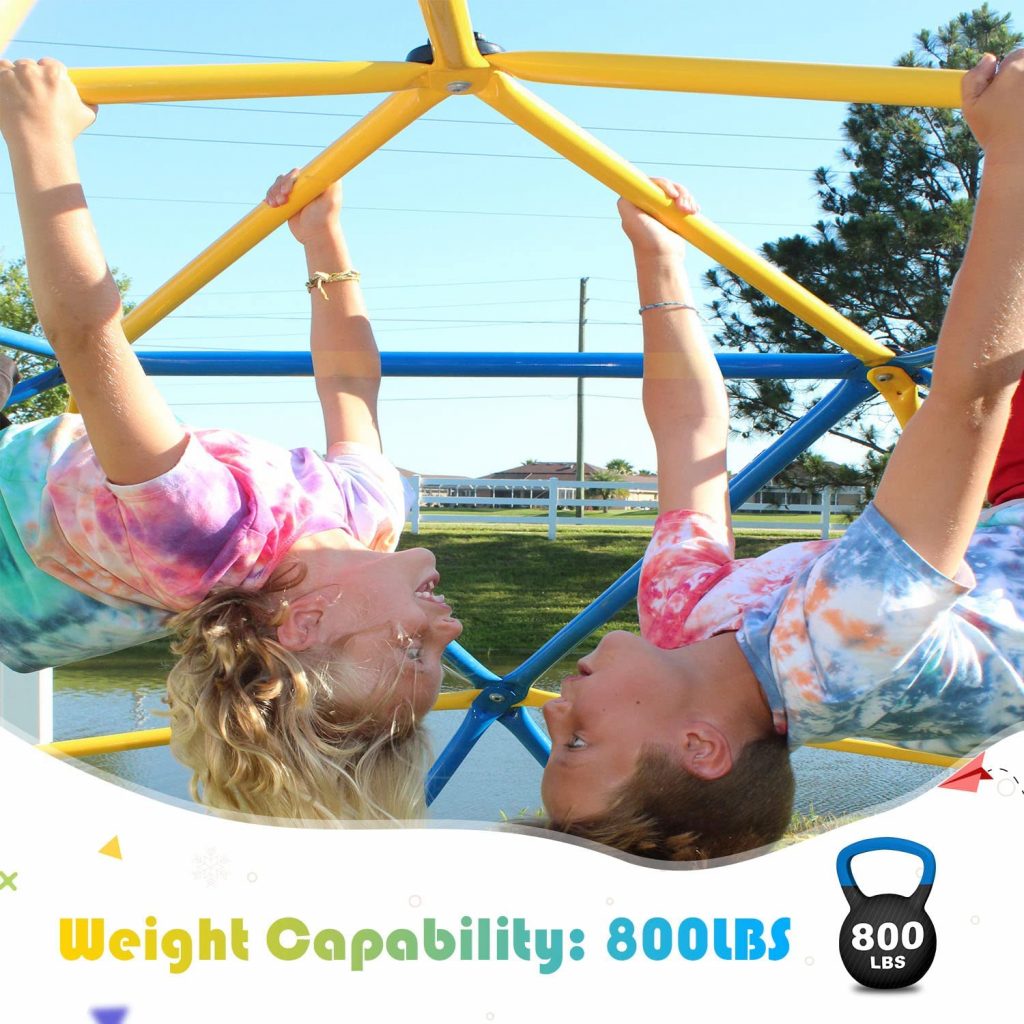 Using longer screws and more nuts, this play dome doesn't require many tools to assemble. Furthermore, its design adds more stability to the structure to make climbing safer for children.
It's an ideal tool to develop social bonds with peers.
Kids need to have adequate social exposure at a young age. Playing in this geometric climbing dome fosters social bonds with their friends, brothers or sisters, and even the guest's kids invited for a Sunday barbecue!
Aside from making this as an interactive social hub for kids, this play dome can help develop their muscles. Encouraging your kids through outdoor activities such as sports, playing tag, or climbing play domes could help develop their gross motor skills at a young age. Strengthening muscles through climbing increases their body's flexibility to achieve full range of motion.
This play dome keeps them from boredom and living a sedentary lifestyle. It's an excellent distraction to bring your kids outdoors for some fun under the sun!
Here's the cool part! You can also add a Zupapa Canopy to create an exclusive outdoor space. It's waterproof, so kids can stay inside the dome to play even when it's raining! For hot summer days, you can turn this into a modified tent so kids can take shade from the scorching weather while enjoying the outdoors.
Get them off the couch and onto the Zupapa Geometric Play Dome today! Check it out on Amazon.com!
2. Easy Outdoor Space Dome Climber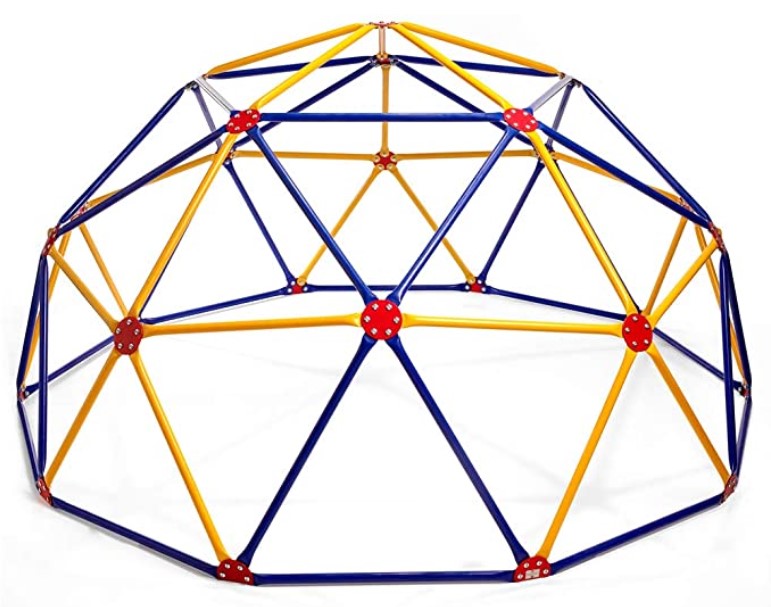 Can't seem to find the right size for an outdoor play jungle? Bring vitamin 'nature' to them with this Easy Outdoor Space Dome Climber.
It's made of high-quality steel that is rust-free and UV resistant to withstand daily weather conditions. This outdoor space dome by EASY DOOR is intended for smaller backyards, so kids can still enjoy playing outside with their friends or brother and sisters. The colorful combination of dark blue, yellow, and pink makes this an attractive piece in your backyard sure to draw them outside!
Suitable for children ages 3 to 9, this sturdy space dome can accommodate up to 1000 lbs. or five kids at once! It's a fun way to get kids to come together and have fun during Sunday cookouts!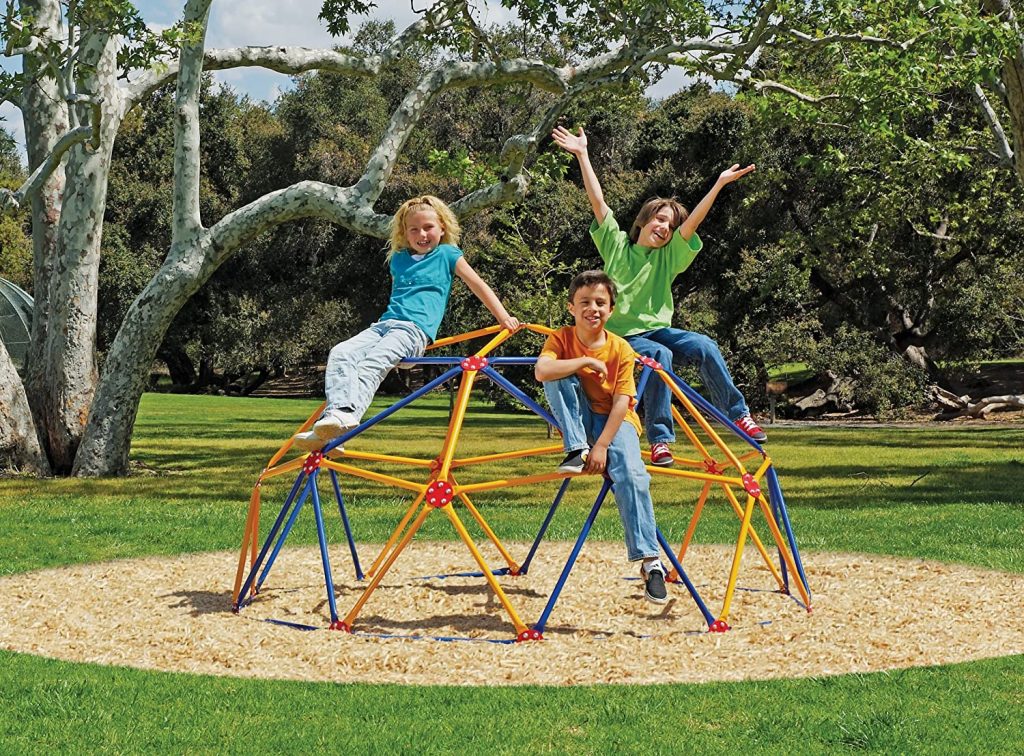 Rest assured that your children are safe from accidental steel slippage as durable underside bolt covers hold these. Moreover, these steel frames don't contain any lead-based materials that could be potentially dangerous when it lingers on the skin for prolonged periods. Its steel frame also has a powder-coated finish to maintain its durability.
It's easy to assemble!
The whole space climbing dome will not require any extensive use of tools. It doesn't require any bolts to keep it firmly on the ground. Need to move it? With two to three people, it can be lifted to a different place on your lawn.
No shade nearby? No worries! This space dome can be placed directly under the sun without it being too hot to touch. However, it's best to supervise your kids when playing after the rain or snow as the steel bars could get slippery.
This excellent outdoor equipment for kids provides some fun for guests who would be coming in for a birthday party or an after practice gathering with fellow moms. Get creative and organize a game where they could compete by playing in the space dome in groups.
If you're looking for a creative distraction to get your kids to cut down on screen time, this space dome could just be the right outdoor equipment!
3. Lifetime Geometric Dome Climber Play Center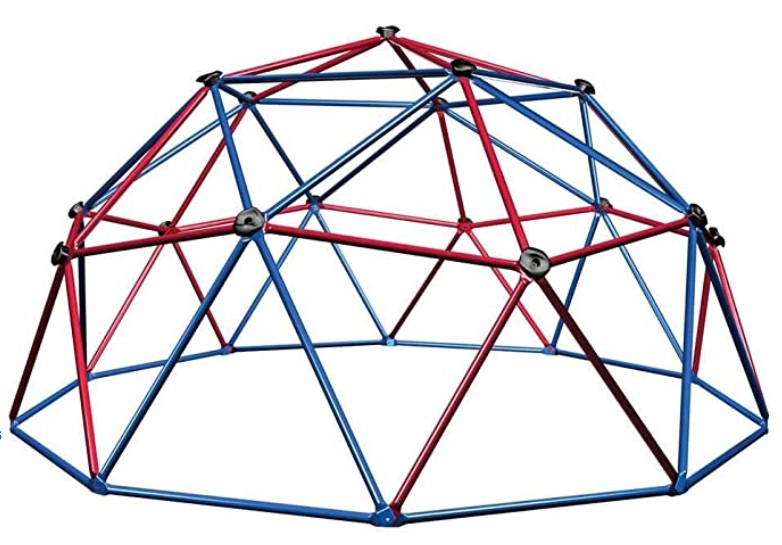 Get creative and find the excitement outdoors with the Lifetime Geometric Dome Climber Play Center!
For kids ages 3 to 10 years old, this fantastic outdoor climbing dome equipment is fit for medium to large-sized lawns and backyards. As part of Lifetime's line-up of playground products, every exploration is an opportunity for exciting adventures to begin!
This geometric dome is designed with safety and durability in mind.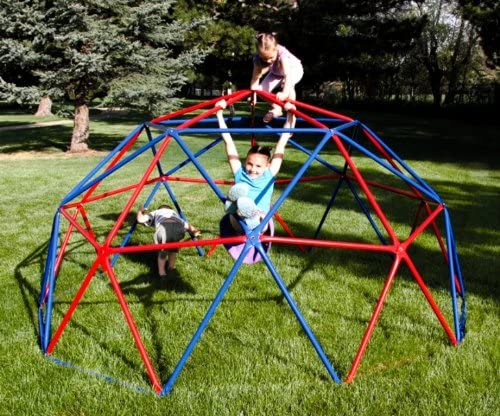 The dome bars are made of high-density polyethylene material that holds to the ground and adds support as kids grip, swing and climb the bars without catching any scratches or bruises.
Outdoor equipment is subjected to daily exposure from heat and cold. Each bar is made of UV-resistant material to withstand daily usage and weather exposure. Rest assured that the color and quality of the dome won't easily chip or destroy. It's an affordable play structure that won't require constant maintenance!
You only need a few tools to set this geometric climbing dome up. It can hold onto the ground without having to add any bolts or holds to keep it sturdy on the ground. It would be best to set this play dome on a flat and even surface under a shaded area in your backyard.
It's an ideal piece of equipment to get your kids to exercise and play outdoors during downtimes. For parents, you can take make this a part of your creative activities to get the whole family involved. After all, the best times are always spent with family!
Are you new in the neighborhood? You can invite parents over and have them bring their kids with them. You can organize games using this play dome to get your kids to interact, play, and have fun!
4. Eezy Peezy Monkey Bars Climbing Tower
The fun doesn't have to be limited with the Eezy Peezy Monkey Bar Climbing Tower. This dome climber is the best companion to get them excited to play outdoors. This product from Eezy Peezy is intended for kids below eight years old.
This dome is made with high-quality plastic dome bars to ensure that your children enjoy this play structure for a long time. Painted in green and blue, this is a stand-out structure you can place in your backyard. It can hold kids weighing up to 150 pounds at a time, so there's room for their friends to come along and play!
To ensure safety, the dome bars are just the right size for gripping and climbing.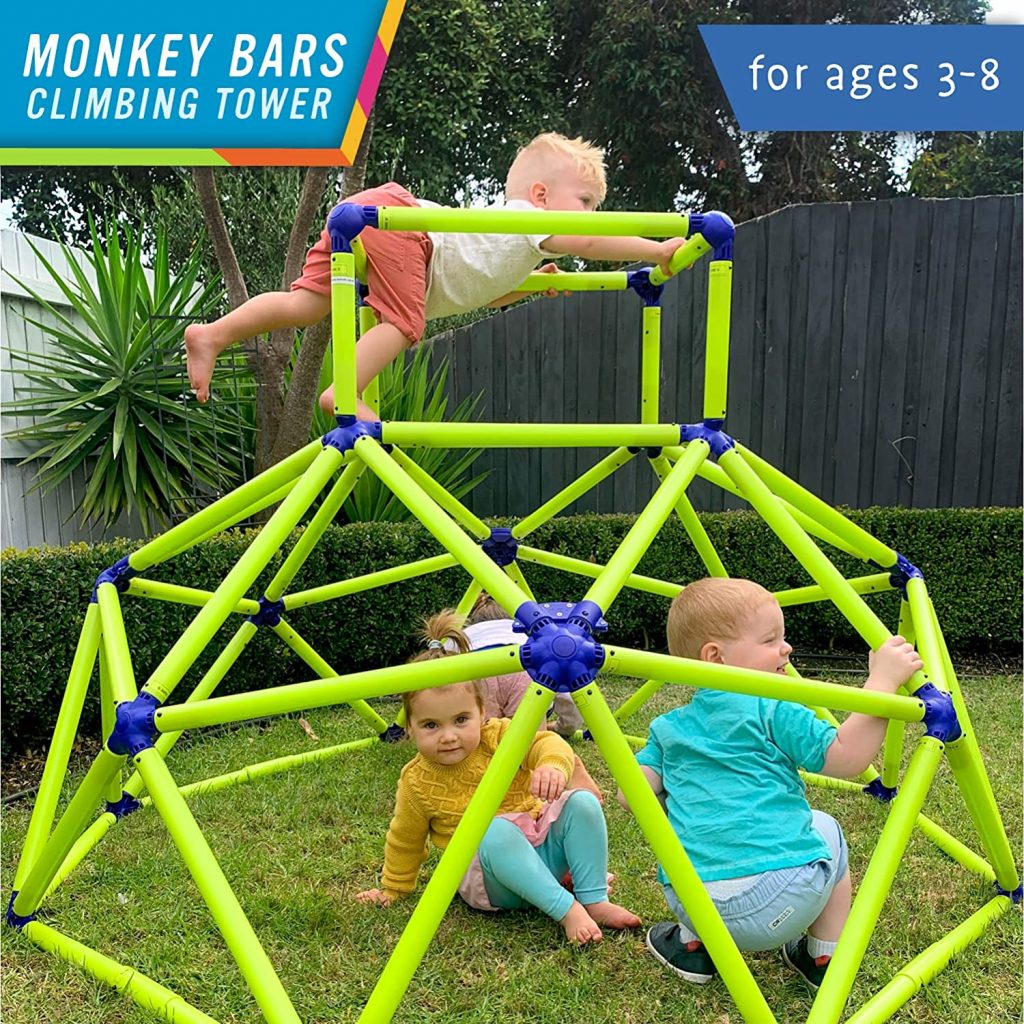 For smaller backyards, this would be a great addition to your kid's entertainment! Weighing in at only 25 pounds, it is easily moveable to different areas of the yard or to bring inside if you have the room! It is easy to assemble and won't require complicated tools. You will need at least two to three people to set the dome in place.
Enjoy the weekends with other parents when you invite them over for some burgers! It's a great medium to allow your kids to interact with other kids. You can incorporate this into your games if you're organizing a birthday party. And even if you don't have a game set in mind, you and other parents can sit back and relax while you watch them have fun!
It will give them more reasons to play outdoors with their siblings and friends. This could be their next favorite hangout!
5. ActivPlay Geo Dome Climber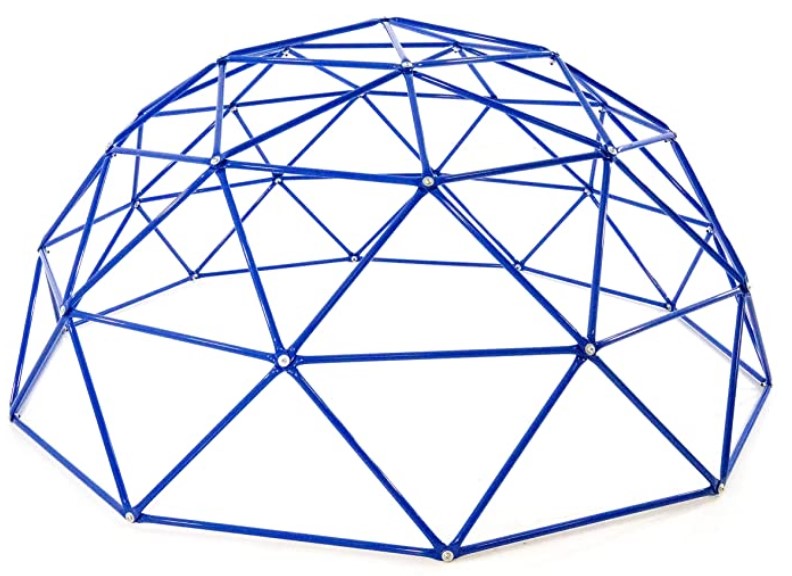 No playgrounds near you? The ActivPlay Geo Dome Climber is your solution to bringing fun close to home!
This ActivPlay geo climbing dome makes for an ideal play structure for small to medium-sized backyards. For kids 5 to 10 years old, this structure can accommodate up to 5 people at a time.
Passing the American Safety and Testing Materials (ASTM), each pipe is sturdy for gripping and climbing. Safety bolts are in place as kids swing from one spot to another with ease. It's also weather-resistant and can endure prolonged exposure to heat, rain, and snow.
Assembling this dome is easy and will require only a few minutes to set-up. While its weight is enough to keep it stable on the ground, anchors for mounting (sold separately) provide additional support.
Need to move the dome? Two to three people can easily lift this!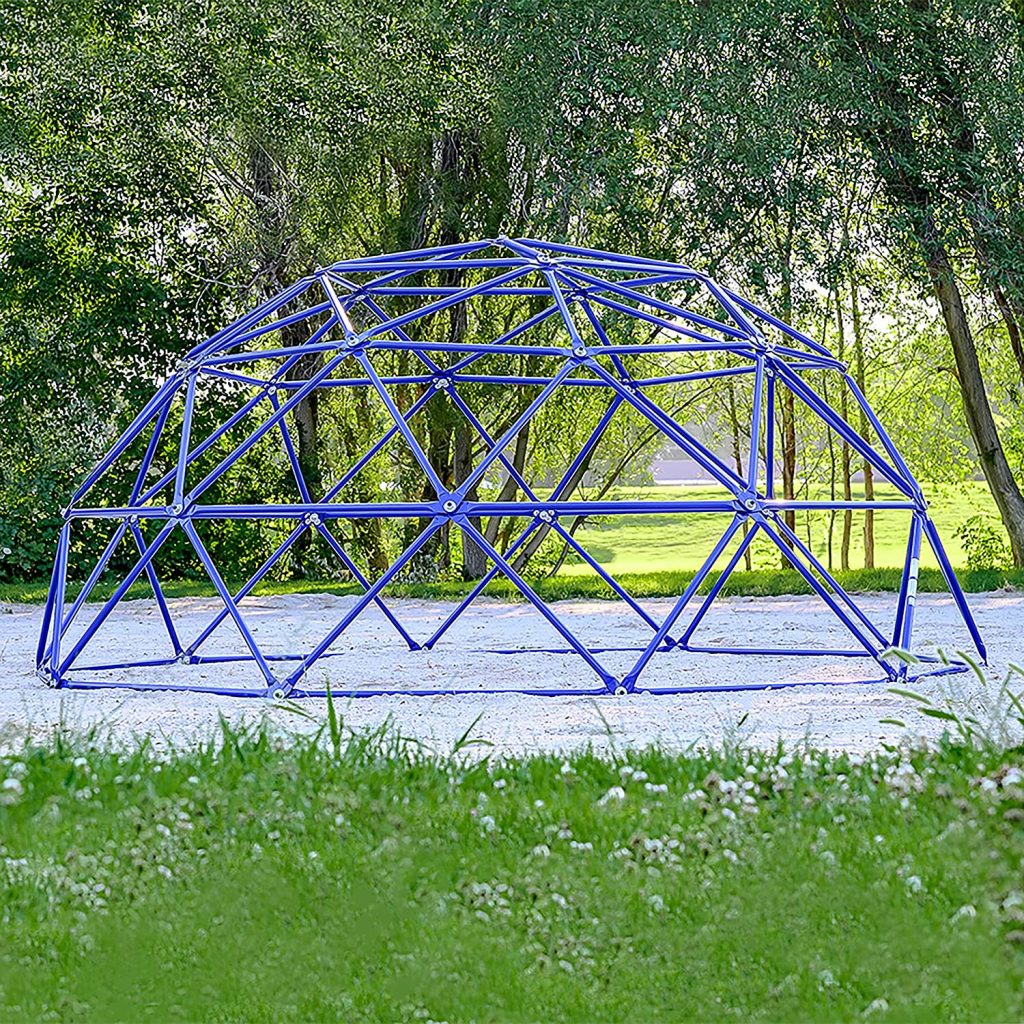 Make this their exclusive hideout. Whether it's for a tea party or playing tag, this play dome is a multi-purpose structure. You can purchase a canopy to turn this dome into an outdoor tent where you and your kids can gather for a fun night outside.
Need a good distraction from their devices? Schedule downtimes for some outdoor fun where they can climb or play games.
If you have guests coming over for your child's birthday party, this play structure will keep your kids distracted and entertained. Adults can sit and relax while kids roam around the yard and have fun socializing with other children.
For an affordable price, this climbing dome provides an avenue for fun and entertainment outdoors. Let this geometric dome redefine outdoor fun for the kids and the whole family!
---
Things To Consider
Are outdoor climbing domes good for kids?
Of course! Kids develop strong muscles by climbing on playground equipment! Climbing also helps to develop hand eye coordination. Underneath the climbing dome, children can use the bars as monkey bars and hang out!
How long does it take to assemble a climbing geometric dome?
The set up of any climbing dome is generally easy to assemble. You don't need many tools to put it together and but it could take some patience.
How about some more fun ideas to keep the kids active?