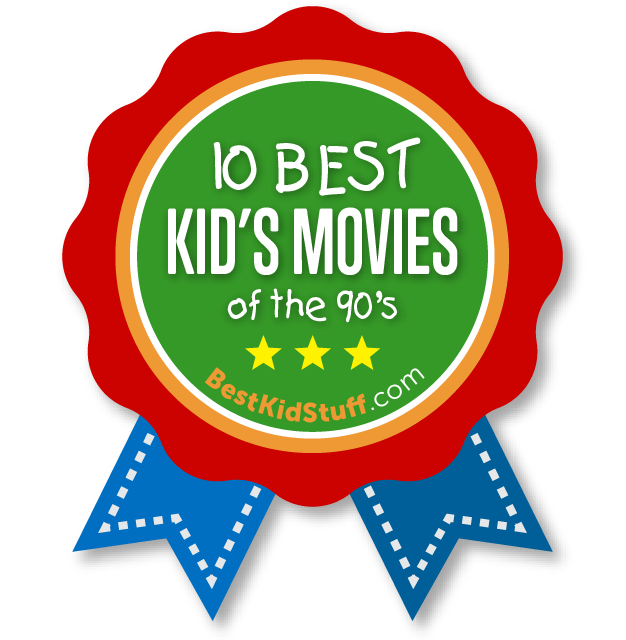 Ah the 90s. We love to look back at this decade. And why? In many respects the 90s reflect a simpler time in American history. We weren't distracted by war or political drama. The economy was in great shape and it seemed that every one was more or less, content. Films made during this decade certainly reflected the general consensus that "life is good." Not only that, but the 90s was an incredible decade for children's' films.
Disney was experiencing its famous "Disney Renaissance" period, technology was evolving to equip film makers with more interesting special effects and sound design. Not to mention, great actors took roles in kid's movies. Some of our top films feature the talents of Maggie Smith, Dustin Hoffman, Tom Hanks, Laura Dern, James Cromwell and more. Child actors were expected to deliver excellent performances, and all-in-all, film making was about executing a vision and pushing the boundaries. It seems the 90s were the salad days for kids films too.
Also see: Best Kids Movies of the 80's
When ranking the best kids films from the 90s we looked for films that were not only great stories, but films that broke new ground, touched on some harder topics, used incredible wit, and had a fantastic cast. While ranking the "best" films is always a bit of a personal choice, we put a few hundred of the most popular kid's movies of the 90's through the following methodology in an effort to determine the "best" kid's movies of the 1990's:
Reception (1/3): equally-weighted metric composed of average viewer and critic scores for each film on IMDB.
Popularity (1/3): a look at the total box office sales for the film, with dollar amounts adjusted to 1990 values.
Availability Today (1/3): whether the film was available included in a popular streaming service, as a pay-per view option, on a disc for purchase, or not readily available.
1. Toy Story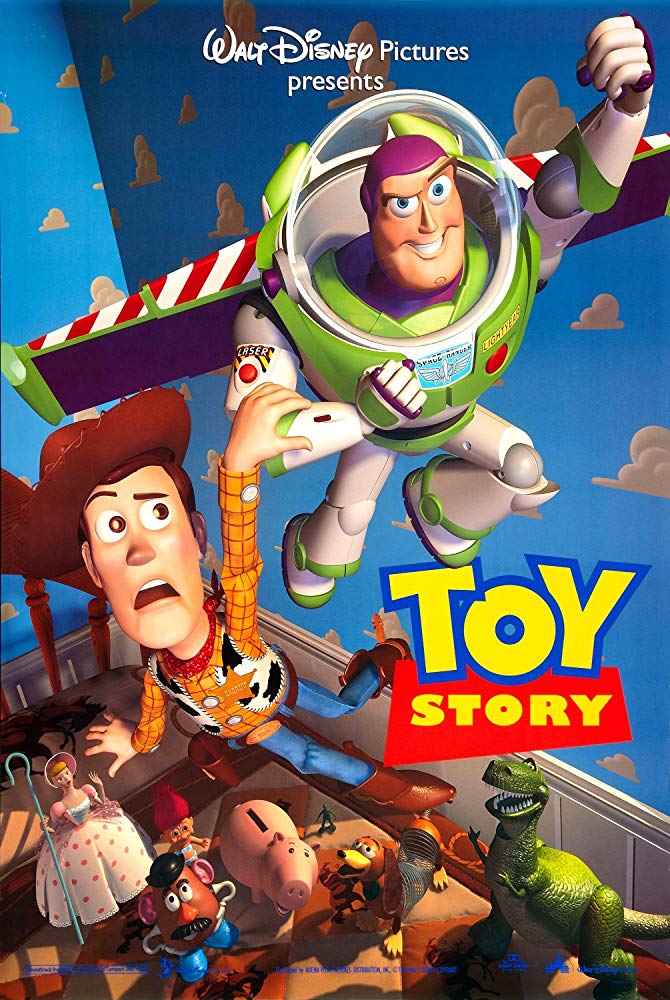 Toy Story was the first computer-animated feature-length film with an almost unbelievable backstory. The film premiered in 1995 and was produced by both Walt Disney Pictures and Pixar Animation Studios- it's production was nothing short of a miracle, and in 2005, (just 10 years after its release) Toy Story was selected to the National Film Registry. Enthusiastic and underpaid animators are mainly to thank for the production of this incredible computer animated feature.
To make the animation seem more "natural" and "real" animators paid close attention to the important details of every room and location. The leaves had chew marks and the door frames had scuffs. This film shines because of its broad ideas and tiny animation details. The soundtrack is world famous featuring music by Randy Newman including the head bopping theme song, "You've Got a Friend in Me."
The theme song was nominated for an Academy Award as well as a Golden Globe and has since become synonymous with the entire Toy Story franchise. Additionally, Toy Story features an All-Star cast with Tom Hanks and Tim Allen gallantly at the helm. The rest, as they say, is history.
The plot is suitable for children and adults and tells the story of toys and their need for human love and adoration. When Andy's birthday party rolls around a shiny new toy called Buzz Lightyear threatens to take over Andy's beloved favorite toy Woody, a rootin tootin cowboy. Will this shiny new space ranger replace the nostalgic pull-string cowboy and overtake as Andy's most beloved toy? This odd couple comedy is rounded off with a fantastic supportive cast featuring character actors like Wallace Shaw and Don Rickles.
The film touches on timeless themes like the loss of nostalgia, changing times, and coming of age. Though a 90s movie, Toy Story is curiously ageless and even now nearly 25 years after its release. With the influx of smartphones and tablets, the theme of the original Toy Story is still relevant today a theme that will likely continue on "to infinity and beyond."
Pros
Groundbreaking
All-Star Cast
Very Clever
Amazing Animation
Exceptional Music
Great Story
Timeless
Cons
We are struggling to think of one…
Reception Score: 98/100
Popularity Score: 95/100
Availability Today Score: 90/100
Overall Score: 99.3/100
---
2. Jurassic Park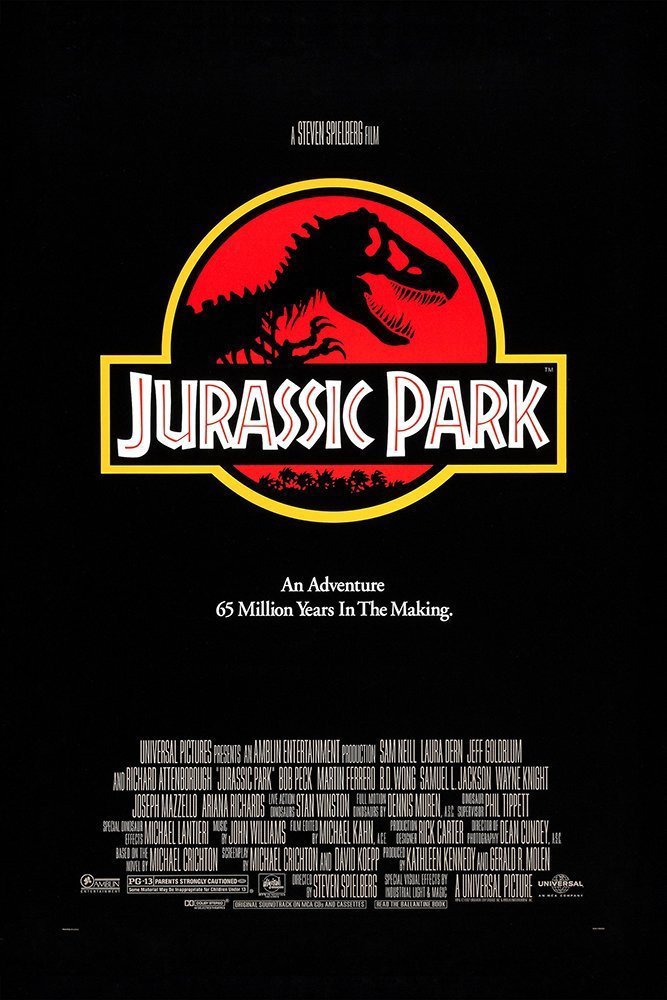 "Welcome to Jurassic Park!" Industrial Light and Magic (ILM) created the computer-animated dinosaurs- imagery that was considered groundbreaking for the time. The film won three academy awards for visual effects, sound editing, and sound mixing. The sounds including the soundtrack are what perhaps bring this film to life. The rumbling sounds of the footprint of the T-Rex and the majestic trumpeting of John Williams' classic musical score, ensure that kids and adults are swept away on a tantalizing adventure.
Of course, Steven Spielberg works his magic connecting kids and adults to the thrilling story. The cast is all-star with unforgettable characters including Jeff Goldblum as the quirky and someone untrustworthy skeptical chaotician, Laura Dern as the strong and hard-headed paleobotanist who is seemingly up for any type of adventure and capable of adapting to almost any challenge, and Wayne Night as Dennis Nedry the now cliche techie hacker who has a lot to learn about the outside world. The kids (complete opposite characters from the book) are key to the plot as their journey almost mirrors the journey of the dinosaurs- finding their way when given the freedom to take on and rise to some unexpected challenges.
Jurassic Park is Steven Spielberg's take on a classic Michael Criton novel where dinosaurs are brought back to life but forced to live a life of confinement in a theme park or zoo-like setting. "Life finds a way" is the overarching theme of this thrilling dinosaur movie that was released in 1993. The whims of a billionaire and a few overly curious and greedy scientists get rather "out of hand" when the "fail-proof" technology fails and dinosaurs start behaving like dinosaurs and not museum exhibits.
Spielberg does an excellent job pairing some of the more terrifying moments with some ironic components. Lawyers for lunch, anyone? Taming prehistoric beasts becomes as fool hearty as taming the imaginations of children- a theme Spielberg loves to touch on in his films! In the end, only the bravest and truest prevail when the theories of chaos become a reality in this tantalizing 90s classic family film.
Pros
Exciting
Fun for All Ages
Incredible New Visual Technological Advancements for the Time
Who Doesn't Love Dinosaurs?
Cons
A few of the scenes are a touch gruesome
Could be a bit scary for younger children
Reception Score: 87/100
Popularity Score: 76/100
Availability Today Score: 99/100
Overall Score: 92.3/100
---
3. The Lion King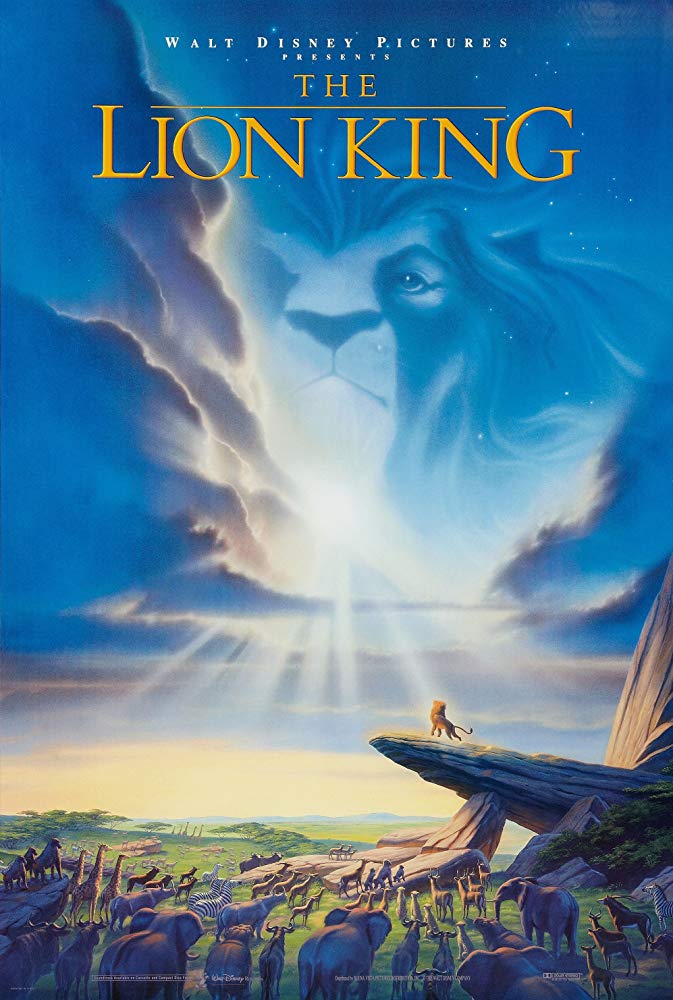 The Lion King is a beloved Disney animated musical that was released in 1994. The film was accepted with great acclaim right in the middle of what is referred to as Disney's Renaissance period. Like with many of the best kids movies from the 90s the Lion King was not anticipated as a great success. Even though the plot is based on Shakespeare's Hamlet, many of Disney's core animators did not get involved in the making of the film stating that it "wasn't a very good story."
Regardless of the individual's doubts, Disney pulled out all of the stops to create this incredible film which now has its place among other greats in the National Film Registry. Live African animals were observed to give the animators inspiration. At the end over 600 animators contributed to the production of the Lion King. But animation was not the only key component that brought this film to life. The characters and music were absolutely key. Another star-filled cast including Jeremy Irons as Scar, James Earl Jones as Mufasa, and Nathan Lane as Timon Make the animated characters come to life. A musical wouldn't be successful without incredible music and once again Disney pulls through with talented musicians and songwriters Hans Zimmer, Elton John, and Tim Rice.
The Unforgettable songs "I Just Can't Wait to Be King" "Can You Feel the Love Tonight" and "Hakuna Matata" will eventually become certified diamond going ten times platinum the only animated film to do so. Not only that but Zimmer's original Score and Elton John's son "Can You Feel the Love Tonight" would go on to win the Academy Award.
Like in Shakespeare's Hamlet, young Simba is destined to become King but his destiny is overshadowed by a wicked uncle- Scar. Upon witnessing the death of his father and making a pact with a pack of devilish hyenas, Simba leaves his pride behind and beings a new life as an outcast among outcasts. With the help of a shamanic baboon named Rafiki and the lure of love, Simba returns to face facts that the pride land has crumbled under an oppressive regime and the circle of life has been stunted by greed.
His once beloved kingdom is now a wasteland as the "order of things" has been thrown out of balance. Will a restructuring of order and peace bring healing to the land, freedom from poverty, and a continuation of Life as it should be? Absolutely. This Disney classic does not disappoint when it comes to happy endings.
Pros
Fantastic Music
Great Animation
Awesome Cast
Classic Story
Cons
May not Appeal to All Ages
Reception Score: 77/100
Popularity Score: 93/100
Availability Today Score: 90/100
Overall Score: 91.6/100
---
4. Home Alone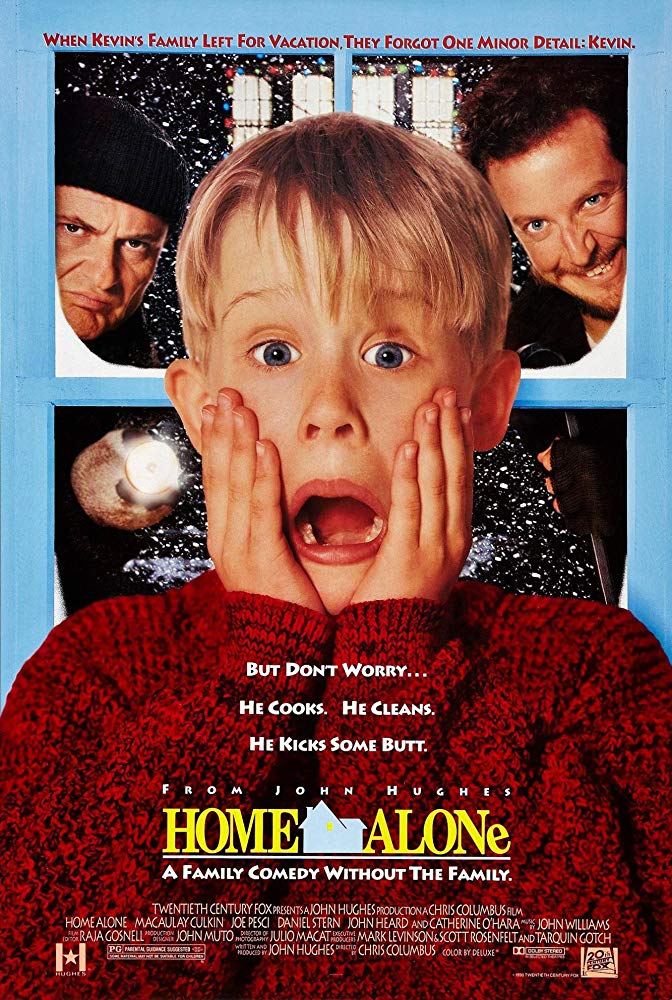 Home Alone is a Christmas comedy that was released in 1990. During the time, Home Alone became the third-highest grossing film of all time. It was so popular that is remained in theaters from November to February. When it came to critics, the film received mixed reviews and the majority of positive reviews were for the performance given by Macaulay Culkin who was 10.
He portrayed the role of Kevin McCallister, a wiley and crafty Dennis the Menace-like character who is tasked with protecting his home after accidentally being left behind while his entire family flies to Paris for their Christmas vacation. These were the days before Child Protective Services was called for allowing children to play outside alone. The performance of Kevin McCallister would catapult Culkin's career as a child actor.
After some of the usual 90s drama and arguments, Kevin wishes his family would "disappear." Later that night there's a power outage and Kevin's family is forced to rush to the airport accidentally miscounting another one of his cousins twice leaving Kevin unaccounted for and you guessed it, home alone. At first, Kevin relishes in the joys of being left alone. He eats pizza and ice cream and fulfills every 8-year-old's dream. Catching wind that there's really no adult at home to guard it, two burglars decide to hone in on Kevin. After all, what harm could a kid do?
Think typical 90s plot holes that we're actually happy were overlooked. Hilarity ensues as Harry and Marv try to outsmart Kevin. Kevin creates elaborate traps and waits as Harry and Marv walk right into them. I suspect that this 90s Christmas classic will be a family favorite for even more years to come.
Pros
Funny
Great Cast
Exciting for Kids
Good for the Holidays
Timeless
Cons
A Lot of "Yeah Right" Moments
Reception Score: 74/100
Popularity Score: 79/100
Availability Today Score: 99/100
Overall Score: 89/100
---
5. Babe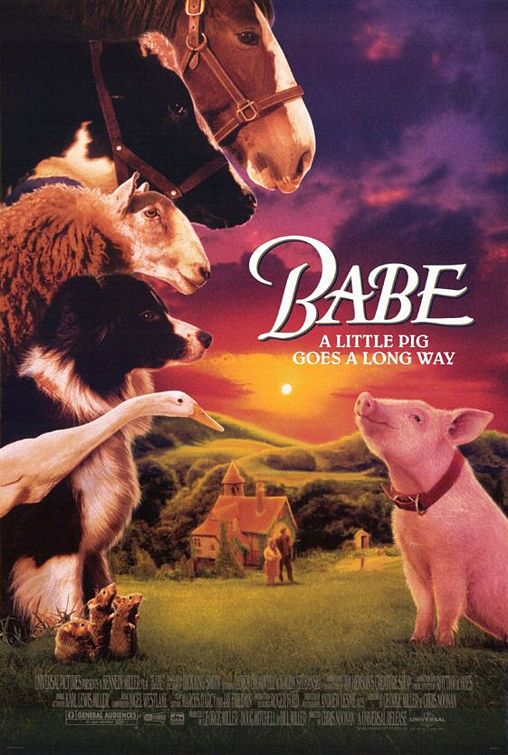 Babe is a critically acclaimed family feature that was relsead in 1995. It is an Australian-American comedy and drama. Babe won 7 academy awards including an award for Best Supporting Actor, Best Director, and Best Picture among others. In addition to critical success, Babe was also a box office hit and grossed over $250 million worldwide. This is a film adaptation of Dick King-Smith's novel The Sheep-Pig.
Like with many films of the 90s, Babe features James Cromwell who plays Arthur Hoggett and the late Christine Cavanaugh who provides the voice for the title role. These were the days before A list celebrities were exclusively cast to provide the voices for the characters. The list of true voice actors includes Evely Krape, Miriam Margoyles, and Danny Mann all who deliver expert performances. Babe was filmed in New South Wales, Australia and all of the talking special effects were achieved by Jim Henson's Creature Shop and Rhythm and Hues Studio.
Babe is the story of a pig who wishes to be a shepherding dog. When Babe joins the Hoggett family farm he feels lonely and misses his mother. He is greeted in the barn by Fly a female border collie and all of her young puppies. Fly's maternal instincts kick in when she notices Babe and Babe soon learns about the roles of not only the border collies but of all other animals on the farm.
Soon enough, Babe realizes that s/he too wants to be a herding animal and learns a new and unique way of herding sheep into their pens. S/he learns how to talk to them politely, and the sheep gladly follow along. Before long Babe is entered into a herding competition but with unfamiliar sheep and seemingly no way to convince them to budge. Will Babe figure out how to get these snobbish sheep to wiggle? Being a 90s kids film, I'm sure you can guess the answer.
Pros
Great Story
Amazing Acting
Beautiful Art Direction
Great Setting
Cons
Some of the dubbing is a bit out-of-date to modern day eyes.
Reception Score: 99/100
Popularity Score: 63/100
Availability Today Score: 90/100
Overall Score: 89/100
---
6. The Nightmare Before Christmas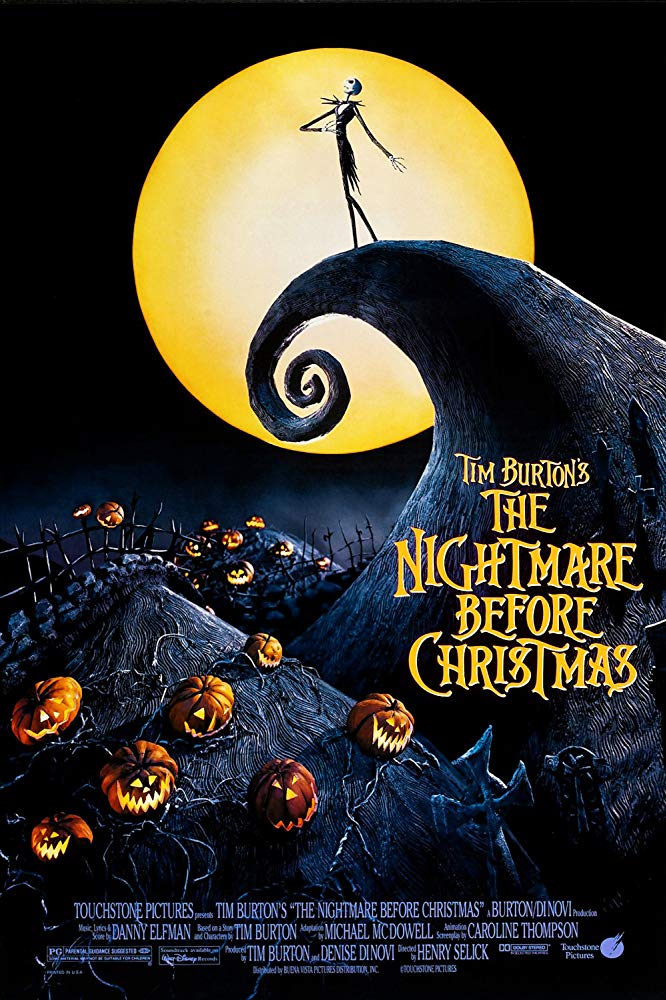 The Nightmare Before Christmas is a dream-like claymation classic that is the brainchild of Tim Burton released in 1993 but directed entirely by Henry Selick. Henry Selick is known for his visionary and experimental animation styles later directing James and the Giant Peach and Coraline. This stop-motion film was released in 1993 and is classified as a dark fantasy Halloween-Christmas film.
The following year, The Nightmare Before Christmas was nominated for the Academy Award for Best Visual Effects which was the first time this nomination was given to an animated film. 20 stages were used at one time for filming and there are over 109,000 frames used to make this film. Another feature of this film is its music composed by none other than Danny Elfman who would also provide the singing voice of the lead character Jack Skellington.
The Nightmare Before Christmas is the story of a pumpkin king who is king of Halloween town is having a bit of an existential crisis. Elfman writes "there's an empty place in my bones that calls out for something unknown" as part of Jack's Lament. Soon enough, Jack stumbles upon a jolly new something unknown- Christmas town where "absolutely nothing's dead." Much to his glee, Jack snatches the idea and though he has good intentions sets out to take over the jolly job of Old Saint Nick.
All of the citizens of Halloween Town are given Christmas jobs and moves foward with his visionary idea without noticing or heeding the warnings of Sally the ragdoll who predicts his downfall. As predicted, Jack accidentally terrifies the world with his Hallowee-style Christmas presents and is left to right what he did wrong. The first step is rescuing Santa from the Oogie Boogie man but it is Santa who puts things right in the end.
Pros
Whimsical
Imaginative
Fantastic Music
Great Story
Interesting Characters
Cons
Some of the visuals may be scary to younger children
Reception Score: 69/100
Popularity Score: 82/100
Availability Today Score: 99/100
Overall Score: 88.3/100
---
7. Beauty and the Beast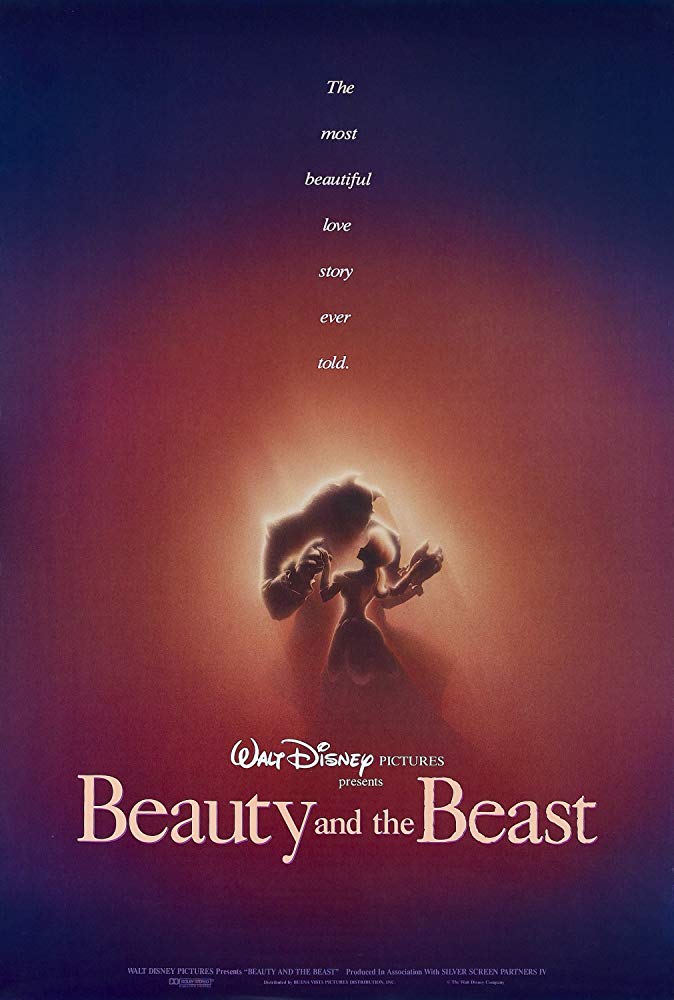 Beauty and the Beast is a Walt Disney feature film released in 1991. This film was released during the famous Disney Renaissance period and is based on Jeanne-Marie Leprince de Beaumont's fairy tale of the same name. Originally conceived as a nonmusical, Beauty and the Beast is known for its big musical numbers written by Alen Menken Howard Ashman including songs like "Be Our Guest" "Gaston" and "Beauty and the Beast (Tale as Old as Time)."
This film was actually written twice and halfway through production was ordered to be entirely scrapped and rewritten. The initial director resigned and two new directors where hired to take over. Because of this, the usual 4-year timeline was cut in half to two. The development of computer animation allowed for a compressed production time. Beauty and the Beast featured digital imagery developed by Pixar which is particularly notable during the ballroom dance sequence. Beauty and the Beast is one of the first animated films to use computer animation.
Beauty and the Beast is the story of Belle, a young lady from a small French village who finds herself a prisoner of a castle after an attempt to save her father. She takes her father's place and begins to acquaint herself with the castle's head (a beast) and his servants (common household objects) who were all transformed years prior when the beast showed no mercy to a witch who was disguised as a woman in need. The common household objects are voiced by a fantastic cast including Angela Landsbury as Mrs. Potts, Jerry Orbach as Lumiere, and David Ogden Stiers as Cogsworth.
Eventually, Belle and the servants become friends and the servants bandy together to make it so that Belle and the Beast fall in love. Gaston, a burly though attractive self-centered townsman closes in on Belle fast and makes an attempt to burn it all down. The spell is reversed when Belle and the Beast kiss- a kiss of "true love." Like with all fairy tales turned Disney, this 90s kids movie concludes with a heartwarming happy ending.
Pros
Great Animation
Fantastic Music
Great to Sing Along To
Fun
Cons
Old Fairy Tale with Some Out-of-Date themes
Reception Score: 69/100
Popularity Score: 91/100
Availability Today Score: 90/100
Overall Score: 88/100
---
8. Mrs. Doubtfire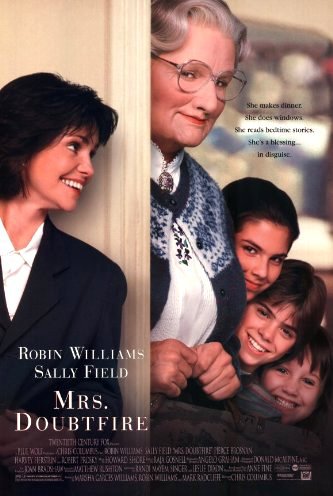 Mrs. Doubtfire is a family comedy directed by Chris Columbus that was released in 1993. The star is Robin Williams who spent 4 hours in makeup to portray the part of Mrs. Doubtfire. His incredibly bright performance and comedic timing are arguably what made Mrs. Doubtfire a great film. Later, Mrs. Doubtfire would win the Academy Award for Best Makeup. The film touches on the issues surrounding divorce in a very smart heartwarming way.
Mrs. Doubtfire is about the Hillard family. After some quarrels and adverse family events. Miranda (portrayed by Sally Fields) asks Daniel (Robin Williams) for a divorce. Miranda insists that Daniel find a "steady" job if he wants to have any chance at shared custody with their three children Lydia, Chris, and Natalie.
Shortly after the divorce Miranda places an ad in the local classifieds for a nanny. Daniel, dressed as Mrs. Doubtfire is hired and begins to take on the duties as the Hillard family's new nanny. As the film progresses situations evolve making it even harder for Daniel to execute his double life and eventually he is found out.
Pros
Great Story
Fantastic Cast
Excellent Performance
Tackles the Issues Surrounding Divorce
Cons
A Little Dull in the Moments Without Doubtfire
Reception Score: 77/100
Popularity Score: 83/100
Availability Today Score: 90/100
Overall Score: 87.6/100
---
9. My Girl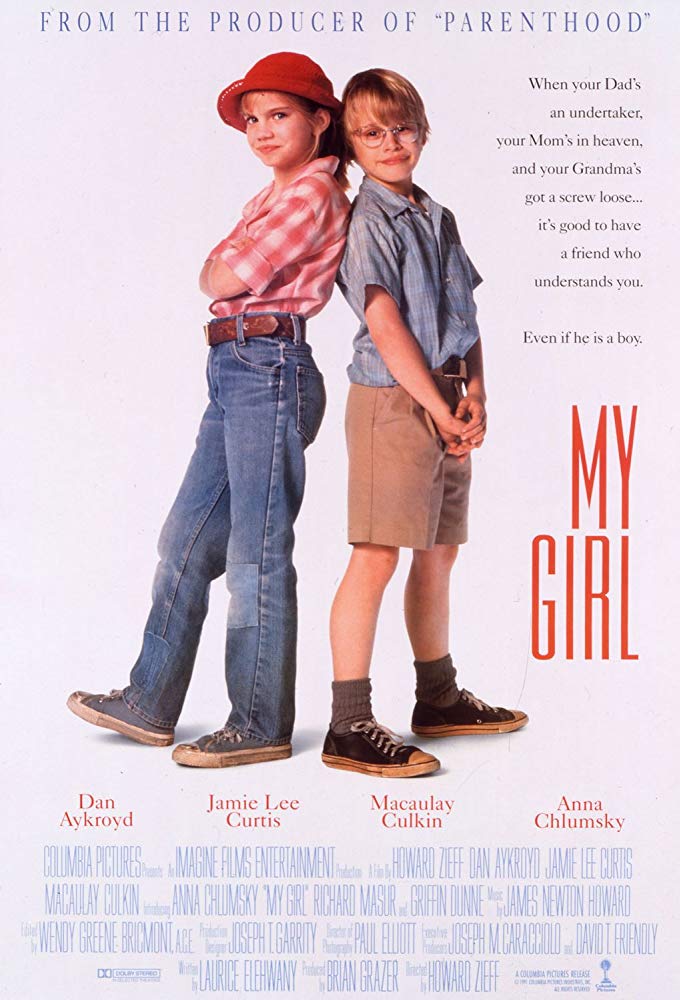 My Girl is a dramatic coming-of-age film that was released in 1991. It stars Anna Chlumsky and Macaulay Culkin. The film touches on some harder kids themes which were unusual for the time. Anna Chlumsky plays Vada a young 11-year-old girl who is a hypochondriac fixated on the topic of death. After her mother's recent death, her widowed father withdrawals. It doesn't help that he runs a mortuary. Vada's best friend is Thomas portrayed by Macaulay Culkin. The pair's friendship and interactions are raw and touching and at times tragic.
Vada's life is the focus of the film and we watch as bad turns to worse when Vada experiences another death- the death of her best friend Thomas as well as the reality that her infatuation with her teacher Mr. Bixler will not lead to anything. In the end, Vada connects with her father through her grief and learns some of life's biggest lesson. Though the story is neatly wrapped into a tidy package that even then seems unrealistic, we see the value in a kid's movie that is willing to touch on themes like death and especially the death of a child.
Pros
Bold Plot
Great Cast
Well Acted
Cons
Difficult Themes
At Times Too Cliché
Reception Score: 87/100
Popularity Score: 70/100
Availability Today Score: 90/100
Overall Score: 87.3/100
---
10. Hook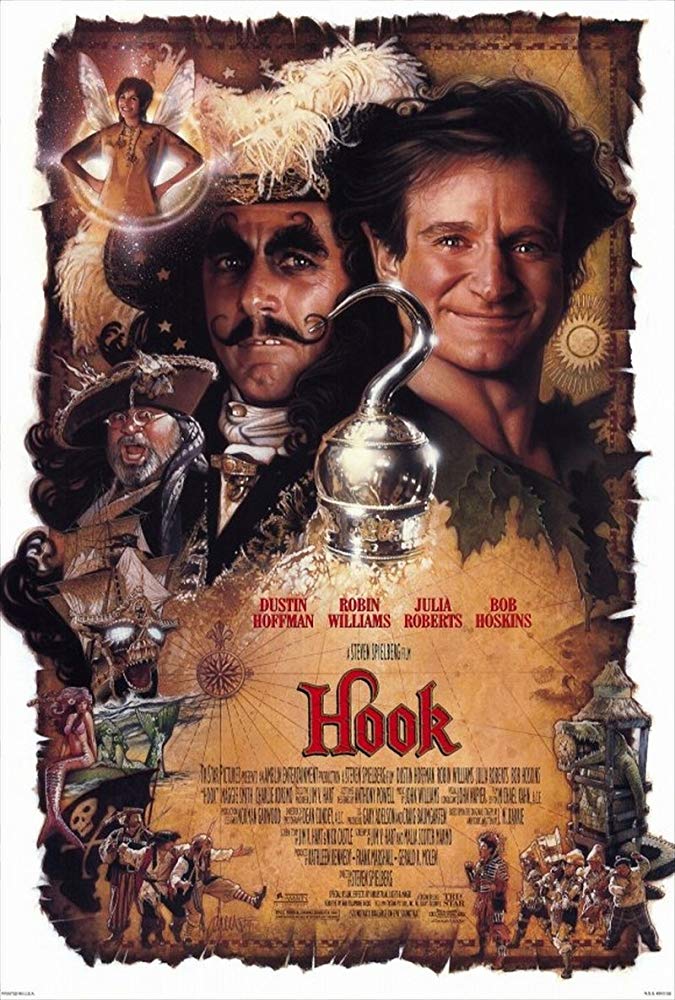 "What if Peter Pan grew up?" Hook is our final pick for this ranking and we could not help but include this adventurous Steven Spielberg classic. Why would Spielberg take on the story of Peter Pan? Spielberg himself stated that he was closely connected to the story of Peter Pan stating that he is "victim of the Peter Pan Syndrom." Spielberg clearly wants to tap into the kid in us all and what better way to do so than through a sequel to the beloved story of Peter Pan?
Set in the present, Robin Williams plays Peter Banning a grown Peter Pan who seems to have forgotten those days. Later on, Captain Hook portrayed by Dustin Hoffman kidnaps Bannings children forcing Peter to have to remember who he once was in order to rescue his children. With a little help from Tinkerbell (Julia Roberts), Banning learns of his true identity.
Soon, Peter joins up with the Lost Boys to fight Captain Hook and reclaim his family. In a sense Banning is fighting for his childhood back and for his children. The film is creative and exciting throughout touching on the theme of the overworked businessman who is threatened to lose his whimsical side.
Pros
Great Direction
Fantastic Cast
Amazing Story
Excellent Film Score
Cons
Has Some Tendency to Lag
A Bit Cheesy
Reception Score: 54/100
Popularity Score: 90/100
Availability Today Score: 99/100
Overall Score: 86/100