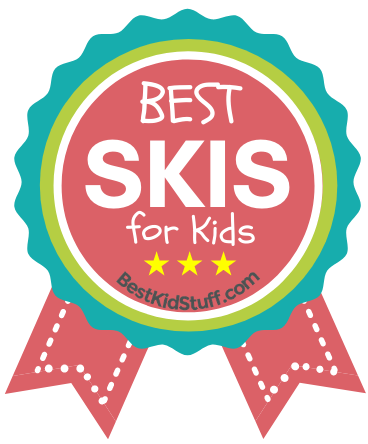 Can you believe the winter season is approaching faster than you can say Christmas? What better way to spend it than making the most out of the snow for a fun time outdoors with the entire family? An excellent snow sport is skiing—and yes, they are great for kids!
Skis are sports and learning equipment that come in kid-friendly varieties. Typically, they come in two specific types: one for children who weigh less than 100 lbs and are at least 47 inches tall, and another for kids weighing at least 150 lbs and are at least 60 inches in height.
For your child to enjoy days of skiing and have fun this coming winter, you need high-quality ski equipment and gear. Determining an appropriate size for kids' skis is important; remember that kids' skis are different from adult skis in flexes, waist widths, and skill levels.
Almost all kids' skis, however, with the exclusion of race skis or high-performance powder skis, are quite similar in appearance.
Basic Rules for Choosing a Set of Skis for Your Kids
The most important factor for determining the size of your children's ski is their height. Because most children are weight- and height-proportionate, junior skis measured within the eyebrow and the chin areas are usually recommended.
If your kids are beginners, look for high-quality beginner ski sets for them to learn the sport easily and safely! If they are still beginning to develop their skiing skills, a shorter ski, which is about chin height, will be more convenient for them to use.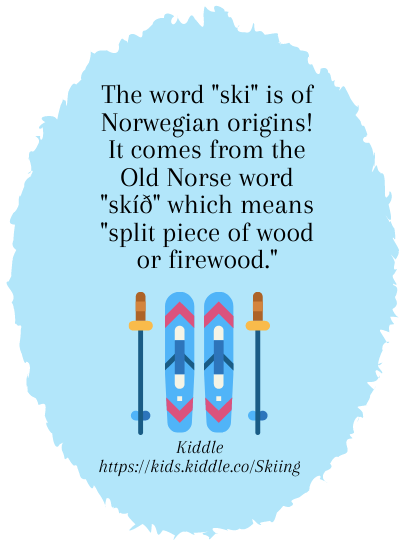 If your children are better experienced in skiing, they can probably connect parallel turns and lean towards the longer edge of their ski up to their eyebrows. Thus, a more advanced ski is needed.
A well-known method for determining the size of the skis is to have your kid's height measured in centimeters. If your kid is more experienced, more aggressive, or stronger, subtract 10 centimeters from their height. Subtract about 20 centimeters for beginners or less experienced skiers.
Your ski equipment does not need to be high-performing for them to work perfectly and be enjoyed by your kids. That said, however, they should be made of high-quality, durable, and lightweight material.
Usually, skis for children are meant for toddlers up to the adolescent age. Thus, bear in mind that when buying, a bigger ski does not necessarily equate to a better ski.
Reports point to controversy in children's broad-width skis sold in the market. Wider skis that are disproportional to the height and weight of the kid can be extremely hazardous. It is equally critical to find the best ski bindings that link the boots and the skis.
Be mindful of your kids' height and weight measurements (and their growth in those departments) and find the most appropriate measures for your ski. Safety should be a priority, after all!
Check out these five best skis for kids! These options apply to kids of different ages and skill levels, as detailed in each featured Amazon product: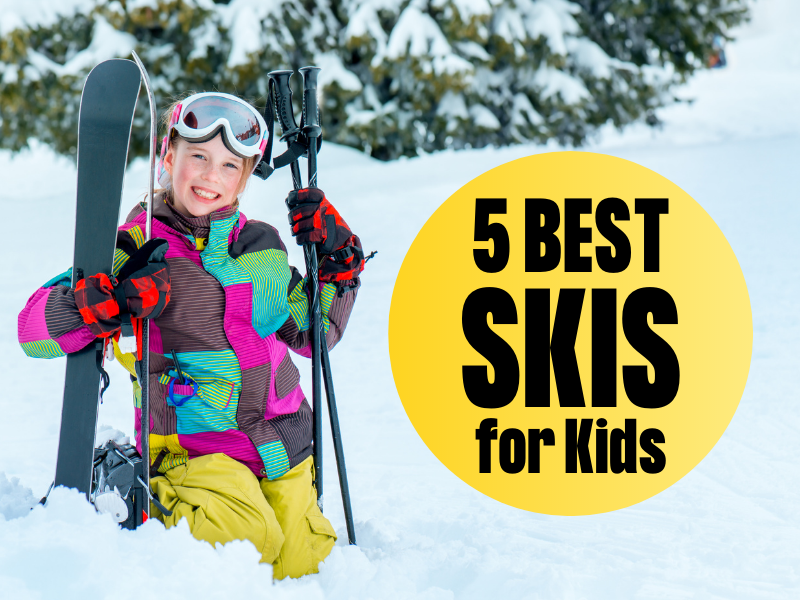 1. Odoland Kid's Beginner Snow Skis and Poles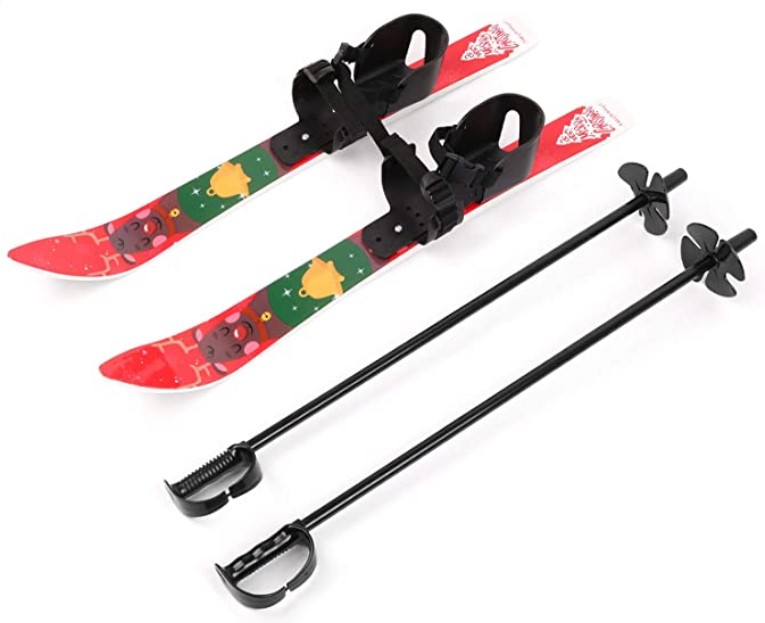 One of the most suitable skis, especially for kids who are four years old and below snow skiing for the first time, is the beginner snow skis and poles made by Odoland.
This pair of snowflake ski boards with poles are fit for kids' use because they are made of lightweight, plastic material. It is not particularly rugged in design and does not come with round tips and metal edges, making it a safe and suitable first pair of skis for kids.
The Odoland Kid's Beginner Snow Skis and Poles is an ideal introductory set for kids. In contrast to a snowboard, these durable skis can be enjoyed and learned easily.
To acquire a superb skiing experience similar to a swift swallow, the front end of these skis is slightly lifted. As opposed to a flat design, these unique boards significantly decrease resistance when skiing.
These skis are also constructed from high-quality PE and anti-cold material. Numerous tests have demonstrated that it can tolerate -4 degrees Fahrenheit. It is also long-lasting as it can also withstand extremely harsh environments.
The skis can be removed or worn as it has two sets of adjustable buttons. Along with two distinct poles, your children can obtain more support, and slipping can be prevented.
Get your child started out on the right foot… with the Odoland Kid's Beginner Snow Skis and Poles.
2. SOLA Winnter Sports Kid's Beginner Snow Skis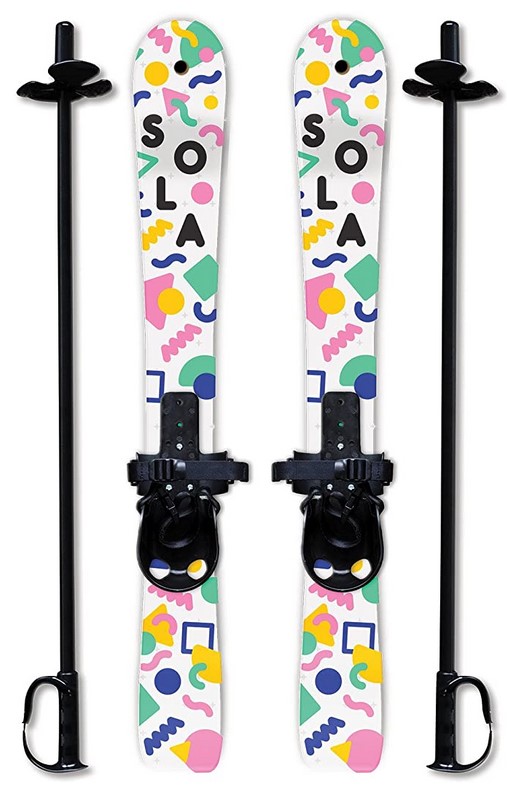 A pair of skis suitable for kids who are two to four years old are the SOLA Winnter Sports Kid's Beginner Snow Skis.
These durable, plastic skis use pre-mounted and flexible bindings with webbing straps that fit most soft shoes or snow boots to aid children in getting a good grip with skiing. They are fun to use and are perfect for base areas and ski resorts. It can also be used instead of a snow sledge for children to enjoy skiing on small hills more conveniently and safely.
The skis are wide and long and do not contain metal edges. It also has broad tips, and the poles are made of metal. Children can even select from different designs such as the aggressive style of the Tiger skis, the vibrant color trends of the Memphis skis, the entertaining characters of the Gaggle skis, or the iconic fighter plane style of the Bomber skis.
This particular pair of skis also features a pulling action for efficient navigation for kids to be able to enjoy skiing with overall control, greater stability, and proper balance.
Kids will love using these skis in the neighborhood park and yard, instead of in groomed tracks, and parents recommend it as a fun way of enjoying outdoor winter sports. It is deemed safe for toddlers since the holes in the tips are fastened together, especially when they go down a small hill.
The skis can also be easily carried around and stored easily at home since they are lightweight.
3. Kids First Plastic Snow Skis & Poles
This pair of skis are also designed for beginners who want to enjoy and learn skiing. These are perfect for beginner skiers ages two to four years old. Its length is 28 inches and is typically easy to wear and completely adjustable. These are strictly used for a fun introduction to snow skiing for toddlers and should not be used on groomed pistes.
The Kids First Plastic Snow Skis and Poles come with a universal binding so that you do not need to purchase special boots for it, given that children's feet ideally grow fast!
Kids will effortlessly enjoy skiing this winter once they step onto the frame and the straps are fastened well around the boots. You will enjoy looking at your kids as they dash around the yard through these high-quality skis wherein the bindings can be removed easily if adjustment or replacement is needed.
Check out the Kids First Plastic Snow Skis and Poles on Amazon. These are great for backyard snow fun!
4. Lucky Bums Kids Beginner Snow Skis

The Lucky Bums Kids Beginner Snow Skis are a suitable way of introducing skiing to children under four years old.
These skis feature a rugged design that includes flexible bindings with a heel cup and two attached straps to guarantee a secure fit. The bindings also enable heel lifting, which makes these skis ideal, specifically for beginners. A small, round opening on each tip keeps them together in a wedge position similar to a bungee.
The skis can be used on a kid's "adventure center" learning slope, and your children will feel as if they are on a magic carpet ride when they are on it. It also works perfectly for kids who are learning how to balance and slide themselves forward. Moreover, scales at the bottom part of the skis also exist for additional traction. The skis can also fit any shoes or regular snow boots.
These 100% plastic skis are 70 cm in size and are perfect for kids who want to get used to wearing one, especially during winter, so that they can adjust to the "sliding feel" of the skis.
The Lucky Bums snow skis are also regarded as safe and comfortable for beginner skiers since it does not contain round tips and metal edges.
Once you receive a Lucky Bums snow ski product, you enjoy a 100% money-back guarantee!
5. Whitewoods Snowman Cross Country Backyard Ski Set
This complete Whitewoods Snowman Cross Country Backyard Ski Set is ideal for two to four years old. The 70 cm pre-mounted ski set is made of nylon molded with a waxless base.
This set requires no special boots to use. In addition, the set does not have ski poles; therefore, kids learn amazing balance from the beginning without depending on the poles.
Moreover, your kids will enjoy skiing in a large field or property with slopes through this ski set. During the first few minutes of learning how to ski, kids will have fun changing directions and crossing on their own easily.
For the young skier in your family, the Whitewoods Snowman Cross Country Backyard Ski Set is waiting for you!