Reviewed by Britt Lynn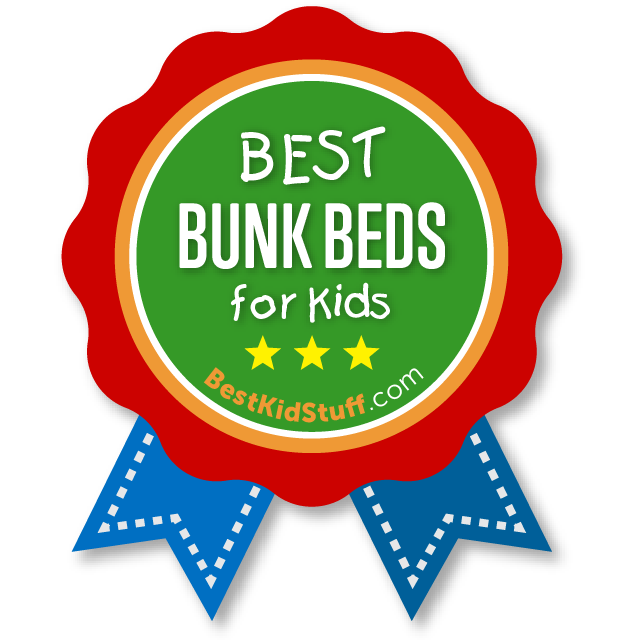 The coolest slumber parties always had… Truth or Dare? Wrong! Bunk Beds!! Remember back when slumber parties were the coolest and the lucky few would be offered a spot on the bunk? Oh, I'm sorry…were you always on the floor? Be the cool parent and buy your kids bunk beds!
Bunk beds are great for kids and parents!
Now think about you reading this review as an adult. Yes, you right now. And imagine all of the space you're going to save with these bunk beds. The point is, with bunk beds, everybody wins. Kids: 1, Parents: 1. Yes! Okay, well there may be a fight for who gets to sleep on top (or bottom depending on the type of kid). But for the most part, everyone scores with a set of bunk beds!
Why we chose these beds…
So, enough nostalgia for a minute. What made us review these ten beds? First and foremost we looked at cost. Let's not joke around, if you have more than one kid you're probably thinking on a budget. So, we weighed cost pretty heavily when making our pick.
Next, we noticed the style. Form need not suffer to function. Luckily these days a sleek metal bunk is always in style as is something thicker and made of wood.
All of the best choices we picked work well with boy's or girl's rooms and with a variety of decorator colors, such as the wall or flooring cover.
We also looked at sturdiness based on user reviews.
Here's a tip…
Assemblage is key to getting a good sturdy bed, so don't bolt everything down tight until you're 100% sure you're putting everything in the right place. Lastly, we factored in availability because we know how important it is to get your space ready ASAP. Are you ready for the win-win of the year?
---
The 10 Best Bunk Beds for Kids!
Attention parents living in tight quarters on a tight budget! Here is a great solution for you, especially if you have two young children.
The DHP Miles Metal Bunk Bed can accommodate up to 200 pounds on the top bunk and 250 pounds on the lower one. If you're looking to save on space, most bunk beds do that by design, but the sleek nature of the industrial design helps with clean lines and opens up space.
Depending on what tools you have on hand, this should be an easy assembly. Everyone is different so we can't say for sure that it will take you "just one hour" but it's certainly a lot more straightforward than some of the competitors. If "curse word free" were a metric, we would tick that box for this item.
We are thrilled that the cost is so low! We love this bunk bed set for the cost and availability as well as the ease of implementation.
So, if you need a quick affordable solution, give this one a try. This bed comes in four colors; black, silver, blue and white. It also can be purchase in twin/full, full/full, or Twin/Futon. Please take note of ladder placement – because on this one… it can only be placed on one side.
What We Love
Affordable
Lightweight
Easy To Assemble
Easy to Move Around
Great Space Saver
Score
Cost: 98/100
Utility: 82/100
Aesthetic Appeal: 89/100
Sturdiness: 95/100
Availability: 96/100
With the classic design of these bunk beds, they will fit anywhere perfectly in your home.
2. Walker Edison Twin-Over-Twin Metal Bunk Bed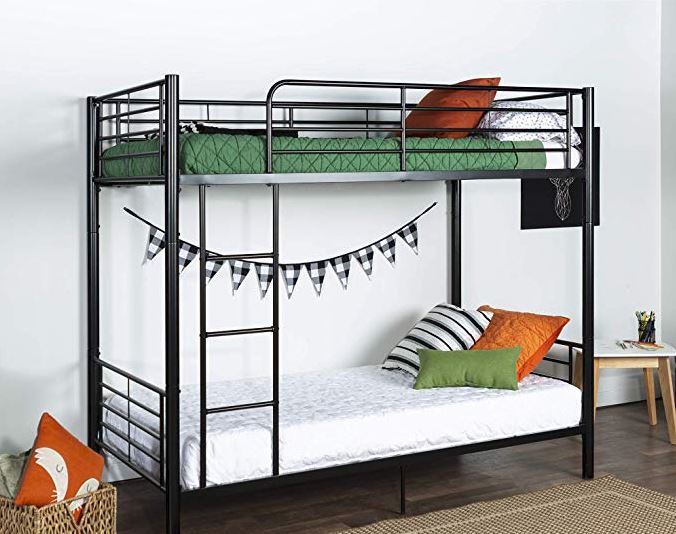 The Walker Edison Twin Over Twin bunk bed works as two separate twin beds or as a bunk bed. Obviously, as a bunk bed, this is a great space-saver. Not only that, but the metal design is sleek and works for all genders.
The bed is available in three colors – black, silver, and white. This product is made of steel and is coated with a powdery finish. We selected this product because it is sufficient for any parent looking for an affordable, durable, and attractive option for their kids.
Nothing in life is perfect, and this item is not as easy to assemble as our first pick. Check out all of the tips for assembly on Amazon before you dive in. This will save you hours of headaches. We like this bed for younger children though some parents reported using this for teens.
Each bed is meant to support 300 lbs. Getting the build correct is the most important part of this bed as once you have the holes lined up and screws tightened this bed is a great sturdy option. Some people report that full-grown adults are using this product with absolutely no problems.
This issue will come down to the individual's use. Another great feature is that there's plenty of space between the lower bunk and the top bunk so you are less likely to hit your head or have to hunch over.
What We Love
Affordable
Sturdy
Attractive
Great for Kids and Teens
Score
Cost: 92/100
Utility: 80/100
Aesthetic Appeal: 90/100
Sturdiness: 95/100
Availability: 90/100
Did someone say slumber party? Walker Edison offers another classic design at an affordable price.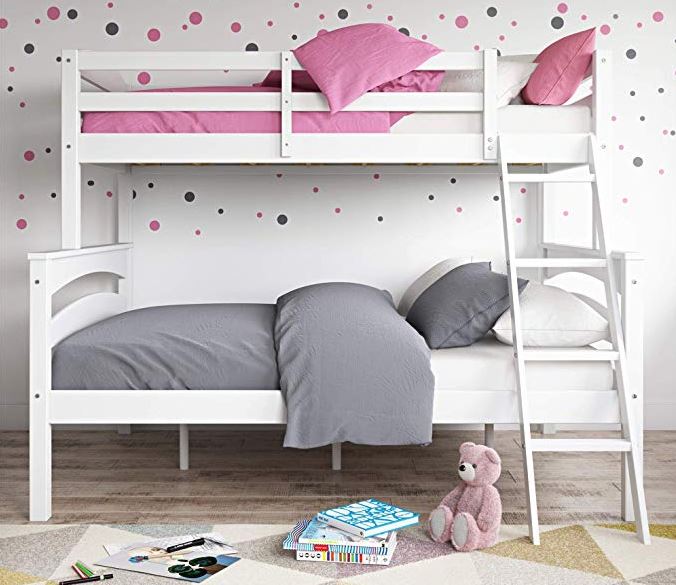 The Dorel Brady Bunk Bed is a twin over a full wooden bed that works great for kids. The majority of the bunk is pine with some plywood/ laminate pieces used for the mattress slats.
This attractive wooden bed is available in white, slate, grey, and espresso, and would work well in most bedrooms. The ladder is comfortable to walk on and easy to remove. The twin over full configuration makes this a fantastic option for a younger and older child duo.
Dorel Living is a great band that offers a number of matching items to fill out your child's bedroom. Considering the materials (mostly solid pine) this bunk bed is an excellent price for the quality. The Brady bunk bed also unstacks to become two stand-alone beds.
This is a sturdy bunk bed that is very attractive and works great for any gender. Though not our cheapest option, this is a high-value bunk bed. This bed is moderately easy to put together. In general, the assembly time will vary but expect to spend at least 2 hours to assemble with two adults present (some reported more and others less).
Like with many things that need to be assembled check to see if you have a drill or wrench or other tools available to help speed up the process. This is a tall bed and so the person one top may hit their head if you have standard ceilings. We recommend the smallest child stay on top for this reason. The Brady bunk bed comes with a 1-year warranty.
What We Love
Attractive
Unstacks
Mostly Solid Pine
Good Value
Score
Cost: 84/100
Utility: 83/100
Aesthetic Appeal: 92/100
Sturdiness: 93/100
Availability: 94/100
With this one, you can have quality at a great price! Check it out!
4. Bunk Bed American Furniture Classics Bunk Bed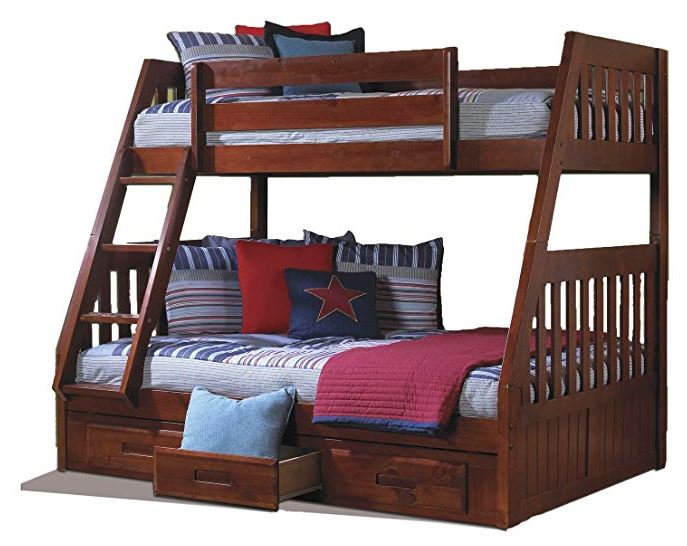 American Furniture Classics has created a fantastic bunk bed for kids. Even the adults will love this one. The only reason this bed did not rank higher is the price. This is a twin over full bunk bed with a three-drawer storage unit that is solid wood.
The material is Asian rubberwood which has been stained an attractive Cherry-brown color. In many ways, you are getting two pieces of furniture for the price of one made out of great quality materials. For this reason, we really do think this bunk bed is a great buy.
This bunk bed is a very sturdy bed and what's more, it is easy to put this bed together. Not all of the pieces are apart and you may be able to get away with just one person putting this bed together in a couple of hours. We recommend having an allen wrench attachment for your drill to speed up the process and save your hands!
Another great feature of this bed is the drawers which are 14 inches deep and 25 inches wide. We love this added space-saving bonus! The ladder is constructed well, making it easy to ascend and descend without hurt feet. Overall, this is a high-value bunk bed.
What We Love
Attractive Bed
Sturdy
Good Materials
Easy to Assemble
Comes with Extra Storage
Available in a Variety of Colors
Score
Cost: 70/100
Utility: 96/100
Aesthetic Appeal: 91/100
Sturdiness: 92/100
Availability: 95/100
With Amazon Prime, get this home in no time… and enjoy free shipping!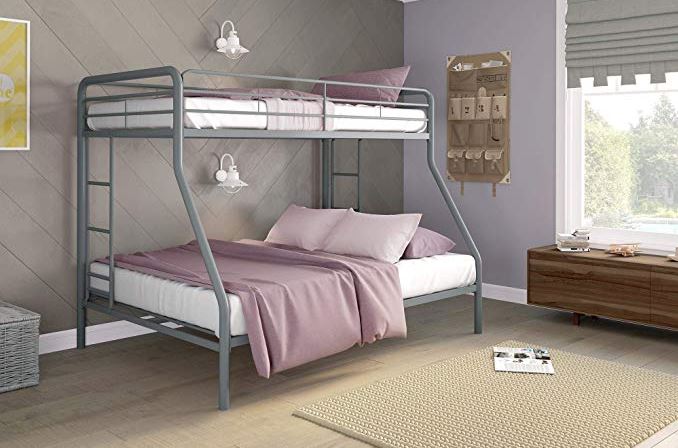 Just like the name implies, this is a very sturdy metal bunk bed, made by DPH, that is sure to solve your space problems with some money to spare. That is what we love about this bed – the great price.
If you are on a budget, (and most of us are), then certainly consider this bed. What's more, when it comes to assembly, this is a one-person job. The attractive metal grey neutral color means that this bed will work well in most rooms for boys or girls. The top bunk holds up to 200 pounds and the bottom holds 250 pounds.
You can convert this bed into two separate beds and both configurations are completely sturdy. Be sure to read through some of the reviews on Amazon before assembling. Some people give great tips and recommend not bolting down the bed until you are sure of the configuration.
People also love the look of this bed. Not only will it work well with most rooms, but the bed is also actually attractive! So whether you're out in the country and have an expansive family or in a smaller house, this is a great affordable space saver for you!
What We Love
Affordable
Attractive
Easy to Assemble
Score
Cost: 96/100
Utility: 80/100
Aesthetic Appeal: 89/100
Sturdiness: 95/100
Availability: 90/100
We love the sleek style of this set. You will too!
The Civil Furniture Twin over Twin with Trundle Bunk Beds may be our best value bed. Though not our cheapest pick, this bunk bed is unbeatable for the price considering the quality range.
You will not find a more affordable solid pinewood bed. This bunk bed includes a hidden trundle so kids can add in friends for slumber parties with no problems. In addition, the bunk beds can be separated into two twin beds.
This bed has also been tested and certified for safety, which means Mom and Dad, you're going to sleep well at night too! The dark wood finish is so attractive and the solid wood means this bed is likely to last for a long time. The configuration is a twin over twin so no fights about who gets the bigger bed – bonus!
What's more this company really knows quality beds and the customer service is above and beyond. Most people reported high-speed shipping. Oh, and if brown isn't your color, how about white or gray? Check it out!
What We Love
Sturdy
Solid Wood
Attractive
Good Company
Easy to Assemble
Score
Cost: 78/100
Utility: 95/100
Aesthetic Appeal: 89/100
Sturdiness: 90/100
Availability: 96/100
The Civil Furniture Twin over Twin Bunk beds with a Trundle bed is the answer to all of your problems… Everyone has a comfortable place to sleep!
7. Bunk Bed Albert Bunk Bed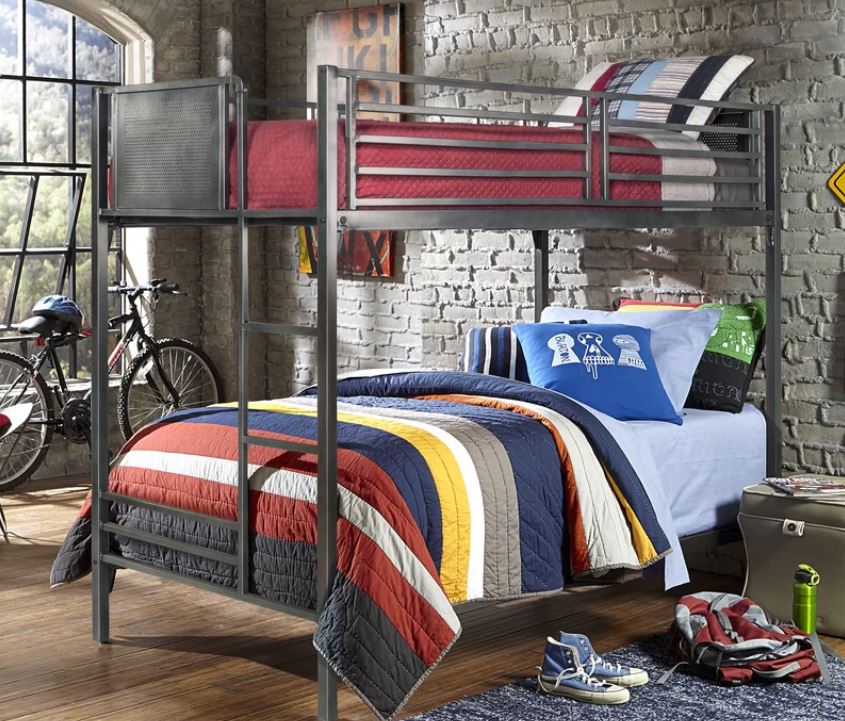 Birch Lane features the Albert Bunk Bed, a sleek modern looking bunk bed that will save you space and looks great in every setting. This is a very sturdy bed.
We like that it's a good fit for kids, teens, and some adults. The top bunk will support 165 pounds and the bottom works to support up to 250 pounds! What makes this bed so sturdy is that it is actually crafted from steel and not some flimsy look-a-like.
Because of the quality of the materials, the bed is a little higher in the price range than some of the other models that we have reviewed. That being said, there were zero concerns with this bed regarding sturdiness and quality. So if your mindset is "better safe than sorry" maybe go up a bit in your budget and give this bunk bed a try.
This bunk is a twin over full with great guard rails for the top bunk. Yes, this bed does come with a ladder, and thankfully is very easy to assemble. The slat kit is included so there is no need to purchase a box spring.
As with all the bunk beds that we have reviewed, this bunk does not come with a mattress. So, whether you're making more space in your life, or really need to save on room or just love bunk beds because they're a great way to feel like a kid again, definitely give the Albert Bunk Bed a try. You're getting a great bed for value!
What We Love
Very sturdy
Easy to Assemble
Attractive
Score
Cost: 80/100
Utility: 80/100
Aesthetic Appeal: 90/100
Sturdiness: 97/100
Availability: 89/100
With a great industrial look, Birch Lane's Albert Bunk Beds are perfect for any decor.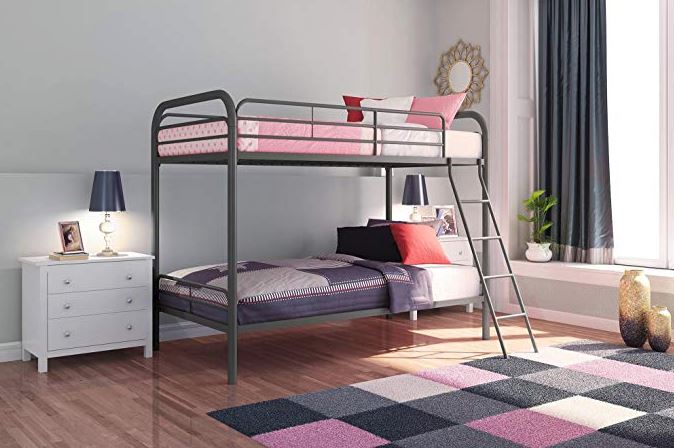 DHP does a great job filling in a niche: people on a budget who are looking to save some space. Is this you?
DHP makes a number of different-sized bunk beds that work for almost every budget. The beds are attractive and simple with good guards at the top. It doesn't matter if you have boys or girls, this bunk is sure to please.
The twin over full is one of the most popular beds. That's a great deal for two beds wrapped up in one. The built-in ladders on each side make it a cinch to climb up and down.
This bunk bed is easy to assemble and can be completed in as little as 2 hours. It's a good idea to have a power drill on hand to speed up the process and save your wrists.
If you don't have one, maybe grab an extra pair of hands to trade off tasks or have someone to stabilize each piece. The assembly is the most important part of the process (apart from the nights of sleep).
If you nail the assembly you will have yourself a sturdy bed that lasts for a great price.
What We Love
Affordable
Attractive
Easy to Assemble
Score
Cost: 86/100
Utility: 83/100
Aesthetic Appeal: 90/100
Sturdiness: 95/100
Availability: 85/100
A simple and sleek design that's perfect for any child's room.
9. Bunk Bed Bel Mondo Twin Bunk with Trundle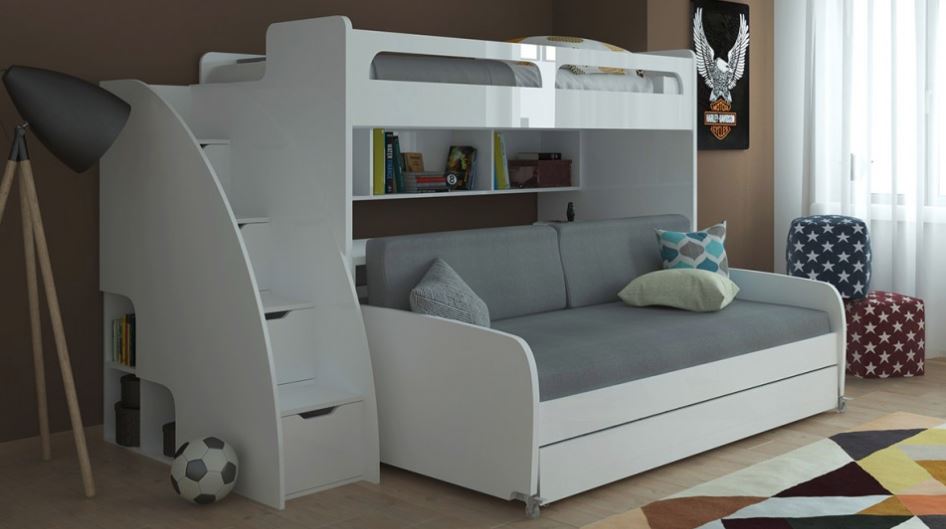 Mondo makes incredibly smart furniture. The reason this bed is not right at the top is availability and price.
So, if you have it within your budget absolutely consider purchasing a Mondo Twin Bunk with a Trundle. This is so much more than a bunk bed. This is several pieces of furniture in one. We are hesitant to label it as a bunk bed as it's really a couch, a bed, a desk, a shelf, and a storage unit.
In many ways when considering how many other pieces of furniture you won't have to buy, this is a great steal. If you are looking to save space so that your kids or teens can hang out, lounge, study, play and more, this is a very handy piece of furniture.
This is a multi-functional space-saving furniture unit, and it comes with free delivery and is easy to put together. You can just jump right on their site and download the assembly manual. You can even watch a very handy instructional video that's available right on their site. There's a lot to do but once it's done, we think it is so worth it.
If this type of smart furniture were around when we were kids, we would have been the most popular kid for slumber parties! Now if you can put this thing on wheels and erect 4 walls and a ceiling you'll have yourself a tiny house. Have fun with it!
What We Love
High-Quality Bed
Smart Design
Multi-functional Bed
Easy to Assemble
Great Space-Saver
A Lot of Fun
Score
Cost: 62/100
Utility: 97/100
Aesthetic Appeal: 95/100
Sturdiness: 93/100
Availability: 80/100
WOW! Talking about getting a bang for your buck… This one is it! Go to Multimobeds.com to see the many examples of how this unit can be used!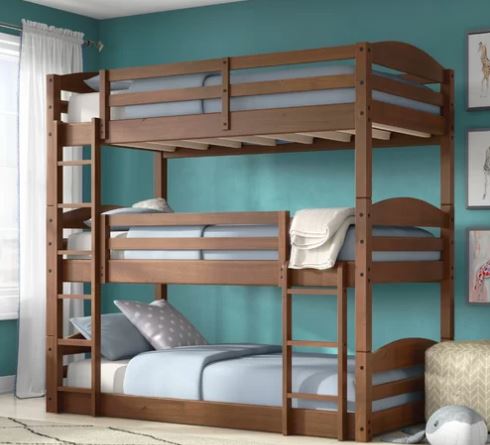 And then there were three. This wouldn't be the ultimate bunk bed review if we didn't include a bunk bed totem. What's more fun than a bunk bed? An extra level!
This Twin over Twin over Twin bunk bed by Morecroft is the perfect three-kid solution. You can picture it, right? Three boys. I know I can. And it wouldn't be "fair" if two got the bunk bed and the third got just a plain boring bed. That's what this tower of beds is all about. Now everyone gets to use the bunks and they look great to boot.
These "Sleigh" beds are very attractive and would work really well in almost any setting. Though the price is a little higher than some of the other beds we reviewed, we actually think this is a great value! The wood is a good quality composite (not great but good – good quality wood would put this bed in the quadruple digits) and sturdy.
You can assemble this yourself or pay for the assembly. That is up to you but it really is a cinch to assemble, so why pay extra? We do understand that time is money and it is going to take you at least 2 hours to assemble this monster bunk bed.
Whether you're Mom or Grandma, this triple bunk bed is going to be a haven for your little ones. The only problem is, who gets to sleep all the way at the top?
What We Love
Triple Bunk Bed
Affordable
Sturdy
Easy to Assemble
Massive Space Saver
Fun for All
Score
Cost: 82/100
Utility: 95/100
Aesthetic Appeal: 90/100
Sturdiness: 89/100
Availability: 89/100
Got triplets? No problem… Order today through Wayfair.com!
That wraps up our review of the top bunk beds for kids. Once you've chosen your preferred bunk bed, next it's time to choose a great kids mattress.
---
Before You Go!
OLEE SLEEP GEL INFUSED 10-INCH LAYER TOP MEMORY FOAM MATTRESS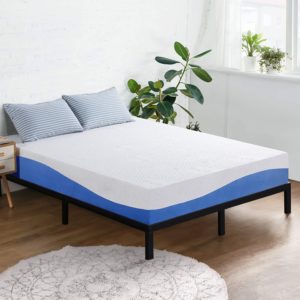 We have named this mattress our best choice for kids and Amazon has also named it as their "Amazon Choice"! This honor is given only to products that can ship FAST and have many satisfied customers!
This mattress has earned am incredible fan base and is our top pick for Best Mattresses for Kids due to its winning combination of low cost, high quality, comfort, durability, and easy, fast shipping.
Click the mattress link above to view ALL of our picks for Top Kid's Mattresses!
related sleep "stuff"