Invest wisely in your cold-weather essentials! The Sherpa blankets, particularly those that are designed explicitly for children, are created out of artificial materials such as acrylic, cotton, or polyester. It is also known as faux shearling or Sherpa fleece. One side, the Sherpa blanket is a smooth knitted side, while the other is textured and feels like a sheep's fleece.
The woolen fleece is used for throw blankets, pet bedding, and jacket linings. They are warm, light, soft, comfortable, and water-resistant, which make it suitable clothing essential during harsh cold weather conditions not just for adults but for young children too. It offers the best warmth and makes the most appropriate winter jacket!
The Sherpa Difference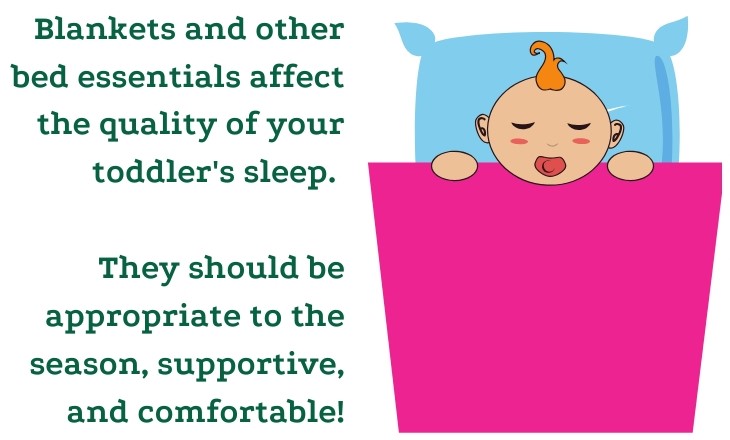 Since it is super soft and warm, the Sherpa blanket is a sheet to add to your toddler's bed. Whether your little one is snuggling for a quick nap or a relaxing and comfortable sleep, the Sherpa material is incredibly ideal. It is safe for your kid's delicate skin and exceeds the warmth and comfort test.
The Sherpa blanket also comes in different designs. The cold weather doesn't have to be dull or boring; your little one will love their Sherpa blankets with colors that lift their mood—and yours too!
Are you looking for Sherpa blankets for your toddlers? Do you want to invest in a blanket that keeps your baby comfortable and warm? You've come to the right spot! Our guide features five of the most fun Sherpa blankets for your toddlers that tick all the boxes.
As of publication, these Sherpa blankets cost less than $30 on Amazon, which makes each of them an affordable yet worthy investment for your little one during the winter season. You can purchase them for your toddler or get them as gifts for your loved ones. Sherpa blankets are a fun and affordable choice for your toddler; check out our top picks!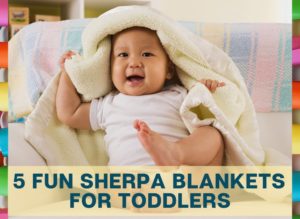 1.

Posh Linens Sherpa Blanket
Made with polyester, the Posh Linens Sherpa Blanket is a perfect gift for baby showers, new moms, and toddler's birthdays because it has a ribbon and bow ready for any occasion.
If you are in a rush to buy last-minute winter essentials, this is one of the perfect gift ideas to consider. This sea-themed Sherpa blanket has a dimension of 30"x40" for the crib, car seat, or even stroller.
Children can use it anytime, anywhere they go. It has a super soft and double-sided Sherpa material that is perfectly suitable for traveling, sleeping, napping, and cuddling. This Sherpa blanket from Barry's Brownies is not only good for toddlers, but it can be suitable for pets too. Small dogs and cats can use this Sherpa blanket as a pet bedding or as a blanket for newborn puppies.
The majority of verified purchases have rated a five-star rating and loves this Sherpa blanket because of its super softness and is washing-friendly. Despite being gender-neutral, Posh Linens Sherpa Blanket is perfect for baby boys because of its dominant white and blue colors and has shark and turtle designs all over.
Amazon carries the Posh Linens Sherpa Blanket for sale on Prime!
2.

Sleepwish Fuzzy Unicorn Blanket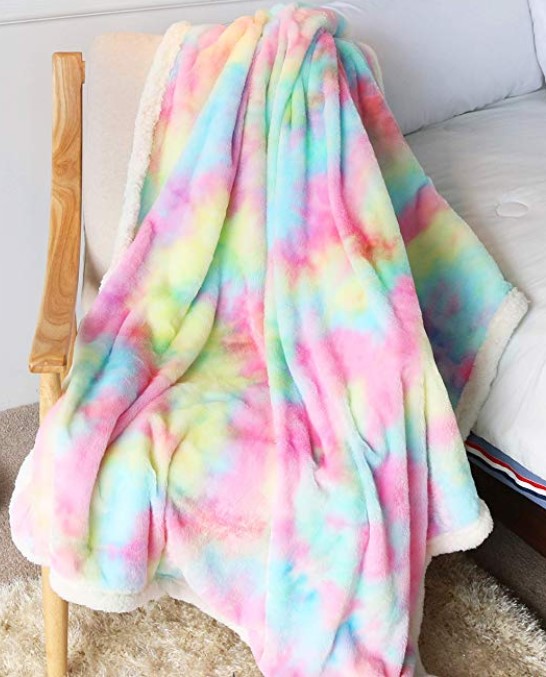 Go for a practical and stylish way of warming your toddlers up during the winter season! The Sleepwish Fuzzy Unicorn Blanket is one of the most enjoyable ways to snugly tucked your kid under a warm and colorful blanket.
Made with premium quality microfiber polyester, this unicorn-themed Sherpa blanket is safe and durable to use with toddlers and newborns. The texture is suitable for their delicate skin and does not cause any allergic reaction. It is one of the best investments to keep your homes warm and beautiful during the winter season. It comes in two available sizes: 63"x79" and 51"x63".
Another great feature of this unicorn blanket is it doesn't shed quickly even after several washes. Aside from being a toddler's blanket, Sleepwish' unicorn blanket can be used as a cover for your car seat, living room seat, regular and toddler's bed. However, if you prefer plain and dull colors, you can choose from mint green, black, beige, purple, and pink.
This Sherpa blanket is easy to clean, a washing machine-friendly blanket that can be washed on a gentle spin with cold water. You can tumble dry and shake off to remove hair strands stuck in between the surface. This high-quality Sherpa blanket provides comfort, style, and functionality, all at an affordable price.
The Sleepwish Fuzzy Sherpa Blanket is available on Amazon Prime! You can receive it in two days for Prime members!
3. Elegant Home Kids Soft & Warm Sherpa Blanket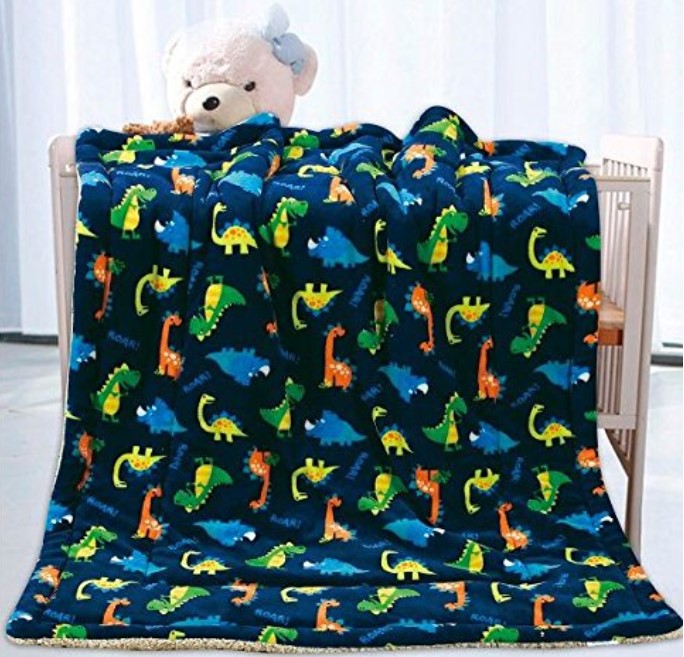 Made with 100% polyester fabric, the Elegant Home Kids Soft & Warm Sherpa Blanket is a great blanket to keep your toddlers warm and comfortable. It has super vibrant colors
To uplift your child's mood during the cold season. This dinosaur-themed Sherpa blanket is suitable for baby boys. However, it isn't a gender-specific item, so it can also be ideal for girls too. It has a generous dimension of 40"x50" to swaddle your toddler or baby.
It is made with high-quality and ultra-soft plush materials, which makes it a perfect sleeping companion for the cold weather. It provides warmth and comfort for your toddlers without causing any allergic reaction to their delicate skins.
The Sherpa blankets from Elegant Home Goods are proven to be safe and washing machine-friendly. You can tumble dry this item for easy care and cleaning. It is suitable for traveling, cuddling, and sleeping and is an excellent addition to any toddler bed, crib, or stroller.
It is a thick item that can even be used as a floor blanket to lay on. This Sherpa blanket also has proper padding against the floor's firmness. Despite its thickness, it only weighs 2 pounds, which makes it easier to transfer around.
Interested in this SUPER PLUSH blankie?! The Elegant Home Kids Soft and Warm Sherpa Blanket is just what the doctor ordered!
4.

Hudson Baby Blanket with Sherpa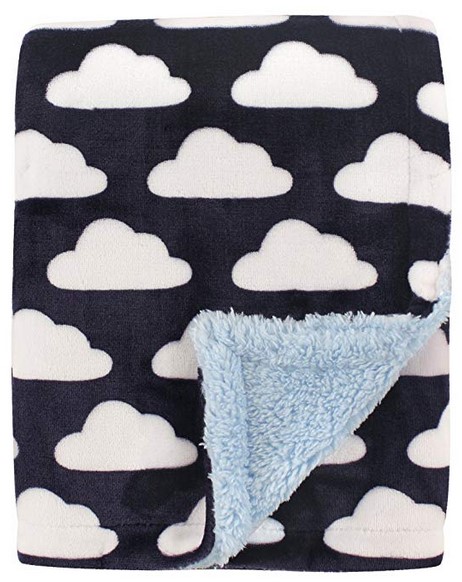 The Hudson Baby Blanket with Sherpa is made with 100% polyester fabric and has a dimension of 30"x40".
Coming from a company that is committed to providing only the best products for your babies and toddlers, Hudson Baby's Sherpa blanket is suitable for baby's gentle and delicate skin. It doesn't contain materials that cause an allergic reaction to your toddler's body. This item is an excellent variant for making toddlers warm and comfortable.
Hudson Baby's Sherpa blankets have received a significant amount of five-star reviews. The item's ultra-soft, high-quality, and lightweight is one of the most notable features found in satisfied customer reviews. You can choose from different colors and themes. Each theme is suitable for your toddler's gender ranging from football, girl forest, gray clouds, whimsical unicorn, and woodland. There is a blanket for every toddler.
Like other variants, this Sherpa blanket is easy to wash and maintain. Despite its thickness, this item only weighs 14.4 ounces, which makes it a great companion for travel and sleep. Aside from snuggling and cuddling purposes, this Hudson Baby's Sherpa blanket is perfect for post-bath essentials to keep your toddlers warm and dry.
5.

Sesame Street Blue Soft Plush Sherpa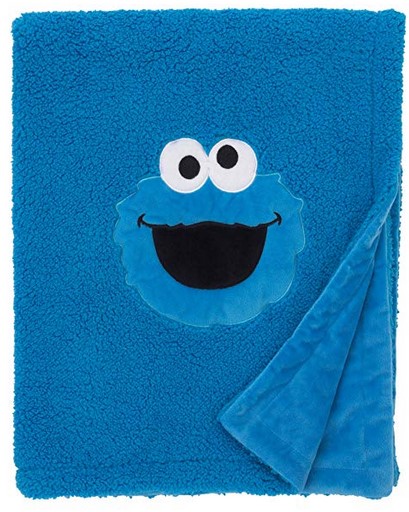 Designed with Cookie Monster's happy smiling face and big eyes, the Sesame Street Cookie Monster Blue Soft Plush Sherpa is a vibrant addition to your toddler's room during the winter season.
Its happy expression not only brightens up your toddler's mood, but it also uplifts adults up during the cold and grey atmosphere. If you are looking for a better alternative, choose Elmo's vibrant red Sherpa blanket. This toddler blanket has a dimension of 30"x40" and is the suitable size to keep your toddler comfortable and warm for snuggling, sleeping, or just a quick stroll on the park.
This item is made with 100% Sherpa fabric on one side, and an ultra-soft polyester velboa cloth on the opposite side. It weighs 13.3 ounces and is easy to transport despite its thickness and length. To wash, this Sesame Street-themed Sherpa blanket must be washed in a washing machine separately with cold water in a gentle cycle.
The majority of the verified reviews commend this item for its softness and high-quality fabric. It's perfect for months old babies and toddlers alike.
Who wouldn't want to cuddle up their baby with the Cookie Monster or Elmo?!
---
related sleep "stuff"