Sleep is crucial to keeping a healthy lifestyle. Everyone struggles to get as much sleep as they can—unless they're children!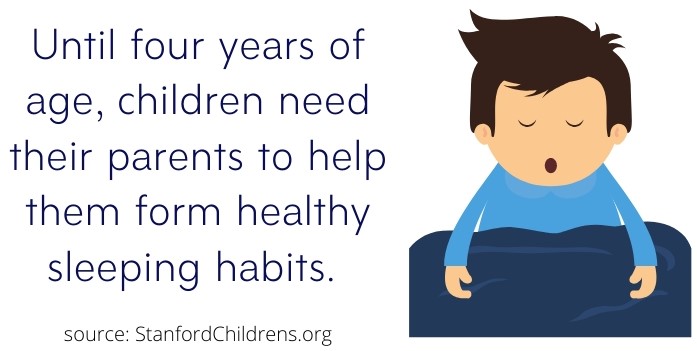 It happened to us all: at one point, our parents had a hard time putting us to sleep. They wished they had safe and effective measures to put us to bed. During bedtime, kids would sneak their way out of the bedroom to play. Parents are expected to know how to soothe their child's anxieties caused by a bad dream. They should know how to put them back to sleep when nightmares wake them up. Moms and dads who have tried it all know how frustrating it can be!
Sleep is essential for children in their mental and physical development stages. Ample rest significantly impacts a child's regulatory hormones, according to studies. After the start of a deep sleep, the most concentrated stage of growth hormone is released. Until four years of age, children need hands-on parents who help them form healthy sleeping habits.
Do you "bribe" your children to sleep with some tasty treats? Sleep aid products for kids are the talk of the town this side of parenting,
Are Sleep Aids Safe for Children?
If you have exhausted all your energy putting your kid to sleep, try all-natural and flavored sleep supplements. Most of these flavored supplements contain Melatonin, a hormone responsible for regulating sleep. It typically works best for children with sleep difficulties because of autism, visual impairment, ADHD, or other developmental disorders.
According to the Sleep Health Foundation, Melatonin is perfectly safe for children and works for short-term sleep problems. With your doctor's recommendation, long-term usage may apply to specific sleep issues associated with developmental conditions. The known side effects of Melatonin for kids appear to be very rare.
Our list provides Amazon's best five flavored sleep aids that your kids will love. Here you will find the most affordable and proven safe, natural supplements for your kids, all less than $15.00!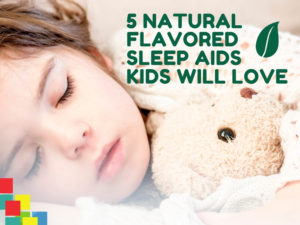 But first, don't forget to consult with a pediatrician for professional advice regarding sleep aids!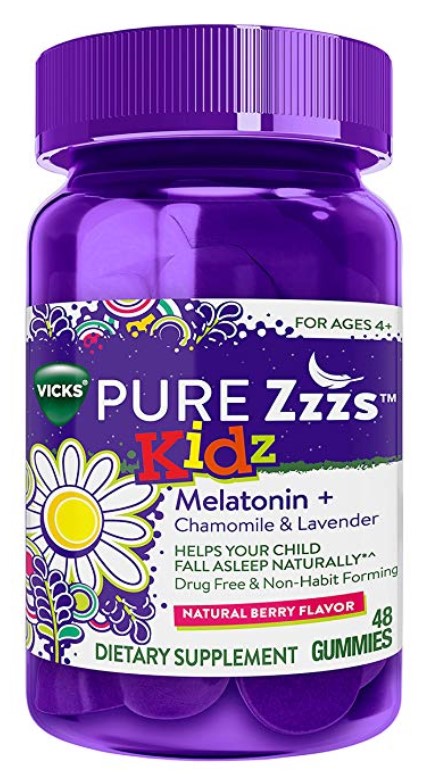 Vicks' Pure Zzzs Kidz Melatonin for Children is one of the best kid-friendly supplements to help your children fall asleep naturally and safely. This product is suitable for ages 4 and up. To provide your children the good night's sleep they deserve, Vicks not only provides a melatonin-based supplement, but it also provides a unique and drug-free botanical blend of Chamomile and Lavender. It has a low dose of Melatonin as a means to help them fall asleep in the most natural way it can.
Your child will love the Pure Zzzs Melatonin gummy supplements; they'd be glad to have up to two of these 30 minutes before bedtime. One bottle contains 48 pieces of 0.5mg gummies and costs $13.47. While it is generally safe for your children to have Vicks' melatonin-based gummies in moderation, you need to consult a physician for the best results. Also, this supplement is not a recommended treatment or cure for any disease for your children.
With an 82% FIVE Star Rating on Amazon, you can't go wrong with these sleep supplements!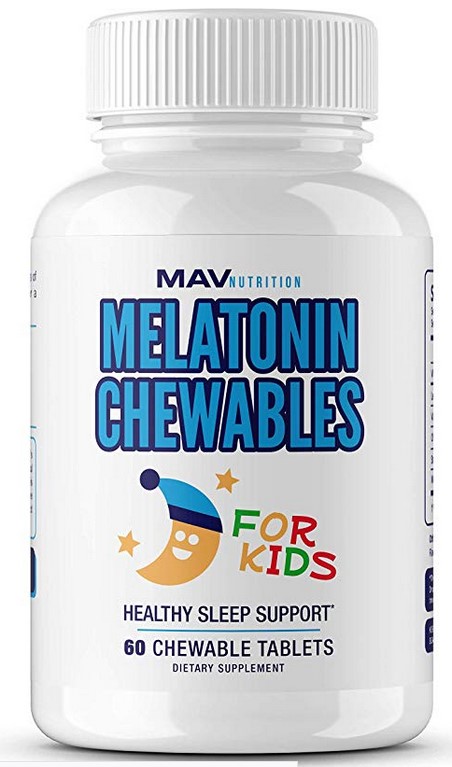 A melatonin supplement infused with calming herbs, MAV Nutrition Sleep Aid for Kids, contains chamomile flower extract, lemon balm extract, and valerian root extract. Its calming herbs combination provides an optimum effect as a sleep-promoting supplement. One bottle has 60 chewable tablets and is recommended for children ages four and above. It only contains 0.2mg of Melatonin, making it a natural sleep aid alternative to the sleeping pills. With MAV's mission to a healthy and all-natural solution to the modern diet, these sleep aids are based on a non-GMO formula as well as no preservatives for both flavor and color. It has a delicious fruity taste that reminds children of candies, making it easier for them to intake.
One of the unique characteristics of MAV's Nutrition Sleep Aid for Kids is it has a non-forming habit. For only $12.95, these sleep-promoting chewable tablets promote a natural calm and solution to sleeplessness without having your children to be entirely dependent on it. Made only with premium ingredients, this Melatonin for kids' supplements have been tested by a third-party laboratory to make sure of only the safest quality and purity. Children ages four years and up can take one tablet daily, recommended after having a meal or as prescribed by your child's physician.
Another 82% 5-Star rating on Amazon!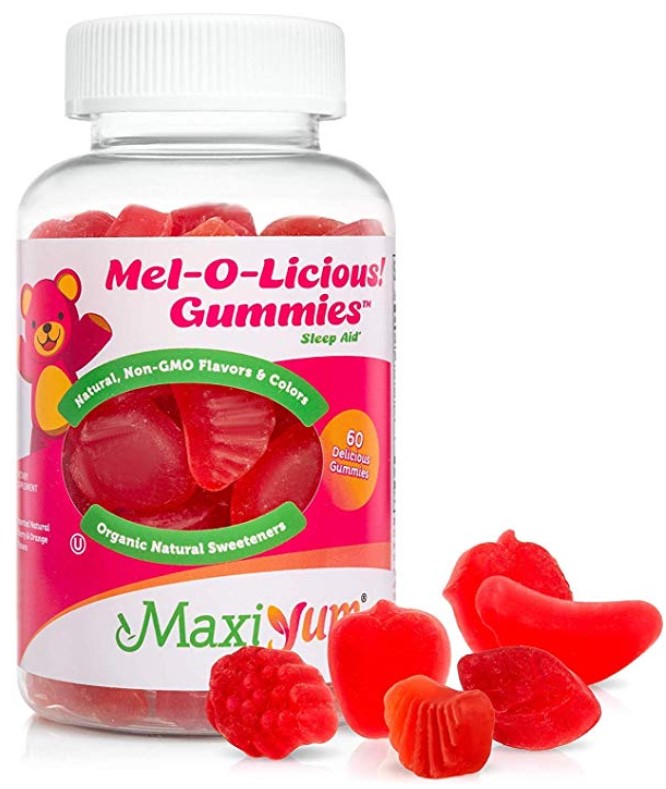 Are you having some challenges with your children in making them fall asleep? As a parent, do you only prefer the safest option for your children to take sleep aids?
Mel-O-Licious Melatonin Gummies for Kids is one of the safest sleep gummies recommended by pediatricians. It is a natural supplement for your kids to reduce night-time anxiety, restlessness, insomnia, and even jetlag. These supplements contain a natural berry flavor that provides a kid-friendly chewable taste. It comes in fruit-shaped forms of oranges, bananas, grapes, and strawberries, which makes it a fun way for your child to intake. Mel-O-Licious gummies by Maxi Health has been exclusively formulated with 1mg Melatonin for young kids as a natural sleep remedy.
Made with all-natural ingredients, Mel-O-Licious Gummies for Kids retails for $12.95. This GMP-certified and FDA-approved product are 100% safe with gluten-free and vegetarian-friendly content. Also, these gummies do not contain artificial colorings or flavorings as well as zero preservatives. Maxi Health's melatonin-based sleep supplements have been proven to improve your child's sleep quality without harmful side effects, without risking dependency on the supplements, withdrawal symptoms, and morning hangover. One gummy 30 minutes before sleeping can help your kids to relax, mellow down, and fall into a good deep sleep.
Mel-O-Licious… has to be the best name ever for a sleep aid… is on sale with great reviews on Amazon!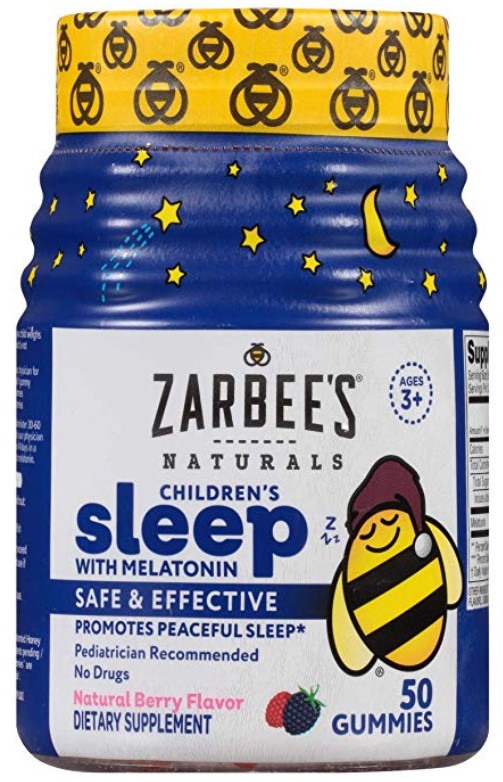 Another pediatrician-recommended sleep aid supplement for kids is Zarbee's Naturals Children's Sleep Supplement that contains 1mg of Melatonin. These melatonin-infused gummies are recommended for children ages three and up. Each gummy has a natural berry flavor from real fruit extracts, which makes it an excellent option for your kids. Made with premium ingredients, Zarbee's melatonin sleep supplements are drug-free and alcohol-free. It does not contain artificial colors or flavors neither! It has zero fructose corn syrup, making it an all-natural alternative to sleep-promoting supplement for your children.
For $12.73, you get one bottle containing 50 gummies recommended for children at least three years of age. A father and pediatrician found this product; parents can rest easy knowing that Zarbee's Naturals melatonin supplements are safe without the usual side effects such as grogginess. It does not promote dependency for sleeplessness, either.
The company is committed to providing only the most effective and safe wellness products for all ages. Children can start their intake with one gummy before bedtime. Like other melatonin supplements, it is best to consult your child's physician for proper dosage. Zarbee's Naturals Children's Melatonin Berry Gummies is a supplement product that does not have proven medicinal properties.
With over 6,000 Amazon reviews and a 4.7 Star rating, Zarbee's Naturals Sleep Supplement for Children is an excellent choice!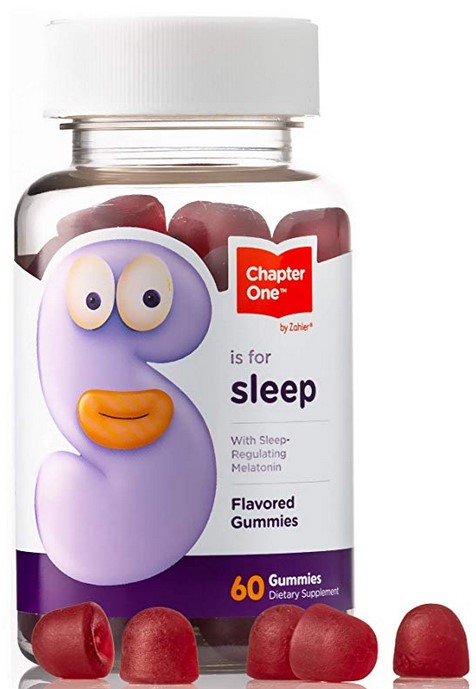 One of the cheapest and most effective melatonin supplements for your children is Chapter One Melatonin Gummies that contains 2.5mg of Melatonin for a beautiful good night's sleep. A bottle of 60 gummies costs $11.67; they are manufactured in a safe and state-of-the-art GMP-approved facility. It contains only the highest and premium-grade ingredients and is free of gluten, eggs, peanuts, soy, tree nuts, and dairy. Infused with a fruit-flavored taste, it is one of the most delicious chewable gummies for promoting restful sleep and perfectly works with the body's natural sleep patterns.
Chapter One's melatonin supplements help set healthy sleep cycles and good quality of sleep, without causing dependency. With healthy sleep patterns, you will see your children improve their mood, which ultimately helps in their development and growth. Most parents have only given one gummy to their children and have already witnessed immediate results. It regulates children's sleep cycle without significantly altering their sleeping habits.
FIVE STAR RATING on Amazon and AFFORDABLE, Chapter One Melatonin Gummies are a must have for safe and effective sleep for your child!
related sleep "stuff"