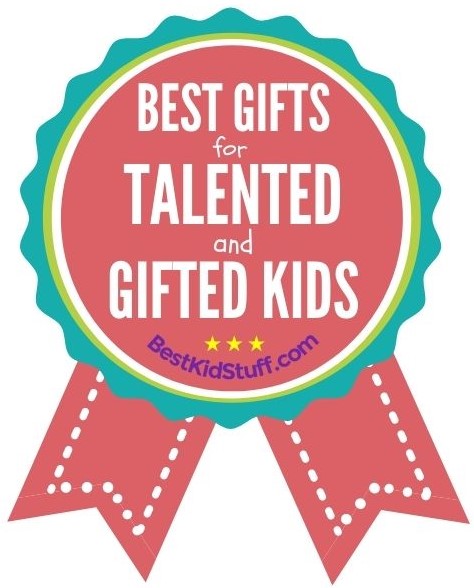 Is your child becoming more interested in a certain field and excelling in it? While it's true that children naturally love learning, some kids pick up topics faster and learn new ideas more easily than others. Not all children can grasp concepts the same way—and your little one may be gifted!
So, how do you cultivate your child's genius?
Help sharpen your child's talent by giving them opportunities to fulfill their potential. Encourage them and give them all the resources they need! You can enroll them in different classes or clubs, schedule outdoor trips more often, or use different mediums for learning, such as watching videos or reading books.
Another way to help your child excel is to give them gifts that would help them expand their current interest while having fun.
RANKING METHODOLOGY
Getting the right product that matches your gifted child's passion or interest can be a hard task. Beyond settling for the exceptional product features and add-ons, we considered these too for a great buy:
Safe for kids – Surely, your child's safety is your top priority, so it's only fitting that you consider the product's materials and the size of its parts. Some manufacturers use harmful chemicals to lower their costs. Check the label for the non-toxic sign. Mind the small objects, too, as they could be choking hazards.
Age-appropriate – "Advanced" or "state-of-the-art" toys don't always do the trick. Some products require physical maturity and emotional advancement for your child to use properly. Parental supervision is always a good idea, especially when using products that you doubt are age-appropriate.
Suitable to your kid's taste – While getting educational items is ideal, it's also important to consider aspects that appeal to your loved one. Choose the color, shape, or cartoon character your child loves.
Can be used long-term – Some products may only be suitable for a certain time, and your kid may outgrow them. Try different ways to accommodate your child's changing interests. This helps parents save on costs while helping their kids learn as they grow.
Avoid sharp items – Products with sharp or pointy parts and edges are accidents waiting to happen. Choose toys that don't risk kids injuring themselves.
When choosing a present for children, things that capture their attention are always a good choice. You can find a lot of great birthday gifts and Christmas presents out there for kids of all ages that challenge their smarts! However, it can also be challenging, considering the dizzying options online! To help you pick one, we've rounded up the ten best gifts for your little prodigy!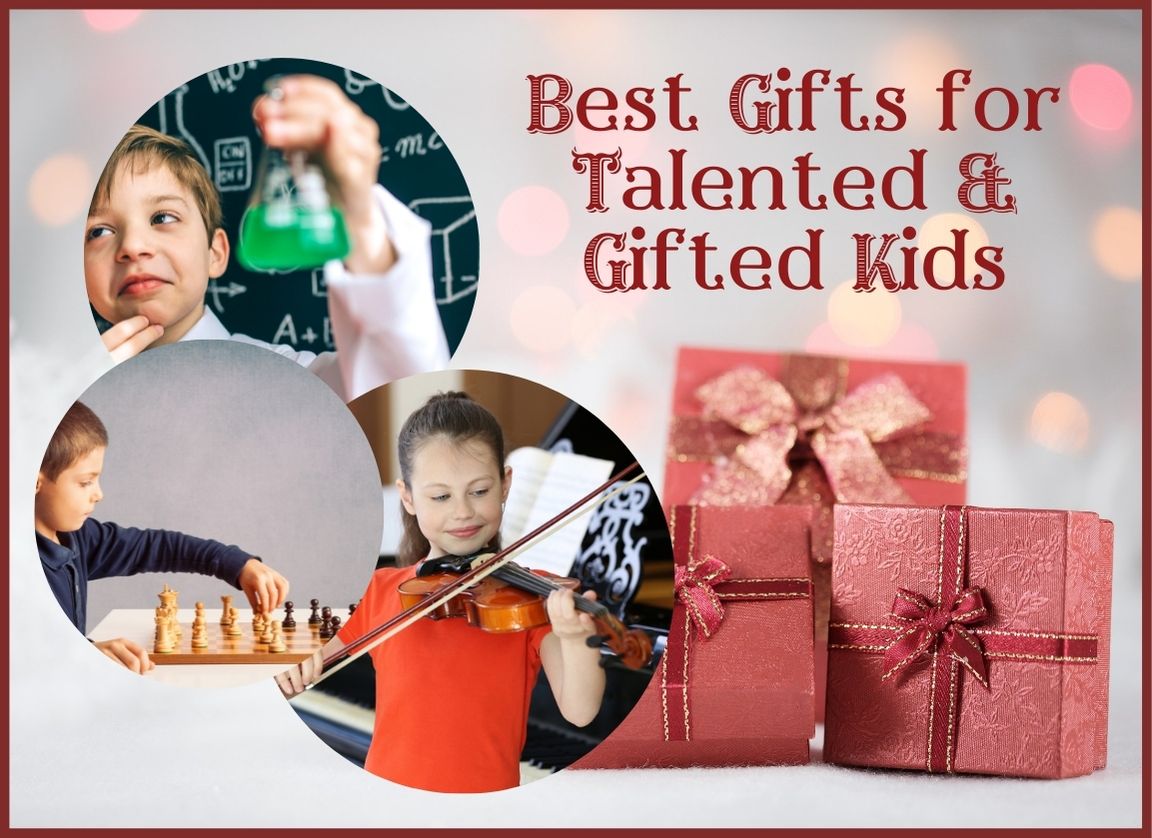 1) 58-pcs Uartz Microscope Kit for Kids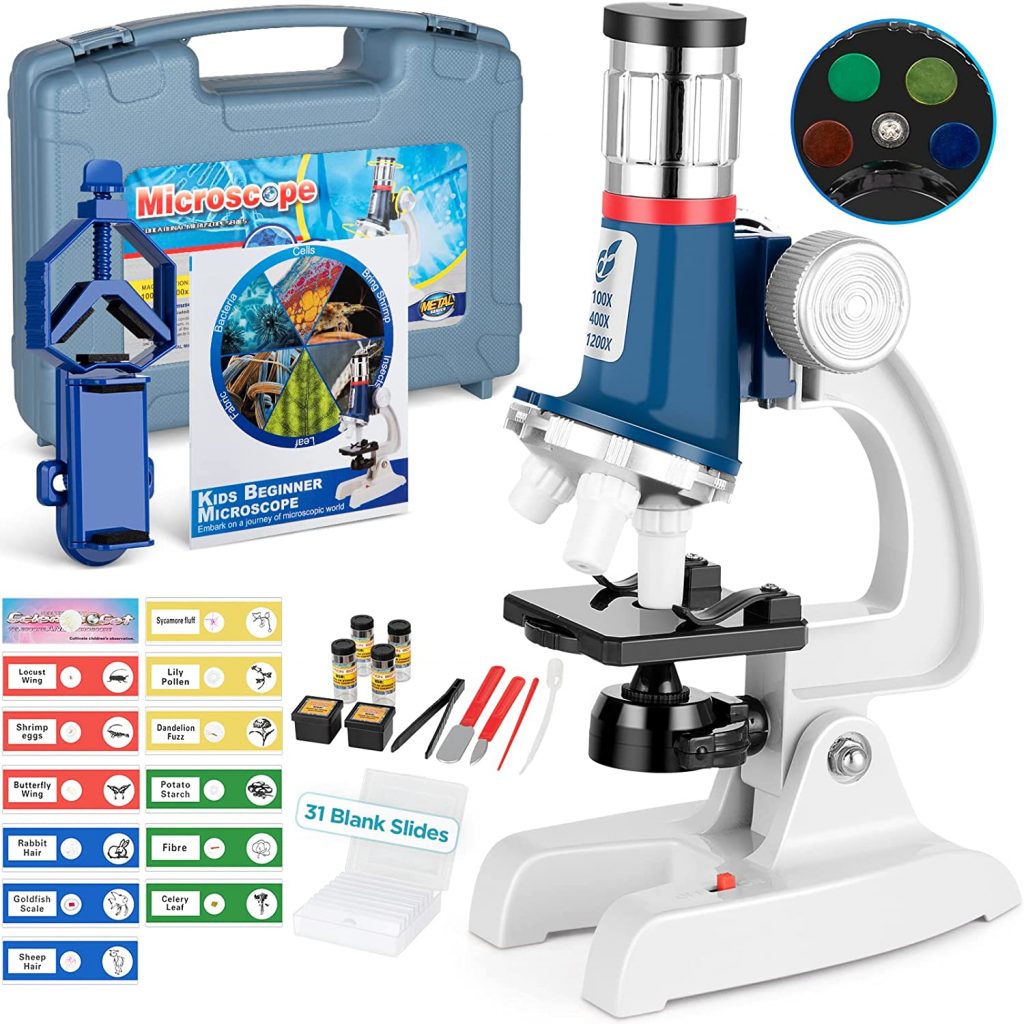 Looking for the best gift to upgrade your kid's love for science? The Uartz Microscope Kit offers a fun and interactive way to learn more about science and biology. The kit includes 44 slides, 13 of which contain random plant and animal samples. With its 100x to 1200x magnification, the Uartz Microscope offers a closer look at different plants and animal specimens.
This could be a good chance to discuss different animal and plant parts and add in various scientific processes. On the other hand, the remainder of the slides are empty, so your child can experience making their specimen from scratch. The kit also includes tweezers, a scalpel, and droppers, tools that may help prepare the specimen slide.
The microscope's body is made from durable metal, so you're sure of its quality. It also has an ergonomic design that's easy to hold and comfortable to use, avoiding neck strain while checking specimens. For better illumination, the device is equipped with LED light. The microscope kit also comes with a mobile phone holder to record your specimens by getting clear images on your device.
This microscope set also comes in a carry-on case, so you can conveniently carry them when visiting parks or going on hikes!
2) GOLME PRO Pop Up Soccer Goal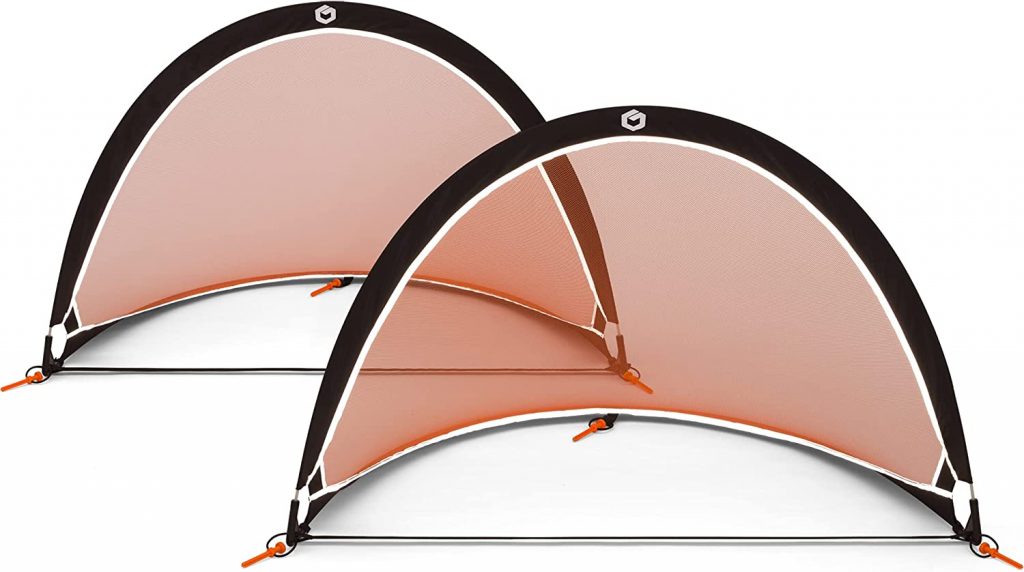 The GOLME PRO Pop Up Soccer Goal is a great way to introduce the sport to aspiring athletes. It keeps your child interested in soccer and physical activities, keeping them physically active, and with this product, your kid can practice their shots, kicks, defense, and blocking skills.
Aside from learning the sport, this is also a great way to exercise and gain physical strength. This may also be a good way to develop your child's interpersonal skills when playing with other kids.
Since it's easy to carry and set up, the GOLME PRO Pop Up Soccer Goal can be used in parks and playgrounds. You need to twist it open or twist it flat into the carrying case, and you're good to go. It can be used in your backyard so your kid can play anytime.
The goal's rods are made from fiberglass, a lightweight but durable material, perfect for the product. It's also reinforced with stakes to make it more stable. Best of all, it comes with a reflective net that makes it stand out from the other portable goals available online.
This product comes in various sizes, ranging from 2.5, 4, and 6 feet!
3) NATIONAL GEOGRAPHIC Science Magic Kit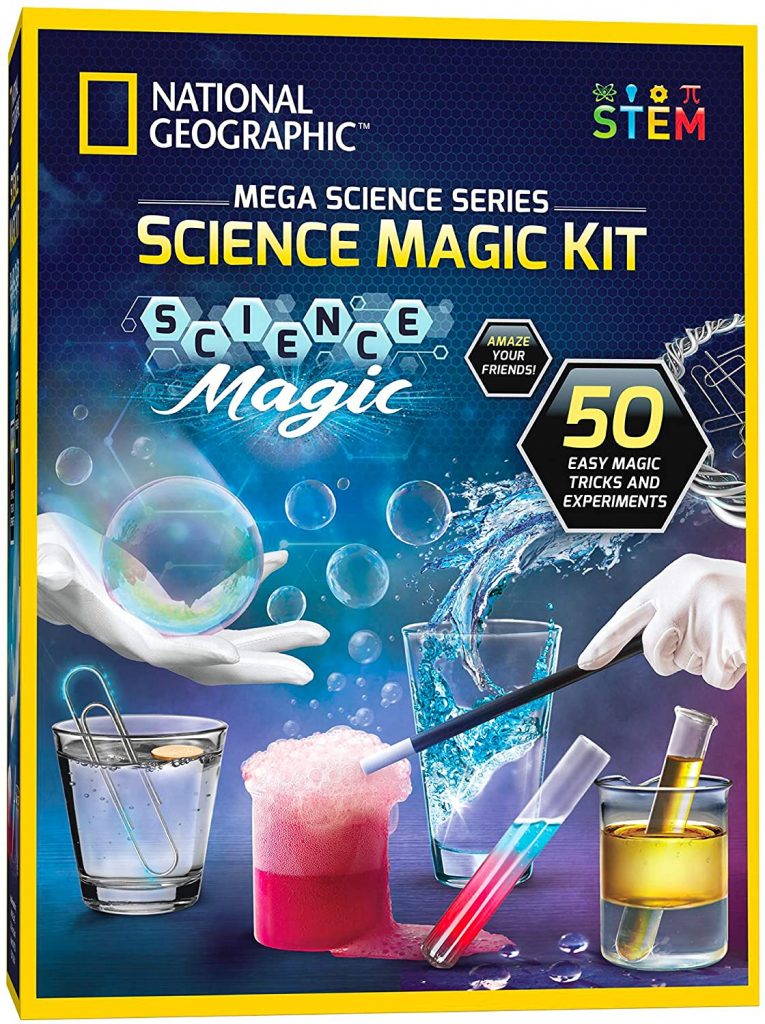 Does your kid love science and magic? Renew their excitement through the NATIONAL GEOGRAPHIC Science Magic Kit. The set has everything your kid needs to conduct 20 experiments in front of an audience. Plus, it has extra materials to practice before showing the new science tricks.
Some experiments include making water float on sand, making snow appear, and creating a square bubble. Your child would also surely enjoy changing the color of different solutions and revealing secret messages.
National Geographic made sure that all the materials included were safe and child-friendly in terms of quality. All 21 materials went through quality control to provide reliable experiments backed by exceptional service.
The kit comes with illustrated guides, so your kid may easily follow the instructions. It also has different facts to understand the experiments and their physical properties better. Even real scientists have added their secret techniques to make full-proof magic tricks.
This is a perfect gift to develop your child's curiosity and confidence!
4) Hamzer 61 Key Digital Music Piano Keyboard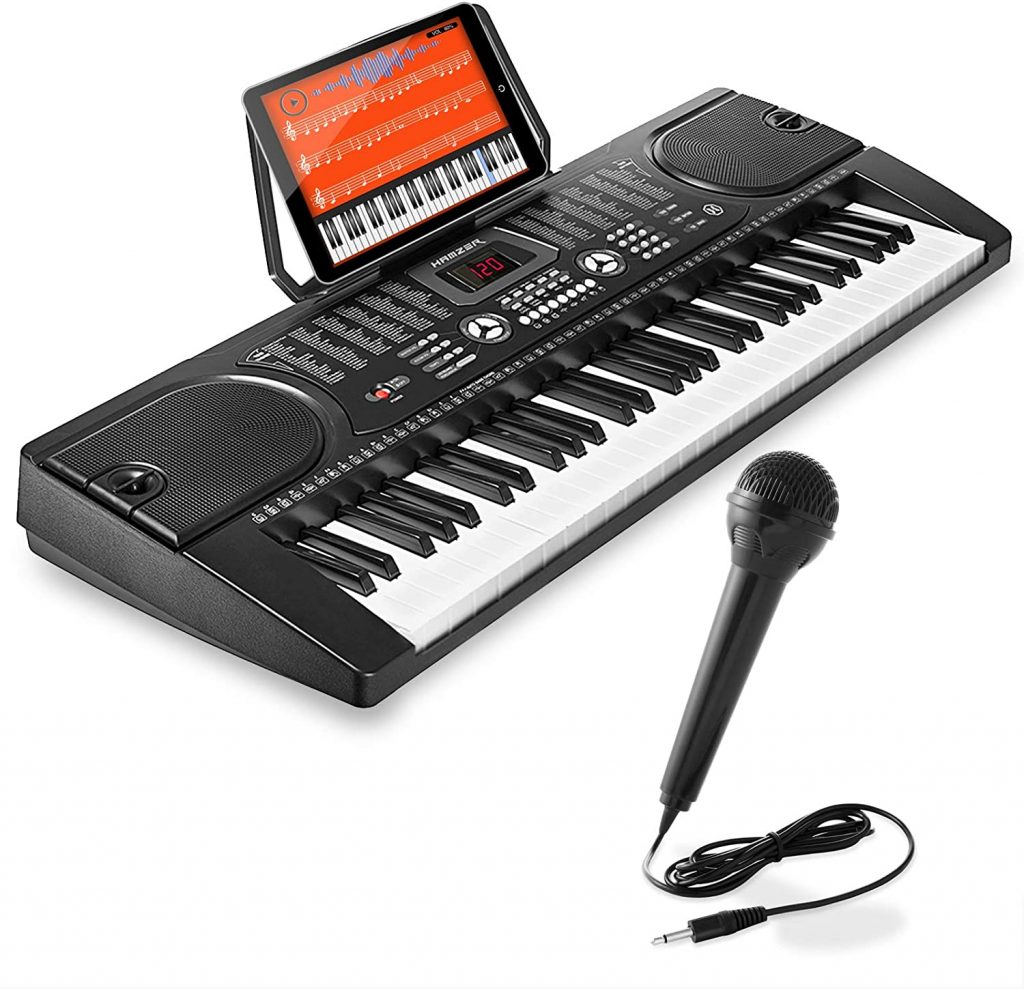 On the hunt for an ideal present for your little musician? The Hamzer 61 Key Digital Music Piano Keyboard is the one for you. Let your child master finger control or practice different pieces with this product. It comes with 255 rhythms, 255 timbers, and 61 keyboard percussions, so you're sure that it can deliver a good range of sound.
The instrument has a good mix of traditional piano and organ feel that's great for learning. It also has 24 demonstration songs that are perfect for beginners. The superior sound quality may encourage your child to play more songs and compose their own music. This keyboard comes with different features such as choosing vibrato and ensemble effects, adjusting the tempo, and programming its rhythm.
It's good to note that the keys are touch-sensitive, so you'll produce a louder sound when hitting the keys hard. This allows you to play with better control and expressions. The keyboard set also comes with a microphone if your kid wants to sing along while playing. A headphone jack is also available for discreet playing.
Let your child enjoy the gift of music with this piano keyboard!
5) Crayola Color Caddy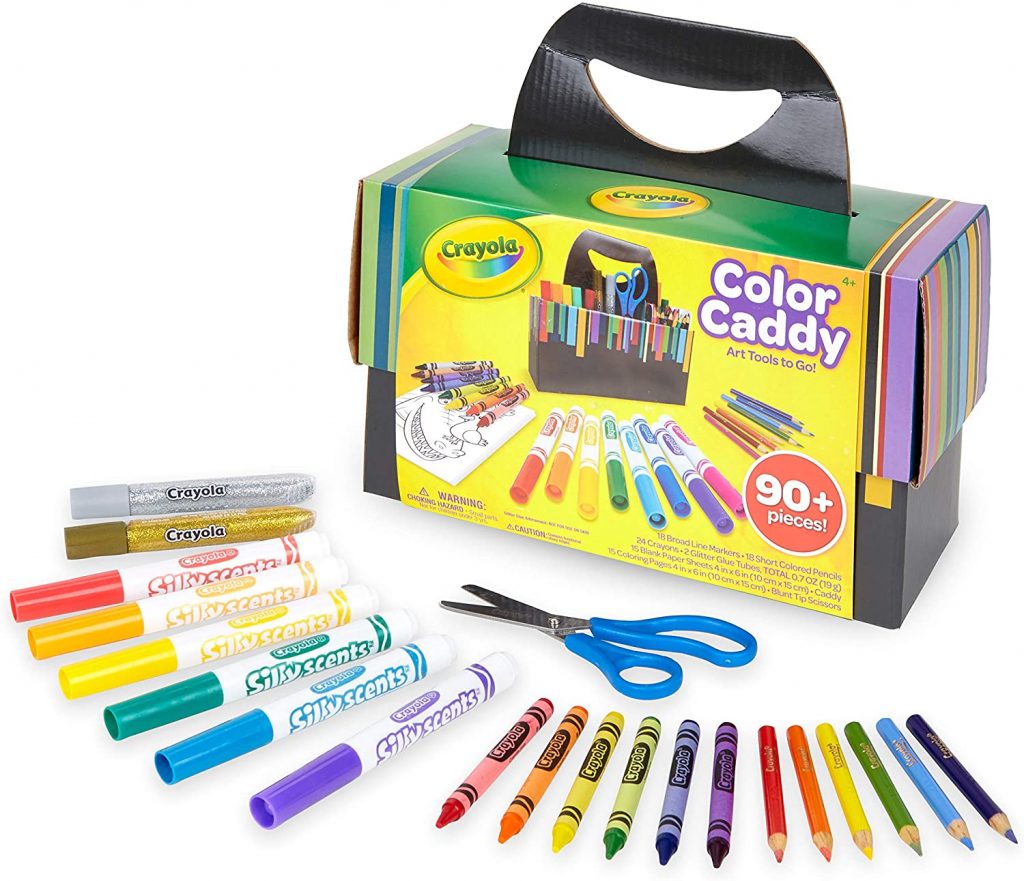 Is your child fond of drawing and coloring? Get the best gift by giving them the Crayola Color Caddy. The set comes with a range of coloring materials, including crayons, coloring pencils, and markers. Your child can create different artworks by using the materials individually or by using two or more of them in one artwork. For example, colored pencils and markers can be layered to create detailed drawings.
With 60 coloring pieces, your child will surely bring their imagination into an artwork. Moreover, the coloring materials are guaranteed to be safe and toxic-free. Along with coloring pieces, the set comes with glue sticks, a pair of scissors, and blank sheets, so your child is ready to draw.
For better storage, the coloring set comes in a caddy that's made from durable cardboard, so you can bring this anywhere you and your kid go. Aside from coloring in school, your child can bring along the caddy during park visits and even international travels.
This color caddy will surely inspire your young gifted artist to create more vibrant drawings!
6) FMG Portable Refractor Telescope for Kids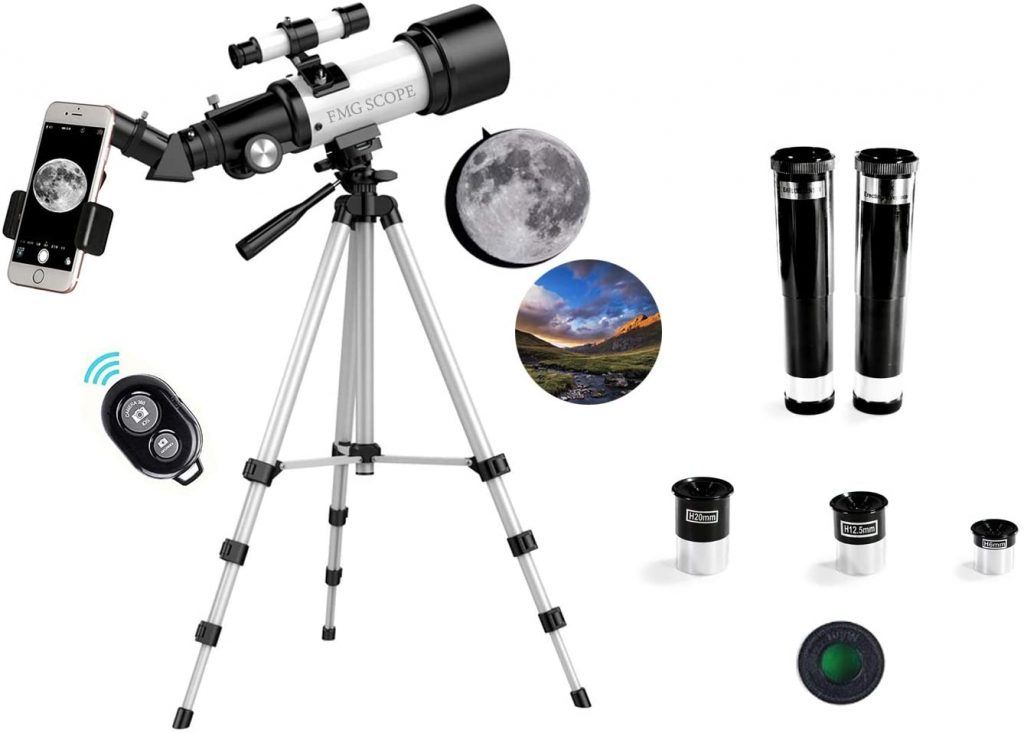 The FMG Portable Refractor Telescope is an ideal gift for young astronomy beginners. With this device, your child can better visualize the different cosmic bodies that are usually just seen and read in textbooks. Seeing stars or different planets with their own eyes may fuel their interest in astronomy and outer space. Who knows, your child might be one of the future scientists of NASA.
The FMG Portable Refractor Telescope has four interchangeable lenses that deliver clear images. Its lens comes with a special coating that helps in protecting your child's eyes from harmful UV rays. With 200x magnification, this product is perfect for stargazing activities in open fields and parks at night.
It's also great for observing distant objects and getting a birds-eye view of various landmarks within the city. The set comes with an extendable tripod for better viewing and a phone holder to take high-quality pictures conveniently.
This product is easy to assemble and use, making it the perfect gift for your kids!
7) Tovla Jr. Kids Cooking and Baking Gift Set with Storage Case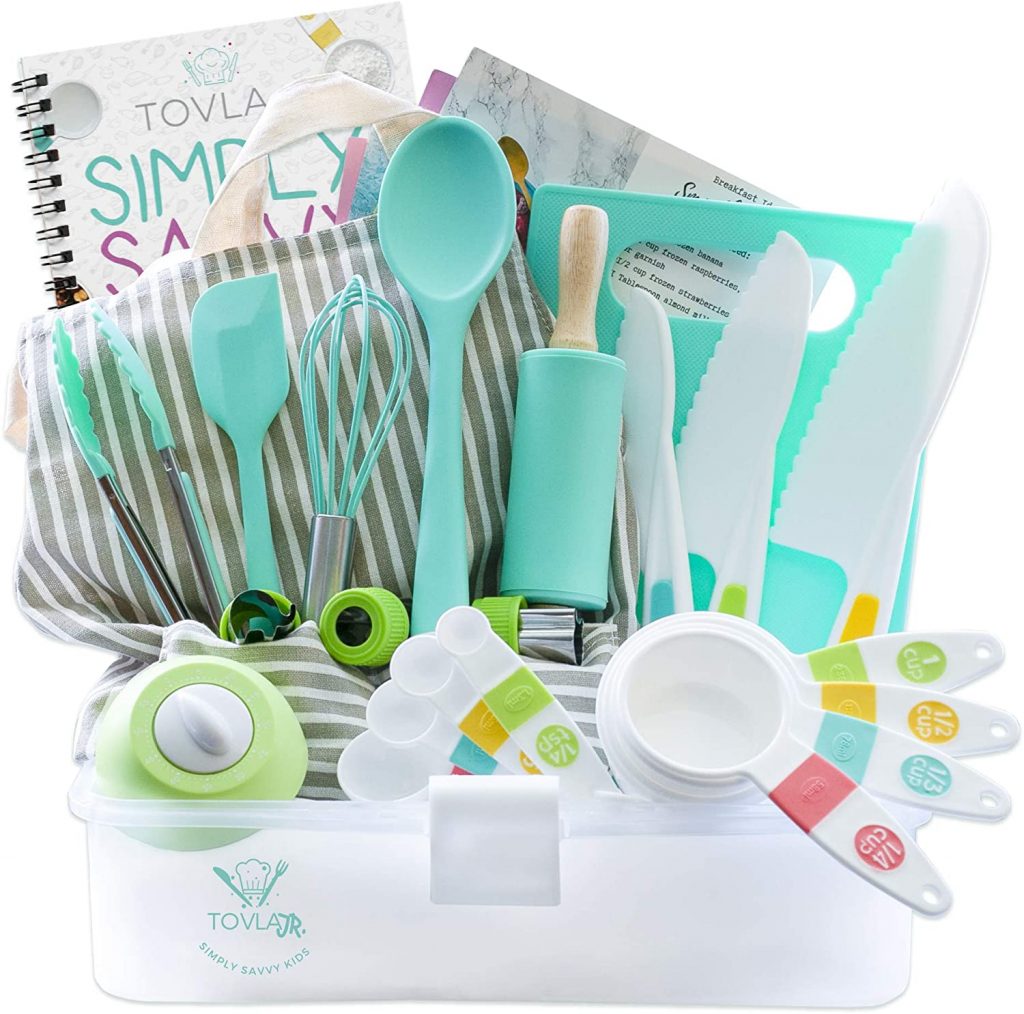 Looking for the best gift for your little baker? The Tovla Jr. Kids Cooking and Baking Gift Set comes with the necessary kitchen tools to develop your child's passion in the kitchen. Using the normal cooking and baking ware may not be suitable for growing kids. That's why it's best to use child-friendly utensils that are guaranteed to be safe in preparing food. Some cooking pieces include a tong, plastic spoon, and knives.
Other baking accessories include a timer, cookie cutters, and measuring cups. The kitchen pieces use cute colors, light blue with a little green, while the apron comes in gray that suits any gender. The entire set can be conveniently stored and organized using the storage case.
As a bonus, the set comes with four recipes for you and your kid to try in the kitchen. It also presents a time to bond with them and teach them your cooking skills.
Get the Tovla Jr. Kids Cooking and Baking Gift Set for an affordable price, providing hours of fun!
8) Arts and Crafts Vault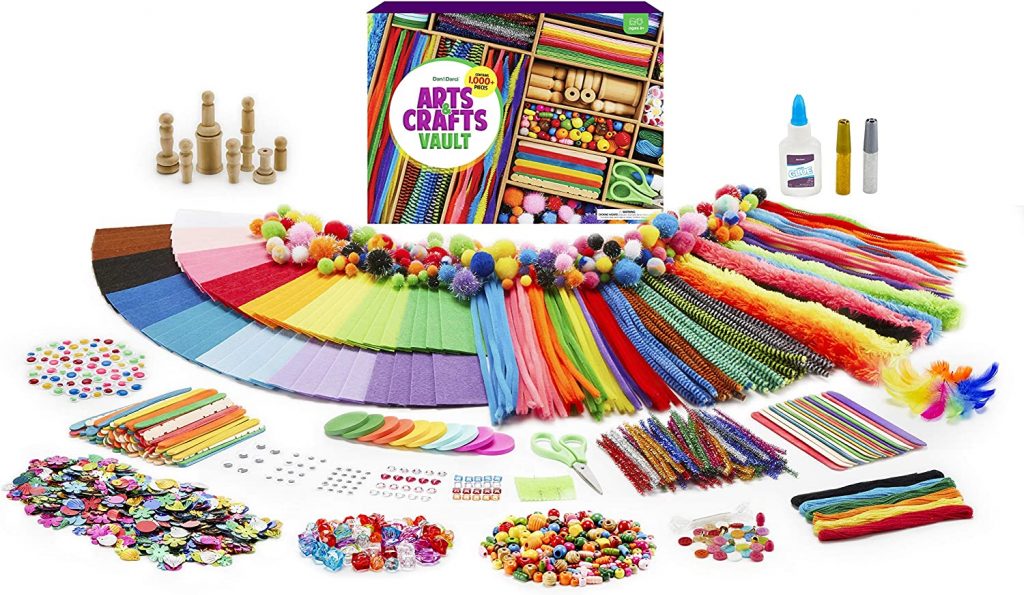 Looking for crafting supplies for your young artist? Kids who excel in creativity will surely enjoy the Arts and Crafts Vault. The set comes with 1,000 pieces of supplies for your child to use in crafting and even scrapbooking. The glitter glue and sequins can be used to add some sparkle to your kid's work.
The set includes wooden pieces, plastic beads, and thread. The beads come in vibrant colors, while the wooden ones have a natural finish. Kids can turn these into wearable accessories or pieces of jewelry. Moreover, the set also comes with pipe cleaners, craft sticks, and googly eyes.
These materials are great for creating different characters and stick figures; you will be amazed at how imaginative your child will become! The pieces can also be used in various projects and schoolwork for your kid. To complete your child's crafting, the set comes with a pair of scissors, glue, and sewing needles, which should be used with parental supervision.
You get value for your money with the Arts and Crafts Vault!
9) Makeblock mBot Coding Robot Kit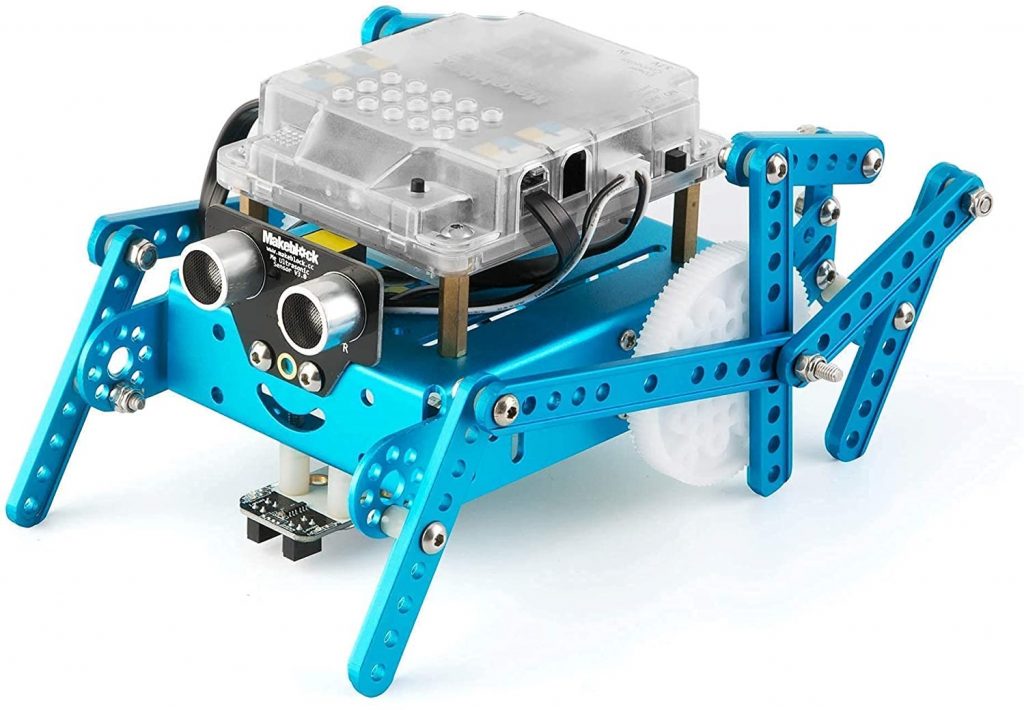 The Makeblock mBot Coding Robot Kit is perfect if your kid is interested in robotics and programming. With more than 60 programming tasks, the robot can be programmed to be more interactive by playing games and doing other tasks. The mBlock software will help your kid learn more about programming.
For beginners, your child can start with Scratch and advance to Ardunio C after learning the basics. Aside from programming, your child can learn about electronics since the kit involves working with a motherboard and open-source construction. The robot kit can be built as fast as 15 minutes with an assembly guide and illustrated instructions.
The kit also comes with different apps, such as the mBlock app and Blockly app. Through the mBlock app, kids can choose from different preset programs, such as letting the robot dance and sing. Similarly, the Blockly app provides an interactive way to learn to code. Additionally, coding cards are included in the kit to understand programming better.
Get the Makeblock mBot Coding Robot Kit and let your kid start building their robot!
10) Wireless Bluetooth Karaoke Microphone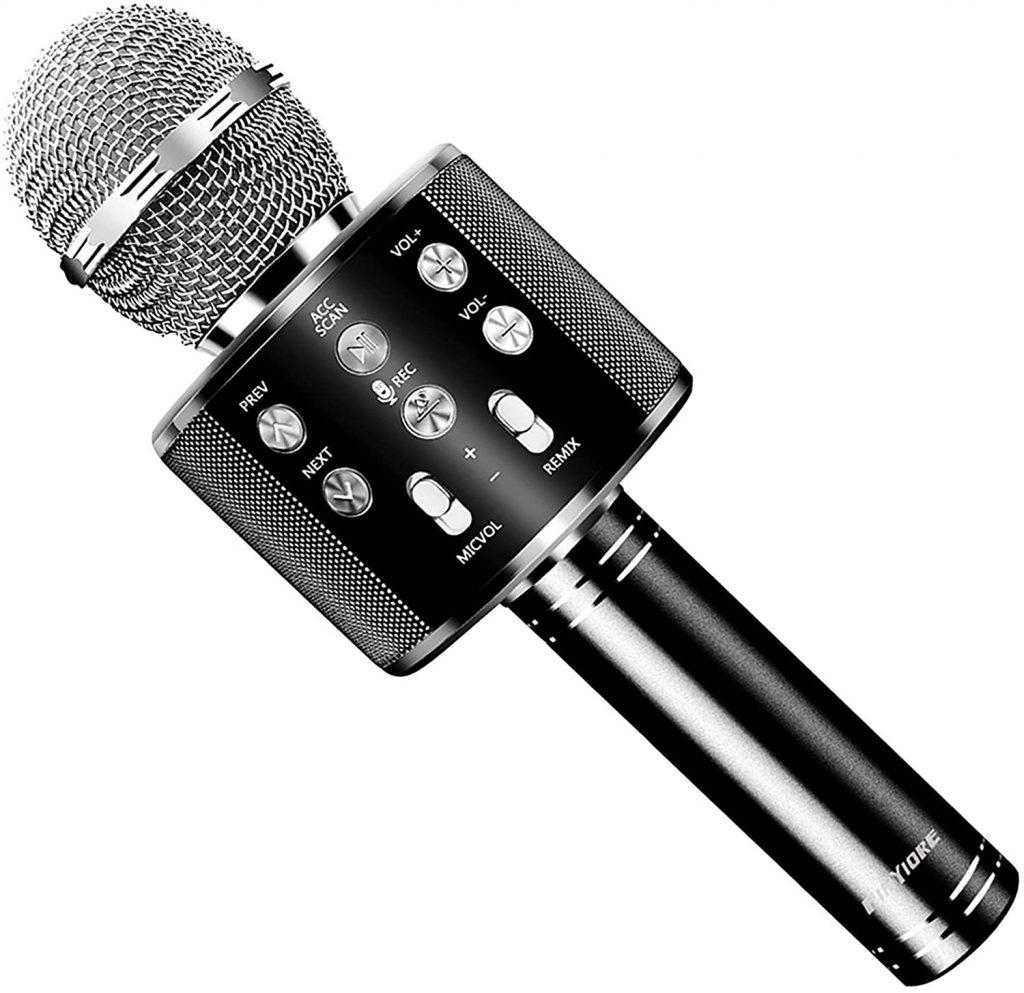 Does your child have a talent for singing? The Wireless Bluetooth Karaoke Microphone is the perfect gift for aspiring young singers. This lightweight product is a great partner for your child to belt out their notes and practice their favorite songs.
It also comes with built-in speakers, so there's no need to connect the microphone to any sound system. Using the microphone's recording feature, you can save your child's performances and listen to them at any time. It's a good way to examine how your child's abilities have improved.
The Wireless Bluetooth Karaoke Microphone is equipped with layers of mesh filter to produce better sound quality. In terms of connectivity, the microphone can be connected to different devices such as smartphones or tablets so you can transfer your recordings conveniently.
Best of all, this product can last up to 14 hours. You may bring the mic anywhere and even perform outdoors. Aside from its portability, the device also comes with several buttons to easily adjust the volume, record, and change the song.
Get this great Wireless Bluetooth Karaoke Microphone today!
---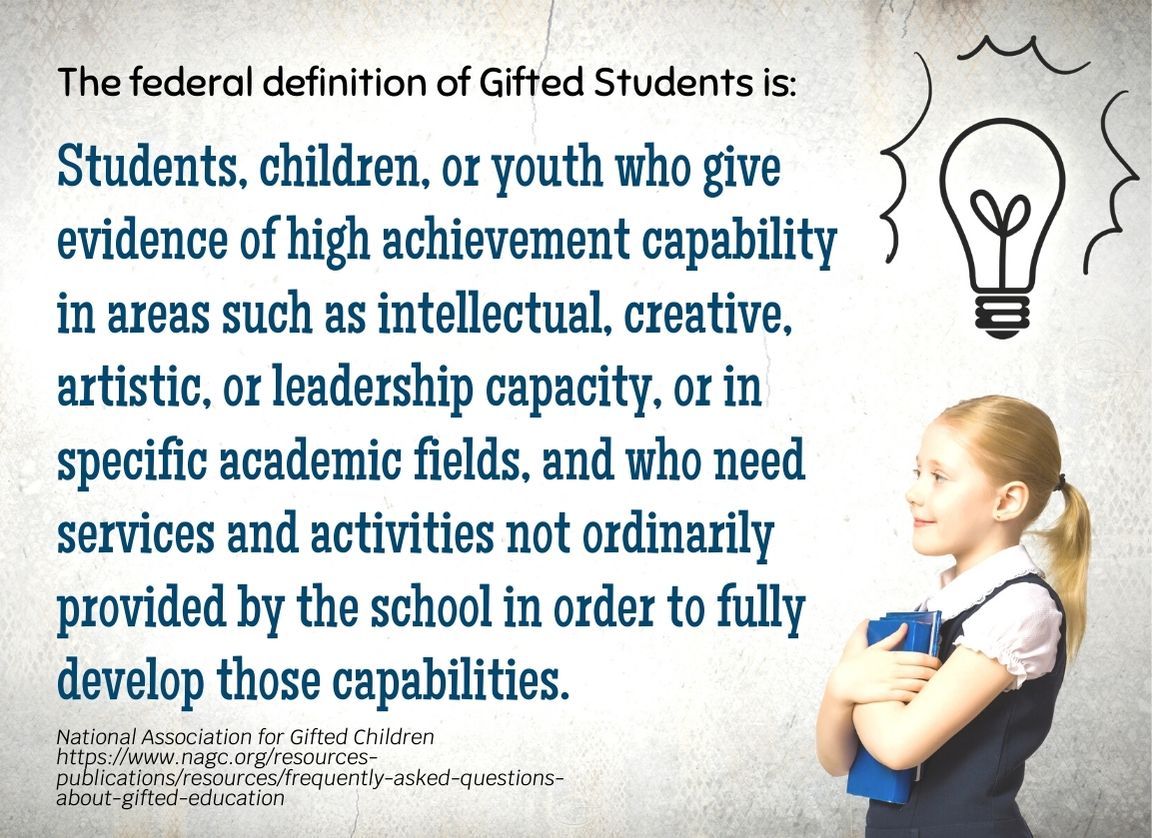 It can be tricky for parents to nurture their child's talents or spark their interest in something without taking the fun out of it. The market is filled with products that promote your child's interest in music, arts and crafts, and science. Portable, yet fun science-focused items, toy musical instruments, and art supplies are often the way to go to encourage creativity! And while at it, make sure to verify the product's safety and age-appropriateness.