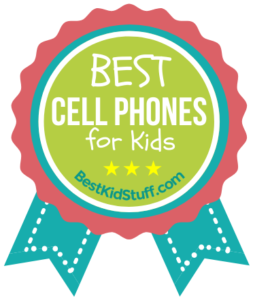 Stay connected with them…
Mobile phones are useful and powerful devices. These handy pieces of technology are costly, and generally not child-friendly. These days, however, kids can own a cell phone. This device has the primary purpose of keeping users connected, but most children want it for entertainment purposes.
They also experience social pressure and the need to fit in with the crowd. As such, mobile phone ownership among young people may have its benefits, but parents also need to be careful of its many pitfalls.
But are they ready?
When you think your child is ready for their mobile phone, see to it that they fall within the recommended average age. Experts say that it is safe for kids to own their first smartphone around thirteen years old. Around 50% of kids these days have social media accounts such as Facebook and Instagram by the age of 12.
As the demographics are primarily focused on school-age kids, remember that a fundamental element of parenting in these modern times is setting reasonable boundaries for your children's use of technology—cell phones included.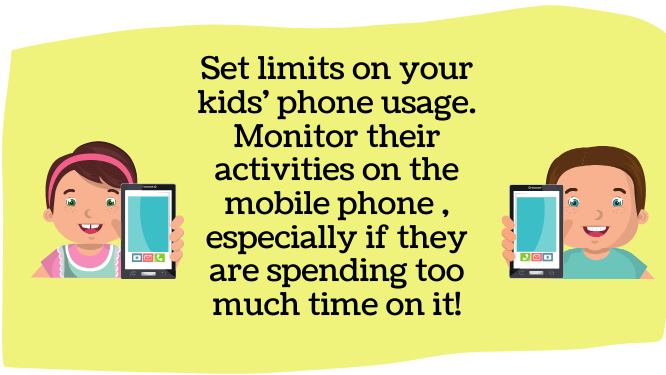 In general, consider these factors as an ideal phone for your child:
Easy to use: Consider a user-friendly phone. Your kids need a phone that is simple to operate. Your kid should be able to access it quickly in emergencies.
Parental control: As much as you want your child to enjoy their first phone, set limits on their phone usage. Guide them properly by monitoring their mobile phone activities, especially if they are spending too much time on it!
User functionality: Every phone has its features and advantages. If they watch videos and play games often, a phone with a good memory will do. If they like to access eBooks, they might need a larger phone screen. But if it is only for the primary call and text function to give you an update, consider the battery, cellular capability, and durability of the phone.
Do they need access to their phone 24/7?
While these are helpful tips in buying a phone for your little tech wizards, consider this last cardinal rule: give your kids their phone when they aren't with you and need to communicate regularly. As long as you maintain certain boundaries and agreements with your kid, they will learn to be a responsible mobile user at a young age!
Are your kids waiting for their birthday or holiday present? Scroll down to check out these five cell phones for kids that make great gifts: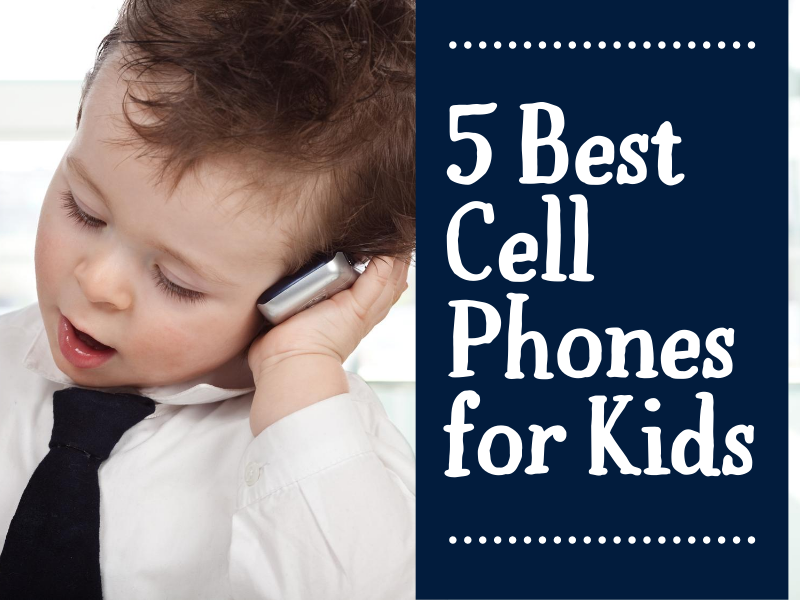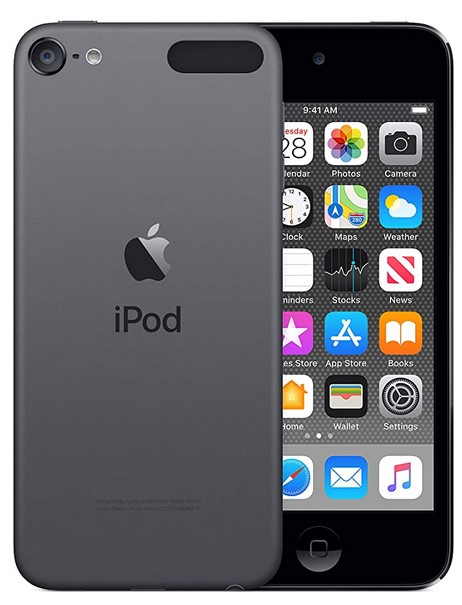 A big giant in phone production, Apple has its offerings that are dedicated to kids. Apple iPod Touch is kid-friendly. Children under the age of 12 will love this light yet sturdy portable device as their first gadget!
This updated iPod Touch model from Apple has many exciting features for older children, too. At first glance, this sturdy device looks like a mashup of the aging iPhone5 and iPhone6 but with a smaller screen.
This phone with a four-inch screen is lightweight, making it perfect for kid's little hands and one-handed use. It is easy to grip, hit the volume keys, and control everything.
Entering a 4-digit password can also make them familiar with alphanumeric keys than the usual Apple models' fingerprint scanner or Face ID. It's a good start to capture moments with natural colors with a primary 8-megapixel camera equipped with an iPhone5 sensor.
It also records videos at 1080p quality. Children can enjoy group Facetime with their classmates and family with its front-facing camera.
One thing that makes this phone a standout is there are no screws, gaps, cracks, seams, or openings. It has a seamless fit and finish.
While it does not have any cellular service function, this excellent smartphone is known for its app availability. This iOS-powered device is equipped with an A10 Fusion chip for faster performance and improved graphics.
It has access to all of the latest Apple dedicated apps from iMusic, App Store, iTunes U, and Apple TV. Once it is connected to Wi-Fi and Bluetooth, children can certainly have unlimited hours of entertainment!
The Apple iPod Touch has a full Safari browser for information search. Little techies can shift from playing games, surfing the net, listening to music, and watching cartoons at ease. They can also access educational and entertainment apps from the App Store, with thousands available for download.
It also supports Augmented Reality on apps that let you drop virtual objects in the digital world. If they love to read, they can explore its eBooks section for the latest and popular books for their homework!
This iPod Touch model comes in six colors, namely blue, gold, pink, silver, red, and space gray. You can also choose from 32 GB, 128 GB, or 256 GB memory capacities. Even on smaller memory capacity, this phone can store numerous playlists and pictures. By choosing the 256 GB memory, your kid can keep a vast digital library of pictures and download a wide selection of great kid-friendly apps.
While this mobile costs more than the other products in the market, it is hailed for its many excellent features rolled into one pocket-sized device!
Stay in touch with the kiddos with this great cell phone, the Apple iPod Touch! Order today from Amazon.com!
2. VTech KidiBuzz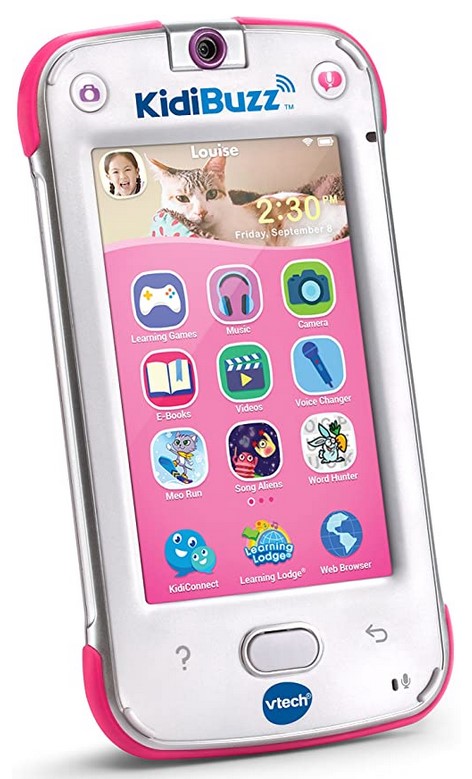 VTech KidiBuzz is another smart gadget for young children. VTech, one of the world leaders in electronic learning toys for almost three decades now, specially designed this "look-alike" mobile phone for your little kids to learn and have fun.
With the Vtech Kidi Bizz, your kids four to nine years of age can connect, learn, share, and play all at once! Please note: This device is not a cell phone – but does have several communication features!
The first thing that you will notice with the VTech KidiBuzz cell phone is its kiddie-looking design at a glance. It may have a child-like appearance, but it is smart and dependable. This 5-inch compact gadget is built with a shatter-safe touch screen and rubber bumpers on the edges for fun on the go.
You also don't have to worry about buying separate accessories because it comes with a USB cable, AC adapter, a headphone jack, and a MicroSD Card Slot. It has pre-installed interactive games, three eBooks, and nine utility apps in its internal 8GB memory.
Both fun and useful, this Android phone features messaging, camera, multimedia player, and learning games. With a KidiConnect app, your kids can send texts, photos, drawings, and animated stickers to friends and family. By pressing the talk button, kids can do quick voice messaging and send it to their parents!
The rotating 180-degree camera is perfect for capturing pictures, videos, and selfies. It has 50 fun effects to enhance pictures and explore their creative side!
As VTech KidiBuzz also functions as a multimedia player, it is best for watching videos or listening to music. Using the preloaded 44 educational games, kids can play with science, math, and spelling. The VTech Learning Lodge is a virtual marketplace where they can download additional educational games and apps. They can get popular kid-friendly apps on the App Store, or Google Play, too!
Another VTech Kidi Buzz highlight is its parental control feature through the KidiConnect app. Parents can set screen time limits, permit the use of apps, block websites, and approve their list of personal contacts.
Give your child an outlet to stay connected through texts, voice messaging, and photos. Please remember: This device is not a cell phone. Check it out on Amazon.com.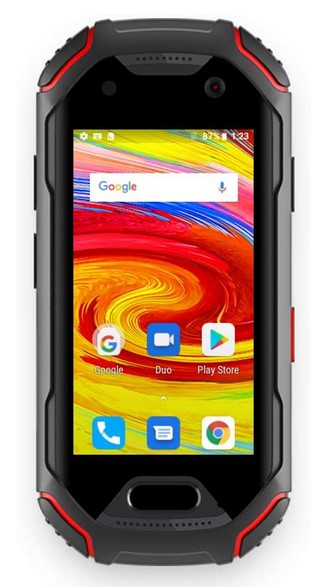 Tagged as the smallest 4G rugged smartphone in the world, the Unihertz Atom is more than just a tiny package. This handheld cellular device boasts a decent performance for its size.
The Unihertz Atom is filled with excellent durability features suited for children. It is a 3.8-inch phone that weighs only 3.8 pounds, and features a 240 x 432 screen that is perfect for your kids' tiny fingers! Besides its textured grip, this phone has all of its corners entirely covered with rubber bumpers.
IP68-certified, this cell phone passed stringent tests for protection against water, dust, vibration, shock, and extreme temperatures, making it perfect for you and your kids when out on a weekend trip! It is equipped with GPS+GLONASS to locate your kids when they are out and about.
The Unihertz Atom mobile phone has preloaded apps. The internal 64GB storage is enough for music, apps, and other kid-friendly content. Apart from standard messaging, it also works for voice recording. You can activate the call recording option in case your kids need to be reminded of your instructions when you're not home.
Unlike other phones designed for kids, this device has a fingerprint scanner and Face ID for additional security. It has a quick-to-unlock feature that does not require memorizing numeric passwords, especially when making or taking quick calls. The dual Slim slots help you get a better signal for specific phone networks.
Indeed, the Unihertz Atom is a tiny phone with good useability points and makes for an excellent first gadget for your kids!
Give them a cell device that is their size. It provides the security you need and other special features for them that makes it easy to use.
4. Nokia 3310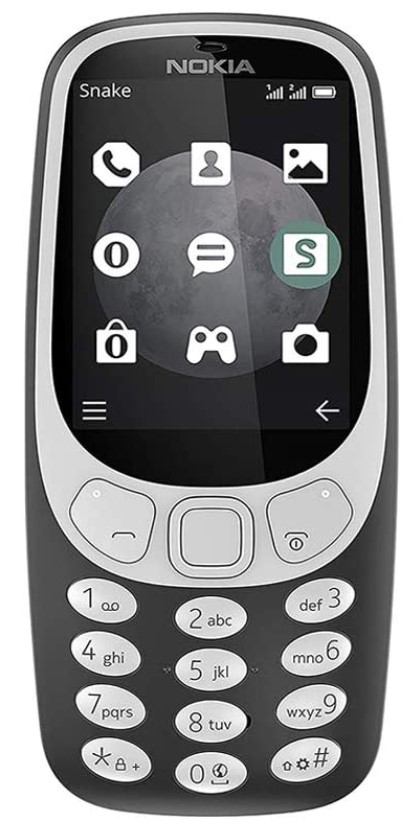 Nokia once dominated the cellphone market decades ago. Now, the 3310 classic has a new reimagined design!
The iconic silhouette of the Nokia 3310 makes it look like the original with a sleek and silver color keymat. It has a directional pad, select button, and classic T9-style keypad that is quick and easy for little techies to press. It is durable and available in four colors. Made of soft plastic, this 4.6-inch phone has a tactile matte finish that is nice to the touch.
The 2.4-inch, 240 x 320 screen, and the polarized curved window allow for better readability in direct sunlight. The Nokia 3310 handset does not come with a touchscreen, so you don't have to worry about kids damaging it and repurchasing a new one again and again!
Children can also customize the icons and select color themes on the screen to make it more personalized for them. Remember the legendary Snake? Your young ones can now play it in full color. The 3G connectivity keeps your kid up-to-date with what's happening around them. The Nokia 3310 is not Wi-Fi capable, but it does a decent job of sending messages and voice calls. The call quality is excellent for 3G, so you don't have to worry about choppy signals either!
The main highlight of the Nokia 3310 is its superb battery life, unlike other phones in the market. Most phones these days don't last a week, but this can live for a month on standby. It can manage to last longer even when you use it to listen to music, play snake, and take photos without charging.
It is perfect for countryside trips and outdoor adventures over the weekend, especially where there is no electricity around.
Simple and straightforward, the Nokia 3310 impresses parents who want their kids to enjoy the essential functions of a cellular phone.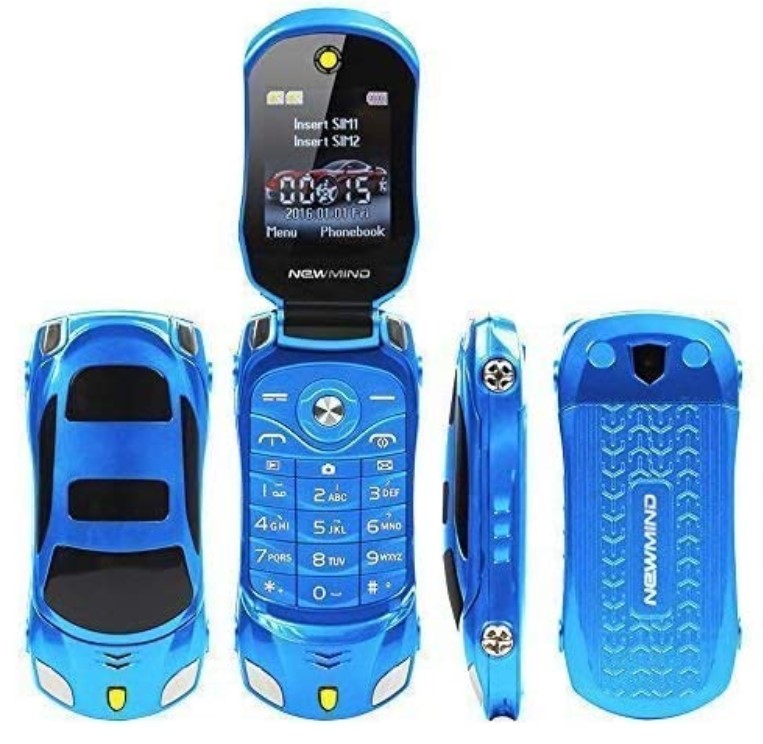 If your little boys are into cars and racing, this list has the perfect phone model for them. The Sports Car Model 15 Mini Flip Phone is designed for young (and young-at-heart) users! The look of the phone itself is a great conversational starter for your 10-year-old boy and his friends.
With the Sports Car Model 15 Mini Flip Phone, the first thing that you will notice is its appearance. It resembles a smaller version of a sports car. It is small enough to fits in your kid's pocket. While the metallic finish completes the overall automobile impression, little techies have to flip the upper portion of the mini sports car to open the screen. And as you flip it open and close, the headlight flashes!
The model has an FM radio and can be used as an MP3 player so kids can turn on the music as they 'drive!' The volumes are adjustable at the back tires. As it is designed entirely for boys, it makes cool engine revving noises as an actual car does! For sure, your son will get the attention of his playmates! Actually, the little girl in your life may enjoy this too!
The Sports Car Model 15 Mini Flip Phone may look gimmicky, but it has all the basic phone features. It can also support many languages, such as English, Spanish, Arabic, and French. It has a 640 x 480-pixel resolution that is good enough for average video watching.
Kids can also enjoy compatible networks of their choice from its dual SIM card option. As the network support claims to work worldwide, your young kid can send messages and make calls to you and his loved ones practically anywhere!
If your kids want to take pictures while playing with friends, it has a single camera for that. It features a calendar to keep track of the dates and an alarm that you can set as school reminders for them, too. The mini phone supports eBooks to make it more educational!
The Sports Car Model 15 Mini Flip Phone is great for young boys (and girls) that are not ready for a smartphone, yet learning and enjoying the basics of phone functionality.
---
Additional Resources: