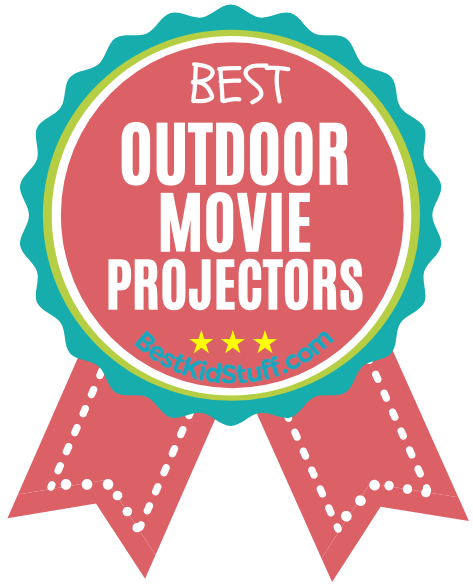 The advent of technology makes it easier for you to pass the time and, in essence, drive boredom away by turning to your smartphones. After all, this mobile device lets you do anything, from communicating with family and friends to watching entertaining videos on the internet.
But the ease and convenience it offers sometimes comes at the price of disconnecting from the people around you. This often happens in family members who get so engrossed in their digital world that they fail to engage and bond with each other.
While the downsides of technology can be glaring, we can say that the upsides are numerous and cannot be denied. The trick here is to find a healthy balance when dealing with technology, allowing it to enhance your everyday experience without sacrificing family time.
It can be a way to build closeness between family members. You do not even have to leave home to indulge in fun activities.
We are talking about movie projectors. Yes, huge flat-screen TVs are everywhere nowadays. If you do not want a permanent fixture for family entertainment, take your movie theater experience outdoors! It is an excellent way for parents and children to enjoy something together!
What You Need to Consider When Buying Outdoor Projectors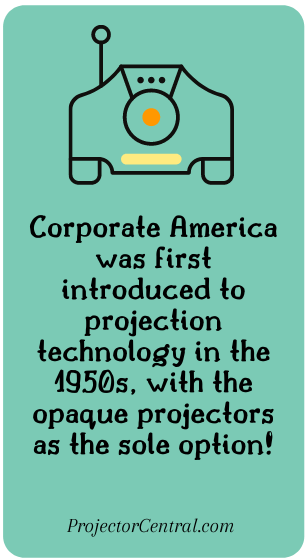 What could be more exciting than watching the latest Netflix series in your backyard? An outdoor projector will let you do that and more!
Especially popular during the summer season, this tool allows you not only to watch your favorite TV shows in your yard but also lets you utilize it for a variety of purposes, including viewing sporting events and even playing video games. Your kids would be thrilled to experience a cinematic night right at home.
But before you go out and buy the first outdoor projector you find, you need to consider a few things.
Portability
If you want a projector for outdoor use, it is important to choose a portable one that does not require plugging into an outlet. Some models are compact and easier to carry around, letting you set up your own family outdoor cinema anytime and anywhere.
Connectivity
Projectors nowadays let you access the content of your choice wherever you are. Ensure that your chosen projector is compatible with various devices, including PC, laptop, iPad, and smartphones. Bonus points if it allows you to connect with TVStick, Xbox, and other gaming paraphernalia. Who would say no to a video game night?
Quality
Of course, you should never leave out quality when shopping for an outdoor projector. Since you are going to use it for watching and gaming, you might as well choose one that showcases incredible image quality. While it would not be as HD as a flat-screen television, you would want a projector with impressive contrast against background light. Some projectors offer a good sound system, which is extremely important if you set it up outdoors where there is bound to be background noise.
Affordability
The price is always a good metric to look at when you are buying something. It is no different from outdoor projectors. Some projectors give good value for their price. Learn how to weigh the pros and cons. Does it give you an incredible experience for the price you are paying? Should you go for something cheaper instead? Not all expensive projectors will give you the same features, but you should remember not to compromise quality either to save some bucks.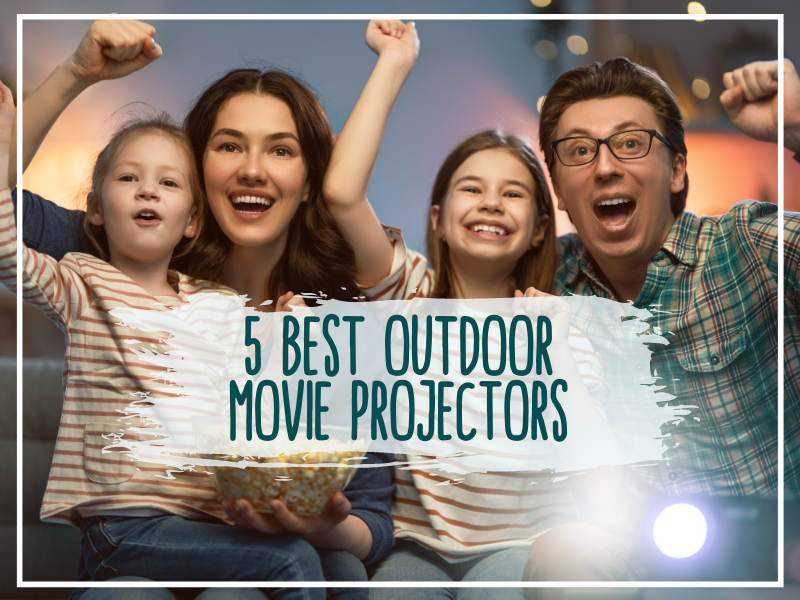 Now that you know what you need to consider when shopping for an outdoor projector, it is time to look at five projectors that might be a good fit for your needs. All of them are ideal for outdoor use but can also be used indoors.
1. Epson Home Cinema 3LCD Projector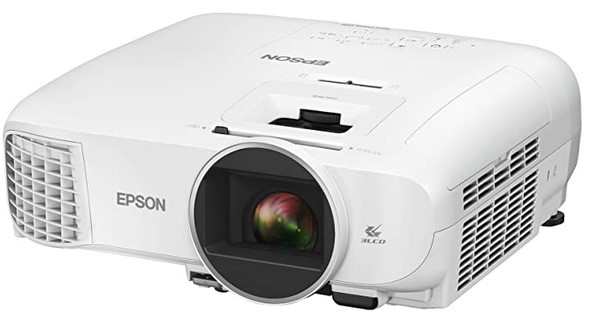 One of the leading brands when it comes to printers, scanners, and projectors, you can never go wrong with Epson's Home Cinema 3LCD Projector.
This highly portable projector allows you to easily set up your outdoor home cinema while enjoying a full HD experience, thanks to its high dynamic contrast ratio of 35,000:1 – all without the disruption of a rainbow effect. It also boasts a remarkable color accuracy, letting you experience your favorite shows in a more brilliant and brighter display.
All of these features make this particular Epson model a good choice if you are aiming for a projector that you can use outdoors and during the daytime.
Epson's 3LCD projector also features a vertical lens shift and 1.6x zoom, a welcome benefit for those who want utmost portability. Setting up your family movie night anywhere in the house is possible. Even better, it comes with a built-in speaker, which is handy when you cannot find one within reach.
Whether you are looking forward to a relaxing movie night with your family or playing an exciting game with your children on a big screen on your patio, this projector delivers. It can accommodate all kinds of visual content, from movies and HD TV shows to videos and games – lights on or lights off.
It easily fits into your existing interior, too, if you plan to use it indoors as it can either be installed on top of handy furniture like a bookshelf or mounted to the ceiling for a more permanent fixture.
So, if you plan to invest in an entertainment gadget for the whole family, this projector is a good choice. Kids will love a good hour or two of movie night over tasty snacks.
Who needs to go to the cinema when you can take the cinema right to your backyard?
2. WeMax Dice, Smart Portable Projector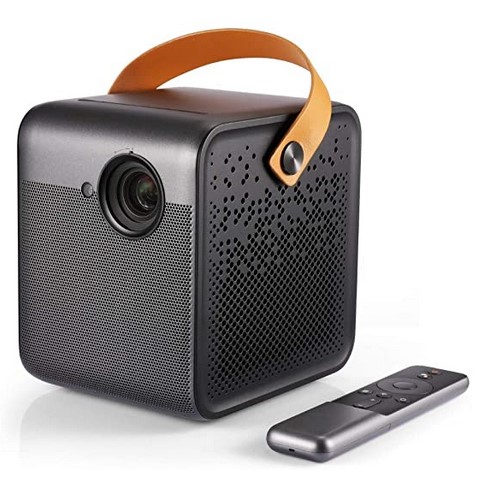 Nothing beats the thrill of watching your favorite sports team on the big screen. Not fond of television? WeMax Dice's Smart Portable Projector is the answer! This compact projector can be brought and installed anywhere. Packed with amazing features, the possibilities this portable device opens are endless.
Good for business or pleasure, this projector boasts an FHD resolution of 1080P, allowing you to watch your favorite shows, movies, and sports games in brilliant clarity and quality, not to mention gorgeous colors that enhance your viewing experience.
The sharp display provides incredible contrast, making it a perfect choice for outdoor use in the early evening. It has the ideal size for out-of-doors use as it means you can easily carry it anywhere, whether you are camping or presenting at work. All you need is a wall you can aim at, and you are good to go.
As for its connectivity aspect, this projector allows you to connect with your laptop. It is ideal if you have presentations elsewhere as it can be conveniently set up for conference meetings. Its Bluetooth connectivity lets you use your iPhones too. What is more, it can serve as a power bank for your phone or even your laptop when connected, giving you three amazing hours of battery life.
The built-in speakers do not disappoint either as it can be used by itself. Perhaps, one of its most advantageous features is its impressive battery life. You can watch a full movie without fearing for a low battery life throughout, giving you smooth-sailing movie night with family and friends.
This projector is also compatible with more than 5,000 apps. Its 16GB memory means you can enjoy endless options at the tips of your fingers. Access your favorite apps like Google Play, Spotify, and YouTubeTV with ease, as long as you have WiFi.
For outdoor fun on a cool, crisp autumn evening, your family can enjoy a movie under the stars with the WEMAX Projector!
3. Nebula by Anker Mars II Pro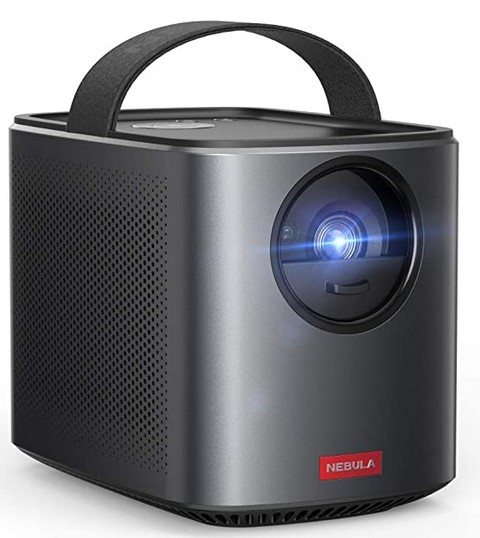 With its sleek design in gorgeous black color, the Nebula by Anker Mars II Pro boasts of a brilliant display, clear resolution, and incredible image quality.
While it is portable, this projector is larger and heavier than its counterparts, making it more ideal for home use. If you are looking for a projector for your outdoor entertainment setup or a fixed part of your family room, this one is a brilliant choice.
Its main offering is the razor-sharp video display, projecting a 500-ANSI-lumen image. You can enjoy any show on this device, whether on Netflix, YouTube, or other streaming apps. It supports these apps as long as you download them through Mars.
It is all too easy to plug in your laptops and other devices with its HDMI and USB ports for connectivity. You can even play your favorite games in this projector as it allows you to plug-in devices like Nintendo Switch, Xbox One, and PlayStation 4.
When it comes to sound, Nebula's cinematic sound is of the highest quality. It features dual 10W audio drivers, working together to give you a superior sound and immersive movie experience, even when used outdoors. You also have the option to connect a portable speaker or home stereo receiver in it, if you prefer. Its auto-focus is quick and sharp too.
No need to wait for another minute before you can indulge in your favorite TV series. For its price range, this mini projector delivers.
Its battery life can last up to 3 hours, which means you can sit through a full-length movie without scrambling to recharge. The projector comes with a handheld remote, but you can also use your mobile device to control it via the Nebula Connect app, which is compatible with iOS and Android.
You can organize a movie night with the whole family or indulge in an ultimate gaming experience with your kids who would love playing their favorite games on a huge screen.
4. XGIMI Halo True HD Portable Projector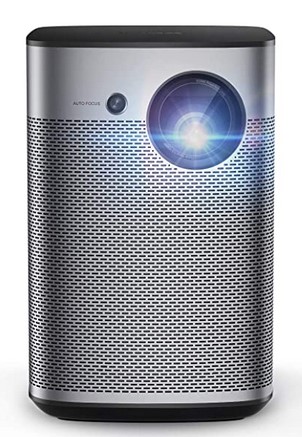 Most people who shop for projectors look at the price and the quality before making a choice. With XGIMI Halo True HD Portable Projector, you can get a good value for your money with its amazing array of features for just a price of $799.
This projector showcases a 3D and full HD projection. Its physical resolution can reach up to 1920×1080. This is coupled with its 600-800 ANSI Lumens for brightness, making it one of the most brilliant choices if you are aiming for a clear and razor-sharp viewing experience.
The images and videos come out sharp, crisp, and with much better color calibration than many of its counterparts. Fully equipped with HDR technology, this projector can be used in various settings, whether it is light or dark. You can install it in your entertainment room or bring it outside for an evening movie.
You can even keep the lights on or let it stay dim, depending on your preference. The image and video quality remain consistent, providing you with an ultimate cinematic experience – a real treat for the whole family as you enjoy a relaxed evening.
It also features an amazing theater-quality sound for a projector, made possible by its collaboration with Harman Kardon. The partnership gave way to the creation of a customized set of two 5W speakers. It is even possible to use this projector alone as a set of high-quality Bluetooth speakers that delivers vibrant and accurate sound.
Another advantage of this brand is the possibility of non-stop entertainment. Imagine being able to access more than 5,000 apps, including Netflix, YouTube, and other streaming sites. You can easily watch tons of movies, TV shows, and video content anytime.
Just like most portable projectors, XGIMI Halo True HD Portable Projector can be easily installed anywhere. It is also compatible with various devices through its different ports, including HDMI connections like Amazon fire TV sticks and laptops.
For family night, watch a delightful movie on your XGIMI Halo True HD Portable Projector!
5. Optoma HD146X High-Performance Projector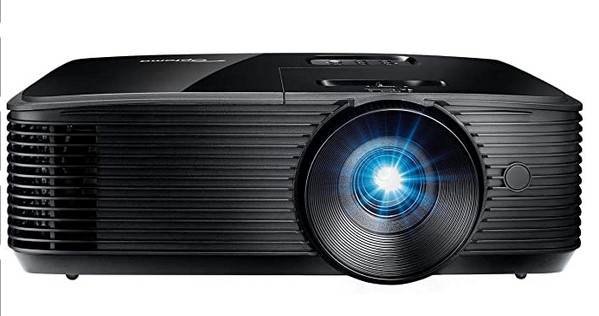 Do you love cinematic experience right in the comforts of your home? Then you might want to consider Optoma's HD146X High-Performance Projector with its crisp and vibrant image quality.
It doesn't matter whether you are indoors or outdoors because this projector supports lights-on viewing too with incredible brightness. The images are provided with more depth, thanks to its Dynamic Black technology, which creates a high contrast ratio and allows colors to stay accurate.
If you enjoy a game or two on a much bigger screen, this projector is just the right one for you as it is specially engineered for gaming. It comes fully equipped with a game display mode function that allows you to boost the shadows and dark scenes, making it easier for you to navigate impending obstacles as it enhances visibility. It is also equipped with an enhanced gaming mode that allows for lightning-fast input response times for console or PC gaming.
As far as the setup goes, this one is as easy as it gets. It is user-friendly and does not take time to figure out. Another amazing feature of this product is its support of full 3D. You can enjoy full 3D content from almost any source. This includes 3D Blu-ray Disc players and even the latest game consoles.
If you have a family gathering, this projector can be the star of the show as it lets you enjoy a movie or two on a lovely evening, whether inside or outside the house. Kids would love to gather around and get the ultimate experience of watching animated films on a large screen.
Who says you need to go out to get the ultimate cinematic experience when you can do so at home? This projector seals the deal.
For outdoor movie nights, this Optoma's HD146X High-Performance Projector is a great choice!