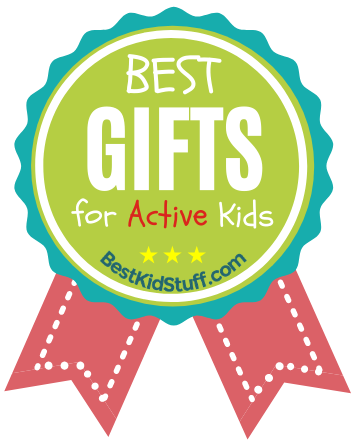 Do you have a child or know one who lives for fun and adventures? Active kids deserve the best gift this year!
Generally, the type of present suitable for your kid is either portable enough to be taken outdoors or require a private space to be set up conveniently. Most of these toys have developmental and educational benefits, aside from allowing children to get wild and dirty.
Parents must look into these widely accepted and science-backed facts when it comes to choosing gifts for kids:
Kids are regarded as little explorers who learn by playing! Play gives your child the spectacular opportunity to practice and develop new skills at their own pace and based on their distinct interests.
The toys and other play accessories that your kid has can help in their development in many ways!
Though it may seem as if selecting toys for toddlers and kids should be simple, it may seem overwhelming at times. Just imagine the sheer number of choices you have.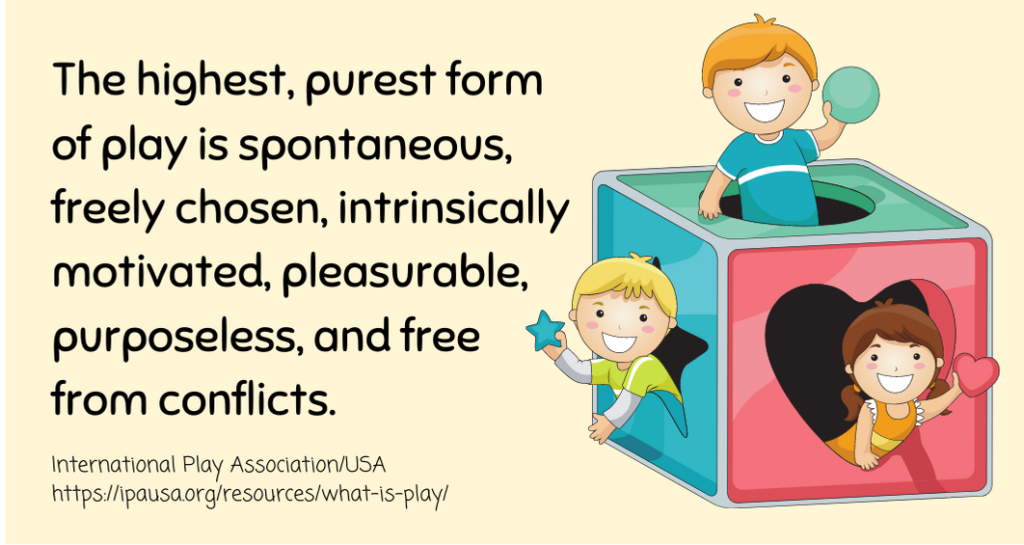 Here are some of the factors that you should consider when choosing the best toys for your active kids:
Variation of Use
It is best for active kids to play with toys they can build up, add on, put in, pull out, assemble, and disassemble easily. Toys that are to be selected should be "open-ended" in the sense that your kid can play numerous games with them.
Plastic interlocking blocks, toys for water and sand play, and nesting cups and blocks can make a spaceship, a bridge, a zoo, or a road. These kinds of toys will increase your kid's creativity and spark their imagination. Moreover, it will also help them develop their logical thinking and problem-solving skills.
Child Development
If you want a suitable present for your active child, buy a toy that they can play with from their toddler to grade school years. Choose toys that can be played even at various developmental stages.
Toddlers will use stuffed animals or dolls for role-playing and storytelling purposes when they are older. Other similar toys are dump trucks, trains, other vehicles, toddler-friendly dollhouses, action figures, and plastic toy animals.
Your Child's Imagination
At three, your kid's creativity may take off because this time, they usually imitate someone or act as though they are somebody else. It is best to check out toys that they can use as they create and act out stories. Pretend play aids in building literacy, language, logic, and problem-solving skills.
Some toys that you may consider include "real-life" accessories like wrapping a paper tube "fire hose" for pretending to be a firefighter, toy tools, toddler-friendly dollhouses, trucks, trains, stuffed animals, dolls, action figures, plastic plates with toy food, blocks, and dress-up clothing.
The multi-purpose large cardboard box is also an all-time favorite for toddlers, and most of these are free. These boxes can also be converted into tunnels, barns, pirate ships, and houses—anything that your kid can come up with.
Almost "Authentic"
Let your kids play with almost "real" toys— those that look close to the real thing. That's because, at a certain stage, your kid might explore how things around him or her work, such as light switches and television remotes. Your child will tend to play with the "real" stuff, such as your smartphone because he or she thinks they can do it just like you.
Look for toys that aid your kid in developing their fine motor skills or the use of small muscles in their fingers and hands, learning spatial relations, as well as problem-solving.
You might want to consider some toys, including dustpans, brushes, mops, child-size brooms, musical instruments made of plastic, dress-up clothes, toy phones, toy keys, and plastic food.
Educational Aspect
Art supplies such as fingerpaints, crayons, colored pencils, and markers, as well as magnetic alphabet letters and picture books, aid in the development of your child's early reading and writing skills.
Close-to-reality props such as magazines, catalogs, and take-out menus are interesting for your kid to look and play with since it helps them familiarize with print, text, and letters.
Physical Exercise
Look for toys that urge your kid to be active. This is because children do all sorts of physical tricks as they become more confident and stronger with their bodies. Your job is to appreciate your kid with their newest play achievement.
If you choose a gift for your kid, choose toys that aid them in practicing their existing physical skills and developing new ones.
Toys that you might consider include moving boxes (open at both ends) to serve as tunnels where they can crawl, plastic gardening tools for raking and digging, a wagon where they can place their other toys and pull, pull-toys or toys that can be pulled through the use of a string, child-size basketball hoop, plastic bowling sets, three-wheeled scooters (with suitable protective gear) or tricycles, and balls of various sizes and shapes.
Cross-generational play
As a parent, it is best to look for toys that are built for adult participation. When your kid reaches three years of age, get him or her some board games! Board games involve the use of one's memory and are entertaining for all ages.
Start a "family game night" wherein you and your children can play together. Board games encourage the development of self-control, listening, memory, matching, and counting skills. They also help in nurturing relationship-building and language skills. Another significant advantage is educating your kids in dealing with wins and losses efficiently.
---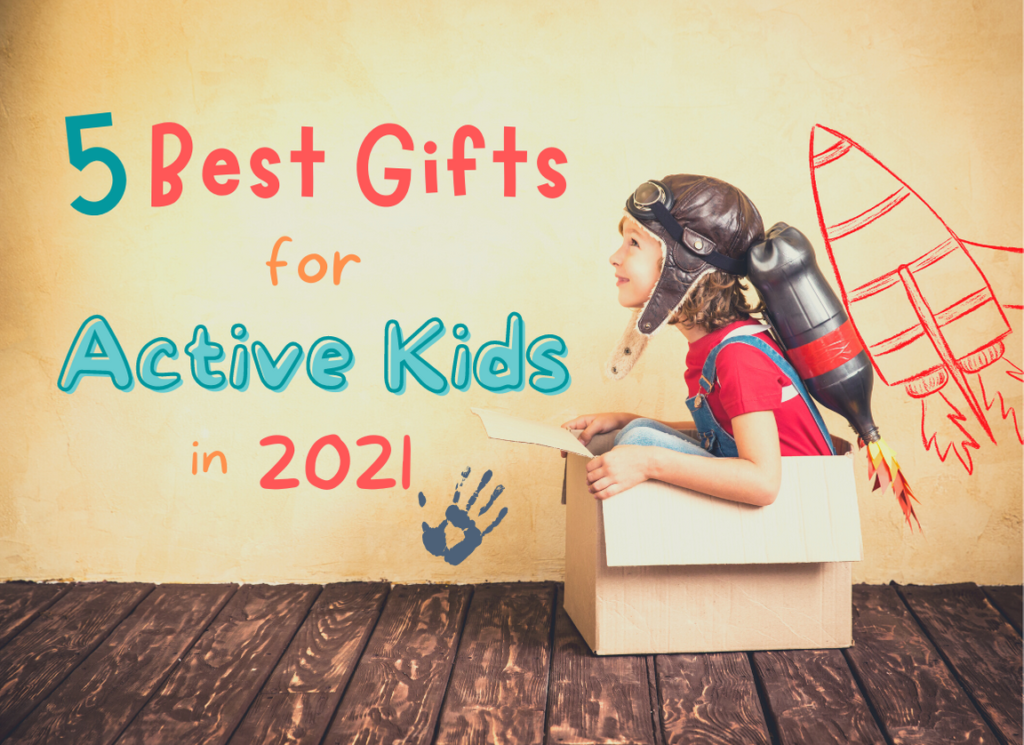 We have gone through some of the toys being sold at Amazon, and here are the five ideal gifts that will keep your children active this year. Such toys can also be used year after year.
---
The Kids Dome Climber Play Structure by SLIDEWHIZZER will keep them busy for a while, no doubt! It is suitable for ages three to ten years old and can be enjoyed in an outside play area or indoors if you have the room.
What do your children love to do the most? Probably climb and slide, right? This exceptional piece of playground equipment allows children to do both. As they climb up the dome, they can hangout on the heavy-duty fabric platform as they discuss their next adventure, or they can take a slide down the chute for an exciting exit… and then do it again!
The SLIDEWHIZZER Kids Dome Climber Play Structure is made of heavy-duty powder and rust-resistant coated steel and will hold up to 350 pounds. No lead-based materials were used in its construction!
This dome/slide will provide hours of entertainment while your child develops their motor skills through climbing to build strong muscles. It also aids in coordination, as well as balance.
Are you concerned about assembly? Well, don't be. It comes with a video, along with step-by-step colored picture assembly directions; however, a second set of hands is advised. So, team up with another parent in the neighborhood whose child may enjoy this fun piece of outdoor equipment too. They'll be glad to help!
The table below shows the dimensions and other specifications of the Kids Dome Climber Play Structure:
| | |
| --- | --- |
| Dimensions and Specifications | |
| Color | Green, White & Pink |
| Product dimensions | 128″ L x 83″ W x 45″ H |
| Item weight | 62.9 pounds |
| Recommended age | 3-10 years old |
Here are some of the reasons why this toy can be considered as part of your list of best gifts for active children this year:
It promotes your toddler's coordination and balance.
It helps children develop their motor skills and social interaction during active play.
Ideal for safe play indoors or outdoors (at home, in daycare centers, pre-school, and classrooms)
More hours of climbing (and sliding) fun
Easy to assemble
The children can conveniently adapt to adventurous explorations
Where was this when I was a kid? I love the thought of my kids hanging out on the canvas together as they are hovering above ground… just bonding (or arguing about who will go down the slide first!)
The HOOROOR Ninja Warrior Obstacle Course for Kids includes exciting accessories like the steering wheel, monkey bars, gymnastic rings,
a swing seat, a 66′-ninja slackline, a rope ladder, and 12 tree climbing holds.
Through its personalized obstacle course and slackline, your kid can climb, jump, swing, and push their way to the top through this ninja slackline equipment. You can also rearrange your accessories in any way for more variety and limitless enjoyment.
The Hooroor Ninja Warrior Obstacle for Kids also has stronger and thicker webbing, a heavy-duty ratchet, and a durable, newly-improved slackline with every grip. This enables you to walk along the top of the line and maintain balance. It has a 250-pound maximum weight limit on the slackline which allows several children to play at the same time. The tree climbing holds have a 230-pound weight capacity.
The swing can also be used on a slackline or any horizontal beam or branch. This exceptional course can be installed outside or in your basement or playroom. It also makes a great gift or take-along activity for camping. It includes a handy carrying bag, designed to hold all the components.
The table below demonstrates the specifications of the Ninja Obstacle Course for Kids:
| | |
| --- | --- |
| Specifications | |
| Number of accessories | 10 + 12 Tree Climbing Holds |
| Recommended ages | 3 to 12 years old |
Why should you purchase the Ninja Obstacle Course for your child? Here are this toy's top features:
Customizable and convenient set-up design
Additional strength and stamina for your kid
Allows your kid to attain the perfect balance
Provides children with more opportunities to enjoy the outdoors and get enough exercise
Excellent customer experience
If you have active kids… this is an activity that they will enjoy – and tire them out! Most of all, it will improve their balance and coordination. Check it out on Amazon.com!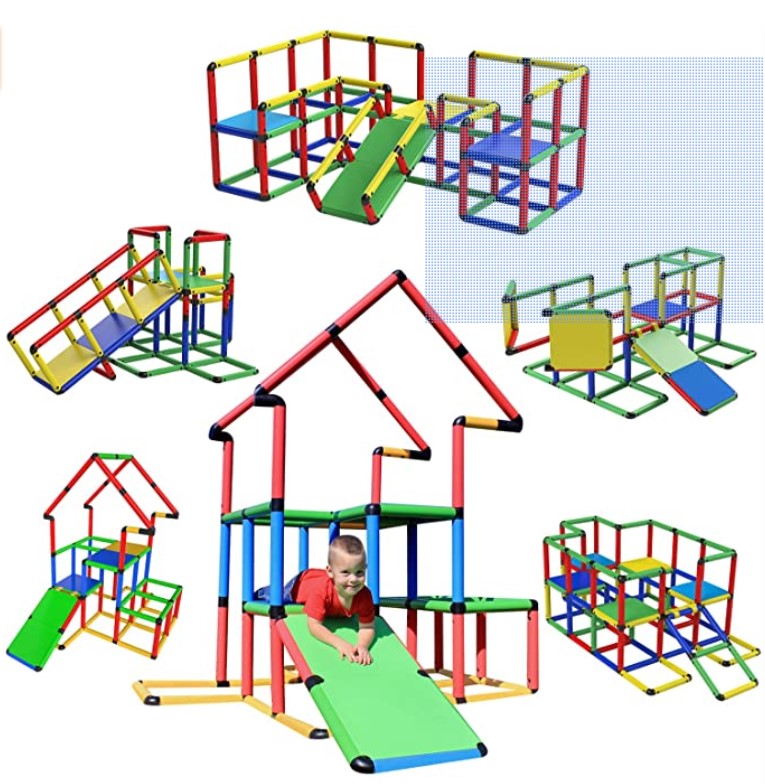 The FUNPHIX Jumbo Construction Toy Set consists of 467 pieces, including connectors, panel screws, screws, keys, panels, tubes, and the Duplex connector (to form slides using the pieces that are included in the set) that are limited only to the imagination of the kids.
More Funphix sets can also be added to the collection, and the brand's engineering toy set is ideal for grandparents and parents to bond with their children. Your kids will be able to role-play as planners, analysts, and designers through their imagination of construction. They can create various designs, which include slides, boats, playhouses, and attics.
These educational toys have been constructed out of strong thermoplastic materials that are ensured for several years of use. To assemble it, you need to place a tube over a connector and insert a screw. You can also use a key to turn the screw at a 90-degree angle to lock the tube with the connector.
To detach the tube from the connector, remove the screw first by rotating it to 90 degrees, and turn the tube gradually to remove it from the connector. A detailed instruction manual that outlines the fun structures and basic assemblies and safety warnings are also part of every builder toy set.
Your kids can utilize the self-built play structure for limitless hours of play, sliding, and climbing. You can also join your children as they form structures and develop their creative designs based on their imagination.
The following table shows the features of the Funphix Jumbo Construction Toy Set:
| | |
| --- | --- |
| Specifications | |
| Number of pieces | 467 |
| Recommended ages | 2 to 12 years old |
| Warranty | Two years |
| Capacity weight | 110 lbs |
Here are the advantages of having the FunPhix Jumbo Construction Toy Set as one of the suitable gifts for active kids:
Ultimate enjoyment for limitless hours of imaginative play and learn
Encourages motor skill enhancement, teamwork, hand-eye coordination, and creative thinking
Safety and quality are highly prioritized due to its superb construction
Ideal for both outdoor and indoor physical play (both winter and summer seasons)
Convenient to assemble and disassemble
A suitable gift for birthdays or holidays
Guarantees memorable and fun playtime
In-demand skills can be improved and developed
The accessories are made from durable, long-lasting material
We believe this is one of the most exciting and unique activities on the list as it sparks creative thinking, problem-solving, and good pretend play as your kiddo builds a fort, treehouse, or anything else they can dream of!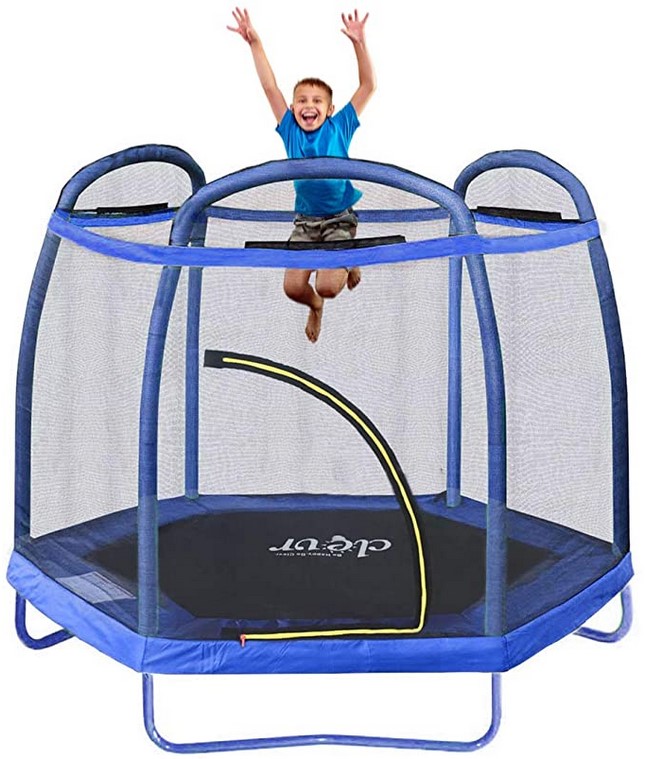 The CLEVR Seven-feet Kids Trampoline is constructed with sturdy and water-proof protective padding to prevent your children from having injuries and falling while playing or jumping on it. The pad also consists of a thick foam supported for optimum protection from impact in case of a fall.
The trampoline is made with strong, water-proof protective padding so that your children will not fall off and get themselves injured while playing on it.
Compared to the conventional L-shaped zipper that is not well-designed and easily rips, the redesigned arched zipper door is made to help kids avoid tripping whenever they go in or out of the trampoline.
The trampoline is also made with a durable, powder-coated steel base and frame for a stronger platform. A jumping mat can be attached to the frame through strong galvanized springs. A high-quality PE net with a heavy-duty zipper surrounds the whole jumping area for additional safety.
The following table flaunts the dimensions and specifications of the Clever Kids Trampoline:
| | |
| --- | --- |
| Dimensions and Specifications | |
| Length | 7 feet |
| Weight capacity | 150 lbs |
| Trampoline Height | Approximately 16.5 inches |
| Height of net | Approximately 63 inches |
| Total Height with Safety Net | 79 inches |
| Diameter (width) | Approximately 84 inches |
| Materials | PVC/Mesh/Steel/Foam |
| Recommended ages | 3 to 10 years old |
Here are the benefits of having this trampoline as a perfect gift for your active kid:
Durability and safety are highly prioritized.
Convenient to set up
Made from heavy-duty material
With an extra-strong and stable base for optimum security
Can withstand long hours of playtime
Offers adequate space for playing and family fun
Encourages childhood independence and fun exercise
Develops coordination, stamina, strength, and balance
This is a great pick for the child with EXTRA energy, right? Take a look at it on Amazon.com. It's reasonably priced and has great reviews! You can choose from blue/blue trim, blue/green trim, or blue with orange trim!
The Toddler Slide and Swing Combination Set by ARTICUNO is a three-in-one toddler slide set that contains two slides, two basketball hoops, and a swing. This toddler swing and climber set presents numerous opportunities for
entertainment and adventure in your backyard, together with your children, their siblings, and with playdates. And, if you have the room, you can also use this easily inside your home.
Child safety is guaranteed since this slide is built out of a three-stage gentle slope. It is constructed of HDPE materials that are non-toxic and durable. Don't worry about sharp edges… because there are none!
Toddlers can slide down and climb up the ladder with ease; therefore, sharpening their motor and balance skills. Moreover, the gentle slope slide is built for a soft landing, as it aids in protecting your children from falling or tumbling.
This is easy to assemble as it includes everything needed to put it together. The colorful palette is pleasing to the little ones, boys and girls. We are sure it will provide hours of fun for your active toddlers.
The table below shows the dimensions and other specifications of the Toddler Slide and Swing Combination Set:
| | |
| --- | --- |
| Dimensions and Specifications | |
| Color | Multi |
| Type of material | HDPE |
| Product dimensions | 70.8'' x 59'' x 49.2'' (L x W x H) |
| Item weight | 29.36 pounds |
| Maximum capacity of the swing | 66 pounds |
| Maximum capacity of the slide | 110 pounds |
| Recommended age | 3 to 9 years old |
Here are the reasons why the Toddler Slide and Swing Combo can be considered as one of the best gifts for active kids:
More options for outdoor play
Compact, highly durable, and movable indoor playset
Hassle-free cleaning of plastic material (dirt can easily be removed)
Convenient to assemble
Safe and reliable construction
Easy-to-climb
Have you got two toddlers? Does one always want what the other one has? If so, this is ideal as they can race down the slides and dunk those basketballs together. The winner gets to swing first!!!