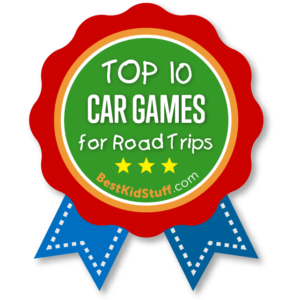 We've all been trapped on those long car rides. The kids are in the back seat chortling, shouting, demanding a bathroom, hitting each other, guzzling drinks and gobbling snacks, spilling and dropping treats everywhere.
The greatest among us have at times been able to come up with a game, or a trick, something to captivate them and make them relax and quiet down, before their blissful naps.
However, that takes ingenuity. That takes effort. And driving for hours can demand too much of that as is.
While it's tempting to stick your kid in front of a screen, that might not be your top choice on a long drive.
Plus, screens run out of batteries. However, games that challenge their memory, ability to solve puzzles, creativity, and need for tactile stimulus won't quit on them. And if the game's good enough, they won't quit on it either.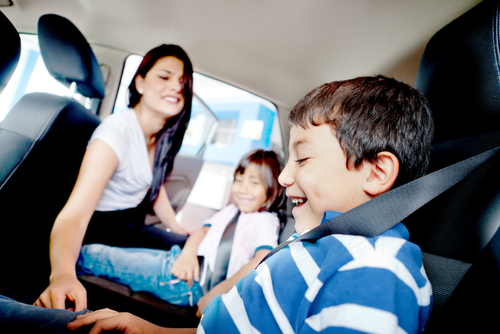 So what's the best choice? Are you going to waste your money buying a game your kid won't want to play at all, or for long?
Here, at BestKidStuff, we've culled the web looking for the best games for those arduous road trips. We've ranked them based on how much kids enjoy them, reviews from real users, their replay-ability, cost, and the range of ages that can enjoy them.
Take a trip with us, and let's see if we can't find you a game that lets your family enjoy the time in the car, and each other. You can all bury your faces in screens when you get to where you're going. But for now, let's play together like we used to.
Check out our "Things to Consider" section!
Here are ten of the best car travel games for kids on long road trips, guaranteed to keep them… and you… happy for hours:
1) Purple Cow Magnetic Games – Bingo, Solitaire, and many more!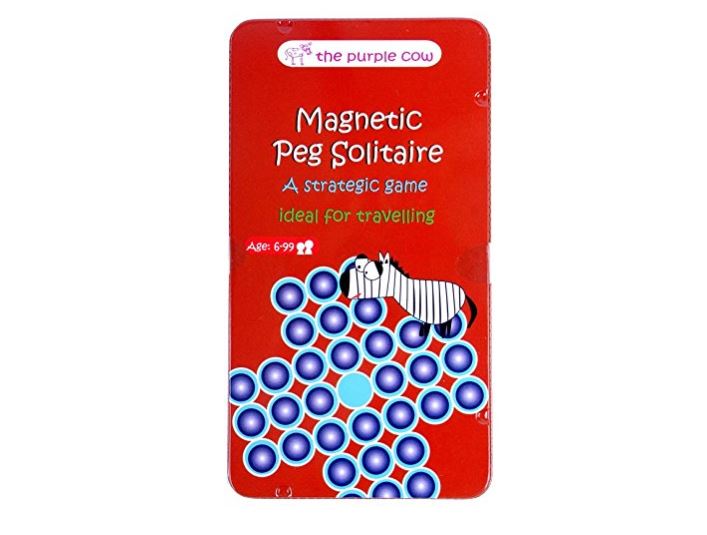 You can also choose one of the many other games in the Purple Cow Travel Games Magnetic family. There's bingo, solitaire, checkers, backgammon, soccer, and so many different options to choose from that let kids solve puzzles and play fun games in the backseat on a metallic, magnetic tin that was built to travel.
Children find hours of fun with this game, and it also makes a great gift. It was designed to be fun, stimulating, and educational for children as young as three.
These games were noted for their incredible replay-ability. Let's look at what some owners said about them:
What We Love:
Owners noted this was great for travel.
Users enjoyed how small and portable these games were.
Users said it was great for keeping kids occupied in situations where they'd be bored.
Reviewers said their kids enjoyed this on planes, trains, cars, and in doctor's waiting rooms.
Owners noted this was a great alternative to putting screens in front of kids.
Score
Price: 4th
Rating: 4.1 (8th)
Replay-ability: 9 (1st)
Range of Ages: 3-18 (1st)
Overall Score and Final Rank: 3.5 (1st)
For endless hours of fun, check out the Purple Cow Magnetic family… Get it from Amazon!
2) Brain Quest For the Car

Treat yourself and your kids to a classic! Brain Quest has been making games that stimulate the mind for years, and have a great track record of pleasing kids and parents alike.
The questions in this Brain Quest set are updated with hundreds of new brain ticklers. They were created to meet state and national standards and drawn from first through sixth-grade curricula.
Enjoy 1,100 questions about America as you travel the country, or anywhere! This game is a small investment for the length of enjoyment you can expect from the trusted Brain Quest brand.
What We Love:
Owners noted this product was perfect for thousands of miles of travel.
A reviewer said their 7 and 10-year-old were entertained for hours.
One user pointed out this was a great way to keep their kids off screens.
A reviewer noted this was great for car rides.
That same owner said this game was very educational and fun.
Score
Price: 2nd
Rating: 4.3 (5th)
Replay-ability: 9 (1st)
Range of Ages: 7-18 (6th)
Overall Score and Final Rank: 3.5 (2nd)
Who doesn't love a game of trivia? Count me in… Fun for the whole family!
3) Melissa & Doug Flip to Win Travel License Plate Game
Here's a game you can play that won't dominate the car ride… but can be integrated into your ride.
The Melissa & Doug Flip to Win Travel License Plate Game is perfect for long road trips across the country. It features a wooden game board and plates that represent all 50 states and their capitals.
Just flip the pieces as you see a car go by or you can plan your trip and flip the state as you cross through it!
What We Love:
This game is extremely reusable.
Owners said this was fun for all ages.
Reviewers said it was a great way to bring the family together around an activity while riding in the car.
Users said their kids cooperated on finding plates together.
Owners said this was a sturdy game.
One user noted there was great customer service on this product.
Users said this was a perfectly sized product for the car.
Reviewers said this improved road trips!
Score
Price: 3rd
Rating: 4.8 (2nd)
Replay-ability: 7 (8th)
Range of Ages: 4-18 (3rd)
Overall Score and Final Rank: 4 (3rd)
Great way to entertain the kids in the long car ride to Grandma's!
4) Fidget Toy Anti Anxiety Sets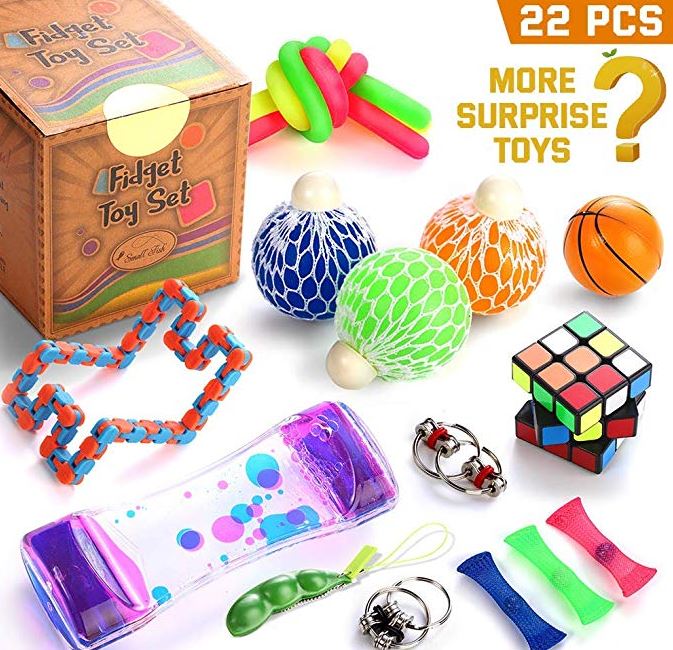 The car can be a difficult place for kids. Being cooped up without any physical release can take its toll. Fortunately, with this product, you'll have a great anti-anxiety and stress release tool for those long rides.
This bundle pack comes with 22 distinct pieces kids can play with. There are toys to squeeze, toys to solve, and plenty to keep little fingers and minds occupied and calm.
These toys are made with non-toxic and durable materials. They can be squeezed hundreds if not thousands of times before they're spent. The 22 distinct pieces guarantee there will be plenty to go around no matter how many kids you're riding with.
What We Love:
Users said these relieved stress.
Owners complimented the materials.
One reviewer said this was useful for adults as well.
Reviewers were happy with the versatility of the items.
The owners were happy with the price of this item.
One owner said this was great for Grandkids.
Score
Price: 7th
Rating: 4.7 (3rd)
Replay-ability: 6 (9th)
Range of Ages: 3-18 (1st)
Overall Score and Final Rank: 5 (4th)
Got some kids with fidgety hands? This is a great set! Get it from Amazon!
5) Travel Tangram magnetic travel games for kids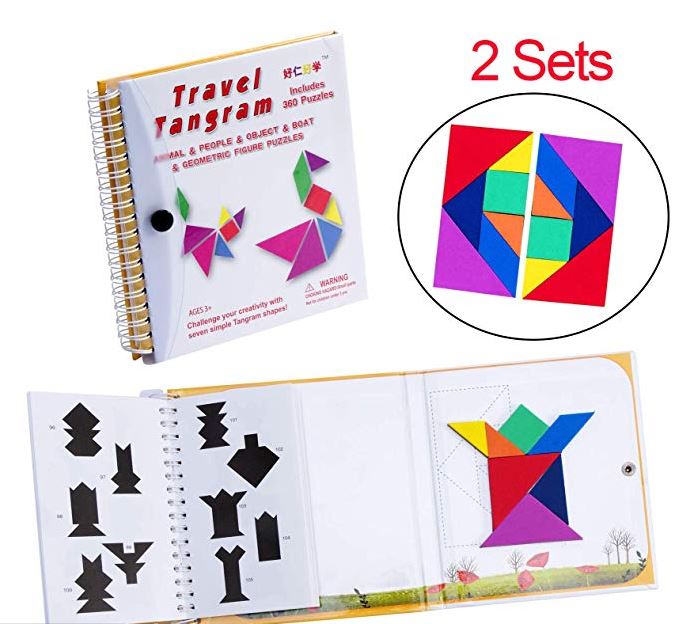 This magnetic set asks kids to solve puzzles by building shapes with 7 colorful magnetic plates. It's great for giving kids a basic jigsaw puzzle and teaching them early geometric math.
The entire booklet set is 6.3 x 6.2 inches, so it's easily transportable. You can build up to 360 shapes and style patterns.
For anyone looking to give their kids a game that can increase their measurable intelligence, this is a great option. It will entertain for hours of travel.
What We Love:
Users were happy with the number of puzzles in this booklet.
Owners said this game was portable and durable.
Reviewers noted that there was a range of difficulty in the different puzzles.
Owners said this was great for long trips.
One reviewer said this worked with different age groups.
Even the youngest kids can enjoy making fun shapes with this toy.
One owner was very happy with the compact size of this product.
Score
Price: 5th
Rating: 4.2 (7th)
Replay-ability: 8 (6th)
Range of Ages: 3-16 (4th)
Overall Score and Final Rank: 5.5 (5th)
At Amazon Prime, you can get this within TWO DAYS and with FREE SHIPPING!
6) Kids Travel Tray
Does your kid need their very own station or desk in the car? This Kids Travel Tray is a great way to keep their little lives organized, and give them a place to do schoolwork, play, watch videos on their devices, and more.
This tray features several compartments and is adjustable in several ways. It zips up into a compact, portable case.
Put your child's toys, books, devices, and much more into this backseat organizer. They'll have a travel kit for long rides, plane rides, and other travel.
This product is proudly made with non-toxic materials, and with higher quality materials than imitations. It even has a cup holder!
What We Love:
Multiple reviewers gushed about how happy their kids were with this product.
Reviewers specifically said this was the perfect thing for long car trips.
Users were happier with this product than they had been with similar other products.
Owners said this tray was easy to use.
Users found this tray functional and durable.
One owner said this tray kept kids occupied and quiet.
Score
Price: 10th
Rating: 4.3 (5th)
Replay-ability: 9 (1st)
Range of Ages: 3-12 (8th)
Overall Score and Final Rank: 6 (6th)
Great for long car rides! Makes fun activities easy to manage and handy!
7) Our Moments Families Edition Conversation Starters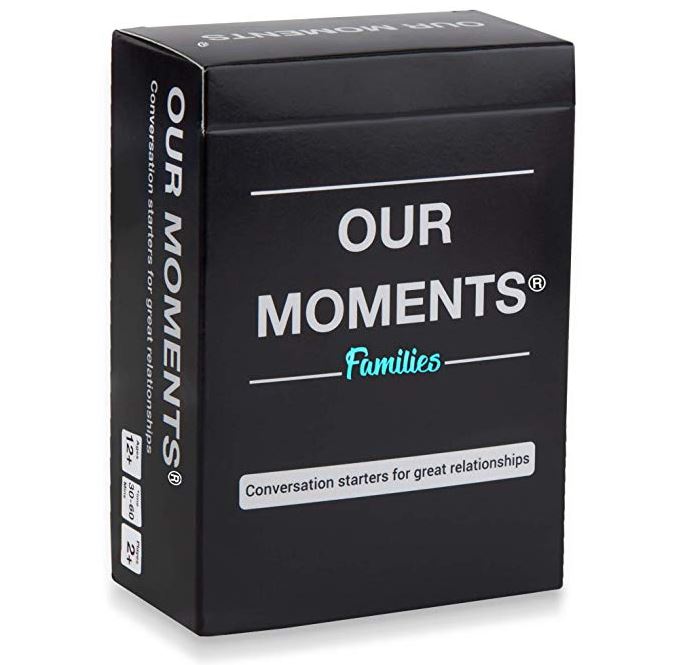 Long car trips can be a great time to bond with your kids, and that's exactly what Our Moments hopes to provide families.
This product features 100 conversation starters that will help you better understand your family members and discuss relevant, engaging topics. You'll learn to listen better and to share your opinions constructively alongside your family.
You'll laugh alongside your family, entertain your kids, and have a lot to talk about throughout lengthy rides. If you want to get your family to open up and learn more about each other, this is an excellent, affordable purchase.
If you're unhappy with this product you can return it within 30 days for a full refund.
What We Love:
One reviewer said their entire family loved these cards.
Another reviewer noted this game is great for friends as well.
A user said this was a great way to build relationships with loved ones.
One owner said this set of cards was great for high school kids who were reluctant to open up.
Reviewers said this product evoked incredible family time and interactions.
Reviewers said this product was great for long trips.
Score
Price: 7th
Rating: 4.9 (1st)
Replay-ability: 7 (8th)
Range of Ages: 12-18 (9th)
Overall Score and Final Rank: 6.25 (7th)
Turn long boring car rides into quality family time with the Our Moments Conversation Starters: Families Edition.
8) Dr. Biscuits Radical Road Trip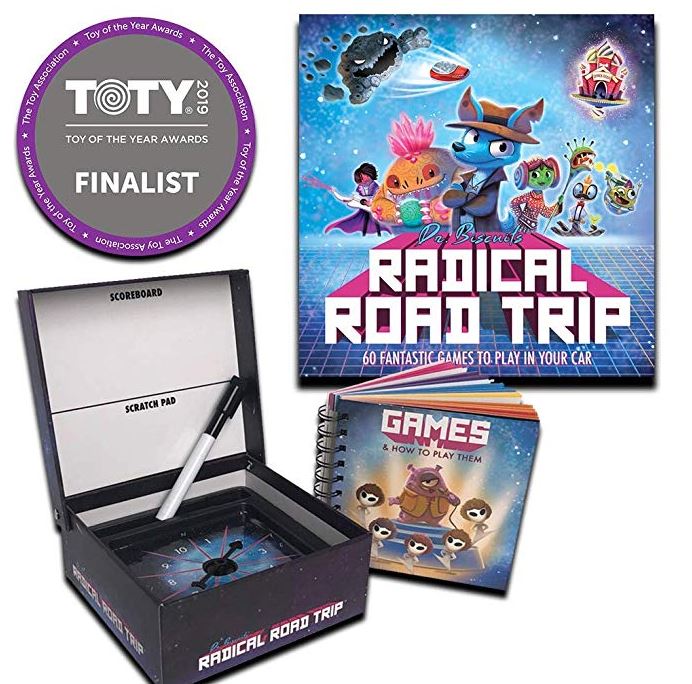 This 2019 Game of the Year Finalist is guaranteed to give you incredible fun while you're stuck in the car. It boasts 60 distinct games you can play, all stored in a compact case that can fit under a seat in your car.
If you're tired of your family getting stuck in their phones, you'll have hours of fun with the Radical Road Trip. It features a booklet with game ideas, explanations, and rules. You'll also get a dry erase marker, a spin wheel, scoreboard, scratchpad, and more making this option of the best games for kids traveling in a car.
Send letters to the White House, play games for humanity, games inside and out of the car, logical games, everlasting ones, and much more.
The creators of Game Night in a Can have struck again!
What We Love:
One user said they wish the game had existed when they were a kid.
Owners said this game set was hilarious.
Reviewers said this set kept kids off their phones.
Users were overwhelmingly appreciative of this purchase.
Multiple reviewers cited specific games that became family favorites.
Reviewers said this set was fun for the entire family.
Score
Price: 9th
Rating: 4.1 (8th)
Replay-ability: 9 (1st)
Range of Ages: 8-18 (7th)
Overall Score and Final Rank: 6.25 (8th)
This should keep them busy for a while… with 60 games!
9) Difficult Riddles For Smart Kids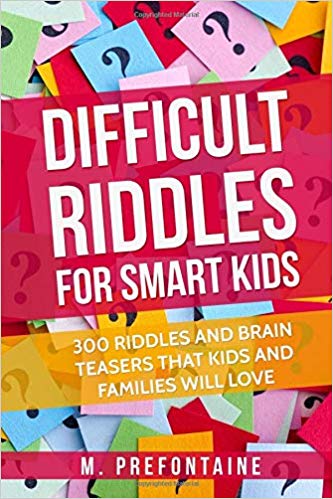 How to solve the road trip riddle? This book of brain teasers will entertain kids for hours. It features 300 riddles and puzzles that will challenge and enthrall you and your children on long road trips and other types of travel. These aren't easy riddles and may be too difficult for some young children.
Your kids will be tested on logic, memory, lateral thinking, and more. If you enjoy it, this is part of a series of puzzle books created to expand children's minds.
If your kids and you love problem-solving you'll love this set of riddles and puzzles.
What We Love:
One reviewer said these riddles stumped kids and grandparents alike.
That same reviewer said everyone from 9-year-olds to grandparents enjoyed this set of riddles immensely.
Reviewers said this product was well worth the price.
One owner said these riddles were great for teachers.
Parents of smart kids said they were challenged by these riddles.
A user said this was a great riddle set for 6th graders.
Kids who love to read will like this product according to reviewers.
One owner said this was a great way to spend time with kids and their friends.
Score
Price: 1st
Rating: 4.6 (4th)
Replay-ability: 8 (6th)
Range of Ages: 9-12 (20th)
Overall Score and Final Rank: 7.75 (9th)
For a challenge, these riddles are geared towards 9 to 12-year-olds! But there are plenty of other recommendations to consider on this list for the younger crowd!
10) Magnetic Travel Games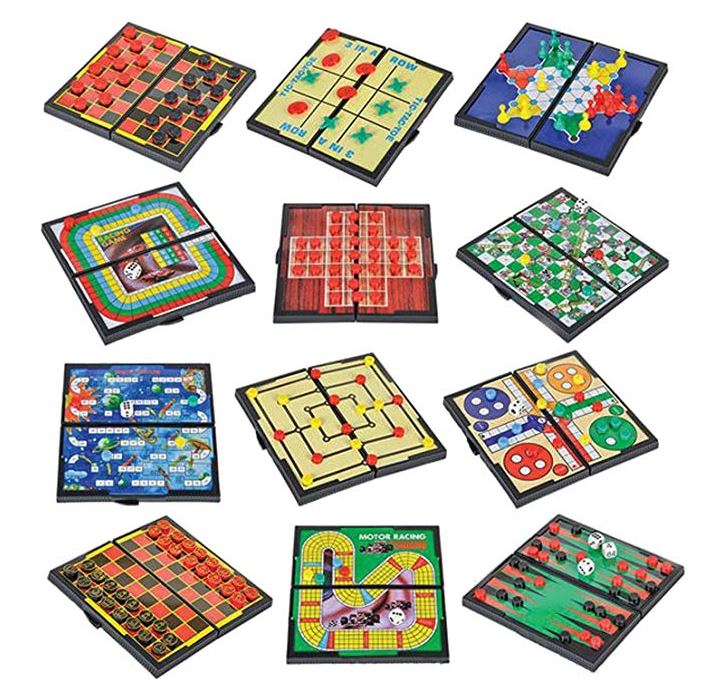 The magnets are back with this mini-magnetic board game set. Play all of your favorites and more, including chess, checkers, tic-tac-toe, backgammon, Chinese checkers, and much more.
Do you like Solitaire? Have you ever heard of Space Venture? You'll likely find classics that you love to play and learn some new games as well with this set, which features 12 distinct games.
This set is extremely compact and has fun that everyone in the family will enjoy.
What We Love:
Users praised the compact nature of this game set.
Owners said this was worth the price.
One reviewer said this was great as a gift in goodie bags.
Reviewers said this was great for travel.
Another owner said this made great wedding favors.
One owner said this made kids happy.
One reviewer was really happy with the way this set functioned and said the pieces stayed on the board and nothing went missing.
Score
Price: 6th
Rating: 3.8 (20th)
Replay-ability: 9 (1st)
Range of Ages: 6-18 (5th)
Overall Score and Final Rank: 8 (10th)
Oldies, but goodies… these vintage board games will supply loads of fun on your next road trip!
---
Things to Consider
While traveling, should I plan to take some car games along?
When everyone in the family is together in a car… things can get tense. "Don't touch me," "stay on your side," and the dreaded "when are we going to be there?" seems to be the topic of discussion. It's enough to bring parents to tears and promise to never go on a family vacation again.
However, it's also a time when families can come together, communicate, and get to know one another again. How can you do that? Through playing games. Many games can be played by children in the back seat, by themselves on a smartphone or tablet, or with the parents… and those are the best!
Playing games in the car can curb boredom or pass the travel time. Family time in the car can also be a great way to talk about problems, future plans, or practice multiplication tables!
What are some fun Purple Cow travel games?
Travel games in the car, train, or automobile are a great pastime for the kids. The Purple Cow, a trusted name in children's travel games, provides many options, such as:
Checkers
Backgammon
Chess
Domino
Hangman
Lettergories
Monster Factory
Soccer
Space Mission
Tic Tac Toe
What are the best magnetic travel games for toddlers?
Animal Homes For ages 3-5
Car Race For ages 3 and up
Dress Me Up For ages 5 and up
Ludo For ages 4 and up
Memo Game For ages 3 and up
Treasure Hunt For ages 3 and up
Snakes & Ladders For ages 3 and up
What is the best magnetic license plate travel game?
Pieces that won't get lost in the car seat must be magnetized. Check out this option for a magnetic license plate travel game; however, it is not offered on Amazon. It's offered by Magnetic-Art.com – License Plate Game.
Are there any free online car games?
Within any age group, whether a toddler or a teenager, sometimes a long car or plane ride can get monotonous, even for parents. If you have a smartphone or tablet for your child to play games on, then passing the time becomes easier for everyone. Keep in mind, these games may say they are free but in-app purchases may apply as well. Here are a few suggestions to check out in your App store:
For ages 4 and up:
World of Peppa Pig
ABC Kids – Tracing & Phonics
Kiddopia – ABC Toddler Games
Junior Chef's Cafe Cooking Game
Transformers Rescue Bots
For ages 8 and up:
Toca Life World
Block Craft 3D: Building Games
Traffic Run!
Subway Surfers
Strategy Star: Battle War Hero
For ages 12 and up:
I can Paint
Super Stylist
Sand Balls
Temple Run
Solitaire
Are car games always about cars?
No, not necessarily, but to be honest… the best ones seem to be! Check out these "car" related games:
Regal Games Original License Plate Bingo Travel Set, Bingo Cards for Family Vacations, Car Rides, and Road Trips, 4 Pack
Fun Express – License Plate Travel Sticker Book – Stationery – Activity Books – Activity Books
Travel Games Vehicle & Road Side & Road Sign Bingo Games Bundle – 3 Different Bingo Games – 6 Dry Erase Boards & Markers
Need some "non-car " related games… for the car? Check these out:
Rubberneckers: Everyone's Favorite Travel Game
Briarpatch Travel Scavenger Hunt Card Game for Kids, Activities for Family Vacations, Road Trips and Car Rides
I SPY Travel Card Game for Kids
related travel "stuff"