"Are we there yet?"
Sound familiar? Indeed, road trips are the perfect time to bond with your family, especially with the little ones around. But unless you have the right planning, preparation, and equipment for the long journey, it can be a nightmare. Watch how a reliable car headrest for Kindle or DVDs does all the magic!
Car kindle or DVD headrests help keep the children happy throughout the trip. No matter the time it takes to arrive at your destination, your kids get to enjoy their mobile devices while remaining seated, quiet and focused on kid-friendly games, videos, and audiobooks.
Why Have Car Kindle or DVD Headrest Mounts for Your Kids?
While experts warn against allowing children to use gadgets, this can be an enjoyable diversion during road trips, as long as they watch programs or use apps with educational value and an interactive element. Not only do these devices keep the kids entertained during long drives, but they also keep the adults focused on the road—as opposed to worrying about or attending to the children when they throw tantrums.
Children nowadays use their gadgets to play games, listen to music, and watch their favorite cartoon shows. A car kindle or DVD headrest mount or holder keeps the mobile devices a secure and safe position. It also allows for easy adjustment, so the kids move them to any angle they like.
Your kids don't need to hold the device in their hands for hours. Plus, it saves them from the neck pain that we all experience due to poor posture when using our handheld gadgets!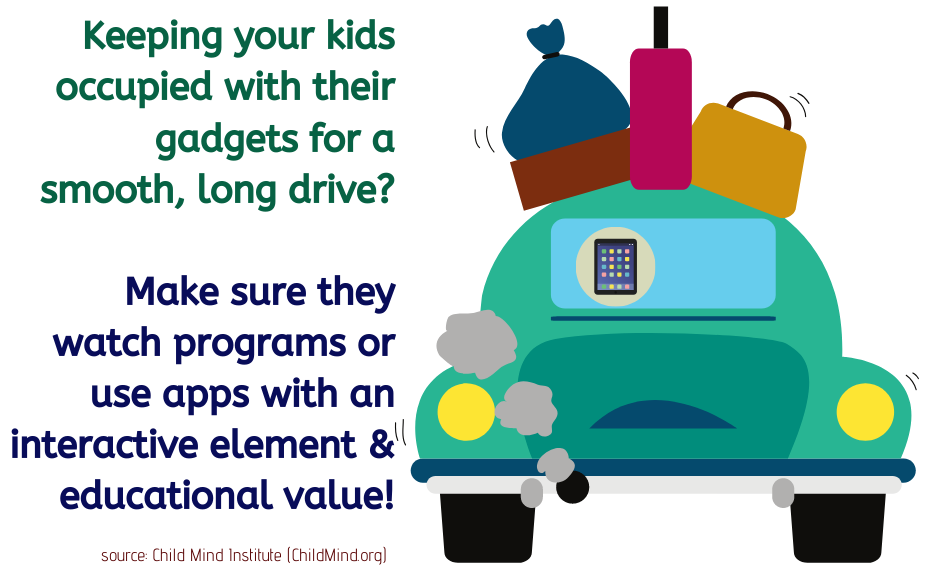 Any car headrest mount serves the same purpose: to help keep your gadgets in place. However, with the perfect iPad or phone car mount, you can shift your mobile devices into a secure and safe in-car diversion technique for kids. It doesn't hurt to bring with you the perfect mount or headrests for keeping the children comfortable, organized, and entertained!
Are you planning a memorable road trip with your kids? You might want to invest in an inexpensive car kindle or DVD headrest that your kids will love throughout an otherwise long, exhausting trip! Following thorough research, we rounded up some of the best and most affordable products under this category.
Amazon provides a diverse range of prices; however, we list the most affordable items all under $30 at the time of posting.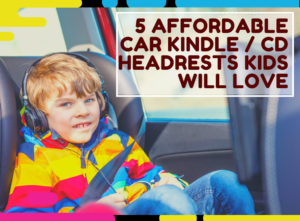 1. Tryone Stretchable Headrest Mount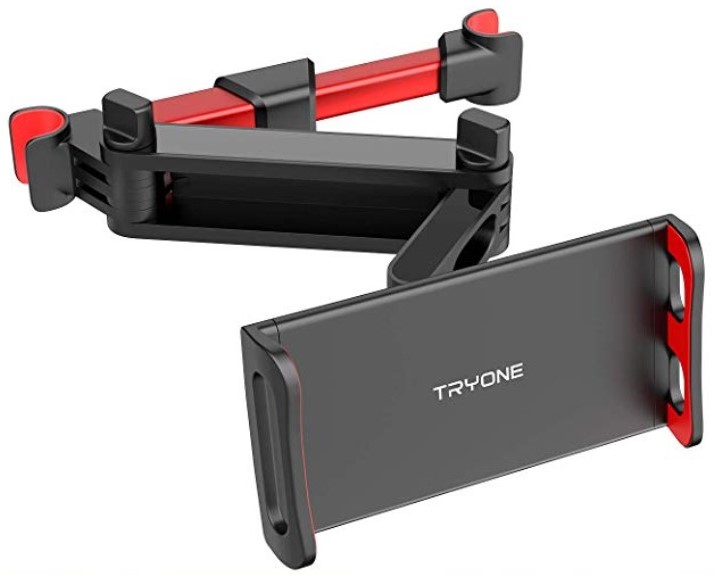 Elegantly built with a protective silicone pad and completely adjustable screw, the Tryone Stretchable Headrest positions securely at the back of any headrest in the car. It can be placed at the back of the front passenger's or driver's headrest and provides a perfect and safe viewing angle for kids at the back of your vehicle.
Tryone's headrest mount is an ideal road trip companion for your children as it is long-lasting and straightforward enough to hold their gadgets for several hours. It keeps your gadgets just high enough to prevent any bumps when getting in and out of your car.
Its silicone pad provides an anti-scratching and anti-skidding feature to protect your devices from unwanted scratches and dents. Made with premium aluminum alloy, this stretchable headrest is durable and high quality.
The Tryone Stretchable Headrest is designed with a 10.6" extension, which brings your kid's gadgets closer to the passenger for easier navigation when needed. It is mostly compatible with any tablets and smartphones with a diagonal screen measurement of 4″-10.6″.
The widescreen enables children to play games using the touchscreen or with a joystick. It comes with a charge hole, which makes it easier to recharge your gadgets while watching movies. Also, it has a headphone jack that comes in handy when you want to maintain noise levels to a minimum for other passengers in your car.
You can release this car mount with one hand, making it one of the easiest headrests to install. The Tryone Stretchable Headrest is available in colors black or red.
Stay in control of viewing distance with this Tryone Stretchable Headrest.
2.

Macally Car Headrest Mount Holder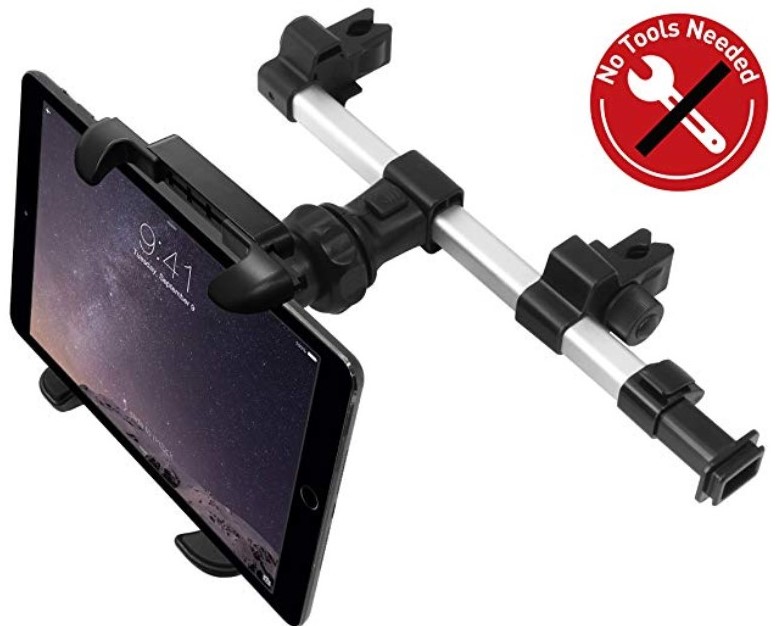 The Macally Car Headrest Mount Holder perfectly fits in the back of the car seat for one passenger or in between seats for multiple passengers.
It has a 360-degree rotatable viewing angle for passenger comfort and convenience. It provides flexibility for viewing with an angle that can be adjusted to varying eye levels. Built with a durable aluminum shaft, Macally's headrest mount holder keeps your devices stable and prevents it from unnecessary wiggling and bouncing.
This product is compatible with nearly all devices, ranging from the Apple iPad, Samsung tablets, Kindle Firefox, Nintendo Switch, and other mobile devices between 3" and 10" in width. It also fits perfectly and securely on gadgets contained in the bulkiest of cases.
The Macally Car Headrest Mount Holder is a lifesaver for most parents on a road trip with kids. It is known for being widely compatible with most standard cars with round headrest poles ranging from 2" to 9" wide.
It can be easily installed in your vehicle without using any tools. Macally provides a warranty for one year from the date of purchase.
Amazon has the Macally Car Headrest Mount Holder ready to go with you on your next road trip.
3.

Klsniur Rotating Car Headrest Bracket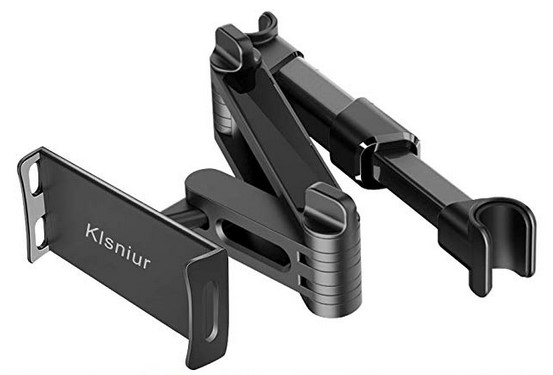 Are you looking for the perfect car headrest mount holder that doesn't break the budget? Many car mounts and headrests are available in the market at an affordable price but compromise the quality. Klsniur offers an excellent introduction to top quality and affordable car mounts for your road trip essentials.
The Klsniur Rotating Car Headrest Bracket provides one of the best car headrest brackets for your kids, with a 360° rotatable view that enables a perfect landscape or portrait view during long drives. It has a sturdy and stretchable arm that can reach up to a maximum of 8.6", providing you with the best comfort and convenience for watching movies, playing games, or reading e-books.
Klsniur's car headrest mount has a multiple angle rotation, which allows for different adjustments to get the best angle for viewing anywhere inside your vehicle. Built with a soft sponge pad, this Klsniur product protects your mobile devices from scratches and vibration. It also has a mechanical switch design that can hold your iPads or tablets securely in place.
Aside from its quality and affordability, Klsniur ensures 30-day money-back guarantee and a one-year warranty for its items. The company also maintains its reputation for excellent customer service.
4.

TFY Universal Silicon Headrest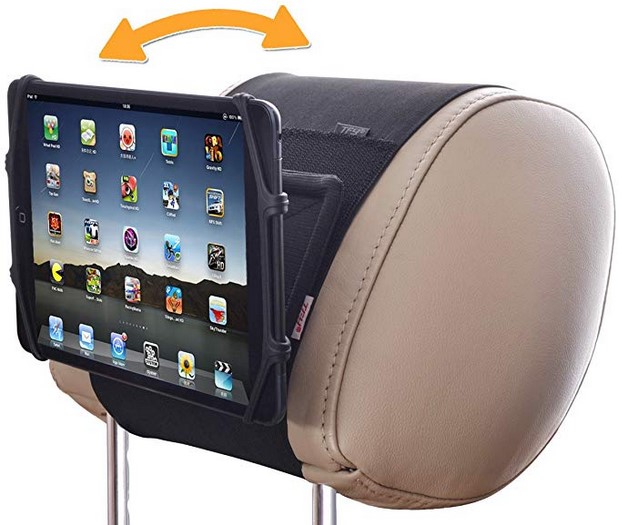 With the TFY Universal Silicon Headrest, your mobile devices are safe from scratches and dents anywhere inside your vehicle. Children can watch movies, play games, or even read e-books without requiring them to hold your devices for long hours while road tripping.
Its silicon band is large enough to perfectly fit your smartphones and tablets around the headrest horizontally or vertically. It positions and holds your mobile devices tightly and securely without worrying about them falling during bumps on the road.
The TFY Universal Silicon Headrest is compatible with almost all electronic mobile devices ranging from 7" to 10.5" tablets, and 4.5" to 6" phones, including the iPad Air, iPad Mini, Samsung Galaxy Tabs, Nintendo Switch, and Fire Tablet. It has a band holder for smaller phones and a bigger band holder for tablets. The band isn't visible and does not obstruct viewing.
TFY's headrest comes with an angle adjuster that enables the screen to be viewed at a convenient and comfortable angle. You can minimize reflected glare using your angle adjuster. Another purpose of its angle adjuster is that it serves as a desktop stand.
Your tablets and smartphones can be positioned in landscape view. It's one of the lightweight headrests available in the market, weighing just 8.8 ounces.
The features of the RFY Universal Silicon Headrest will keep your child's viewing comfortable at any angle!
5.

Wanpool Angle-adjustable Car Headrest Mount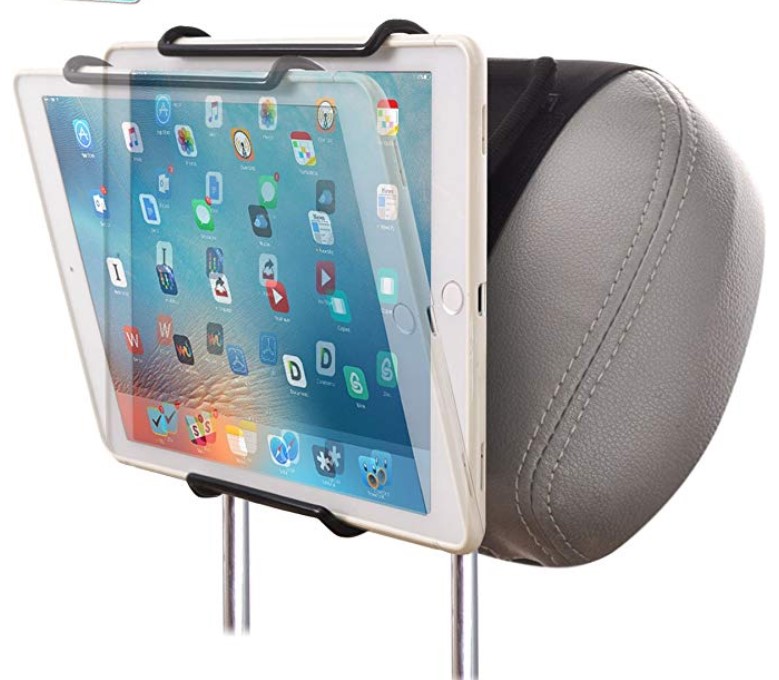 Providing most families with comfortable and enjoyable long drives, the Wanpool Angle-adjustable Headrest is a perfect road trip companion for families traveling with children. It is made of durable and sturdy materials, integrated with stain-resistant and long-wearing nylon.
It is a budget-friendly car headrest with a super durable and very versatile Velcro. This car headrest is compatible with a wide range of devices, ranging from iPads, Samsung tablets, Kindles, and other 6" to 12.9" tablets. It helps the kids avoid unnecessary neck aches from watching movies and playing games on long road trips.
Wanpool's car headrest comes with an angle-adjustable holding clamp so your kids can view the screen at a convenient angle. The clamps provide full access to the ports and buttons of your devices. Your devices are well-maintained and securely fit during travel.
It also minimizes reflected glare for comfortable viewing. It is easy to install this car headrest on the comforts of your car without using tools. It has an adjustable elastic strap, making it easier to assemble and position your iPads or tablets on most car headrests.
Wanpool's headrest mounts can be transferable between vehicles. It comes with an instructional manual on how to assemble your headrest mount securely and firmly.
---
related travel "stuff"