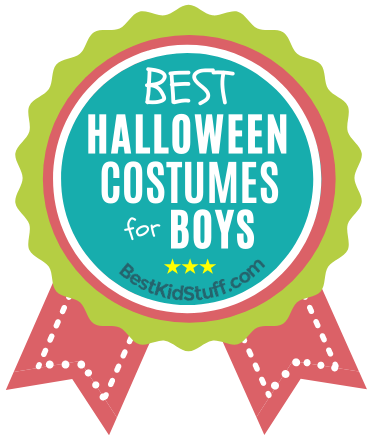 Although Thanksgiving may seem like a close contender, we could all agree that Halloween is the highlight of October – it's the holiday with the most colorful history, that gave us the best memories.
Just imagine all the fun we've had over the years as children, setting up decorations like cobwebs and Jack-O'-Lanterns and hanging out with the neighborhood kids in the most outlandish of costumes, eating all of the candy we can get.
Getting that sugar high on Halloween was worth it, especially when you did rake in a mound of chocolates and other tasty stuff.
We all knew that if our costume was THAT good, the sweet treats keep coming, and it was all the motivation we needed!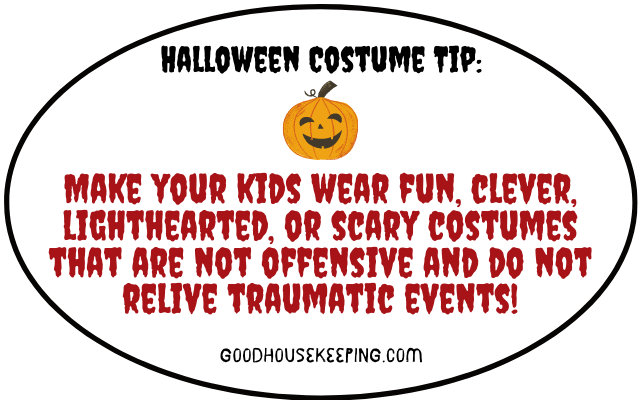 As parents, it's our task to give our kids the same kind of fun and excitement that we had, allowing them to have fun and go crazy on their looks (as they steal the hearts of next-door neighbors with the most adorable costume themes).
In this digital age, parents are stepping up their kids' game and making them wear swoon-worthy or hyper-realistic costumes that truly capture the spirit of Halloween. But if you're still clueless about Halloween options this year, then scroll on down!
Today, we will be giving you a list of 20 Best Halloween Costume Ideas For Boys, from toddlers to young teens. Now that's covering all bases!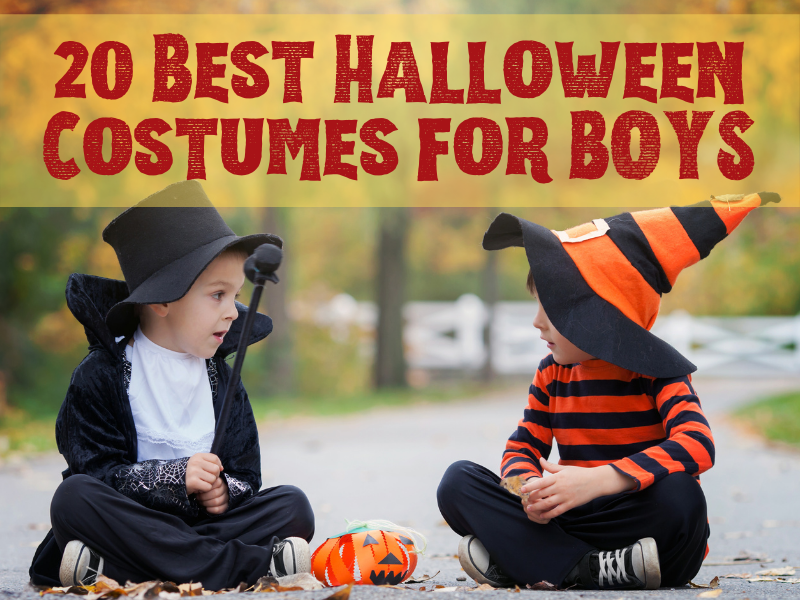 ---
Toddlers (1- to 3-Year-Olds)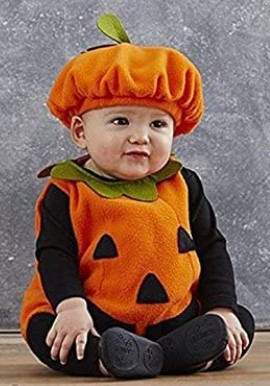 This Pumpkin Halloween Costume Romper Bodysuit is all you'll ever need to make your son look amazing this Halloween.
This statement piece looks good on pictures too, so if you're thinking about getting crazy with the decorations, your little pumpkin will enjoy wearing this while you snap away for the 'gram. It may seem like the traditional choice out of a multitude of other themes, but trust us when we say that orange will never go out of style in October.
It's very reminiscent of autumn leaves, crazy childhood characters, and a sip of America's favorite pumpkin-themed beverage.
This unisex design comes in an assortment of sizes, with different sets fitting babies aged 0-6 months and 6-12 months and toddlers 1-2 years and 2-3 years old. This is perfect, especially if you're looking for a coordinated look among siblings of different ages (like a perfect Pumpkin-clad army).
Made of a special, soft velvet material that's comfortable to wear, you won't have to worry about your kid getting fuzzy and irritable in costume. The set comes with one orange romper (with a green, leafy lining on the collar), a matching beret-esque hat with a cute pair of shoes to boot.
Pumpkin spice and everything nice… is what they will be in this cute pumpkin costume!
2. This Guy Costumes Baby's Spider
This Guy Costumes Baby's Spider Costume may seem like one of the more outlandish choices for your kid, given all the colors, appendages, and other pieces that hang out (which does make sense for a spider costume), but it's a swoon-worthy piece that will look good when you go out for trick-or-treating.
Made with 100% polyester material, this costume is a well-made piece that's worth every penny because it's easy to clean and can be machine-washed after all the festivities. It comes in a cool combination of black and white, paired with accents of orange and purple, fully keeping-up with the Halloween vibe.
This unisex costume comes in two sizes: one for kids 18 to 24 months (weighing 19.5 – 24 lbs and a waist size of 20.5 inches and height of 29 to 32 inches) and another for toddlers aged 2 to 4 years old (weighing 24.5 to 36 lbs; with a waist size of 21.5 inches and height of 32.5 to 41 inches).
The costume is easy to wear, as it slides on like a sweatshirt with no leg holes, making it a comfortable choice for your kid.
This spider is one you won't mind crawling up on your lap.
3. Minions Movie Kids Costume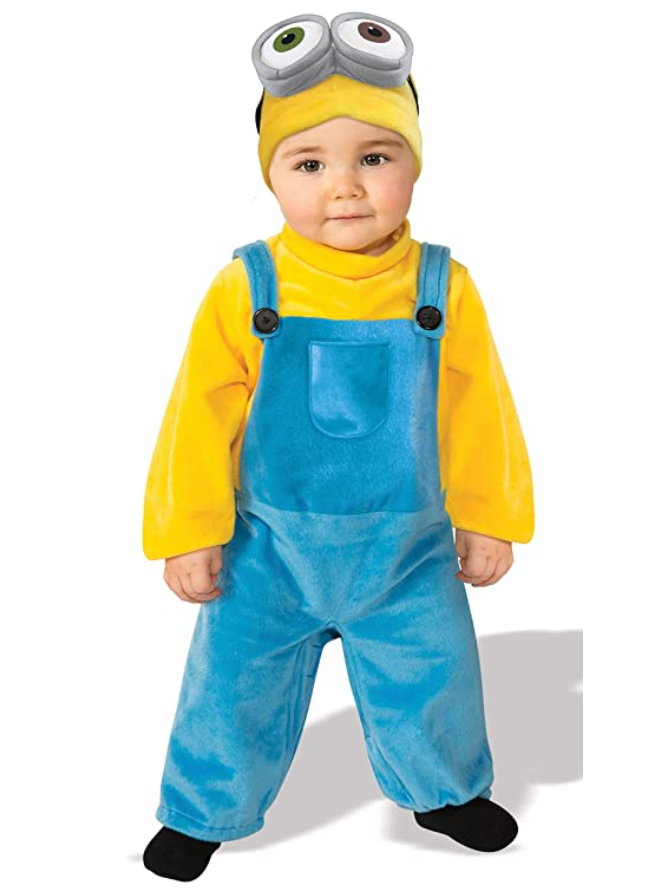 If you are up for a movie-themed costume for your kid this Halloween, you can check out this Minions Movie Toddler Kids Costume, an officially licensed take on one of Hollywood's most celebrated kid's movie franchises to date.
Known as one of the characters in Despicable Me and the Minions movie, this is a friendly, two-eyed Minion who also serves as the main protagonist in both films. As the leader of the Minions tribe, he is usually the one who's starting all of the crazy adventures that you see on screen.
Having your child dress up like a Minion would make him turn some heads or earn him extra pieces of candy. The costume is made of 100% polyester that is secured through a pull-on closure. It has a long-sleeve jumpsuit with a bright yellow top and accompanying blue overall attached to the body.
Typically, it fits toddlers 35 to 39 inches tall, with a waist allowance of 22 to 24 inches.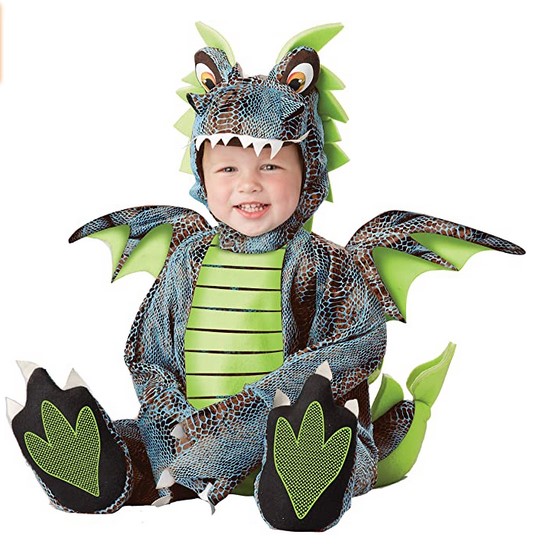 Let's slide into the mythical world of dragons for a bit with the California Costumes Darling Dragon Halloween costume.
If you're looking for a unique costume theme, then look no further! For fans of fantasy series and films like Game of Thrones or How to Train Your Dragon, you may enjoy seeing your kids in this blue, brown, and lime attire.
It is a jumpsuit that has an attached tail and snaps closure legs, making it easy for your kid to wear. The crotch can be unsnapped very easily, so you can pull the whole thing over their head without too much effort. It also comes with detachable wings, in case the flying monster wants to take a rest before taking off.
The costume doesn't spare any details – even though it costs under $30, the pattern used for the scales and body looks a bit more realistic than other cutesy-type costumes, making it a cool way to elicit a scare (or earn a stare from other neighborhood kids).
It's comfortable to wear, perfect for indoor parties and outdoor fun. The headpiece is a separate part, which stays on securely due to the velcros around the chin.
Into dragons? What little boy isn't into the mythical creatures? Take a look at the California Costumes Darling Dragon Halloween costume on Amazon!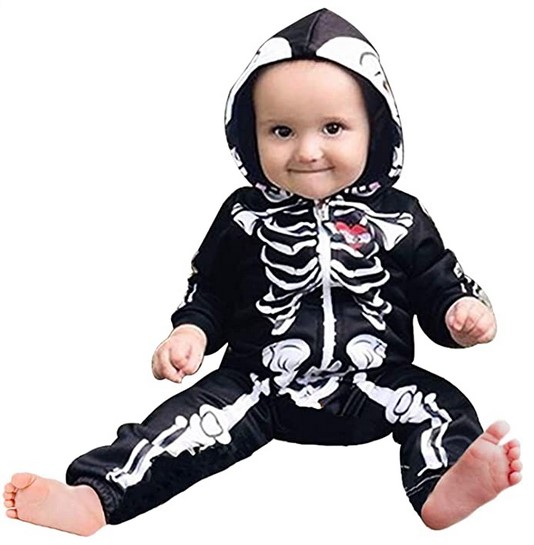 The Camlinbo Baby Skull Skeleton Halloween Costume may seem like a get-up straight out of Cinco de Mayo, but skulls and ghouls are still a thing on the spookiest day of the year.
If your kid hates all the fuss and frills that come with dressing up, this is the quickest way for him to get dressed for the occasion. We love how comfortable this one-piece, the romper-type ensemble is – without all the other accessories and appendages that come with other costumes, and he won't have to feel too constricted.
It also features an adorable skeleton print with an eye-catching heart on the center – truly the perfect touch to an otherwise bland color scheme. This simple, no-nonsense structure and design mean that you'll get more use out of it than any other 'fun' ensemble – it's great for Halloween parties, casual days, costume parties, or photoshoots in quarantine.
Your kid won't get chilly even on an autumn night – since it has long sleeves with a cool hood, he's all set for the night of trick-or-treating. It's made with a cotton blend, breathable fabric, which won't harm your child's skin even through long hours of running and dancing around.
This skeleton costume will be fun and comfortable for your little one to wear on Halloween night at the Boo Fest!
---
Pre-schoolers (3- to 5-Year-Olds)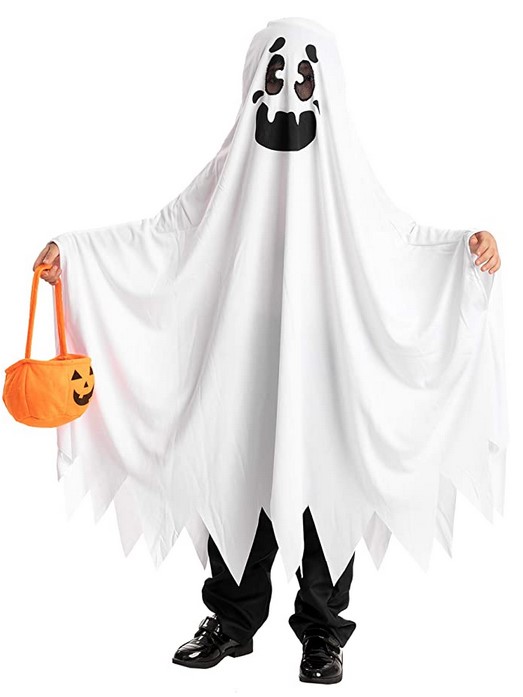 The Ghost Boo Halloween Trick-or-Treating Costume is the elevated costume you never knew your kid needed.
Gone are the days when putting a plain, white bedsheet from the laundry pile qualified as a decent Halloween costume; it's the Big Leagues now! We love how no-nonsense this ensemble is! Made with 100% polyester, this ghost costume is, in essence, a unisex piece that your kid can pass on to their siblings in the following years.
If you're looking for a classic, fool-proof way to celebrate Halloween this year or want to elevate playtime for you and your kids, then this is the perfect piece for you. Out of the box, the costume comes with the actual cape and a matching spooky pumpkin basket (as a set).
It has comfortable armholes and a supportive foam piece underneath the head, which helps keep it in place. The part that we love about this costume is that it features a 'smiling' ghost face in front, like a better, friendlier version of Casper. The mesh eyes also make it easier for your kids to see.
It comes in three different sizes (Toddler, Small, and Medium), although pre-schoolers may appreciate this design a lot more.
Who prefers a friendly ghost? This one is perfect, traditional, and will be comfortable for kids that do not enjoy those restrictive costumes!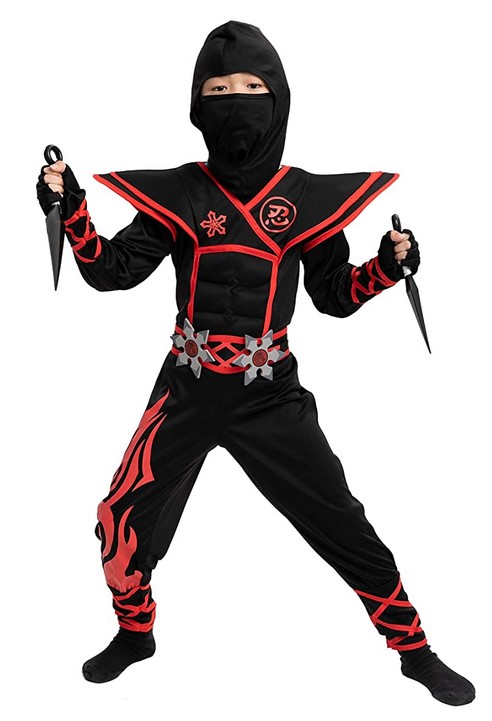 The Child Flame Red Ninja Costume Set tops our list of impressive costumes this Halloween. We cannot get enough of this ensemble!
This flame red and black costume does not need an introduction – as a comfortable jumpsuit, it's perfect for trick-or-treating, as well as pretend play sessions with friends. Made of 100% polyester material, this get-up is super durable and will surely stand the test of time (and be worn by younger siblings after a few years).
The jumpsuit has an attached hood and face mask, which honestly, is a convenient way to dress-up in the time of a pandemic – we love dual-purpose costumes!
Once you receive the package, you will see the black jumpsuit (with red piping) and the attached hood, the face mask, a cool belt to hold all of the accessories in place, and comfortable gloves (which also keeps the chills away). But that's not the best part – it even includes two throwing stars and two ninja knives, which can be attached to the belt. If you like, you can even purchase an accompanying katana or sword to elevate the look.
It's the best value for money because you don't have to buy the toys separately – it's a costume that keeps on giving!
Perfect for Halloween or just pretend playtime, this child's Ninja costume is great for every occasion!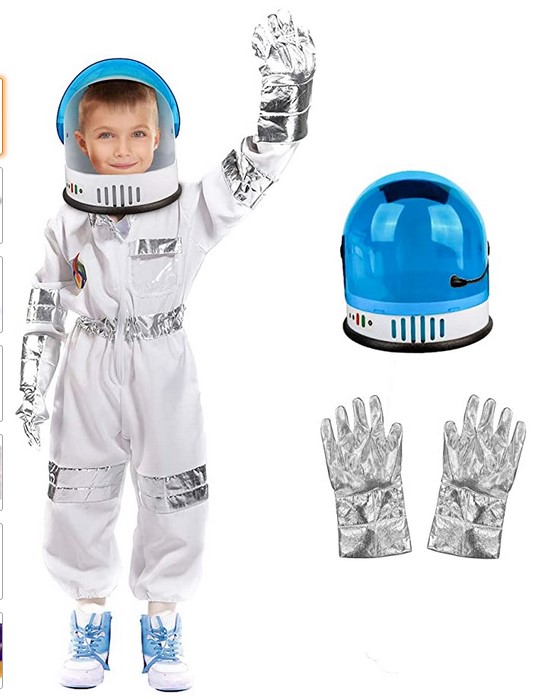 The Meland Astronaut Costume for Kids will be the perfect costume for curious kids who are fascinated by space and curious about what's out there. It's a full-length ensemble that may seem a bit too flashy for everyday playtime, but seeing your kids wearing this on Halloween will fill you up with pride.
Buzz Lightyear, move over – there's another space cowboy in town! The suit design is a zippered jumpsuit that can be machine-washed for your convenience. And even though the design feels somewhat chunky and clunky, the material is breathable and comfortable enough for your kids to wear throughout Halloween night.
The whole set comes with a white astronaut jumpsuit with silver details and plastic pocket (that can be stored with a few treats), complete with silver gloves to seal the deal. Additionally, it also has a cool space helmet with a blue-tinted visor that can be moved up easily in case it feels a bit stuffy. The helmet also has a soft, sponge lining that will protect your kid's head even during long hours of pretend play.
A perfect costume for Halloween or career day – very realistic down to the last details!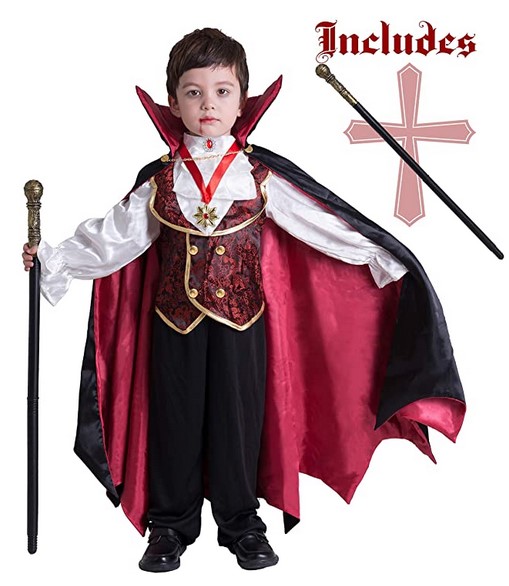 What is Halloween without a Vampire costume? Count Dracula, move over! The Gothic Vampire Costume Deluxe Set is as real as it gets – this Transylvanian Vampire ensemble screams adorable and spooky at the same time!
If you're a fan of the Twilight or Buffy series, searching for a Gothic-themed look for your kids this Halloween, or don't want them to mess with too many moving parts during playtime, then this is something you may want to consider.
We love how put-together your son will look like in this ensemble – made with a soft, breathable fabric. He will surely enjoy running around in this amazing costume.
The costume comes in a variety of sizes to choose from. Out of the bag, you will see the following: a vintage Vampire white, long-sleeved shirt with an attached vest (made of a patterned, red velvet-like material), a collared cape lined with maroon paired with black slacks.
Additionally, it comes with a cool Medallion necklace and Vampire cane, so you won't have to go out shopping for additional accessories. You can pair this whole look off with plain black leather shoes (and a bit of fake blood for effect), and voila!
A cute little Halloween Vampire in your trick-or-treating crew is just what everyone needs!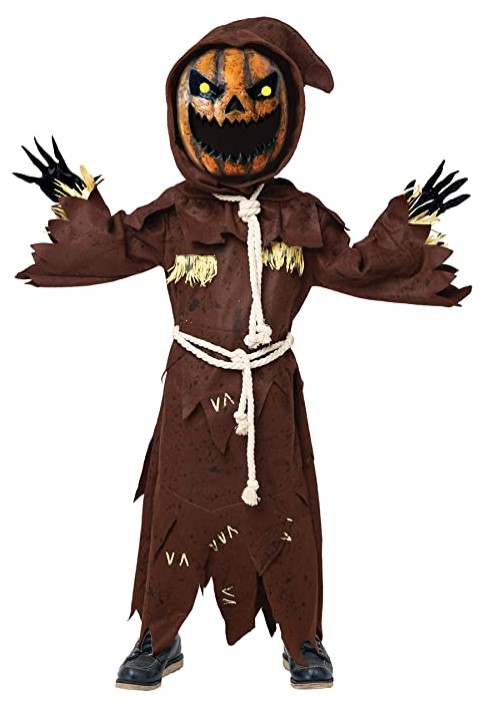 For a hyper-realistic take on Halloween dress-up, you can count on this Scary Scarecrow Pumpkin Bobble-Head Costume – but don't say we didn't warn you!
It's a super-effective way to keep the other kids (and adults) away from your child's candy pile, and probably the easiest way to keep your son preoccupied! We love the attention to detail that can be seen in this costume, as it also has a matching mask (made with painted-on styrofoam).
The materials used in this costume is of premium quality, so your son can get more use out of it even after Halloween. This wicked costume falls below the $25 price range, but it's surprisingly well-constructed compared to other choices.
The main body is composed of a brown hood and patchwork dress robe, made with a warm, durable felt-type fabric. It's as comfortable as it could get! It even has a few straw details hanging out from the edges and armholes!
It can be tied up and adjusted accordingly as it also comes with a rope belt, which elevates the whole look. Aside from the amazing mask, the whole ensemble comes with a pair of pointy scarecrow gloves.
Spooooky… This costume takes the average Scarecrow up a few levels to just plum scary. After all, that's what a Scarecrow is supposed to do, right!?!
---
Middle Childhood (6- to 11-Year-Olds)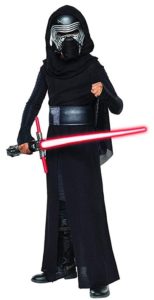 For just under $30, your child will get this Star Wars: The Force Awakens Child's Deluxe Kylo Ren Costume and experience what it's like to be the most powerful Jedi and Sith warrior known to man.
This one's unbelievably affordable for a complete Halloween ensemble, but it would truly make a statement wherever your child goes. Surely, if you're a Star Wars fan and would want your kids to experience how it is to dress up and wield a lightsaber, then Halloween is the perfect opportunity to do so.
The costume material is 100% imported polyester, bearing the seal of approval from the Star Wars franchise (specifically Episode VII: The Force Awakens).
As we've said, it's the complete package and includes a lot of central pieces. Aside from the long black robe and hooded cape, the set includes the notorious black and silver combat helmet complete with faux battle damage (which is representative of a key scene in the movie).
Throw in a lightsaber and gloves for a complete look. You can also pair it off with your son's pair of black pants and shoes to make the whole look cohesive.
When the party calls for a Star Wars theme, we've got you covered here… For Halloween or just a themed party, this one is great for the Star Wars fan!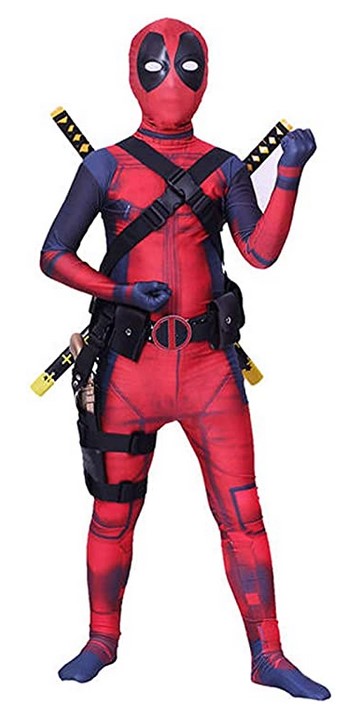 If you or your son is a fan of Marvel comics and movies, this Koveinc Lycra Superhero Bodysuit will truly make any fan spazz like crazy!
Based loosely on the titular Deadpool character, this is an amazing take on the red and black suit that the celebrated anti-hero is known for. Superhero movie enthusiasts will appreciate the work and craftsmanship spent in creating this full-blown costume.
Your son will look good in full gear as they cruise along with the crowds this Halloween, or wear it as attire in a costume party. Made with 100% high-quality Spandex material, your son will feel at ease even while wearing it throughout the day.
Since the costume requires having your kid covered from head to toe, this design is usually best for school-aged kids who wouldn't mind being fully covered for long periods.
The whole set includes the red jumpsuit and mask, with sizes covering kids X-Small to X-Large. To complete the look, purchase additional gear, including the black belts and toy swords!
It's go big or go home at this point! Choose the Koveinc Lycra Superhero Bodysuit for that impressive Marvel Costume that's sure to be the talk of the block!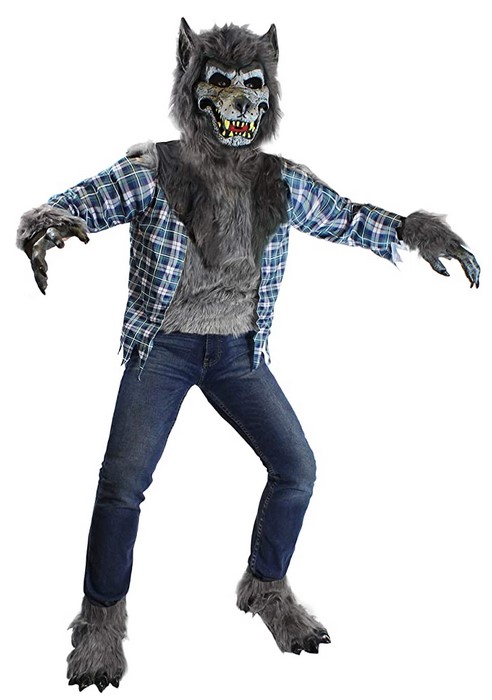 Dressing your son in this Howling Werewolf Deluxe Kids Costume Set with Mask will surely feel like something straight out of a teen vampire-werewolf movie (Twilight, anyone?). That would also mean having him dress up as one of the more prominent characters this Halloween.
We love how hyper-realistic this werewolf costume is, which comes in an array of sizes from small to x-large. If you're planning to round up the rest of the siblings and have them dress the same this Halloween, then this kind of variety is good news!
The whole set includes the following: a long-sleeved, torn, plaid shirt (for that Incredible Hulk-ish, transformation touch) with faux fur for effect, a very realistic wolf character mask complete with a snout, sharp fangs, and large ears, a pair of flexible gloves (molded into a shape of werewolf claws and furry boot covers.
The costume body is made with 100% polyester, the mask with vinyl, and the fur out of acrylic. The whole thing is child-safe and made of non-toxic materials. Pair it off with one of your child's blue denim jeans, or if you're into the whole ripped concept, you can even let them wear some distressed jeans.
Can't go wrong with a scary Werewolf costume… All you need is a full moon!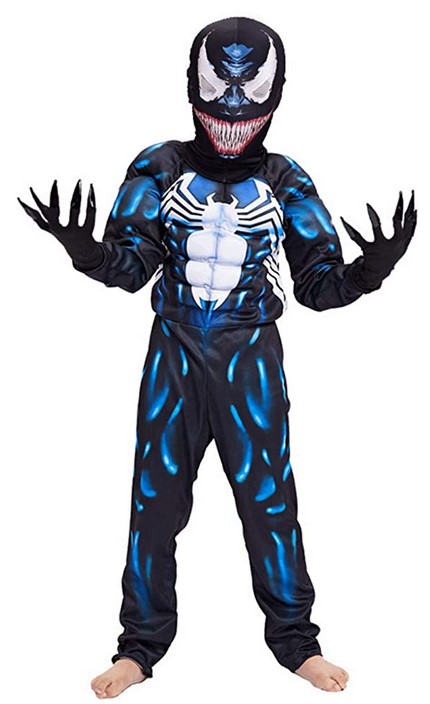 Another one for the Marvel fans in the house, the YuDanae Kids Superhero Costume Onesie 3D Spandex, will surely make Halloween night an unforgettable one this year.
If you've seen enough superhero movies in this lifetime, you'll know straight-off-the-bat that this bodysuit isn't Spiderman, but one of his enduring archnemeses, Venom.
This sentient alien symbiote is truly an enigma on his own – wearing his likeness on the spookiest night of the year would mean a lot more praises and some Instagram-worthy pics that'll surely make the moment memorable!
Your child can wear this outdoors while trick-or-treating, or put this on during playtime with friends.
The costume features incredible details on the prints – it has a high-definition clothing pattern that runs along the whole body (in a combination of white, black, and dark blues), making it realistic and closer to the original character.
This jumpsuit-type costume also features a chiseled, soft muscle chest definition in front (simulating a 'buff' figure superheroes are known for). It has attached boot tops and arm covers that truly complete the whole look.
The bodysuit is made with a lightweight and breathable material that will fit snugly on your child's body.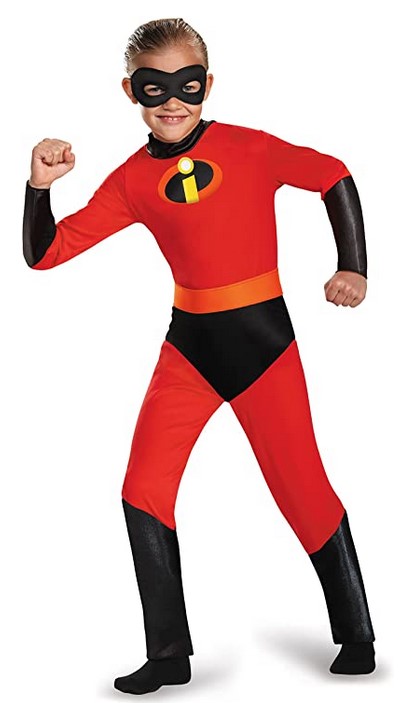 The Disguise Dash Incredibles Child Costume with Metallic Logo and Detachable Belt allows your son to dress up as Dashiell "Dash" Parr, the second child from the Incredibles movie franchise who possesses the power of super speed.
There's no arguing that The Incredibles is one of the most popular costume themes on Halloween! If you're planning to go all-in as a family, you will surely enjoy pursuing this theme as it covers all the bases of a good group Halloween costume theme: easy to follow, fun to wear, and memorable.
Additionally, if you're using this for a birthday party or a themed celebration, then this will work perfectly!
The costume is an officially licensed Disney costume that comes in a variety of sizes to choose from. The material is durable and lightweight and perfect for hours of indoor and outdoor play.
Out of the box, you will see a red jumpsuit with a yellow, red and black 'I' design in front with black underpants and orange and black trimmings. Additionally, a black eye mask is included because the look won't be complete without it!
Has your child been invited to an Incredibles-themed party for a birthday? or need a cool costume for Halloween? Take a look at this one!
---
Young Teens (12- to 14-Year-Olds)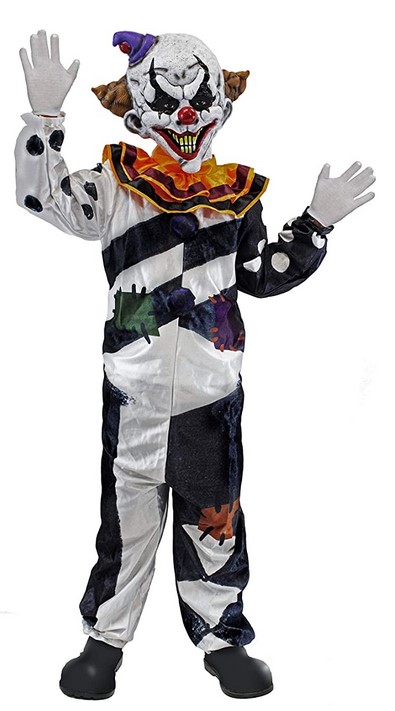 For older age groups, this Scary Clown Costume Kids Deluxe Set for Halloween will keep the crazier side of Halloween alive.
Straight out of Pennywise, this ensemble will make your son excited! Clowns are the "life of the party," but for some reason, there is something sinister about these characters! Some kids even get super scared when approached by clowns.
Because of scary clown movies like "It" and "Terrifier," dressing up as a funnyman on the spookiest night of the year will surely earn your son praises from peers and neighbors (and maybe rake up a bunch of likes on social media).
You can even have your son wear this outside of the Halloween festivities, and have them rock this out as a fun thing to wear during playtime. The set is a unisex costume that comes with a colorful jumpsuit and a full-head mask with a little hat to boot.
The simple touches on the mask, for example, truly bring out the scary elements of the ensemble – made with vinyl, the facepiece is very realistic, complete with scary eyes, curly hair on each side, and a terrifying grin with teeth showing out.
What is more terrifying than a scary clown? NOTHING!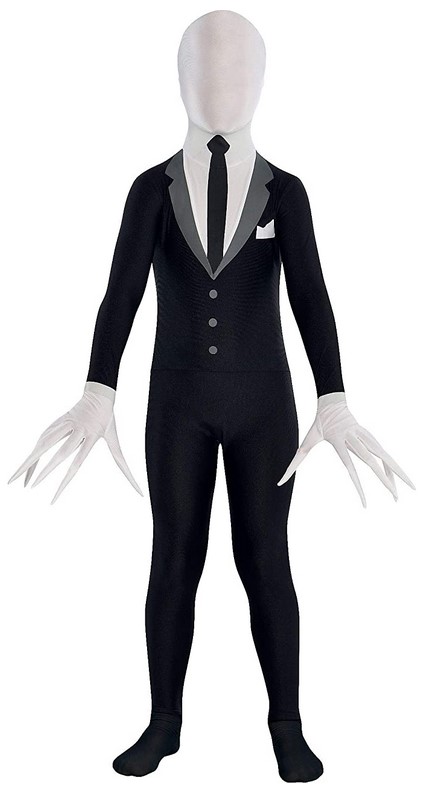 The Amscan Slender Man Partysuit Halloween Costume for Teens is another legendary pick for horror aficionados. It is inspired by the fictional supernatural character of the same name who abducts, stalks, and traumatizes unknowing victims.
The popularity of this character traces back to Internet roots, originating as a famous meme created in 2009, featuring a tall humanoid with a blank face, dressed in a suit. This Internet sensation has influenced some movement online, with fandoms and video games created and inspired by his likeness. There's even an entire movie bearing his name!
When you receive the costume, you'll notice right away that there isn't much fluff inside – it comes with a one-piece, black business suit and a white spandex head part attached to the whole thing. It also features the character's slender, pointed fingers – a small touch that truly completes the costume.
You can let your son wear simple leather shoes to make it all look cohesive, or go the unconventional route and pair it off with sneakers instead. Made with breathable spandex, your son won't have a problem trick-or-treating in the chilly autumn weather with this piece.
Can you say creeepy…??? Because this one is, for certain.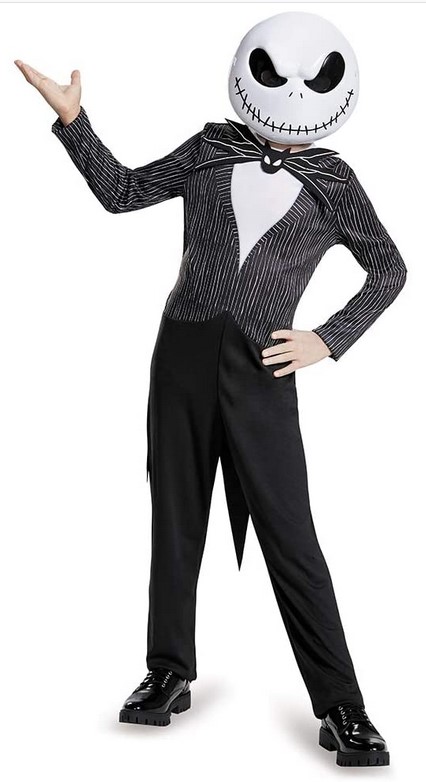 This Disney Jack Skellington Nightmare Before Christmas Boys' Costume is reminiscent of a simpler time, where stop-motion animated films were all the rage.
The Nightmare Before Christmas, one of the most celebrated dark fantasy films, was conceived from the mind of brilliant filmmaker, Tim Burton. If you want the spooky look without fail, we recommend this ensemble!
Not only will your teen look dapper on Halloween night, but he'll also definitely feel a lot more comfortable since it doesn't involve that many bits and pieces to achieve. Allow your son to journey through Halloween Town and have spectators swoon at sight.
Made with polyester, the costume is as durable as it can get. You will be receiving a gorgeous jumpsuit with attached coattails and a black bow. It also includes a half mask with a garter on the back to secure it in place.
The mask is very realistic, down to the white face, large black eyes, and sewn-on mouth for effect. It is an officially licensed product, ensuring that all the details are visibly carefully executed.
Have your son pair it off with some shiny black shoes, and he'll have the perfect Jack Skellington look!
The Teens/Men's Robin Hoodie Costume will make your son feel like Robin Hood – straight out of Sherwood Forest. If you love reading fiction or appreciate a historical reference now and then, then this costume will check all of your boxes!
If you're eyeing a medieval-inspired costume theme as a family this year, then this will be a great addition to any group. We love how put-together and seamless this costume is – definitely props for the attention to detail!
The costume includes a hat with a feather in it, a vest and belt, as well as pants. It even has a laced-up neckline for added depth and fancy sleeves that add up to its medieval-themed appeal. It includes a black leatherette belt.
What makes this product incredible, you ask? It has all the details your teen shouldn't miss out on. Throw in a bow and an arrow for an even more realistic touch.
Are you looking for a classic costume for your guy? Take a look at this!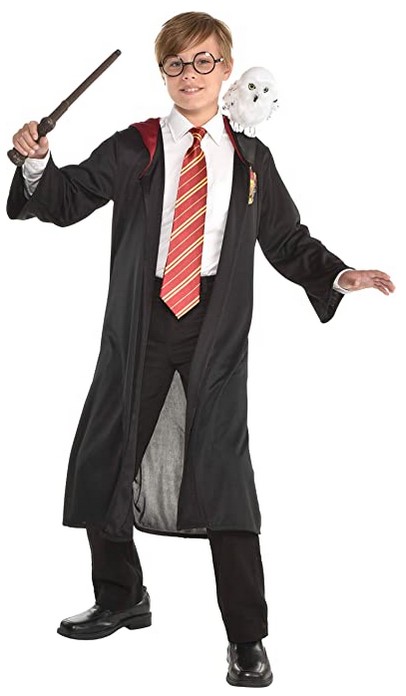 Let's hop into the magical world of Hogwarts with the SUIT YOURSELF Gryffindor Robe, Harry Potter Halloween Costume!
J. K. Rowling's Magnum Opus, the Harry Potter series, continues to influence a lot of young one's years after its release. For Halloween, this would be a perfect opportunity for your son to dress-up as one of the most popular wizards in book and movie history.
Made with high-quality polyester, this look will surely stand the test of time as it is a durable material that doesn't fade that easily. It is available n a wide variety of sizes, too!
Let your little magician shine with this Gryffindor costume, including a long black robe that comes down past the knees with an attached hood for added effect. It bears the house's official insignia, making it the real deal in terms of sticking with the movie theme.
It even has a wide neck opening, making it easy to put on. Since the costume itself doesn't include the other particulars, you can add in some plain black pants, a white dress shirt, red and yellow necktie, and black leather shoes for the complete look. Don't forget to cop a magical wand!
This one is a must-have for the dedicated Harry Potter fan!