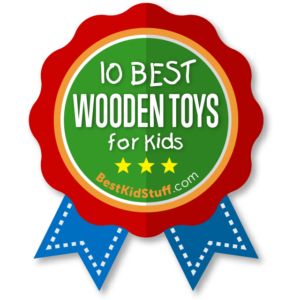 Although plastic toys are very popular among parents, there has been a resurgence of wooden toys. More and more parents are finding wooden toys offer numerous benefits to young children.
Wood toys stimulate the imagination and give children a much-needed break from electronics toys. Real wood toys are not prone to breakage due to their solid construction. The best wood toys are timeless and long-lasting with proven educational merits.
The Advantages of Wood Over Plastic
Plastic toys can contain toxic materials with government agencies like the Consumer Product Safety Commission even warning parents about potential links to health problems when plastic toy materials are mistakenly consumed. The best wooden toys for babies and young children won't bring in toxic materials into your home.
Parents should look for high-quality wood toys made from sustainable woods. To protect our forests, newer wooden toys are crafted from wood derived from fast-growing trees. Producers use sustainable forestry practices to remain environmentally-friendly.
How to Choose Wooden Toys for Kids
When browsing retail sites, read through product description to find out any information about the type of wood used and any earth-friendly practices the company follows. Product descriptions should also point out the safety of the paints used to decorate the toy items. Water-based, lead-free paints are always best.
Never choose wooden toys made from plywood. These types of toys are poorly made and can have toxic glues within the construction. The best wooden toys in the world will never be made from materials that contain lead or formaldehyde.
To keep kids safe, only choose products from reputable manufacturers with solid reviews. Although cost should be a consideration, quality is extremely important since this extends the lifetime of a toy. Educational value is also an important deciding factor. Luckily, wood toys are highly stimulating for young children. A few of the best wooden toys for toddlers and young children are puzzles, building blocks, and imaginative play items like food.
The best selling wooden toys are types that can be passed down from sibling to sibling, and even from one generation to the next. Wood toys are very durable and stable—usually without many small parts that break off or become lost. Since wooden toys last for years and years, they are considered a very economical choice. The following are the best wooden toddler toys currently available on Amazon.
We all know Amazon prices fluctuate; however, all items were under $30 at the time of publishing.
---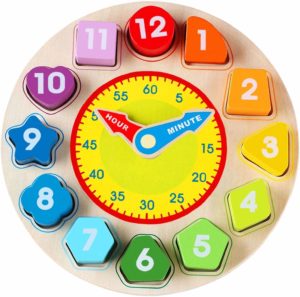 When looking for the best wooden toys for baby, the Jamohom Teaching Time Clock Shape Sorting Number Blocks is a top choice. The manufacturer age recommendation is from 3 months and older, but babies, toddlers, and preschoolers will all find enjoyment with the sorter.
The wooden clock is popular at daycares and schools since it provides a way to teach numbers and telling time in a fun and engaging way. Numbers 1 through 12 are printed in an easy-to-read font on brightly colored shapes. Each number fits like a puzzle piece within the clock. The clock face is centered on the wood block with movable hands to help teach lessons about time.
The Teaching Time Clock is a popular developmental toy, but parents and caregivers can also feel good about the safety of the materials used in construction. All wood pieces are sourced from sustainable trees while paints are certified non-toxic.
Sizing of the removable wood parts of the clock were tested and approved by the International Accredited Lab to confirm that they are large enough to not pose a choking hazard.
2. Lewo 30 pcs. Magnetic Fishing Game for Toddlers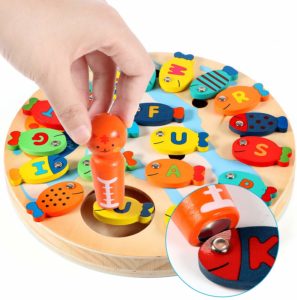 Any best wood toys for toddlers list will likely include the colorful and fun magnetic fishing game from Lewo. This 30-piece set includes a solid wood block with 26 magnetic fish, a magnetic doll, and 2 fishing rods. To work on fine motor skills, children can use the two magnetic rods.
Younger toddlers can benefit from using the easy to grasp magnetic doll. Practice letter recognition with the set—each fish is labeled from A to Z. The board flips over to offer an alternative play method with a search and find the fish theme.
Made from solid wood, the fishing game is very durable and perfect for toddlers who may handle things roughly. All paints are non-toxic and safe for children of all ages.
Since the set does contain some smaller parts, this isn't one of the best wooden toys for babies. The manufacturer recommends the toy for ages 3 and older.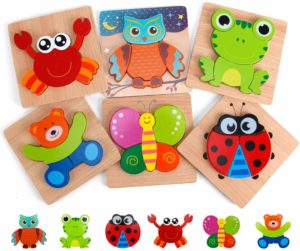 Finding the best wood toys for 1 year old children can be a challenge. Many toys pose choking hazards and are designed for preschool-age children. Luckily, Slotic has parents covered. The oversized pieces for their wooden puzzle make it safe for children as young as a year old to enjoy.
This set includes six adorable puzzles to complete with each puzzle featuring a cute and colorful animal. Each puzzle is very easy to put together with only four to six pieces to fit into the correct slots. Animals highlighted in the set include a bear, frog, crab, butterfly, ladybug, and owl.
Construction materials for each puzzle set are from high-quality eco-friendly wood sources. The puzzle set contains no BPA and doesn't include toxic paints. All paints used to create the colorful animal designs are water-based. The product has been tested and confirmed not to pose a choking hazard for children.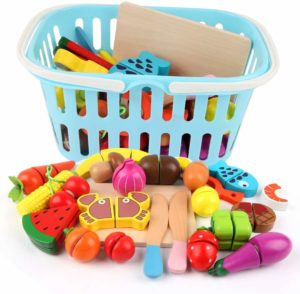 A wood food playset is a great addition to a toddler's toy collection. The BeeBee Run Wooden Cutting Food Playset includes everything a young child would need to play restaurant.
The set includes over two dozen pieces highlighting popular food items such as fruits, vegetables, meats, dairy, and seafood. Children pretend to prepare meals with the inclusion of a cutting board and wooden kitchen knives. Velcro fasteners hold each food item together, but can be safely and easily pulled apart during play.
The food playset is recommended for ages 2 and up. Velcro fasteners are directly attached to avoid loose pieces. All food items and accessories are constructed from real wood and are painted in bright, kid-friendly colors. A plastic shopping basket is included with purchase—allowing for easy clean-up and storage.
5. Lewo Toddler Toys Wooden Ramp Racer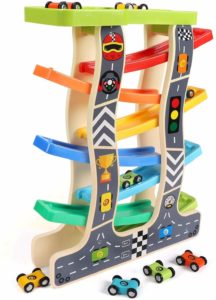 The best wood toys for toddlers appeal to both boys and girls like the Lewo Wood Ramp Racer. Young children will love the simple, but exciting action of watching their wooden race car travel down a zig-zag ramp. The set includes 8 cars—perfect for sharing among children.
The simple design makes it easy to bring on-the-go to play dates or even in the car. Educational benefits are linked to the toy with toddlers learning both lessons about cause and effect and developing improved hand-eye coordination.
The ramp has a solid wood construction with a very sturdy build. The toy has been tested and passed all U.S. ASTM safety regulations. Lewo ensures that all materials included in their toys are safe for children. Paints used to color the cars and ramp are water-based. Furthermore, the toy does not contain BPA.
6. Melissa & Doug Toys Wooden Blocks Set 100 Blocks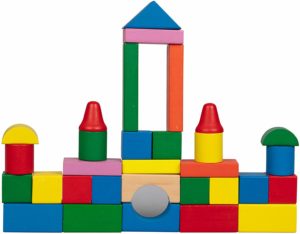 One of the simplest, but enjoyable toys for babies and toddlers are wood blocks. Wooden blocks have classic appeal with generations of children using them to create towers, forts, vehicles, and much more.
This set from Melissa & Doug Toys includes 100 blocks in various shapes and sizes. A blend of colors is used for the blocks too—including bright and bold paints and all-natural wood coloring. Building blocks are easy to grasp and maneuvering them assist with hand-eye coordination and fine motor skills. Building blocks also stimulate a child's creativity.
The blocks from Melissa & Doug Toys are made from 100 percent solid wood with all paints used free of BPA and lead. There are some smaller pieces in the set, so not one of the best wooden toys for 1 year old children.
The set is recommended for toddlers and young children, over the age of 24 months. Storage and cleanup of the set is easy with the inclusion of both a durable tub and carrying case.
7. Play Kitchen Accessories Brew and Serve Coffee Set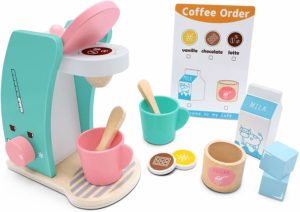 The Play Kitchen Accessories Brew and Serve Coffee Set is one of the more unique choices for the best wood toys for toddlers. Young children can emulate mom and dad by making their own pretend coffee with this fun playset.
Styled like a single cup coffee maker, the set features a brewer with pull-down knob, three coffee pods, two coffee mugs, and multiple accessories to add flavor to their pretend brews. Children will love playing as a barista and making up different coffee combinations. Kids develop creative thinking while using the toy while also working on hand-eye coordination.
Solid wood construction is used to create the pieces within the coffee set from Tiny Land. The manufacturer only uses non-toxic paints and prints to design all of their wood toy parts. Edges are smoothed out to enhance safety of the product.
The set does contain a few smaller parts, which makes the brewery a good gift for toddlers and preschoolers in lieu of infants.
8. Victostar Magnetic Wooden Cutting Fruits/Vegetables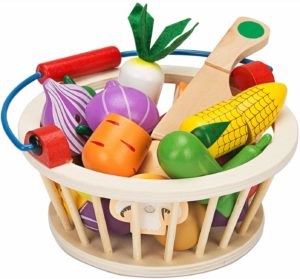 Wooden food sets are a great addition to a child's play kitchen. This set from Victostar includes a dozen popular fruits and vegetables and a wooden play knife. A popular trend in wood toys has been the inclusion of magnets.
This set adds extra fun to creative play by including magnets inside the food items. The magnets hold food items together and also allow them to be easily split apart when the child is pretending to slice and dice the fruits and vegetables.
A highlight of this playset is that even the storage basket is constructed from wood. Educational benefits include shape matching, object recognition, and the science of magnets. Recommended for ages 3 years and up.
Victostar uses high-quality and sustainable wood to create their fun and unique toys. The play pieces have all been sanded with edges smoothed out to keep kids safe while using. Realistic colors are used to bring life to the fruits and veggies. Paints are non-toxic with no harsh chemicals added.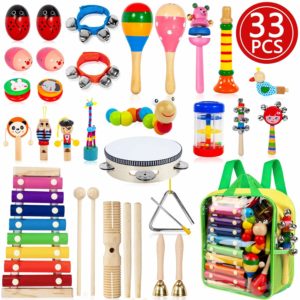 Create a one-person complete band with this 33-piece instrument set from Taimasi Kids. Various musical instruments are included in the set such as shakers, drums, xylophone, and tambourine. Toddlers love to express themselves through music and this set taps into their creative sides.
During play, children can experiment with different sounds and learn how each instrument works. The playset includes a backpack to allow the child to take the instruments on the move. Bring them along to share at a kids' music class. Instruments are sized for young children with the set recommended for ages 12 months and up.
Most of the instruments are made exclusively from solid wood and decorated with non-toxic paints free of lead. All toys have been tested for safety and certified by the CPC and ASTM. All pieces are secured to the instruments to prevent choking hazards.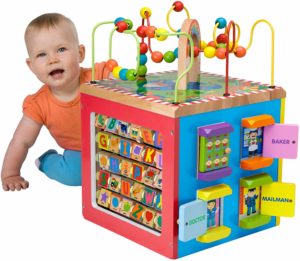 When shopping for the best wooden toy for 1 year old, consider an activity cube. The Alex Toys activity cube features five sides of fun and learning for babies and toddlers. The sturdy and durable base allows for the toddler to move around to each side and explore the various activities.
Activities include bead mazes, peak-a-boo character doors, racing car mazes, and more. Children will have fun as they learn letters and math skills. The cube is part of the Discover line of toys recommended for babies up to 18 months old.
Constructed from solid wood, the heavy-duty cube is meant to hold up for years to come. Paints and accessories included on the cube are not made from harsh chemicals. Safe for babies, all play pieces stay connected on the cube to prevent choking. The solid design also prevents lost pieces.
---
Related Topics:
Best Educational Toys for Toddlers