For toddlers, playing and learning are one and the same. As these young children fresh out of infancy begin to explore the world, there's so much for them to learn. They're primed to begin understanding language, they're starting to develop physical dexterity and motor skills and they are even capable of grasping the earliest concepts of science and mathematics. To reach their full potential, though, toddlers need the best toys.
With so many different types of toys out there, it's not easy for parents to judge which toys are right for their child. Often, it can feel like comparing apples and oranges when you're weighing the merits of the most high-tech new learning toy against classic toys like blocks, puzzles and playsets. Yet parents know that the amount of money they can spend and the number of toys that can reasonably fit in their storage space are limited. They have to make tough choices when deciding which educational toys are worthy of a spot in their child's toybox.
To help the worn-out parents who are struggling to keep up with their energetic toddlers make these decisions, we've carefully combed through countless toddler toys to find the ones that offer the best educational value. Some of them are designed specifically to teach toddlers the letters, colors and numbers, while others are educational in different ways, allowing kids to use their imaginations or practice their hand-eye coordination. Well-rounded kids need to learn all kinds of skills, and a diverse toy collection can help toddlers cultivate these different abilities.
While educational value was the number-one factor we considered in ranking the best educational toys for toddlers, we know that families need more from their kids' toys. We've also factored in all of the other elements that are most important to families today. Fun is a crucial component of any toy, because if your toddler isn't having fun, he or she won't want to play with the toy. Both flashy high-tech toys and simple low-tech toys can be fun in different ways, so we awarded extra points for any features that add to the fun factor.
Some toys are inexpensive, while others are investments in your child's play environment. Whether you're planning to spend a lot or a little, you want to get the best value for your money. In rating the value of toys, we looked not only at the price, but also at what you get for your money. While there are toys on our list at various price points, every toy provided a lot of value relative to its cost.
Flexibility is another factor we wanted to consider in narrowing down the 10 best among the the thousands of toddler toys out there. Both structured play and unstructured play are important for a child's development, so toys that offer the opportunity to be used in both goal-oriented and free play scenarios scored the best in that category. Finally, toddlers are still so young that they often have little sense of what could be harmful to them. We placed priority on the safety of the toys we recommended, looking for factors such as quality of materials and construction and the appropriateness of the toy's components for the recommended age group. Your baby may be growing up, but he or she is still your baby – and keeping your toddler safe is your first concern as a parent.
Every toy on this list has proven its worth in terms of educational value, fun, value, flexibility and safety. Read on to learn what new toys could give your child better skills and a brighter future.
1. First Builders Big Building Bag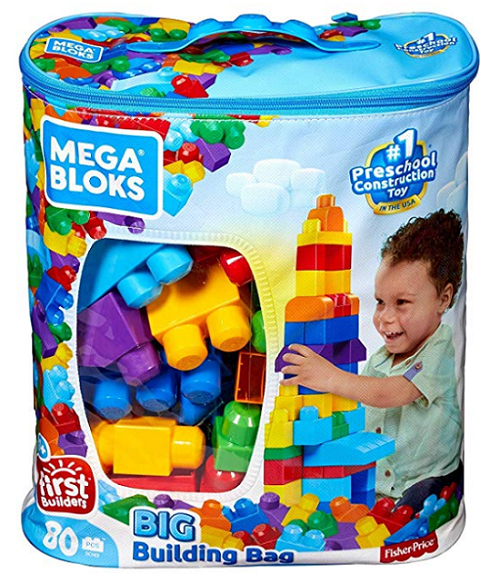 Blocks are about as classic a kid's toy as you can get, but there are hundreds upon hundreds of building sets out there for toddlers. Trying to decide which one to buy your toddler can make your head spin. Do you go for magnetic blocks? Blocks with bristles? Blocks that are disc-shaped, notched or plum shaped? For your child's first set of blocks, it's often best to start with the basics. You'll get the best bang for your buck with Mega Bloks First Builders Big Building Bag, an 80-piece set of traditionally-shaped plastic blocks that snap together much like Legos but are big enough for somewhat clumsy little hands to manipulate. Kids ages one to five love the bright colors. The hands-on work of building is crucial for developing fine motor skills, and the open-ended nature of play allows kids to express their creativity and create anything they can imagine. Playing with blocks, especially in more structured ways, can help toddlers begin to develop fundamental STEM skills, including the skills to visualize the components of three-dimensional structures and how they fit together to make a pattern. This low-tech toy will give your child hours of fun, creative, educational entertainment, in solo play and as quality time with parents or caregivers, at a great price.
Pros and Cons
Pros
Building with blocks has multiple developmental benefits that range from motor skills and hand-eye coordination to increased creativity and early STEM thinking skills.
The oversized bricks are easy for toddlers to hold and build with, and they snap together without requiring much force or posing a strong likelihood of pinching tiny fingers.
These vibrantly colored blocks are sure to catch your child's eye and are available in classic primary and secondary colors or in a pink variant.
Blocks are a highly flexible toy, working equally well for free play and structured play, during quality time together or as an independent diversion that allows tired parents a moment of peace.
At the $15 to $25 price point, the 80-piece set offers plenty of blocks for a reasonable price – and they fit easily inside the durable zippered bag they come in, making storage and cleanup easy.
Safe for children as young as one, these blocks are large enough that they won't pose a choking hazard and BPA-free so that, if your teething toddler happens to bite at a brick, you don't have to worry about exposure to dangerous chemicals.
No batteries required.
This Mega Bloks set has a 4.8-star rating out of more than 6,000 reviews.
Cons
Without flashing lights, music and sounds, this classic toy might not have as much of a gimmick as more high-tech interactive toys.
Children may develop the dexterity to move onto smaller blocks before they reach the upper age recommendation of the toy, but since those small blocks pose a choking hazard to toddlers, these larger bricks are still a good stepping stone and a worthwhile purchase.
Score
Educational Value: 96/100
Fun Factor: 98/100
Value: 96/100
Flexibility: 96/100
Safety: 99/100
Overall score: 97/100
2. VTech Touch and Learn Activity Desk Deluxe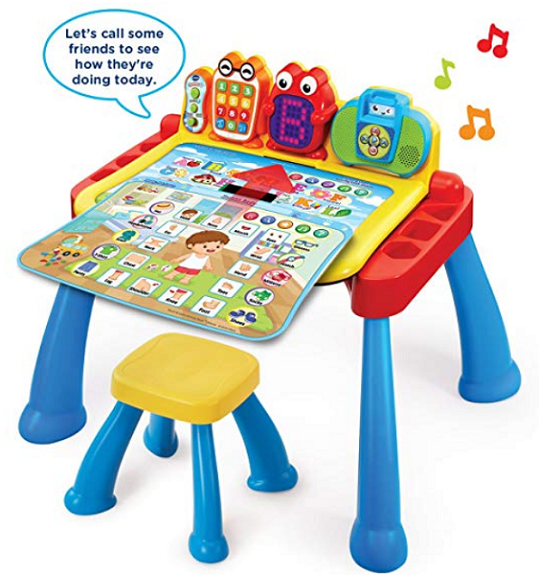 On a list of educational toys, an activity desk is almost required. Learning to sit down and focus on an activity – any activity – is itself a pretty amazing feat for a high-energy toddler. Yet just like building blocks, there are so many different desks and stations out there that parents can have trouble choosing the right one. Some are massive and cost $100 or more, while others are modestly sized and half the price without skimping on features. We were impressed with VTech's Touch and Learn Activity Desk Deluxe, which offers excellent educational and fun interactive features at a price point under $50. The desk comes with five activity pages that teach kids age two and above important and age-level appropriate lessons on the alphabet, numbers, counting and identifying colors, fruits, body parts and sounds. The interactive desk "talks," allowing children to hear the sounds of letters and words, but it also gives visual cues on the LED display screen, making it a great choice whether your child is a better visual or auditory learner. When it's time for some more creative activity, just flip the desk top up to reveal the built-in chalkboard and easel. When your toddler outgrows the included activity sheets, you can buy expansions, sold separately, to keep him or her motivated to learn.
Pros and Cons
Pros
Perhaps the single most educational toy on our list, this learning desk not only teaches the prescribed curriculum that includes identifying colors, numbers, letters and body parts but also helps kids learn to focus their attention and practice sitting still.
The interactive features of this desk will keep kids from getting bored, with visual and sound components to learning. Just for fun, the desk also features a toy phone and built-in music player.
Activities are fun and plentiful, and when your child is ready to move on, you can buy expansion packs – eight in total – that add to the curriculum, so learning never becomes a chore.
Although the learning aspects of the activities are fairly structured, there's also room for free play when the desk transitions to an art workshop complete with chalkboard and easel.
Weighing just eight pounds and taking up little more than two feet of space lengthwise, this desk with included stool won't take over your house, and the lightweight yet durable construction makes it safe for children.
With a price tag under $50, this learning desk favorably compares to others that cost twice as much.
The desk has earned a 4.5-star rating with nearly 1,200 positive reviews.
Cons
Although the desk is generally well-constructed and safe, some parents have reported that they or their children have accidently pinched their fingers when opening or closing the top of the activity station to use the desk for drawing.
Because the toy is on the higher end of the price scale, it may not be the best option for families on a tight budget – although the educational value is also exceptionally high.
The different expansion sets, sold separately, range from $10 to $20 in price, so the cost of buying them can add up quickly.
The desk requires four AA batteries, not included. Without those batteries, the whole interactive learning aspect of the toy doesn't work and it can only be used as a simple art desk.
Score
Educational Value: 97/100
Fun Factor: 97/100
Value: 95/100
Flexibility: 98/100
Safety: 89/100
Overall score: 95.2/100
3. Learning Resources New Sprouts Camp Out! Toy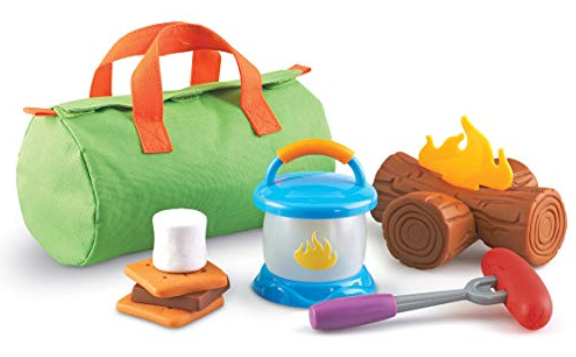 It's difficult to overstate how valuable playing pretend is for children's development, especially during the toddler years. While toys that light up, play music and dance may pose plenty of educational and entertainment value, sometimes it's simple toys that are the best for boosting a child's imagination. While there's an almost endless array of options when it comes to these low-tech and fun playsets, one of the coolest ones that has caught our eye is the Learning Resources New Sprouts Camp Out! Camping and Campfire Toy. Suitable for kids ages two and up, this 11-piece set features a campfire constructed from two logs and a flame, a lantern that really glows in the dark, pretend food that includes s'mores fixings and a hotdog, a fork for roasting the food over the fire and a nine inch long duffle bag to store it all. Camping enthusiast families are sure to love the playset, but even kids who haven't gone camping for real can enjoy stretching their imaginations with this fun and creative toy.
Pros and Cons
Pros
Open-ended playsets like this are ideal for free play and encouraging kids' creativity.
The pieces are made of a flexible plastic, which helps to reduce the risk of injury or accidental damage.
All pieces from the campfire set do fit into the carrying bag, making travel with those
pieces easier.
The lantern does give off a little bit of light, helping to simulate a real lantern.
The playset allows kids to pretend to have a campfire, regardless of what the weather is like outside.
At the $15 to $25 price point, the 11-piece set is a good value.
Cons
Some parents reported difficulty fitting some pieces of the set in the carrying bag or even the fire in the log slots, though most felt that all pieces fit just fine.
Some families have been disappointed with the lantern, which although glows in the dark, doesn't give off much light and reportedly can only be seen when it gets really dark. Some parents reported that the light has stopped working, while others note that the bottom piece of the lantern is in danger of breaking off.
Oddly, although there are graham crackers for the s'mores, the set doesn't come with a bun for the hotdog.
Most of the educational value of sets like this come from the creative free play and some development of motor skills through handling the hands-on pieces, rather than though a focus on teaching language or math skills.
Score
Educational Value: 82/100
Fun Factor: 97/100
Value: 98/100
Flexibility: 100/100
Safety: 95/100
Overall score: 94.4/100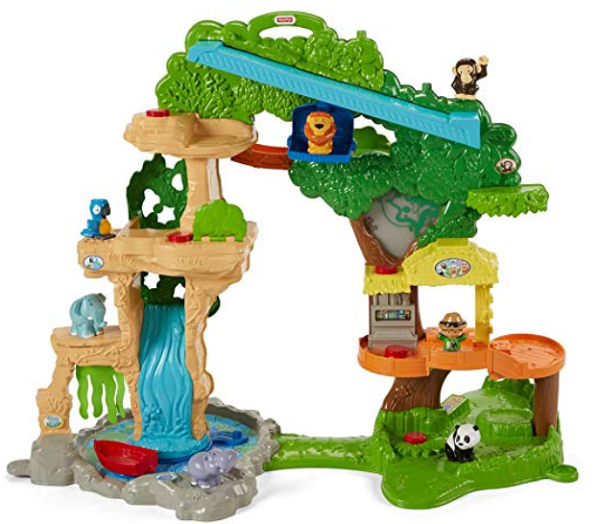 For toddlers who are enamored with animals – identifying them, making animal sounds, watching the local wildlife through the window – the Fisher-Price Little People Share & Care Safari is sure to be a hit. Standing over two feet tall, this large but manageable jungle playset includes a working, button-activated zipline, a waterfall and habitats for six animals – plus the Safari Guide's campsite. For kids ages one to five, it's a fun toy that's perfect for free play – but that's not all. Install three AA batteries, not included, and the jungle gains excellent interactive features, including lights, sounds, phrases and songs about caring for animals. Kids learn through play, developing their motor skills and learning not just about animals but also about the importance of respecting them. At the $50 to $60 price point, this toy isn't cheap, but you get a lot for your money.
Pros and Cons
Pros
The Share & Care Safari is perfect for building children's motor skills, nurturing their creativity and teaching them about animals and respect for wildlife and nature.
Interactive lights and songs entertain kids while introducing information about the
different animals in the safari, but the toy still retains its value as a playset even if you run out of batteries.
Exciting actions throughout the safari, such as a zipline, sets this apart from stationary playsets and gives your child more to explore.
The Share & Care Safari offers plenty to do as a standalone playset, but you can also connect it to other Fisher-Price Little People playsets to make one large playset.
The toy comes with 6 different animals and a Little People Safari Guide so you don't need to buy additional animals right away.
This toy has earned a 4.4-star rating with more than 115 positive reviews.
playset, purchasing the other sets can be costly.
Cons
Some parents have noted that the buttons to activate the actions can be hard to push – so much so that small children may not be able to do it on the first try or on their own.
Because the set is on the large side, it can be difficult to fit in small spaces.
Some buyers reported glitches that include sticking ziplines or lights that work poorly.
This toy is already on the pricy side. Purchasing other sets and Little People characters and animals to complement this one can get expensive.
Score
Educational Value: 93/100
Fun Factor: 99/100
Value: 83/100
Flexibility: 100/100
Safety: 95/100
Overall score: 94/100
5. Design & Drill Creative Workshop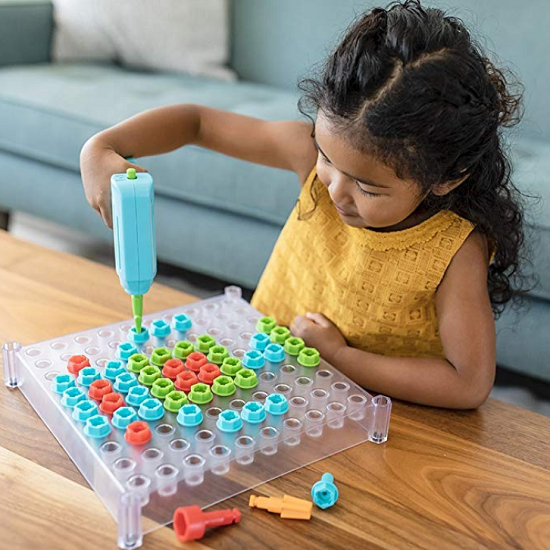 If you want to encourage your future engineer, scientist or mathematician that STEM fields and creativity go hand in hand, the Design & Drill Creative Workshop by Educational Insights fits the bill. Kids use a special screwdriver, wrench or working toy power drill and colorful plastic screws perfectly sized for the hands of children as young as three to create luminous designs in the transparent plastic board. The set encourages both structured and free play, with kids following included patterns – and building their STEM skills – or letting their creativity run wild as they create their own unique designs. Either way, children are sure to enhance their motor skills as they practice holding and using each of the included tools.
Pros and Cons
Pros
Kids love that they get to use a "real" working power drill, wrench and screwdriver just like the grownups do, but the plastic construction, absence of sharp edges and slow power speed make the tools safe for ages three and up.
Structured play, such as following the patterns prescribed on the included cards, can help toddlers begin to develop STEM skills that include basic mathematics and visual mapping skills.
The toy easily lends itself to free play – just allow your child to create any pattern or picture that comes to mind with the colorful pieces.
As they turn the screwdriver or wrench or aim and hold steady the drill, children are working on their motor skills – and they don't even know it.
At the $30 to $40 price point, this toy is a little more expensive, but it gives a lot in return: the working power tool which comes with two drill bits, the screwdriver, the wrench, 120 bolts and 10 design cards that contain 20 total patterns.
Educational Insights offers a 365-day risk-free guarantee.
The toy has a 4.3-star rating with nearly 650 positive reviews.
Cons
Because the screws can be considered small parts, they may pose a choking hazard. This toy is not recommended for children younger than three.
The drill requires three AA batteries, not included. If the batteries run out, it puts a definite damper on the use of this toy, although technically children could still do the activity with the screwdriver and wrench only.
Some families reported having trouble with the drill – either opening the battery compartment for the initial battery installation or problems with it stopping working. The manufacturer is responsive to feedback and can help if a purchaser has a problem with a drill.
Some parents report that their children eventually got bored, either with the toy itself or with the somewhat boring task of taking the bolts back out of the panel once they finished screwing them into place. This depends on the child, as other parents say their kids love to play with the toy for hours.
Score
Educational Value: 96/100
Fun Factor: 93/100
Value: 89/100
Flexibility: 96/100
Safety: 93/100
Overall score: 93.4/100
6. VTech Smart Shots Sports Center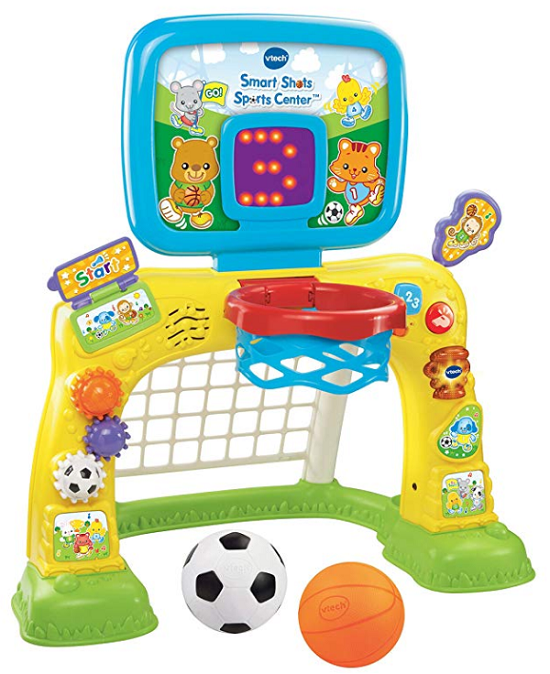 It's never too early to start integrating healthy habits like physical activity. Get your littlest athlete moving with the VTech Smart Shots Sports Center. The two-in-one activity center doubles as a basketball hoop and a soccer goal, saving space and providing endless opportunities for your little one to get some energy out. The "smart" center is interactive, with sounds, songs and speech as well as LED scoreboard animations that not only encourage play but also teach kids letters, numbers and shapes as well as the beginnings of counting.
Pros and Cons
Pros
The VTech Smart Shots Sports Center encourages exercise starting at a young age and helps kids develop better coordination and motor skills through play – not to mention burning off some of that seemingly boundless energy.
Educational features that teach kids to recognize the alphabet, shapes and numbers make sure that toddlers' minds, as well as their bodies, are getting a workout.
The bright colors, cute animal-themed art and fun interactive features, including LED lights and more than 50 songs and phrases, make it fun to play.
At the $30 to $40 price point, the double-duty sports center isn't a bad deal – and it comes with both the soccer ball and the basketball.
The smart scoreboard automatically records up to 10 baskets. A congratulatory noise sounds when a basket or goal is made.
The toy has earned a 4.5-star rating with more than 925 positive reviews.
Cons
Requires three AA batteries, not included. Although the hoop and goal can still be used without battery power, the smart features only work with batteries.
The automatic scoreboard only keeps track of baskets, not soccer goals.
The height of the sports center is not adjustable and, by most accounts, is very low.
Some parents complained of defects with the interactive features. The manufacturer is responsive to feedback and can help if a purchaser has a problem with the product.
Score
Educational Value: 93/100
Fun Factor: 99/100
Value: 88/100
Flexibility: 92/100
Safety: 94/100
Overall score: 93.2/100
7. VTech Musical Rhymes Book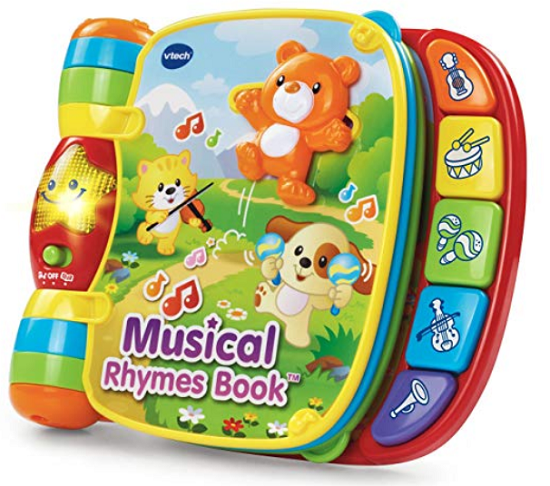 If regular picture books just aren't appealing to your toddler, you might have better luck with the Vtech Musical Rhymes Book. Part storybook, part high-tech toy that lights up and plays music, this toy is a great way to entertain toddlers and plant the seed that reading can be fun. Designed for kids ages six months to three years, each of the plastic pages is large and thick enough for a baby's hands to grasp. Throughout the book, there are three-dimensional, interactive pieces kids can turn, slide and move as they practice their motor skills. The fun cartoon animal art complements the classic nursery rhymes. The book talks, plays music and sings, with more than 40 sounds, phrases and songs included. With a learning mode and a music mode, this toy does double-duty, all the while sending that all important message that reading is cool.
Pros and Cons
Pros
One way to make storybooks appealing to toddlers is to add the interactive features – like lights, sounds, music and hands-on components – that are found in this inexpensive and charming toy.
With six classic nursery rhymes, the book offers some variety.
Interactive pages help to prevent kids from losing interest.
There are two different sound options, one for music and the other for story sounds, providing a little variation for each read through.
Colorful instrument buttons on the side of the book allow kids to create their own music,
even if they are mid-story.
At a price point between $10 and $20, this toy is very reasonable, especially considering its interactive features.
Vtech's Musical Rhymes Book has earned a 4.6-star rating, with more than 1,660 positive reviews.
Cons
While the pages are intended to be chunky to make it easier for little fingers to move them, some parents have reported that the pages are too bulky, at times causing young babies to injure their fingers.
Some parents reported that the music buttons don't always match up well with the stories.
Certain sounds and songs repeat more often than others, which can be annoying – especially to parents.
Other sound issues, including songs being swapped to go with the wrong nursery rhyme, have been reported.
Score
Educational Value: 93/100
Fun Factor: 94/100
Value: 95/100
Flexibility: 90/100
Safety: 93/100
Overall score: 93/100
8. Yookidoo Musical Duck Race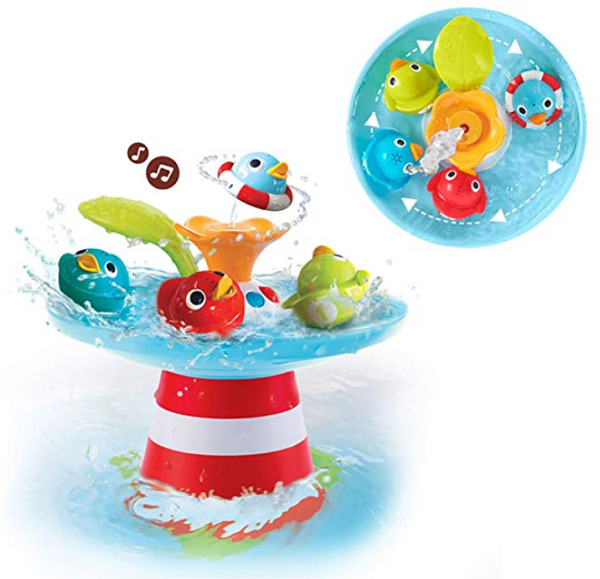 Who says learning has to end when it's time to get ready for bed? The best bath toys are so much fun that toddlers don't even know they're learning. A fast favorite among kids ages six months to three years is Yookidoo's Musical Duck Race fountain. Just place in your child's bathtub with four to 14 centimeters of water and watch the ducks race around the ring. Each duck features a unique design that causes the fountain in the middle of the ring to spray in different directions, so your child will have a blast switching out the ducks to see what they do. Seeing how swapping out ducks affects the fountain might just be your little one's very first science experiment, but as they scoop up the moving ducks from within the ring, they're also working on their motor skills and hand-eye coordination. If the toy wasn't charming enough as it is, it also plays music and fun sounds – and weary parents won't be sorry to hear that it has a mute button.
Pros and Cons
Pros
Bring an educational component to bath time fun with this cheerful fountain that encourages children to experiment with cause and effect, practice their motor skills as they try to catch the racing ducks and engage in free play with the ducks.
With spraying water, fast-moving ducks, vibrant colors and catchy songs, this bathtub toy has plenty of fun potential.
Designed to be safe for infants as young as six months old in the bathtub, you don't have to worry about the battery-operated toy short-circuiting and causing your child harm, thanks to the company's patented battery compartment design – although it's always essential to have careful adult supervision when a young child is in the water. The item is also produced without free of BPA, phthalates, PVC or lead.
A mute button allows parents to shut off the volume for those days when mom and dad need a break.
Cons
It's important to keep the filter of the bath toy clean, or the toy could stop working. However, cleaning the filter generally isn't difficult to do.
Most of the negative reviews revolve around issues with the fountain ceasing working. The manufacturer offers a warranty and can be contacted for troubleshooting assistance and replacement through Yookidoo's website or through the company's Facebook page.
At the $30 to $40 price point, the toy is on the more expensive side.
The toy requires four AA batteries, not included, and isn't much use if you run out of fresh batteries.
Score
Educational Value: 85/100
Fun Factor: 98/100
Value: 86/100
Flexibility: 89/100
Safety: 98/100
Overall score: 91.2/100
9. LeapFrog Number Lovin' Oven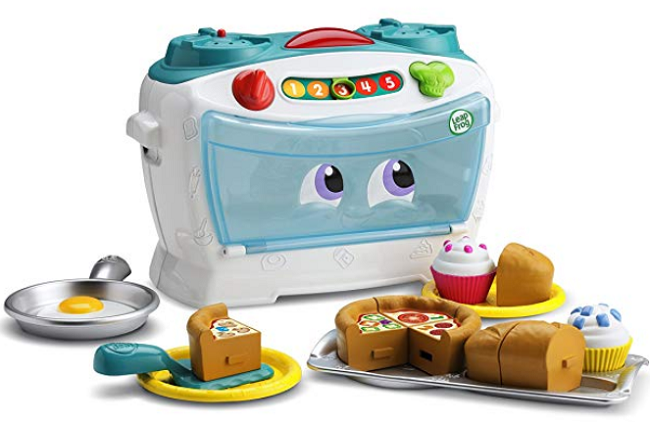 Who knew pretend cooking and early mathematics had so much in common? If you'd like to get your toddler a play kitchen but you're short on either funds or space – both in high demand when you've got a little one on the move – the LeapFrog Number Lovin' Oven is the perfect educational alternative. The hands-on food items are ideal for imaginative free play, but pre-segmented items that are ready to "cut" can also help your toddler learn basic math skills like identifying numbers and counting. Although the Number Lovin' Oven can be used in a very low-tech way, the battery-operated toy also sings and speaks, with more than 30 songs and phrases to get your child's attention and expand his or her vocabulary.
Pros and Cons
Pros
Toddlers have so much fun pretending to cook that they don't even realize that they're learning about numbers and counting.
The toy food items that come with this very hands-on play set are versatile. If you already have a full play kitchen for your child, it's easy to integrate these foods and tools into the existing setup. They can also be used for setting up pretend grocery stores, holding a tea party or dinner or any number of other creative ideas your imaginative toddler can devise.
If you simply don't have the space for the play kitchen you would like to have, this small play oven does so much with so little space – and, since all of the 15 other pieces are designed to fit neatly into the oven after playtime is over, you don't have to worry about storage.
Around the $20 price point, this toy is easy on the budget – especially compared to full kitchen sets that can cost over $100 and don't incorporate math learning activities.
For the price you pay, you get a lot of value. The oven comes with one fried egg, two cupcakes, a loaf of bread pre-cut into three pieces, a pizza pre-cut into four pieces, one baking tray, one skillet, one spatula and two plates – 16 pieces in all, counting the oven itself.
Sizzling sounds, spoken phrases and songs about cooking, counting and sharing add a more high-tech and interactive feature to this toy that can easily be played with without sound, if parents need a little quiet time or if the batteries run out.
The colorful oven comes in both teal and pink options.
The set includes no small parts and is safe for children two and older.
The Number Lovin' Oven has a 4.7-star rating with more than 675 positive reviews.
Cons
Although the oven is preprogrammed with more than 30 phrases and songs, some parents found the songs repetitive and annoying. There are two levels of volume to help reduce the noise impact.
Some buyers had trouble fitting all of the pieces into the oven, although most felt that all pieces fit just fine.
The toy requires three AAA batteries, the first batch of which is included, although as a basic kitchen set can still provide value without batteries installed.
Score
Educational Value: 89/100
Fun Factor: 90/100
Value: 85/100
Flexibility: 88/100
Safety: 92/100
Overall score: 88.8/100
10. Fisher-Price Bright Beats Dance & Move BeatBo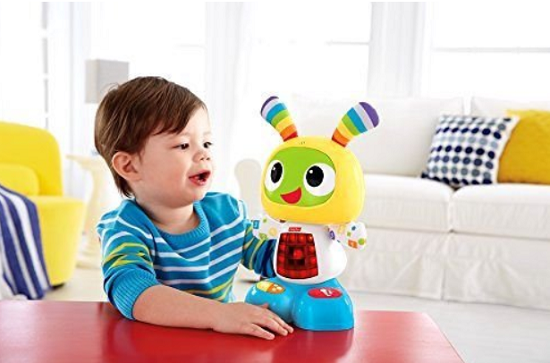 What's not to love about a colorful dancing robot? Toddlers are sure to get a kick out of Fisher-Price Bright Beats Dance & Move BeatBo, an adorable light-up animatronic with three modes that grow with your child. Suitable for infants as young as nine months old, the light-up toy's stage one mode is a simple "Dance & Move" mode that encourages little ones to start crawling, walking and dancing, themselves. At stage two, "Learning & Games," BeatBo helps toddlers learn the alphabet, color recognition and basic counting skills – but perhaps most fun is the "Freeze Dance" song. You can also use stage three, "Record & Remix," to record your own phrase for BeatBo to repeat. While BeatBo certainly steals the show, the flashy interactive toy doesn't offer the simple opportunities for creativity and exploration that classic toys like blocks and play-pretend sets do. It's also among the more expensive toys on the list.
Pros and Cons
Pros
BeatBo's educational value lies in the robot's learning games, which are used to teach toddlers to identify letters and colors and to count. Although BeatBo is a robot, interacting with the toy can also help build communication skills.
As an interactive toy, BeatBo does just about anything a toddler (or his or her parents) could want: speaks, sings, dances and lights up, with an LED display stomach.
The friendly face and colorful theme – available in the original yellow, green and blue or a pink and purple pairing – gives BeatBo instant toddler appeal even before kids see what the robot can do.
The three modes allow BeatBo to advance along with your child, keeping the toy relevant for longer.
The toy is safe for toddlers but is also suitable for babies nine months and up.
BeatBo has earned a 4.2-star rating, with more than 1,400 positive reviews.
Cons
The toy requires four AA batteries, included, but since its entire purpose is to be interactive, it is fairly useless if you run out of fresh batteries.
At a $50 price point, this one may be stretching the budget for many families – even if it will last from nine months of age to three years.
Most of the unfavorable feedback centers around problems with BeatBo stopping working, often for no apparent reason. The manufacturer is responsive to feedback and can help if a purchaser has a problem with the animatronic.
Score
Educational Value: 90/100
Fun Factor: 88/100
Value: 80/100
Flexibility: 86/100
Safety: 90/100
Overall score: 86.8/100