As they reach puberty, boys are likely to experience more changes physically, emotionally, and cognitively. Physically, they become more engaged in physical sports such as basketball, swimming, and baseball. Teens may experience interesting fluctuations in their emotions. They tend to be sensitive, and their self-esteem is hurt when they do not get positive reinforcements.
At 14, boys need a boost in their confidence. It is a time where they would want to feel in control of their decisions and actions, hence the constant arguments over them wanting to get things their way! Parents frequently run into problems when communicating with their 14-year-old boy.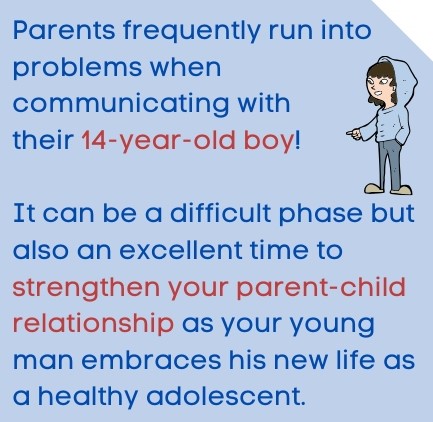 While it is a difficult phase, it is an excellent time to foster the parent-child relationship as they transition to becoming healthy adolescents. Peer opinions are an essential factor to consider when dealing with your 14-year-old. Taking the time to develop a relationship with him and giving them the right kinds of gifts will help you become closer to your teenager.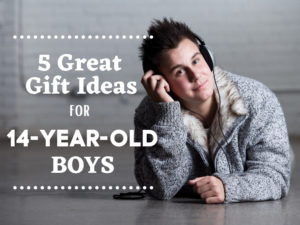 Here are our suggested gift items for your 14-year-old boy. Age-appropriate, these items help promote their physical ability, lead to a discovery of themselves, encourage their overall well-being. The prices mentioned are as they appear on Amazon as of publishing.
1. Djubi Slingball Classic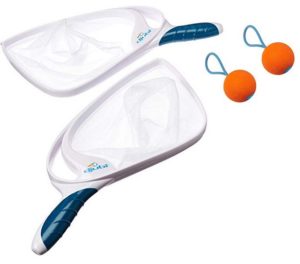 The Djubi Slingball Classic is a fun game your 14-year-old boy can play with friends in the pool, beach, or park!
Just like the classic catch game, this slingball catch is a unique one since you will be using rackets with nets. Each set comes with two rackets with launching hooks and two balls. To launch the ball, use the rubber sling located on the topside for the racket, place the ball in the sling, retract, and throw the ball to the other side. Each launch has the potential to reach 100-feet into the air!
It's time to cut down the screen time and get your teens engaged in outdoor activities such as this one. This could be a good chill game your teenager can play with his friends or brothers too! Or, get an extra pair and have a good play of catch with the family on the beach!
This unique Djubi Slingball Classic game set would make a great gift for a teenage boy for only $24.99.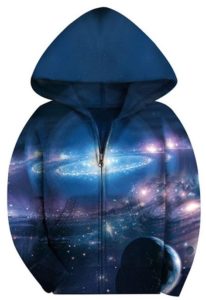 Your 14-year-old boy will love the cool Teen Jackets-Fleece Full-Zip Hoodie as an addition to his wardrobe!
A fashion statement on its own, this cosmic-themed jacket is made of 80% polyester and 20% cotton with front zipper closure. With a warm inner fleece lining, this jacket is not only fashionable; it's also functional. The hoodie and front pockets give extra warmth to their head and hands. The material is not bulky but soft and comfortable for everyday wear.
The colorful and realistic galaxy 3D print is truly eye-catching to any passerby. You can choose from five sizes: X-small (US 7-7X), small (US 7-8), Medium (US 10-12), Large (US 14-16), and X-Large (US 18-20). It's best to check your teenage boy's size first before finalizing your order.
Cleaning it is easy too! This can be hand washed or machine-washed using cold water. Air drying the clothing could prevent any damages that come with using a dryer.
Get them to sport the most stylish cosmic look for only $28.99 to $33.99.
With numerous color combinations to choose from, this will be a welcomed addition to your 14-year-old's wardrobe for certain!
3. Striped Cotton Jogger Sweatpants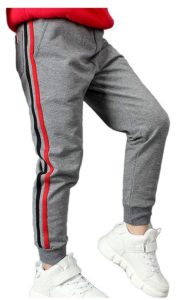 The Striped Cotton Jogger Sweatpants is a flexible and stylish clothing fit for casual use.
Perfect for your 14-year-old boy, this clothing is made of high-quality cotton material with 95% cotton and 5% polyester for that extra stretch. Unlike the typical sweatpants, this one sports a gray color blending perfectly with most colors. The style may feel retro, but the contemporary fit complements a shirt for a casual look.
Furthermore, the two front pockets allow for secure storage of small items such as phones, keys, and a wallet. With an elastic waistband and drawstring, your teenager can easily adjust the pants to fit snugly. To break from the monotony of the color, two stripes in red and black line the sides of the pants. It's versatile clothing that can be worn for sports activities too!
For his age, this is cool clothing to give your teenager a boost of confidence. Give him this gift for only $21.99.
Another great addition to your teen's wardrobe, these Striped Cotton Jogger Sweatpants should be a staple in everyone's closet.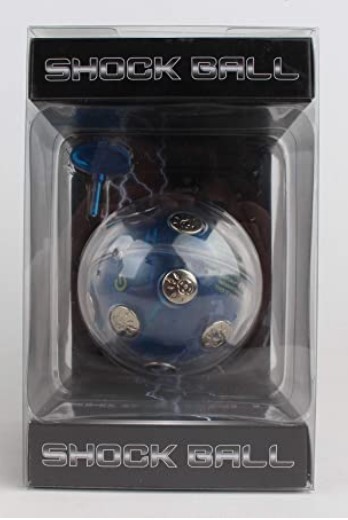 It's a shockingly exciting game with the Shock Ball Hot Potato Game!
This is not your usual pass-the-ball game. Ideally, this game can be played with up to 100 people. This ball game is best played with a minimum of 15 to 20 people. If you want to give your kid something extra for his birthday, he will surely love this product!
As the ball is passed, it randomly produces 10 seconds to 30 seconds of shocks to the one currently holding the ball. Though the shocks have no known harmful effects to the holder, to stay in the game, he or she must be able to hold firmly to the ball and pass it to the person next to them. Should the one holding the ball drop it after a shock, they will not be able to continue with the game. It's a fun game that your 14-year-old boy, his friends, and the family will enjoy!
This shock ball is powered using 1.5V AAA batteries. Need a quick gift for his birthday? Purchase this cool item for only $24.99.
Do you have a big 14th birthday bash planned for your boy? For a shockingly good time, this is a great party game!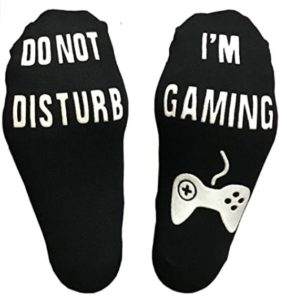 For all the gamers, the Novelty Cotton Socks for Gamers is a staple item for that in-the-zone factor!
This exciting pair of socks is made of 80% cotton, 17% polyester, and 3% spandex for comfort fit. With the 'Do not Disturb' written on one sock and 'I'm Gaming' on the other sock, it's a sure hit for teenagers who are game fanatics.
It's a versatile piece that they can just wear for special occasions or everyday clothing to wear with their sneakers or pair of shoes. It's breathable and stretchy, ensuring excellent foot comfort.
Worried about smelly feet? This pair absorbs moisture preventing the odors from building up in the shoe. It's easy to clean too since this can be machine-washed or hand washed. The anti-slip keeps both feet firm on the surface even on smooth floors.
Give this novelty item to your 14-year-old boy! He will surely love it for only $5.99 – an excellent choice for the dedicated gamer in your family!
recommended for younger and older boys