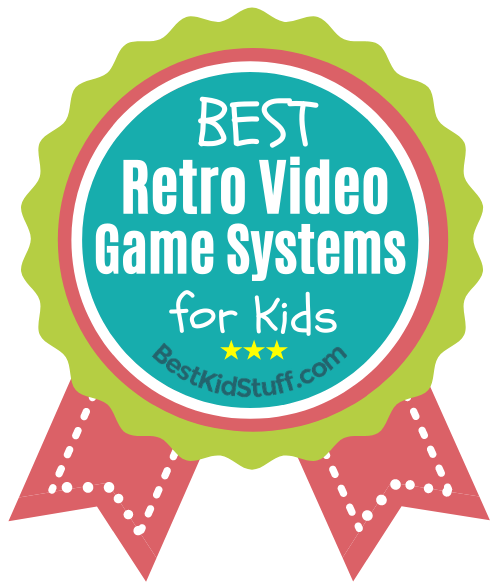 Retro video games bring back childhood memories! Popular during the 80s and 90s, those gaming systems with 8-bit and 16-bit microprocessors sparked the inner gaming enthusiast in you!
Today, retro video gaming systems are gaining momentum again. Gone were the awkward analog connections, wiggling cartridges, and super low resolution as they have all been upgraded with new features to offer. However, they come with the same characters, storyline, and the action-filled game plots we used to love!
These products may not be as sophisticated as modern video games with high-resolution graphics, cinematic story arcs, and extensive artificial intelligence—but they work for every gamer at heart!
We're talking about the greatest games ever. The retro arcade versions of Pac-Man, Mortal Kombat, Street Fighter, and Super Mario took amusement to the next level and became some of the 1980s pop culture's biggest successes.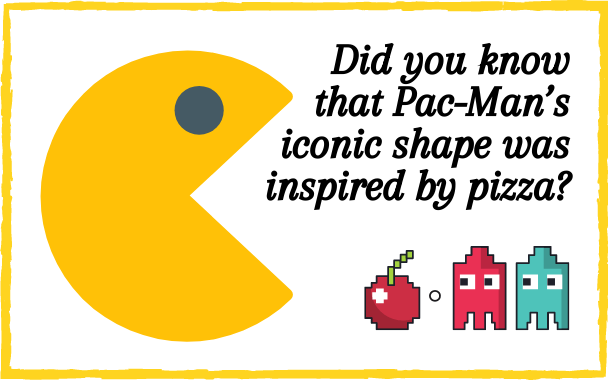 Younger generations can learn (enjoy and play) something from Gen Xers and early Millenials playing these retro gaming systems. As these arcade games are classics, it is best enjoyed the way they were originally played: using an arcade machine, an arcade joystick, and the popular 6-colored player buttons.
These simple functions of gaming are the best way to start developing their cognitive developments. It improves a child's concentration, coordination, problem-solving, and social skills. With the right parental supervision and control, retro video game systems can bring out the skilled gamer and person in your child!
Retro video game systems come in numerous designs and sizes, so don't get overwhelmed by the game's full capabilities!
Here is the ultimate list of 10 Best Retro Video Game Systems that children will love and make you nostalgic! Currently available on Amazon, these products are divided into two sections: Arcade (big machines) and Handheld/Portable gaming systems.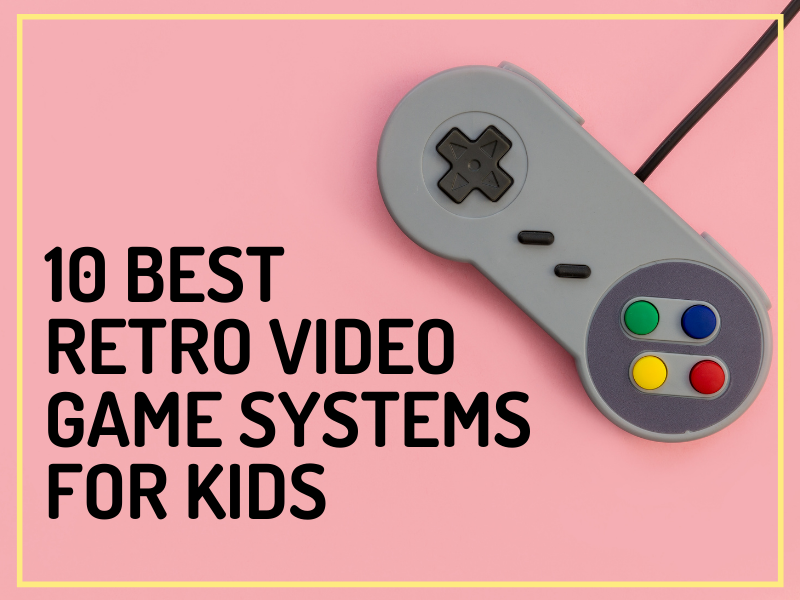 RETRO ARCADE MACHINES:
1. WEIFAN Classic Arcade Console Machine Home Retro Game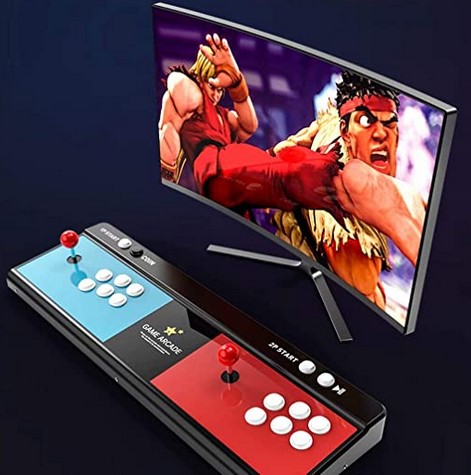 A retro arcade machine that enhances your child's memory, this Classic Arcade Game Console Machine is made by WEIFAN. Promising a great arcade experience, it is an ideal entertainment item for friends and family.
In WEIFAN's Classic Arcade Console Machine Home Retro Game, one of its stand out features is the great number of arcade games installed. It has nearly every classical arcade game from the 80s and 90s.
From Street Fighter to Pacman and Super Mario Bros, there is one, two, or more from the 3,288 retro games that will truly include a blast from the past. Indeed, whichever one was your favorite, you'll find the collection of these museum content classics interesting even to the new generation of game players!
Aside from promising a great gaming control experience, it also offers a better user interface. WEIFAN's Retro Arcade Machine can be played either by a single player or two opponents at a time. Once you connect the controller via USB, it can accommodate four players at a time.
WEIFAN also supports VGA and HDMI outputs for full-screen capabilities to attach to any suitable TV, PC Monitors, and Projectors. There is a custom function for players to adjust the button definition and order they want. The built-in soundbox can also adjust to different settings making it more convenient to retro arcade users.
With these full HD images, perfect color saturations, and great sound quality, it will not only give players a nice arcade experience for users but a stable performance, too!
WEIFAN's Retro Arcade Machine is designed to be easy to use, plug, and play mechanism. In the package, it includes an English manual for first-timers. It offers a multi-language setting from its one-button switching for languages like Japanese, Chinese, Korean, and others. The manufacturer is also open to queries about the game console and offers to solve all product problems.
For a full gaming experience, this option is sure to please everyone in your household. Check it out!
The DOC and PIES Arcade Factory Classic Home Machine is another on the list that will bring enhanced retro gameplay! This game machine has all the right elements to give you both a retro and modern arcade game experience!
What makes this one shop-worthy is its 412 retro arcade games that are built into the system. It features state-of-the-art electronics, with great graphics and sound quality. With its full-size 19″ LCD screen and full-size arcade buttons and joystick, your kids will have a blast with this. It comes with a 2-year warranty and weighs only 50 pounds, and is designed to sit tabletop in your recreation room or den.
With these classic games, users will have various selections that will keep them playing this arcade game console the whole day long! Offering a chance to experience nostalgic retro games to players, the little users will have an interesting and challenging experience in exercising their thinking and logical abilities!
With its convenient size, this will fit anywhere in your den, bedroom, or game room!
3. Nintendo Classic – Original Box with NES Controller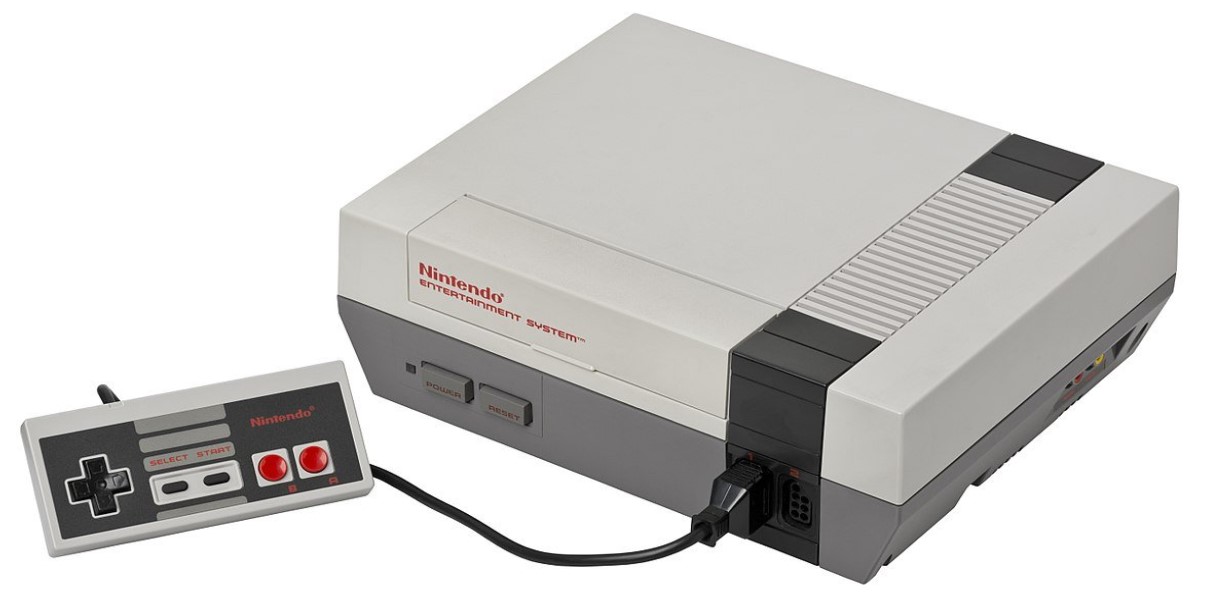 This review of this Retro Video Game Systems will not be complete without mentioning any Nintendo game products. Anyone who played it in the 1980s and 1990s will immediately recognize the famously adored gaming system.
With its incredibly nostalgic design, the Nintendo Classic with Nintendo Entertainment System (NES) Controller is an entirely different beast.
In this Nintendo Classic, their incredible job of recreating the original hardware's look and feel in a two-tone gray shell is not the only reason why Nintendo Classic is a must-have gaming console. This old-school version is preloaded with 30 games retro players used to love when they were young and for your children to enjoy!
While others have a thousand games installed in their arcade systems, sometimes, fewer games that had been proven for decades and all-time favorites are enough. In the broad selection of classic arcades, it includes Super Mario Bros, Mega Man, Final Fantasy, Donkey Kong, The Legend of Zelda, and a handful of licensed games.
With some of the system's best games in this console, these solid dozen of nostalgic gems are worthy to re-visit and lets you outlive out the good old days like never before.
Resembling much of the rich gaming past, this classic video game comes with an old-school, grey-colored responsive NES Classic controller. Also, it is also compatible with Classic Controllers and Classic Controller Pros. Moreover, the game features players to enable four save states for each progress. This is convenient for getting through hard games by letting you freeze it and returning to that moment whenever you want.
At the back of the Nintendo Classic, it holds a standard HDMI cable and a USB universal port. The former connects it to your HDTVs / 4KTVs for a better gaming experience, and the latter is for the included adapter that can be plugged into the wall. Nintendo also offers a twelve (12) month limited hardware warranty and three (3) months limited game and accessory warranty from the date of purchase.
This is great for parents who enjoyed gaming when they were kids… or, if you would like to introduce your favorite games to the next generation!
4. Prime Arcades 2 Player Upright Arcade Machine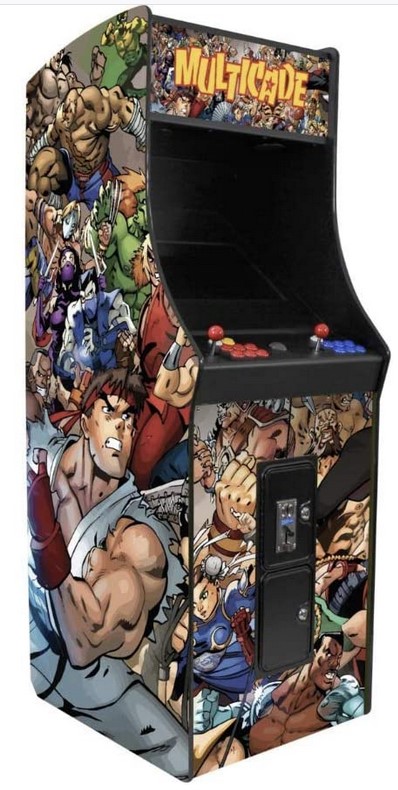 Prime Upright Arcade Machine is perfect for your children to have their full-size arcade controls, excellent arcade emulation, and multiple games in one cabinet. This fantastic retro throwback will introduce little players to your 90's nostalgia spot with all its best features to not get them bored.
This traditional arcade machine design has the biggest monitor on the list. The 22-inch LED screen will be enjoyed by retro gamers and children alike as they play games like Street Fighter with their opponent. Prime Upright Arcade Machine also comes assembled with a collection of 3016 games. This includes Metal Slug Series, Pac-Man, X-Men, Galaga, The Simpsons, Teenage Mutant Turtles, and a thousand more of your favorite games!
It also comes up with amplifier and voice control settings. If kids find the game easy, they can put games on the Adult Mode difficulty to make it more challenging. This will make the arcade machine more entertaining, enjoyable, and competitive with a wider screen and more game choices.
Built with industrial quality in mind, the Prime Upright Arcade Machine is also designed to take up a corner of your room. It is perfect for retro game lovers and older ones to be placed near your mini-bar or high-grade Man Cave while your kids crash and play in your place. What makes it interesting is that it offers custom artworks. Like the one showed in the product design, customers can personalize their machine for an additional $300 fee covering artwork on two sides, center, and marque.
This will truly be one inviting retro atmosphere to friends and guests like the good old days in the arcades downtown! For easy transportation, the player panel can be detached. Manufactruer Prime Arcades, LLC offers free shipping in 48 states in the US and comes with a 5-year long warranty.
If you'd like to feel like you are at a true arcade, this gaming machine is perfect with all of its excellent features!
5. Tongmisi LED 2 -Side Arcade Video Game Console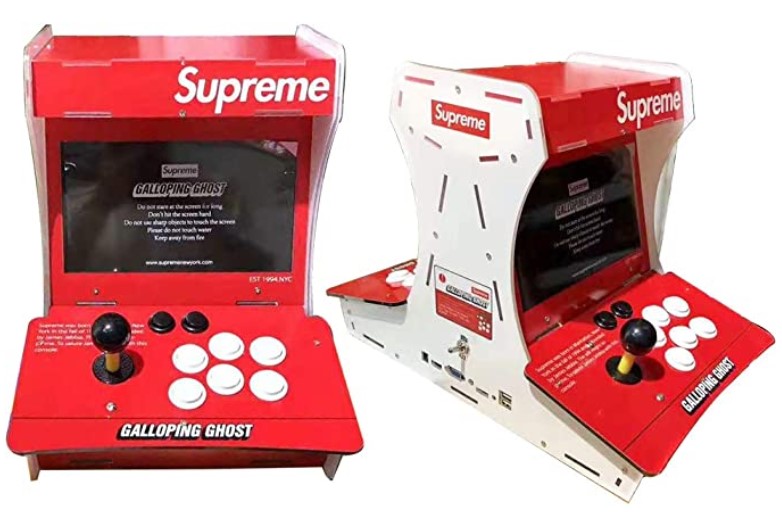 Another retro machine with authentic 80's graphics, sounds, and set-up for kids, the Tongmisi LED 2 -Side Arcade Video Game Console offers another classic arcade experience. This Plug & Play machine is filled with interesting features that will bring back your childhood memories and will keep children entertained for hours.
The Tongmisi LED 2 -Side Arcade Video Game Console is good for children as these arcade machines are loaded with fun games! With more than 2,600 classic games and less than a dozen 3D games from sports games, adventure games, puzzle games, and educational games.
These little retro gamers will be tested on their fundamental thinking skills as they play. Also, they can enjoy the old-school games at the same time a selection of modern 3D games in one built-in machine. The illuminated buttons and an 8-way professional joystick are well selected as you play, roll, and fight on the game screen, too! With an upgraded pause function, game users can pause or exit the games anytime.
As this arcade video game console is for two players, it does not accommodate players sitting side by side. Instead, the Tongmisi machine stands out since two players sit facing each other, giving users an interactive experience as in the arcade room. It also gives them more personal space while playing and keeps them in control of the game!
In Tongmisi LED 2 -Side Arcade Video Game Console, it works as a Plug-and-Play making it easy to use in any 110 US plug input. It has built-in speakers with an adjustable volume. Widely compatible with standard output cables like Cable, VGA, and USB, users can connect it with any TV Screen and PC monitors for an enhanced audio-visual gaming sensation.
With all the basics in the arcade gameplay, it's a great combination of features to keep you happy with it for many years.
Great to play with a friend with its double-sided player positions!
RETRO PORTABLE/HANDHELD GAMING:
6. GPD Win 2 [128GB M.2 SSD Storage] 6″ Mini Handheld Video Game Console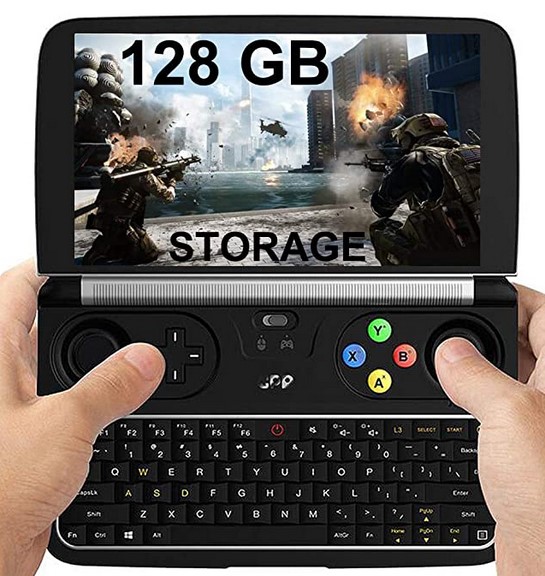 A strong performance with a strong processor, this GPD Win 2 Mini Handheld Video Game Console is a retro gamer must-have. Made by Lanruo, this powerful gadget is capable of running AAA games that even famous handheld consoles struggle to run these days.
There are so many good points on GPD Win 2 Mini Handheld Video Game Console that are hard to ignore. With a powerful seventh-generation Intel Kaby Lake Core m3-8100y processor, its close to Intel Core i7-3770K performance will leave any little retro player a seamless gaming experience.
Supporting more than 1,000,000 internet games, it is practically unlimited for children and will keep them glued for quite some time. The handheld game console utilizes a 9th generation Intel HD Graphics 615, which can run on the latest AAA games when using low game effects. This integrated Intel GPU can handle the latest gaming library making your game more realistic and has 4K Capabilities for your media needs, too!
It uses a super-shine screen from Sharp Corporation, and with H-IPS Technology, it has a capacitive touch screen. Even if the In-Cell full lamination makes the screen thinner, the fourth generation of Corning Gorilla Glass makes it break-free on 1-meter drop tests! In terms of screen resolution, the 1280 x720 that is greater than a typical 24-inch desktop monitor truly completes your overall gaming experience.
GPD Win 2 Mini Handheld Video Game Console is also lightweight as it uses ABS material. A German Red DOt award-winning team develops even the appearance design itself. Using Japanese ALPS double 3D joystick and Xbox 360 style action buttons provides users a delicate gamepad feel.
Built-in a protruding style, these WASD, left, right, up, and down keys make your PC keyboard gaming effortless. In addition, there are newly designed trigger buttons located on the back for easy access to players. It also has an extremely high read/write capacity with its M.2 2242 port with a faster game loading time. Being the first handheld console to support PD 2.0 fast charge, its 2x49000maH high -density polymer lithium batteries can let you play for over 6-8 hours at maximum.
As some gaming consoles build up heat over continuous play, GPD Win 2 is developed with an innovative PC-class cooling solution featuring a high-power turbofan to balance the efficiency. Amazon offers a full refund within 30 days of purchase for damaged products.
For an exceptional handheld gaming device, check this one out!
The SKTE X7 Arcade Video Game Console is one of the unique handhelds on our list. Equipped with thousands of games in its latest version, this portable video game console offers nostalgia to retro gamers and arcade entertainment to the younger ones.
In the SKTE X7 Portable Arcade Video Game Console, everyone will notice its classic design. Weighing around half a pound, gamers can carry this game console anytime and anywhere they like. The product measures 7.48 x 2.36 x 3.94 inches. It is perfect for the little hands of your kids!
The button controls are also easy to navigate and respond to the game effortlessly. With the 4.3 inch screen, 32 GB memory, and supports 1080/720p movie playback, supports music formats, plus ports a built-in 2500 mAh rechargeable lithium battery, how can you go wrong?
For home use, you can connect to your big screen TV! This retro arcade box is indeed something to consider for your families, friends, and little ones!
For on the go fun, the SKTE X7 Arcade Video Handheld Game Console is perfect!
8. Sacit Handheld Portable Video Game Console 10000 Games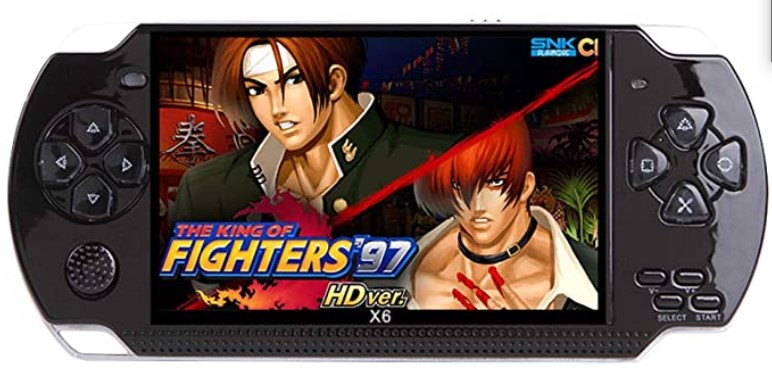 The Sacit Handheld Portable Video Game Console is one retro game system that's worth your money! Even if the same product designs are available in commercial markets, this one stands out!
Sacit Handheld Portable Video Game Console's main highlight is it offers 10,000 classic games to young players. With this wide library of games to choose from, kids and adults alike will have a hard time choosing only a few favorites.
These retro games will keep them challenged, interested, and entertained in the years to come. What's more, players can download additional games with the related format in its 8GB 32-bit operating system. Aside from games, it also supports multiple formats such as music, photo, and videos.
With this six-in-one console, you can store digital photos, record videos, listen to music, and watch movies perfect for friends and family bonding, too!
This handheld game console has a 4.3-inch clear full-color TFT screen that is just the right amount of display in a small device. Its built-in speaker has good sound effects while playing and volume control. The ergonomic design of the Sacit Handheld Portable Video Game can also fit in your hands comfortably.
The rechargeable lithium battery makes it ready for on the road entertainment. Retro gamers can use the TV output AV cable to flash it on a bigger screen for a better visual experience for kids.
Aside from the console, the package also includes an earphone, instruction manual, and a USB cable. A perfect set-up for families that travel a lot!
9. My Arcade Mini Player 10 Inch Arcade Machine: 35 Built-In Games
The My Arcade Mini Player 10 inch Arcade Machine will truly transform
your deskspace into one mini-arcade station. This portable retro video gaming system will bring back all the fun in your childhood and let little retro gamers enjoy simple arcade pleasure.
At first glance, the My Arcade Mini Player truly feels like your nostalgic arcade cabinet back in the 80s and 90s era- only a smaller and portable version. Players can place this lightweight machine on their table or a stable ground and wait as the magic of retro gaming unfolds.
With 35 super classic and unique games installed in the system, you can enjoy unlimited fun and amusement, including Galaga, Galaxian, Pac Man, Mappy, Battle City, Rolling Thunder, Dig Dug, and more. You can enjoy clear picture quality, and a comfortable visual experience even just for a mini retro gaming device.
The My Arcade Mini Player has a 4.25″ vertical display in full color. The classic gaming buttons and arcade joystick are easy operational for every little player, which are all reasonably arranged to make the game easier.
The simple arcade design and easy to play mechanism without the complexity of non-essential buttons makes it a great parent-child bonding. This game also features front-facing speakers, a 3.5mm headphone jack, as well as volume controls. It is powered by a Micro USB power adapter that is included.
This one will be fun for the entire family as parents reminisce about their own days at the mall arcade!
10. fine gpd win 2 mini gaming handheld console
Capping off our list of retro portable/handheld gaming category is from FINE GPD Handheld Game Console. This upgraded plug and play handheld game console is built with outstanding features for young and old retro players.
The FINE Handheld Game Console GPD operates on Windows 10 Home and a processor of Intel Core m3-7Y30. This retro portable console also houses an Intel HD Graphics 615 and a RAM of 256 GB. With such powerful systems and processors that are the same as a standard personal computer, any gamer can boast the seamless run not only on arcade games but also on the latest AAA-class games.
Pre-installed with retro games, this product transports you back to the 80s and 90s for classic amusement. The 6-inch screen displays a 1280x 720 resolution in a 10 point capacitive multi-touch. With great viewing capacity, little retro gamers can enjoy the arcade experience more as their game characters come to life. And the screen is made from the latest Gorilla Glass 4, making it more resistant to drop and damages, too!
The FINE Handheld Game Console GPD is very compact and lightweight making it easy to carry around for children even if they go on an outdoor adventure or family recreation. The built-in battery can last be charged again after 6 hours of fun. With its QWERTY keyboard, mouse, joystick, and D-PAD, they are very responsive to the touch of your fingertips.
There is also an HDMI output where you can play it on your big TV screen after connecting it to the included AV cable. The built-in microphone can be appreciated once the voice control is activated when you open the game console. Unlike other mini-arcade gadgets, it has Bluetooth and WIFi support, making it more connectible within your home.
Tailor-made for kids as small as 3-year-olds, FINE Handheld Game Console GPD will be a very impressive gift for your future-retro gamers!