The stage of adolescence occurs between 13 to 19 years old of age. Among girls, in particular, puberty starts to set. A change in her social behavior is also evident, as she spends more time with her peers. At this age, girls have the knowledge and confidence to tackle political and philosophical issues.
Beginning at 13 years old, girls focus their attention on looking beautiful and pleasant. They start to use make-up and dress in trendy clothes.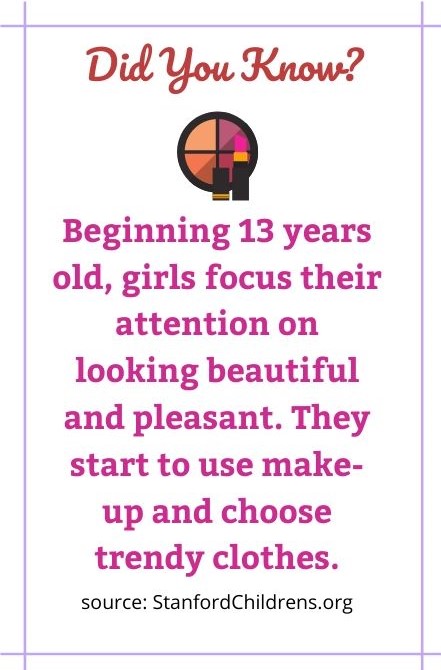 Girls look to plan their future and consider their college options. However, they also face depression, experience bullying, and struggle with obesity. Peer pressure may also be dominant during this phase in her life.
Encouraging teenagers to participate in recreational activities such as sports and craft-making is a way to help them express themselves. Make them feel important and loved by giving them valuable items that make them feel confident and motivated, and keep them busy.
You can't go wrong with trinkets, fashionable clothes, and other nifty items they can use for school.
Need a gift for a 13-year-old girl? Here are our best picks, with prices as reflected on Amazon at the time of publishing.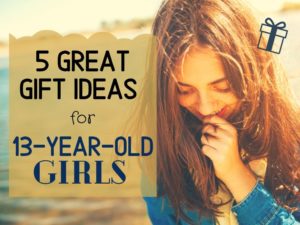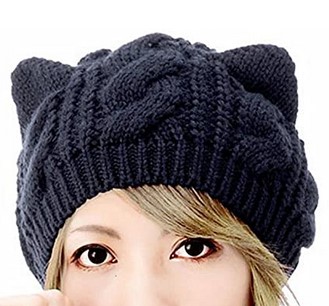 The Amberetech Cute Woolllike Knitted CAT Kitty Ears hat is functional and adorable for everyday wear. It's better than a beanie hat!
This knitted hat with cat ears is made of acrylic fiber material that is soft and comfortable for daily wear. The black color goes with anything, so whenever they feel like going out with their hair down, this would make an attractive piece to go with most of their outfits. It's flexible and will fit most heads with ease.
It can be a great accessory to warm their heads and ears, especially during winter seasons. The nice cat ear design will also complement other outfits for costume parties and cosplay. It's easy to clean too! Just hand wash and air dry to maintain the longevity of the material. Fashionable doesn't have to be expensive.
MEOW! This cute kitty ear hat is "purrfect" for the cat lover in your family!
2. COLUX 3 IN 1 Glow in The Dark Floor Pillow COVER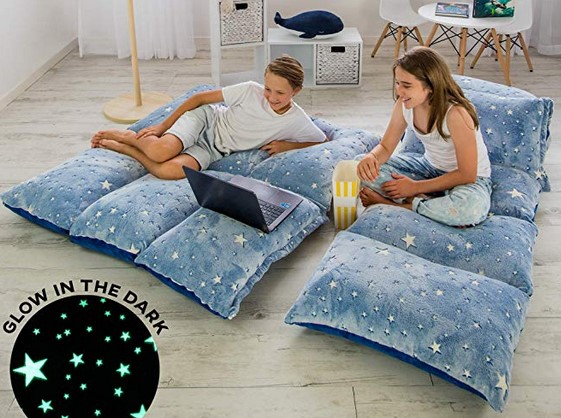 The cute and comfortable COLUX 3 IN 1 Glow in The Dark Floor Pillow COVER is a convenient way to have their girl pals over for the night.
Whether it's a sleepover or camp outside, this is the most cost-efficient way to have additional beds for her friends. Instead of a bean bag, floor cushions, or floor pillow, this lounger cover is a quick alternative if they have unexpected guests over.
With just 5 large pillows, it becomes an instant lounger so their friends can sleep comfortably in for the night. The lush and soft fabric is also comfortable for long use. After their guests have left, just take out the pillow, machine-wash the covers under delicate setting, air dry, and have it folded neatly. No need to worry about storage since you can just reuse this for the next girl's night gathering!
Easy and hassle-free, this is the kind of gift your daughter will love so she can spend more time with more than one of her friends! With some pillow and this snazzy cover, this gift will give them something they will be using for a long time. Fits either Queen or King size pillows, depending on your choice.
Choose from several designs to fit your best friend's taste! Includes several designs suitable for boys too!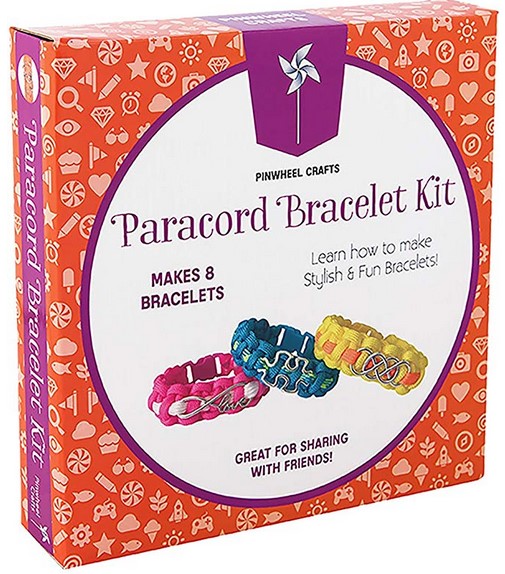 If your daughter is into craft making, the Paracord Charm Bracelet Making Set is an ideal gift set for them. This is a DIY craft kit comes with 50 feet of 550 Paracord (Type 3), 5 adorable charms, and an easy-to-follow manual. It's a good distraction from using their smartphones all time. With this activity, it becomes more meaningful if shared with friends. They can also bring this to camp and create beautiful bracelet designs during their free time.
Your teenagers can create up to 8 unique bracelet charms they can use every day or give to their friends. This is also fray-resistant so they don't have to worry about accidentally snatching on some pointed objects. Each unique color is suitable for casual wear. Now looking fancy doesn't have to be expensive!
Your child can also get creative and add other charms. Since this will require the use of tools, make this an opportunity to bond with your teenage girl as you help her create her bracelets. Style and customize to their liking!
Get it just in time for your next road trip!
4. Fun Jewels Classic Mood Ring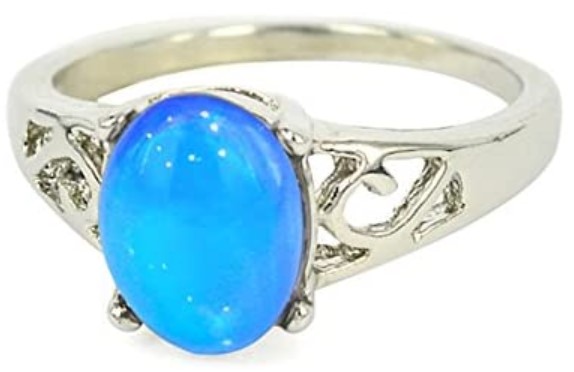 Keep their interest piqued with the Fun Jewels Classic Mood Ring. This is an adorable oval-shaped ring that changes color depending on the temperature.
Watch as this ring's color turns to black, violet, brown, amber, blue, and green to name a few. You can have your pick of sizes 5 to 9 depending on your daughter's ring size. Have her explore the mood chart so she can discover other display colors!
It's encased in durable brass with silver plating. With its design, this cute jewelry can be worn with casual or elegant clothing. It's best to avoid any water splashes or placing the ring under extreme temperatures to maintain its durability. After wearing, it's best to wipe the ring with a dry soft cloth to maintain the shine and color plating.
Wearable for any style, this fascinating teen jewelry would be an ideal gift for your 13-year-old daughter.
Great for our new generation of young ladies… and its FUN!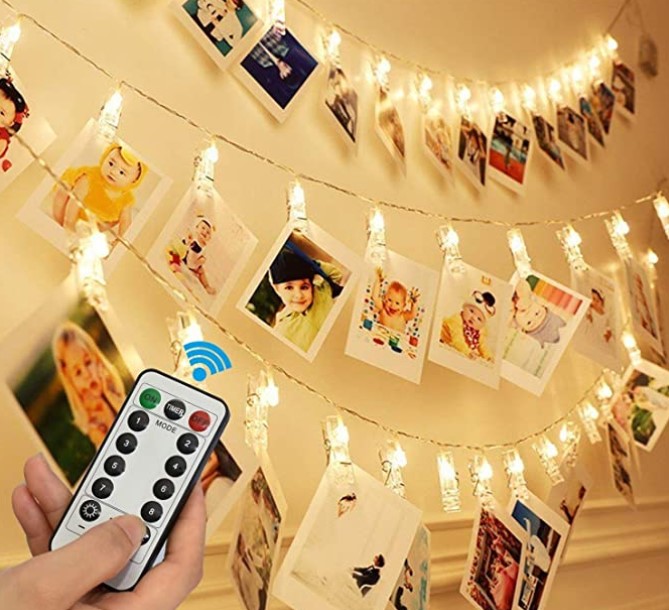 The Yeeteching Photo Clip String Light is a fancy light décor to light up photos in their rooms.
This fairy-like string light is made of 5-meters of stringed LED bulbs emitting low white light with transparent clips. There are 8 lighting transitions to choose from: steady on, combination, sequential, twinkle/flash, in a wave, slow fade, slo glo, and chasing or flash. They can change this manually or by using the remote control.
It would be a great encouragement for your teens to make memories count and snap photos using their Polaroid cameras or smart devices. With 40 clips, they can take various photos of memorable spots and events. This stringed light is powered using 3-AA batteries that can be used for up to 20,000 hours.
For fancy bedroom designs, this would be an elegant addition to their room décor which can be hung over the walls or placed in the corner of the room. If this is intended for outdoor use, make sure that the area is covered and free from water splashes to avoid electrical accidents.
Make every moment shine with this beautiful string of light. Get this for your daughter for her birthday.
This is great for young teens… and you can swap out the pictures easily whenever you want!