Do you have a 15-year-old girl in your home, school, or neighborhood? Girls this age will have experienced physical, emotional, and cognitive changes. It's expected that at 15, they are more self-aware than ever. They want to assert their worth and tend to associate it with their appearance.
They want to fit the standards in how they look. They want to look physically attractive. You will also find many 15-year-old girls are looking forward to achieving something in their life, and many of them make plans for the future.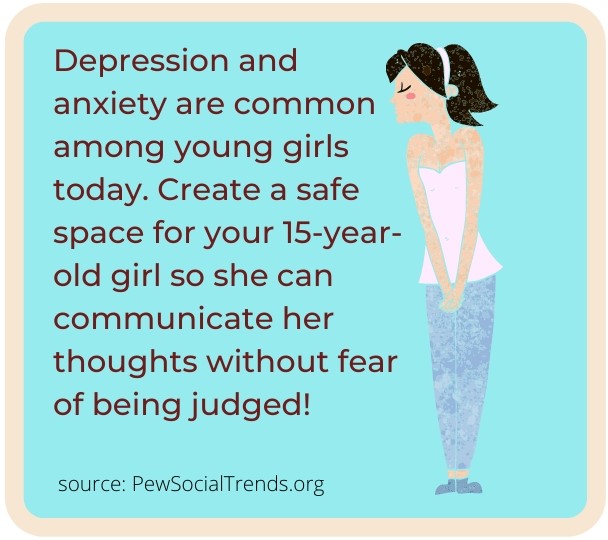 Pressing issues such as depression and anxiety are common among young girls today, including 15-year-olds. Parents can become a part of their journey by creating a safe space for them to communicate their concerns without feeling judged!
One way to keep 15-year-old girls on track in realizing their worth and reaching their dreams is to provide them encouragement and support! Giving meaningful gifts during special occasions may seem insignificant, but there is value in finding the right present that can make a positive impact in her life!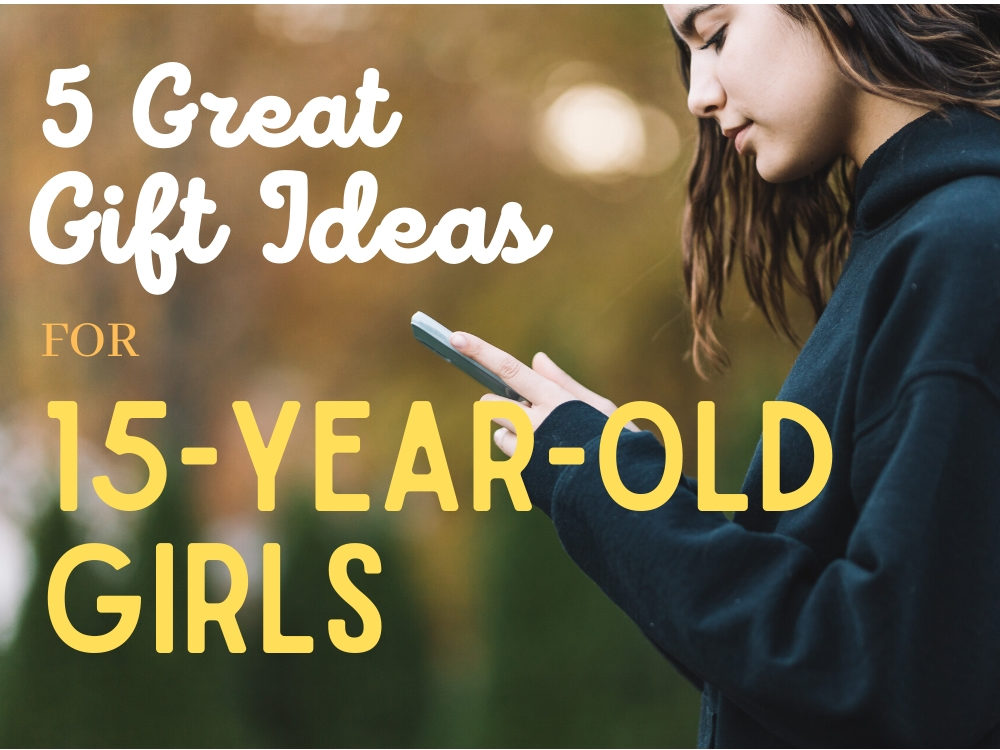 Give the 15-year-old girl in your life the best presents to show you care! Here are five of our recommended gifts that she will appreciate! The prices presented are as they appear on Amazon as of publishing.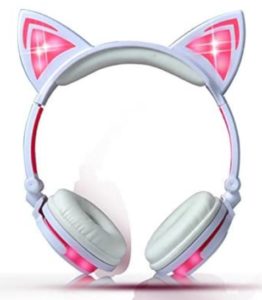 Because teens just like to listen to music, this funky Cat Ear Adjustable Earphones gives them the audio pleasure of privately listening to their favorite playlist and videos.
It's made of sturdy but safe materials fit for everyday wear. Unlike adult earphones, this one comes with built-in volume control to reduce excessive noise. Your teenager will hear audios only up to 103dB, protecting them from hearing loss or damage with prolonged use.
Soft and firm ear muffs reduce the noise around her for that exceptional audio experience. The pressure coming from the bands are just enough to keep the device firmly planted in place. This is portable and easily stored with its foldable ear muffs. It's compact and lightweight so that she can just store in a small pouch after use.
Aside from the girly light pink color, this one comes with a built-in LED light inside the cat ears. If she's feeling a little extra, she can simply look for the on/off button found on the left ear. The LED light lashes throughout use, making this an eye-catching piece. The earphones and LED lights work separately and can be turned off.
She can refer to the user manual to operate this device. This is an adorable set of earphones you can give her for a cool price.
Do you have a cat lover in your family? This is a great gift for any music lover as well.
2. Plush Embroidery Crossbody Bag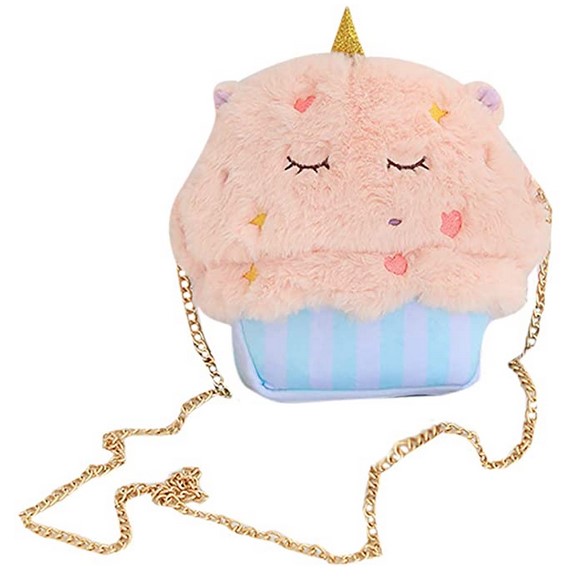 This cute Plush Embroidery Crossbody Bag can be your teen's new favorite accessory! It is a popular pouch for every girl who likes to look fashionable and attractive at the same time.
For young girls, this plush crossbody bag would make an exceptional staple to spice up any monochromatic styles.
It's made of plush and cotton material to give it texture. The pink and white combination with a unique unicorn-rabbit embroidery design is a definite eye-catcher. Perfect for casual wear, this crossbody bag can carry small items such as keys, wallets, phones, and headphones.
The golden chain strap makes a great accent to complete the overall look of the bag. It's multi-purpose so she can carry this for parties, music festivals, beach trips, or even for school!
If you're a little lost what to give your teen for her birthday, this stylish bag is a sure hit for your young fashionista!
As this Plush Embroidery Crossbody Bag combines fun and function, your 15-year-old will love this!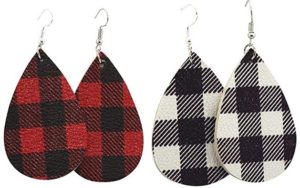 Young fashionistas will love a good set of earrings. For 2 Pair Faux Leather Plaid Earrings, they can play with more styles! Girls love to express themselves through their style. These plaid dangle earrings are made of quality faux leather.
Your 15-year-old girl will be amazed to find two beautifully designed sets: red and white. Both designs are eye-catching and versatile, with most outfits. Despite its size, these earrings are lightweight, weighing only 0.48 ounces.
Wearing this with an elegant long dress will bring attention to their face. For casual wear, these earpieces will stand out or blend in nicely with plaid-themed outfits. This is a novelty piece she can use for a long-time. Plaid has been a popular choice for most people. The design is subtle but chic at the same time.
So, if she's having a hard time picking the right accessories, this will be her go-to ear trinkets to glam up her style!
Buy her a gift that will never go out of style! These 2 Pairs of Faux Leather Plaid Earrings will be the hit of her next birthday party!
4. Set of 2 Table Lamps with Clear Glass Fillable Shells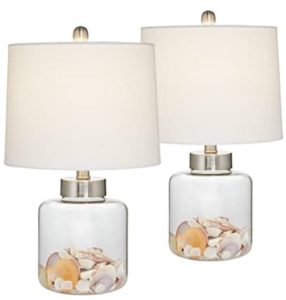 This lovely set of 2 Table Lamps with Clear Glass Fillable Shells brightens beach or tropical-themed spaces. These lamps provide lovely warm shade to your girl's room.
The design is country-cottage themed, so it fits nicely in most room settings. The cream-color shade, the silver accents, or the glass base can also be a centerpiece on its own!
Each lamp can use up to 100-watts with a manual on-off socket. The bulbs are dimmable and will work with compatible dimmers as well as bulbs. Aside from it being stylish, these functional pieces produce a soft light if she plans to study late in the night.
This set comes with beads and decorative shells she can use to fill the glass base. She can get creative and explore other items to fill this container, such as standard or colored sand, paper crafts, buttons, and cute small toys. It could also be filled with other fancy items to match their moods or style.
Now this one allows for creativity. It's so cool that your little young lady can fill it with anything she likes!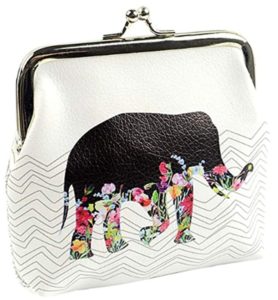 Mini purses are a sure hit for young women. Sporting this adorable Elephant Print Buckle Pouch instantly turns dull clothing to chic!
This beautiful pouch is made of quality PU leather. It's water-proof, so she doesn't need to worry about accidental liquid splashes. Simply use a soft dry cloth to wipe away the liquid. This buckle pouch can carry small items such as phones, a couple of paper bills, coins, and keys.
This boho-inspired bag can be used as a coin purse or a mini-pouch for formal functions. It's a versatile piece that a 15-year-old girl can mix and match with any outfits for any occasion.
Make her special day extra-special with this affordable girly pouch she will truly love!