Do you need to buy something unique to give to a four-year-old girl? Do you find yourself unsure what to get her? What could a four-year-old girl possibly want and need? Is it different from what they used to enjoy when they were three? What is different at that age?
We know full well that you want to impress a five-year-old girl with the gift you will bring to her birthday or for the holidays. This list might save you from a potential gift disaster. Read on to learn a thing or two about what girls this age would enjoy.
The Right Gift for Your Little One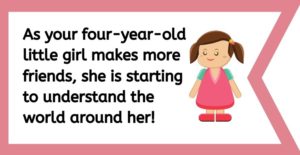 At four years old, kids usually begin school and get to meet other kids their age. They become more independent and self-confident. As she makes more friends, your little girl is starting to understand the world around her.
Do you know that your four-year-old little girl likes to keep herself busy? She is now able to play on her own, get dressed, organize her toys, and complete simple chores.
A fast-growing little girl, she also exhibits physical, mental, and emotional development. She enhances her creativity and imagination. Give her the right support by choosing a gift that would spark her interest. Don't buy the stereotypical presents labeled for girls! Defy the norms and think outside the box.
Here are some excellent gift suggestions for four-year-old girls that are not only age-appropriate but also educational and never boring.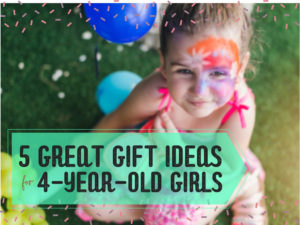 1. LCD Doodle Drawing Board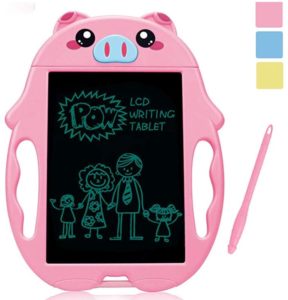 Are you tired of cleaning walls, floors, and tables with your four-year-old's doodles? Maybe it is time that you give your preschoolers an upgrade.
The Mycaron Cartoon LCD Drawing Tablet by SLHPX might be the perfect solution for your problem. An ideal gift for your little Picasso, it is unlike the other LCD drawing tablets marketed for kids. For one, this drawing board is designed specifically for children ages 3 and 6 years old.
The Cartoon LCD Drawing Tablet comes in three different colors. Your little girl will appreciate the pink one, but you can always opt for blue or yellow. It is made of lightweight, anti-fall, high-quality ABS materials, so it is easy to carry. The design features a handle for additional comfort. Every doodle board comes with two pens. To avoid any mishap, one pen that is conveniently assembled at the bottom of the board as a backup.
The LCD is made of a matte screen, which is safer for your girl's eyes. And because of the material, the board mimics the texture of paper, so every time she doodles on the board, it feels like drawing on paper. The doodle board has a one-button clear function, so your four-year-old girl draws freely.
Save paper, your walls, and furniture when you give her this Cartoon LCD Drawing Tablet while you let her explore her creativity and imagination.
I had crayons and paper. *blink blink* An LCD Doodle Drawing Tablet? Endless fun!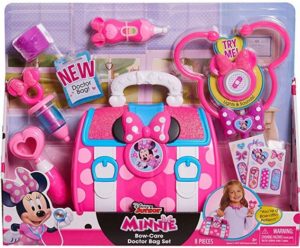 Girls love Minnie Mouse! We're sure the Minnie Bow-Care Doctor Bag Set will make her special day extra special.
The set includes everything that a real doctor can need in the clinic. Introduce your girl to the thrilling world of doctors with this toy set. There is a pretend thermometer, syringe, otoscope, bandage cuff, and two sets of colorful bandage stickers. Girls can now play along while they watch their favorite show Minnie and Mickey Mouse!
Your girl will love taking care of her friends when they come over for a play date. The Minnie Bow-Care Doctor Bag Set includes a magical stethoscope! It features lights and sounds that will add color to every playtime, which needs 3 x AG13 batteries (included).
Because the playset comes with a bag, four-year-old girls will be encouraged to clean up after they every pretend doctor visits. Parents can watch their girl place all her tools in the doctor's bag for safekeeping.
This will not only teach your kid to be more responsible, but it will also teach her the importance of valuing their toys. Plus, she can always bring her Minnie Bow-Care Doctor Bag Set whenever and wherever she needs to give someone a check-up. This bag has the Minnie Mouse signature: glittery and loaded with polka dots!
Your future doctor will thank you!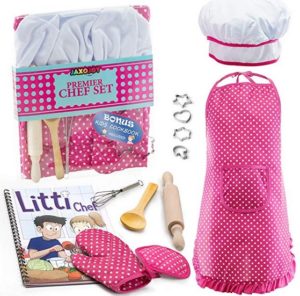 Give your little pastry chef the Premier Chef Set from JaxoJoy. Let your four-year-old girl experience the excitement of cooking and baking when you get the JaxoJoy Complete Kids Cooking and Baking Set.
The set has the items your four-year-old needs to feel ready for some kitchen hobby. She can play dress-up with other kids or with mom and dad. Girls love to dress up! With the toddler apron in pink with white polka dots and frilly edges, chef hat, and oven mitts, your four-year-old can start her adventures in the kitchen!
Both the apron and chef hat are adjustable, making it safe for girls to wear. Parents or guardians can easily adjust the neck and waistband to ensure a secure fit. Your four-year-old can even host a pretend cooking show. She can come up with any recipe while she works with the wooden spoon, rolling pin, whisk, four cookie cutters – all included in the set.
These are fully functional and are safe to use to cook or bake. Made with quality, safe, and machine washable materials, clean-up is effortless. This JaxoJoy Complete Kid Cooking and Baking Set is a perfect opportunity for parents and their girls to bond.
Plus, you get to expose your preschooler to an activity that teaches one of the most crucial life skill: cooking. And as a bonus, the set comes with a kids' cookbook.
The little helper in your life will feel so important imitating mom or dad in the kitchen!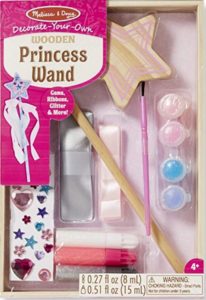 In a tight budget, but still, wants to buy your four-year-old girl a great gift? The Melissa & Doug Decorate-Your-Own Wooden Princess Wand is the perfect solution at only $6.99.
Comes highly recommended by parents and pediatricians, this toy is a great gift idea for growing girls. An engaging substitute for screen time, the Decorate-Your-Own Wooden Princess Wand will fill every girl's world with glitters, gems, ribbons, and many more!
The toy opens your girl's imaginative play. It is an engaging craft activity that requires her full attention. When you buy the set, you will get a wooden star, a dowel, gem stickers, satin ribbons, four pots of paint, a paintbrush to use, two glitter glue, and one white glue. Your girl will spend her playtime using her hands and honing her excellent motor skills while sharpening her creativity and imagination.
A gold standard in early childhood play, the Decorate-Your-Own Wooden Princess Wand also includes a child-safe, shatterproof mirror that she can use. Your four-year-old girl will always be ready for an impromptu princess day-out with friends when you get this toy.
Nurture her creative expression while she colors and designs her unique wand.
Decorate. Your. Own. PRINCESS. Wand. Need I say MORE?!
5. Pets Scrub Tub Animal Toy Set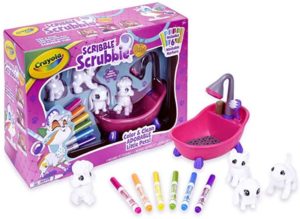 The Crayola Scribble Scrubbie Pets Scrub Tub Animal Toy Set is a great gift idea for four-year-old girls who enjoy coloring, and love pets.
It features adorable, colorable Srubbie Pets that are washable pet figures that little girls can groom and customize again and again. Kids can choose from the four animal figures that come with every set. Girls can choose to groom a pooch or a kitten and customize using the 6 Scribble Scrubbie Washable Markers.
This set includes the color Orange, Yellow, Green, Blue, Purple, or Pink. And when they want to change things up, parents can easily give the Scrubbie Pets a rinse. Your little girl can give her pets a fresh new coat as often as she likes. Kids ages three and up, especially little girls will have a blast coloring those cute animal figures.
This is a non-toxic toy fit for your four-year-old who loves arts and crafts. The toy will provide an engaging activity as they refine their excellent motor skills and imagination. And when they get carried away and paint the wall or furniture with the Scrubbie Washable Markers, use a damp cloth to wipe everything off.
You can always expand their collection of miniature animal figures. Collect all 12 Scrubbie Pets, each sold separately.
These are adorable and customizable over and over again. Get your Scribble Scrubbie Pets from Crayola today!