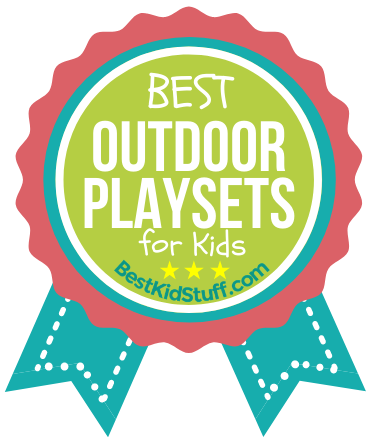 It is no secret that creating an interactive outdoor space with swing sets and playsets has many benefits for children.
It's a fact that it boosts their physical and mental health!
Getting your kids off the couch and onto a climbing wall, for example, is an excellent opportunity to bond with them, enjoy the fresh air and the warmth of the sun with some outdoor fun!
As these children usually relate outdoors to play, letting them have fun in your backyard, under your watchful eye, rather than in the park is more reassuring on both ends.
With this, why not buy them an outdoor swing set playset?
An outdoor swing set playset is a structure for children to play around. As outdoor play is fundamentally healthy for them, building one in your backyard reaps more benefits. Some of them are: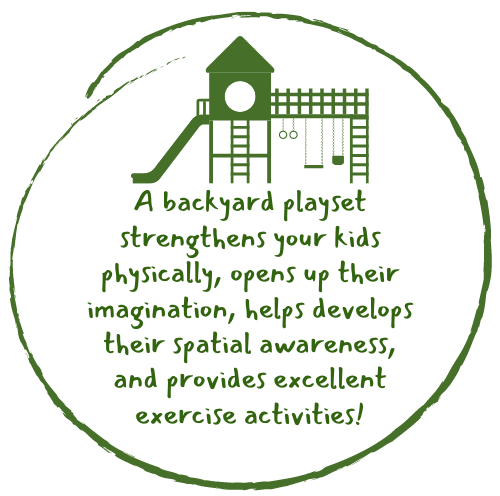 It strengthens them physically.
With a variety of accessories in the backyard, playing on an outdoor playset is an excellent work out for kids, even without them knowing it! Through this, younger kids can enhance their motor skills, strengthen their muscles, and build coordination.
It opens up their imagination.
By just playing in the outdoor space and looking over the mini-tower, having fun outside with friends sparks their creativity and pretend play as they make up their little adventures on their outdoor playsets!
It is an excellent way to exercise.
Playing from swinging, sliding, and climbing on outdoor swing sets can burn the calories. An hour of swinging can consume almost 200 calories. For kids more than their ideal weight, this is one way to help them.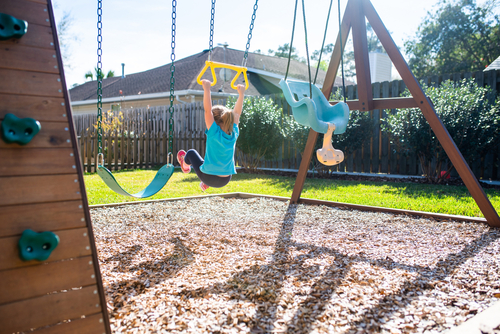 It develops body and spatial awareness.
Learning about the environment and what their body can do, such as running, jumping, and climbing helps in their awareness skills, especially building their hand-eye coordination.
It keeps them relaxed.
Modern kids often experience stress more than adults do. These backyard playsets / swing sets make them unwind and relax from high expectations from school to busy curricular activities.
It makes them sleep better.
After a day full of learning and physical exercise in the fresh air, the exhaustion from these physical activities can be beneficial as they have an excellent and well-rested sleep at night!
Taking all of these benefits into account before buying, below are five outdoor swing set playsets for children that we can recommend.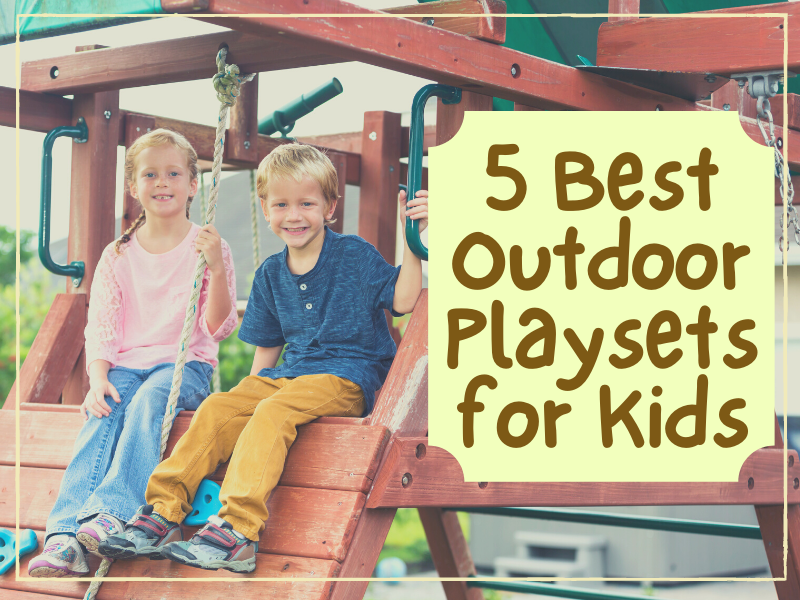 1. Gorilla Playsets Outing Wood Swing Set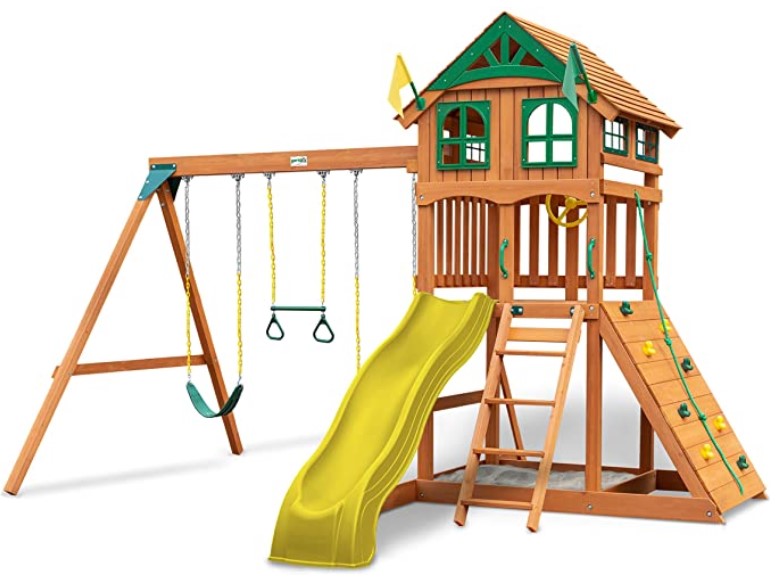 Starting off our list is the Outing Wood Swing Set (01-1069-Y) by Gorilla Play Set. Compared to other playsets of Gorilla, it is on the lower end of the price point—taking backyard excitement and fun to a new level!
The Outing Wood Swing Set is packed with:
a trapeze,
a climbing wall with rope,
a slide,
a sandbox,
two swings,
and an inviting clubhouse area.
Allowing for multiple playset configurations, it has three stations (two swing belts and a trapeze bar) that can accommodate any standard size swing components.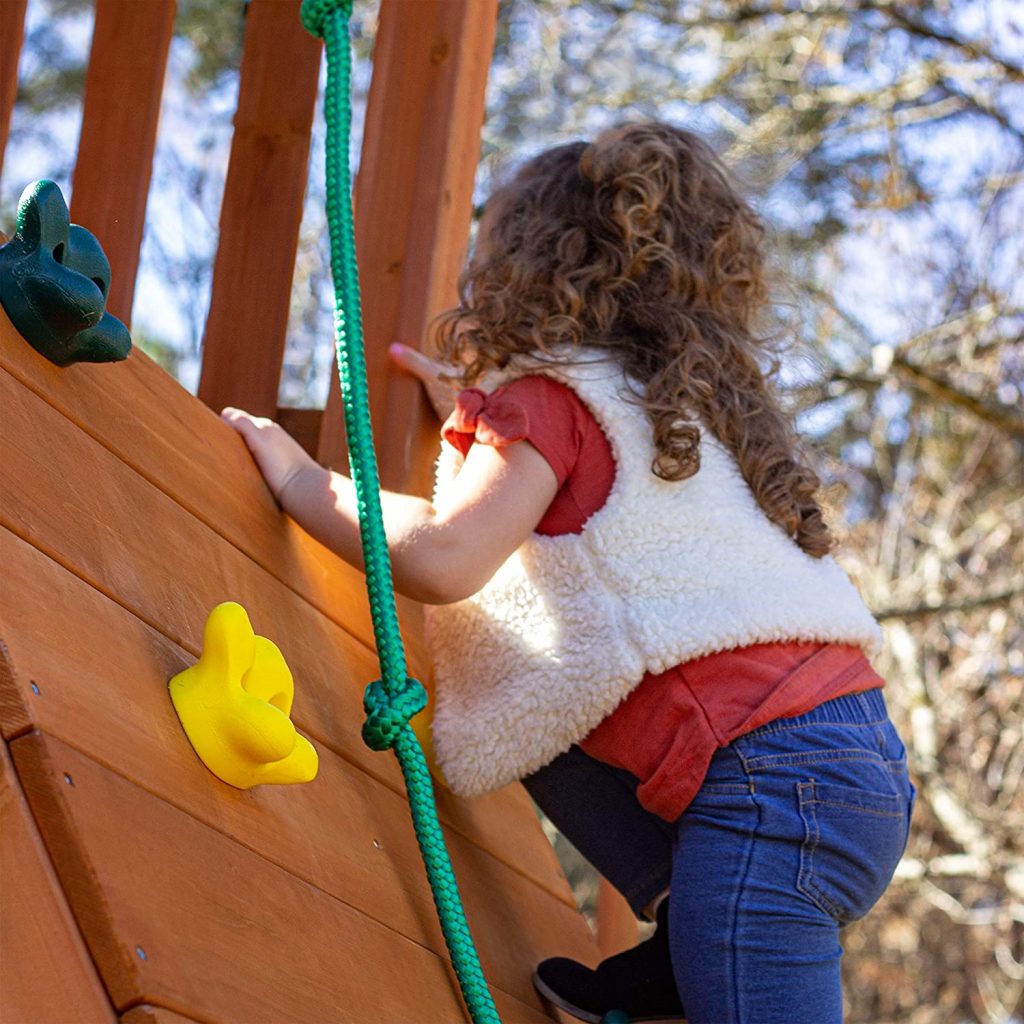 This backyard playset includes a rock climbing wall! Kids can have a quick scramble up with its 4-feet rock wall. It has a climbing rope and ten climbing stones to help them through to the top.
Going down the bright yellow Alpine Wave Slide completes the fun backyard experience. Under the four-feet deck is a spacious spot for kids and a built-in sandbox area. To provide shade on hot days, the Outing Wood Swing Set has a heavy-duty wood roof.
When they've had enough from swinging, climbing, and sliding, they can play with its telescope, which has clear lenses to ensure your child's eyes from damage. It also has a working compass to help them navigate and complete their educational experience!
This Amber-stained cedar playset is resistant to decay, rot, and insect damage. In the factory, the premium cedar lumber is pre-stained, pre-cut, and pre-sanded. The main beams are also pre-drilled with a step-by-step, fully illustrated assembly manual, thus reducing installation time.
It also meets the safety standards of the American Society of Testing Materials (ASTM).
The Outing Wood Swing Set is also perfect for those who are trying to save money. There are customization options to add or remove different elements to up or reduce the price. For example, you can go with a canopy and drop the wooden roof as an alternative to save a few bucks.
With all the features you'd want of outdoor swing set playsets, this one is everything your kids could want! Check it out on Amazon.com!
2. KidKraft Appleton Wooden Outdoor Swing Set Playset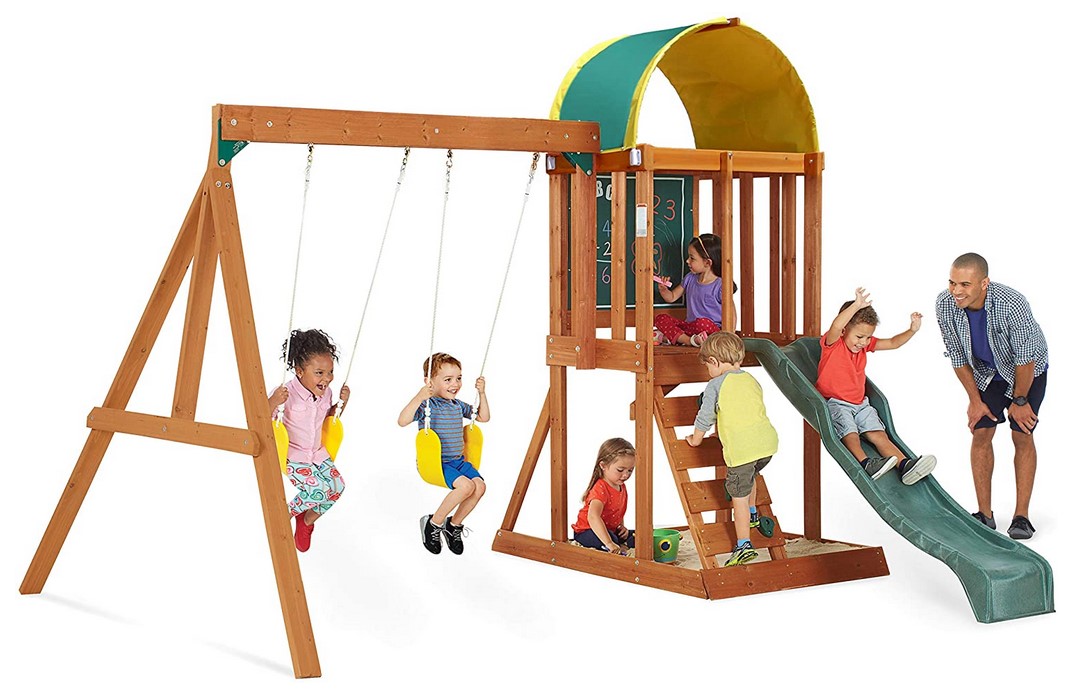 Another playset that comes with enough features to provide your children with outdoor fun is the KidKraft Appleton Wooden Swing Set / Playset.
This outdoor play product includes:
a rock climbing wall,
chalkboard,
canopy-shaded upper deck,
a high-rail wave slide,
two swings,
and a sandbox.
The KidKraft Appleton Playset is a great backyard adventure for children. It has enough room for everyone as it can handle up to seven kids at once, at a maximum weight of 110 lbs. per kid.
They can climb the rock wall leading to the upper deck which is a great source of physical activity.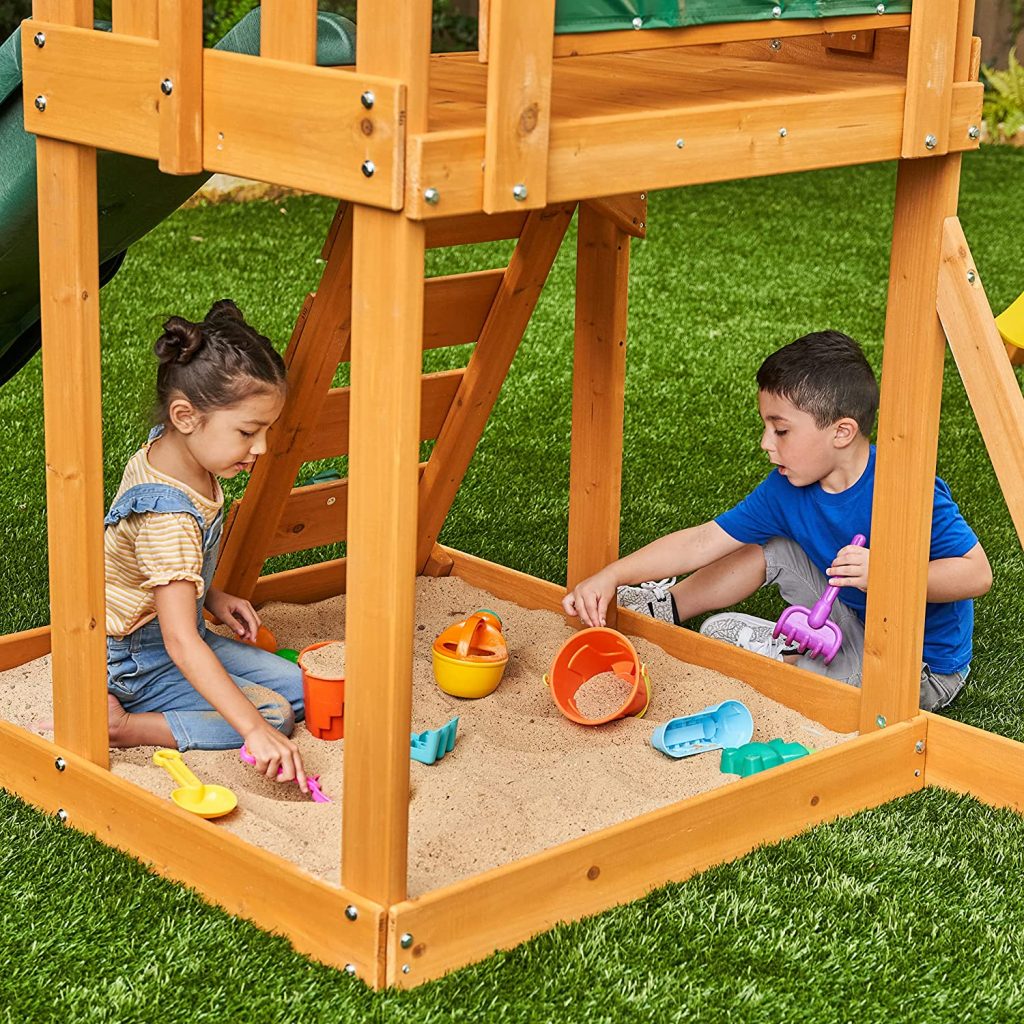 From there, young minds can survey their kingdoms or just sit there and play. It has side slats to prevent them from falling from the top. Inside the deck, vinyl chalk wall where kids can draw, write or sketch as they bring their imaginative play to life.
They can write out the menu for the day, sketch a treasure map, or practice writing letters and numbers. The deck is canopy-shaded to protect kids from harsh sunlight while playing. Kids can also glide to the ground with its High Rail Wave Slide.
Equipped with double belt swings, this playset keeps up with energetic and adventurous kids! The sandbox also allows them to dig into their little archeological explorations!
The KidKraft Appleton Playset is made from 100% premium-quality cedar lumber construction materials. The wood is also resistant to decay. It is easy to assemble by two persons with instructions from the provided manual.
For your kids' safety, the American Society of Testing Materials (ASTM) recommends a predefined and obstacle-free safety zone around the playset. So make sure that there isn't any other structure, such as a picnic table or firepit, around the 6-feet perimeter of the playset.
With a reasonable price in the market, this play wonder will bring swinging and sliding fun to your kids! Order today!
3. KidKraft Cloverdale Cedar Wood Swing Set / Playset
The KidKraft Cloverdale Cedar Wooden Swing Set Playset is packed with exciting features that can spark your kid's imagination. This playset has a charming design perfect for outdoor play!
Outdoor playhouses can be played in in your backyard by ten children at once, ages 3 – 10 years old, weighing 110 max per child.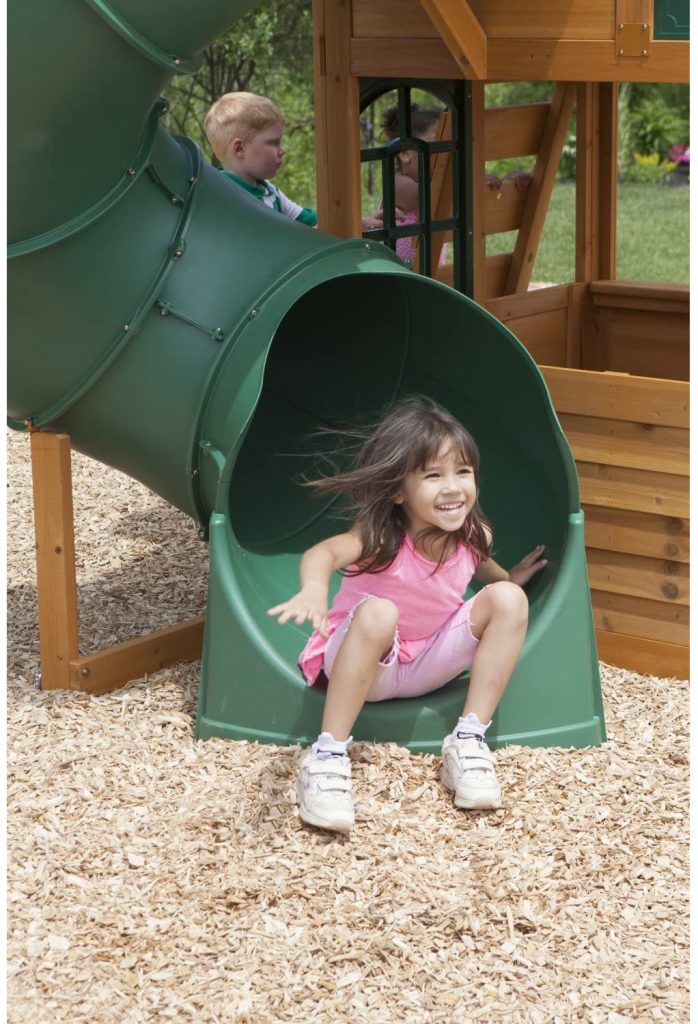 It features:
two belt swing seats,
ring/trapeze bara climbing wall,
a tunnel slide,
a cool wave slide,
and an awesome clubhouse that includes:

a stove,
a utensil shelf,
and a sink.
The lower section includes:
a mailbox,
play phone,
flag,
clock with moveable hands,
and working door.
Within the KidKraft Cloverdale Cedar Wood Swing Set, kids can be kids… pretending! On top of the play deck, it can accommodate several kids and has a covered lookout tower with peek-a-boo windows and flags!
Naturally resistant to decay and rot, the KidKraft Play Set is made of cedarwood, built with heavy-duty brackets and hangers. Additionally, its pre-stained finish aims for lasting richness and longevity.
The set includes everything required for the build as it has all the premium, pre-drilled, pre-cut lumber and hardware.
With the KidKraft Play Set, young ones will grow and enjoy for years to come! Let the fun begin!
4. Backyard Discovery Skyfort II – All Cedar Wood Swing Set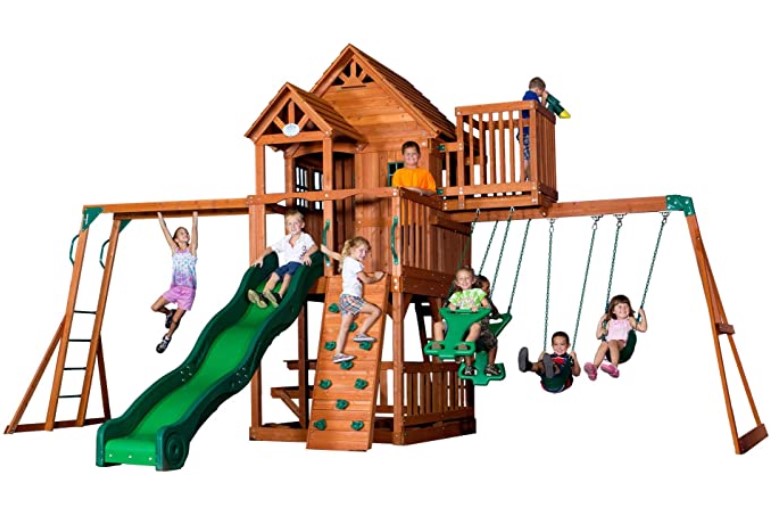 The most comprehensive of outdoor swing set playsets on this list in terms of space area, the Backyard Discovery's Skyfort II All Cedar Wood Swing Set will keep your children entertained for hours.
Designed to accommodate up to nine kids at a time, this deluxe playset offers multiple activities for them!
Skyfort II All Cedar Wood Swing Set boasts of super-fun features like:
high flying swings,
swing glider,
monkey bars,
10-ft Speedy slide,
and a raised kid's clubhouse fort.
The two-belt swings and a one two person glider provides plenty of fun for four kids at once.
The full-length monkey bars on the other side will increase kids' strength and coordination and sends them straight to the clubhouse. To keep it safe, the anchored metal ladder and climbing rungs do not flex or roll while used by children.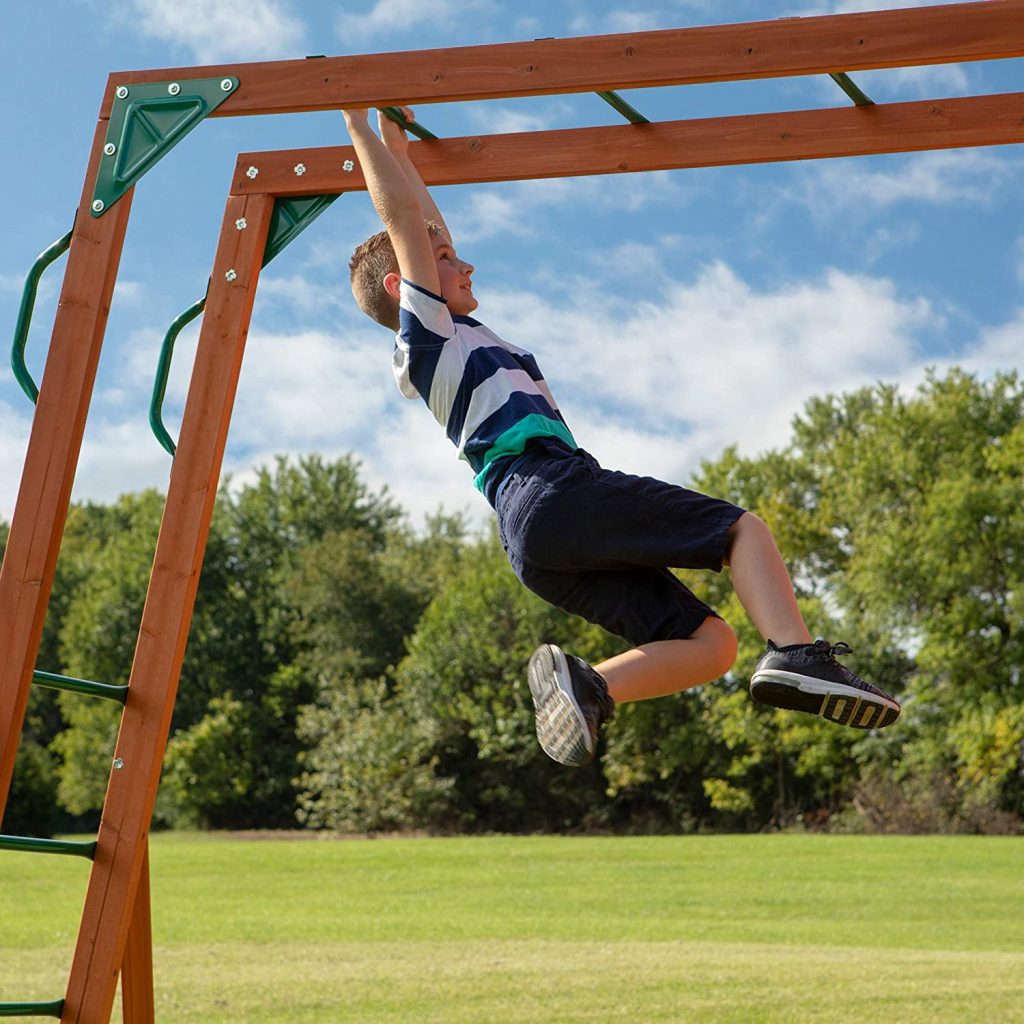 More challenging than a standard playset ladder, the playset has a solid rock wall for climbing instead. As this stimulates their coordination, muscle strength, and motor skills, kids will find it challenging to climb directly onto the porch.
Inside the raised kid's clubhouse is a woodroof, some trimmed windows, a covered entryway, and unique bay windows. There is a roomy front porch with a sun balcony. There is even a crow's nest with a telescope that can be a sun deck area for kids.
The towering area also has a bird's eye view of the whole playground, which makes a perfect spot for kids to pretend play like they are little explorers or a princess in their wooden castle.
Going to the ground, children can use the speedy, but super safe, 10-foot playground slide that slithers them right back down.
In the lower clubhouse, there is a snack stand and picnic table for four. And beneath the backyard fort, children can also play in the sandbox.
As the playset is made from 100% cedar, it guarantees durability and extra safety. Lumbers is also pre-stained for a smooth finish, and the laminated swing set beams ensure the safety of kids always. The Skyfort II – All Cedar Wood Swing Set is also proved to be highly resistant to rot or natural decay.
Even if it takes a good deal of space and time to install, what makes this product also unique is the interactive assembly instructions app software called BILT.
Each customer can follow the simple 3D instructions when building this playset, rotate it in 360 degrees while building, and see the hardware needed in every step.
As far as outdoor swing set playsets go, the Backyard Discovery's Skyfort II All Cedar Wood Swing Set is worth the price for your kid's fun backyard adventure!
5. Gorilla Swing Sets Playset Playmaker Deluxe Wooden Swing Set
Our last one is probably the biggest outdoor swing set playsets on our list. The Gorilla Playsets 01-1057 Playmaker Deluxe Wooden Swing Set will elevate your kid's imagination and your landscape.
Being a treehouse, playroom, and fort all in one, children will have never-ending fun!
This playset is more of a clubhouse as it offers a large play area. It can occupy a maximum of 800 pounds as playing children enjoy its: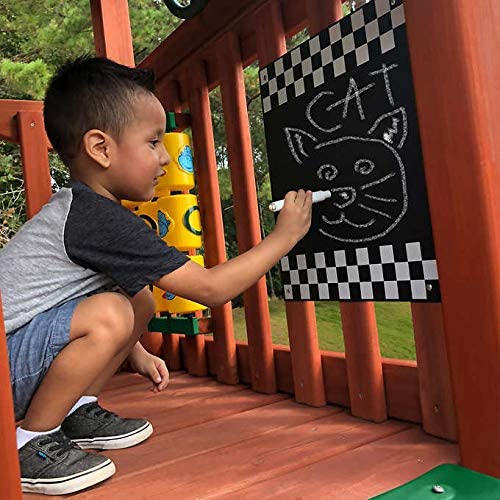 two-belt swings,
a trapeze swing,
and massive play fort with two alpine slides.
To get on the raised clubhouse, they can climb on the solid rock wall and rope. This makes getting into the fort fun and challenging!
Inside the sizeable upper fort, it has beautiful windows that allow airflow to cool things off on hot summer days. The raised upper deck clubhouse is also topped by a heavy-duty vinyl canopy. This part is where your children can transform into whatever kind of room they dream of!
It also has a vast space for kids to enjoy and have outdoor fun. And if they want to race down safely, the dual speedy wave slide makes coming down a thrill! Also included is a flag kit, tic tac toe spinner panel, steering wheel, telescope, sandbox, and chalkboard!
The Playmaker Deluxe Wooden Swing Set is better than a guesthouse on your lawn. This outdoor playset is something that kids will love because of its high-level entertainment without compromising stability and safety!
Check this out on Amazon.com today! Give them an outdoor swing set playset that will last their entire childhood. It will be the hit of the neighborhood!
Other Outdoor Related Kid Stuff: