Do you need to buy a gift for a young five-year girl and find yourself wondering – What do 5-year-old girls like? Or, where to look for the best gift ideas for a 5-year-old girl? Is it different from toddlers and 4-year-olds?
Well, if you have never had any experience with a 5-year-old girl, you may be struggling to find out what to buy. Read on to learn the answers to these and other questions.
What Do 5-Year-Old Girls Like?
By age 5, children begin to demonstrate newly developing gross (and fine) motor skills. Additionally, children at this age begin to find methods to start articulating their thoughts and feelings in more meaningful ways.
Little girls around 5 years old are experiencing tremendous growth in their development. The good news is that many of the games and toys noted below, actually provide the tools that facilitate a young child's personal growth.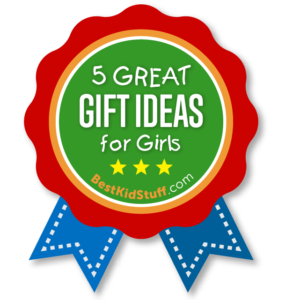 Yet, it is undeniable that every child is unique. While some 5-year-old girls like messing around in the dirt with their brothers or friends, still others prefer to dress-up in sparkly jewels, make-up, and glamorous dresses. Fascinatingly, many little girls have an interest in both.
Gift options for girls should speak to the interests of the recipient of the gift. However, if there is one thing to expect– young girls are all thrilled to receive any age-appropriate present. Check out the following toys that will make anyone's list for the best gifts for 5-year-old girls.
The Amazon algorithm never sits still; however, all items were under $40 at the time of publishing.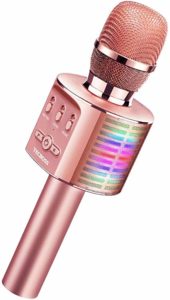 The TECBOSS LED Karaoke Microphone puts a microphone into the hands of young girls – anywhere and everywhere. The LED Karaoke Microphone -and allows for creativity from a portable microphone loudspeaker, player, and recorder.
TECBOSS' microphone is the best gift for a 5-year-old girl who wants to recreate a colorful disco-feel while singing their favorite karaoke songs – with the LED paneled lights blinking on the microphone's grip. The TECBOSS LED Karaoke Microphone is simple to use with hand adjustments available for volume, echo, and the song being played.
The TECBOSS LED Karaoke microphone provides 360-degree sound using the latest in DSP (Digital Signal Processing) technology, which produces a bright and vivid sound. This best gift for 5-year-old girls includes Bluetooth connectivity upwards of 32 feet. TECBOSS' LED Karaoke Microphone reaches decibel levels that exceed 100 db, just below the sound levels produced by a trombone.
If you are wondering what to buy 5-year-old girls, consider the TECBOSS microphone that offers five hours of continuous battery power and one-hundred songs to sing along.
If you still have any lingering doubt about what do 5-year-old girls like, the TECBOSS Microphone offers free shipping and free returns for a new and unused product, no questions asked.
2. MAGNETIC TILE BUILDING BLOCK SET
Are you looking for the best gift for a 5-year-old girl? Don't limit your options by sticking with old notions that girls have no interest in building creative structures.
Many young 5-year-old girls are already dreaming of becoming professional architects or engineers. This building block set is a great way to introduce the STEM educational concepts of Science, Technology, Engineering, & Mathematics.
HLAOLA Magnetic Tile Building Block Set offers one of the best gifts for a 5-year-old girl, with 133 different shaped magnetic parts that are only limited to the child's imagination. Shapes include triangles, trapezoids, semicircles, rectangles, and circles. In this way, a magnetic tile building block set allows a young girl the opportunity to explore and learn shapes, colors, letters, and digits while creatively expressing herself.
HLAOLA's Magnetic Tiles Building Block Set is safely designed for young children with small hands and made with durable, high-quality materials and ultrasonic welding processes.
This best gift for 5-year-old girls includes both an original idea booklet and a secure storage bag for all 133 magnetic tiles.
This Magnetic Tile Building Block Set is shipped without cost and even offers free returns for any unused, new products – for any reason!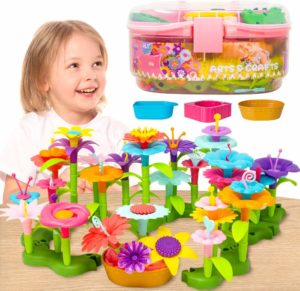 Gili's Flower Garden Building Toys is recognized among the best gifts for 5-year-old girls as it offers a creative playing opportunity to mix, sort, and match pieces to create their favorite flowers and gardens.
The Gili Flower Garden toy also teaches young girls how to distinguish different three flower parts and how to care for small potted plants they have created. The Flower Garden building set is quite versatile as it offers indoor activities and even outdoor garden accomplishments by building a sand garden with the 120 pieces included in Gili's Flower Garden Building toy.
Gili's Flower Garden Building set is BPA-free non-toxic plastic, which makes it one of the best gifts for a 5-year-old girl, because it is safe and easy to use. This garden building set helps accelerate the fine motor skills and refine hand-to-eye coordination.
Parents will find this garden kit has an easy clean-up with its storage box and free shipping!
Sand and potting soil are not included but are great complements to this flower garden set.
4. Walkie Talkies for Kids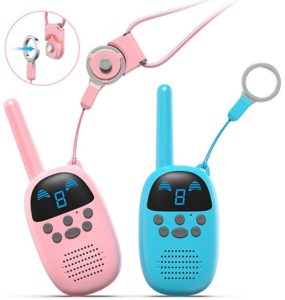 GOCOM Walkie Talkies for Outdoor Adventure is the best gift for a 5-year-old girl, plus two of her friends or family members.
These walkie talkies from Caferria come with 3 handsets that can be used when hiking, climbing, at the mall, camping, or even playing hide & seek. It also performs as a flashlight. The handsets are lightweight and designed with a camouflaged panda pattern for a safe and secure grip in a child's size hand.
Each walkie talkie offers 22 different channels to keep conversations private and an amazing working distance of up to three miles! Caferria's walk talkie is powered by four-AAA batteries and is an excellent tool for parents and guardians to stay in contact with their children even if they are playing out of sight. The walkie talkie offers impressive sound quality using the Continuous Tone Coded Squelch System (CTCSS) that protects a child's hearing.
Caferria offers a one-year no worry guarantee that begins after purchase, free shipping, and a return/exchange if there was no damage to the talkie by someone other than the manufacturer.
Together, the Caferria Kids Walkie Talkies set is recognized among the best gifts for a 5-year-old girl.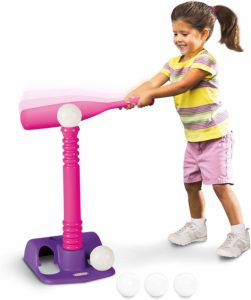 Little Tikes T-Ball Set provides the best gift for 5-year-old girls and athletic kids as it offers a practical way to develop hand/eye coordination, motor skills, and timing.
In addition, the Little Tikes T-Ball set adjusts to a young girl's developing skills and growing body. Parents welcome the ease in which the hot pink T-ball set is stored into one locking piece, that is designed to be hung on any wall.
Young athletes begin with an oversized bat (which is lightweight), which allows them to gain a feel for what it feels like to make solid contact with the ball. This T-ball set is strong and durable and safe to use.
The Little Tikes T-Ball set offers free shipping (for Prime members) and free returns for an unused, new product, for any reason.
It is noted that some simple assembly is required prior to use.
---
Related:
The 10 Best Toys For Four Year Olds